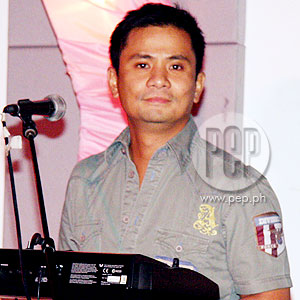 Ogie Alcasid marks his 20 years in the business with a much-awaited concert titled "20/20."
Photo: Noel Orsal
Not everybody gets to reach 20 years in showbiz and still be on top of the game. But multi-talented Ogie Alcasid has managed to do just that.
Many eyes are drawn to him right now as fans await his concert Twenty/Twenty on September 27 at the Araneta Coliseum. The concert highlights two decades of hit songs, gold and platinum albums, and popular TV shows, movies and other collaborations. It would not surprise if said facts are now earning him a fresh dose of respect.
The early years.
Pre-showbiz Ogie was just one of your regular guys who walked the corridors of the College of Mass Communications, University of the Philippines-Diliman. His teachers knew him by his real name, Herminio Alcasid Jr.
Aside from being exposed to the media via his college course, as a former Kundirana, De La Salle high school's popular singing group, Ogie had had a taste of the entertainment scene. So it was not farfetched that he had leanings toward entertainment.
In 1988, 21-year-old Ogie Alcasid did penetrate the industry and started a seemingly arduous climb to the top. But Mr. Alcasid was armed to the teeth with talent: He had a voice as brilliant as any top singer, a comedic timing as good as the funniest guy in town, and a gift of gab competitive enough to make him an effective host.
It was in 1989 that the public was given a taste of Ogie's brand of music in his first, self-titled album. That year welcomed hits like: Ako'y Iyong Iyo, Sa Kanya, Dito Sa Puso Ko, and Nandito Ako with the latter winning 'Song of the Year' awarded by a local radio station. During that period his songs became the national anthem of the broken-hearted.
Ogie was then slowly proving he had a knack to put into lyrics the exact sentiments people were just craving to express.
In the early '90s, Ogie started venturing into other media. He tried TV in 1992 via the shows Small Brothers and Mana Mana. On the big-screen, he began being cast in comedies like: 1990's Feel an Feel with the Gutierrez twins, Michael and Madonna with the late Rene Requiestas and onscreen partner Manilyn Reynes; 1994's Ayala and Zobel with Anjo Yllana; Pitong Gamol, Ali in Wonderland, Small en Terrible, Mahirap Maging Pogi, and many others.
As his list of movies grew, his stock in singing continued to soar as well. After his first album, he had Pagkakataon (1990), A Step Ahead (1992), and On Air (1994).
Also, his comedic flair was being given due notice in the hilarious TV show, Tropang Trumpo. With his ka-tropa Michael V, Gelli de Belen, Carmina Villarroel and Earl Ignacio, the hit show gave TV viewers another reason to turn on their TV sets.
But it was year 1994 when Ogie's career took on a different and much more personal twist—he met Michelle Van Eimeren.
Ogie has arrived.
In 1994, Michelle Van Eimeren was her native Australia's representative to the Miss Universe pageant which was held on our shores. Ogie was the pageant's tour guide.
When medium-framed Ogie met statuesque Michelle, nobody really expected that their friendship would turn into something really serious. But then, Miss Australia eventually became Mrs. Ogie Alcasid.
The same year, Octoarts cashed in on the pair and cast them in Manolo and Michelle Hapi Together, exploiting their popularity as a couple and as individuals.
In the ensuing years, Ogie became more visible than ever. In 1995, he had three movies: Manila Girl: Ikaw Ang Aking Panaginip, Isko: Adventures in Animasia, and O-ha! Ako pa, not to mention an album, A Different Light.