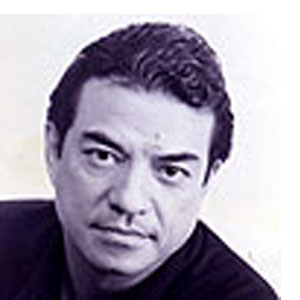 The late Ric Segreto, who popularized the songs Lovin' You and Give Me A Chance, was one of a number of celebrities who met an untimely death. The musician died in a motorcycle accident.
Last year, PEP (Philippine Entertainment Portal) wrote about the untimely deaths of beloved celebrities Nida Blanca, Fernando Poe Jr., Alfie Anido, Rico Yan, Julie Vega, Miko Sotto, and Lino Brocka. (Click this link to read story.)
This year, let us add to the list. Two celebrities died in motorcycle accidents, three in separate vehicular collisions, two succumbed to disease, two committed suicide, and one was murdered. Their sad and tragic end shocked the public, if not the whole country, at the time. Today we heave a sigh of regret at their passing and remember them as they deserve. May they rest in peace.
RIC SEGRETO. The music genius whose first hit, Kahit Konting Pagtingin, earned him a good following was of Italian, American and Filipino descent. He was sosyal, a mestizo. That gave him an edge with the ladies. It did not hurt that he was really a good composer and singer, too. He was friends with Jim Paredes of the Apo Hiking Society, and musically-inclined people surrounded him. His parents—a dietician and a surgeon—loved music as well. He eventually formed a band with his brother.
But it was his heart-wrenching hits that gave Ric a place in the hearts of Pinoys. In fact, his tunes, which include Don't Know What To Do (Don't Know What To Say), Give Me A Chance and Lovin' You are still immortalized to this day in romantic movies.
Unfortunately, unlike his songs that have survived the times, Ric Segreto met an early death on September 6, 1998. It was a motorcycle accident that killed him while he was traversing (some reports say he was speeding) the Buendia flyover in Makati. Reports revealed that the area where the fatal accident occurred was under construction. The popular crooner was found amid the rubble and iron grills. He died of severe head injuries at 46.
JAY ILAGAN. The son of Sampaguita star Corazon Noble and director Angel Esmeralda started out as a child actor, originally using "Angel" as his screen name.
Born Julius Abad Ilagan on January 20, 1953, his good looks eventually made him a matinee idol, starring in the films Maruja (1967), Tubog Sa Ginto (1970), Pinoy Crazy Boys (1974), and Hinog Sa Pilit. And because the looks came with deep talent, Jay survived the transition from teen star to adult actor-winning a Gawad Urian Best Supporting Actor trophy in 1982 for the movie, Kisapmata, another Gawad Urian Best Actor in 1985 for his role in Sister Stella L, and 1988 FAMAS and Film Academy of the Philippines Best Actor for his acting in Maging Akin Ka Lamang.
His acting was not confined to drama. Jay was later known as a funny guy, being one of the Bad Bananas gang with Christopher de Leon, Johnny Delgado and Edgar Mortiz.
In his personal life, he married actress Hilda Koronel but they eventually separated, and he and actress Amy Austria would live-in together. Jay had remained with Amy until his sudden death on February 3, 1992. On that fateful night in Quezon City, Jay lost control of his motorcycle and skidded to his death. Reports claimed that the actor was not wearing a protective helmet. He was 39.
JONJON HERNANDEZ. Tall, fair and handsome, Jonjon Hernandez was a showbiz shoo-in. He had showbiz lineage, being the son of veteran actress Alicia Alonzo and character actor Ross Rival. His dad, the late Ross Rival was from the famous Salvador clan—he was the brother of Phillip Salvador and the father of teen actress, Maja Salvador.
As a child star, Jonjon appeared in several commercials and cameos in movies but he shot to fame as a teenager in the film, Bagets 2 where he shared stellar billing with Aga Muhlach, William Martinez, Herbert Bautista, Raymond Lauchengco, Francis Magalona, JC Bonnin and Ramon Christopher. His popularity rose another notch when he joined the teen show, That's Entertainment. He was part of the show's Thursday Group that included Lea Salonga, Herbert and Ian Veneracion, among others. A romantic link with Lotlot de Leon helped his career, too.
Jonjon was cast in several action films including: Pita, Terror ng Kaloocan and Patapon in 1993. But in the late '90s, after reaching a respectable level of popularity, his showbiz visibility dwindled. Later it would be revealed that he had concentrated on his personal life.
In 2000, news would spread like wildfire that Jonjon, while in a car with friends heading home from an out of town trip, had hit a concrete obstruction in an unlit part of a highway, causing his untimely demise.
His remains were interred at the Loyola Memorial Park, where other celebrities had been laid to rest, like Julie Vega and Jay Ilagan.
MIGUEL RODRIGUEZ. A handsome hunk with features that made him look a bit like "Superman" Christopher Reeve, Miguel Rodriguez gave Richard Gomez a run for his money. Actually, the two were once cast together in the sitcom, Palibhasa Lalake with Joey Marquez completing the wackiness.