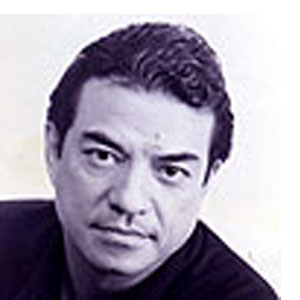 The late Ric Segreto, who popularized the songs Lovin' You and Give Me A Chance, was one of a number of celebrities who met an untimely death. The musician died in a motorcycle accident.
MA. THERESA CARLSON. She was lovely and had a natural charm about her. Ma. Theresa Carlson's first taste of applause was when she won the Ms Young Philippines in 1979. Show business was not slow to pluck the beautiful Fil-American. She was later seen in the sitcom Chicks to Chicks, making the audience laugh with her broken English and her winning line: "Si ako, Si ikaw."
Fair, tall and lovely, she was fairly in demand at that point. But most of all, she was a natural comic, the reason why she was partnered with comedian Chiquito in Six Million Centavo Man (1980) and Mga Alagad ng Kuwadradong Mesa (1983).
When she met and fell in love with politician Rodolfo Farinas, the 19-year old actress's career slowed down and later halted altogether. Theresa left showbiz to be a wife and mother. And nothing would be heard from her for a time.
Only in 1996 was she again in the headlines after she reported that she was a battered wife in a written letter to Sen. Leticia Shahani. But when every media entity and women's organization was ready to help her, Theresa retracted her story and claimed that she only said her statements out of insecurity as she was then pregnant.
In November 2001, the mother of six fell from the 23rd floor of the Platinum 2000 condominium in Greenhills, San Juan. Police ruled it as suicide, despite initially speculating murder.
Another life and death shrouded in mystery.
ELVIRA MANAHAN. Many may have a hard time remembering this fashion icon but during her heyday, no social function was ever complete without her on the list.
She was always described as the life of the party—smart, witty, unconventional. The socialite Elvira Manahan was always expected to do the unexpected. She was popular for it.
Also famous for her infectious laughter, she was the host of Two for the Road, together with entertainment columnist Nestor Torre. To understand how on top of the game she was during her time, no celebrity—local or foreign—could refuse to be interviewed by her.
Elvira Manahan rubbed elbows with the likes of Bob Hope, Sammy Davis Jr., Marlon Brando and Pat Boone. These Hollywood celebrities all fell for her endearing charm.
Aside from hosting, she took a shot at acting in the 1981 film Burgis, which starred the young Gabby Concepcion.
Widowed at 17 and mother to Mandy Eduque Jr. at 18, Elvira remarried that same year. Her marriage with Dr. Constantino Manahan produced two sons, Johnny and Bonggoy. Johnny Manahan is now an executive and TV director in ABS-CBN.
Elvira's winsome life and laughter ended in tragedy, October 1986, when she was shot in the head at her own Forbes Park home. The other fatalities were three household helpers of the Manahans. Reports were that the assassin was a certain realtor named Jaime Balatbat.
Speculations and rumors were rife after Elvira's death but, to this day, not one has been verified as true. Suffice it to say that her passing was so abrupt, people wondered how a woman so full of life could meet an ending so violent.
The List gives but a glimpse into the tragic stories. Each celebrity had his or her share of rumors and speculations surrounding their deaths. Would you know more details?