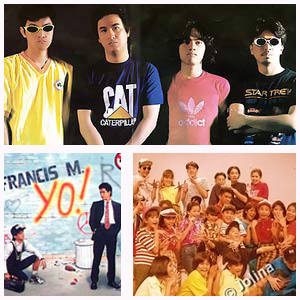 The '90s was the decade of the Eraserheads, Francis Magalona, and Ang TV. Remember how they rocked the entertainment scene and influenced our lives?
Imagine a day like this in the '90s.
The neighbor's loudspeakers (mobile sound system)—playing Vanilla Ice's "Ice, Ice Baby" or MC Hammer's "Can't Touch This"—rouses you from sleep one morning.
You switch on the TV to watch Hiraya Manawari, then after a few minutes, your beeper alerts you about a gimmick: Disco later at Limits Ortigas.
You decide to spend the afternoon at home and catch a few scenes of TGIS.
At 8:00 p.m., you begin styling your hairdo a la Rachel's (Jennifer Aniston) of Friends; then put on your retro-inspired outfit—psychedelic pants, neon-colored hanging blouse, clogs—and your Swatch.
Just before leaving the house, you bump into your brother—your anti-thesis. He's wearing a pair of baggy pants and a colorful vest, and his friend is clad in a batik polo-shorts ensemble and a pair of mojo sandals.
You head to the Disco and enjoy dancing to the beat of Timmy Thomas's "Dying Inside" or Apache Indian's "Raggamuffin Girl." Bro and company have gone to watch Yano, Teeth, Rizal Underground, Siakol, and Put3ska in Club Dredd.
It's already 1:30 a.m. when you hit the road and listen to Joe D' Mango's voice on your car stereo.
Now back home, you switch on the boob tube to watch MTV until your eyelids drop...ZZZzzz...
That's a quick backtrack to the free-spirited '90s.
And in memory of Master Rapper Francis Magalona, who popularized our own brand of hip hop, and in celebration of the recent Final Set concert of Eraserheads, the music band who brought alternative rock to the mainstream—PEP (Philippine Entertainment Portal) lists down showbiz's Top Ten remarkable things, people, and events in that loud, colorful decade before the new millennium.
10. UNIVERSAL MOTION DANCERS. Before the all-girl groups took over the dance scene, male dancers were the ones eliciting shrieks and screams from the viewers.
Wowie De Guzman, Gerard Fainsan (+), James Salas, Jim Salas, Brian Furlow, Marco McKinley, Norman Santos, and Gerry Oliva became famous for their legendary Butterfly steps in Erasure's "Always."
This group, which started as back-up dancers in 1992, was said to be the pioneer of the mixed hip hop-street dance variety in the local dance arena. Their popularity paved the way for other all-male groups to gain access to showbiz.
UMD also recorded one of the top-selling albums of the decade, Dancing with the Motion.
9. SEIKO FILMS. Back in the '90s, Robbie Tan would produce about 13 movies a year—that's like releasing and promoting one film per month.
The movie mogul's strategy then was "generate more profit, spend less on production cost and talent fees." One way to achieve this was through the ST "sex trip" route, which introduced Gretchen Barretto, Rina Reyes, and Cristina Gonzalez as the country's sex goddesses onscreen.