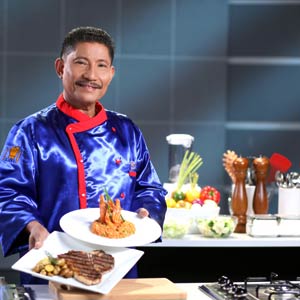 Chef Pablo "Boy" Logro hosts his own show, Idol Sa Kusina, on GMA News TV airing Sundays at 7:30 p.m.
Photo: Courtesy of GMA News TV
Chef Pablo "Boy" Logro is a charmer.
He's the first to admit that he's not a Dingdong Dantes nor a Richard Gutierrez, but he has charisma and a talent for cooking.
This is probably why GMA-7 execs gave Chef Boy his own cooking show, Idol Sa Kusina, which began airing July 3, 7:30 p.m. at GMA News TV.
GMA assistant vice president for alternative productions, Ms. Gigi Santiago-Lara, said fans of the former Q-TV 11 show, Secrets of the Masters, clamored for Chef Boy after he was featured on the program in 2009.
He has been described as "nakakaaliw" and "nakakatuwa" because of his antics and his fun approach to cooking.
Unfortunately, Chef Boy was unable to fit TV hosting into his busy schedule, as he was then running a culinary school, Chef Logro's Institute of Culinary and Kitchen Services (CLICKS), in Cavite.
In April this year, he agreed to be a judge in the reality cooking show, Kitchen Superstar. In June, he began taping for his show, Idol Sa Kusina.
At the press conference held June 29 at the GMA-7 compound, Chef Boy shared his rags-to-riches life story, how he acquired his skills without going to a cooking school.
LOGRO'S HISTORY Chef Boy was born to a poor family in Leyte.
They were so poor, he even worked as one of those little boys in muro ami fishing, deemed illegal by the government.
In 1972, his uncle brought him to Quiapo where he cleaned rooms and hallways of a three-story building for a year. Later, he got a job preparing siopao for a Chinese restaurant.
"Pinaghahalo ako ng siopao—mga five kilos gabi-gabi. Noong araw, walang machine, so by hand talaga ang paggawa ng siopao.
"Ten o'clock ng gabi hinahalo na yun 'tapos pina-aalsa hanggang four o'clock in the morning. Yung five kilos, binubuhat ko yun," Chef Boy recalled.
While kneading dough for siopao, he learned the secrets of Asian cooking by observing the chef and his assistants.
He watched and learned how to cook European dishes while working at the Astral Villa Spanish restaurant in Makati, and later, at the former Bayview Plaza Hotel.