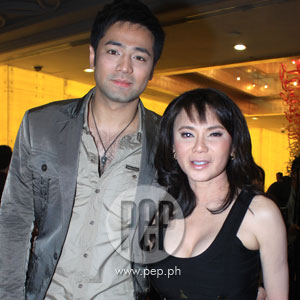 "Eh kung kayo ba naman eh nag-uusap ng personal kesa kung ano-ano nilalagay ny sa Twitter nyo, eh di hindi nalaman ng publiko mga ka-anuhan nyo," a PEPster commented about the publicized breakup of Dr. Vicki Belo and Hayden Kho, Jr.
Photo: Sany Chua
The breakup issue between Dra. Vicki Belo and Hayden Kho, Jr. intensified after the former spent Valentine's Day in Los Angeles, California, alone.
Prior to this, the cosmetic surgeon posted an intriguing tweet about allowing her former fiancé to "date" former singer-actress Nancy Castiglione.
Hayden was quick to defend, through a series of Twitter posts, that he and his girlfriend were only having a "misunderstanding" and that there's "NO infidelity issue" involved.
(CLICK HERE to read related article)
The day Dra. Vicki arrived, Hayden posted a letter, which was written by yoga instructor Al Galang supposedly for the cosmetic surgeon. He dubbed this a "real proof of infidelity."
He deleted it a few minutes later, and apologized, "In the height of my anger, I tweeted those things and now I regret it."
He also related on Twitter that he and his eight-month fiancé had already talked about their issues. Hayden stressed, "Vicki NEVER cheated on me."
(CLICK HERE to read related article)
THE PULSE. Some PEPsters were not too pleased about this very public lovers' quarrel on Twitter.
PEPster iwwang2 even said, "they are old enough to know what they are doing. let them manage their own love and personal affair."
In a PEP poll conducted last February 13 , majority of the 284 voters answered: "Itigil na ang isyung ito."
But this doesn't mean the people have grown tired of news about split.
What they can't tolerate are instances of "trigger-tweeting," especially when the parties involved are in a very emotional stage.
Hayden eventually decided to quit Twitter, and also hinted at not pursuing his plans to go back to showbiz anymore.
One of his last tweets read: "And so, finally and officially, I am quitting this twitter account and abandoning my previous plan of going back to THAT world."