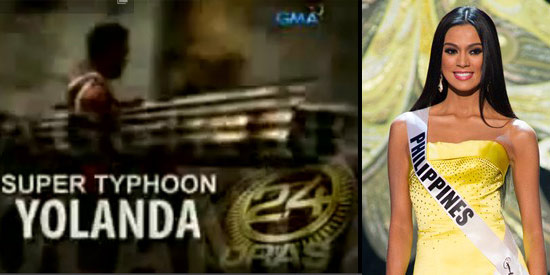 ---
The arrival of super typhoon Yolanda in the Philippines allowed news programs to figure prominently in the ratings chart both daytime and primetime. Filipinos were glued to the news to be informed about the devastation that super typhoon Yolanda left in the Visayas region.

GMA Network's 24 Oras emerged the most-watched among news programs during these trying times.


On November 8, even early morning news programs Unang Hirit and Umagang Kay Ganda registered double digit-numbers, 13.4 percent and 10.1 percent, respectively.
In the entertainment front, although Ariella Arida did not win the elusive Miss Universe crown, she still made Filipinos proud by making it to the Top 5 and the only Asian among Latina finalists. The title holder from Laguna eventually won as 3rd runner up, continuing our streak in the winning circle (4 consecutive years now) in the prestigious beauty pageant. Miss Venezuela Gabriela Isler was crowned 2013 Miss Universe.

(Trivia: Venezuela now ranks second for countries with the most number of Miss Universe title holders—seven. The United States still leads with eight crowns in the past.)

The 2013 Miss Universe coverage aired on ABS-CBN placed second in daytime charts, next only to another Kapamilya coverage of a different kind of competition: boxing.

In their grudge rematch, "Filipino Flash" Nonito Donaire, Jr. unleashes the beast in him by knocking out former four-time champion Vic Darchinyan in the ninth round. Darchinyan failed to avenge his loss to the Filipino Flash during their first encounter in 2007.
Here's the comparative Rating Performance of ABS-CBN, TV5 & GMA-7 programs from November 7 to November 10, 2013, derived from AGB Nielsen Philippines from Mega Manila households:
ADVERTISEMENT - CONTINUE READING BELOW
November 7, 2013 (Thursday)
Morning:
Born To Be Wild Replay (GMA-7) 1.4%; TNT: Tapatan Ni Tunying Replay (ABS-CBN) 1.6%
Unang Hirit (GMA-7) 6.2%; Umagang Kay Ganda (ABS-CBN) 6.2%; Reaksyon Replay (TV5) 0.2%; Good Morning Club (TV5) 1.3%; Jungle Junction (TV5) 2.6%
Dragon Ball(GMA-7) 8.3%; Pokemon (GMA-7) 8.9%; Kris TV (ABS-CBN) 6.4%; Phineas and Ferb (TV5) 3.3%
One Piece (GMA7) 10.6%; Power Rangers Samurai (ABS-CBN) 5.7%; News 5 Live: Napoles sa Senado (TV5) 5.9% (9am to 4:30pm)
Bleach (GMA-7) 9.8%; Shaman King (GMA-7) 10.2%; Jackie Chan Fantasia (ABS-CBN) 4.4%
Kusina Master, Sikreto ng Experto (GMA-7) 8.1%; Harapan sa Senado (ABS-CBN) 5.6%

Lola (GMA-7) 9.3%; Crazy Love (ABS-CBN) 6.3%
GMA Flash Report: Pagdinig sa Senado sa Pork Barrel Scam (GMA-7) 11.8%; Harapan sa Senado (ABS-CBN) 8.1%;Minute To Win It (ABS-CBN) 9.3%
Afternoon:
Eat Bulaga (GMA-7) 13.8%; Be Careful With My Heart (ABS-CBN) 13.7; It's Showtime (ABS-CBN) 9.9%
Villa Quintana (GMA-7) 10.3%; Magkano Ba Ang Pag-ibig (GMA-7) 9.4%; Kapamilya Blockbusters – Crazy Thing Called Love (ABS-CBN) 8.4%
Pyra, Babaeng Apoy (GMA-7) 11.1%; Galema, Anak ni Zuma (ABS-CBN) 8.4%; TNT: Tapatan Ni Tunying (ABS-CBN) 6.9%
Fabulous Boys (GMA-7) 11.3%; The Love Story of Kang Chi (ABS-CBN) 9.4%; Face The People (TV5) 4.7%; T3 Reload (TV5) 8%
Evening:
Prinsesa ng Buhay Ko (GMA-7) 16.2%; Annaliza (ABS-CBN) 16.5%; Aksyon (TV5) 9.5%
24 Oras (GMA-7) 26.9%; TV Patrol (ABS-CBN) 24.3%; Let's Ask Pilipinas (TV5) 7.5%; Madam Chairman (TV5) 7.5%
Genesis (GMA-7) 21.6%; Honesto (ABS-CBN) 27.6%; For Love or Money (TV5) 6.2%
Kahit Nasaan Ka Man (GMA-7) 20.6%; Got To Believe (ABS-CBN) 25%; Posi+ive (TV5) 3.8%
Akin Pa Rin Ang Bukas (GMA-7) 19.1%;Maria Mercedes (ABS-CBN) 18.8%
A 100-Year Legacy (GMA-7) 14.8%; Bukas Na Lang Kita Mamahalin (ABS-CBN) 15.5%; History with Lourd (TV5) 3.7%; Pilipinas News (TV5) 2.5%
Saksi (GMA-7) 11.7%; Bandila (ABS-CBN) 10.6%; Reaksyon (TV5) 1%; NCAA Season 89 Final Four: SBC vs. UPHSD (TV5) 0.9%
Alisto! (GMA-7) 6.5%; Banana Nite (ABS-CBN) 5.4%
ADVERTISEMENT - CONTINUE READING BELOW
TYS: Tim Yap Show (GMA-7) 2.4%; O Shopping (ABS-CBN) 1.8%
November 8, 2013 (Friday)
Morning:
Born Impact Replay (GMA-7) 2.5%; Matanglawin Replay (ABS-CBN) 1.7%
GMA Flash Report (GMA-7) 4.4%; Unang Hirit (GMA-7) 13.4%; Umagang Kay Ganda (ABS-CBN) 10.1%; Kwentong Kanto (TV5) 0.3%; Reaksyon Replay (TV5) 0.2%; Good Morning Club (TV5) 3%
Dragon Ball (GMA-7) 11.1%; Pokemon (GMA-7) 12.6%; Bleach (GMA-7) 12.5%; Kris TV (ABS-CBN) 8.9%; News Patrol (ABS-CBN) 10.1%; Jungle Junction (TV5) 4.1%; Phineas and Ferb (TV5) 6.5%; Gargoyles (TV5) 4.2%
Shaman King (GMA7) 12.6%; Mr. Bean (ABS-CBN) 8.5%; Oggy and the Cockroaches (TV5) 5.5%
Kusina Master - Sikreto ng Experto (GMA-7) 8.2%; Lola (GMA-7) 8.9%; Crazy Love (ABS-CBN) 6.4%; Johnny Bravo (TV5) 8.4%; Adventure Time with Finn & Jake (TV5) 10.5%
Anak Ko 'Yan! (GMA-7) 10.6%; Minute To Win It (ABS-CBN) 11.6; News 5 Live (TV5) 7.3%
Afternoon:
Eat Bulaga (GMA-7) 20.5%; Be Careful With My Heart (ABS-CBN) 18.8%; It's Showtime (ABS-CBN) 16.0%; Likeable or Not (TV5) 3.6%; Misibis Bay Return to Paradise (TV5) 2.1%; Sine Ko 5ingko: Urban Justice (TV5) 6.2%
Villa Quintana (GMA-7) 15.9%; Magkano Ba Ang Pag-ibig (GMA-7) 13.5%; Kapamilya Blockbusters: Wag Kang Lilingon (ABS-CBN) 12.9%; Sine Ko 5ingko: Rocky IV (TV5) 8.2%
Pyra, Babaeng Apoy (GMA-7) 14.3%; Galema, Anak ni Zuma (ABS-CBN) 13.7%
Fabulous Boys (GMA-7) 13.8%; News Patrol (ABS-CBN) 15.5%; The Love Story of Kang Chi (ABS-CBN) 13.4%; Face The People (TV5) 7.3%; T3 Reload (TV5) 10.8%
Evening:
Prinsesa ng Buhay Ko (GMA-7) 18.1%; Annaliza (ABS-CBN) 17.2%; Aksyon (TV5) 11%
24 Oras (GMA-7) 30.5%; TV Patrol (ABS-CBN) 23.9%; Let's Ask Pilipinas (TV5) 6.8%; Madam Chairman (TV5) 6.8%
Genesis (GMA-7) 20%; Honesto (ABS-CBN) 24.1%; Friday Night Action: Faster (TV5) 9%
Kahit Nasaan Ka Man (GMA-7) 17.3%; Got To Believe (ABS-CBN) 22.7%
Akin Pa Rin Ang Bukas (GMA-7) 18.5%;Maria Mercedes (ABS-CBN) 17.8%
Bubble Gang (GMA-7) 16.7%; Bukas Na Lang Kita Mamahalin (ABS-CBN) 14%; Bandila (ABS-CBN) 7.9%; Astig: Sa Sports Walang Tsamba (TV5) 3.5%; Pilipinas News (TV5) 2.5%; Reaksyon (TV5) 1.4%
ADVERTISEMENT - CONTINUE READING BELOW
Saksi (GMA-7) 11%; Banana Nite (ABS-CBN) 4.3%; Chef vs. Mom (TV5) 0.8%
TYS: Tim Yap Show (GMA-7) 5.5%; O Shopping (ABS-CBN) 1.6%
November 9, 2013 (Saturday)
Morning:
PJM Forum (GMA-7) 1.5%; Adyenda (GMA-7) 2.9%; Kapwa Ko, Mahal Ko (GMA-7) 3.4%;Sa Kabukiran (ABS-CBN) 2.5%; Family Matters (TV5) 0.6%
Pinoy MD (GMA-7) 5.4%; Salamat Dok (ABS-CBN) 4.2%; Imagination Movers (TV5) 2%
Cinderella (GMA-7) 6.9%; Kabuhayang Swak na Swak (ABS-CBN) 4.2%; Ying Yang Yo! (TV5) 3.8%
Super Book (GMA-7) 11.5%; Honey Watch Out! (ABS-CBN) 2.1%; Kick Buttowski! Suburban Daredevil (TV5) 3.4%
Paddle Pop Begins (GMA-7) 11.1%; Why Not (ABS-CBN) 1.9%; Misadventures of Flapjack (TV5) 4.3%
Angry Birds Toons (GMA-7) 12.2%; Fan Boy Chum Chum (ABS-CBN) 2%; The Amazing World of Gumball (TV5) 3.6%
Pororo (GMA-7) 9.3%; The Penguins of Madagascar (ABS-CBN) 3.3%
Tropang Potchi(GMA-7) 7.4%; Kung Fu Panda Legends (ABS-CBN) 5.2%; Spongebob Squarepants (ABS-CBN) 7.1%; Regular Show (TV5) 5.6%; Powerpuff Girls Z (TV5) 5.3%
Sarap Diva (GMA-7) 7.4%; Maynila 14 (GMA-7%) 10.5%; GMA Flash Report (GMA-7) 11.6%; Del Monte Kitchenomics (GMA-7) 11.8%; Be Careful With My Heart Rewind (ABS-CBN) 6.6%; Sym-Bionic Titan (TV5) 6.4%; TV5 Kids Movie Special: Ultimate Avengers II (TV5) 6.6%
Afternoon:
Eat Bulaga (GMA-7) 21.9%; News Patrol (ABS-CBN) 11.8%; It's Showtime (ABS-CBN) 14.9%; NCAA Season 89 Final Four: CSJL vs. SSC-R (TV5) 1.8%
Startalk (GMA-7) 10.5%;Bingit (GMA-7) 10%; Wish Ko Lang (GMA-7) 13.9%; Bagsik ni Yolanda (ABS-CBN) 11.8%; NCAA Season 89 Final Four: SBC vs. UPHSD (TV5) 2.1%; Video Incredible (TV5) 2.8%; Mula Buwis Hanggang sa PDAF (TV5) 2.1%
Evening:
24 Oras Weekend (GMA-7) 24%; One Day Isang Araw (GMA-7) 22%; TV Patrol Weekend (ABS-CBN) 21.8%; Aksyon Weekend (TV5) 4.1%; Showbiz Police Intriga Under Arrest (TV5) 3.1%
Vampire Ang Daddy Ko (GMA-7) 23.7%; Bet On Your Baby (ABS-CBN) 21.4%
Magpakailanman (GMA-7) 24.2%; Celebrity Bluff (GMA-7) 21.8%; Wansapanataym (ABS-CBN) 17.7%; MMK: Ang Tahanan Mo (ABS-CBN) 15.7%; Pinoy Explorer (TV5) 5.3%;
Tropa Mo 'Ko Unli (TV5) 6.4%; Killer Karaoke (TV5) 5.5%;
ADVERTISEMENT - CONTINUE READING BELOW
Katipunan (GMA-7) 10%; I Dare You (ABS-CBN) 7.6%;Juan Direction (TV5) 2.9%; What's Up Doods (TV5) 1.8%
Tunay na Buhay (GMA-7) 5.9%; Bandila (ABS-CBN) 4.9%;Pilipinas News Weekend (TV5) 1.4%
Walang Tulugan (GMA-7) 2.3%; The Bottomline (ABS-CBN) 1.9%
November 10, 2013 (Sunday)
Morning:
Jesus The Healer (GMA-7) 0.9%; In Touch With Dr. Charles Stanley (GMA-7) 0.9%; The Healing Eucharist (ABS-CBN) 3.9%; Balitang 60 (TV5) 1.1%; Misa Nazareno (TV5) 2.6%
Aha! (GMA-7) 4.2%; Kabuhayang Swak Na Swak (ABS-CBN) 3.7%; Power To Unite With Elvira (TV5) 1.1%
Super Book(GMA-7) 6.6%; Paddle Pop Begins (GMA-7) 7.6%; Salamat Dok (ABS-CBN) 4%; Yin Yang Yo! (TV5) 2%; Kick Buttowski (TV5) 4.9%
Pororo (GMA-7) 8.3%; Del Monte Kitchenomics (GMA-7) 7.2%; Ironman (ABS-CBN) 4.1%; Misadventures of Flapjack (TV5) 5.5%
Kapuso Movie Festival: Tiktik – The Aswang Chronicles (GMA-7) 14.1%; GMA Sunday Power Punch: Pacquiao & Dela Hoya (GMA-7) 13.6%; Miss Universe – Moscow 2013 (ABS-CBN) 16.9%; Regular Show (TV5) 4.8%; Powerpuff Girls Z (TV5) 3.4%; Sym-Bionic Titan (TV5) 2.9%; Generator Rex (TV5) 3.1%; Philip Lifestyle Guy (TV5) 1.5%
Afternoon:
GMA Sunday Power Punch: Pacquiao & Cotto (GMA-7) 13.8%; The Rematch: Donaire vs. Darchinyan (ABS-CBN) 21.1%; Sunday Sineplex: Herbie Fully Loaded (TV5) 8.2%
Sunday All Stars (GMA-7) 9.7%;GMA Blockbuster: Osmosis Jones (GMA-7) 6.5%; ASAP 18 (ABS-CBN) 10.3%; Video Incredible (TV5) 6.1%; Sunday Sineplex: The Parent Trap (TV5) 5.2%
iBilib (GMA-7) 8.3%; Luv U (ABS-CBN) 9%
Evening:
24 Oras Weekend(GMA-7) 18.2%;Kap's Amazing Stories (GMA-7) 22%; Buzz ng Bayan (ABS-CBN) 13.1%;PXC Pacific X-Treme Combat 41 (TV5) 4.1%
Pepito Manaloto Ang Tunay Na Kuwento (GMA-7) 27.9%; TV Patrol Weekend (ABS-CBN) 18.4%; Who Wants To Be A Millionaire (TV5) 5.8%
Kapuso Mo Jessica Soho (GMA-7) 28.7%; Goin' Bulilit (ABS-CBN) 15.2%; Rated K Handa Na Ba Kayo? (ABS-CBN) 15.9%; Wow Mali Pa Rin! (TV5) 7.2%; The Mega And The Song Writer (TV5) 1.3%
Imbestigador (GMA-7) 19.4%;Star Cinema Originals: No Other Woman (ABS-CBN) 13.8%
Sunday Night Box Office: Tanduay Rhum Rockfest Year 7 (GMA-7) 7.8%; Gandang Gabi Vice (ABS-CBN) 11.6%
ADVERTISEMENT - CONTINUE READING BELOW
Prankista (GMA-7) 6.2%;Diyos at Bayan (GMA-7) 1.7%; Sunday's Best: Miss Universe – Moscow 2013 (ABS-CBN) 4.9%
Here are the Top 10 daytime and primetime programs from November 7 to November 10, 2013 among Mega Manila households (Household Ratings):
TOP TEN PROGRAMS:
November 7, 2013 (Thursday)
DAYTIME:
Eat Bulaga (GMA-7) – 13.8%
Be Careful With My Heart (ABS-CBN) – 13.7%
GMA Flash Report: Pagdinig ng Senado sa Pork Barrel Scam (GMA-7) – 11.8%
Fabulous Boys (GMA-7) – 11.3%
Pyra: Babaeng Apoy (GMA-7) – 11.1%
One Piece (GMA-7) – 10.6%
Villa Quintana (GMA-7) – 10.3%
Shaman King (GMA-7) – 10.2%
It's Showtime (ABS-CBN) – 9.9%
Bleach (GMA-7) – 9.8%
PRIMETIME:
Honesto (ABS-CBN) – 27.6%
24 Oras (GMA-7) – 26.9%
Got To Be Believe (ABS-CBN) – 25%
TV Patrol (ABS-CBN) – 24.3%
Genesis (GMA-7) – 21.6%
Kahit Nasaan Ka Man (GMA-7) – 20.6%
Akin Pa Rin Ang Bukas (GMA-7) – 19.1%
Maria Mercedes (ABS-CBN) – 18.8%
Annaliza (ABS-CBN) – 16.5%
Prinsesa ng Buhay Ko (GMA-7) – 16.2%
November 8, 2013 (Friday)
DAYTIME:
Eat Bulaga (GMA-7) – 20.5%
Be Careful With My Heart(ABS-CBN) – 18.8%
It's Showtime (ABS-CBN) – 16%
Villa Quintana (GMA-7) – 15.9%
News Patrol (ABS-CBN) – 15.5%
One Piece (GMA-7) – 14.6%
Pyra: Babaeng Apoy (GMA-7) – 14.3%
Fabulous Boys (GMA-7) – 13.8%
Galema: Anak ni Zuma (ABS-CBN) – 13.7%
Magkano Ba ang Pag-ibig? (GMA-7) – 13.5%
PRIMETIME:
24 Oras (GMA-7) – 30.5%
Honesto (ABS-CBN) – 24.1%
TV Patrol (ABS-CBN) – 23.9%
Got To Be Believe (ABS-CBN) – 22.7%
Genesis (GMA-7) – 20%
Akin Pa Rin Ang Bukas (GMA-7) – 18.5%
Prinsesa ng Buhay Ko (GMA-7) – 18.1%
Maria Mercedes (ABS-CBN) – 17.8%
Kahit Nasaan Ka Man (GMA-7) – 17.3%
Annaliza (ABS-CBN) – 17.2%
November 9, 2013 (Saturday)
DAYTIME:
Eat Bulaga (GMA-7) – 21.9%
It's Showtime (ABS-CBN) – 14.9%
Wish Ko Lang (GMA-7) – 13.9%
Angry Birds Toons (GMA-7) – 12.2%
News Patrol (ABS-CBN) / Bagsik ni Yolanda (ABS-CBN) – 11.8%
GMA Flash Report (GMA-7) – 11.6%
Super Book (GMA-7) – 11.5%
Paddle Pop Begins (GMA-7) – 11.1%
Maynila 14 (GMA-7) / Startalk (GMA-7) – 10.5%
Bingit (GMA-7) – 10%
PRIMETIME:
24 Oras Weekend (GMA-7)– 24%
Vampire Ang Daddy Ko (GMA-7) – 23.7%
Magpakailanman (GMA-7) – 23.6%
One Day, Isang Araw (GMA-7) – 22%
Celebrity Bluff (GMA-7) / TV Patrol Weekend (ABS-CBN) – 21.8%
Bet On Your Baby (ABS-CBN) – 21.4%
Wansapanataym (ABS-CBN) – 17.7%
MMK: Ang Tahanan Mo (ABS-CBN) – 15.7%
Katipunan (GMA-7) – 10%
I Dare You! (ABS-CBN)– 7.6%
November 10, 2013 (Sunday)
DAYTIME:
The Rematch: Donaire vs. Darchinyan (ABS-CBN) - 21.1%
Miss Universe – Moscow 2013 (ABS-CBN) - 16.9%
Kapuso Movie Festival: Tiktik – The Aswang Chronicles (GMA-7) - 14.1%
GMA Sunday Power Punch: Pacquiao & Cotto (GMA-7) - 13.8%
GMA Sunday Power Punch: Pacquiao & Dela Hoya (GMA-7) - 13.6
ASAP 18 (ABS-CBN) – 10.3%
Sunday All Stars (GMA-7) – 9.7%
Luv U (ABS-CBN) – 9%
i-Bilib (GMA-7) / Pororo (GMA-7) – 8.3%
Paddle Pop Begins (GMA-7) – 7.6%
PRIMETIME:
Kapuso Mo, Jessica Soho (GMA-7) – 28.7%
Pepito Manaloto (ABS-CBN) – 27.9%
Kap's Amazing Stories (GMA-7) – 22%
Imbestigador (GMA-7) – 19.4%
TV Patrol Weekend (ABS-CBN) – 18.4%
24 Oras Weekend (GMA-7) – 18.2%
Rated K: Handa na ba Kayo? (ABS-CBN) – 15.9%
Goin' Bulilit (ABS-CBN) – 15.2%
Star Cinema Originals: No Other Woman (ABS-CBN) – 13.8%
Buzz ng Bayan (ABS-CBN) – 13.1%

Source: AGB Nielsen Philippines