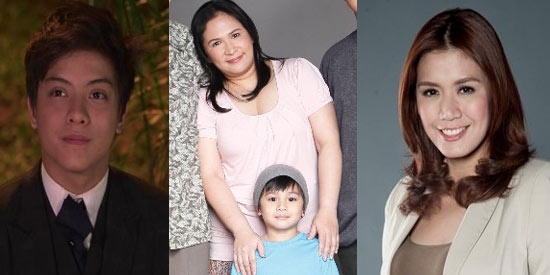 ---
Honesto and Got To Believe tied for the No. 1 primetime spot for two consecutive days (25.3 percent last Monday, December 9, and 24.5 percent last Tuesday, December 10). On December 11, the tie ended when the Daniel Padilla-Kathryn Bernardo starrer, Got To Believe, eventually won in the ratings game.


Akin Pa Rin Ang Bukas, starring Lovi Poe and Rocco Nacino, consistently held the No. 3 position.
Tunay na Buhay used to be a public affairs program hosted by Rhea Santos. But when the reality show Anak Ko 'Yan stopped airing, Tunay na Buhay was reformatted to a biographical documentary program that was pitted against Minute To Win It. Tunay na Buhay, which features real-life stories of celebrities, has been winning the ratings game several times already against Luis Manzano's game show.
Here's the comparative Rating Performance of ABS-CBN, TV5 & GMA-7 programs from December 9 to December 11, 2013, derived from AGB Nielsen Philippines from Mega Manila households:
December 9, 2013 (Monday)
Morning:
Aha! - Replay (GMA-7) 0.9%; Sports Unlimited Replay (ABS-CBN) 0.7%
Unang Hirit (GMA-7) 5%; Umagang Kay Ganda (ABS-CBN) 3.6%; Reaksyon - Replay (TV5) 0.2%; Good Morning Club (TV5) 1.3%
Dragon Ball(GMA-7) 7.3%; Pokemon (GMA-7) 8.7%; Kris TV (ABS-CBN) 4.8%; Jungle Junction (TV5) 3.5%; Phineas and Ferb (TV5) 3.3%
Doraemon (GMA7) 10.8%; Power Rangers Samurai (ABS-CBN) 3%; Gargoyles (TV5) 2.7%
Bleach (GMA-7) 9.6%; Jackie Chan Fantasia (ABS-CBN) 3.2%; Oggy and the Cockroaches (TV5) 3.8%
Flame of Recca (GMA-7) 9.8%; Mr. Bean (ABS-CBN) 4.5%; Johnny Bravo (TV5) 3.7%
Shaman King (GMA-7) 10.7%; Kusina Master – Sikreto ng Experto (GMA-7) 8.1%; Crazy Love (ABS-CBN) 5.3%; Adventure Time with Finn & Jake (TV5) 4.9%
Tunay na Buhay (GMA-7) 9.1%; Minute To Win It (ABS-CBN) 9.9%; Ben 10 - Ultimate Alien (TV5) 5.3%
Afternoon:
Ryzza - The Ryzza Mae Show (GMA-7) 13%; Be Careful With My Heart (ABS-CBN) 17%; You Are My Destiny (TV5) 3.7%; Likeable or Not (TV5) 3.7%
Eat Bulaga (GMA-7) 20%; It's Showtime (ABS-CBN) 12.8%; NCAA Season 89 Women's Volleyball: CSB vs. EAC (TV5) 1%
Villa Quintana (GMA-7) 14.6%; Magkano Ba Ang Pag-ibig (GMA-7)12.8%; Kapamilya Blockbusters: Ang Cute ng Ina Mo! (ABS-CBN) 10.5%; Sine ko 5ingko: Case 39 (TV5) 4.7%
ADVERTISEMENT - CONTINUE READING BELOW
GMA Blockbusters: My Kontrabida Girl (GMA-7) 11.7%; Galema: Anak ni Zuma (ABS-CBN) 8.6%; Bistado (ABS-CBN) 7.2%; Princess Hours (ABS-CBN) 9.9%; Face The People (TV5) 5.1%; T3 Reload (TV5) 8%
Evening:
Prinsesa ng Buhay Ko (GMA-7) 15.8%; Annaliza (ABS-CBN) 15.7%; Aksyon (TV5) 8.4%
24 Oras (GMA-7) 22.6%; TV Patrol (ABS-CBN) 19.2%; Let's Ask Pilipinas (TV5) 7.4%; Madam Chairman (TV5) 8.7%
Adarna (GMA-7) 20.8%; Honesto (ABS-CBN) 25.3%; Monday Night Blockbusters: Wanted (TV5) 9.7%
Genesis (GMA-7) 18.8%; Got To Believe (ABS-CBN) 25.3%
Akin Pa Rin Ang Bukas (GMA-7) 21.5%; Maria Mercedes (ABS-CBN) 20.6%
A 100-Year Legacy (GMA-7) 13.7%; When A Man Falls in Love (ABS-CBN) 12.9%;Demolition Job (TV5) 5.2%; Pilipinas News (TV5) 3.3%
Saksi (GMA-7) 8.3%; Bandila (ABS-CBN) 6.3%; Reaksyon (TV5) 1.6%; Cocktales (TV5) 0.9%
i-Witness (GMA-7) 5.1%; Banana Nite (ABS-CBN) 3.6%;
TYS: Tim Yap Show (GMA-7) 2.2%; O Shopping (ABS-CBN) 1.5%
December 10, 2013 (Tuesday)
Morning:
i-Witness Replay (GMA-7) 1%; Mutya ng Masa Replay (ABS-CBN) 0.5%
Unang Hirit (GMA-7) 4.4%; Umagang Kay Ganda (ABS-CBN) 3.5%; Reaksyon Replay (TV5) 0.1%; Good Morning Club (TV5) 1.2%
Dragon Ball(GMA-7) 6.6%; Pokemon (GMA-7) 7.5%; Kris TV (ABS-CBN) 5.7%; Jungle Junction (TV5) 3.1%; Phineas and Ferb (TV5) 4.1%
Doraemon (GMA7) 8.4%; Power Rangers Samurai (ABS-CBN) 4.6%; Gargoyles (TV5) 2.6%
Bleach (GMA-7) 8.4%; Jackie Chan Fantasia (ABS-CBN) 3.2%; Oggy and the Cockroaches (TV5) 3.3%
Flame of Recca (GMA-7) 8.7%; Mr. Bean (ABS-CBN) 4.2%; Johnny Bravo (TV5) 3.4%
Shaman King (GMA-7) 8.7%; Kusina Master – Sikreto ng Experto (GMA-7) 7%; Crazy Love (ABS-CBN) 5.2%; Adventure Time with Finn & Jake (TV5) 4.8%
Tunay na Buhay (GMA-7) 10.5%; Minute To Win It (ABS-CBN) 10.2%; Ben 10 - Ultimate Alien (TV5) 5%
Afternoon:
Ryzza - The Ryzza Mae Show (GMA-7) 13.9%; Be Careful With My Heart (ABS-CBN) 17.2%; You Are My Destiny (TV5) 4%
Eat Bulaga (GMA-7) 18.7%; It's Showtime (ABS-CBN) 12.1%; Likeable or Not (TV5) 3.4%; Misibis Bay - Return to Paradise (TV5) 2.1%; Sine Ko 5ingko: Gladiator (TV5) 4.5%
Villa Quintana (GMA-7) 12.2%; Magkano Ba Ang Pag-ibig (GMA-7) 11.6%; Kapamilya Blockbusters: Haba-Baba-Doo! Puti-Puti-Poo! (ABS-CBN) 11.2%; Sine Ko 5ingko: Collision Earth (TV5) 6.1%
GMA Blockbusters: Jeannie, Bakit Ngayon Ka Lang? (GMA-7) 11.4%; Galema: Anak ni Zuma (ABS-CBN) 7.8%; Mutya ng Masa (ABS-CBN) 6.3%; Princess Hours (ABS-CBN) 9.3%; Face The People (TV5) 5.2%; T3 Reload (TV5) 6.8%
Evening:
Prinsesa ng Buhay Ko (GMA-7) 14.3%; Annaliza (ABS-CBN) 16.1%; Aksyon (TV5) 8.6%
ADVERTISEMENT - CONTINUE READING BELOW
24 Oras (GMA-7) 22.4%; TV Patrol (ABS-CBN) 20%; Let's Ask Pilipinas (TV5) 7.8%; Madam Chairman (TV5) 8%
Adarna (GMA-7) 20.5%; Honesto (ABS-CBN) 24.5%
Genesis (GMA-7) 18.4%; Got To Believe (ABS-CBN) 24.5%; Tuesday Christmas Countdown Movies: Fred Claus (TV5) 9.9%
Akin Pa Rin Ang Bukas (GMA-7) 21.3%; Maria Mercedes (ABS-CBN) 20.9%
A 100-Year Legacy (GMA-7) 15.9%; When A Man Falls In Love (ABS-CBN) 13.6%; Numero (TV5) 3.5%; Pilipinas News (TV5) 2.1%;
Saksi (GMA-7) 10.2%; Bandila (ABS-CBN) 6.3%; Reaksyon (TV5) 1%; Wasak (TV5) 1.1%
Reporter's Notebook (GMA-7) 5.6%; TYS: Tim Yap Show (GMA-7) 2.5%; Banana Nite (ABS-CBN) 3%; O Shopping (ABS-CBN) 1.1%
December 11, 2013 (Wednesday)
Morning:
Reporter's Notebook - Replay (GMA-7) 1.2%; My Puhunan - Replay (ABS-CBN) 0.5%
Unang Hirit (GMA-7) 4.1%; Umagang Kay Ganda (ABS-CBN) 3.5%; Reaksyon Replay (TV5) 0.4%; Good Morning Club (TV5) 1.2%
Dragon Ball(GMA-7) 5.8%; Pokemon (GMA-7) 7%; Kris TV (ABS-CBN) 6.4%; Jungle Junction (TV5) 2.8%; Phineas and Ferb (TV5) 3.7%
Doraemon (GMA7) 9.8%; Power Rangers Samurai (ABS-CBN) 4%; Gargoyles (TV5) 2.5%
Bleach (GMA-7) 8.8%; Jackie Chan Fantasia (ABS-CBN) 2.8%; Oggy and the Cockroaches (TV5) 4.1%
Flame of Recca (GMA-7) 8.8%; Mr. Bean (ABS-CBN) 3.4%; Johnny Bravo (TV5) 4.2%
Shaman King (GMA-7) 9.5%; Kusina Master – Sikreto ng Experto (GMA-7) 7.5%; Crazy Love (ABS-CBN) 4.6%; Adventure Time with Finn & Jake (TV5) 5.8%
Tunay na Buhay (GMA-7) 9.7%; Del Monte Kitchenomics (GMA-7) 10.3%; Minute To Win It (ABS-CBN) 9.3%; Ben 10 - Ultimate Alien (TV5) 5.6%
Afternoon:
Ryzza - The Ryzza Mae Show (GMA-7) 14.6%; Be Careful With My Heart (ABS-CBN) 17.7%; You Are My Destiny (TV5) 3.8%
Eat Bulaga (GMA-7) 19.5%; It's Showtime (ABS-CBN) 13.3%; Likeable or Not (TV5) 3%; NCAA Season 89 Women's Volleyball: JRU vs. MIT (TV5) 1.3%
Villa Quintana (GMA-7) 11.2%; Magkano Ba Ang Pag-ibig (GMA-7) 11.5%; Kapamilya Blockbusters: You Are The One (ABS-CBN) 9.3%; Sine Ko 5ingko: Pineapple Express (TV5) 4.3%
GMA Blockbusters: Desperadas - All They Need Is Love (GMA-7) 11.5%; Galema: Anak ni Zuma (ABS-CBN) 8.2%; My Puhunan (ABS-CBN) 7.5%; Princess Hours (ABS-CBN) 10.1%; Face The People (TV5) 4.9%; T3 Reload (TV5) 7%
Evening:
Prinsesa ng Buhay Ko (GMA-7) 14.3%; Annaliza (ABS-CBN) 15.7%; Aksyon (TV5) 8.3%
24 Oras (GMA-7) 21.2%; TV Patrol (ABS-CBN) 19.2%; Let's Ask Pilipinas (TV5) 7.3%; Madam Chairman (TV5) 7.4%
Adarna (GMA-7) 20.6%; Honesto (ABS-CBN) 23.8%
ADVERTISEMENT - CONTINUE READING BELOW
Genesis (GMA-7) 19.4%; Got To Believe (ABS-CBN) 25%; MyDSL PBA 2014 Philippine Cup: Meralco Bolts vs. San Mig Coffee Mixers (TV5) 6.9%
Akin Pa Rin Ang Bukas (GMA-7) 21.8%; Maria Mercedes (ABS-CBN) 20.7%
A 100-Year Legacy (GMA-7) 15.4%; When A Man Falls In Love (ABS-CBN) 12.7%; History With Lourd: Tsismis Noon Kasaysayan Ngayon (TV5) 3%; Pilipinas News (TV5) 3.4%;
Saksi (GMA-7) 9.5%; Bandila (ABS-CBN) 6.2%; Reaksyon (TV5) 1.6%
Born To Be Wild (GMA-7) 4.9%; Banana Nite (ABS-CBN) 3.5%; MyDSL PBA 2014 Philippine Cup: Air21 Express vs. Petron Blaze Boosters (TV5) 1.4%
TYS: Tim Yap Show (GMA-7) 2.4%; O Shopping (ABS-CBN) 1.1%
Here are the Top 10 daytime and primetime programs from December 9 to 11, 2013 among Mega Manila households (Household Ratings):
TOP TEN PROGRAMS:
December 9, 2013 (Monday)
DAYTIME:
Eat Bulaga (GMA-7) – 20%
Be Careful With My Heart (ABS-CBN) – 17%
Villa Quintana (GMA-7) – 14.6%
Ryzza: The Ryzza Mae Show – 13%
Magkano Ba Ang Pag-ibig? (GMA-7) – 12.8% / It's Showtime (ABS-CBN) – 12.8%
GMA Blockbusters: My Kontrabida Girl (GMA-7) - 11.7%
Doraemon (GMA-7) – 10.8%
Shaman King (GMA-7) – 10.7%
Kapamilya Blockbusters: Ang Cute ng Ina Mo! (ABS-CBN) - 10.5%
Minute To Win It (ABS-CBN) – 9.9% / Princess Hours (ABS-CBN) – 9.9%
PRIMETIME:
Honesto (ABS-CBN) – 25.3% / Got To Believe (ABS-CBN) – 25.3%
24 Oras (GMA-7) – 22.6%
Akin Pa Rin Ang Bukas (GMA-7) – 21.5%
Adarna (GMA-7) – 20.8%
Maria Mercedes (ABS-CBN) – 20.6%
TV Patrol (ABS-CBN) – 19.2%
Genesis (GMA-7) – 18.8%
Prinsesa ng Buhay Ko - (GMA-7) – 15.8%
Annaliza (ABS-CBN) – 15.7%
A 100-Year Legacy (GMA-7) – 13.7%
December 10, 2013 (Tuesday)
DAYTIME:
Eat Bulaga (GMA-7) – 18.7%
Be Careful With My Heart (ABS-CBN) – 17.2%
Ryzza: The Ryzza Mae Show (GMA-7) – 13.9%
Villa Quintana (GMA-7) – 12.2%
It's Showtime (ABS-CBN) – 12.1%
Magkano Ba Ang Pag-ibig (GMA-7) – 11.6%
GMA Blockbusters: Jeannie, Bakit Ngayon Ka Lang? (GMA-7) - 11.4%
Kapamilya Blockbusters: Haba-Baba-Doo! Puti-Puti-Poo! (ABS-CBN) -11.2%
Tunay na Buhay (GMA-7) – 10.5%
Minute To Win It (ABS-CBN) – 10.2%
PRIMETIME:
Honesto (ABS-CBN) – 24.5% / Got To Believe (ABS-CBN) – 24.5%
24 Oras (GMA-7) – 22.4%
Akin Pa Rin Ang Bukas (GMA-7) – 21.3%
Maria Mercedes (ABS-CBN) – 20.9%
Adarna (GMA-7) – 20.5%
TV Patrol (ABS-CBN) – 20%
Genesis (GMA-7) – 18.4% /
Annaliza (ABS-CBN) – 16.1%
A 100-Year Legacy (GMA-7) – 15.9%
Prinsesa ng Buhay Ko (GMA-7) – 14.3%
December 11, 2013 (Wednesday)
DAYTIME:
Eat Bulaga (GMA-7) – 19.5%
Be Careful With My Heart (ABS-CBN) – 17.7%
Ryzza: The Ryzza Mae Show (GMA-7) – 14.6%
It's Showtime (ABS-CBN) – 13.3%
Magkano Ba Ang Pag-ibig? (GMA-7) – 11.5%
Villa Quintana (GMA-7) – 11.2%
Princess Hours (ABS-CBN) – 10.1%
GMA Blockbusters: Desperadas – All They Need Is Love (GMA-7) – 9.9%
Doraemon (GMA-7) – 9.8%
Tunay na Buhay (GMA-7) – 9.7%
PRIMETIME:
Got To Believe (ABS-CBN) – 25%
Honesto (ABS-CBN) – 23.8%
Akin Pa Rin Ang Bukas (GMA-7) – 21.8%
24 Oras (GMA-7) – 21.2%
Maria Mercedes (ABS-CBN) – 20.7%
Adarna (GMA-7) – 20.6%
Genesis (GMA-7) – 19.4%
TV Patrol (ABS-CBN) – 19.2%
Annaliza (ABS-CBN) – 15.7%
A 100-Year Legacy (GMA-7) – 15.4%
Source: AGB Nielsen Philippines