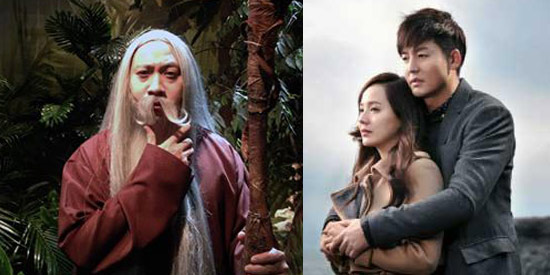 ---
After many weeks of being beaten by 24 Oras, TV Patrol has become the highest-rated newscast in weekday primetime.
This is according to data from AGB Nielsen Philippines from Mega Manila households for the period of February 1 to 7, 2014.
TV Patrol's good performance started last week, when viewers tuned in to its exclusive and extended coverage of the Vhong Navarro-Deniece Cornejo controversy.
TV Patrol's average ratings from week-to-week has risen from below 20% to above 20%.
TV Patrol's success has lowered the ratings of 24 Oras, from above 20% to below 20% from week-to-week.
ABS-CBN's primetime line-up also continues to dominate weekday nights. Honesto and Got to Believe are taking turns in becoming the most-watched program from day-to-day.
Meanwhile, the Angel Locsin-starrer The Legal Wife has gradually lowered ratings. It's average last week (January 27 to 31) is 22%. This week (February 1 to 7), it is 19.2%.
The Biggest Loser Pinoy Edition Doubles debuted this week. The Kapamilya channel's fitness-themed reality show did not do that well, as it only has 12.06% average ratings. The ratings of its competing shows, A 100-Year Legacy (Monday to Thursday, average: 15.25%) and Bubble Gang (Friday, 17.7%) are much higher.

Hosted by Iza Calzado, The Biggest Loser Pinoy Edition Doubles pilot episode on February 3 registered 13%, allowing it to land on the No. 10 slot. However, succeeding episodes failed to make it to the Top 10 shows.
ADVERTISEMENT - CONTINUE READING BELOW
GMA-7's new primetime shows are slowly showing improved ratings.
The Marian Rivera-starrer Carmela's average last week is 17.82%. This week, it is 19.16%.
The Jennylyn Mercado-starrer Rhodora X's average last week is 16.76%. This week, it is 17.3%.
GMA-7 may be losing in primetime, but it continues to dominate weekday afternoons.
GMA-7's Villa Quintana and Magkano Ba Ang Pag-ibig are the most-watched drama series on weekday afternoons. The Borrowed Wife and Tale of Arang are not too far behind.
Here is the comparative Rating Performance of GMA-7, ABS-CBN and TV5 programs from February 1 to 7, 2014, derived from AGB Nielsen Philippines from Mega Manila households:
February 1, 2014 (Saturday)
Morning:
PJM Forum (GMA-7) .3%; Adyenda (GMA-7) .8%
Kapwa Ko Mahal Ko (GMA-7) 1.5%; Sa Kabukiran (ABS-CBN) .7%; Family Matters (TV5) .3%
Pinoy MD (GMA-7) 2.6%; Salamat Dok (ABS-CBN) 1.8%; Imagination Movers (TV5) .8%
Scooby-Doo! Mystery Inc. (GMA-7) 4.2%; Swak na Swak (ABS-CBN) 3.4%; Yin Yang Yo! (TV5) 1.5%
Super Book (GMA-7) 7.1%; Honey Watch Out! (ABS-CBN) 2.3%; Kick Buttowski (TV5) 2%
ADVERTISEMENT - CONTINUE READING BELOW
Paddle Pop Kombatei (GMA-7) 7.6%; Angry Birds Toons (GMA-7) 9.7%; Sineskwela (ABS-CBN) 1.6%; The Marvelous Misadventures of Flapjack (TV5) 3.9%
Pororo (GMA-7) 9.7%; Toriko (GMA-7) 8.5%; Avatar: The Legend of Aang (ABS-CBN) 2.6%; Teenage Mutant Ninja Turtles (ABS-CBN) 3.2%; The Amazing World of Gumball (TV5) 3.9%
Tropang Potchi (GMA-7) 5.7%; Spongebob Squarepants (ABS-CBN) 5.8%; Regular Show (TV5) 5%
Sarap Diva (GMA-7) 6.6%; Maynila 15 (GMA-7) 10.2%; NBA 2013-2014 Season: Brooklyn Nets vs Oklahoma City Thunder (ABS-CBN) 4.8%; Powerpuff Girls Z (TV5) 5.4%; Sym-Bionic Titan (TV5) 6.5%; TV5 Kids Movie Special: Ultimate Avengers (TV5) 6.8%
Afternoon:
Eat Bulaga! (GMA-7) 18.3%; It's Showtime (ABS-CBN) 19.5%; Sabado Sinerama: Startship Troopers 2 (TV5) 4.5%
Ang Pinagmulan ni Carmela (GMA-7) 11%; The Singing Bee (ABS-CBN) 13.4%; Sabado Sinerama: Hollow Man II (TV5) 5.6%
Wish Ko Lang! (GMA-7) 11.5%; SOCO (ABS-CBN) 12.3%; Failon Ngayon (ABS-CBN) 12.2%; PLDT MyDSL PBA 2014 Philippine Cup: Petron vs Rain or Shine (TV5) 5.7%
24 Oras Weekend (GMA-7) 13.2%; TV Patrol Weekend (ABS-CBN) 17.4%; Aksyon Weekend (TV5) 4.9%
Evening:
Picture! Picture! (GMA-7) 15.6%; Bet On Your Baby (ABS-CBN) 19.2%; Pinoy Explorer (TV5) 6.4%
Vampire Ang Daddy Ko (GMA-7) 22%; Wansapanataym (ABS-CBN) 19.1%; Tropa Mo Ko Unli (TV5) 6.3%
ADVERTISEMENT - CONTINUE READING BELOW
Magpakailanman (GMA-7) 25.2%; MMK: Ang Tahanan Mo (ABS-CBN) 21.6%; Killer Karaoke: Pinoy Naman (TV5) 6.3%
The Biggest Loser: Pinoy Doubles Primer (ABS-CBN) 13%; Juan Direction (TV5) 3.3%
Celebrity Bluff (GMA-7) 23.4%; Banana Split: Extra Scoop (ABS-CBN) 9.3%; 2014 Ronda Pilipinas International (TV5) 2.8%
Kapuso Movie Night: Born Wild (GMA-7) 11.5%; The Bottom Line (ABS-CBN) 3.5%; Sports Unlimited (ABS-CBN) 2.9%; Piranha Movie (TV5) 4.9%
Walang Tulugan (GMA-7) 3.1%; O Shopping (ABS-CBN) 1.2%; Pilipinas News Weekend (TV5) 3.5%
---
February 2, 2014 (Sunday)
Morning:
Jesus The Healer (GMA-7) .6%; Balitang 60 (TV5) .6%;
In Touch with Dr. Charles Stanley (GMA-7) .7%; The Healing Eucharist (ABS-CBN) 3.7%; Misa Nazareno (TV5) 1.6%
Scooby-Doo! Mystery Inc. (GMA-7) 3.3%; Swak na Swak (ABS-CBN) 3%; Power to Unite with Elvira (TV5) 1%
Super Book (GMA-7) 5.7%; Paddle Pop Kombatei (GMA-7) 6.5%; Pororo (GMA-7) 6.6%; Salamat Dok (ABS-CBN) 2.8%; Yin Yang Yo! (TV5) 1.5%; Kick Buttowski (TV5) 4.1%
Toriko (GMA-7) 8.1%; X-Men (ABS-CBN) 1.8%; The Marvelous Misadventures of Flapjack (TV5) 5.2%
Aha! (GMA-7) 8.7%; Marvel Blade (ABS-CBN) 2%; Regular Show (TV5) 5%
Born Impact (GMA-7) 8.8%; Matanglawin (ABS-CBN) 5%; Powerpuff Girls Z (TV5) 4.7%
Rhodora X: Ang Simula (GMA-7) 11.5%; NBA 2013-2014 Season: Brooklyn Nets vs Indiana Pacers (ABS-CBN) 6.1%; Sym-Bionic Titan (TV5) 5.3%; Generator Rex (TV5) 4.6%; Philip Lifestyle Guy (TV5) 2.4%
ADVERTISEMENT - CONTINUE READING BELOW
Afternoon:
Sunday All Stars (GMA-7) 12.5%; ASAP 19 (ABS-CBN) 12.4%; Sunday Sineplex: Open Season (TV5) 5%; Video Incredible (TV5) 4.7%
True Horror Stories (GMA-7) 13.5%; iBilib (GMA-7) 8.1%; Luv U (ABS-CBN) 11.2%;
Startalk (GMA-7) 9.5%; Buzz ng Bayan (ABS-CBN) 16.4%; RV (TV5) 5.7%
24 Oras Weekend (GMA-7) 8.3%; TV Patrol Weekend (ABS-CBN) 14.5%; PLDT MyDSL PBA 2014 Philippine Cup: Bgy Ginebra vs San Mig Coffee (TV5) 12.4%
Evening:
Kap's Amazing Stories (GMA-7) 11.5%; Goin' Bulilit (ABS-CBN) 12%
Pepito Manaloto: Ang Tunay na Kuwento (GMA-7) 21.7%; Home Sweetie Home (ABS-CBN) 13%; Who Wants to be a Millionaire (TV5) 8%
Kapuso Mo, Jessica Soho (GMA-7) 28.3%; Rated K: Handa na ba Kayo? (ABS-CBN) 19.2%; Wow Mali Pa Rin! (TV5) 6.8%
Imbestigador (GMA-7) 19.7%; Gandang Gabi Vice (ABS-CBN) 21.1%; The Hills Have Eyes (TV5) 7.6%
Sunday Night Box Office: Die Hard 2 (GMA-7) 13.6%; Sunday's Best: Bulong (ABS-CBN) 9%; Sunday Sineplex: Sex and the City (TV5) 2.7%; Ronda Pilipinas (TV5) 2.7%; Pilipinas News Weekend (TV5) 1.6%
Diyos at Bayan (GMA-7) 2.5%; O Shopping (ABS-CBN) 1.5%
--
February 3, 2014 (Monday)
Morning:
Aha! Replay (GMA-7) .9%; Sports Unlimited Replay (ABS-CBN) .4%; Word of the Lourd (TV5) .1%; Reaksyon Replay (TV5) .2%
ADVERTISEMENT - CONTINUE READING BELOW
Unang Hirit! (GMA-7) 4.8%; Umagang Kay Ganda (ABS-CBN) 4.1%; Good Morning Club (TV5) .9%
Doraemon (GMA-7) 6.7%; Pokemon (GMA-7) 8.8%; Kris TV (ABS-CBN) 6.5%; NFL Super Bowl XL VIII: Denver Broncos vs Seattle Seahawks (TV5) 1.6%
Detective Conan (GMA-7) 10.3%; Ultraman Mebius (ABS-CBN) 3.8%; Domo (ABS-CBN) 3.6%
Inuyasha (GMA-7) 9.8%; Kuroko's Basketball (ABS-CBN) 3.7%; Domo (ABS-CBN) 3.6%
Flame of Recca (GMA-7) 10.7%; Dragon Ball Z Kai (GMA-7) 11.4%; Kusina Master (GMA-7) 7.8%; Crazy Love (ABS-CBN) 5.5%
Tunay Na Buhay (GMA-7) 8.5%; Minute To Win It (ABS-CBN) 10.4%; Ben 10 Ultimate Alien (TV5) 2.8%
The Ryzza Mae Show (GMA-7) 11.7%; Be Careful With My Heart (ABS-CBN) 16.6%; Likeable Or Not (TV5) 3.2%
Afternoon:
Eat Bulaga! (GMA-7) 19.8%; It's Showtime (ABS-CBN) 12.6%; NCAA S89 Women's Volleyball: AU vs UPHSD (TV5) 1.7%
Villa Quintana (GMA-7) 15%; Magkano Ba Ang Pag-ibig (GMA-7) 13.4%; Kapamilya Blockbusters: Praybeyt Benjamin (ABS-CBN) 11.4%; NCAA Men's Volleyball (TV5) 1.6%
The Borrowed Wife (GMA-7) 12.6%; Galema: Anak ni Zuma (ABS-CBN) 6.6%; Showbiz Police: Una sa Eksena (TV5) 2.1%; Face the People (TV5) 4.9%
Tale of Arang (GMA-7) 10.8%; Bistado (ABS-CBN) 5.4%; Princess Hours (ABS-CBN) 6.6%; T3 Reload (TV5) 5.7%
ADVERTISEMENT - CONTINUE READING BELOW
Evening:
Paraiso Ko'y Ikaw (GMA-7) 10.8%; Annaliza (ABS-CBN) 12.9%; Aksyon (TV5) 9.4%
24 Oras (GMA-7) 21.7%; TV Patrol (ABS-CBN) 22.6%; Let's Ask Pilipinas (TV5) 7.5%; Madam Chairman (TV5) 8.5%
Adarna (GMA-7) 19.4%; Honesto (ABS-CBN) 27.1%; PLDT MyDSL PBA 2014 Philippine Cup: Petron Blaze vs Rain or Shine (TV5) 10.5%
Carmela (GMA-7) 19.6%; Got to Believe (ABS-CBN) 26.9%
Rhodora X (GMA-7) 17.6%; The Legal Wife (ABS-CBN) 20.2%; Ronda Pilipinas (TV5) 6%
A 100-Year Legacy (GMA-7) 15.7%; The Biggest Loser: Pinoy Doubles (ABS-CBN) 13%; Demolition Job (TV5) 5%
Saksi (GMA-7) 10.1%; Bandila (ABS-CBN) 8.5%; Pilipinas News (TV5) 2.5%
I-Witness (GMA-7) 6.7%; Banana Nite (ABS-CBN) 7.1%; Reaksyon (TV5) 1.4%
The Medyo Late Night Show with Jojo A. (GMA-7) 3.6%; O Shopping (ABS-CBN) 1.6%
----
February 4, 2014 (Tuesday)
Morning:
I-Witness Replay (GMA-7) 1%; Mutya ng Masa Replay (ABS-CBN) .6%; Reaksyon Replay (TV5) .5%
Unang Hirit! (GMA-7) 4.5%; Umagang Kay Ganda (ABS-CBN) 4.1%; Good Morning Club (TV5) 1.3%
Doraemon (GMA-7) 6.1%; Pokemon (GMA-7) 7.9%; Kris TV (ABS-CBN) 5.8%; Jungle Junction (TV5) 2.5%
Detective Conan (GMA-7) 10.3%; Ultraman Mebius (ABS-CBN) 3%; Domo (ABS-CBN) 2.6%; Phineas and Ferb (TV5) 2.3%
Inuyasha (GMA-7) 9.7%; Kuroko's Basketball (ABS-CBN) 3.1%; Gargoyles (TV5) 2.1%
Flame of Recca (GMA-7) 9.3%; Naruto Shippuden (ABS-CBN) 3.6%; Oggy and the Cockroaches (TV5) 3.8%
ADVERTISEMENT - CONTINUE READING BELOW
Dragon Ball Z Kai (GMA-7) 9.3%; Kusina Master (GMA-7) 7.4%; Crazy Love (ABS-CBN) 5.4%; Johnny Bravo (TV5) 3.6%; Adventure Time (TV5) 4.6%
Tunay Na Buhay (GMA-7) 10%; Minute To Win It (ABS-CBN) 8.9%; Ben 10 Ultimate Alien (TV5) 5.2%
The Ryzza Mae Show (GMA-7) 12.1%; Be Careful With My Heart (ABS-CBN) 16.3%; Likeable Or Not (TV5) 4.5%
Afternoon:
Eat Bulaga! (GMA-7) 18.8%; It's Showtime (ABS-CBN) 11.3%; Sine Ko 5ingko: Men in Black (TV5) 5.3%
Villa Quintana (GMA-7) 12.7%; Magkano Ba Ang Pag-ibig (GMA-7) 12.2%; Kapamilya Blockbusters: Suddenly It's Magic (ABS-CBN) 7.6%; Sine Ko 5ingko: Dinocroc vs Supergator (TV5) 6.4%
The Borrowed Wife (GMA-7) 12.6%; Galema: Anak ni Zuma (ABS-CBN) 6.3%; Showbiz Police: Una sa Eksena (TV5) 3.6%; Face The People (TV5) 5.1%
Tale of Arang (GMA-7) 11.4%; Mutya ng Masa (ABS-CBN) 5.5%; Princess Hours (ABS-CBN) 7.8%; T3 Reload (TV5) 6.8%
Evening:
Paraiso Ko'y Ikaw (GMA-7) 11.7%; Annaliza (ABS-CBN) 13.4%; Aksyon (TV5) 8.8%
24 Oras (GMA-7) 20.3%; TV Patrol (ABS-CBN) 22.3%; Let's Ask Pilipinas (TV5) 6.7%; Madam Chairman (TV5) 7.1%
Adarna (GMA-7) 20.1%; Honesto (ABS-CBN) 26.3%; Studio 5 Original Movies: The Lady Next Door (TV5) 4.5%
Carmela (GMA-7) 20.9%; Got to Believe (ABS-CBN) 28.2%
ADVERTISEMENT - CONTINUE READING BELOW
Rhodora X (GMA-7) 18.7%; The Legal Wife (ABS-CBN) 20.6%; Numero (TV5) 3.3%
A 100-Year Legacy (GMA-7) 15.7%; The Biggest Loser: Pinoy Doubles (ABS-CBN) 12.9%; Ronda Pilipinas (TV5) 3.7%; Numero (TV5) 3.3%
Saksi (GMA-7) 10.1%; Bandila (ABS-CBN) 8.3%; Pilipinas News (TV5) 2.2%
Reporter's Notebook (GMA-7) 6.4%; Banana Nite (ABS-CBN) 5.7%; Reaksyon (TV5) 1.5%
The Medyo Late Night Show with Jojo A. (GMA-7) 2.6%; O Shopping (ABS-CBN) 1%
---
February 5, 2014 (Wednesday)
Morning:
Reporter's Notebook (GMA-7) .8%; My Puhunan Replay (ABS-CBN) .5%; Reaksyon Replay (TV5) .5%
Unang Hirit! (GMA-7) 4.7%; Umagang Kay Ganda (ABS-CBN) 4.5%; Good Morning Club (TV5) 1.4%
Doraemon (GMA-7) 6.3%; Pokemon (GMA-7) 7%; Kris TV (ABS-CBN) 5.6%; Jungle Junction (TV5) 1.9%
Detective Conan (GMA-7) 8.6%; Ultraman Mebius (ABS-CBN) 3.6%; Domo (ABS-CBN) 3.5%; Phineas and Ferb (TV5) 2.9%
Inuyasha (GMA-7) 8.8%; Kuroko's Basketball (ABS-CBN) 4%; Domo (ABS-CBN) 4%; Gargoyles (TV5) 2.4%
Flame of Recca (GMA-7) 9.5%; Naruto Shippuden (ABS-CBN) 3.9%; Oggy and the Cockroaches (TV5) 3.6%
Dragon Ball Z Kai (GMA-7) 9.2%; Kusina Master (GMA-7) 6.6%; Crazy Love (ABS-CBN) 5.1%; Johnny Bravo (TV5) 3.6%; Adventure Time (TV5) 4.8%
Tunay Na Buhay (GMA-7) 9.5%; Minute To Win It (ABS-CBN) 9.8%; Ben 10 Ultimate Alien (TV5) 5.6%
The Ryzza Mae Show (GMA-7) 12.1%; Be Careful With My Heart (ABS-CBN) 17.9%; Likeable Or Not (TV5) 4.4%
ADVERTISEMENT - CONTINUE READING BELOW
Afternoon:
Eat Bulaga! (GMA-7) 17.1%; It's Showtime (ABS-CBN) 11.7%; Sine Ko 5ingko: The Fifth Commandment (TV5) 6.7%
Villa Quintana (GMA-7) 12.8%; Magkano Ba Ang Pag-ibig (GMA-7) 12.4%; Kapamilya Blockbusters: Till There Was You (ABS-CBN) 7.4%; Sine Ko 5ingko: The Uninvited (TV5) 7.2%
The Borrowed Wife (GMA-7) 12.7%; Galema: Anak ni Zuma (ABS-CBN) 6.3%; Showbiz Police: Una sa Eksena (TV5) 3.9%; Face The People (TV5) 5.9%
Tale of Arang (GMA-7) 10.3%; My Puhunan (ABS-CBN) 5.7%; Princess Hours (ABS-CBN) 8.7%; T3 Reload (TV5) 6.9%
Evening:
Paraiso Ko'y Ikaw (GMA-7) 10.2%; Annaliza (ABS-CBN) 14.8%; Aksyon (TV5) 10%
24 Oras (GMA-7) 19.4%; TV Patrol (ABS-CBN) 22.7%; Let's Ask Pilipinas (TV5) 7.5%; Madam Chairman (TV5) 9%
Adarna (GMA-7) 18%; Honesto (ABS-CBN) 24.7%; PLDT MyDSL PBA 2014 Philippine Cup: Ginebra vs San Mig Coffee (TV5) 15.7%
Carmela (GMA-7) 18.9%; Got to Believe (ABS-CBN) 24.5%
Rhodora X (GMA-7) 16%; The Legal Wife (ABS-CBN) 16.6%; Ronda Pilipinas (TV5) 7.4%
A 100-Year Legacy (GMA-7) 14.2%; The Biggest Loser: Pinoy Doubles (ABS-CBN) 10.5%; History with Lourd (TV5) 4.5%
Saksi (GMA-7) 10.2%; Bandila (ABS-CBN) 8.3%; Pilipinas News (TV5) 1.9%
Born To Be Wild (GMA-7) 5.7%; Banana Nite (ABS-CBN) 5.7%; Reaksyon (TV5) 1.5%
ADVERTISEMENT - CONTINUE READING BELOW
The Medyo Late Night Show with Jojo A. (GMA-7) 3.1%; O Shopping (ABS-CBN) 1.8%
---
February 6, 2014 (Thursday)
Morning:
Born To Be Wild Replay (GMA-7) .9%; Tapatan Ni Tunying Replay (ABS-CBN) .8%; Astig (TV5) .1%; Reaksyon Replay (TV5) .3%
Unang Hirit! (GMA-7) 4.5%; Umagang Kay Ganda (ABS-CBN) 4.6%; Good Morning Club (TV5) 1%
Doraemon (GMA-7) 7.4%; Pokemon (GMA-7) 8.4%; Kris TV (ABS-CBN) 6.1%; Jungle Junction (TV5) 2.4%
Detective Conan (GMA-7) 9.1%; Ultraman Mebius (ABS-CBN) 3.5%; Domo (ABS-CBN) 3.2%; Phineas and Ferb (TV5) 2.5%
Inuyasha (GMA-7) 8.2%; Kuroko's Basketball (ABS-CBN) 3.5%; Domo (ABS-CBN) 3.1%; Gargoyles (TV5) 2.3%
Flame of Recca (GMA-7) 9.1%; Naruto Shippuden (ABS-CBN) 3.5%; Oggy and the Cockroaches (TV5) 3.7%
Dragon Ball Z Kai (GMA-7) 8.7%; Kusina Master (GMA-7) 6.9%; Crazy Love (ABS-CBN) 5.5%; Johnny Bravo (TV5) 3.8%; Adventure Time (TV5) 4.3%
Tunay Na Buhay (GMA-7) 8.6%; Minute To Win It (ABS-CBN) 9.6%; Ben 10 Ultimate Alien (TV5) 4.4%
The Ryzza Mae Show (GMA-7) 13.1%; Be Careful With My Heart (ABS-CBN) 17%; Likeable Or Not (TV5) 3.5%
Afternoon:
Eat Bulaga! (GMA-7) 18.5%; It's Showtime (ABS-CBN) 13.3%; News Patrol (ABS-CBN) 16.3%; NCAA S89 Women's Volleyball: AU vs UPHSD (TV5) 2.9%
Villa Quintana (GMA-7) 13.4%; Magkano Ba Ang Pag-ibig (GMA-7) 14.1%; Kapamilya Blockbusters: Who's That Girl? (ABS-CBN) 10.4%; NCAA S89 Men's Volleyball: EAC Generals vs UPHSD Altas (TV5) 1.5%
ADVERTISEMENT - CONTINUE READING BELOW
The Borrowed Wife (GMA-7) 12.4%; Galema: Anak ni Zuma (ABS-CBN) 7.2%; Showbiz Police: Una sa Eksena (TV5) 1.7%; Face The People (TV5) 5.3%
Tale of Arang (GMA-7) 10.3%; Tapatan Ni Tunying (ABS-CBN) 5.5%; Princess Hours (ABS-CBN) 8.2%; T3 Reload (TV5) 6.4%
Evening:
Paraiso Ko'y Ikaw (GMA-7) 9.6%; Annaliza (ABS-CBN) 14.8%; Aksyon (TV5) 9.1%
24 Oras (GMA-7) 19%; TV Patrol (ABS-CBN) 25%; Let's Ask Pilipinas (TV5) 5.6%; Madam Chairman (TV5) 6.6%
Adarna (GMA-7) 19.8%; Honesto (ABS-CBN) 26.8%; Obsession (TV5) 3.7%
Carmela (GMA-7) 19.7%; Got to Believe (ABS-CBN) 27.9%; Asia's Next Top Model (TV5) 2.7%
Rhodora X (GMA-7) 18.3%; The Legal Wife (ABS-CBN) 20.3%; Ronda Pilipinas (TV5) 2.4%
A 100-Year Legacy (GMA-7) 15.4%; The Biggest Loser: Pinoy Doubles (ABS-CBN) 12%; Dayo (TV5) 1.9%
Saksi (GMA-7) 10%; Bandila (ABS-CBN) 7.7%; Pilipinas News (TV5) 2.2%
Alisto! (GMA-7) 6.2%; Banana Nite (ABS-CBN) 4.9%; Reaksyon (TV5) 1.7%
The Medyo Late Night Show with Jojo A. (GMA-7) 2.9%; O Shopping (ABS-CBN) 1.1%
---
February 7, 2014 (Friday)
Morning:
Born Impact Replay (GMA-7) .8%; Matanglawin Replay (ABS-CBN) .4%; Reaksyon Replay (TV5) .3%
Unang Hirit! (GMA-7) 4.7%; Umagang Kay Ganda (ABS-CBN) 4.2%; Good Morning Club (TV5) 1.3%
Doraemon (GMA-7) 5.9%; Pokemon (GMA-7) 7.7%; Kris TV (ABS-CBN) 4.2%; Jungle Junction (TV5) 2.3%
ADVERTISEMENT - CONTINUE READING BELOW
Detective Conan (GMA-7) 9.1%; Ultraman Mebius (ABS-CBN) 3.7%; Domo (ABS-CBN) 4.1%; Phineas and Ferb (TV5) 3.5%
Inuyasha (GMA-7) 8.5%; Kuroko's Basketball (ABS-CBN) 4.4%; Domo (ABS-CBN) 4.4%; Gargoyles (TV5) 2.6%
Flame of Recca (GMA-7) 8.2%; Naruto Shippuden (ABS-CBN) 5%; Oggy and the Cockroaches (TV5) 3%
Dragon Ball Z Kai (GMA-7) 8.7%; Kusina Master (GMA-7) 7.2%; Crazy Love (ABS-CBN) 6%; Johnny Bravo (TV5) 3.4%; Adventure Time (TV5) 4.3%
Tunay Na Buhay (GMA-7) 9.5%; Minute To Win It (ABS-CBN) 10.2%; News Patrol (ABS-CBN) 7.1%; Ben 10 Ultimate Alien (TV5) 4.6%
The Ryzza Mae Show (GMA-7) 13.2%; Be Careful With My Heart (ABS-CBN) 18.2%; Likeable Or Not (TV5) 3.5%
Afternoon:
Eat Bulaga! (GMA-7) 18%; It's Showtime (ABS-CBN) 11%; Sine Ko 5ingko: The Island (TV5) 5.3%
Villa Quintana (GMA-7) 13%; Magkano Ba Ang Pag-ibig (GMA-7) 12.1%; Kapamilya Blockbusters: Sukob (ABS-CBN) 7.8%; Sine Ko 5ingko: The Island (TV5) 8.2% (TV5) 1.8%
The Borrowed Wife (GMA-7) 10.9%; Galema: Anak ni Zuma (ABS-CBN) 7.1%; Showbiz Police: Una sa Eksena (TV5) 3.5%; Face The People (TV5) 4.7%
Tale of Arang (GMA-7) 9.1%; Hiwaga (ABS-CBN) 6.3%; Princess Hours (ABS-CBN) 8.4%; T3 Reload (TV5) 5.8%
Evening:
Paraiso Ko'y Ikaw (GMA-7) 10%; Annaliza (ABS-CBN) 14.9%; Aksyon (TV5) 9%
ADVERTISEMENT - CONTINUE READING BELOW
24 Oras (GMA-7) 18.8%; TV Patrol (ABS-CBN) 21.6%; Let's Ask Pilipinas (TV5) 6.3%; Madam Chairman (TV5) 7.3%
Adarna (GMA-7) 16.1%; Honesto (ABS-CBN) 25.4%; PLDT MyDSL PBA 2014 Philippine Cup: Petron Blaze vs Rain or Shine (TV5) 11.6%
Carmela (GMA-7) 16.7%; Got to Believe (ABS-CBN) 25.9%; Ronda Pilipinas (TV5) 8.3%
Rhodora X (GMA-7) 15.9%; The Legal Wife (ABS-CBN) 18.3%; Astig (TV5) 4.2%
Bubble Gang (GMA-7) 17.7%; The Biggest Loser: Pinoy Doubles (ABS-CBN) 11.9%
Saksi (GMA-7) 10.4%; Bandila (ABS-CBN) 7.6%; Banana Nite (ABS-CBN) 5.4%; Pilipinas News (TV5) 3%; Reaksyon (TV5) 2.1%; Reaksyon (TV5) 1.8%; Astig (TV5) 1.3%
The Medyo Late Night Show with Jojo A. (GMA-7) 5.1%; O Shopping (ABS-CBN) 1.7%; Sochi. Ru 2014 Opening Ceremonies (TV5) 1.3%
---
TOP TEN PROGRAMS:
February 1, 2014 (Saturday)
DAYTIME:
It's Showtime (ABS-CBN) - 19.5%
Eat Bulaga! (GMA-7) - 18.3%
TV Patrol Weekend (ABS-CBN) - 17.4%
The Singing Bee (ABS-CBN) - 13.4%
24 Oras Weekend (GMA-7) - 13.2%
SOCO (ABS-CBN) -12.3%
Failon Ngayon (ABS-CBN) - 12.2%
Wish Ko Lang! (GMA-7) - 11.5%
Ang Pinagmulan ni Carmela (GMA-7) - 11%
Maynila 15 (GMA-7) - 10.2%
PRIMETIME:
Magpakailanman (GMA-7) - 25.2%
Celebrity Bluff (GMA-7) - 23.4%
Vampire Ang Daddy Ko (GMA-7) - 22%
MMK: Ang Tahanan Mo (ABS-CBN) - 21.6%
Bet On Your Baby (ABS-CBN) - 19.2%
Wansapanataym (ABS-CBN) - 19.1%
Picture! Picture! (GMA-7) - 15.6%
The Biggest Loser: Pinoy Edition Primer (ABS-CBN) - 13%
Kapuso Movie Night: Born Wild (GMA-7) - 11.5%
Banana Split: Extra Scoop (ABS-CBN) - 9.3%
February 2, 2014 (Sunday)
DAYTIME:
Buzz ng Bayan (ABS-CBN) - 16.4%
TV Patrol Weekend (ABS-CBN) - 14.5%
True Horror Stories (GMA-7) - 13.5%
Sunday All Stars (GMA-7) - 12.5%
ASAP 19 (ABS-CBN) / PLDT MyDSL PBA 2014 Philippine Cup: Brgy Ginebra vs San Mig Coffee (TV5) - 12.4%
Rhodora X: Ang Simula (GMA-7) - 11.5%
Luv U (ABS-CBN) - 11.2%
Startalk (GMA-7) - 9.5%
Born Impact (GMA-7) - 8.8%
Aha! (GMA-7) - 8.7%
PRIMETIME:
Kapuso Mo, Jessica Soho (GMA-7) / Imbestigador (GMA-7) - 28.3%
Pepito Manaloto: Ang Tunay na Kuwento (GMA-7) - 21.7%
Gandang Gabi Vice (ABS-CBN) - 21.1%
Rated K: Handa Na Ba Kayo? (ABS-CBN ) - 19.2%
Sunday Night Box Office: Die Hard 2 (GMA-7) - 13.6%
Home Sweetie Home (ABS-CBN) - 13%
Goin' Bulilit (ABS-CBN) - 12%
Kap's Amazing Stories (GMA-7) - 11.5%
Sunday's Best: Bulong (ABS-CBN) - 9%
The Hills Have Eyes (Movie) (TV5) - 7.6%
February 3, 2014 (Monday)
DAYTIME:
Eat Bulaga! (GMA-7) - 19.8%
Be Careful With My Heart (ABS-CBN) - 16.6%
Villa Quintana (GMA-7) - 15%
Magkano Ba Ang Pag-ibig? (GMA-7) - 13.4%
The Borrowed Wife (GMA-7) / It's Showtime (ABS-CBN) - 12.6%
The Ryzza Mae Show (GMA-7) - 11.7%
Dragon Ball Z Kai (GMA-7) / Kapamilya Blockbusters: Praybeyt Benjamin (ABS-CBN) - 11.4%
Tale of Arang (GMA-7) - 10.8%
Flame of Recca (GMA-7) - 10.7%
Minute To Win It (ABS-CBN) - 10.4%
PRIMETIME:
Honesto (ABS-CBN) - 27.1%
Got to Believe (ABS-CBN) - 26.9%
TV Patrol (ABS-CBN) - 22.6%
24 Oras (GMA-7) - 21.7%
The Legal Wife (ABS-CBN) - 20.2%
Carmela (GMA-7) - 19.6%
Adarna (GMA-7) - 19.4%
Rhodora X (GMA-7) - 17.6%
A 100-Year Legacy (GMA-7) - 15.7%
The Biggest Loser: Pinoy Doubles (ABS-CBN) - 13%
February 4, 2014 (Tuesday)
DAYTIME:
Eat Bulaga! (GMA-7) - 18.8%
Be Careful With My Heart (ABS-CBN) - 16.3%
Villa Quintana (GMA-7) - 12.7%
The Borrowed Wife (GMA-7) - 12.6%
Magkano Ba Ang Pag-ibig? (GMA-7) - 12.2%
The Ryzza Mae Show (GMA-7) - 12.1%
Tale of Arang (GMA-7) - 11.4%
It's Showtime (ABS-CBN) - 11.3%
Detective Conan (GMA-7) - 10.3%
Tunay na Buhay (GMA-7) - 10%
PRIMETIME:
Got to Believe (ABS-CBN) - 28.2%
Honesto (ABS-CBN) - 26.3%
TV Patrol (ABS-CBN) - 22.3%
Carmela (GMA-7) - 20.9%
The Legal Wife (ABS-CBN) - 20.6%
24 Oras (GMA-7) - 20.3%
Adarna (GMA-7) - 20.1%
Rhodora X (GMA-7) - 18.7%
A 100-Year Legacy (GMA-7) - 15.7%
Annaliza (ABS-CBN) - 13.4%
February 5, 2014 (Wednesday)
DAYTIME:
Be Careful With My Heart (ABS-CBN) - 17%
Eat Bulaga! (GMA-7) - 17.1%
Villa Quintana (GMA-7) - 12.8%
The Borrowed Wife (GMA-7) - 12.7%
Magkano Ba Ang Pag-ibig? (GMA-7) - 12.4%
The Ryzza Mae Show (GMA-7) - 12.1%
It's Showtime (ABS-CBN) - 11.7%
Tale of Arang (GMA-7) - 10.3%
Minute To Win It (ABS-CBN) - 9.8%
Flame of Recca (GMA-7) / Tunay na Buhay (GMA-7) - 9.5%
PRIMETIME:
Honesto (ABS-CBN) - 24.7%
Got to Believe (ABS-CBN) - 24.5%
TV Patrol (ABS-CBN) - 22.7%
24 Oras (GMA-7) - 19.4%
Carmela (GMA-7) - 18.9%
Adarna (GMA-7) - 18%
The Legal Wife (ABS-CBN) - 16.6%
Rhodora X (GMA-7) - 16%
PLDT MyDSL PBA 2014 Philippine Cup: Brgy Ginebra vs San Mig Coffee (TV5) - 15.7%
Annaliza (ABS-CBN) - 14.8%


February 6, 2014 (Thursday)
DAYTIME:
Eat Bulaga! (GMA-7) - 18.5%
Be Careful With My Heart (ABS-CBN) - 17%
News Patrol (ABS-CBN) - 16.3%
Magkano Ba Ang Pag-ibig? (GMA-7) - 14.1%
Villa Quintana (GMA-7) - 13.4%
It's Showtime (ABS-CBN) - 13.3%
The Ryzza Mae Show (GMA-7) - 13.1%
The Borrowed Wife (GMA-7) - 12.4%
Kapamilya Blockbusters: Who's That Girl? (ABS-CBN) - 10.4%
Tale of Arang (GMA-7) - 10.3%
PRIMETIME:
Got to Believe (ABS-CBN) - 27.9%
Honesto (ABS-CBN) - 26.8%
TV Patrol (ABS-CBN) - 25%
The Legal Wife (ABS-CBN) - 20.3%
Adarna (GMA-7) - 19.8%
Carmela (GMA-7) - 19.7%
24 Oras (GMA-7) - 19%
Rhodora X (GMA-7) - 18.3%
A 100-Year Legacy (GMA-7) - 15.4%
Annaliza (ABS-CBN) - 14.8%
February 7, 2014 (Friday)
DAYTIME:
Be Careful With My Heart (ABS-CBN) - 18.2%
Eat Bulaga! (GMA-7) - 18%
The Ryzza Mae Show (GMA-7) - 13.2%
Villa Quintana (GMA-7) - 13%
Magkano Ba Ang Pag-ibig? (GMA-7) - 12.1%
It's Showtime (ABS-CBN) - 11%
The Borrowed Wife (GMA-7) - 10.9%
Minute to Win It (ABS-CBN) - 10.2%
Tunay na Buhay (GMA-7) - 9.5%
Detective Conan (GMA-7) / Tale of Arang (GMA-7) - 9.1%
PRIMETIME:
Got to Believe (ABS-CBN) - 25.9%
Honesto (ABS-CBN) - 25.4%
TV Patrol (ABS-CBN) - 21.6%
24 Oras (GMA-7) - 18.8%
The Legal Wife (ABS-CBN) - 18.3%
Bubble Gang (GMA-7) - 17.7%
Carmela (GMA-7) - 16.7%
Adarna (GMA-7) - 16.1%
Rhodora X (GMA-7) - 15.9%
Annaliza (ABS-CBN) - 14.9%
Source: AGB Nielsen Philippines