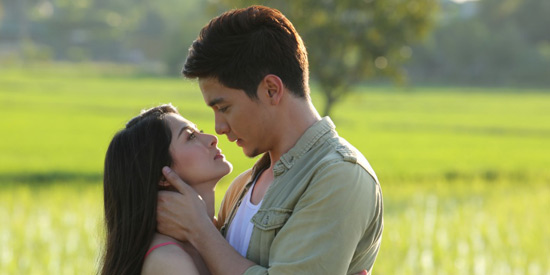 ---
GMA-7 now rules both daytime and primetime. This according to ratings data from AGB Nielsen Philippines from Mega Manila households from March 15 to 21, 2014.
This is a welcome development for the Kapuso Network, because its primetime offerings have previously been losing to ABS-CBN's shows.
This change is a result of the end of ABS-CBN's top-rating Honesto and Got to Believe, two shows that ruled weekday nights for months.
Got to Believe ended on March 7, and was replaced by the Coco Martin-Kim Chiu starrer Ikaw Lamang. Honesto ended on March 14, and got replaced by Anne Curtis's Dyesebel on March 21.
Both Ikaw Lamang and Dyesebel premiered well, beating their rival shows Carmela and Kambal Sirena at the start. But the two Kapuso shows have fought back, and are now on top of the competition.
CARMELA ON TOP. Carmela, which stars Marian Rivera, started airing last January 27. It had poor ratings since then; at times, Got to Believe even had twice its viewership. But Carmela recovered when the Daniel Padilla-Kathryn Bernardo teleserye ended after airing for almost seven months.
Carmela first beat Ikaw Lamang on March 12. On March 17, both shows tied with 23.2%. After that, Carmela outperformed its counterpart Ikaw Lamang, which stars Coco Martin, Kim Chiu, Jake Cuenca, and Julia Montes. The Marian Rivera-Alden Richards teleserye emerged as the most-watched primetime show on March 19, 20 and 21.
Carmela's ratings win is a result of its rising ratings. It's average ratings for its debut week (January 27 to 31) was only 17.82%. For March 17 to 21, its average is 25.22%.
BATTLE OF MERMAIDS. Kambal Sirena has a similar ratings blueprint to Carmela. When it debuted on March 10, it lagged behind ABS-CBN's ratings winner Honesto. But now that Honesto is no longer airing on the Kapamilya Network, Kambal Sirena is floating closer to the top.
Its competing show is Dyesebel, another show about mermaids. To give it credit, it debuted very well on March 17, when it landed on No. 1 slot among most-watched shows on primetime. It also placed first the next day, March 18.
ADVERTISEMENT - CONTINUE READING BELOW
But Dyesebel's fate was reversed on Wednesday, March 19, when it only placed third on the list, behind Carmela and Kambal Sirena. It also placed behind both shows on March 20 and 21.
OTHER WINS. Other Kapuso primetime shows are also doing well.
Rhodora X (starring Jennylyn Mercado and Mark Herras) has strengthened its lead against The Legal Wife, winning its timeslot five time out of five from March 15-21.
The Korean drama A 100-Year Legacy has also cemented its lead against the Kapamilya reality show The Biggest Loser: Pinoy Edition Doubles and the 15-minute talk show Aquino & Abunda Tonight, from Monday to Thursday. The gag show Bubble Gang also beat the two ABS-CBN shows on Friday night.
Not all Kapuso primetime shows are winners, though.
Early primetime drama Paraiso Ko'y Ikaw has failed to recover from its losses against Annaliza, which ended on March 21 with 18.3%. Paraiso only received 10.8%. Weekday night newscast 24 Oras is also losing against TV Patrol.
Here is the comparative Rating Performance of GMA-7, ABS-CBN and TV5 programs from March 15 to 21, 2014, derived from AGB Nielsen Philippines from Mega Manila households:
March 15, 2014 (Saturday)
Morning:
PJM Forum (GMA-7) .3%; Adyenda (GMA-7) .8%
Kapwa Ko Mahal Ko (GMA-7) 1.4%; Sa Kabukiran (ABS-CBN) .4%; Family Matters (TV5) .3%
Pinoy MD (GMA-7) 3.1%; Salamat Dok (ABS-CBN) 2%; Imagination Movers (TV5) 1%
Scooby-Doo! Mystery Inc. (GMA-7) 4.9%; Swak na Swak (ABS-CBN) 2.1%; Yin Yang Yo! (TV5) 1.5%
Super Book (GMA-7) 7.4%; Honey Watch Out! (ABS-CBN) 1.3%; Kick Buttowski (TV5) 2.7%
Paddle Pop Dinoterra (GMA-7) 8.2%; Sineskwela (ABS-CBN) 1.7%; The Marvelous Misadventures of Flapjack (TV5) 4.2%
Angry Birds Toons (GMA-7) 9.6%; Toriko (GMA-7) 8.8%; Avatar: The Legend of Aang (ABS-CBN) 2.5%; Teenage Mutant Ninja Turtles (ABS-CBN) 3.6%; The Amazing World of Gumball (TV5) 4.2%
Tropang Potchi (GMA-7) 6%; Spongebob Squarepants (ABS-CBN) 5.9%; Regular Show (TV5) 4.6%
Sarap Diva (GMA-7) 7.7%; Maynila 15 (GMA-7) 10.8%; Del Monte Kitchenomics (GMA-7) 14.4%; NBA 2013-2014 Season: LA Lakers vs San Antonio Spurs (ABS-CBN) 4.1%; Powerpuff Girls Z (TV5) 5.8%; Sym-Bionic Titan (TV5) 5.9%; TV5 Kids Movie Special: Hulk vs. Thor (TV5) 5.9%
ADVERTISEMENT - CONTINUE READING BELOW
Afternoon:
Eat Bulaga! (GMA-7) 20.4%; It's Showtime (ABS-CBN) 12.3%; The Longest Yard (TV5) 6.3%
GMA Blockbusters: The Ant Bully (GMA-7) 15%; GMA Blockbusters: Journey to the Center of the Earth (GMA-7) 14.9%; UAAP 76 Women's Volleyball Finals: ADMU Lady Eagles vs DLSU Lady Spikers (ABS-CBN) 12.4%; The Last Boyscout (TV5) 6.1%
Wish Ko Lang! (GMA-7) 13.2%; PBA 2014 Commisioner's Cup: Alaska Aces vs Rain or Shine Elastopainters (TV5) 3.2%
24 Oras Weekend (GMA-7) 19.2%; TV Patrol Weekend (ABS-CBN) 15.3%; Aksyon Weekend (TV5) 2.8%
Evening:
Picture! Picture! (GMA-7) 21.5%; Bet On Your Baby (ABS-CBN) 20.2%; Magic Gimik Revealed! (TV5) 4.3%; Pinoy Explorer (TV5) 5%
Vampire Ang Daddy Ko (GMA-7) 25.1%; Wansapanataym (ABS-CBN) 20.8%; Tropa Mo Ko Unli (TV5) 5.5%
Magpakailanman (GMA-7) 26.1%; MMK: Ang Tahanan Mo (ABS-CBN) 22.3%; Killer Karaoke: Pinoy Naman (TV5) 6%
Celebrity Bluff (GMA-7) 24.6%; The Biggest Loser: Pinoy Edition Doubles (ABS-CBN) 10.9%; Juan Direction (TV5) 3.2%
I-Witness (GMA-7) 12.1%; Banana Split: Extra Scoop (ABS-CBN) 6.8%; Kaya (TV5) 1.8%
Kapuso Movie Night: When Fortune Smiles (GMA-7) 7.6%; The Bottom Line (ABS-CBN) 2.1%; Sports Unlimited (ABS-CBN) 1%; SpinNation (TV5) 1.1%
Walang Tulugan (GMA-7) 3.2%; O Shopping (ABS-CBN) .8%; Pilipinas News Weekend (TV5) 1%
---
March 16, 2014 (Sunday)
Morning:
In Touch with Dr. Charles Stanley (GMA-7) .6%; Jesus The Healer (GMA-7) .7%; Balitang 60 (TV5) .5%
Mojacko (GMA-7) 1.3%; Puppy In My Pocket (GMA-7) 2.1%; Scan2Go (GMA-7) 2.8%; The Healing Eucharist (ABS-CBN) 4.5%; Misa Nazareno (TV5) .7%
The Batman (GMA-7) 4.7%; Swak na Swak (ABS-CBN) 2.7%; Power to Unite with Elvira (TV5) .2%
Super Book (GMA-7) 5.9%; Paddle Pop Dinoterra (GMA-7) 7%; Salamat Dok (ABS-CBN) 2.8%; Yin Yang Yo! (TV5) 1.9%; Kick Buttowski (TV5) 3.7%
Toriko (GMA-7) 8.6%; X-Men (ABS-CBN) 2.1%; The Marvelous Misadventures of Flapjack (TV5) 3.8%
Aha! (GMA-7) 8.8%; Marvel Blade (ABS-CBN) 2.8%; Regular Show (TV5) 4%
Born To Be Wild (GMA-7) 8.5%; Matanglawin (ABS-CBN) 4.6%; Powerpuff Girls Z (TV5) 4.1%
Kambal Sirena Rewind (GMA-7) 10.1%; Del Monte Kitchenomics (GMA-7) 10.7%; Kapamilya Blockbusters: The Incredibles (ABS-CBN) 9.8%; Sym-Bionic Titan (TV5) 5.2%; Generator Rex (TV5) 3.5%
Afternoon:
Sunday All Stars (GMA-7) 10.9%; ASAP 19 (ABS-CBN) 12.5%; Chicken Run (TV5) 5.5%
True Horror Stories (GMA-7) 13.7%; iBilib (GMA-7) 9.5%; Luv U (ABS-CBN) 9%; Nacho Libre (TV5) 6.4%
Startalk (GMA-7) 7.5%; Buzz ng Bayan (ABS-CBN) 8.9%; PBA 2014 Commisioner's Cup: Barako Bull vs Talk n Text (TV5) 4.5%
ADVERTISEMENT - CONTINUE READING BELOW
24 Oras Weekend (GMA-7) 7.2%; TV Patrol Weekend (ABS-CBN) 9.7%; PBA 2014 Commisioner's Cup: Barangay Ginebra vs San Mig Coffee (TV5) 10.4%
Evening:
Kap's Amazing Stories (GMA-7) 12.1%; Goin' Bulilit (ABS-CBN) 10.3%
Pepito Manaloto: Ang Tunay na Kuwento (GMA-7) 22.2%; Home Sweetie Home (ABS-CBN) 12.4%; Who Wants to be a Millionaire (TV5) 7.4%
Kapuso Mo, Jessica Soho (GMA-7) 27.4%; Rated K: Handa na ba Kayo? (ABS-CBN) 18.6%; Wow Mali Pa Rin! (TV5) 5.6%
Imbestigador (GMA-7) 23.4%; Gandang Gabi Vice (ABS-CBN) 21.3%; Sunday Sineplex: Faster (TV5) 6.3%
Sunday Night Box Office: Miss Rachelle: The Send-Off Concert (GMA-7) 9%; Sunday's Best: 30th Star Awards for Movies (ABS-CBN) 6.8%; Ganito Kami Muli (ABS-CBN) 2.2%; Pilipinas News Weekend (TV5) 3.9%
Diyos at Bayan (GMA-7) 2.3%; O Shopping (ABS-CBN) .5%
--
March 17, 2014 (Monday)
Morning:
Aha! Replay (GMA-7) 1.3%; Sports Unlimited Replay (ABS-CBN) .6%; Word of the Lourd (TV5) .3%
Unang Hirit! (GMA-7) 4.2%; Umagang Kay Ganda (ABS-CBN) 3.9%; Reaksyon Replay (TV5) .5%; Good Morning Club (TV5) 1%
Doraemon (GMA-7) 4.4%; Detective Conan (GMA-7) 6.2%; One Piece (GMA-7) 8%; Kris TV (ABS-CBN) 6.4%; Jungle Junction (TV5) 1.9%; Phineas and Ferb (TV5) 2.9%
Pokemon (GMA-7) 9.2%; Mr. Bean (ABS-CBN) 5.3%; Gargoyles (TV5) 1.9%
Inuyasha (GMA-7) 9.8%; Domo (ABS-CBN) 5.2%; Yu-Gi-Oh! 5Ds (ABS-CBN) 3.9%; Oggy and the Cockroaches (TV5) 3.1%
Flame of Recca (GMA-7) 10.6%; Domo (ABS-CBN) 3.6%; Mr. Bean (ABS-CBN) 4.5%; Johnny Bravo (TV5) 2.8%
Dragon Ball Z Kai (GMA-7) 11.9%; Kusina Master (GMA-7) 8.3%; Wansapanasummer (ABS-CBN) 6.5%;
Adventure Time (TV5) 3.7%
Tunay Na Buhay (GMA-7) 11%; The Singing Bee (ABS-CBN) 10.7%; Ben 10 (TV5) 4.8%
The Ryzza Mae Show (GMA-7) 12.1%; Be Careful With My Heart (ABS-CBN) 17.7%; Ben 10 Ultimate Alien (TV5) 4.9%
Afternoon:
Eat Bulaga! (GMA-7) 17.5%; It's Showtime (ABS-CBN) 12.9%; Termination Point (TV5) 4.9%
Villa Quintana (GMA-7) 13.2%; Innamorata (GMA-7) 11%; Kapamilya Blockbusters: Pak! Pak! My Dr. Kwak! (ABS-CBN) 9.9%; Pineapple Express (TV5) 5.4%
The Borrowed Wife (GMA-7) 11.6%; Galema: Anak ni Zuma (ABS-CBN) 8.2%; Showbiz Police: Una sa Eksena (TV5) 3.5%; Face the People (TV5) 5.6%
GMA Sinebabad: Love So Divine (GMA-7) 9.5%; Bistado (ABS-CBN) 5.9%; My Girlfriend is a Gumiho (ABS-CBN) 8.3%; T3 Reload (TV5) 5.6%
Evening:
Paraiso Ko'y Ikaw (GMA-7) 10.2%; Annaliza (ABS-CBN) 14.4%; Aksyon (TV5) 7.5%
24 Oras (GMA-7) 20.1%; TV Patrol (ABS-CBN) 22.6%; Let's Ask Pilipinas (TV5) 6.7%; Confessions of a Torpe (TV5) 6.2%
ADVERTISEMENT - CONTINUE READING BELOW
Kambal Sirena (GMA-7) 23.6%; Dyesebel (ABS-CBN) 25.2%; PBA 2014 Commissioner's Cup: Air 21 vs Alaska (TV5) 7.7%
Carmela (GMA-7) 23.2%; Ikaw Lamang (ABS-CBN) 23.2%; Monday Night Blockbusters: Gone in Sixty Seconds (TV5) 9.5%
Rhodora X (GMA-7) 20.5%; The Legal Wife (ABS-CBN) 17.3%; Aquino & Abunda Tonight (ABS-CBN) 11.9%
A 100-Year Legacy (GMA-7) 19%; The Biggest Loser: Pinoy Doubles (ABS-CBN) 9.7%; Demolition Job (TV5) 4.8%; Pilipinas News (TV5) 2.8%; Reaksyon (TV5) 2.2%
Saksi (GMA-7) 9.9%; Bandila (ABS-CBN) 6.1%; Showbiz Police: Una sa Eksena (TV5) 1.4%
Front Row (GMA-7) 7%; Banana Nite (ABS-CBN) 4.3%; T3 Reload Replay (TV5) .9%
The Medyo Late Night Show with Jojo A. (GMA-7) 3.5%; O Shopping (ABS-CBN) .9%
----
March 18, 2014 (Tuesday)
Morning:
I-Witness Replay (GMA-7) .7%; Mutya ng Masa Replay (ABS-CBN) .3%; Reaksyon Replay (TV5) .3%
Unang Hirit! (GMA-7) 3.8%; Umagang Kay Ganda (ABS-CBN) 3.5%; Good Morning Club (TV5) 1%
Doraemon (GMA-7) 5.5%; Detective Conan (GMA-7) 8.5%; One Piece (GMA-7) 10.9%; Kris TV (ABS-CBN) 5.9%; Jungle Junction (TV5) 2.4%; Phineas and Ferb (TV5) 3%
Pokemon (GMA-7) 11.2%; Mr. Bean (ABS-CBN) 4.1%; Gargoyles (TV5) 2.3%
Inuyasha (GMA-7) 11.1%; Domo (ABS-CBN) 3.8%; Yu-Gi-Oh! 5Ds (ABS-CBN) 3.3%; Oggy and the Cockroaches (TV5) 4%
Flame of Recca (GMA-7) 12.3%; Domo (ABS-CBN) 3.1%; Mr. Bean (ABS-CBN) 4.8%; Johnny Bravo (TV5) 3.2%
Dragon Ball Z Kai (GMA-7) 12.6%; Kusina Master (GMA-7) 7.6%; Wansapanasummer (ABS-CBN) 7.5%;
Adventure Time (TV5) 3.8%
Tunay Na Buhay (GMA-7) 8.5%; The Singing Bee (ABS-CBN) 13.1%; Ben 10 (TV5) 4.3%
The Ryzza Mae Show (GMA-7) 12.4%; Be Careful With My Heart (ABS-CBN) 17.6%; Ben 10 Unlimited Alien (TV5) 5%
Afternoon:
Eat Bulaga! (GMA-7) 19.3%; It's Showtime (ABS-CBN) 12%; Sine Ko 5ingko: Drillbit Taylor (TV5) 4.9%
Villa Quintana (GMA-7) 14.3%; Innamorata (GMA-7) 13.3%; Kapamilya Blockbusters: Bad Boy II (ABS-CBN) 7.3%; Sine Ko 5ingko: Middle Men (TV5) 4.3%
The Borrowed Wife (GMA-7) 12.7%; Galema: Anak ni Zuma (ABS-CBN) 7%; Showbiz Police: Una sa Eksena (TV5) 3%; Face The People (TV5) 5.2%
GMA Sinebabad: Love so Divine (GMA-7) 9.1%; Mutya ng Masa (ABS-CBN) 6.6%; My Girlfriend is a Gumiho (ABS-CBN) 9.5%; T3 Reload (TV5) 6%
Evening:
Paraiso Ko'y Ikaw (GMA-7) 9.5%; Annaliza (ABS-CBN) 15.7%; Aksyon (TV5) 7.7%
24 Oras (GMA-7) 20%; TV Patrol (ABS-CBN) 22.2%; Let's Ask Pilipinas (TV5) 6.2%; Confessions of a Torpe (TV5) 6.8%
Kambal Sirena (GMA-7) 23.4%; Dyesebel (ABS-CBN) 25.1%; Transformers (TV5) 10.8%
Carmela (GMA-7) 23.9%; Ikaw Lamang (ABS-CBN) 22.3%
ADVERTISEMENT - CONTINUE READING BELOW
Rhodora X (GMA-7) 21.1%; The Legal Wife (ABS-CBN) 17.5%; Aquino & Abunda Tonight (ABS-CBN) 12.8%; Kuwentong PBA (TV5) 5.9%
A 100-Year Legacy (GMA-7) 18.6%; The Biggest Loser: Pinoy Doubles (ABS-CBN) 9.5%; Numero (TV5) 2.3%; Pilipinas News (TV5) 1.6%
Saksi (GMA-7) 9.7%; Bandila (ABS-CBN) 5.4%; Reaksyon (TV5) 1.7%; Showbiz Police Replay (TV5) 1.4%
Out of Control (GMA-7) 4.5%; Banana Nite (ABS-CBN) 3.5%; T3 Reload Replay (TV5) 1.6%
The Medyo Late Night Show with Jojo A. (GMA-7) 2.7%; O Shopping (ABS-CBN) .6%;
---
March 19, 2014 (Wednesday)
Morning:
Out of Control Replay (GMA-7) .7%; My Puhunan Replay (ABS-CBN) .3%; Reaksyon Replay (TV5) .5%
Unang Hirit! (GMA-7) 4.3%; Umagang Kay Ganda (ABS-CBN) 3.4%; Good Morning Club (TV5) 1%
Doraemon (GMA-7) 6.1%; Detective Conan (GMA-7) 8.8%; One Piece (GMA-7) 10.6%; Kris TV (ABS-CBN) 5.7%; Jungle Junction (TV5) 2.6%; Phineas and Ferb (TV5) 3.3%
Pokemon (GMA-7) 11.3%; Mr. Bean (ABS-CBN) 4.7%; PLDT Home Fibr NCAA March Madness: NC State Wolfpack vs Xavier Musketeers (TV5) 1.5%
Inuyasha (GMA-7) 12.7%; Domo (ABS-CBN) 4.9%; Yu-Gi-Oh! 5Ds (ABS-CBN) 4.1%
Flame of Recca (GMA-7) 13.3%; Domo (ABS-CBN) 4.8%; Mr. Bean (ABS-CBN) 6.3%
Dragon Ball Z Kai (GMA-7) 13.7%; Kusina Master (GMA-7) 9.2%; Wansapanasummer (ABS-CBN) 9.5%
Tunay Na Buhay (GMA-7) 11.2%; Del Monte Kitchenomics (GMA-7) 11%; The Singing Bee (ABS-CBN) 12.5%; Ben 10 (TV5) 4.1%
The Ryzza Mae Show (GMA-7) 11.9%; Be Careful With My Heart (ABS-CBN) 16.6%; Ben 10 Ultimate Alien (TV5) 5.6%
Afternoon:
Eat Bulaga! (GMA-7) 19.1%; It's Showtime (ABS-CBN) 11.8%; The Lovely Bones (TV5) 5.3%
Villa Quintana (GMA-7) 15.2%; Innamorata (GMA-7) 14.1%; Kapamilya Blockbusters: Kung Ayaw Mo Wag Mo (ABS-CBN) 8%; Little Fockers (TV5) 4.8%
The Borrowed Wife (GMA-7) 14%; Galema: Anak ni Zuma (ABS-CBN) 8.1%; Showbiz Police: Una sa Eksena (TV5) 2.6%; Face The People (TV5) 5.5%
GMA Sinebabad: The Classic (GMA-7) 8.4%; My Puhunan (ABS-CBN) 7.3%; My Girlfriend is a Gumiho (ABS-CBN) 10.4%; T3 Reload (TV5) 6.1%
Evening:
Paraiso Ko'y Ikaw (GMA-7) 10.1%; Annaliza (ABS-CBN) 15.6%; Aksyon (TV5) 6.9%
24 Oras (GMA-7) 19%; TV Patrol (ABS-CBN) 20.7%; Let's Ask Pilipinas (TV5) 5.5%; Confessions of a Torpe (TV5) 7.4%
Kambal Sirena (GMA-7) 24.8%; Dyesebel (ABS-CBN) 23.2%; PBA 2014 Commisioner's Cup: Rain or Shine vs San Miguel Beermen (TV5) 11.2%
Carmela (GMA-7) 26.8%; Ikaw Lamang (ABS-CBN) 21.7%
Rhodora X (GMA-7) 20.6%; The Legal Wife (ABS-CBN) 15.5%; Aquino & Abunda Tonight (ABS-CBN) 11.6%; History with Lourd (TV5) 6.6%
ADVERTISEMENT - CONTINUE READING BELOW
A 100-Year Legacy (GMA-7) 19.7%; The Biggest Loser: Pinoy Doubles (ABS-CBN) 8.7%; Pilipinas News (TV5) 3.9%; Reaksyon (TV5) 2.4%
Saksi (GMA-7) 13.2%; Bandila (ABS-CBN) 5.2%; Showbiz Police: Una sa Eksena Replay (TV5) 1.6%; T3 Reload Replay (TV5) 1.3%
Power House (GMA-7) 9.3%; Banana Nite (ABS-CBN) 4.1%
The Medyo Late Night Show with Jojo A. (GMA-7) 3.7%; O Shopping (ABS-CBN) 1.2%
---
March 20, 2014 (Thursday)
Morning:
Born To Be Wild Replay (GMA-7) .8%; Tapatan Ni Tunying Replay (ABS-CBN) .3%; Astig (TV5) 0%
Unang Hirit! (GMA-7) 3.7%; Umagang Kay Ganda (ABS-CBN) 2.9%; Reaksyon Replay (TV5) .3%; Good Morning Club (TV5) 1.1%
Doraemon (GMA-7) 5.6%; Detective Conan (GMA-7) 8.1%; One Piece (GMA-7) 10.4%; Kris TV (ABS-CBN) 5.6%; Jungle Junction (TV5) 3.1%
Pokemon (GMA-7) 11.6%; Mr. Bean (ABS-CBN) 5.3%; Domo (ABS-CBN) 6.1%; Phineas and Ferb (TV5) 4.3%
Inuyasha (GMA-7) 12.5%; Yu-Gi-Oh! 5Ds (ABS-CBN) 4.9%; Domo (ABS-CBN) 5.4%; PLDT Home Fibr NCAA March Madness: Iowa St Cyclones vs Tennesse Volunteers (TV5) 1.6%
Flame of Recca (GMA-7) 12.4%; Mr. Bean (ABS-CBN) 6.6%
Dragon Ball Z Kai (GMA-7) 13.5%; Kusina Master (GMA-7) 9%; Wansapanasummer (ABS-CBN) 8.1%
Tunay Na Buhay (GMA-7) 10.8%; The Singing Bee (ABS-CBN) 13.1%; Adventure Time (TV5) 5.9%; Ben 10 (TV5) 3%
The Ryzza Mae Show (GMA-7) 13.3%; Be Careful With My Heart (ABS-CBN) 16.7%; Ben 10: Ultimate Alien (TV5) 3.7%
Afternoon:
Eat Bulaga! (GMA-7) 20.2%; It's Showtime (ABS-CBN) 11%; Ghost Town (TV5) 4.7%
Villa Quintana (GMA-7) 15.2%; Innamorata (GMA-7) 12.6%; Kapamilya Blockbusters: Da Best in Da West 2 (ABS-CBN) 8%; Ice Quake (TV5) 5.6%
The Borrowed Wife (GMA-7) 12.3%; Galema: Anak ni Zuma (ABS-CBN) 7.5%; Showbiz Police: Una sa Eksena (TV5) 3%; Face The People (TV5) 5.4%
GMA Sinebabad: The Classic (GMA-7) 7.7%; Tapatan Ni Tunying (ABS-CBN) 5.9%; My Girlfriend is a Gumiho (ABS-CBN) 9%; T3 Reload (TV5) 5.3%
Evening:
Paraiso Ko'y Ikaw (GMA-7) 10.4%; Annaliza (ABS-CBN) 14.7%; Aksyon (TV5) 6.5%
24 Oras (GMA-7) 20.5%; TV Patrol (ABS-CBN) 20%; Let's Ask Pilipinas (TV5) 6.4%; Confessions of a Torpe (TV5) 6.4%
Kambal Sirena (GMA-7) 25%; Dyesebel (ABS-CBN) 23%; Obsession (TV5) 3.4%
Carmela (GMA-7) 27.9%; Ikaw Lamang (ABS-CBN) 22.1%; Kaya (TV5) 2.8%
Rhodora X (GMA-7) 25.8%; The Legal Wife (ABS-CBN) 17.6%; Aquino & Abunda Tonight (ABS-CBN) 11%
A 100-Year Legacy (GMA-7) 20.6%; The Biggest Loser: Pinoy Doubles (ABS-CBN) 7.6%; Bigtime (TV5) 1.8%; Pilipinas News (TV5) 2%; Reaksyon (TV5) .9%
Saksi (GMA-7) 10.6%; Bandila (ABS-CBN) 4%; Showbiz Police Replay (TV5) .7%; T3 Reload Replay (TV5) .5%
ADVERTISEMENT - CONTINUE READING BELOW
Alisto! (GMA-7) 6.3%; Banana Nite (ABS-CBN) 2.5%
The Medyo Late Night Show with Jojo A. (GMA-7) 2.9%; O Shopping (ABS-CBN) .7%
---
March 21, 2014 (Friday)
Morning:
Alisto! Replay (GMA-7) .8%; Matanglawin Replay (ABS-CBN) .4%; Reaksyon Replay (TV5) .3%
Unang Hirit! (GMA-7) 3.9%; Umagang Kay Ganda (ABS-CBN) 3.3%; Good Morning Club (TV5) .9%
Doraemon (GMA-7) 6.1%; Detective Conan (GMA-7) 8.6%; One Piece (GMA-7) 9.4%; Kris TV (ABS-CBN) 5.7%; Jungle Junction (TV5) 2.9%; Phineas and Ferb (TV5) 3.9%
Pokemon (GMA-7) 10.3%; Mr. Bean (ABS-CBN) 6%; Gargoyles (TV5) 2.3%
Inuyasha (GMA-7) 12.3%; Domo (ABS-CBN) 5.1%; Yu-Gi-Oh! 5Ds (ABS-CBN) 4.1%; PLDT Home Fibr NCAA March Madness: Arizona Sun Devils vs Texas Longhorn (TV5) 1.6%
Flame of Recca (GMA-7) 13.3%; Domo (ABS-CBN) 4.8%; Mr. Bean (ABS-CBN) 5.8%
Dragon Ball Z Kai (GMA-7) 14.1%; Kusina Master (GMA-7) 8.5%; Wansapanasummer (ABS-CBN) 8.2%
Tunay Na Buhay (GMA-7) 10.3%; The Singing Bee (ABS-CBN) 12.7%
The Ryzza Mae Show (GMA-7) 12.6%; Be Careful With My Heart (ABS-CBN) 16.5%; Ben 10 Ultimate Alien (TV5) 3.1%
Afternoon:
Eat Bulaga! (GMA-7) 20.2%; It's Showtime (ABS-CBN) 11.8%; Rocky V (TV5) 3.8%
Villa Quintana (GMA-7) 14.5%; Innamorata (GMA-7) 12.3%; Kapamilya Blockbusters: Pridyider (ABS-CBN) 8.5%; Collision Earth (TV5) 5%
The Borrowed Wife (GMA-7) 11.4%; Galema: Anak ni Zuma (ABS-CBN) 8.4%; Red Alert (ABS-CBN) 6.6%; Showbiz Police: Una sa Eksena (TV5) 4%; Face The People (TV5) 6.7%
GMA Sinebabad: The Classic (GMA-7) 7.8%; My Girlfriend is a Gumiho (ABS-CBN) 10.8%; T3 Reload (TV5) 6.7%
Evening:
Paraiso Ko'y Ikaw (GMA-7) 10.8%; Annaliza (ABS-CBN) 18.3%; Aksyon (TV5) 7.1%
24 Oras (GMA-7) 21.5%; TV Patrol (ABS-CBN) 22.2%; Let's Ask Pilipinas (TV5) 5.2%; Confessions of a Torpe (TV5) 6%
Kambal Sirena (GMA-7) 23.6%; Dyesebel (ABS-CBN) 23.5%; PBA 2014 Commisioner's Cup: Ginebra San Miguel vs Global Port (TV5) 13%
Carmela (GMA-7) 24.3%; Ikaw Lamang (ABS-CBN) 21%
Rhodora X (GMA-7) 21.7%; The Legal Wife (ABS-CBN) 16%; Astig (TV5) 5.7%
Bubble Gang (GMA-7) 19.4%; Aquino & Abunda Tonight (ABS-CBN) 11.3%; The Biggest Loser: Pinoy Doubles (ABS-CBN) 8.1%
Saksi (GMA-7) 9.8%; Bandila (ABS-CBN) 5%; Banana Nite (ABS-CBN) 4.2%; Pilipinas News (TV5) 2.9%; Reaksyon (TV5) 1.9%
The Medyo Late Night Show with Jojo A. (GMA-7) 4.1%; O Shopping (ABS-CBN) .7%; PBA 2014 Commisioner's Cup: Meralco Bolts vs Talk n Text (TV5) 1.9%
---
TOP TEN PROGRAMS:
March 15, 2014 (Saturday)
DAYTIME:
Eat Bulaga! (GMA-7) - 20.4%
24 Oras Weekend (GMA-7) - 19.2%
TV Patrol World (ABS-CBN) - 15.3%
GMA Blockbusters: The Ant Bully (GMA-7) - 15%
GMA Blockbusters: Journey to the Center of the Earth (GMA-7) - 14.9%
Del Monte Kitchenomics (GMA-7) - 14.4%
Wish Ko Lang! (GMA-7) - 13.2%
UAAP 76 Women's Volleyball Finals: ADMU Lady Eagles vs DLSU Lady Spikers (ABS-CBN) - 12.4%
It's Showtime (ABS-CBN) - 12.3%
Maynila 15 (GMA-7) - 10.8%
PRIMETIME:
Magpakailanman (GMA-7) - 26.1%
Vampire Ang Daddy Ko (GMA-7) - 25.1%
Celebrity Bluff (GMA-7) - 24.6%
MMK: Ang Tahanan Mo (ABS-CBN) - 22.3%
Picture! Picture! (GMA-7) - 21.5%
Wansapanataym (ABS-CBN) - 20.8%
Bet On Your Baby (ABS-CBN) - 20.2%
i-Witness (GMA-7) - 12%
The Biggest Loser: Pinoy Edition (ABS-CBN) - 10.9%
Kapuso Movie Night: When Fortune Smiles (GMA-7) - 7.6%
March 16, 2014 (Sunday)
DAYTIME:
True Horror Stories (GMA-7) - 13.7%
Sunday All Stars (GMA-7) - 10.9%
Del Monte Kitchenomics (GMA-7) - 10.7%
Kambal Sirena Rewind (GMA-7) - 10.1%
Kapamilya Blockbusters: The Incredibles (ABS-CBN) - 9.8%
ASAP 19 (ABS-CBN) / TV Patrol Weekend (ABS-CBN) - 9.7%
iBilib (GMA-7) - 9.5%
Luv U (ABS-CBN) - 9%
Buzz ng Bayan (ABS-CBN) - 8.9%
Aha! (GMA-7) - 8.8%
PRIMETIME:
Kapuso Mo, Jessica Soho (GMA-7) - 27.4%
Imbestigador (GMA-7) - 23.4%
Pepito Manaloto: Ang Tunay na Kuwento (GMA-7) - 22.2%
Gandang Gabi Vice (ABS-CBN) - 21.3%
Rated K: Handa Na Ba Kayo? (ABS-CBN ) - 18.6%
Home Sweetie Home (ABS-CBN) - 12.4%
Kap's Amazing Stories (GMA-7) - 12.1%
PBA 2014 Commisioner's Cup: Barangay Ginebra vs San Mig Coffee (TV5) - 10.4%
Goin' Bulilit (ABS-CBN) - 10.3%
Sunday Night Box Office: Miss Rachelle: The Send-Off Concert(GMA-7) - 9%
March 17, 2014 (Monday)
DAYTIME:
ADVERTISEMENT - CONTINUE READING BELOW
Be Careful With My Heart (ABS-CBN) - 18.5%
Eat Bulaga! (GMA-7) - 17.5%
Villa Quintana (GMA-7) - 13.2%
It's Showtime (ABS-CBN) - 12.9%
The Ryzza Mae Show (GMA-7) - 12.1%
Dragon Ball Z Kai (GMA-7) - 11.9%
The Borrowed Wife (GMA-7) - 11.6%
Tunay na Buhay (GMA-7) / Innamorata (GMA-7) - 11%
The Singing Bee (ABS-CBN) - 10.7%
Flame of Recca (GMA-7) - 10.6%
PRIMETIME:
Dyesebel (ABS-CBN) - 25.2%
Kambal Sirena (GMA-7) - 23.6%
Carmela (GMA-7) / Ikaw Lamang (ABS-CBN) - 23.2%
TV Patrol (ABS-CBN) - 22.6%
Rhodora X (GMA-7) - 20.5%
24 Oras (GMA-7) - 20.1%
A 100-Year Legacy (GMA-7) - 19%
The Legal Wife (ABS-CBN) - 17.3%
Annaliza (ABS-CBN) - 14.4%
Aquino & Abunda Tonight (ABS-CBN) - 11.9%
March 18, 2014 (Tuesday)
DAYTIME:
Eat Bulaga! (GMA-7) - 19.3%
Be Careful With My Heart (ABS-CBN) - 17.6%
Villa Quintana (GMA-7) - 14.3%
Innamorata (GMA-7) - 13.3%
The Singing Bee (ABS-CBN) - 13.1%
The Borrowed Wife (GMA-7) - 12.7%
Dragon Ball Z Kai (GMA-7) - 12.6%
The Ryzza Mae Show (GMA-7) - 12.4%
Flame of Arang (GMA-7) - 12.3%
It's Showtime (ABS-CBN) - 12%
PRIMETIME:
Dyesebel (ABS-CBN) - 25.1%
Carmela (GMA-7) - 23.9%
Kambal Sirena (GMA-7) - 23.4%
Ikaw Lamang (ABS-CBN) - 22.3%
TV Patrol (ABS-CBN) - 22.2%
Rhodora X (GMA-7) - 21.1%
24 Oras (GMA-7) - 20%
A 100-Year Legacy (GMA-7) - 18.6%
The Legal Wife (ABS-CBN) - 17.5%
Annaliza (ABS-CBN) - 15.7%
March 19, 2014 (Wednesday)
DAYTIME:
Eat Bulaga! (GMA-7) - 19.1%
Be Careful With My Heart (ABS-CBN) - 16.6%
Villa Quintana (GMA-7) - 15.2%
Innamorata (GMA-7) - 14.1%
The Borrowed Wife (GMA-7) - 14%
Dragon Ball Z Kai (GMA-7) - 13.7%
Flame of Recca (GMA-7) - 13.3%
Inuyasha (GMA-7) - 12.7%
The Singing Bee (ABS-CBN) - 12.5%
The Ryzza Mae Show (GMA-7) - 11.9%
PRIMETIME:
Carmela (GMA-7) - 26.8%
Kambal Sirena (GMA-7) - 24.8%
Dyesebel (ABS-CBN) - 23.2%
Ikaw Lamang (ABS-CBN) - 21.7%
Rhodora X (GMA-7) - 20.8%
TV Patrol (ABS-CBN) - 20.7%
A 100-Year Legacy (GMA-7) - 19.7%
24 Oras (GMA-7) - 19%
Annaliza (ABS-CBN) - 15.6%
The Legal Wife (ABS-CBN) - 15.5%
March 20, 2014 (Thursday)
DAYTIME:
Eat Bulaga! (GMA-7) - 20.2%
Be Careful With My Heart (ABS-CBN) - 16.7%
Villa Quintana (GMA-7) - 15.2%
Dragon Ball Z Kai (GMA-7) - 13.5%
The Ryzza Mae Show (GMA-7) - 13.3%
The Singing Bee (ABS-CBN) - 11.8%
Innamorata (GMA-7) - 12.6%
Inuyasha (GMA-7) - 12.5%
Flame of Recca (GMA-7) - 12.4%
The Borrowed Wife (GMA-7) - 12.3%
PRIMETIME:
Carmela (GMA-7) - 27.9%
Rhodora X (GMA-7) - 25.8%
Kambal Sirena (GMA-7) - 25%
Dyesebel (ABS-CBN) - 23%
Ikaw Lamang (ABS-CBN) - 22.1%
A 100-Year Legacy (GMA-7) - 20.6%
24 Oras (GMA-7) - 20.5%
TV Patrol (ABS-CBN) - 20%
The Legal Wife (ABS-CBN) - 17.6%
Annaliza (GMA-7) - 14.7%
March 21, 2014 (Friday)
DAYTIME:
Eat Bulaga! (GMA-7) - 20.2%
Be Careful With My Heart (ABS-CBN) - 16.5%
Villa Quintana (GMA-7) - 14.5%
Dragon Ball Z Kai (GMA-7) - 14.1%
Flame of Recca (GMA-7) - 13.3%
The Singing Bee (ABS-CBN) - 12.7%
The Ryzza Mae Show (GMA-7) - 12.6%
Inuyasha (GMA-7) / Innamorata (GMA-7) - 12.3%
The Borrowed Wife (GMA-7) - 11.4%
It's Showtime (ABS-CBN) - 11.8%
PRIMETIME:
Carmela (GMA-7) - 24.3%
Kambal Sirena (GMA-7) - 23.6%
Dyesebel (ABS-CBN) - 23.5%
TV Patrol (ABS-CBN) - 22.2%
Rhodora X (GMA-7) - 21.7%
24 Oras (GMA-7) - 21.5%
Ikaw Lamang (ABS-CBN) - 21%
Bubble Gang (GMA-7) - 19.4%
Annaliza (ABS-CBN) - 18.3%
The Legal Wife (ABS-CBN) - 16%
Source: AGB Nielsen Philippines