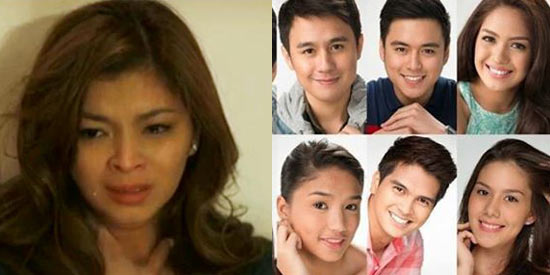 ---
The Legal Wife is still Mega Manila's top primetime series. This is according to the latest ratings data from AGB Nielsen Philippines from Mega Manila households for the given period from April 26 to May 2.
The week prior to this period, The Legal Wife made a surprising comeback from being weak in the ratings game to becoming the most-watched TV show on primetime TV, after it introduced adultery in its storyline.
For this given ratings period, The Legal Wife's performance is still going strong. It is the number on show on primetime from Monday to Friday, leading by as much as three points against the second-placer Ikaw Lamang, another Kapamilya show.
Previous top-rater Carmela, meanwhile, drops down to third place in the top 10 rankings. The Marian Rivera-starrer has consistent ratings of more than 20% daily, but it's not enough to unseat Angel Locsin's drama series.
Meanwhile, Jennylyn Mercado's Rhodora X is gradually decreasing ratings. It used to have ratings above 20%; now it is only 17% or less every night.
Rhodora X is on the same timeslot as The Legal Wife, and this might explain the ratings decline.
ABS-CBN debuted Pinoy Big Brother All In on Sunday, April 27, with 21.2%, higher than Imbestigador's 16.2%.
PBB All In is a vast improvement from The Biggest Loser: Pinoy Edition Doubles, the program it replaced. The health-related reality show got ratings below 10% daily, and it ended on Saturday, April 26, with 15.7% (against Celebrity Bluff's 24%).
PBB All In started on a strong note when it landed on the No. 3 spot with its rating of 21.2%. It continued its good performance until Wednesday, April 30, when it was outperformed by rival show A 100-Year Legacy. The latest edition of PBB fell off the top 10 ranking on April 30 and May 1 but it was counted among the most-watched programs on May 2.
Here is the comparative Rating Performance of GMA-7, ABS-CBN and TV5 programs from April 26 to May 2, derived from AGB Nielsen Philippines from Mega Manila households:
ADVERTISEMENT - CONTINUE READING BELOW
April 26, 2014 (Saturday)
Morning:
PJM Forum (GMA-7) .5%; Adyenda (GMA-7) .8%
Kapwa Ko Mahal Ko (GMA-7) 1.1%; Sa Kabukiran (ABS-CBN) .2%; Family Matters (TV5) .2%
Pinoy MD (GMA-7) 2.5%; Salamat Dok (ABS-CBN) 1.4%; Imagination Movers (TV5) 1%
Scooby-Doo! Mystery Inc. (GMA-7) 4.6%; Swak na Swak (ABS-CBN) 2.9%; Yin Yang Yo! (TV5) 1.4%
Super Book (GMA-7) 8.4%; Honey Watch Out! (ABS-CBN) 1.9%; Kick Buttowski (TV5) 2.1%
Angry Birds Toons (GMA-7) 9.3%; Sineskwela (ABS-CBN) 2.2%; Dexter's Laboratory (TV5) 2.7%
Hayate Combat Butler (GMA-7) 8.1%; Teenage Mutant Ninja Turtles (ABS-CBN) 2.7%; The Amazing World of Gumball (TV5) 3.4%
Toriko (GMA-7) 9.2%; Spongebob Squarepants (ABS-CBN) 5.2%; Regular Show (TV5) 4.4%
Tropang Potchi (GMA-7) 7.5%; Sarap Diva (GMA-7) 8.1%; Maynila 15 (GMA-7) 10.7%; Del Monte Kitchenomics (GMA-7) 12.2%; 2014 NBA Playoffs Eastern Conference: Brooklyn Nets vs Toronto Raptors (ABS-CBN) 5.8%; Regular Show (TV5) 5.7%; The Powerpuff Girls (TV5) 6.3%; Combo Ninos (TV5) 6.3%; TV5 Kids Movie Special: Masters of the Universe (TV5) 6.5%
Afternoon:
Eat Bulaga! (GMA-7) 20.2%; It's Showtime (ABS-CBN) 14.9%; Demolition Job (TV5) 3.5%; Astig: Sa Sports (TV5) 1.7%; Starship Troopers 3 Marauder (TV5) 4%
GMA Blockbusters: Big Momma's House (GMA-7) 14.4%; ABS-CBN Sabado Specials: Shake, Rattle & Roll (ABS-CBN) 9.6%; SOCO (ABS-CBN) 9.3%; PBA 2014 Commissioner's Cup Quarterfinals: Meralco vs Rain or Shine (TV5) 4.8%
Wish Ko Lang! (GMA-7) 14.2%; Failon Ngayon (ABS-CBN) 7.9%; Aksyon Weekend (TV5) 4.4%
24 Oras Weekend (GMA-7) 10.1%; TV Patrol Weekend (ABS-CBN) 7.9%; PBA 2014 Commissioner's Cup: Alaska vs San Mig Coffee (TV5) 10.5%
Evening:
Picture! Picture! (GMA-7) 14.7%; Bet On Your Baby (ABS-CBN) 9.2%
Vampire Ang Daddy Ko (GMA-7) 20.4%; Wansapanataym (ABS-CBN) 15.4%; Tropa Mo Ko Unli (TV5) 7.1%
Magpakailanman (GMA-7) 28.9%; MMK: Ang Tahanan Mo (ABS-CBN) 18%; Celebrity Dance Battle (TV5) 4.2%
Celebrity Bluff (GMA-7) 24%; The Biggest Loser: Pinoy Edition Doubles (ABS-CBN) 15.7%; Killer Karaoke: Pinoy Naman (TV5) 3.3%
I-Witness (GMA-7) 14.1%; Banana Split: Extra Scoop (ABS-CBN) 9.5%; Yaman ng Bayan (TV5) 2.6%; SpinNation (TV5) 1.1%
Reporter's Notebook (GMA-7) 9.2%; The Bottom Line (ABS-CBN) 3.3%; Pilipinas News Weekend (TV5) 1.1%
Walang Tulugan (GMA-7) 3.8%; Sports Unlimited (ABS-CBN) 1.8%; O Shopping (ABS-CBN) .9%
---
April 27, 2014 (Sunday)
Daytime:
In Touch with Dr. Charles Stanley (GMA-7) .2%; Jesus The Healer (GMA-7) .8%; Balitang 60 (TV5) .6%
Grimm's Fairy Tales (GMA-7) 1.2%; Puppy in My Pocket (GMA-7) 1.9%; Scan2Go (GMA-7) 3.1%; The Healing Eucharist (ABS-CBN) 3.5%; Pilgrimage to the Holy Land 2014 (TV5) 1.1%
ADVERTISEMENT - CONTINUE READING BELOW
The Batman (GMA-7) 5.2%; Swak na Swak (ABS-CBN) 2.4%; Power to Unite with Elvira (TV5) .7%
Super Book (GMA-7) 7.4%; Hayate the Combat Butler (GMA-7) 8.5%; One Piece Strong World (GMA-7) 10.5%; Salamat Dok (ABS-CBN) 2.8%; Imagination Movers (TV5) 1.2%; Yin Yang Yo! (TV5) 2.3%
Aha! (GMA-7) 9.4%; Matanglawin (ABS-CBN) 3.6%; Kick Buttowski (TV5) 3.9%; Dexter's Laboratory (TV5) 4.9%
Born To Be Wild (GMA-7) 10.4%; iBilib (GMA-7) 10.2%; Kapuso Movie Festival: Looney Tunes Back in Action (GMA-7) 15%; 2014 NBA Playoffs Eastern Conference: Charlotte Bobcats vs Miami Heat (ABS-CBN) 7.6%; Regular Show (TV5) 4.8%; Regular Show (TV5) 4.6%; The Powerpuff Girls (TV5) 4.8%; Combo Ninos (TV5) 5%
Afternoon:
Sunday All Star (GMA-7) 10.9%; ASAP 19 (ABS-CBN) 11.6%; 3 Ninjas High Noon (TV5) 6.2%; Sunday Sineplex: Herbie Fully Loaded (TV5) 9.7%
Asian Horror Stories: Visible Secret II (GMA-7) 10.7%; Luv U (ABS-CBN) 9%; Kuwentong Gilas (TV5) 4.8%
Startalk (GMA-7) 8.7%; Saint John Paul II We Love You (GMA-7) 9.3%; News Patrol: John Paul II (ABS-CBN) 8.3%; Buzz ng Bayan (ABS-CBN) 12.5%; The Canonization (TV5) 1.7%
24 Oras Weekend (GMA-7) 7.7%; TV Patrol Weekend (ABS-CBN) 13.2%; Gone in Sixty Seconds (TV5) 6.6%
Evening:
Kap's Amazing Stories (GMA-7) 14.5%; Goin' Bulilit (ABS-CBN) 14.6%
Pepito Manaloto: Ang Tunay na Kuwento (GMA-7) 22.1%; Home Sweetie Home (ABS-CBN) 15.4%; Who Wants to be a Millionaire (TV5) 6.8%
Kapuso Mo, Jessica Soho (GMA-7) 22.3%; Imbestigador (GMA-7) 16.2%; Rated K: Handa na ba Kayo? (ABS-CBN) 18.3%; Pinoy Big Brother All In (ABS-CBN) 21.2%; Wow Mali Pa Rin! (TV5) 7.3%; Juan Direction (TV5) 2.8%; Beki Boxer (TV5) 1.8%
Sunday Night Box Office: Quantum of Solace (GMA-7) 10.7%; Gandang Gabi Vice (ABS-CBN) 14.8%; Pilipinas News Weekend (TV5) .6%
Diyos at Bayan (GMA-7) 1.3%; UFC 172: Jones vs Teixeria (ABS-CBN) 3.6%
--
April 28, 2014 (Monday)
Morning:
Aha! Replay (GMA-7) .8%; Sports Unlimited Replay (ABS-CBN) 0.5%
Unang Hirit! (GMA-7) 2.9%; Umagang Kay Ganda (ABS-CBN) 3.1%; Word of the Lourd (TV5) 0%; Reaksyon Replay (TV5) 0%; Good Morning Club (TV5) .5%
Jackie Chan Adventures (GMA-7) 7.9%; One Piece (GMA-7) 11.6%; Detective Conan (GMA-7) 13%; Kris TV (ABS-CBN) 5.8%; Fish Hooks (TV5) 2.1%; Phineas and Ferb (TV5) 3.7%
Inuyasha (GMA-7) 13.6%; Mr. Bean (ABS-CBN) 6.4%; Gargoyles (TV5) 2.2%
Fairy Tail (GMA-7) 14%; Slam Dunk (GMA-7) 14.3%; Dragon Ball Z Kai (GMA-7) 14.7%; GMA Breaking News (GMA-7) 14.4%; Kusina Master (GMA-7) 9.4%; Kapamilya Kiddie Blockbusters (ABS-CBN) 6.4%; News Patrol (ABS-CBN) 4.8%; Oggy and the Cockroaches (TV5) 2.9%; Johnny Bravo (TV5) 4.6%; Adventure Time (TV5) 5.7%
ADVERTISEMENT - CONTINUE READING BELOW
Tunay Na Buhay (GMA-7) 9.7%; The Singing Bee (ABS-CBN) 11.8%; Ben 10 (TV5) 6.3%
The Ryzza Mae Show (GMA-7) 14.6%; Be Careful With My Heart (ABS-CBN) 14.4%; Ben 10 Ultimate Alien (TV5) 5.5%; Congo (TV5) 5.8%
Afternoon:
Eat Bulaga! (GMA-7) 21.7%; The Obama Visit (GMA-7) 22.3%; The Obama Visit (GMA-7) 19.3%; It's Showtime (ABS-CBN) 12.9%; News Patrol (ABS-CBN) 13.3%; News Patrol (ABS-CBN) 12.8%; Wild Zone (TV5) 5.5%
Villa Quintana (GMA-7) 13.7%; The Obama Visit (GMA-7) 13.1%; Moon of Desire (ABS-CBN) 11%; Bistado (ABS-CBN) 9.1%; News 5 (TV5) 4.1%; Showbiz Police: Una sa Eksena (TV5) 2.7%
Innamorata (GMA-7) 12.3%; Mischievous Kiss: Love in Tokyo (GMA-7) 11.6%; Meteor Garden (ABS-CBN) 14.5%; Face the People (TV5) 3.4%; T3 Reload (TV5) 3.4%
Evening:
My Love From the Star (GMA-7) 17.4%; Mirabella (ABS-CBN) 17.2%; Aksyon (TV5) 4.5%
24 Oras (GMA-7) 21.7%; TV Patrol (ABS-CBN) 20.3%; Beki Boxer (TV5) 5.3%; Confessions of a Torpe (TV5) 7%
Kambal Sirena (GMA-7) 19.6%; Dyesebel (ABS-CBN) 21.5%; PBA 2014 Commissioner's Cup Quarterfinals: Rain or Shine vs Talk N Text (TV5) 11.1%
Carmela (GMA-7) 21.1%; Ikaw Lamang (ABS-CBN) 24.5%
Rhodora X (GMA-7) 18.1%; The Legal Wife (ABS-CBN) 26.7%; Aquino & Abunda Tonight (ABS-CBN) 21.6%; Demolition Job (TV5) 6.1%
A 100-Year Legacy (GMA-7) 16.1%; Pinoy Big Brother All In (ABS-CBN) 20.3%; Pilipinas News (TV5) 3.2%; Reaksyon (TV5) 2.5%
Saksi (GMA-7) 9.8%; Front Row (GMA-7) 5.7%; Bandila (ABS-CBN) 8%; Showbiz Police Replay (TV5) 2.1%; T3 Reload Replay (TV5) 1.5%
The Medyo Late Night Show (GMA-7) 2.9%; Banana Nite (ABS-CBN) 4.4%; O Shopping (ABS-CBN) 1.6%
----
April 29, 2014 (Tuesday)
Morning:
I-Witness Replay (GMA-7) .5%; Mutya ng Masa Replay (ABS-CBN) .2%
Unang Hirit! (GMA-7) 3.4%; Umagang Kay Ganda (ABS-CBN) 2.5%; Reaksyon Replay (TV5) .4%; Good Morning Club (TV5) 1%
Jackie Chan Adventures (GMA-7) 8.4%; One Piece (GMA-7) 11.9%; Detective Conan (GMA-7) 13.3%; Kris TV (ABS-CBN) 5.6%; Fish Hooks (TV5) 2%; Phineas and Ferb (TV5) 3.2%
Inuyasha (GMA-7) 14.2%; Mr. Bean (ABS-CBN) 6.9%; Gargoyles (TV5) 2.3%
Fairy Tail (GMA-7) 14.4%; The Obama Visit (GMA-7) 15.3%; Slam Dunk (GMA-7) 15.8%; Dragon Ball Z Kai (GMA-7) 15.9%; The Obama Visit (GMA-7) 15.3%; Kapamilya Kiddie Blockbusters: Beverly Hills Chihuahua (ABS-CBN) 7.4%; Obama In Manila (ABS-CBN) 6.9%; Obama In Manila (ABS-CBN) 9.3%; Oggy and the Cockroaches (TV5) 4.1%; Aksyon Breaking (TV5) 3%; Johnny Bravo (TV5) 3.4%; Adventure Time (TV5) 3.9%
Kusina Master (GMA-7) 12.5%; The Singing Bee (ABS-CBN) 13.4%; Ben 10 (TV5) 5.7%; Ben 10 Ultimate Alien (TV5) 5.6%
ADVERTISEMENT - CONTINUE READING BELOW
The Ryzza Mae Show (GMA-7) 13.3%; Be Careful With My Heart (ABS-CBN) 18.2%; Turbulence (TV5) 5.6%
Afternoon:
Eat Bulaga (GMA-7) 16.4%; It's Showtime (ABS-CBN) 13.5%; The Marc Pease Experiment (TV5) 3.3%
Villa Quintana (GMA-7) 12.8%; Moon of Desire (ABS-CBN) 11.6%
Innamorata (GMA-7) 13.2%; Pinoy Big Brother All In (ABS-CBN) 11.2%; Showbiz Police: Una sa Eksena (TV5) 2.2%
The Borrowed Wife (GMA-7) 14%; Mutya ng Masa (ABS-CBN) 11.2%; Face The People (TV5) 4.1%
Mischievous Kiss: Love in Tokyo (GMA-7) 14.9%; Meteor Garden (ABS-CBN) 14.7%; T3 Reload (TV5) 4.1%
Evening:
My Love from the Star (GMA-7) 19.6%; Mirabella (ABS-CBN) 16.2%; Aksyon (TV5) 6%
24 Oras (GMA-7) 21.8%; TV Patrol (ABS-CBN) 19.8%; Beki Boxer (TV5) 5.4%; Confessions of a Torpe (TV5) 6.8%
Kambal Sirena (GMA-7) 21%; Dyesebel (ABS-CBN) 20.5%; PBA 2014 Commissioner's Cup Semi-finals: Air 21 vs San Mig (TV5) 11.9%
Carmela (GMA-7) 19.2%; Ikaw Lamang (ABS-CBN) 22.9%
Rhodora X (GMA-7) 17.8%; The Legal Wife (ABS-CBN) 24.8%; Aquino & Abunda Tonight (ABS-CBN) 19.5%; Numero (TV5) 3.8%
A 100-Year Legacy (GMA-7) 17.4%; Pinoy Big Brother All In (ABS-CBN) 20.5%; Pilipinas News (TV5) 2.4%
Saksi (GMA-7) 11.3%; Bandila (ABS-CBN) 7.9%; Reaksyon (TV5) 1.4%; Showbiz Police Replay (TV5) 1.1%
Alisto! (GMA-7) 6%; Banana Nite (ABS-CBN) 4.7%; T3 Reload Replay (TV5) 1%
The Medyo Late Night Show (GMA-7) 2.7%; O Shopping (ABS-CBN) 1.3%
---
April 30, 2014 (Wednesday)
Morning:
Reporter's Notebook Replay (GMA-7) .4%; My Puhunan Replay (ABS-CBN) .2%; Reaksyon Replay (TV5) .2%
Unang Hirit! (GMA-7) 3.4%; Umagang Kay Ganda (ABS-CBN) 2.7%; Good Morning Club (TV5) 1%
Jackie Chan Adventures (GMA-7) 8.4%; One Piece (GMA-7) 12.3%; Detective Conan (GMA-7) 13.2%; Kris TV (ABS-CBN) 4.9%; Fish Hooks (TV5) 2%; Phineas and Ferb (TV5) 3.3%
Inuyasha (GMA-7) 14.3%; Mr. Bean (ABS-CBN) 6.6%; Gargoyles (TV5) 2.5%
Fairy Tail (GMA-7) 14.4%; Slam Dunk (GMA-7) 16%; Dragon Ball Z Kai (GMA-7) 15.8%; Kusina Master (GMA-7) 9.2%; Kapamilya Blockbusters: Planet 51 (ABS-CBN) 7.5%; Oggy and the Cockroaches (TV5) 2.8%; Johnny Bravo (TV5) 2.7%; Adventure Time (TV5) 4.1%
Tunay Na Buhay (GMA-7) 10%; The Singing Bee (ABS-CBN) 12.2%; Ben 10 (TV5) 6.3%
The Ryzza Mae Show (GMA-7) 13%; Be Careful With My Heart (ABS-CBN) 18.7%; Ben 10 Ultimate Alien (TV5) 5.9%; The Core (TV5) 6.2%
Afternoon:
Eat Bulaga! (GMA-7) 17.7%; It's Showtime (ABS-CBN) 14.7%;
Villa Quintana (GMA-7) 14.3%; Moon of Desire (ABS-CBN) 11.6%; Jennifer Eight (TV5) 4.7%
Innamorata (GMA-7) 12.9%; Pinoy Big Brother All In Uber (ABS-CBN) 9.4%; Showbiz Police: Una sa Eksena (TV5) 3.1%
ADVERTISEMENT - CONTINUE READING BELOW
The Borrowed Wife (GMA-7) 14%; My Puhunan (ABS-CBN) 8.1%; Face The People (TV5) 3.5%
Mischievous Kiss: Love in Tokyo (GMA-7) 14.2%; Meteor Garden (ABS-CBN) 13.8%; T3 Reload (TV5) 3.2%
Evening:
My Love from the Star (GMA-7) 18.6%; Mirabella (ABS-CBN) 16.9%; Aksyon (TV5) 4.6%
24 Oras (GMA-7) 20.1%; TV Patrol (ABS-CBN) 18.6%; Beki Boxer (TV5) 4.9%; Confessions of a Torpe (TV5) 6.7%
Kambal Sirena (GMA-7) 20.2%; Dyesebel (ABS-CBN) 19.5%; PBA 2014 Commisioner's Cup Semi-finals: Rain or Shine vs Talk n Text (TV5) 11.5%
Carmela (GMA-7) 20.8%; Ikaw Lamang (ABS-CBN) 21.5%
Rhodora X (GMA-7) 17.9%; The Legal Wife (ABS-CBN) 24.6%
A 100-Year Legacy (GMA-7) 17.3%; Aquino & Abunda Tonight (ABS-CBN) 17.5%; Pinoy Big Brother All In (ABS-CBN) 17%; History with Lourd (TV5) 4.8%; Pilipinas News (TV5) 2.3%
Saksi (GMA-7) 11.7%; Bandila (ABS-CBN) 8.7%; Reaksyon (TV5) 1.1%; Showbiz Police Replay (TV5) 1.2%
Power House (GMA-7) 7.6%; Banana Nite (ABS-CBN) 5.1%; T3 Reload Replay (TV5) .8%
The Medyo Late Night Show (GMA-7) 3.4%; O Shopping (ABS-CBN) 1.2%
---
May 1, 2014 (Thursday)
Morning:
Born To Be Wild Replay (GMA-7) .4%; Tapatan Ni Tunying Replay (ABS-CBN) .3%
Unang Hirit! (GMA-7) 2.8%; Umagang Kay Ganda (ABS-CBN) 2.1%; Astig (TV5) 0%; Reaksyon Replay (TV5) .2%; Good Morning Club (TV5) .6%; Gargoyles (TV5) 1.1%
Jackie Chan Adventures (GMA-7) 9.2%; One Piece (GMA-7) 12.3%; Detective Conan (GMA-7) 13.6%; Kris TV (ABS-CBN) 4.8%; Fish Hooks (TV5) 1.2%; Kick Buttowski (TV5) 2.1%; Phineas and Ferb (TV5) 3.2%
Inuyasha (GMA-7) 12.2%; Mr. Bean (ABS-CBN) 5.7%; Oggy and the Cockroaches (TV5) 4%
Fairy Tail (GMA-7) 14.7%; Slam Dunk (GMA-7) 17.3%; Dragon Ball Z Kai (GMA-7) 17.2%; Kusina Master (GMA-7) 11%; Tunay Na Buhay (GMA-7) 9.2%; NBA Playoffs Eastern Conference: Brooklyn vs Toronto (ABS-CBN) 5.2%; Ben 10 Ultimate Alien (TV5) 4.1%; Peter Pan (TV5) 7.6%
The Ryzza Mae Show (GMA-7) 12%; Be Careful With My Heart (ABS-CBN) 17.5%; Crouching Tiger, Hidden Dragon (TV5) 6.1%
Afternoon:
Eat Bulaga! (GMA-7) 17.5%; It's Showtime (ABS-CBN) 13.2%; Nacho Libre (TV5) 4.9%
Villa Quintana (GMA-7) 12.7%; Moon of Desire (ABS-CBN) 10.7%; The Ruins (TV5) 8.3%
Innamorata (GMA-7) 12.1%; Pinoy Big Brother All In Uber (ABS-CBN) 10.3%; Showbiz Police: Una sa Eksena (TV5) 2.4%
The Borrowed Wife (GMA-7) 13.1%; Tapatan Ni Tunying (ABS-CBN) 9.2%; Face The People (TV5) 3.2%
Mischievous Kiss: Love in Tokyo (GMA-7) 13.1%; Meteor Garden (ABS-CBN) 14.3%; T3 Reload (TV5) 3.5%
ADVERTISEMENT - CONTINUE READING BELOW
Evening:
My Love from the Star (GMA-7) 17.9%; Mirabella (ABS-CBN) 14.4%; Aksyon (TV5) 4.8%; Beki Boxer (TV5) 4.6%
24 Oras (GMA-7) 20.6%; TV Patrol (ABS-CBN) 18.7%; Confessions of a Torpe (TV5) 6.7%
Kambal Sirena (GMA-7) 20.1%; Dyesebel (ABS-CBN) 19.3%; PBA 2014 Commissioner's Cup Semi-finals: Air 21 vs San Mig Super Coffee Mixers (TV5) 12.4%
Carmela (GMA-7) 21.2%; Ikaw Lamang (ABS-CBN) 22.1%
Rhodora X (GMA-7) 17%; The Legal Wife (ABS-CBN) 23.6%
A 100-Year Legacy (GMA-7) 17.8%; Aquino & Abunda Tonight (ABS-CBN) 17.1%; Pinoy Big Brother All In (ABS-CBN) 17%; Bigtime (TV5) 2.9%; Pilipinas News (TV5) 1.8%
Saksi (GMA-7) 10.9%; Bandila (ABS-CBN) 7.2%; Reaksyon (TV5) .8%; Showbiz Police Replay (TV5) .5%
Human Planet (GMA-7) 7.2%; Banana Nite (ABS-CBN) 4.3%; T3 Reload Replay (TV5) .3%
The Medyo Late Night Show with Jojo A. (GMA-7) 3.4%; O Shopping (ABS-CBN) 1.4%
---
April 25, 2014 (Friday)
Morning:
Alisto! Replay (GMA-7) .5%; Matanglawin Replay (ABS-CBN) .4%
Unang Hirit! (GMA-7) 3.2%; Umagang Kay Ganda (ABS-CBN) 2.3%; Reaksyon Replay (TV5) .2%; Good Morning Club (TV5) .6%; Gargoyles (TV5) .9%
Jackie Chan Adventures (GMA-7) 8.8%; One Piece (GMA-7) 13.1%; Detective Conan (GMA-7) 14%; Kris TV (ABS-CBN) 4.7%; Fish Hooks (TV5) 1.3%; Kick Buttowski (TV5) 2.6%; Phineas and Ferb (TV5) 4.3%
Inuyasha (GMA-7) 13.7%; Mr. Bean (ABS-CBN) 5%; Oggy and the Cockroaches (TV5) 4.4%
Fairy Tail (GMA-7) 15.5%; Slam Dunk (GMA-7) 17%; Dragon Ball Z Kai (GMA-7) 15.9%; Kusina Master (GMA-7) 10.4%; Kapamilya Kiddie Blockbusters: The Mighty Ducks (ABS-CBN) 6.4%; Ben 10 Ultimate Alien (TV5) 4.3%; Final Fantasy: The Spirits Within (TV5) 4%
Tunay Na Buhay (GMA-7) 7.9%; The Singing Bee (ABS-CBN) 13.1%
The Ryzza Mae Show (GMA-7) 12.3%; Be Careful With My Heart (ABS-CBN) 20%
Afternoon:
Eat Bulaga! (GMA-7) 16.9%; It's Showtime (ABS-CBN) 13.8%; Sine Ko 5ingko: The Replacement Killers (TV5) 5.6%; Son of Rambow (TV5) 4.4%
Villa Quintana (GMA-7) 11.7%; Moon of Desire (ABS-CBN) 11.9%
Innamorata (GMA-7) 13.4%; Pinoy Big Brother All In Uber (ABS-CBN) 10.9%
The Borrowed Wife (GMA-7) 13.9%; Red Alert (ABS-CBN) 9.2%; Showbiz Police: Una sa Eksena (TV5) 2.3%
Mischievous Kiss: Love in Tokyo (GMA-7) 14.3%; Meteor Garden (ABS-CBN) 14.1%; Face The People (TV5) 4.1%; T3 Reload (TV5) 4.1%
Evening:
My Love from the Star (GMA-7) 19%; Mirabella (ABS-CBN) 13.5%; Aksyon (TV5) 5%
24 Oras (GMA-7) 19.1%; TV Patrol (ABS-CBN) 17.2%; Beki Boxer (TV5) 6.3%; Confessions of a Torpe (TV5) 7.3%
ADVERTISEMENT - CONTINUE READING BELOW
Kambal Sirena (GMA-7) 19.1%; Dyesebel (ABS-CBN) 19.8%; PBA 2014 Commissioner's Cup Semi-finals: Rain or Shine vs Talk n Text (TV5) 11%
Carmela (GMA-7) 20.3%; Ikaw Lamang (ABS-CBN) 22.8%
Rhodora X (GMA-7) 17.7%; The Legal Wife (ABS-CBN) 26.1%
Bubble Gang (GMA-7) 18.7%; Aquino & Abunda Tonight (ABS-CBN) 19.4%; Pinoy Big Brother All In (ABS-CBN) 17.9%; Astig: Sa Sports (TV5) 4.7%; Pilipinas News (TV5) 1.7%; Reaksyon (TV5) 1%
Saksi (GMA-7) 9.1%; Bandila (ABS-CBN) 8.5%; Showbiz Police Replay (TV5) .8%
The Medyo Late Night Show with Jojo A. (GMA-7) 4.4%; Banana Nite (ABS-CBN) 6.2%; O Shopping (ABS-CBN) 1.5%; T3 Reload Replay (TV5) .7%
---
TOP TEN PROGRAMS:
April 26, 2014 (Saturday)
DAYTIME:
Eat Bulaga! (GMA-7) - 20.2%
It's Showtime (ABS-CBN) - 14.9%
GMA Blockbusters: Big Momma's House (GMA-7) - 14.4%
Wish Ko Lang! (GMA-7) - 14.2%
Del Monte Kitchenomics (GMA-7) - 12.2%
Maynila 15 (GMA-7) - 10.7%
24 Oras Weekend (GMA-7) - 10.1%
ABS-CBN Sabado Specials: Shake, Rattle & Roll (ABS-CBN) - 9.6%
Angry Birds Toons (GMA-7) / SOCO (ABS-CBN) - 9.3%
Toriko (GMA-7) - 9.2%
PRIMETIME:
Magpakailanman (GMA-7) - 28.9%
Celebrity Bluff (GMA-7) - 24%
Vampire Ang Daddy Ko (GMA-7) - 20.4%
MMK: Ang Tahanan Mo (ABS-CBN) - 18%
The Biggest Loser: Pinoy Edition Doubles (ABS-CBN) - 15.7%
Wansapanatayam (ABS-CBN) - 15.4%
Picture! Picture! (GMA-7) - 14.7%
i-Witness (GMA-7) - 14.1%
PBA 2014 Commissioner's Cup: Alaska vs San Mig Coffee (TV5) - 10.5%
Banana Split: Extra Scoop (ABS-CBN) - 9.5%
April 27, 2014 (Sunday)
DAYTIME:
Kapuso Movie Festival: Looney Tunes Back in Action (GMA-7) - 15%
TV Patrol World (ABS-CBN) - 13.2%
Buzz ng Bayan (ABS-CBN) - 12.5%
ASAP 19 (ABS-CBN) - 11.6%
Sunday All Stars (GMA-7) - 10.9%
Asian Horror Stories (GMA-7) - 10.7%
One Piece Strong World (GMA-7) - 10.5%
Born to be Wild (GMA-7) - 10.4%
iBilib (GMA-7) - 10.2%
Sunday Sineplex: Herbie Fully Loaded (TV5) - 9.7%
PRIMETIME:
Kapuso Mo, Jessica Soho (GMA-7) - 22.3%
Pepito Manaloto: Ang Tunay na Kuwento (GMA-7) - 22.1%
Pinoy Big Brother All In (ABS-CBN) - 21.2%
Rated K: Handa Na Ba Kayo? (ABS-CBN ) - 18.3%
Imbestigador (GMA-7) - 16.2%
Home Sweetie Home (ABS-CBN) - 15.4%
Gandang Gabi Vice (ABS-CBN) - 14.8%
Goin' Bulilit (ABS-CBN) - 14.6%
Kap's Amazing Stories (GMA-7) - 14.5%
Sunday Night Box Office: Quantum of Solace (GMA-7) - 10.7%
April 28, 2014 (Monday)
DAYTIME:
The Obama Visit (GMA-7) - 22.3%
Eat Bulaga! (GMA-7) - 21.7%
The Obama Visit (GMA-7) - 19.3%
Dragon Ball Z Kai (GMA-7) - 14.7%
The Ryzza Mae Show (GMA-7) - 14.6%
GMA Breaking News (GMA-7) / Be Careful With My Heart (ABS-CBN) - 14.4%
Slam Dunk (GMA-7) - 14.3%
Meteor Garden (ABS-CBN) - 14.1%
Fairy Tail (GMA-7) - 14%
News Patrol (ABS-CBN) - 13.8%
PRIMETIME:
The Legal Wife (ABS-CBN) - 26.1%
Ikaw Lamang (ABS-CBN) - 24.1%
24 Oras (GMA-7) - 21.7%
Aquino & Abunda Tonight (ABS-CBN) - 21.6%
Carmela (GMA-7) - 21.1%
Dyesebel (ABS-CBN) - 21.5%
TV Patrol (ABS-CBN) / PBB All In (ABS-CBN) - 20.3%
Kambal Sirena (GMA-7) - 19.6%
Rhodora X (GMA-7) - 18.1%
My Love from the Star (GMA-7) - 17.4%
April 29, 2014 (Tuesday)
DAYTIME:
Be Careful With My Heart (ABS-CBN) - 18.2%
Eat Bulaga! (GMA-7) - 16.4%
Dragon Ball Z Kai (GMA-7) - 15.9%
Slam Dunk (GMA-7) - 15.8%
The Obama Visit (GMA-7) / The Obama Visit (GMA-7) - 15.3%
Mischievous Kiss: Love in Tokyo (GMA-7) 14.9%
Meteor Garden (ABS-CBN) - 14.7%
Fairy Tail (GMA-7) - 14.4%
Inuyasha (GMA-7) - 14.2%
The Borrowed Wife (GMA-7) - 14%
PRIMETIME:
The Legal Wife (ABS-CBN) - 24.8%
Ikaw Lamang (ABS-CBN) - 22.9%
24 Oras (GMA-7) - 21.8%
Kambal Sirena (GMA-7) - 21%
Dyesebel (ABS-CBN) / PBB All In (ABS-CBN) - 20.5%
TV Patrol (ABS-CBN) - 19.8%
My Love from the Star (GMA-7) - 19.6%
Aquino & Abunda Tonight (ABS-CBN) - 19.5%
Carmela (GMA-7) - 19.2%
Rhodora X (GMA-7) - 17.8%
April 30, 2014 (Wednesday)
DAYTIME:
Be Careful With My Heart (ABS-CBN) - 18.7%
Eat Bulaga! (GMA-7) - 17.7%
Slam Dunk (GMA-7) - 16%
Dragon Ball Z Kai (GMA-7) - 15.8%
It's Showtime (ABS-CBN) - 14.7%
Fairy Tail (GMA-7) - 14.4%
Inuyasha (GMA-7) / Villa Quintana (GMA-7) - 14.3%
Mischievous Kiss: Love in Tokyo (GMA-7) 14.2%
The Borrowed Wife (GMA-7) - 14%
Meteor Garden (ABS-CBN) - 13.8%
PRIMETIME:
The Legal Wife (ABS-CBN) - 24.6%
Ikaw Lamang (ABS-CBN) - 21.5%
Carmela (GMA-7) - 20.8%
Kambal Sirena (GMA-7) - 20.2%
24 Oras (GMA-7) - 20.1%
Dyesebel (ABS-CBN) - 19.5%
My Love from the Star (GMA-7) / TV Patrol (ABS-CBN) - 18.6%
Rhodora X (GMA-7) - 17.9%
Aquino & Abunda Tonight (ABS-CBN) - 17.5%
A 100-Year Legacy (GMA-7) - 17.3%
May 1, 2014 (Thursday)
DAYTIME:
Eat Bulaga! (GMA-7) / Be Careful With My Heart (ABS-CBN) - 17.5%
Slam Dunk (GMA-7) - 17.3%
Dragon Ball Z Kai (GMA-7) - 17.2%
Fairy Tail (GMA-7) - 14.7%
Meteor Garden (ABS-CBN) - 14.3%
Detective Conan (GMA-7) - 13.6%
It's Showtime (ABS-CBN) - 13.2%
The Borrowed Wife (GMA-7) / Mischievous Kiss: Love in Tokyo (GMA-7) 13.1%
Villa Quintana (GMA-7) - 12.7%
One Piece (GMA-7) - 12.3%
PRIMETIME:
The Legal Wife (ABS-CBN) - 23.6%
Ikaw Lamang (ABS-CBN) - 22.1%
Carmela (GMA-7) - 21.2%
24 Oras (GMA-7) - 20.6%
Kambal Sirena (GMA-7) - 20.1%
Dyesebel (ABS-CBN) - 19.3%
TV Patrol (ABS-CBN) - 18.7%
My Love from the Star (GMA-7) - 17.9%
A 100-Year Legacy (GMA-7) - 17.8%
Aquino & Abunda Tonight (ABS-CBN) - 17.1%
May 2, 2014 (Friday)
DAYTIME:
Be Careful With My Heart (ABS-CBN) - 20%
Slam Dunk (GMA-7) - 17%
Eat Bulaga! (GMA-7) - 16.9%
Dragon Ball Z Kai (GMA-7) - 15.9%
Fairy Tail (GMA-7) - 15.5%
Mischievous Kiss: Love in Tokyo (GMA-7) 14.3%
Meteor Garden (ABS-CBN) - 14.1%
Detective Conan (GMA-7) - 14%
The Borrowed Wife (GMA-7) - 13.9%
It's Showtime (ABS-CBN) - 13.8%
PRIMETIME:
The Legal Wife (ABS-CBN) - 26.1%
Ikaw Lamang (ABS-CBN) - 22.8%
Carmela (GMA-7) - 20.3%
Dyesebel (ABS-CBN) - 19.8%
Aquino & Abunda Tonight (ABS-CBN) - 19.4%
24 Oras (GMA-7) / Kambal Sirena (GMA-7) - 19.1%
My Love from the Star (GMA-7) - 19%
Bubble Gang (GMA-7) - 18.7%
PBB All In (ABS-CBN) - 17.9%
Rhodora X (GMA-7) - 17.7%
Source: AGB Nielsen Philippines