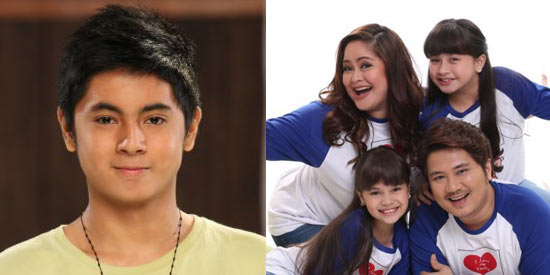 ---
GMA-7 shows are still leading in both daytime and primetime, according to the latest ratings data from AGB Nielsen Philippines from Mega Manila households from June 30 to July 3, 2014.
Long-running noontime show Eat Bulaga! is the most-watched show on daytime, followed by Kapuso afternoon dramas The Half Sisters and Dading.
GMA-7's Niñois still the top-rater on primetime, leading the list on the given period. It is followed by other Kapuso primetime shows like new show My Destiny, which debuted with good scores.
My Destiny, which is topbilled by Tom Rodriguez and Carla Abellana, opened on June 30 with 22.7%, against Ikaw Lamang's 21.8%.
My Destiny also beat Ikaw Lamang on July 1 and July 3. It seems like Ikaw Lamang (and other ABS-CBN primetime shows) got low ratings on both dates because TV5's coverage of the 2014 PBA Governor's Cup was airing that day.
Both GMA-7 are getting lower ratings on PBA days than on non-PBA days, but ABS-CBN seems to lose more viewers than GMA-7 does.
TV5's PBA coverage is a hit for TV viewers when it is already on the final rounds. For example, the final games between teams Rain or Shine and San Mig Super Coffee both made it onto the top 10 lists on July 1 and 3.
GMA-7 also premiered another primetime show other than My Destiny. My BFF, which stars child actresses Jillian Ward and Mona Louise Rey, airs on the early primetime slot. Its first episode on June 30 earned 15.9% against Mirabella's 13.1%.
My BFF is the replacement for the hit Korean series My Love from the Star, which irregularly aired its last episode on a Monday, before My BFF's first episode was aired.
ADVERTISEMENT - CONTINUE READING BELOW
My Love from the Star's final episode got 19.1%, beating Mirabella.
Here is the comparative rating performance of GMA-7, ABS-CBN and TV5 programs from June 30-July 3, 2014, derived from AGB Nielsen Philippines from Mega Manila households:
--
June 30, 2014 (Monday)
Morning:
Aha! Replay (GMA-7) 1.1%; Matanglawin Replay (ABS-CBN) .3%
Unang Hirit! (GMA-7) 4.3%;Umagang Kay Ganda (ABS-CBN) 3.6%; Word of the Lourd (TV5) 0%; Reaksyon Replay (TV5) .2%; Good Morning Club (TV5) 1%; Gargoyles (TV5) .9%
One Piece (GMA-7) 5%; Jackie Chan Adventures (GMA-7) 6%; Detective Conan (GMA-7) 7.8%; Inuyasha (GMA-7) 7.7%; Kris TV (ABS-CBN) 5.2%; Fish Hooks (TV5) 1.2%; Kick Buttowski (TV5) 1.8%; Phineas and Ferb (TV5) 2.3%
Fairy Tail (GMA-7) 8.6%; Mr. Bean (ABS-CBN) 4.7%; Oggy and the Cockroaches (TV5) 2%
Slam Dunk (GMA-7) 10.5%; Kuroko's Basketball (ABS-CBN) 4.4%; Ben 10 Ultimate Alien (TV5) 2.3%
Dragon Ball Z Kai (GMA-7) 10.1%; Naruto Shippuuden (ABS-CBN) 4.6%;Movie Max 5: End of the World (TV5) 5.4%
Return of the Wife (GMA-7) 8.3%; Lovers in Paris (ABS-CBN) 5.6%;
Basta Everyday Happy (GMA-7) 7.8%; The Singing Bee (ABS-CBN) 9.7%
The Ryzza Mae Show (GMA-7) 11.2%; Be Careful With My Heart (ABS-CBN) 12.2%; Movie Max 5: The Fear (TV5) 6%
Afternoon:
Eat Bulaga!(GMA-7) 18.7%; It's Showtime(ABS-CBN) 10.4%; NCAA 90: AU vs LPU Pirates (TV5) 1.2%
The Half Sisters (GMA-7) 16.2%; Moon of Desire (ABS-CBN) 9.2%
Dading(GMA-7) 14.7%; Pinoy Big Brother All In Uber (ABS-CBN) 7.1%; Star Confessions (TV5) 2.7%
Alisto! (GMA-7) 11.4%; Bistado (ABS-CBN) 7%; Star Confessions (TV5) 2.7%
Jewel in the Palace (GMA-7) 13.1%; The Heirs (ABS-CBN) 10%; T3 Reload (TV5) 2.5%
Evening:
My Love From the Star (GMA-7) 19.1%; My BFF (GMA-7) 15.9%; Mirabella (ABS-CBN) 13.1%; Aksyon (TV5) 4.9%
24 Oras (GMA-7) 21.8%; TV Patrol (ABS-CBN) 18.2%; Beki Boxer (TV5) 4.5%; Juan Direction (TV5) 4.1%
Niño (GMA-7) 23.3%; Dyesebel (ABS-CBN) 20.6%; Movie Max 5: Tropic Thunder (TV5) 6.1%
My Destiny (GMA-7) 22.7%; Ikaw Lamang (ABS-CBN) 21.8%
ADVERTISEMENT - CONTINUE READING BELOW
Ang Dalawang Mrs. Real (GMA-7) 19.9%; Sana Bukas Pa Ang Kahapon (ABS-CBN) 18.9%
The Master's Sun (GMA-7) 17.6%; Aquino& Abunda Tonight (ABS-CBN) 14.3%; Pinoy Big Brother All In (ABS-CBN) 12.5%; Demolition Job (TV5) 3.2%; Pilipinas News (TV5) 1.5%; Reaksyon (TV5) .9%
Saksi (GMA-7) 9.4%; Bandila (ABS-CBN) 6.5%;T3 Reload Replay (TV5) .7%
Front Row (GMA-7) 5.6%; Banana Nite (ABS-CBN) 3.8%; Face the People (TV5) .7%
The Medyo Late Night Show (GMA-7) 2.5%; O Shopping (ABS-CBN) .8%; Shop Japan (TV5) .5%
----
Juny 1, 2014 (Tuesday)
Morning:
I-Witness Replay (GMA-7) 1%; Mutya ng Masa Replay (ABS-CBN) .6%
Unang Hirit! (GMA-7) 4.3%;Umagang Kay Ganda (ABS-CBN) 3.3%; Reaksyon Replay (TV5) .2%; Good Morning Club (TV5) .9%; Gargoyles (TV5) .5%
One Piece (GMA-7) 5.5%; Jackie Chan Adventures (GMA-7) 7.1%; Detective Conan (GMA-7) 8.3%; Kris TV (ABS-CBN) 3.8%; Fish Hooks (TV5) 1.2%; Kick Buttowski (TV5) 1.7%; Phineas and Ferb (TV5) 2.2%
Inuyasha (GMA-7) 8.8%; Fairy Tail (GMA-7) 9.7%; Mr. Bean (ABS-CBN) 3.9%; Oggy and the Cockroaches (TV5) 1.9%
Slam Dunk (GMA-7) 10.9%; Kuroko's Basketball (ABS-CBN) 3.5%; Ben 10 Ultimate Alien (TV5) 2%
Dragon Ball Z Kai (GMA-7) 9.8%;Naruto Shippuuden (ABS-CBN) 3.9%;Movie Max 5: Snowmageddon (TV5) 4.3%
Return of the Wife (GMA-7) 7.4%; Lovers in Paris (ABS-CBN) 5%
Basta Everyday Happy (GMA-7) 7.1%; Lucky Me NamNam All 3-in-One (GMA-7) 7.6%;The Singing Bee (ABS-CBN) 9.4%
The Ryzza Mae Show (GMA-7) 11.4%; Be Careful With My Heart (ABS-CBN) 11.4%; Movie Max 5: Jennifer Eight(TV5) 4.6%
Afternoon:
Eat Bulaga (GMA-7) 19.4%; It's Showtime (ABS-CBN) 9.9%; Movie Max 5: The Bodyguard (TV5) 4.7%
The Half Sisters (GMA-7) 14.2%; Moon of Desire (ABS-CBN) 6.7%
Dading (GMA-7) 14.3%; Pinoy Big Brother All In Uber (ABS-CBN) 5.6%
Tunay na Buhay(GMA-7) 12.6%; Mutya ng Masa (ABS-CBN) 6.7%; Star Confessions (TV5) 3%
Jewel in the Palace (GMA-7) 12.8%; The Heirs (ABS-CBN) 11.2%; Star Confessions (TV5) 3.8%; T3 Reload (TV5) 3.8%
Evening:
My BFF (GMA-7) 14.9%; Mirabella (ABS-CBN) 14.9%; Aksyon (TV5) 5.7%
ADVERTISEMENT - CONTINUE READING BELOW
24 Oras (GMA-7) 21.6%; TV Patrol (ABS-CBN) 19%; Beki Boxer (TV5) 4.4%; Juan Direction (TV5) 5%
Niño (GMA-7) 23%; Dyesebel (ABS-CBN) 19.5%; PBA 2014 Governor's CupFinals: Rain or Shine vs San Mig Super Coffee(TV5) 15.1%
My Destiny (GMA-7) 21.8%; Ikaw Lamang (ABS-CBN) 20%
Ang Dalawang Mrs. Real (GMA-7) 18.6%; Sana Bukas Pa Ang Kahapon (ABS-CBN) 16.7%
The Master's Sun (GMA-7) 16.7%; Aquino & Abunda Tonight (ABS-CBN) 11.2%; Pinoy Big Brother All In (ABS-CBN) 11.5%;Numero (TV5) 3.6%; Pilipinas News (TV5) 2.5%
Saksi (GMA-7) 9.9%;Bandila (ABS-CBN) 5.1%; Reaksyon (TV5) 1.3%; T3 Reload Replay (TV5) 1.3%
Serial Killer Earth (GMA-7) 5.3%; Banana Nite (ABS-CBN) 2.5%
The Medyo Late Night Show (GMA-7) 2.3%; O Shopping (ABS-CBN) .5%; Face the People (TV5) 1%; Shop Japan (TV5) .3%
---
July 2, 2014 (Wednesday)
Morning:
Reporter's Notebook Replay (GMA-7) .8%; My Puhunan Replay (ABS-CBN) .4%
Unang Hirit! (GMA-7) 4.5%;Umagang Kay Ganda (ABS-CBN) 3.1%; Reaksyon Replay (TV5) .3%; Good Morning Club (TV5) 1%; Gargoyles (TV5) 1.2%
One Piece (GMA-7) 4.9%; Jackie Chan Adventures (GMA-7) 6.6%; Detective Conan (GMA-7) 7.2%; Inuyasha (GMA-7) 7.8%; Kris TV (ABS-CBN) 4.7%; Fish Hooks (TV5) 1.6%; Kick Buttowski (TV5) 2.2%; Phineas and Ferb (TV5) 3.5%
Fairy Tail (GMA-7) 9.4%; Mr. Bean (ABS-CBN) 4%; Oggy and the Cockroaches (TV5) 3%
Slam Dunk (GMA-7) 11.5%; Kuroko's Basketball (ABS-CBN) 3.9%; Ben 10 Ultimate Alien (TV5) 2.7%
Dragon Ball Z Kai (GMA-7) 10.9%; Naruto Shippuuden (ABS-CBN) 5.2%; Movie Max 5: Stonehenge Apocalypse (TV5) 3.7%
Return of the Wife (GMA-7) 7.5%; Lovers in Paris (ABS-CBN) 5.7%
Basta Everyday Happy (GMA-7) 6.7%; Del Monte Kitchenomics (GMA-7) 9.2%; The Singing Bee (ABS-CBN) 9.7%
The Ryzza Mae Show (GMA-7) 10.9%; Be Careful With My Heart (ABS-CBN) 12.3%; Movie Max 5: The Saint (TV5) 5.7%
Afternoon:
Eat Bulaga! (GMA-7) 19.7%; It's Showtime(ABS-CBN) 10.4%; NCAA 90: JRU vs SSC-R (TV5) 1.5%
The Half Sisters (GMA-7) 15.4%; Moon of Desire (ABS-CBN) 8.9%
Dading (GMA-7) 14%; Pinoy Big Brother All In Uber (ABS-CBN) 7.3%
ADVERTISEMENT - CONTINUE READING BELOW
Power House (GMA-7) 11.6%; My Puhunan (ABS-CBN) 7.4%; Star Confessions (TV5) 2.2%
Jewel in the Palace (GMA-7) 13.3%; The Heirs (ABS-CBN) 11.4%; Star Confessions (TV5) 3.5%; T3 Reload (TV5) 3.8%
Evening:
MyBFF (GMA-7) 13.3%; Mirabella (ABS-CBN) 15.4%; Aksyon (TV5) 5.6%
24 Oras (GMA-7) 20.4%; TV Patrol (ABS-CBN) 19.4%; Beki Boxer (TV5) 4.4%; Juan Direction (TV5) 4.7%
Niño (GMA-7) 24.6%; Dyesebel (ABS-CBN) 21.8%; Movie Max 5: Days of Thunder(TV5) 5.5%
My Destiny (GMA-7) 22.9%; Ikaw Lamang (ABS-CBN) 23%
Ang Dalawang Mrs. Real (GMA-7) 20.2%; Sana Bukas Pa Ang Kahapon (ABS-CBN) 21.7%; Kuwentong Gilas (TV5) 3.2%
The Master's Sun (GMA-7) 18.2%; Aquino & Abunda Tonight (ABS-CBN) 15.2%; Pinoy Big Brother All In (ABS-CBN) 11.6%; History with Lourd (TV5) 1.7%; Pilipinas News (TV5) 1%
Saksi (GMA-7) 9.7%; Bandila (ABS-CBN) 5.4%; Reaksyon (TV5) .4%; T3 Reload Replay (TV5) .5%
Mankind (GMA-7) 5.3%; Banana Nite (ABS-CBN) 3%; Face the People (TV5) .8%
The Medyo Late Night Show (GMA-7) 2%; O Shopping (ABS-CBN) .5%; Shop Japan (TV5) .4%
---
July 3, 2014 (Thursday)
Morning:
Born To Be Wild Replay (GMA-7) .9%; Tapatan Ni Tunying Replay (ABS-CBN) .7%
Unang Hirit! (GMA-7) 3.6%; Umagang Kay Ganda (ABS-CBN) 3.9%; Astig (TV5) 0%; Reaksyon Replay (TV5) .1%; Good Morning Club (TV5) .9%; Gargoyles (TV5) .9%
One Piece (GMA-7) 4.7%; Jackie Chan Adventures (GMA-7) 6.1%; Detective Conan (GMA-7) 7.4%; Inuyasha (GMA-7) 8.4%; Kris TV (ABS-CBN) 6%; Fish Hooks (TV5) 1.3%; Kick Buttowski(TV5) 1.7%; Phineas and Ferb (TV5) 2.1%
Fairy Tail (GMA-7) 11%; Mr. Bean (ABS-CBN) 4.6%; Oggy and the Cockroaches (TV5) 2.2%
Slam Dunk (GMA-7) 11.9%; Kuroko's Basketball (ABS-CBN) 4.9%; Ben 10 Ultimate Alien (TV5) 2%
Dragon Ball Z Kai (GMA-7) 10.5%; Naruto Shippuuden (ABS-CBN) 5.7%; Movie Max 5: Super Storm (TV5) 4.1%
Return of the Wife (GMA-7) 9.1%; Lovers in Paris (ABS-CBN) 5.9%
Basta Everyday Happy (GMA-7) 8.1%; Lucky Me! Namnam (GMA-7) 9.5%; The Singing Bee (ABS-CBN) 10.8%
The Ryzza Mae Show (GMA-7) 12.5%; Be Careful With My Heart (ABS-CBN) 14.4%;Movie Max 5: Breakdown (TV5) 6.7%
ADVERTISEMENT - CONTINUE READING BELOW
Afternoon:
Eat Bulaga! (GMA-7) 19.6%; It's Showtime (ABS-CBN) 10.7%; Movie Max 5: RV (TV5) 6.2%
The Half Sisters (GMA-7) 15.6%; Moon of Desire (ABS-CBN) 7.5%
Dading (GMA-7) 14.2%; Pinoy Big Brother All In Uber (ABS-CBN) 4.9%
Reporter's Notebook (GMA-7) 11%; Tapatan Ni Tunying (ABS-CBN) 6.3%; Star Confessions (TV5) 4.3%
Jewel in the Palace (GMA-7) 14%; The Heirs (ABS-CBN) 11.5%; Star Confessions (TV5) 3.4%; T3 Reload (TV5) 3.1%
Evening:
MyBFF (GMA-7) 14.5%; Mirabella (ABS-CBN) 17.1%; Aksyon (TV5) 4.9%
24 Oras (GMA-7) 21%; TV Patrol (ABS-CBN) 19.7%; Beki Boxer (TV5) 5.3%; Juan Direction (TV5) 5.8%
Niño (GMA-7) 22.2%; Dyesebel (ABS-CBN) 18%; PBA 2014: Governor's Cup Finals: Rain or Shine vs San Mig Super Coffee (TV5) 16.5%
My Destiny (GMA-7) 21%; Ikaw Lamang (ABS-CBN) 18.8%
Ang Dalawang Mrs. Real (GMA-7) 18.3%; Sana Bukas Pa Ang Kahapon (ABS-CBN) 15.8%
The Master's Sun (GMA-7) 15.7%; Aquino& Abunda Tonight (ABS-CBN) 10.1%; Pinoy Big Brother All In (ABS-CBN) 11%; Bigtime (TV5) 4%
Saksi (GMA-7) 9.5%; Bandila (ABS-CBN) 6%; Pilipinas News (TV5) 1.9%; Reaksyon (TV5) .8%
Mankind (GMA-7) 5.2%; Banana Nite (ABS-CBN) 3.5%; T3 Reload Replay (TV5) .9%
The Medyo Late Night Show with Jojo A. (GMA-7) 1.9%; O Shopping (ABS-CBN) .6%; Face the People (TV5) 1%; Shop Japan (TV5) .4%
---
TOP TEN PROGRAMS:
June 30, 2014 (Monday)
DAYTIME:
Eat Bulaga! (GMA-7) - 18.7%
The Half Sisters (GMA-7) - 16.2%
Dading (GMA-7) - 14.7%
Jewel in the Palace (GMA-7) - 13.1%
Be Careful With My Heart (ABS-CBN) - 12.2%
Alisto! (GMA-7) - 11.4%
The Ryzza Mae Show (GMA-7) - 11.2%
Slam Dunk (GMA-7) - 10.5%
It's Showtime (ABS-CBN) - 10.4%
Dragon Ball Z Kai (GMA-7) - 10.1%
PRIMETIME:
Niño (GMA-7) - 23.3%
My Destiny (GMA-7) - 22.7%
24 Oras (GMA-7) / Ikaw Lamang (ABS-CBN) - 21.8%
Dyesebel (ABS-CBN) - 20.6%
Ang Dalawang Mrs. Real (GMA-7) - 19.9%
My Love from the Star (GMA-7) - 19.1%
Sana Bukas Pa Ang Kahapon (ABS-CBN) - 18.9%
TV Patrol (ABS-CBN) - 18.2%
The Master's Sun (GMA-7) - 17.6%
My BFF (GMA-7) - 15.9%
July 1, 2014 (Tuesday)
DAYTIME:
Eat Bulaga! (GMA-7) - 19.4%
Dading (GMA-7) - 14.3%
The Half Sisters (GMA-7) - 14.2%
Jewel in the Palace (GMA-7) - 12.8%
Tunay na Buhay (GMA-7) - 12.6%
The Ryzza Mae Show (GMA-7) / Be Careful With My Heart (ABS-CBN) - 11.4%
The Heirs(ABS-CBN) - 11.2%
Slam Dunk (GMA-7) - 10.9%
It's Showtime (ABS-CBN) - 9.9%
Dragon Ball Z Kai (GMA-7) - 9.8%
PRIMETIME:
Niño (GMA-7) - 23%
My Destiny (GMA-7) - 21.8%
24 Oras (GMA-7) - 21.6%
Ikaw Lamang (ABS-CBN) - 20%
Dyesebel (ABS-CBN) - 19.5%
TV Patrol (ABS-CBN) - 19%
Ang Dalawang Mrs. Real (GMA-7) - 18.6%
The Master's Sun (GMA-7) / Sana Bukas Pa Ang Kahapon (ABS-CBN) - 16.7%
PBA 2014 Governor's Cup Finals: Rain or Shine vs San Mig Super Coffee (TV5) - 15.1%
My BFF (GMA-7) / Mirabella (ABS-CBN) - 14.9%
July 2, 2014 (Wednesday)
DAYTIME:
Eat Bulaga! (GMA-7) - 19.7%
The Half Sisters (GMA-7) - 15.4%
Dading (GMA-7) - 14%
Jewel in the Palace (GMA-7) - 13.3%
Be Careful With My Heart (ABS-CBN) - 12.3%
Power House (GMA-7) - 11.6%
Slam Dunk (GMA-7) - 11.5%
The Heirs (ABS-CBN) - 11.4%
The Ryzza Mae Show (GMA-7) / Dragon Ball Z Kai (GMA-7) - 10.9%
It's Showtime (ABS-CBN) - 10.4%
PRIMETIME:
Niño (GMA-7) - 24.6%
Ikaw Lamang (ABS-CBN) - 23%
My Destiny (GMA-7) - 22.9%
Dyesebel (ABS-CBN) - 21.8%
Sana Bukas Pa Ang Kahapon (ABS-CBN) - 21.7%
24 Oras (GMA-7) - 20.4%
Ang Dalawang Mrs. Real (GMA-7) - 20.2%
TV Patrol (ABS-CBN) - 19.4%
The Master's Sun (GMA-7) - 18.2%
Mirabella (ABS-CBN) - 15.4%
July 3, 2014 (Thursday)
DAYTIME:
Eat Bulaga! (GMA-7) - 19.6%
The Half Sisters (GMA-7) - 15.6%
Be Careful With My Heart (ABS-CBN) - 14.4%
Dading (GMA-7) - 14.2%
Jewel in the Palace (GMA-7) - 14%
The Ryzza Mae Show (GMA-7) - 12.5%
Slam Dunk (GMA-7) - 11.9%
The Heirs (ABS-CBN) - 11.5%
Fairy Tail (GMA-7) / Reporter's Notebook (GMA-7) - 11%
The Singing Bee (ABS-CBN) - 10.8%
PRIMETIME:
Niño (GMA-7) - 24.6%
24 Oras (GMA-7) / My Destiny (GMA-7) - 21%
TV Patrol (ABS-CBN) - 19.7%
Ikaw Lamang (ABS-CBN) - 18.8%
Ang Dalawang Mrs. Real (GMA-7) - 18.3%
Dyesebel (ABS-CBN) - 18%
Mirabella (ABS-CBN) - 17.1%
PBA 2014: Governor's Cup Finals: Rain or Shine vs San Mig Super Coffee (TV5) - 16.5%
Sana Bukas Pa Ang Kahapon (ABS-CBN) - 15.8%
The Master's Sun (GMA-7) - 15.7%
Source: AGB Nielsen Philippines