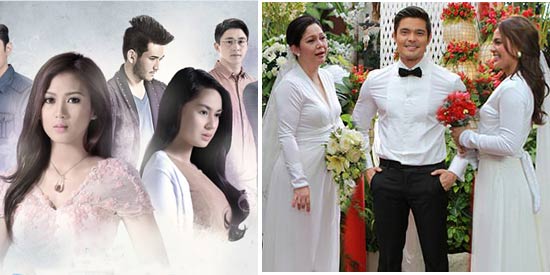 ---
GMA-7 is leading in primetime programming, based on the latest ratings data from AGB Nielsen Philippines among Mega Manila households for July 7-10, 2014.
The Kapuso Network's primetime shows have outperformed its ABS-CBN counterparts during the given period.
The kid-friendly drama Niño is the ratings winner for July 7, 8 and 10. GMA-7's primetime newscast 24 Oras emerged as the most-watched program on July 9.
Other Kapuso primetime shows place high on the top ten list. My Destiny has now outperformed Ikaw Lamang, while Ang Dalawang Mrs. Real has been getting higher ratings than Sana Bukas Pa Ang Kahapon.
Only one ABS-CBN primetime show is outperforming its Kapuso rival. Pure Love, a new drama that premiered on the early primetime slot, was able to edge out GMA-7's My BFF on July 7, 8 and 10.
Pure Love (which replaced Mirabella) is topbilled by Alex Gonzaga, Yen Santos, Matt Evans, Joseph Marco and Arjo Atayde.
GMA-7's The Master's Sun ended on July 10 with 19.5%, beating Aquino & Abunda Tonight's 14.2% and Pinoy Big Brother All In's 11.8%. The horror-themed Korean series was a ratings triumph, beating Pinoy Big Brother All In since its premiere on May 19.
(The Master's Sun lost to Aquino & Abunda Tonight on May 21, 22 and 26.)
Here is the comparative rating performance of GMA-7, ABS-CBN and TV5 programs from July 7-10, derived by AGB Nielsen Philippines from Mega Manila households:
--
July 7, 2014 (Monday)
Morning:
Power House Replay (GMA-7) .8%; Matanglawin Replay (ABS-CBN) .6%
Unang Hirit! (GMA-7) 5.2%; Umagang Kay Ganda (ABS-CBN) 4.7%; Word of the Lourd (TV5) .1%; Reaksyon Replay (TV5) .2%; Good Morning Club (TV5) 1.2%; Gargoyles (TV5) 1.4%
One Piece (GMA-7) 5.6%; Jackie Chan Adventures (GMA-7) 7.1%; Detective Conan (GMA-7) 8.6%; Inuyasha (GMA-7) 9.4%; Kris TV (ABS-CBN) 6.3%; Fish Hooks (TV5) 1.7%; Kick Buttowski (TV5) 2.1%; Phineas and Ferb (TV5) 2.4%
Fairy Tail (GMA-7) 10.2%; Spongebob Squarepants (ABS-CBN) 4.8%; Oggy and the Cockroaches (TV5) 2.7%
Slam Dunk (GMA-7) 11.9%; Kuroko's Basketball (ABS-CBN) 4.7%; Ben 10 Ultimate Alien (TV5) 3.2%
Dragon Ball Z Kai (GMA-7) 12.2%; Naruto Shippuuden (ABS-CBN) 4.9%
ADVERTISEMENT - CONTINUE READING BELOW
Return of the Wife (GMA-7) 10%; Lovers in Paris (ABS-CBN) 5.9%; Face the People (TV5) 4.3%
Basta Everyday Happy (GMA-7) 9.7%; The Singing Bee (ABS-CBN) 12%; Let's Ask Pilipinas (TV5) 3.6%
The Ryzza Mae Show (GMA-7) 12.8%; Be Careful With My Heart (ABS-CBN) 13.5%; T3 Reload (TV5) 3%
Afternoon:
Eat Bulaga! (GMA-7) 20.9%; It's Showtime (ABS-CBN) 9.8%; Movie Max 5: The Borrowers (TV5) 6%
The Half Sisters (GMA-7) 15.6%; Moon of Desire (ABS-CBN) 6.6%; Movie Max 5: Camel Spiders (TV5) 5.9%
Dading (GMA-7) 14.9%; Pinoy Big Brother All In Uber (ABS-CBN) 5.5%
Alisto! (GMA-7) 12.1%; Bistado (ABS-CBN) 6%; NCAA 90: CSB vs JRU (TV5) 1.9%
Jewel in the Palace (GMA-7) 13.7%; The Heirs (ABS-CBN) 11%
Evening:
My BFF (GMA-7) 13.9%; Pure Love (ABS-CBN) 15.6%; Aksyon (TV5) 5.4%
24 Oras (GMA-7) 22.5%; TV Patrol (ABS-CBN) 21.1%; Bride of the Century (TV5) 4.3%; Cool Guys Hot Ramen (TV5) 5.5%
Niño (GMA-7) 24.5%; Dyesebel (ABS-CBN) 21.8%; PBA 2014 Governor's Cup Finals: Rain or Shine vs San Mig Super Coffee (TV5) 16.3%
My Destiny (GMA-7) 22.1%; Ikaw Lamang (ABS-CBN) 20.9%
Ang Dalawang Mrs. Real (GMA-7) 18.1%; Sana Bukas Pa Ang Kahapon (ABS-CBN) 17.2%
The Master's Sun (GMA-7) 17.9%; Aquino & Abunda Tonight (ABS-CBN) 13.2%; Pinoy Big Brother All In (ABS-CBN) 13.6%; Pilipinas News (TV5) 3%; Reaksyon (TV5) 1.4%
Saksi (GMA-7) 9.8%; Bandila (ABS-CBN) 5.4%; Demolition Job (TV5) 1.7%; T3 Reload Replay (TV5) .8%
Front Row (GMA-7) 6%; Banana Nite (ABS-CBN) 2.7%; Face the People (TV5) .9%
The Medyo Late Night Show (GMA-7) 2.6%; O Shopping (ABS-CBN) .6%; Shop Japan (TV5) .3%
----
Juny 8, 2014 (Tuesday)
Morning:
I-Witness Replay (GMA-7) .9%; Mutya ng Masa Replay (ABS-CBN) .8%
Unang Hirit! (GMA-7) 4.8%; Umagang Kay Ganda (ABS-CBN) 3.5%; Reaksyon Replay (TV5) .3%; Good Morning Club (TV5) 1.3%; Gargoyles (TV5) 1.4%
One Piece (GMA-7) 6.2%; Jackie Chan Adventures (GMA-7) 7.4%; Detective Conan (GMA-7) 7.9%; Inuyasha (GMA-7) 8.3%; Kris TV (ABS-CBN) 5.5%; Fish Hooks (TV5) 1.9%; Kick Buttowski (TV5) 1.7%; Phineas and Ferb (TV5) 2.7%
Fairy Tail (GMA-7) 9.6%; Spongebob Squarepants (ABS-CBN) 5%; Oggy and the Cockroaches (TV5) 3.3%
Slam Dunk (GMA-7) 11.4%; Kuroko's Basketball (ABS-CBN) 5%; Ben 10 Ultimate Alien (TV5) 2.9%
Dragon Ball Z Kai (GMA-7) 12.4%; Naruto Shippuuden (ABS-CBN) 4.6%
Return of the Wife (GMA-7) 10.6%; Lovers in Paris (ABS-CBN) 5.9%; Face the People (TV5) 4.4%
Basta Everyday Happy (GMA-7) 8.6%; Lucky Me NamNam All 3-in-One (GMA-7) 9.3%; The Singing Bee (ABS-CBN) 12.6%; Let's Ask Pilipinas (TV5) 3.2%
ADVERTISEMENT - CONTINUE READING BELOW
The Ryzza Mae Show (GMA-7) 13%; Be Careful With My Heart (ABS-CBN) 14.7%; T3 Reload (TV5) 3%
Afternoon:
Eat Bulaga (GMA-7) 19.7%; It's Showtime (ABS-CBN) 9.9%; Movie Max 5: The Parole Officer (TV5) 5.8%
The Half Sisters (GMA-7) 15.8%; Moon of Desire (ABS-CBN) 6.7%; Movie Max 5: Dinocroc vs Supergator (TV5) 6.3%
Dading (GMA-7) 14.5%; Pinoy Big Brother All In Uber (ABS-CBN) 5.8%
Tunay na Buhay (GMA-7) 13.1%; Mutya ng Masa (ABS-CBN) 6.9%; Movie Max 5: Nacho Libre (TV5) 4.6%
Jewel in the Palace (GMA-7) 14.1%; The Heirs (ABS-CBN) 11.2%
Evening:
My BFF (GMA-7) 12.6%; Pure Love (ABS-CBN) 14.4%; Aksyon (TV5) 5.1%
24 Oras (GMA-7) 20.8%; TV Patrol (ABS-CBN) 20.1%; Bride of the Century (TV5) 3.1%; Cool Guys Hot Ramen (TV5) 4.5%
Niño (GMA-7) 23.8%; Dyesebel (ABS-CBN) 22.2%; Movie Max 5: Shanghai Knights (TV5) 6.9%
My Destiny (GMA-7) 23.3%; Ikaw Lamang (ABS-CBN) 21.6%
Ang Dalawang Mrs. Real (GMA-7) 21.9%; Sana Bukas Pa Ang Kahapon (ABS-CBN) 19.5%
The Master's Sun (GMA-7) 18.5%; Aquino & Abunda Tonight (ABS-CBN) 14.4%; Pinoy Big Brother All In (ABS-CBN) 11.7%; Pilipinas News (TV5) 3.1%; Reaksyon (TV5) 1.6%; Numero (TV5) 1.1%;
Saksi (GMA-7) 9.4%; Bandila (ABS-CBN) 5.3%; T3 Reload Replay (TV5) 1.1%
Serial Killer Earth (GMA-7) 6.2%; Banana Nite (ABS-CBN) 2.3%; Face the People (TV5) .9%
The Medyo Late Night Show (GMA-7) 2.6%; O Shopping (ABS-CBN) .8%; Shop Japan (TV5) .3%
---
July 9, 2014 (Wednesday)
Morning:
Reporter's Notebook Replay (GMA-7) 1%; My Puhunan Replay (ABS-CBN) .6%
Unang Hirit! (GMA-7) 5.2%; Umagang Kay Ganda (ABS-CBN) 3.6%; Reaksyon Replay (TV5) .3%; Good Morning Club (TV5) 1.3%; Gargoyles (TV5) .9%
One Piece (GMA-7) 5.5%; Jackie Chan Adventures (GMA-7) 6.5%; Detective Conan (GMA-7) 7.4%; Inuyasha (GMA-7) 8.6%; Kris TV (ABS-CBN) 5.5%; Fish Hooks (TV5) 1.4%; Kick Buttowski (TV5) 1.9%; Phineas and Ferb (TV5) 2.8%
Fairy Tail (GMA-7) 10.1%; Spongebob Squarepants (ABS-CBN) 4.5%; Oggy and the Cockroaches (TV5) 3.2%
Slam Dunk (GMA-7) 11.4%; Kuroko's Basketball (ABS-CBN) 4.9%; Ben 10 Ultimate Alien (TV5) 3.2%
Dragon Ball Z Kai (GMA-7) 13.1%; Naruto Shippuuden (ABS-CBN) 5.5%
Return of the Wife (GMA-7) 11.2%; Lovers in Paris (ABS-CBN) 7%; Face the People (TV5) 3.4%
Basta Everyday Happy (GMA-7) 9.3%; Del Monte Kitchenomics (GMA-7) 11.2%; The Singing Bee (ABS-CBN) 12.3%; Let's Ask Pilipinas (TV5) 3.9%
The Ryzza Mae Show (GMA-7) 15.5%; Be Careful With My Heart (ABS-CBN) 14.7%; T3 Reload (TV5) 3%
Afternoon:
ADVERTISEMENT - CONTINUE READING BELOW
Eat Bulaga! (GMA-7) 20.3%; It's Showtime (ABS-CBN) 10.1%; Movie Max 5: Big Fat Liar (TV5) 6.5%; Movie Max 5: Anaconda (TV5) 7.6%
The Half Sisters (GMA-7) 16.3%; Moon of Desire (ABS-CBN) 7.6%
Dading (GMA-7) 15.7%; Pinoy Big Brother All In Uber (ABS-CBN) 6%
Power House (GMA-7) 15.8%; My Puhunan (ABS-CBN) 7.3%; NCAA 90: CSJL vs MIT (TV5) 1.8%
Jewel in the Palace (GMA-7) 16.7%; The Heirs (ABS-CBN) 11.7%
Evening:
My BFF (GMA-7) 16.5%; Mirabella (ABS-CBN) 14.8%; Aksyon (TV5) 6.4%
24 Oras (GMA-7) 22.9%; TV Patrol (ABS-CBN) 19.7%; Bride of the Century (TV5) 4.1%; Cool Guys Hot Ramen (TV5) 6.4%
Niño (GMA-7) 22.8%; Dyesebel (ABS-CBN) 19.3%; PBA 2014: Governor's Cup Finals: Rain or Shine vs San Mig Super Coffee (TV5) 21.9%
My Destiny (GMA-7) 21.3%; Ikaw Lamang (ABS-CBN) 18.4%
Ang Dalawang Mrs. Real (GMA-7) 18.5%; Sana Bukas Pa Ang Kahapon (ABS-CBN) 15.2%
The Master's Sun (GMA-7) 14.3%; Aquino & Abunda Tonight (ABS-CBN) 10.2%; Pinoy Big Brother All In (ABS-CBN) 7.9%
Saksi (GMA-7) 9.5%; Bandila (ABS-CBN) 5.2%; Pilipinas News (TV5) 3.8%
Mankind (GMA-7) 6.4%; Banana Nite (ABS-CBN) 2.9%; Reaksyon (TV5) 1.8%
The Medyo Late Night Show (GMA-7) 3.2%; O Shopping (ABS-CBN) .9%; History with Lourd (TV5) 1.3%; T3 Reload Replay (TV5) 1.3%; Face the People (TV5) 1.2%; Shop Japan (TV5) .8%
---
July 10, 2014 (Thursday)
Morning:
Born To Be Wild Replay (GMA-7) .6%; Tapatan Ni Tunying Replay (ABS-CBN) .4%
Unang Hirit! (GMA-7) 4.4%; Umagang Kay Ganda (ABS-CBN) 3.5%; Astig (TV5) .1%; Reaksyon Replay (TV5) .4%; Good Morning Club (TV5) 1.5%; Gargoyles (TV5) 1.1%
One Piece (GMA-7) 5.8%; Jackie Chan Adventures (GMA-7) 7%; Detective Conan (GMA-7) 7.5%; Inuyasha (GMA-7) 9%; Kris TV (ABS-CBN) 5.5%; Fish Hooks (TV5) 1.5%; Kick Buttowski (TV5) 2%; Phineas and Ferb (TV5) 2.9%
Fairy Tail (GMA-7) 10%; Mr. Bean (ABS-CBN) 4.8%; Oggy and the Cockroaches (TV5) 2.7%
Slam Dunk (GMA-7) 11%; Kuroko's Basketball (ABS-CBN) 4.5%; Ben 10 Ultimate Alien (TV5) 2.8%
Dragon Ball Z Kai (GMA-7) 12.5%; Naruto Shippuuden (ABS-CBN) 4.9%
Return of the Wife (GMA-7) 9.6%; Lovers in Paris (ABS-CBN) 5.4%; Face the People (TV5) 2.9%
Basta Everyday Happy (GMA-7) 7.9%; Lucky Me! Namnam (GMA-7) 9.3%; The Singing Bee (ABS-CBN) 11%; Let's Ask Pilipinas (TV5) 3.1%
The Ryzza Mae Show (GMA-7) 11.8%; Be Careful With My Heart (ABS-CBN) 14.1%; T3 Reload Replay (TV5) 3.8%
Afternoon:
Eat Bulaga! (GMA-7) 20.3%; It's Showtime (ABS-CBN) 9.6%; Movie Max 5 (TV5) 4.7%
ADVERTISEMENT - CONTINUE READING BELOW
The Half Sisters (GMA-7) 16.6%; Moon of Desire (ABS-CBN) 6.9%; Movie Max 5: Anaconda Offspring (TV5) 6.2%
Dading (GMA-7) 14.9%; Pinoy Big Brother All In Uber (ABS-CBN) 5.3%
Reporter's Notebook (GMA-7) 12.4%; Tapatan Ni Tunying (ABS-CBN) 5.3%; Movie Max 5: Shaolin Soccer (TV5) 8.1%
Jewel in the Palace (GMA-7) 12.8%; The Heirs (ABS-CBN) 10.6%
Evening:
My BFF (GMA-7) 12.4%; Pure Love (ABS-CBN) 13.8%; Aksyon (TV5) 6.6%
24 Oras (GMA-7) 20.6%; TV Patrol (ABS-CBN) 19.3%; Bride of the Century (TV5) 5%; Cool Guys Hot Ramen (TV5) 5.7%
Niño (GMA-7) 25%; Dyesebel (ABS-CBN) 21.9%; Movie Max 5: City Hunter (TV5) 10.2%
My Destiny (GMA-7) 23.8%; Ikaw Lamang (ABS-CBN) 21.9%
Ang Dalawang Mrs. Real (GMA-7) 22.8%; Sana Bukas Pa Ang Kahapon (ABS-CBN) 19.7%; Kuwentong Gilas (TV5) 5.4%
The Master's Sun (GMA-7) 19.5%; Aquino & Abunda Tonight (ABS-CBN) 14.2%; Pinoy Big Brother All In (ABS-CBN) 11.8%; Pilipinas News (TV5) 1.7%; Reaksyon (TV5) 1%
Saksi (GMA-7) 9.8%; Bandila (ABS-CBN) 5%; Bigtime (TV5) .7%
Mankind (GMA-7) 5.4%; Banana Nite (ABS-CBN) 3.3%; T3 Reload Replay (TV5) .5%
The Medyo Late Night Show with Jojo A. (GMA-7) 2.9%; O Shopping (ABS-CBN) .8%; Face the People (TV5) 1%; Shop Japan (TV5) .2%
---
TOP TEN PROGRAMS:
July 7, 2014 (Monday)
DAYTIME:
Eat Bulaga! (GMA-7) - 20.9%
The Half Sisters (GMA-7) - 15.6%
Dading (GMA-7) - 14.9%
Jewel in the Palace (GMA-7) - 13.7%
Be Careful With My Heart (ABS-CBN) - 13.5%
The Ryzza Mae Show (GMA-7) - 12.8%
Dragon Ball Z Kai (GMA-7) - 12.2%
Alisto! (GMA-7) - 12.1%
The Singing Bee (ABS-CBN) - 12%
Slam Dunk (GMA-7) - 11.9%
PRIMETIME:
Niño (GMA-7) - 24.5%
24 Oras (GMA-7) - 22.5%
My Destiny (GMA-7) - 22.1%
Dyesebel (ABS-CBN) - 21.8%
TV Patrol (ABS-CBN) - 21.1%
6. Ikaw Lamang (ABS-CBN) - 20.9%
7. Ang Dalawang Mrs. Real (GMA-7) - 18.1%
The Master's Sun (GMA-7) - 17.9%
Sana Bukas Pa Ang Kahapon (ABS-CBN) - 17.2%
PBA 2014 Governor's Cup Finals: Rain or Shine vs San Mig Super Coffee (TV5) - 16.3%
July 8, 2014 (Tuesday)
DAYTIME:
Eat Bulaga! (GMA-7) - 19.7%
The Half Sisters (GMA-7) - 15.8%
Be Careful With My Heart (ABS-CBN) - 14.7%
Dading (GMA-7) - 14.5%
Jewel in the Palace (GMA-7) - 14.1%
Tunay na Buhay (GMA-7) - 13.1%
The Ryzza Mae Show (GMA-7) - 13%
The Singing Bee (ABS-CBN) - 12.6%
Dragon Ball Z Kai (GMA-7) - 12.4%
Slam Dunk (GMA-7) - 11.4%
PRIMETIME:
Niño (GMA-7) - 23.8%
My Destiny (GMA-7) - 23.3%
Dyesebel (ABS-CBN) - 22.2%
Ang Dalawang Mrs. Real (GMA-7) - 21.9%
Ikaw Lamang (ABS-CBN) - 21.6%
24 Oras (GMA-7) - 20.8%
TV Patrol (ABS-CBN) - 20.1%
Sana Bukas Pa Ang Kahapon (ABS-CBN) - 19.5%
The Master's Sun (GMA-7) - 18.5%
Pure Love (ABS-CBN) / Aquino & Abunda Tonight (ABS-CBN) - 14.4%
July 9, 2014 (Wednesday)
DAYTIME:
Eat Bulaga! (GMA-7) - 20.3%
Jewel in the Palace (GMA-7) - 16.7%
The Half Sisters (GMA-7) - 16.3%
Power House (GMA-7) - 15.8%
Dading (GMA-7) - 15.7%
The Ryzza Mae Show (GMA-7) - 15.5%
Be Careful With My Heart (ABS-CBN) - 14.7%
Dragon Ball Z Kai (GMA-7) - 13.1%
The Singing Bee (ABS-CBN) - 12.3%
The Heirs (ABS-CBN) - 11.7%
PRIMETIME:
24 Oras (GMA-7) - 22.9%
Niño (GMA-7) - 22.8%
PBA 2014: Governor's Cup Finals: Rain or Shine vs San Mig Super Coffee (TV5) - 21.9%
My Destiny (GMA-7) - 21.3%
TV Patrol (ABS-CBN) / Dyesebel (ABS-CBN) - 19.7%
Ang Dalawang Mrs. Real (GMA-7) - 18.5%
Ikaw Lamang (ABS-CBN) - 18.4%
My BFF (GMA-7) - 16.5%
Sana Bukas Pa Ang Kahapon (ABS-CBN) - 15.2%
Pure Love (ABS-CBN) - 14.8%
July 10, 2014 (Thursday)
DAYTIME:
Eat Bulaga! (GMA-7) - 20.3%
The Half Sisters (GMA-7) - 16.6%
Dading (GMA-7) - 14.9%
Be Careful With My Heart (ABS-CBN) - 14.1%
Jewel in the Palace (GMA-7) - 12.8%
Dragon Ball Z Kai (GMA-7) - 12.5%
Reporter's Notebook (GMA-7) - 12.4%
The Ryzza Mae Show (GMA-7) - 11.8%
Slam Dunk (GMA-7) / The Singing Bee (ABS-CBN) - 11%
The Heirs (ABS-CBN) - 10.6%
PRIMETIME:
Niño (GMA-7) - 25%
My Destiny (GMA-7) - 23.8%
Ang Dalawang Mrs. Real (GMA-7) - 22.8%
Dyesebel (ABS-CBN) / Ikaw Lamang (ABS-CBN) - 21.9%
24 Oras (GMA-7) - 20.6%
Sana Bukas Pa Ang Kahapon (ABS-CBN) - 19.7%
The Master's Sun (GMA-7) - 19.5%
TV Patrol (ABS-CBN) - 19.3%
Pure Love (ABS-CBN) - 13.8%
My BFF (GMA-7) - 12.4%
Source: AGB Nielsen Philippines