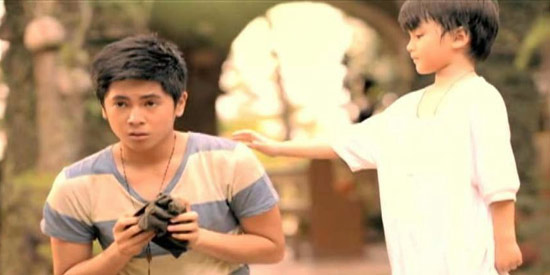 ---

Dyesebel's finale did not dominate in the ratings game. This is based on the latest ratings data from AGB Nielsen Philippines from Mega Manila households from July 18 to 20, 2014.
The ABS-CBN primetime series starring Anne Curtis ended on July 18 with 15.6%, placing sixth on the list of the ten most-watched shows on primetime for the day.
It will be recalled that Dyesebel's finale aired during the period after Typhoon Glenda ravaged Luzon, paralyzing the region's electricity grid.
Nevertheless, GMA-7's Niño still beat Dyesebel with 17.9% rating. The light-hearted GMA-7 series starring Miguel Tanfelix has been getting higher ratings than Dyesebel for weeks now.
Dyesebel premiered on March 17, getting a total of 88 episodes.

(The July 16 episode is a replay of the July 15 episode, due to massive brownouts caused by the typhoon. Therefore, there are only 87 episodes officially.)
Dyesebel (ABS-CBN)

According to data from AGB Nielsen Philippines from Mega Manila households

Rating at premiere (March 17)

25.2%

Rating at finale (July 18)

15.6%

Total number of episodes

88 (one replay)

Show average

21.4%

Highest rating

25.2% (March 17)

Lowest rating

9.6% (July 16 - replay episode)
Here is the comparative rating performance of GMA-7, ABS-CBN and TV5 programs from July 18-20, 2014 derived from AGB Nielsen Philippines from Mega Manila households:
July 18, 2014 (Friday)
Morning:
Alisto! Replay (GMA-7) 1.1%; Red Alert Replay (ABS-CBN) .7%
Unang Hirit! (GMA-7) 5%; Umagang Kay Ganda (ABS-CBN) 2.9%; Reaksyon Replay (TV5) .3%; Good Morning Club (TV5) .9%; Gargoyles (TV5) 1.2%
One Piece (GMA-7) 4.6%; Jackie Chan Adventures (GMA-7) 5.1%; Detective Conan (GMA-7) 5.7%; Inuyasha (GMA-7) 5.9%; Kris TV (ABS-CBN) 3.5%; Fish Hooks (TV5) 1.7%; Kick Buttowski (TV5) 1.7%; Phineas and Ferb (TV5) 2.4%
Fairy Tail (GMA-7) 7%; Spongebob Squarepants (ABS-CBN) 3.1%; Oggy and the Cockroaches (TV5) 2.3%
Slam Dunk (GMA-7) 7.6%; Kuroko's Basketball (ABS-CBN) 3.1%; Ben 10 Ultimate Alien (TV5) 1.8%
Dragon Ball Z Kai (GMA-7) 7.2%; Naruto Shippuuden (ABS-CBN) 3.3%
Return of the Wife (GMA-7) 6.1%; Lovers in Paris (ABS-CBN) 3.3%; Face the People (TV5) 2.2%
ADVERTISEMENT - CONTINUE READING BELOW
Basta Everyday Happy (GMA-7) 5.8%; The Singing Bee (ABS-CBN) 5%; Let's Ask Pilipinas (TV5) 1.5%
The Ryzza Mae Show (GMA-7) 7.2%; Be Careful With My Heart (ABS-CBN) 6.5%; T3 Reload (TV5) 2.2%
Afternoon:
Eat Bulaga! (GMA-7) 11.4%; It's Showtime (ABS-CBN) 6.8%; Movie Max 5: Flubber (TV5) 2.2%
The Half Sisters (GMA-7) 10.5%; Moon of Desire (ABS-CBN) 5.6%; Movie Max 5: Welcome Home Roscoe Jenkins (TV5) 4.1%
Dading (GMA-7) 10.3%; Pinoy Big Brother All In Uber (ABS-CBN) 5%
Love Hotline (GMA-7) 9.8%; Red Alert (ABS-CBN) 4.4%; NCAA Season 90: JRU Heavy Bombers vs LPU Pirates (TV5) 2.3%
Jewel in the Palace (GMA-7) 11%; My Girl (ABS-CBN) 5.4%
Evening:
My BFF (GMA-7) 10.2%; Pure Love (ABS-CBN) 8.2%; Aksyon (TV5) 2.9%
24 Oras (GMA-7) 18.3%; TV Patrol (ABS-CBN) 12.6%; 2014 FIBA Asia Cup: Philippines vs Iran (TV5) 6%; 2014 FIBA Asia Cup: China vs Chinese Taipei (TV5) 3.2%
Niño (GMA-7) 17.9%; Dyesebel (ABS-CBN) 15.6%
My Destiny (GMA-7) 19.1%; Ikaw Lamang (ABS-CBN) 16.1%
Ang Dalawang Mrs. Real (GMA-7) 20.3%; Sana Bukas Pa Ang Kahapon (ABS-CBN) 17.9%
Bubble Gang (GMA-7) 14%; Aquino & Abunda Tonight (ABS-CBN) 10.3%; Pinoy Big Brother All In (ABS-CBN) 9.1%; Pilipinas News (TV5) 1%
Saksi (GMA-7) 7.1%; Bandila (ABS-CBN) 5.9%; Shop Japan (TV5) .3%
The Medyo Late Night Show with Jojo A. (GMA-7) 3%; Banana Nite (ABS-CBN) 3.1%; O Shopping (ABS-CBN) 1%
---
July 19, 2014 (Saturday)
Morning:
PJM Forum (GMA-7) .1%; Adyenda (GMA-7) .6%; Kapwa Ko Mahal Ko (GMA-7) 1.1%; Sa Kabukiran (ABS-CBN) .5%; Family Matters (TV5) .1%
Pinoy MD (GMA-7) 2.6%; Salamat Dok (ABS-CBN) 1.5%; Yin Yang Yo! (TV5) 1%
Puppy in My Pocket (GMA-7) 3.9%; Swak na Swak (ABS-CBN) 1.8%; Adventure Time (TV5) 1.9%
Hayate the Combat Butler (GMA-7) 5.3%; Honey Watch Out! (ABS-CBN) 1.2%; Dexter's Laboratory (TV5) 3.4%
Larva (GMA-7) 6.3%; Sineskwela (ABS-CBN) 2.7%; The Amazing World of Gumball (TV5) 4%
Angry Birds Toons (GMA-7) 7.5%; Monsuno (GMA-7) 7.8%; Tuff Puppy (ABS-CBN) 2%; Regular Show (TV5) 3.9%
Tropang Potchi (GMA-7) 6.7%; Spongebob Squarepants (ABS-CBN) 4.6%; The Powerpuff Girls (TV5) 4%
ADVERTISEMENT - CONTINUE READING BELOW
Sarap Diva (GMA-7) 6.7%; Super Book (ABS-CBN) 5.6%; Promil I Shine! Camp 3 (ABS-CBN) 3.5%; Johnny Bravo (TV5) 5.4%; Ben 10 (TV5) 5.5%;
Maynila 15 (GMA-7) 7.7%; Del Monte Kitchenomics (GMA-7) 8.9%; Dyesebel The Finale Rewind (ABS-CBN) 6%; Movie Max 5: The Rocketeer (TV5) 4%
Afternoon:
Eat Bulaga! (GMA-7) 18.3%; It's Showtime (ABS-CBN) 10.9%; GMA Tales of Horror: The Legend of Paranormal Story (GMA-7) 10%; Movie Max 5: 3 Ninjas Kick Back (TV5) 5.1%; Movie Max 5: Assault on Precinct 13(TV5) 4.5%
Startalk (GMA-7) 7.8%; Ipaglaban Mo (ABS-CBN) 8.3%
Wish Ko Lang! (GMA-7) 10.8%; Failon Ngayon (ABS-CBN) 7%; 3x3 Manila (TV5) 4.5%
Imbestigador (GMA-7) 16.3%; SOCO (ABS-CBN) 8.4%
24 Oras Weekend (GMA-7) 15.1%; TV Patrol Weekend (ABS-CBN) 9.9%
Evening:
Pepito Manaloto: Ang Tunay na Kuwento (GMA-7) 19.7%; Home Sweetie Home (ABS-CBN) 12.5%
Marian (GMA-7) 19%; The Voice Kids (ABS-CBN) 23.7%; Kuwentong PBA (TV5) 3.9%; 2014 FIBA Asia Cup: Philippines vs China (TV5) 7%
Magpakailanman (GMA-7) 21.7%; Celebrity Bluff (GMA-7) 19.8%; MMK: Ang Tahanan Mo (ABS-CBN) 18.2%; Kaya. (TV5) 2.8%; 2014 FIBA Asia Cup: Chinese Taipei vs Iran (TV5) 2.3%
I-Witness (GMA-7) 12.1%; Pinoy Big Brother All In (ABS-CBN) 13.2%; Banana Split Extra Scoop (ABS-CBN) 6.8%
Walang Tulugan (GMA-7) 2.9%; The Bottom Line (ABS-CBN) 2.3%; Sports Unlimited (ABS-CBN) 1.1%; O Shopping (ABS-CBN) .7%; Shop Japan (TV5) .8%
---
July 20, 2014 (Sunday)
Daytime:
In Touch with Dr. Charles Stanley (GMA-7) .3%; Jesus The Healer (GMA-7) .8%; Balitang 60 (TV5) .6%
Kapuso Sine Klasika: Boni & Klayd (GMA-7) 2.5%; The Healing Eucharist (ABS-CBN) 2.7%; Misa Nazareno (TV5) 1.3%
Grimm's Fairy Tales (GMA-7) 5.9%; Swak na Swak (ABS-CBN) 1.9%; Power to Unite with Elvira (TV5) .5%
Hayate the Combat Butler (GMA-7) 6.6%; Tom & Jerry Kids Show (GMA-7) 7.3%; Salamat Dok (ABS-CBN) 2.8%; Imagination Movers (TV5) 1.6%; Combo Ninos (TV5) 2.6%
Bleach: Fade to Black (GMA-7) 7.2%; Voltron Force (ABS-CBN) 2.7%; Stitch! (TV5) 3.5%
Aha! (GMA-7) 7.5%; Marvel Wolverine (ABS-CBN) 2.3%; Super Book (ABS-CBN) 3.8%; Gravity Falls (TV5) 4.9%
Born To Be Wild (GMA-7) 8.1%; iBilib (GMA-7) 7.4%; Matanglawin (ABS-CBN) 5.4%; Dave the Barbarian (TV5) 4.3%
ADVERTISEMENT - CONTINUE READING BELOW
Superhero Sunday: Dragon Ball the Movie (GMA-7) 10%; The Heirs Royal Rewind (ABS-CBN) 7.9%; The Replacements (TV5) 4.4%; The Emperor's New School (TV5) 4.2%; Movie Max 5: Galaxy Quest (TV5) 4.4%
Afternoon:
Kapuso Movie Festival: The Mummy (GMA-7) 15.8%; Del Monte Kitchenomics (GMA-7) 12.7%; Sunday All Stars (GMA-7) 8.7%; ASAP 19 (ABS-CBN) 7.3%; Movie Max 5: Crouching Tiger Hidden Dragon (TV5) 5.9%; Movie Max 5: Star Trek Generations (TV5) 2.9%
Asian Horror Stories: Roommates (GMA-7) 10%; Luv U (ABS-CBN) 6.6%; The Buzz 15 (ABS-CBN) 7.6%; Jasmine (TV5) 1.8%
24 Oras Weekend (GMA-7) 11.9%; TV Patrol Weekend (ABS-CBN) 8.5%; 3x3 Manila (TV5) 5.5%
Evening:
Vampire Ang Daddy Ko (GMA-7) 15.1%; Goin' Bulilit (ABS-CBN) 9%
Ismol Family (GMA-7) 17.8%; Wansapanataym (ABS-CBN) 13.5%
GMA Blockbusters: Charlie and the Chocolate Factory (GMA-7) 19%; The Voice Kids (ABS-CBN) 23.2%; Who Wants to be a Millionaire (TV5) 4.5%
Kapuso Mo, Jessica Soho (GMA-7) 21.1%; Rated K: Handa Na Ba Kayo? (ABS-CBN) 14.9%; Pinoy Big Brother All In (ABS-CBN) 13.3%; Wow Mali Lakas ng Tama (TV5) 4%; Jasmine Replay (TV5) 1.9%
Sunday Night Box Office: Volcano (GMA-7) 9.6%; Gandang Gabi Vice (ABS-CBN) 13.7%; Demolition Job (TV5) .7%; Demolition Job (TV5) .6%
Diyos at Bayan (GMA-7) 1.5%; Sunday's Best: 62nd FAMAS Awards (ABS-CBN) 3%; O Shopping (ABS-CBN) 1%; Demolition Job (TV5) .6%; Shop Japan (TV5) .4%
---
TOP TEN PROGRAMS:
July 18, 2014 (Friday)
DAYTIME:
Eat Bulaga! (GMA-7) - 11.4%
Jewel in the Palace (GMA-7) - 11%
The Half Sisters (GMA-7) - 10.5%
Dading (GMA-7) - 10.3%
Love Hotline (GMA-7) - 9.8%
Slam Dunk (GMA-7) - 7.6%
Dragon Ball Z Kai (GMA-7) / The Ryzza Mae Show (GMA-7) - 7.2%
Fairy Tail (GMA-7) - 7%
It's Showtime (ABS-CBN) - 6.8%
Be Careful With My Heart (ABS-CBN) - 6.5%
PRIMETIME:
1. My Destiny (GMA-7) - 19.1%
2. 24 Oras (GMA-7) - 18.3%
Ang Dalawang Mrs. Real (GMA-7) - 18%
4. Niño (GMA-7) - 17.9%
5. Ikaw Lamang (ABS-CBN) - 16.1%
Dyesebel (ABS-CBN) - 15.6%
Sana Bukas Pa Ang Kahapon (ABS-CBN) - 14.1%
Bubble Gang (GMA-7) - 14%
TV Patrol (ABS-CBN) - 12.6%
Aquino & Abunda Tonight (ABS-CBN) - 10.3%
July 19, 2014 (Saturday)
DAYTIME:
Eat Bulaga! (GMA-7) - 18.3%
Imbestigador (GMA-7) - 16.3%
24 Oras Weekend (GMA-7) - 15.1%
It's Showtime (ABS-CBN) - 10.9%
Wish Ko Lang! (GMA-7) - 10.8%
GMA Tales of Horror (GMA-7) - 10%
Del Monte Kitchenomics (GMA-7) - 8.9%
TV Patrol Weekend (ABS-CBN) - 9.9%
SOCO (ABS-CBN) - 8.4%
Ipaglaban Mo (ABS-CBN) - 8.3%
PRIMETIME:
The Voice Kids (GMA-7) - 23.7%
Magpakailanman (GMA-7) - 21.7%
Celebrity Bluff (GMA-7) - 19.8%
Pepito Manaloto: Ang Tunay na Kuwento (GMA-7) - 19.7%
Marian (GMA-7) - 19%
MMK: Ang Tahanan Mo (ABS-CBN) - 18.2%
Pinoy Big Brother All In (ABS-CBN) - 13.2%
Home Sweetie Home (ABS-CBN) - 12.5%
i-Witness (GMA-7) - 9.5%
Banana Split Extra Scoop (ABS-CBN) - 6.8%
July 20, 2014 (Sunday)
DAYTIME:
Kapuso Movie Festival: The Mummy (GMA-7) - 15.8%
Del Monte Kitchenomics (GMA-7) - 12.7%
24 Oras Weekend (GMA-7) - 11.9%
Superhero Sunday (GMA-7) - 11.9%
Sunday All Stars (GMA-7) - 8.7%
TV Patrol Weekend (ABS-CBN) - 8.5%
Born to be Wild (GMA-7) - 9.5%
The Heirs Royal Rewind (ABS-CBN) - 7.9%
The Buzz (ABS-CBN) - 7.6%
Aha! (GMA-7) - 7.5%
PRIMETIME:
1. The Voice Kids (ABS-CBN) - 23.2%
Kapuso Mo, Jessica Soho (GMA-7) - 21.1%
GMA Blockbusters: Charlie and the Chocolate Factory (GMA-7) - 19%
Ismol Family (GMA-7) - 17.8%
Vampire Ang Daddy Ko (GMA-7) - 15.1%
Rated K: Handa Na Ba Kayo? (ABS-CBN ) - 14.9%
Gandang Gabi Vice (ABS-CBN) - 13.7%
Wansapanataym (ABS-CBN) - 13.5%
Pinoy Big Brother All In (ABS-CBN) - 13.3%
Sunday Night Box Office: Volcano (GMA-7) - 9.6%
Source: AGB Nielsen Philippines