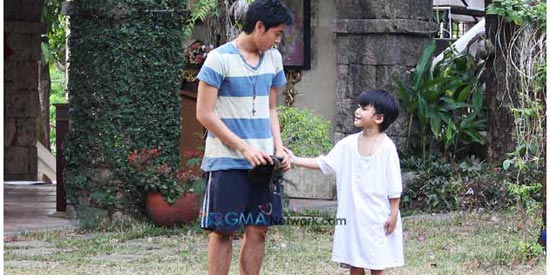 ---
Piolo Pascual-starrer Hawak Kamay was beaten in the ratings game during its initial episodes. This is according to the latest ratings data from AGB Nielsen Philippines among Mega Manila households for July 21-24, 2014.
ABS-CBN new family-oriented series starring Piolo Pascual, Iza Calzado, Zaijian Jaranilla and Xyriel Manabat debuted on July 21 as a replacement for Dyesebel.
Hawak Kamay's first episode registered 18.1%, making it the sixth most-watched show on primetime for that day. In contrast, GMA-7's Niño scored 22.2%, and it landed in second place.
Starring Miguel Tanfelix and David Remo, Niño would continue to beat Hawak Kamay for the remainder of the period. Niño also emerged as the No. 1 most-watched primetime show from July 22-24.
Niño wasn't GMA-7's only primetime winner. Other shows like My Destiny, 24 Oras, and Ang Dalawang Mrs. Real got better ratings than their rivals during the given period.
In fact, the only Kapamilya shows that occassionally outperformed their Kapuso counterparts are Pure Love ­(versus My BFF), Aquino & Abunda Tonight and Pinoy Big Brother All In (both against Secret Love).
GMA-7 is also the daytime winner, with Eat Bulaga! taking the lead daily. ABS-CBN's It's Showtime, on the other hand, only gets half of the Kapuso noontime show's ratings.
Here is the comparative rating performance of GMA-7, ABS-CBN and TV5 programs from July 21-24, derived from AGB Nielsen Philippines from Mega Manila households:
--
July 21, 2014 (Monday)
Morning:
Power House Replay (GMA-7) 1%; Matanglawin Replay (ABS-CBN) .6%
Unang Hirit! (GMA-7) 4.8%; Umagang Kay Ganda (ABS-CBN) 3.9%; Aksyon sa Umaga (TV5) .8%; Mickey Mouse Clubhouse (TV5) 1.4%; Handy Manny (TV5) 1.8%
ADVERTISEMENT - CONTINUE READING BELOW
One Piece (GMA-7) 5.3%; Jackie Chan Adventures (GMA-7) 5.8%; Detective Conan (GMA-7) 7.6%; Inuyasha (GMA-7) 7.2%; Kris TV (ABS-CBN) 3.7%; Lloyd in Space (TV5) 1.9%; The Replacements (TV5) 2.4%; Johnny Bravo (TV5) 2.1%
Fairy Tail (GMA-7) 8.8%; Spongebob Squarepants (ABS-CBN) 3.4%; Oggy and the Cockroaches (TV5) 1.9%
Slam Dunk (GMA-7) 9.9%; Kuroko's Basketball (ABS-CBN) 4.9%; Ben 10 Ultimate Alien (TV5) 2.3%
Dragon Ball Z Kai (GMA-7) 9.3%; Naruto Shippuuden (ABS-CBN) 5.4%
Return of the Wife (GMA-7) 8.1%; Lovers in Paris (ABS-CBN) 5.2%; Face the People (TV5) 2.4%
Basta Everyday Happy (GMA-7) 7.6%; The Singing Bee (ABS-CBN) 8.3%; Let's Ask Pilipinas (TV5) 2%
The Ryzza Mae Show (GMA-7) 9.9%; Be Careful With My Heart (ABS-CBN) 10.8%; Aksyon sa Tanghali (TV5) 2.6%
Afternoon:
Eat Bulaga! (GMA-7) 17.2%; It's Showtime (ABS-CBN) 8.3%; T3 Enforced (TV5) 4.2%
The Half Sisters (GMA-7) 12.8%; Moon of Desire (ABS-CBN) 7.4%; Movie Max 5: Double Jeopardy (TV5) 4.6%; Movie Max 5: Femme Fatale (TV5) 4.6%
Dading (GMA-7) 11.7%; Pinoy Big Brother All In Uber (ABS-CBN) 5.6%
Alisto! (GMA-7) 10.1%; Bistado (ABS-CBN) 5%; NCAA 90: CSB vs CSJL (TV5) .9%
Jewel in the Palace (GMA-7) 12.1%; My Girl (ABS-CBN) 6.8%
Evening:
My BFF (GMA-7) 12.8%; Pure Love (ABS-CBN) 11.4%; Aksyon (TV5) 4.9%

24 Oras (GMA-7) 20.6%; TV Patrol (ABS-CBN) 17.3%; Bride of the Century (TV5) 3.5%
Niño (GMA-7) 22.2%; Hawak-Kamay (ABS-CBN) 18.1%; Cool Guys Hot Ramen (TV5) 4%; Movie Max 5: Gone in Sixty Seconds (TV5) 6.4%
My Destiny (GMA-7) 23.6%; Ikaw Lamang (ABS-CBN) 19%
Ang Dalawang Mrs. Real (GMA-7) 19.5%; Sana Bukas Pa Ang Kahapon (ABS-CBN) 17.2%; Pilipinas News (TV5) 4.4%
Secret Love (GMA-7) 11.7%; Aquino & Abunda Tonight (ABS-CBN) 14.1%; Pinoy Big Brother All In (ABS-CBN) 14.1%; Aksyon Tonite (TV5) 3.6%
Saksi (GMA-7) 6.6%; Bandila (ABS-CBN) 7.3%; Demolition Job (TV5) 2%; T3 Enforced Replay (TV5) 1.9%
Front Row (GMA-7) 3.2%; Banana Nite (ABS-CBN) 4.9%; Face the People (TV5) 1.3%
The Tim Yap Show (GMA-7) 1.6%; O Shopping (ABS-CBN) 1.8%; Shop Japan (TV5) .3%
ADVERTISEMENT - CONTINUE READING BELOW
----
July 22, 2014 (Tuesday)
Morning:
I-Witness Replay (GMA-7) 1.3%; Mutya ng Masa Replay (ABS-CBN) .6%
Unang Hirit! (GMA-7) 7.1%; Umagang Kay Ganda (ABS-CBN) 4%; Reaksyon Replay (TV5) .6%; Aksyon sa Umaga (TV5) 1.1%; Mickey Mouse Clubhouse (TV5) 2%
One Piece (GMA-7) 7.5%; Jackie Chan Adventures (GMA-7) 8.2%; Detective Conan (GMA-7) 8.3%; Inuyasha (GMA-7) 9%; Kris TV (ABS-CBN) 5.4%; Handy Manny (TV5) 3.3%; Lloyd in Space (TV5) 3.6%; The Replacements (TV5) 3.9%
Fairy Tail (GMA-7) 9.6%; Spongebob Squarepants (ABS-CBN) 4%; Johnny Bravo (TV5) 3.5%
Slam Dunk (GMA-7) 11.2%; Kuroko's Basketball (ABS-CBN) 4.7%; Ben 10 Ultimate Alien (TV5) 3.4%
Dragon Ball Z Kai (GMA-7) 11%; Naruto Shippuuden (ABS-CBN) 4.8%
Return of the Wife (GMA-7) 9.8%; Lovers in Paris (ABS-CBN) 6.1%; Face the People (TV5) 3.2%
Basta Everyday Happy (GMA-7) 10.3%; Lucky Me NamNam All 3-in-One (GMA-7) 11.6%; The Singing Bee (ABS-CBN) 9.9%; Let's Ask Pilipinas (TV5) 2.3%
The Ryzza Mae Show (GMA-7) 12.7%; Be Careful With My Heart (ABS-CBN) 12.5%; Aksyon sa Tanghali (TV5) 2.4%
Afternoon:
Eat Bulaga (GMA-7) 18.9%; It's Showtime (ABS-CBN) 9.5%; T3 Enforced (TV5) 3.6%; Movie Max 5: Lethal Weapon 4 (TV5) 4.6%
The Half Sisters (GMA-7) 15.2%; Moon of Desire (ABS-CBN) 8%; Movie Max 5: Internal Affairs (TV5) 5.5%
Dading (GMA-7) 14.4%; Pinoy Big Brother All In Uber (ABS-CBN) 6.5%
Tunay na Buhay (GMA-7) 13.3%; Mutya ng Masa (ABS-CBN) 5.3%; Movie Max 5: Eagle Eye (TV5) 6.3%
Jewel in the Palace (GMA-7) 14%; My Girl (ABS-CBN) 7.4%
Evening:
My BFF (GMA-7) 12.5%; Pure Love (ABS-CBN) 12.7%; Aksyon (TV5) 7.7%
24 Oras (GMA-7) 22.5%; TV Patrol (ABS-CBN) 18.4%; Bride of the Century (TV5) 4.3%
Niño (GMA-7) 26.1%; Hawak-Kamay (ABS-CBN) 17.4%; Cool Guys Hot Ramen (TV5) 5.7%; Kuwentong PBA (TV5) 7.2%
My Destiny (GMA-7) 23.9%; Ikaw Lamang (ABS-CBN) 18%; The Last Home Stand (TV5) 11.9%
Ang Dalawang Mrs. Real (GMA-7) 17.7%; Sana Bukas Pa Ang Kahapon (ABS-CBN) 15.2%
Secret Love (GMA-7) 10.5%; Aquino & Abunda Tonight (ABS-CBN) 11.6%; Pinoy Big Brother All In (ABS-CBN) 10.7%; Aksyon Tonite (TV5) 4.2%
ADVERTISEMENT - CONTINUE READING BELOW
Saksi (GMA-7) 6.8%; Bandila (ABS-CBN) 4.7%; T3 Enforced Replay (TV5) 1.6%
Serial Killer Earth (GMA-7) 3.9%; Banana Nite (ABS-CBN) 2.9%; Shop Japan (TV5) .8%
The Tim Yap Show (GMA-7) 2.1%; O Shopping (ABS-CBN) 1%
---
July 23, 2014 (Wednesday)
Morning:
Reporter's Notebook Replay (GMA-7) 1.8%; My Puhunan Replay (ABS-CBN) 1.6%
Unang Hirit! (GMA-7) 7.5%; Umagang Kay Ganda (ABS-CBN) 5%; Reaksyon Replay (TV5) .6%; Aksyon sa Umaga (TV5) 1.1%; Mickey Mouse Clubhouse (TV5) 2%
One Piece (GMA-7) 6.3%; Jackie Chan Adventures (GMA-7) 7.6%; Detective Conan (GMA-7) 8.8%; Inuyasha (GMA-7) 8.5%; Kris TV (ABS-CBN) 5.5%; Handy Manny (TV5) 3.3%; Lloyd in Space (TV5) 3.6%; The Replacements (TV5) 3.9%
Fairy Tail (GMA-7) 9.3%; Spongebob Squarepants (ABS-CBN) 4.6%; Johnny Bravo (TV5) 3.5%
Slam Dunk (GMA-7) 10.4%; Kuroko's Basketball (ABS-CBN) 5.1%; Ben 10 Ultimate Alien (TV5) 3.4%
Dragon Ball Z Kai (GMA-7) 11.3%; Naruto Shippuuden (ABS-CBN) 5.3%
Return of the Wife (GMA-7) 9.3%; Lovers in Paris (ABS-CBN) 5.8%; Face the People (TV5) 3.2%
Basta Everyday Happy (GMA-7) 8.7%; Del Monte Kitchenomics (GMA-7) 10.1%; The Singing Bee (ABS-CBN) 10.3%; Let's Ask Pilipinas (TV5) 2.3%
The Ryzza Mae Show (GMA-7) 12.4%; Be Careful With My Heart (ABS-CBN) 13.1%; Aksyon sa Tanghali (TV5) 2.4%
Afternoon:
Eat Bulaga (GMA-7) 19.5%; The Half Sisters (GMA-7) 14.9%; It's Showtime (ABS-CBN) 10.2%; T3 Enforced (TV5) 3.6%; Movie Max 5: Lethal Weapon 4 (TV5) 4.6%
Dading (GMA-7) 14.4%; Moon of Desire (ABS-CBN) 8.1%; Pinoy Big Brother All In Uber (ABS-CBN) 6.7%; Movie Max 5: Internal Affairs (TV5) 5.5%
Power House (GMA-7) 14.4%; My Puhunan (ABS-CBN) 5.9%; Movie Max 5: Eagle Eye (TV5) 6.3%
Jewel in the Palace (GMA-7) 16.8%; My Girl (ABS-CBN) 9.7%
Evening:
My BFF (GMA-7) 15.2%; Pure Love (ABS-CBN) 15.1%; Aksyon (TV5) 7.7%
24 Oras (GMA-7) 24.7%; TV Patrol (ABS-CBN) 19.3%; Bride of the Century (TV5) 4.3%
Niño (GMA-7) 27%; Hawak-Kamay (ABS-CBN) 19.2%; Cool Guys Hot Ramen (TV5) 5.7%; Kuwentong PBA (TV5) 7.2%
My Destiny (GMA-7) 24.9%; Ikaw Lamang (ABS-CBN) 19.4%; The Last Home Stand (TV5) 11.9%
ADVERTISEMENT - CONTINUE READING BELOW
Ang Dalawang Mrs. Real (GMA-7) 21.1%; Sana Bukas Pa Ang Kahapon (ABS-CBN) 16.6%
Secret Love (GMA-7) 12.8%; Aquino & Abunda Tonight (ABS-CBN) 12.3%; Pinoy Big Brother All In (ABS-CBN) 12%; Aksyon Tonite (TV5) 4.2%
Saksi (GMA-7) 7.2%; Bandila (ABS-CBN) 5%; T3 Enforced Replay (TV5) 1.6%
Mankind (GMA-7) 5.3%; Banana Nite (ABS-CBN) 2.9%; Shop Japan (TV5) .8%
The Tim Yap Show (GMA-7) 2.8%; O Shopping (ABS-CBN) .8%
---
July 24, 2014 (Thursday)
Morning:
Born To Be Wild Replay (GMA-7) .9%; Tapatan Ni Tunying Replay (ABS-CBN) .6%
Unang Hirit! (GMA-7) 5.5%; Umagang Kay Ganda (ABS-CBN) 3.9%; Aksyon sa Umaga (TV5) 1.1%; Mickey Mouse Clubhouse (TV5) 1.9%
One Piece (GMA-7) 6.5%; Jackie Chan Adventures (GMA-7) 7.2%; Detective Conan (GMA-7) 8.5%; Inuyasha (GMA-7) 8.6%; Kris TV (ABS-CBN) 4.9%; Handy Manny (TV5) 2.4%; Lloyd in Space (TV5) 2.4%; The Replacements (TV5) 2.5%; Johnny Bravo (TV5) 2.2%
Fairy Tail (GMA-7) 10.1%; Spongebob Squarepants (ABS-CBN) 4.2%; Oggy and the Cockroaches (TV5) 2.8%
Slam Dunk (GMA-7) 10.8%; Kuroko's Basketball (ABS-CBN) 5.2%; Ben 10 Ultimate Alien (TV5) 3%
Dragon Ball Z Kai (GMA-7) 11%; Naruto Shippuuden (ABS-CBN) 6.2%
Return of the Wife (GMA-7) 9.3%; Lovers in Paris (ABS-CBN) 6.4%; Face the People (TV5) 3.2%
Basta Everyday Happy (GMA-7) 7.9%; Lucky Me! Namnam (GMA-7) 8.8%; The Singing Bee (ABS-CBN) 9.8%; Let's Ask Pilipinas (TV5) 2.5%
The Ryzza Mae Show (GMA-7) 12.3%; Be Careful With My Heart (ABS-CBN) 13%; Aksyon sa Tanghali (TV5) 3.4%
Afternoon:
Eat Bulaga! (GMA-7) 19.1%; It's Showtime (ABS-CBN) 10.3%; T3 Enforced (TV5) 4%; Movie Max 5: Universal Soldier (TV5) 5.7%
The Half Sisters (GMA-7) 14.9%; Moon of Desire (ABS-CBN) 7.8%; Movie Max 5: The General's Daughter (TV5) 6.6%
Dading (GMA-7) 13.7%; Pinoy Big Brother All In Uber (ABS-CBN) 6.5%
Reporter's Notebook (GMA-7) 11.3%; Tapatan Ni Tunying (ABS-CBN) 5.5%; Movie Max 5: Curse of the Golden Flower (TV5) 5.4%
Jewel in the Palace (GMA-7) 14.5%; My Girl (ABS-CBN) 7.8%
Evening:
My BFF (GMA-7) 12.3%; Pure Love (ABS-CBN) 14.5%; Aksyon (TV5) 4.7%
ADVERTISEMENT - CONTINUE READING BELOW
24 Oras (GMA-7) 23%; TV Patrol (ABS-CBN) 19.6%; Bride of the Century (TV5) 3.6%; Cool Guys Hot Ramen (TV5) 4.6%
Niño (GMA-7) 26.6%; Hawak-Kamay (ABS-CBN) 19.7%; Movie Max 5: Con Air (TV5) 6.9%
My Destiny (GMA-7) 25.2%; Ikaw Lamang (ABS-CBN) 20.1%
Ang Dalawang Mrs. Real (GMA-7) 24.6%; Sana Bukas Pa Ang Kahapon (ABS-CBN) 18.6%; Kuwnetong Gilas (TV5) 3.4%
Secret Love (GMA-7) 14.3%; Aquino & Abunda Tonight (ABS-CBN) 14.1%; Pinoy Big Brother All In (ABS-CBN) 14.3%; Aksyon Tonite (TV5) 1.2%; T3 Enforced Replay (TV5) 1.7%
Saksi (GMA-7) 7.9%; Bandila (ABS-CBN) 5.8%; Face the People Replay (TV5) 1.2%
Mankind (GMA-7) 4.8%; Banana Nite (ABS-CBN) 3.3%
The Tim Yap Show (GMA-7) 2.4%; O Shopping (ABS-CBN) .9%; Shop Japan (TV5) .2%
---
TOP TEN PROGRAMS:
July 21, 2014 (Monday)
DAYTIME:
Eat Bulaga! (GMA-7) - 17.2%
The Half Sisters (GMA-7) - 12.8%
Jewel in the Palace (GMA-7) - 12.1%
Dading (GMA-7) - 11.7%
Be Careful With My Heart (ABS-CBN) - 10.8%
Alisto! (GMA-7) - 10.1%
Slam Dunk (GMA-7) / The Ryzza Mae Show (GMA-7) - 9.9%
Dragon Ball Z Kai (GMA-7) - 9.3%
Fairy Tail (GMA-7) - 8.8%
The Singing Bee (ABS-CBN) / It's Showtime (ABS-CBN) - 8.3%
PRIMETIME:
My Destiny (GMA-7) - 23.6%
Niño (GMA-7) - 22.2%
24 Oras (GMA-7) - 20.6%
4. Ang Dalawang Mrs. Real (GMA-7) - 19.5%
5. Ikaw Lamang (ABS-CBN) - 19%
Hawak-Kamay (ABS-CBN) - 18.1%
TV Patrol (ABS-CBN) - 17.3%
Sana Bukas Pa Ang Kahapon (ABS-CBN) - 17.2%
Aquino & Abunda Tonight (ABS-CBN) / Pinoy Big Brother All In (ABS-CBN) - 14.1%
Secret Love (GMA-7) - 11.7%
July 22, 2014 (Tuesday)
DAYTIME:
Eat Bulaga! (GMA-7) - 18.9%
The Half Sisters (GMA-7) - 15.2%
Dading (GMA-7) - 14.4%
Jewel in the Palace (GMA-7) - 14%
Tunay na Buhay (GMA-7) - 13.3%
The Ryzza Mae Show (GMA-7) - 12.7%
Be Careful With My Heart (ABS-CBN) - 12.5%
Lucky Me NamNam All 3-in-One (GMA-7) - 11.6%
Slam Dunk (GMA-7) - 11.2%
Dragon Ball Z Kai (GMA-7) - 11%
PRIMETIME:
Niño (GMA-7) - 26.1%
My Destiny (GMA-7) - 23.9%
24 Oras (GMA-7) - 22.5%
TV Patrol (ABS-CBN) - 18.4%
Ikaw Lamang (ABS-CBN) - 18%
Ang Dalawang Mrs. Real (GMA-7) - 17.7%
Hawak-Kamay (ABS-CBN) - 17.4%
Sana Bukas Pa Ang Kahapon (ABS-CBN) - 15.2%
Pure Love (ABS-CBN) - 12.7%
My BFF (GMA-7) - 12.5%
July 23, 2014 (Wednesday)
DAYTIME:
Eat Bulaga! (GMA-7) - 19.5%
Jewel in the Palace (GMA-7) - 16.8%
The Half Sisters (GMA-7) - 14.9%
Power House (GMA-7) / Dading (GMA-7) - 14.4%
Be Careful With My Heart (ABS-CBN) - 13.1%
The Ryzza Mae Show (GMA-7) - 12.4%
Dragon Ball Z Kai (GMA-7) - 11.3%
Slam Dunk (GMA-7) - 10.4%
The Singing Bee (ABS-CBN) - 10.3%
It's Showtime (ABS-CBN) - 10.2%
PRIMETIME:
Niño (GMA-7) - 27%
My Destiny (GMA-7) - 24.9%
24 Oras (GMA-7) - 24.7%
Ang Dalawang Mrs. Real (GMA-7) - 21.1%
Ikaw Lamang (ABS-CBN) - 19.4%
TV Patrol (ABS-CBN) - 19.3%
Hawak-Kamay (ABS-CBN) - 19.2%
Sana Bukas Pa Ang Kahapon (ABS-CBN) - 16.6%
My BFF (GMA-7) - 15.2%
Pure Love (ABS-CBN) - 15.1%
July 24, 2014 (Thursday)
DAYTIME:
Eat Bulaga! (GMA-7) - 19.1%
The Half Sisters (GMA-7) - 14.9%
Jewel in the Palace (GMA-7) - 14.5%
Dading (GMA-7) - 13.7%
Be Careful With My Heart (ABS-CBN) - 13%
The Ryzza Mae Show (GMA-7) - 12.3%
Reporter's Notebook (GMA-7) - 11.3%
Dragon Ball Z Kai (GMA-7) - 11%
Slam Dunk (GMA-7) - 10.8%
It's Showtime (ABS-CBN) - 10.3%
PRIMETIME:
Niño (GMA-7) - 26.6%
My Destiny (GMA-7) - 25.2%
Ang Dalawang Mrs. Real (GMA-7) - 24.6%
24 Oras (GMA-7) - 23%
Ikaw Lamang (ABS-CBN) - 20.1%
Hawak-Kamay (ABS-CBN) - 19.7%
TV Patrol (ABS-CBN) - 19.6%
Sana Bukas Pa Ang Kahapon (ABS-CBN) - 18.6%
Pure Love (ABS-CBN) - 14.5%
Secret Love (GMA-7) / Pinoy Big Brother All In (ABS-CBN) - 14.3%
Source: AGB Nielsen Philippines