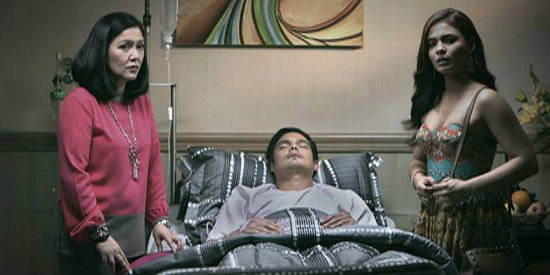 ---
GMA-7 is the over-all ratings winner for daytime and primetime. This is according to the latest ratings data from AGB Nielsen Philippines from Mega Manila households for August 18-21, 2014.
The Kapuso networks shows topped ratings charts during the given period, and outperformed their counterparts in ABS-CBN.
For example, the Kapamilya network debuted two afternoon shows on August 18 but they got much lower scores than the Kapuso shows in their airtime.
Ana Manuela, a Brazilian telenovela that aired on ABS-CBN, replaced both Moon of Desire and Pinoy Big Brother All In Uber on August 18. It scored only 6.9% against GMA-7's The Half Sisters, which earned 16.3%.
Korean series Pretty Man premiered on August 18, as a replacement for My Girl. It only scored 7.6% against Jewel in the Palace's 15%.
GMA-7 is also the winner in primetime, with its shows Ang Dalawang Mrs. Real and Niño taking turns in first place.
Here is the comparative rating performance of GMA-7, ABS-CBN and TV5 programs from August 18-21, derived from AGB Nielsen Philippines from Mega Manila households:
--
August 18, 2014 (Monday)
Morning:
Power House Replay (GMA-7) 1.2%; Matanglawin Replay (ABS-CBN) .1%
Unang Hirit! (GMA-7) 4.3%; Umagang Kay Ganda (ABS-CBN) 2.9%; Aksyon sa Umaga (TV5) 1%; Mickey Mouse Clubhouse (TV5) 2%
Doraemon (GMA-7) 6.4%; Jackie Chan Adventures (GMA-7) 8.8%; Ghost Fighter (GMA-7) 9%; Inuyasha (GMA-7) 9.2%; Kris TV (ABS-CBN) 6.1%; Handy Manny (TV5) 2.1%; Lloyd in Space (TV5) 1.8%; The Replacements (TV5) 2.1%
Bleach (GMA-7) 9.4%; Spongebob Squarepants (ABS-CBN) 5.9%; Johnny Bravo (TV5) 1.7%
Slam Dunk (GMA-7) 10.6%; Kuroko's Basketball (ABS-CBN) 5.7%; Oggy and the Cockroaches (TV5) 2.4%
Dragon Ball Z Kai (GMA-7) 12.4%; Naruto Shippuuden (ABS-CBN) 5.9%; Ben 10 Ultimate Alien (TV5) 3%
Return of the Wife (GMA-7) 9.8%; Lovers in Paris (ABS-CBN) 5.8%; Face the People (TV5) 2.9%
Basta Everyday Happy (GMA-7) 8.6%; The Singing Bee (ABS-CBN) 10.6%; Let's Ask Pilipinas (TV5) 1.4%
The Ryzza Mae Show (GMA-7) 12.1%; Be Careful With My Heart (ABS-CBN) 13.7%; Aksyon sa Tanghali (TV5) 2.8%
Afternoon:
Eat Bulaga! (GMA-7) 18.7%; It's Showtime (ABS-CBN) 10.9%; T3 Enforced (TV5) 4.1%; Nanjing 2014 Youth Olympic Games (TV5) 2%
ADVERTISEMENT - CONTINUE READING BELOW
The Half Sisters (GMA-7) 16.3%; Ana Manuela (ABS-CBN) 6.9%
Dading (GMA-7) 14.2%; Alisto! (GMA-7) 12%; Bistado (ABS-CBN) 6.5%
Jewel in the Palace (GMA-7) 15%; Pretty Man (ABS-CBN) 7.6%
Evening:
My BFF (GMA-7) 12.5%; Pure Love (ABS-CBN) 13.1%; Aksyon (TV5) 4%

24 Oras (GMA-7) 22.1%; TV Patrol (ABS-CBN) 18.9%; Bride of the Century (TV5) 3.2%
Niño (GMA-7) 23.4%; Hawak-Kamay (ABS-CBN) 19.5%; Cool Guys Hot Ramen (TV5) 3.5%
My Destiny (GMA-7) 22.4%; Ikaw Lamang (ABS-CBN) 20.9%; Smart Gilas vs the World (TV5) 5.2%
Ang Dalawang Mrs. Real (GMA-7) 23.6%; Sana Bukas Pa Ang Kahapon (ABS-CBN) 18.7%
I Hear Your Voice (GMA-7) 17.8%; Aquino & Abunda Tonight (ABS-CBN) 15%
Secret Love (GMA-7) 15%; Pinoy Big Brother All In (ABS-CBN) 13%; Aksyon Tonite (TV5) 3.6%; T3 Enforced Replay (TV5) 2.4%
Saksi (GMA-7) 9.8%; Bandila (ABS-CBN) 4.8%; Face the People Replay (TV5) 1.4%
Front Row (GMA-7) 5.1%; Banana Nite (ABS-CBN) 3.4%
The Tim Yap Show (GMA-7) 3.3%; O Shopping (ABS-CBN) 1%; Shop Japan (TV5) .4%
----
August 19, 2014 (Tuesday)
Morning:
I-Witness Replay (GMA-7) 1%; Mutya ng Masa Replay (ABS-CBN) .1%
Unang Hirit! (GMA-7) 4.3%; Umagang Kay Ganda (ABS-CBN) 3.1%; Reaksyon Replay (TV5) .6%; Aksyon sa Umaga (TV5) 1.2%; Mickey Mouse Clubhouse (TV5) 2.1%
Doraemon (GMA-7) 5%; Jackie Chan Adventures (GMA-7) 6.7%; Ghost Fighter (GMA-7) 7.5%; Inuyasha (GMA-7) 8.7%; Kris TV (ABS-CBN) 6.8%; Handy Manny (TV5) 2.6%; Lloyd in Space (TV5) 2.1%; The Replacements (TV5) 2.9%
Bleach (GMA-7) 8.8%; Spongebob Squarepants (ABS-CBN) 5.8%; Johnny Bravo (TV5) 2.4%
Slam Dunk (GMA-7) 9.7%; Kuroko's Basketball (ABS-CBN) 5.4%; Oggy and the Cockroaches (TV5) 3.1%
Dragon Ball Z Kai (GMA-7) 12%; Naruto Shippuuden (ABS-CBN) 5.5%; Ben 10 Ultimate Alien (TV5) 3.5%
Return of the Wife (GMA-7) 11.6%; Lovers in Paris (ABS-CBN) 6%; Face the People (TV5) 3.2%
Basta Everyday Happy (GMA-7) 9.8%; Lucky Me NamNam All 3-in-One (GMA-7) 10.5%; The Singing Bee (ABS-CBN) 11.9%; Let's Ask Pilipinas (TV5) 1.6%
The Ryzza Mae Show (GMA-7) 13.2%; Be Careful With My Heart (ABS-CBN) 15.8%; Aksyon sa Tanghali (TV5) 2.2%
Afternoon:
Eat Bulaga (GMA-7) 18.8%; It's Showtime (ABS-CBN) 12.4%; T3 Enforced (TV5) 3%; Nanjing 2014 Youth Olympic Games (TV5) 1.7%
The Half Sisters (GMA-7) 16.2%; Dading (GMA-7) 13.7%; Ana Manuela (ABS-CBN) 6.1%
Tunay na Buhay (GMA-7) 13.8%; Mutya ng Masa (ABS-CBN) 5.8%; Movie Max 5: Wild Zone (TV5) 3.4%
Jewel in the Palace (GMA-7) 16%; Pretty Man (ABS-CBN) 9%
ADVERTISEMENT - CONTINUE READING BELOW
Evening:
My BFF (GMA-7) 13.3%; Pure Love (ABS-CBN) 14.4%; Aksyon (TV5) 4.4%
24 Oras (GMA-7) 23%; TV Patrol (ABS-CBN) 19.2%; Bride of the Century (TV5) 3.6%; Cool Guys Hot Ramen (TV5) 3.4%
Niño (GMA-7) 24.7%; Hawak-Kamay (ABS-CBN) 20.2%; Nanjing 2014 Youth Olympic Games (TV5) 2.8%
My Destiny (GMA-7) 24.1%; Ikaw Lamang (ABS-CBN) 22.1%
Ang Dalawang Mrs. Real (GMA-7) 24.3%; Sana Bukas Pa Ang Kahapon (ABS-CBN) 17.7%
I Hear Your Voice (GMA-7) 17.6%; Aquino & Abunda Tonight (ABS-CBN) 12.7%; Aksyon Tonite (TV5) 2.5%; T3 Enforced Replay (TV5) 1.1%
Secret Love (GMA-7) 14.3%; Pinoy Big Brother All In (ABS-CBN) 12.1%;
Saksi (GMA-7) 8.7%; Bandila (ABS-CBN) 4.9%; Face the People Replay (TV5) 1.4%
Serial Killer Earth (GMA-7) 5.4%; Banana Nite (ABS-CBN) 3.1%; Shop Japan (TV5) .2%
The Tim Yap Show (GMA-7) 2.7%; O Shopping (ABS-CBN) 1.4%
---
August 20, 2014 (Wednesday)
Morning:
Reporter's Notebook Replay (GMA-7) 1%; My Puhunan Replay (ABS-CBN) .7%
Unang Hirit! (GMA-7) 4.6%; Umagang Kay Ganda (ABS-CBN) 3.2%; Reaksyon Replay (TV5) .6%; Aksyon sa Umaga (TV5) 1.1%; Mickey Mouse Clubhouse (TV5) 2.6%
Doraemon (GMA-7) 6.6%; Jackie Chan Adventures (GMA-7) 7.6%; Ghost Fighter (GMA-7) 7.1%; Inuyasha (GMA-7) 7.7%; Kris TV (ABS-CBN) 5.2%; Handy Manny (TV5) 3.3%; Lloyd in Space (TV5) 2.8%; The Replacements (TV5) 2.9%
Bleach (GMA-7) 8.1%; Spongebob Squarepants (ABS-CBN) 5.3%; Johnny Bravo (TV5) 2.6%
Slam Dunk (GMA-7) 9.2%; Kuroko's Basketball (ABS-CBN) 5.2%; Oggy and the Cockroaches (TV5) 3%
Dragon Ball Z Kai (GMA-7) 11.7%; Naruto Shippuuden (ABS-CBN) 5.6%; Ben 10 Ultimate Alien (TV5) 3%
Return of the Wife (GMA-7) 9.8%; Lovers in Paris (ABS-CBN) 5.4%; Face the People (TV5) 2.9%
Basta Everyday Happy (GMA-7) 9.4%; The Singing Bee (ABS-CBN) 11%; Let's Ask Pilipinas (TV5) 1.9%
The Ryzza Mae Show (GMA-7) 13%; Be Careful With My Heart (ABS-CBN) 14.4%; Aksyon sa Tanghali (TV5) 2.5%
Afternoon:
Eat Bulaga (GMA-7) 19.4%; It's Showtime (ABS-CBN) 11.7%; T3 Enforced (TV5) 3.1%; Nanjing 2014 Youth Olympic Games (TV5) 1.4%
The Half Sisters (GMA-7) 18%; Dading (GMA-7) 14.8%; Ana Manuela (ABS-CBN) 6.8%
Power House (GMA-7) 15.3%; My Puhunan (ABS-CBN) 6.6%; NCAA 90: AU Chiefs vs SSC-R Stags (TV5) 1%
Jewel in the Palace (GMA-7) 15%; Pretty Man (ABS-CBN) 8.8%
Evening:
My BFF (GMA-7) 10.2%; Pure Love (ABS-CBN) 13.4%; Aksyon (TV5) 3.5%
24 Oras (GMA-7) 22.3%; TV Patrol (ABS-CBN) 18.9%; Bride of the Century (TV5) 2.7%
Niño (GMA-7) 25.3%; Hawak-Kamay (ABS-CBN) 21.5%; Cool Guys Hot Ramen (TV5) 3.7%; Smart Gilas Pilipinas vs The World: Philippines vs Euskaldi (TV5) 5.5%
ADVERTISEMENT - CONTINUE READING BELOW
My Destiny (GMA-7) 23.6%; Ikaw Lamang (ABS-CBN) 22.6%
Ang Dalawang Mrs. Real (GMA-7) 23.4%; Sana Bukas Pa Ang Kahapon (ABS-CBN) 19.7%
I Hear Your Voice (GMA-7) 18.7%; Aquino & Abunda Tonight (ABS-CBN) 15.4%
Secret Love (GMA-7) 15.7%; Pinoy Big Brother All In (ABS-CBN) 12.5%; Aksyon Tonite (TV5) 2.1%
Saksi (GMA-7) 9.6%; Bandila (ABS-CBN) 5.3%; T3 Enforced Replay (TV5) 1.7%
Mankind (GMA-7) 4.9%; Banana Nite (ABS-CBN) 4.1%; Face the People Replay (TV5) .9%
The Tim Yap Show (GMA-7) 2.6%; O Shopping (ABS-CBN) 1.5%; Shop Japan (TV5) .5%
---
August 21, 2014 (Thursday)
Morning:
Born To Be Wild Replay (GMA-7) .4%; Tapatan Ni Tunying Replay (ABS-CBN) .4%
Unang Hirit! (GMA-7) 3.2%; Umagang Kay Ganda (ABS-CBN) 2.5%; Aksyon sa Umaga (TV5) .9%; Mickey Mouse Clubhouse (TV5) 3.5%
Doraemon (GMA-7) 6.4%; Jackie Chan Adventures (GMA-7) 8.7%; Ghost Fighter (GMA-7) 8.8%; Inuyasha (GMA-7) 9.2%; Kris TV (ABS-CBN) 5.8%; Handy Manny (TV5) 4.6%; Lloyd in Space (TV5) 4.9%; The Replacements (TV5) 5.5%
Bleach (GMA-7) 10.1%; Spongebob Squarepants (ABS-CBN) 6.8%; Johnny Bravo (TV5) 4.1%
Slam Dunk (GMA-7) 11%; Kuroko's Basketball (ABS-CBN) 6.2%; Oggy and the Cockroaches (TV5) 4.4%
Dragon Ball Z Kai (GMA-7) 12.3%; Naruto Shippuuden (ABS-CBN) 6.2%; Ben 10 Ultimate Alien (TV5) 3.9%
Return of the Wife (GMA-7) 9.9%; Lovers in Paris (ABS-CBN) 5.2%; Face the People (TV5) 4.3%
Basta Everyday Happy (GMA-7) 8.4%; Lucky Me! Namnam (GMA-7) 9.5%; The Singing Bee (ABS-CBN) 12.8%; Let's Ask Pilipinas (TV5) 2.3%
The Ryzza Mae Show (GMA-7) 12.3%; Be Careful With My Heart (ABS-CBN) 16.1%; Aksyon sa Tanghali (TV5) 2.2%
Afternoon:
Eat Bulaga! (GMA-7) 18.8%; The Half Sisters (GMA-7) 16.5%; It's Showtime (ABS-CBN) 13.2%; T3 Enforced (TV5) 2.7%; Nanjing 2014 Youth Olympic Games (TV5) 3.6%
Dading (GMA-7) 13%; Ana Manuela (ABS-CBN) 7.2%
Reporter's Notebook (GMA-7) 11.4%; Tapatan Ni Tunying (ABS-CBN) 6.1%; Movie Max 5: Starship Troopers 3 Marauder (TV5) 2.4%
Jewel in the Palace (GMA-7) 13.6%; Pretty Man (ABS-CBN) 7.8%
Evening:
My BFF (GMA-7) 11.6%; Pure Love (ABS-CBN) 13.2%; Aksyon (TV5) 3.4%
24 Oras (GMA-7) 23.2%; TV Patrol (ABS-CBN) 19.6%; Bride of the Century (TV5) 2.1%
Niño (GMA-7) 27.3%; Hawak-Kamay (ABS-CBN) 21.5%; Cool Guys Hot Ramen (TV5) 3%; Nanjing 2014 Youth Olympic Games (TV5) 2.6%
My Destiny (GMA-7) 26.5%; Ikaw Lamang (ABS-CBN) 22.6%
Ang Dalawang Mrs. Real (GMA-7) 24.3%; Sana Bukas Pa Ang Kahapon (ABS-CBN) 18.5%; Kuwentong Gilas (TV5) 2.9%
I Hear Your Voice (GMA-7) 19.2%; Aquino & Abunda Tonight (ABS-CBN) 13.4%
ADVERTISEMENT - CONTINUE READING BELOW
Secret Love (GMA-7) 16.6%; Pinoy Big Brother All In (ABS-CBN) 12.8%; Aksyon Tonite (TV5) 1.5%
Saksi (GMA-7) 10.5%; Bandila (ABS-CBN) 5.9%; T3 Enforced Replay (TV5) 1.4%
Mankind (GMA-7) 5.7%; Banana Nite (ABS-CBN) 3.4%; Face the People Replay (TV5) .7%
The Tim Yap Show (GMA-7) 2.9%; O Shopping (ABS-CBN) 1.2%; Shop Japan (TV5) .2%
---
TOP TEN PROGRAMS:
August 18, 2014 (Monday)
DAYTIME:
Eat Bulaga! (GMA-7) - 18.7%
The Half Sisters (GMA-7) - 16.3%
Jewel in the Palace (GMA-7) - 15%
Dading (GMA-7) - 14.2%
Be Careful With My Heart (ABS-CBN) - 13.7%
Dragon Ball Z Kai (GMA-7) - 12.4%
The Ryzza Mae Show (GMA-7) - 12.1%
Alisto! (GMA-7) - 12%
It's Showtime (ABS-CBN) - 10.9%
Slam Dunk (GMA-7) / The Singing Bee (ABS-CBN) - 10.6%
PRIMETIME:
1. Ang Dalawang Mrs. Real (GMA-7) - 23.6%
Niño (GMA-7) - 23.4%
My Destiny (GMA-7) - 22.4%
24 Oras (GMA-7) - 22.1%
5. Ikaw Lamang (ABS-CBN) - 20.9%
Hawak-Kamay (ABS-CBN) - 19.5%
TV Patrol (ABS-CBN) - 18.9%
Sana Bukas Pa Ang Kahapon (ABS-CBN) - 18.7%
9. I Hear Your Voice (GMA-7) - 17.8%
Aquino & Abunda Tonight (ABS-CBN) / Secret Love (GMA-7) - 15%
August 19, 2014 (Tuesday)
DAYTIME:
Eat Bulaga! (GMA-7) - 18.8%
The Half Sisters (GMA-7) - 16.2%
Jewel in the Palace (GMA-7) - 16%
Be Careful With My Heart (ABS-CBN) - 15.8%
Tunay na Buhay (GMA-7) - 13.8%
Dading (GMA-7) - 13.7%
The Ryzza Mae Show (GMA-7) - 13.2%
It's Showtime (ABS-CBN) - 12.4%
Dragon Ball Z Kai (GMA-7) - 12%
The Singing Bee (ABS-CBN) - 11.9%
PRIMETIME:
Niño (GMA-7) - 24.7%
Ang Dalawang Mrs. Real (GMA-7) - 24.3%
My Destiny (GMA-7) - 24.1%
24 Oras (GMA-7) - 23%
Ikaw Lamang (ABS-CBN) - 22.1%
Hawak-Kamay (ABS-CBN) - 20.2%
TV Patrol (ABS-CBN) - 19.2%
Sana Bukas Pa Ang Kahapon (ABS-CBN) - 17.7%
I Hear Your Voice (GMA-7) - 17.6%
Secret Love (GMA-7) - 14.6%
August 20, 2014 (Wednesday)
DAYTIME:
Eat Bulaga! (GMA-7) - 19.4%
The Half Sisters (GMA-7) - 18%
Power House (GMA-7) - 15.3%
Jewel in the Palace (GMA-7) - 15%
Dading (GMA-7) - 14.8%
Be Careful With My Heart (ABS-CBN) - 14.4%
The Ryzza Mae Show (GMA-7) - 13%
Dragon Ball Z Kai (GMA-7) / It's Showtime (ABS-CBN) - 11.7%
The Singing Bee (ABS-CBN) - 11%
Return of the Wife (GMA-7) - 9.8%
PRIMETIME:
Niño (GMA-7) - 25.3%
My Destiny (GMA-7) - 23.6%
Ang Dalawang Mrs. Real (GMA-7) - 23.4%
Ikaw Lamang (ABS-CBN) - 22.6%
24 Oras (GMA-7) - 22.3%
Hawak-Kamay (ABS-CBN) - 21.5%
Sana Bukas Pa Ang Kahapon (ABS-CBN) - 19.7%
TV Patrol (ABS-CBN) - 18.9%
I Hear Your Voice (GMA-7) - 18.7%
Secret Love (GMA-7) - 15.7%
August 21, 2014 (Thursday)
DAYTIME:
Eat Bulaga! (GMA-7) - 18.8%
The Half Sisters (GMA-7) - 16.5%
Be Careful With My Heart (ABS-CBN) - 16.1%
Jewel in the Palace (GMA-7) - 13.6%
It's Showtime (ABS-CBN) - 13.2%
Dading (GMA-7) - 13%
The Singing Bee (ABS-CBN) - 12.8%
The Ryzza Mae Show (GMA-7) / Dragon Ball Z Kai (GMA-7) - 12.3%
Reporter's Notebook (GMA-7) - 11.4%
Slam Dunk (GMA-7) - 11%
PRIMETIME:
Niño (GMA-7) - 27.3%
My Destiny (GMA-7) - 26.5%
Ang Dalawang Mrs. Real (GMA-7) - 24.3%
24 Oras (GMA-7) - 23.2%
Ikaw Lamang (ABS-CBN) - 22.6%
Hawak-Kamay (ABS-CBN) - 21.5%
TV Patrol (ABS-CBN) - 19.6%
I Hear Your Voice (GMA-7) - 19.2%
Sana Bukas Pa Ang Kahapon (ABS-CBN) - 18.5%
Secret Love (GMA-7) - 16.6%
Source: AGB Nielsen Philippines