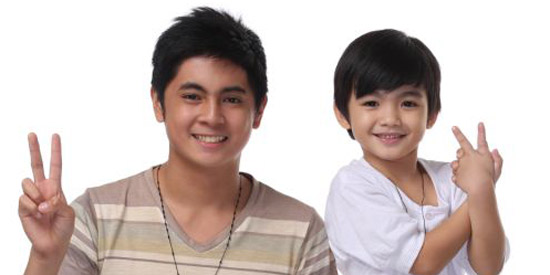 ---
GMA-7 is still the choice network for primetime programming. This is according to the latest ratings data from AGB Nielsen Philippines from Mega Manila households for August 25-28, 2014.
The Kapuso network's primetime shows were the most-watched shows during the given period. Three shows took turns in first place: 24 Oras, Ang Dalawang Mrs. Real and Niño.
GMA-7's shows are doing so well that their ratings continue to increase, week after week. In fact, Niño scored 29.5% on August 28, the highest rating any Kapuso primetime show has earned on a weekday for 2014. Incidentally, this teleserye starring Miguel Tanfelix and David Remo is slated to air its finale episode this Friday, September 12. It aired for almost four months on the Kapuso Network.
Niño's outstanding achievement beat previous records by 24 Oras (29% on July 19) and Carmela (27.9% on March 20).
Despite this, ABS-CBN still holds the record for the highest rating a primetime show has received on a weekday with the finale of Got to Believe on March 7. It had a 32.7% rating.
ADVERTISEMENT - CONTINUE READING BELOW
Here is the comparative rating performance of GMA-7, ABS-CBN and TV5 programs from August 25-28, derived from AGB Nielsen Philippines from Mega Manila households:
--
August 25, 2014 (Monday)
Morning:
Power House Replay (GMA-7) .4%; Matanglawin Replay (ABS-CBN) .3%
Unang Hirit! (GMA-7) 2.9%; Umagang Kay Ganda (ABS-CBN) 1.9%; Aksyon sa Umaga (TV5) .8%; Mickey Mouse Clubhouse (TV5) 2.4%
Doraemon (GMA-7) 6.4%; Jackie Chan Adventures (GMA-7) 7.8%; Ghost Fighter (GMA-7) 9.5%; Inuyasha (GMA-7) 9.3%; Kris TV (ABS-CBN) 5.2%; Handy Manny (TV5) 4%; Lloyd in Space (TV5) 4%; The Replacements (TV5) 4.9%
Bleach (GMA-7) 9.1%; Spongebob Squarepants (ABS-CBN) 5.6%; Johnny Bravo (TV5) 4.3%; Oggy and the Cockroaches (TV5) 4.8%
Slam Dunk (GMA-7) 10%; Kuroko's Basketball (ABS-CBN) 5.2%; Ben 10 Ultimate Alien (TV5) 4%
Dragon Ball Z Kai (GMA-7) 10.9%; Naruto Shippuuden (ABS-CBN) 6%; Face the People (TV5) 3.8%
Return of the Wife (GMA-7) 9.3%; Lovers in Paris (ABS-CBN) 5%
Basta Everyday Happy (GMA-7) 8.4%; The Singing Bee (ABS-CBN) 11.8%; Let's Ask Pilipinas (TV5) 2.4%
The Ryzza Mae Show (GMA-7) 11.6%; Be Careful With My Heart (ABS-CBN) 15%; Aksyon sa Tanghali (TV5) 2.6%
Afternoon:
Eat Bulaga! (GMA-7) 19.3%; The Half Sisters (GMA-7) 16.2%; It's Showtime (ABS-CBN) 13.5%; T3 Enforced (TV5) 3.3%; Nanjing 2014 Youth Olympic Games (TV5) 3.4%
ADVERTISEMENT - CONTINUE READING BELOW
Dading (GMA-7) 13.6%; Ana Manuela (ABS-CBN) 6.9%
Alisto! (GMA-7) 12.6%; Bistado (ABS-CBN) 6%; NCAA 90: AU vs MIT (TV5) 1.8%
Jewel in the Palace (GMA-7) 15.1%; Pretty Man (ABS-CBN) 7.4%
Evening:
My BFF (GMA-7) 13.3%; Pure Love (ABS-CBN) 15.1%; Aksyon (TV5) 4.5%

24 Oras (GMA-7) 24.1%; TV Patrol (ABS-CBN) 20.2%; Bride of the Century (TV5) 3.2%
Niño (GMA-7) 24%; Hawak-Kamay (ABS-CBN) 20.6%; Gilas Laban Gilas: The Road to Spain (TV5) 3.5%
My Destiny (GMA-7) 22.8%; Ikaw Lamang (ABS-CBN) 19.4%; Smart Gilas vs the World (TV5) 8.3%
Ang Dalawang Mrs. Real (GMA-7) 22%; Sana Bukas Pa Ang Kahapon (ABS-CBN) 15.5%
I Hear Your Voice (GMA-7) 17.8%; Aquino & Abunda Tonight (ABS-CBN) 12.5%; Aksyon Tonite (TV5) 3.3%
Secret Love (GMA-7) 13.7%; Miss Ripley (ABS-CBN) 8.6%; Face the People Replay (TV5) 1.3%
Saksi (GMA-7) 7.9%; Bandila (ABS-CBN) 5.1%
Front Row (GMA-7) 4.4%; Banana Nite (ABS-CBN) 3.2%; Shop Japan (TV5) .5%
The Tim Yap Show (GMA-7) 1.8%; O Shopping (ABS-CBN) 1%
----
August 26, 2014 (Tuesday)
Morning:
I-Witness Replay (GMA-7) 2%; Mutya ng Masa Replay (ABS-CBN) 1.8%
Unang Hirit! (GMA-7) 10.4%; Umagang Kay Ganda (ABS-CBN) 6.2%; Reaksyon Replay (TV5) .6%; Aksyon sa Umaga (TV5) 1.5%; Mickey Mouse Clubhouse (TV5) 2.6%
ADVERTISEMENT - CONTINUE READING BELOW
Doraemon (GMA-7) 8.7%; Jackie Chan Adventures (GMA-7) 9.8%; Ghost Fighter (GMA-7) 9.7%; Inuyasha (GMA-7) 10.9%; Kris TV (ABS-CBN) 6.8%; Handy Manny (TV5) 3.8%; Lloyd in Space (TV5) 3.8%; The Replacements (TV5) 3.9%
Bleach (GMA-7) 10.8%; Spongebob Squarepants (ABS-CBN) 6.3%; Johnny Bravo (TV5) 3.6%
Slam Dunk (GMA-7) 10.8%; Kuroko's Basketball (ABS-CBN) 6%; Oggy and the Cockroaches (TV5) 4.7%
Dragon Ball Z Kai (GMA-7) 12.8%; Naruto Shippuuden (ABS-CBN) 7.1%; Ben 10 Ultimate Alien (TV5) 3.6%
Return of the Wife (GMA-7) 10.1%; Lovers in Paris (ABS-CBN) 5.7%; Face the People (TV5) 3.2%
Basta Everyday Happy (GMA-7) 8.5%; The Singing Bee (ABS-CBN) 13.8%; Let's Ask Pilipinas (TV5) 1.5%
The Ryzza Mae Show (GMA-7) 12.8%; Be Careful With My Heart (ABS-CBN) 15.8%; Aksyon sa Tanghali (TV5) 1.9%
Afternoon:
Eat Bulaga (GMA-7) 20.3%; It's Showtime (ABS-CBN) 12%; T3 Enforced (TV5) 2.7%; Nanjing 2014 Youth Olympic Games (TV5) 2.8%
The Half Sisters (GMA-7) 19.7%; Dading (GMA-7) 17.9%; Ana Manuela (ABS-CBN) 7.5%
Tunay na Buhay (GMA-7) 14.9%; Mutya ng Masa (ABS-CBN) 7.2%
Jewel in the Palace (GMA-7) 17.7%; Pretty Man (ABS-CBN) 10%
Evening:
My BFF (GMA-7) 17.3%; Pure Love (ABS-CBN) 15.6%; Aksyon (TV5) 4%
24 Oras (GMA-7) 26.9%; TV Patrol (ABS-CBN) 21.5%; Bride of the Century (TV5) 3.2%; Gilas Pilipinas Laban Gilas Pilinas (TV5) 3.6%
ADVERTISEMENT - CONTINUE READING BELOW
Niño (GMA-7) 26.6%; Hawak-Kamay (ABS-CBN) 21.2%; Smart Gilas Pilipinas vs The World: Philippines vs Dominican Republic (TV5) 8.6%
My Destiny (GMA-7) 25.4%; Ikaw Lamang (ABS-CBN) 19.6%
Ang Dalawang Mrs. Real (GMA-7) 23.6%; Sana Bukas Pa Ang Kahapon (ABS-CBN) 16.2%; Aquino & Abunda Tonight (ABS-CBN) 12.6%
I Hear Your Voice (GMA-7) 17.9%; Secret Love (GMA-7) 15.2%; Miss Ripley (ABS-CBN) 9.5%;
Aksyon Tonite (TV5) 3.5%
Saksi (GMA-7) 8.4%; Bandila (ABS-CBN) 4.9%; Face the People Replay (TV5) 1.7%
Serial Killer Earth (GMA-7) 4.9%; Banana Nite (ABS-CBN) 3%; Shop Japan (TV5) .4%
The Tim Yap Show (GMA-7) 2.2%; O Shopping (ABS-CBN) .6%
---
August 27, 2014 (Wednesday)
Morning:
Reporter's Notebook Replay (GMA-7) .8%; My Puhunan Replay (ABS-CBN) .9%
Unang Hirit! (GMA-7) 5.4%; Umagang Kay Ganda (ABS-CBN) 4.2%; Reaksyon Replay (TV5) .6%; Aksyon sa Umaga (TV5) 1.1%; Mickey Mouse Clubhouse (TV5) 2.9%
Doraemon (GMA-7) 7.8%; Jackie Chan Adventures (GMA-7) 8.6%; Ghost Fighter (GMA-7) 8.8%; Inuyasha (GMA-7) 9%; Kris TV (ABS-CBN) 7%; Handy Manny (TV5) 3.2%; Lloyd in Space (TV5) 3.5%; The Replacements (TV5) 3.7%
Bleach (GMA-7) 9%; Spongebob Squarepants (ABS-CBN) 6.5%; Johnny Bravo (TV5) 3.1%; Oggy and the Cockroaches (TV5) 3.6%
Slam Dunk (GMA-7) 10.7%; Kuroko's Basketball (ABS-CBN) 5.6%; Ben 10 Ultimate Alien (TV5) 4.1%
ADVERTISEMENT - CONTINUE READING BELOW
Dragon Ball Z Kai (GMA-7) 11.9%; Naruto Shippuuden (ABS-CBN) 5.7%
Return of the Wife (GMA-7) 9.5%; Lovers in Paris (ABS-CBN) 5.4%; Face the People (TV5) 3.5%
Basta Everyday Happy (GMA-7) 8.7%; The Singing Bee (ABS-CBN) 11.7%; Let's Ask Pilipinas (TV5) 1.9%
The Ryzza Mae Show (GMA-7) 12.3%; Be Careful With My Heart (ABS-CBN) 13.1%; Aksyon sa Tanghali (TV5) 2.8%
Afternoon:
Eat Bulaga (GMA-7) 18.3%; It's Showtime (ABS-CBN) 10.9%; T3 Enforced (TV5) 2.6%; Nanjing 2014 Youth Olympic Games (TV5) 1.6%
The Half Sisters (GMA-7) 17%; Dading (GMA-7) 15%; Ana Manuela (ABS-CBN) 7.1%
Power House (GMA-7) 13.2%; My Puhunan (ABS-CBN) 5.6%; NCAA 90: CSB Blazers vs LPU Pirates (TV5) 1%
Jewel in the Palace (GMA-7) 15.4%; Pretty Man (ABS-CBN) 6.6%
Evening:
My BFF (GMA-7) 12.7%; Pure Love (ABS-CBN) 12.8%; Aksyon (TV5) 3.3%
24 Oras (GMA-7) 23.3%; TV Patrol (ABS-CBN) 19.9%; Bride of the Century (TV5) 2.8%; Gilas Pilipinas The Road to Spain (TV5) 2.8%
Niño (GMA-7) 25.6%; Hawak-Kamay (ABS-CBN) 21.1%; Nanjing 2014 Youth Olympic Games (TV5) 2.1%
My Destiny (GMA-7) 25.5%; Ikaw Lamang (ABS-CBN) 21.2%
Ang Dalawang Mrs. Real (GMA-7) 26%; Sana Bukas Pa Ang Kahapon (ABS-CBN) 17.4%; Kuwentong Gilas (TV5) 3.2%
I Hear Your Voice (GMA-7) 19.7%; Aquino & Abunda Tonight (ABS-CBN) 13.9%
ADVERTISEMENT - CONTINUE READING BELOW
Secret Love (GMA-7) 16.7%; Miss Ripley (ABS-CBN) 11.1%; Aksyon Tonite (TV5) 2.2%
Saksi (GMA-7) 9.8%; Bandila (ABS-CBN) 5.6%; T3 Enforced Replay (TV5) 1.9%
Mankind (GMA-7) 5.5%; Banana Nite (ABS-CBN) 4.1%; Face the People Replay (TV5) 1.4%
The Tim Yap Show (GMA-7) 2.8%; O Shopping (ABS-CBN) .7%; Shop Japan (TV5) .5%
---
August 28, 2014 (Thursday)
Morning:
Born To Be Wild Replay (GMA-7) .9%; Tapatan Ni Tunying Replay (ABS-CBN) 1.1%
Unang Hirit! (GMA-7) 6.2%; Umagang Kay Ganda (ABS-CBN) 4.4%; Aksyon sa Umaga (TV5) 1.2%; Mickey Mouse Clubhouse (TV5) 2.1%
Doraemon (GMA-7) 6.9%; Jackie Chan Adventures (GMA-7) 7.9%; Ghost Fighter (GMA-7) 8%; Inuyasha (GMA-7) 9.4%; Kris TV (ABS-CBN) 6.5%; Handy Manny (TV5) 2.8%; Lloyd in Space (TV5) 2.4%; The Replacements (TV5) 3.1%
Bleach (GMA-7) 9%; Spongebob Squarepants (ABS-CBN) 6.1%; Johnny Bravo (TV5) 2.8%; Oggy and the Cockroaches (TV5) 3.3%
Slam Dunk (GMA-7) 10.5%; Kuroko's Basketball (ABS-CBN) 5.5%; Ben 10 Ultimate Alien (TV5) 3.6%
Dragon Ball Z Kai (GMA-7) 12.6%; Naruto Shippuuden (ABS-CBN) 5.7%
Return of the Wife (GMA-7) 10.3%; Lovers in Paris (ABS-CBN) 5.3%; Face the People (TV5) 3.5%
Basta Everyday Happy (GMA-7) 9.8%; The Singing Bee (ABS-CBN) 11.7%; Let's Ask Pilipinas (TV5) 2.3%
The Ryzza Mae Show (GMA-7) 15%; Be Careful With My Heart (ABS-CBN) 13.8%; Aksyon sa Tanghali (TV5) 3.1%
ADVERTISEMENT - CONTINUE READING BELOW
Afternoon:
Eat Bulaga! (GMA-7) 22.1%; It's Showtime (ABS-CBN) 10.8%; T3 Enforced (TV5) 3.4%; Astig: Sa Sports (TV5) 2.1%; Movie Max 5: Con Air (TV5) 5%
The Half Sisters (GMA-7) 20.4%; Dading (GMA-7) 16.9%; Ana Manuela (ABS-CBN) 6.2%
Reporter's Notebook (GMA-7) 13.5%; Tapatan Ni Tunying (ABS-CBN) 7%; Movie Max 5: Face Off (TV5) 4.5%
Jewel in the Palace (GMA-7) 17.4%; Pretty Man (ABS-CBN) 7.8%
Evening:
My BFF (GMA-7) 15.2%; Pure Love (ABS-CBN) 14.9%; Aksyon (TV5) 5.1%
24 Oras (GMA-7) 24.9%; TV Patrol (ABS-CBN) 20.7%; Bride of the Century (TV5) 3.4%; Gilas Laban Gilas: The Road to Spain (TV5) 2.1%
Niño (GMA-7) 29.5%; Hawak-Kamay (ABS-CBN) 22.9%; Cool Guys Hot Ramen (TV5) 3%; Nanjing 2014 Youth Olympic Games Closing Ceremonies (TV5) 2.1%
My Destiny (GMA-7) 27.8%; Ikaw Lamang (ABS-CBN) 22.5%
Ang Dalawang Mrs. Real (GMA-7) 24.5%; Sana Bukas Pa Ang Kahapon (ABS-CBN) 19.4%; Aquino & Abunda Tonight (ABS-CBN) 14.8%
I Hear Your Voice (GMA-7) 19.3%; Secret Love (GMA-7) 15.5%; Miss Ripley (ABS-CBN) 11%; Aksyon Tonite (TV5) 1.2%
Saksi (GMA-7) 9.1%; Bandila (ABS-CBN) 6.2%
Mankind (GMA-7) 4.4%; Banana Nite (ABS-CBN) 3.5%; Face the People Replay (TV5) 1%
The Tim Yap Show (GMA-7) 2.2%; O Shopping (ABS-CBN) .9%; Shop Japan (TV5) .2%
ADVERTISEMENT - CONTINUE READING BELOW
---
TOP TEN PROGRAMS:
August 25, 2014 (Monday)
DAYTIME:
Eat Bulaga! (GMA-7) - 19.3%
The Half Sisters (GMA-7) - 16.2%
Jewel in the Palace (GMA-7) - 15.1%
Be Careful With My Heart (ABS-CBN) - 15%
Dading (GMA-7) - 13.6%
It's Showtime (ABS-CBN) - 13.5%
Alisto! (GMA-7) - 12.6%
The Singing Bee (ABS-CBN) - 11.8%
The Ryzza Mae Show (GMA-7) - 11.6%
Dragon Ball Z Kai (GMA-7) - 10.9%
PRIMETIME:
24 Oras (GMA-7) - 24.1%
Niño (GMA-7) - 24%
My Destiny (GMA-7) - 22.8%
4. Ang Dalawang Mrs. Real (GMA-7) - 22%
Hawak-Kamay (ABS-CBN) - 20.6%
TV Patrol (ABS-CBN) - 20.2%
7. Ikaw Lamang (ABS-CBN) - 19.4%
8. I Hear Your Voice (GMA-7) - 17.8%
Sana Bukas Pa Ang Kahapon (ABS-CBN) - 15.5%
10. Pure Love (ABS-CBN) - 15.1%
August 26, 2014 (Tuesday)
DAYTIME:
Eat Bulaga! (GMA-7) - 20.3%
The Half Sisters (GMA-7) - 19.7%
Dading (GMA-7) - 17.9%
Jewel in the Palace (GMA-7) - 17.7%
Be Careful With My Heart (ABS-CBN) - 15.8%
Tunay na Buhay (GMA-7) - 14.9%
The Singing Bee (ABS-CBN) - 13.8%
Dragon Ball Z Kai (GMA-7) / The Ryzza Mae Show (GMA-7) - 12.8%
It's Showtime (ABS-CBN) - 12%
Inuyasha (GMA-7) - 10.9%
PRIMETIME:
24 Oras (GMA-7) - 26.9%
Niño (GMA-7) - 26.6%
My Destiny (GMA-7) - 25.4%
Ang Dalawang Mrs. Real (GMA-7) - 23.6%
TV Patrol (ABS-CBN) - 21.5%
Hawak-Kamay (ABS-CBN) - 21.2%
Ikaw Lamang (ABS-CBN) - 19.6%
I Hear Your Voice (GMA-7) - 17.9%
My BFF (GMA-7) - 17.3%
Sana Bukas Pa Ang Kahapon (ABS-CBN) - 16.2%
August 27, 2014 (Wednesday)
DAYTIME:
Eat Bulaga! (GMA-7) - 18.3%
The Half Sisters (GMA-7) - 17%
Jewel in the Palace (GMA-7) - 15.4%
Dading (GMA-7) - 15%
Power House (GMA-7) - 13.2%
Be Careful With My Heart (ABS-CBN) - 13.1%
The Ryzza Mae Show (GMA-7) - 12.3%
Dragon Ball Z Kai (GMA-7) - 11.9%
The Singing Bee (ABS-CBN) - 11.7%
It's Showtime (ABS-CBN) - 10.9%
PRIMETIME:
Ang Dalawang Mrs. Real (GMA-7) - 26%
Niño (GMA-7) - 25.6%
My Destiny (GMA-7) - 25.5%
24 Oras (GMA-7) - 23.3%
Ikaw Lamang (ABS-CBN) - 21.2%
Hawak-Kamay (ABS-CBN) - 21.1%
TV Patrol (ABS-CBN) - 19.9%
I Hear Your Voice (GMA-7) - 19.7%
Sana Bukas Pa Ang Kahapon (ABS-CBN) - 17.4%
Secret Love (GMA-7) - 16.7%
August 28, 2014 (Thursday)
DAYTIME:
Eat Bulaga! (GMA-7) - 22.1%
The Half Sisters (GMA-7) - 20.4%
Jewel in the Palace (GMA-7) - 17.4%
Dading (GMA-7) - 16.9%
The Ryzza Mae Show (GMA-7) - 15%
Be Careful With My Heart (ABS-CBN) - 13.8%
Reporter's Notebook (GMA-7) - 13.5%
Dragon Ball Z Kai (GMA-7) - 12.6%
The Singing Bee (ABS-CBN) - 11.7%
It's Showtime (ABS-CBN) - 10.8%
PRIMETIME:
Niño (GMA-7) - 29.5%
My Destiny (GMA-7) - 27.8%
24 Oras (GMA-7) - 24.9%
Ang Dalawang Mrs. Real (GMA-7) - 24.5%
Hawak-Kamay (ABS-CBN) - 22.9%
Ikaw Lamang (ABS-CBN) - 22.5%
TV Patrol (ABS-CBN) - 20.7%
Sana Bukas Pa Ang Kahapon (ABS-CBN) - 19.4%
I Hear Your Voice (GMA-7) - 19.3%
Secret Love (GMA-7) - 15.5%
Source: AGB Nielsen Philippines