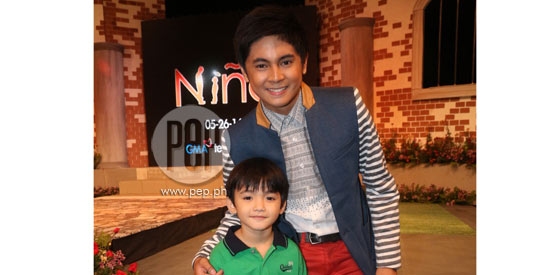 ---
GMA-7 is now the clear winner in the ratings game. This is according to the latest ratings data from AGB Nielsen Philippines from Mega Manila households for September 8-11, 2014.
GMA-7's programs had better ratings than their counterparts from ABS-CBN and TV5 from daytime to primetime during the given period.
(The only outlier was 2014 FIBA Basketball World Cup: France vs Spain on TV5 at 5AM on Thursday, September 11. It beat replays of GMA-7's Born to Be Wild and ABS-CBN's Tapatan ni Tunying.)
During this period, there was only one Kapamilya show on the top ten daytime charts from September 9-11; it is either It's Showtime or Be Careful With My Heart. All the rest are from GMA-7.
There were two ABS-CBN shows that topped the ratings chart on September 8: It's Showtime and Kapamilya Blockbusters.
Kapuso shows Eat Bulaga, May Queen and The Half Sisters placed in the top three daytime shows during the given period.
Meanwhile, Niño was the clear winner on primetime. The family drama, which was on its last week back then, even reached a peak high of 30.4% on September 8, the highest rating a GMA-7 weekday primetime show has earned this 2014.
Kapuso shows My Destiny, 24 Oras and Ang Dalawang Mrs. Real joined Niño in the top four most-watched shows on primetime.
Here is the comparative rating performance of GMA-7, ABS-CBN and TV5 programs from September 8-11, derived from AGB Nielsen Philippines from Mega Manila households:
--
September 8, 2014 (Monday)
Morning:
Power House Replay (GMA-7) 1.1%; Matanglawin Replay (ABS-CBN) .4%; Spain 2014 FIBA Basketball World Cup: Argentina vs Brazil (TV5) .7%
Unang Hirit! (GMA-7) 4.3%; Umagang Kay Ganda (ABS-CBN) 3.6%; Aksyon sa Umaga (TV5) 1.7%; Mickey Mouse Clubhouse (TV5) 2.5%
Doraemon (GMA-7) 5%; Jackie Chan Adventures (GMA-7) 6.8%; Ghost Fighter (GMA-7) 8.1%; Inuyasha (GMA-7) 8.9%; Kris TV (ABS-CBN) 4.2%; Handy Manny (TV5) 2.6%; Lloyd in Space (TV5) 2.3%; The Replacements (TV5) 2.7%
ADVERTISEMENT - CONTINUE READING BELOW
Bleach (GMA-7) 9.3%; Spongebob Squarepants (ABS-CBN) 4%; Johnny Bravo (TV5) 2.7%; Oggy and the Cockroaches (TV5) 2.6%
Hunter X Hunter (GMA-7) 11.5%; Dragon Ball Z Kai (GMA-7) 13%; Return of the Wife (GMA-7) 10.3%; Basta Everyday Happy (GMA-7) 10.7%; 2014 FIBA Basketball World Cup: Greece vs Serbia (ABS-CBN) 3.8%; Ben 10 Ultimate Alien (TV5) 2.5%; Face the People (TV5) 3.7%; Let's Ask Pilipinas (TV5) 2.8%
The Ryzza Mae Show (GMA-7) 13.9%; Be Careful With My Heart (ABS-CBN) 10.2%; Aksyon sa Tanghali (TV5) 4.1%
Afternoon:
Eat Bulaga! (GMA-7) 19.7%; It's Showtime (ABS-CBN) 11.1%; T3 Enforced (TV5) 3.9%; Spain 2014 FIBA Basketball World Cup: Australia vs Turkey Replay (TV5) 1.6%
The Half Sisters (GMA-7) 17.4%; Dading (GMA-7) 14.3%; Kapamilya Blockbusters: The Medallion (ABS-CBN) 10.9%; NCAA 90: CSJL vs SSC-R (TV5) 1.6%
Alisto! (GMA-7) 13.4%; Ana Manuela (ABS-CBN) 7.6%
May Queen (GMA-7) 17.5%; Bistado (ABS-CBN) 8.1%; Pretty Man (ABS-CBN) 10.3%
Evening:
My BFF (GMA-7) 17.6%; Pure Love (ABS-CBN) 14.8%; Aksyon (TV5) 3.8%

24 Oras (GMA-7) 27.1%; TV Patrol (ABS-CBN) 19.7%; Spain 2014 FIBA Basketball World Cup: Argentina vs Brazil Replay (TV5) 3.3%
Niño (GMA-7) 30.4%; Hawak-Kamay (ABS-CBN) 19.7%
My Destiny (GMA-7) 27.4%; Ikaw Lamang (ABS-CBN) 19.7%; Kuwentong Gilas (TV5) 3.7%
Ang Dalawang Mrs. Real (GMA-7) 23.4%; Sana Bukas Pa Ang Kahapon (ABS-CBN) 16.3%; Bride of the Century (TV5) 1.5%
I Hear Your Voice (GMA-7) 18.4%; Aquino & Abunda Tonight (ABS-CBN) 11.7%; Aksyon Tonite (TV5) 2.1%
Secret Love (GMA-7) 16.2%; Miss Ripley (ABS-CBN) 7.8%; T3 Enforced Replay (TV5) 1.7%
Saksi (GMA-7) 10.3%; Bandila (ABS-CBN) 4.4%; Face the People Replay (TV5) 1.2%
Front Row (GMA-7) 5.3%; Banana Nite (ABS-CBN) 2.6%; Shop Japan (TV5) .5%
The Tim Yap Show (GMA-7) 3.4%; The Medyo Late Night Show (GMA-7) 2.2%; O Shopping (ABS-CBN) 1%
----
September 9, 2014 (Tuesday)
Morning:
I-Witness Replay (GMA-7) .8%; Mutya ng Masa Replay (ABS-CBN) .7%
Unang Hirit! (GMA-7) 5%; Umagang Kay Ganda (ABS-CBN) 3.9%; Reaksyon Replay (TV5) .6%; Aksyon sa Umaga (TV5) 1.1%; Mickey Mouse Clubhouse (TV5) 2%
Doraemon (GMA-7) 6.2%; Jackie Chan Adventures (GMA-7) 8.9%; Ghost Fighter (GMA-7) 8.6%; Inuyasha (GMA-7) 8.8%; Kris TV (ABS-CBN) 5.2%; Handy Manny (TV5) 2.6%; Lloyd in Space (TV5) 1.9%; The Replacements (TV5) 2.7%
Bleach (GMA-7) 9.7%; Spongebob Squarepants (ABS-CBN) 4.3%; Johnny Bravo (TV5) 2.1%
Hunter X Hunter (GMA-7) 11.1%; Dragon Ball Z Kai (GMA-7) 13%; Return of the Wife (GMA-7) 10.3%; Basta Everyday Happy (GMA-7) 11%; 2014 FIBA Basketball World Cup: Argentina vs Brazil (ABS-CBN) 4.3%; Oggy and the Cockroaches (TV5) 1.7%; Ben 10 Ultimate Alien (TV5) 2.2%; Face the People (TV5) 3.7%; Let's Ask Pilipinas (TV5) 2.6%
ADVERTISEMENT - CONTINUE READING BELOW
The Ryzza Mae Show (GMA-7) 15.8%; Be Careful With My Heart (ABS-CBN) 10.1%; Aksyon sa Tanghali (TV5) 2.9%
Afternoon:
Eat Bulaga (GMA-7) 18.8%; It's Showtime (ABS-CBN) 10.5%; T3 Enforced (TV5) 3.1%; Movie Max 5: Ip Man (TV5) 4.4%; Movie Max 5: Dinocroc vs Supergator (TV5) 5.3%
The Half Sisters (GMA-7) 17.6%; Dading (GMA-7) 14.4%; Kapamilya Blockbusters: House of Flying Daggers (ABS-CBN) 10.2%; 2014 FIBA Basketball World Cup: Greece vs Serbia Replay (TV5) 2.2%
Tunay na Buhay (GMA-7) 16.2%; Ana Manuela (ABS-CBN) 7.8%
May Queen (GMA-7) 17.5%; Mutya ng Masa (ABS-CBN) 7.6%; Pretty Man (ABS-CBN) 14.6%
Evening:
My BFF (GMA-7) 16.4%; Pure Love (ABS-CBN) 14.6%; Aksyon (TV5) 4.8%
24 Oras (GMA-7) 25.3%; TV Patrol (ABS-CBN) 20.7%; Movie Max 5: Iron Man (TV5) 8.1%
Niño (GMA-7) 28.3%; Hawak-Kamay (ABS-CBN) 20.2%; Kuwentong Gilas (TV5) 3.8%
My Destiny (GMA-7) 27.1%; Ikaw Lamang (ABS-CBN) 21.8%; Astig: Sa Sports (TV5) 3.2%
Ang Dalawang Mrs. Real (GMA-7) 23.8%; Sana Bukas Pa Ang Kahapon (ABS-CBN) 18.1%; Bride of the Century (TV5) 1.9%
I Hear Your Voice (GMA-7) 18.4%; Aquino & Abunda Tonight (ABS-CBN) 12.7%; Aksyon Tonite (TV5) 1.7%
Secret Love (GMA-7) 15.5%; Miss Ripley (ABS-CBN) 9.6%; T3 Enforced Replay (TV5) 1.7%
Saksi (GMA-7) 9.9%; Bandila (ABS-CBN) 5.7%; 2014 FIBA Basketball World Cup: Lithuania vs Turkey (TV5) 1.4%
Serial Killer Earth (GMA-7) 6%; Banana Nite (ABS-CBN) 3.1%
The Tim Yap Show (GMA-7) 2.6%; The Medyo Late Night Show (GMA-7) 1.9%; O Shopping (ABS-CBN) .7%; Shop Japan (TV5) .3%
---
September 10, 2014 (Wednesday)
Morning:
Tunay na Buhay Replay (GMA-7) .7%; My Puhunan Replay (ABS-CBN) .5%
Unang Hirit! (GMA-7) 5.5%; Umagang Kay Ganda (ABS-CBN) 4.2%; Reaksyon Replay (TV5) .6%; Aksyon sa Umaga (TV5) 1.3%; Mickey Mouse Clubhouse (TV5) 2.2%
Doraemon (GMA-7) 7.2%; Jackie Chan Adventures (GMA-7) 8.4%; Ghost Fighter (GMA-7) 8.9%; Inuyasha (GMA-7) 9.5%; Kris TV (ABS-CBN) 5.8%; Handy Manny (TV5) 3.2%; Lloyd in Space (TV5) 3.2%; The Replacements (TV5) 3.4%
Bleach (GMA-7) 11.1%; Spongebob Squarepants (ABS-CBN) 4.2%; Johnny Bravo (TV5) 3.1%
Hunter X Hunter (GMA-7) 12.9%; Dragon Ball Z Kai (GMA-7) 14.3%; Return of the Wife (GMA-7) 10.9%; Basta Everyday Happy (GMA-7) 9.4%; 2014 FIBA Basketball World Cup: Slovenia vs USA (ABS-CBN) 6.6%; Oggy and the Cockroaches (TV5) 3.2%; Ben 10 Ultimate Alien (TV5) 2.7%; Face the People (TV5) 3.8%; Let's Ask Pilipinas (TV5) 2.6%
The Ryzza Mae Show (GMA-7) 14.3%; Be Careful With My Heart (ABS-CBN) 10.1%; Aksyon sa Tanghali (TV5) 3.5%
ADVERTISEMENT - CONTINUE READING BELOW
Afternoon:
Eat Bulaga (GMA-7) 19.6%; It's Showtime (ABS-CBN) 11.2%; T3 Enforced (TV5) 3.7%; Movie Max 5: Shooter (TV5) 4.6%
The Half Sisters (GMA-7) 17.8%; Dading (GMA-7) 14.2%; Kapamilya Blockbusters: Tsunami Haeundae (ABS-CBN) 10.3%; Movie Max 5: Bone Eater (TV5) 4.1%
Power House (GMA-7) 13.1%; Ana Manuela (ABS-CBN) 6.8%; NCAA 90: MIT Cardinals vs UPHSD Altas (TV5) 1.1%
May Queen (GMA-7) 14.8%; My Puhunan (ABS-CBN) 6.3%; Pretty Man (ABS-CBN) 7.5%
Evening:
My BFF (GMA-7) 15.5%; Pure Love (ABS-CBN) 13.8%; Aksyon (TV5) 3.7%
24 Oras (GMA-7) 24.1%; TV Patrol (ABS-CBN) 19.4%; 2014 FIBA Basketball World Cup: Slovenia vs USA (TV5) 4.3%
Niño (GMA-7) 27.9%; Hawak-Kamay (ABS-CBN) 19.4%
My Destiny (GMA-7) 25.1%; Ikaw Lamang (ABS-CBN) 20.8%; 2014 FIBA Basketball World Cup: Lithuania vs Turkey Replay (TV5) 1.9%
Ang Dalawang Mrs. Real (GMA-7) 23.6%; Sana Bukas Pa Ang Kahapon (ABS-CBN) 17.4%
I Hear Your Voice (GMA-7) 19.7%; Aquino & Abunda Tonight (ABS-CBN) 12%
Secret Love (GMA-7) 15.9%; Miss Ripley (ABS-CBN) 8.6%
Saksi (GMA-7) 9.5%; Bandila (ABS-CBN) 5.4%; Aksyon Tonite (TV5) 1.4%
Mankind (GMA-7) 6.3%; Banana Nite (ABS-CBN) 3.5%; 2014 FIBA Basketball World Cup: Brazil vs Serbia (TV5) .8%
The Tim Yap Show (GMA-7) 2.6%; The Medyo Late Night Show (GMA-7) 1.7%; O Shopping (ABS-CBN) 1.3%; Astig: Sa Sports (TV5) .3%
---
September 11, 2014 (Thursday)
Morning:
Born To Be Wild Replay (GMA-7) .5%; Tapatan Ni Tunying Replay (ABS-CBN) .7%; 2014 FIBA Basketball World Cup: France vs Spain (TV5) .9%
Unang Hirit! (GMA-7) 5.7%; Umagang Kay Ganda (ABS-CBN) 3.6%; Aksyon sa Umaga (TV5) 1.6%; Mickey Mouse Clubhouse (TV5) 2.1%
Doraemon (GMA-7) 7.3%; Jackie Chan Adventures (GMA-7) 8.3%; Ghost Fighter (GMA-7) 8.6%; Inuyasha (GMA-7) 8.3%; Kris TV (ABS-CBN) 5%; Handy Manny (TV5) 2.4%; Lloyd in Space (TV5) 2.1%; The Replacements (TV5) 2.9%
Bleach (GMA-7) 8.7%; Spongebob Squarepants (ABS-CBN) 4.8%; Johnny Bravo (TV5) 2.6%
Hunter X Hunter (GMA-7) 11.8%; Dragon Ball Z Kai (GMA-7) 11.6%; Return of the Wife (GMA-7) 10.5%; Basta Everyday Happy (GMA-7) 9.9%; 2014 FIBA Basketball World Cup: France vs Spain (ABS-CBN) 5.3%; Oggy and the Cockroaches (TV5) 3%; Ben 10 Ultimate Alien (TV5) 2.8%; Face the People (TV5) 3.9%; Let's Ask Pilipinas (TV5) 2.4%
The Ryzza Mae Show (GMA-7) 14.8%; Be Careful With My Heart (ABS-CBN) 10.8%; Aksyon sa Tanghali (TV5) 3.4%
Afternoon:
Eat Bulaga! (GMA-7) 18.8%; It's Showtime (ABS-CBN) 10.4%; T3 Enforced (TV5) 3.1%; Movie Max 5: Faster (TV5) 4.2%; Movie Max 5:Komodo vs Cobra (TV5) 4.5%
ADVERTISEMENT - CONTINUE READING BELOW
The Half Sisters (GMA-7) 16.2%; Dading (GMA-7) 13.6%; Kapamilya Blockbusters: The Accidental Spy (ABS-CBN) 9.6%
Reporter's Notebook (GMA-7) 10.6%; Ana Manuela (ABS-CBN) 6.1%; 2014 FIBA Basketball World Cup: Brazil vs Serbia Replay (TV5) 1.4%
May Queen (GMA-7) 13%; Tapatan Ni Tunying (ABS-CBN) 5.5%; Pretty Man (ABS-CBN) 6.5%
Evening:
My BFF (GMA-7) 12.4%; Pure Love (ABS-CBN) 11.5%; Aksyon (TV5) 3.8%
24 Oras (GMA-7) 22.6%; TV Patrol (ABS-CBN) 19.2%; 2014 FIBA Basketball World Cup: France vs Spain Replay (TV5) 4.4%
Niño (GMA-7) 28.1%; Hawak-Kamay (ABS-CBN) 19.3%
My Destiny (GMA-7) 25.3%; Ikaw Lamang (ABS-CBN) 20.7%; Kuwentong Gilas (TV5) 4.1%
Ang Dalawang Mrs. Real (GMA-7) 22.2%; Sana Bukas Pa Ang Kahapon (ABS-CBN) 16.7%; Bride of the Century (TV5) 1.8%
I Hear Your Voice (GMA-7) 19.1%; Aquino & Abunda Tonight (ABS-CBN) 12%
Secret Love (GMA-7) 16.4%; Miss Ripley (ABS-CBN) 8.1%; Aksyon Tonite (TV5) 2.1%; T3 Enforced Replay (TV5) 1.9%
Saksi (GMA-7) 8.8%; Bandila (ABS-CBN) 4.4%; Face the People Replay (TV5) 1.3%
Mankind (GMA-7) 5.2%; Banana Nite (ABS-CBN) 3.1%; Shop Japan (TV5) .7%
The Tim Yap Show (GMA-7) 2.9%; The Medyo Late Night Show (GMA-7) 1.7%; O Shopping (ABS-CBN) .8%
---
TOP TEN PROGRAMS:
September 8, 2014 (Monday)
DAYTIME:
Eat Bulaga! (GMA-7) - 19.7%
May Queen (GMA-7) – 17.5%
The Half Sisters (GMA-7) – 17.4%
Dading (GMA-7) – 14.3%
The Ryzza Mae Show (GMA-7) – 13.7%
Alisto! (GMA-7) – 13.4%
Dragon Ball Z Kai (GMA-7) - 13%
Hunter X Hunter (GMA-7) – 11.5%
It's Showtime (ABS-CBN) – 11.1%
Kapamilya Blockbusters: The Medallion (ABS-CBN) - 10.9%
PRIMETIME:
Niño (GMA-7) – 30.4%
My Destiny (GMA-7) – 27.4%
24 Oras (GMA-7) - 27.1%
4. Ang Dalawang Mrs. Real (GMA-7) – 23.4%
5. TV Patrol (ABS-CBN) / Hawak-Kamay (ABS-CBN) / Ikaw Lamang (ABS-CBN) - 19.7%
6. I Hear Your Voice (GMA-7) – 18.4%
7. My BFF (GMA-7) – 17.6%
Sana Bukas Pa Ang Kahapon (ABS-CBN) – 16.3%
9. Secret Love (GMA-7) – 16.2%
10. Pure Love (ABS-CBN) – 14.8%
September 9, 2014 (Tuesday)
DAYTIME:
Eat Bulaga! (GMA-7) – 18.8%
The Half Sisters (GMA-7) – 17.6%
May Queen (GMA-7) – 17.5%
Tunay na Buhay (GMA-7) – 16.2%
The Ryzza Mae Show (GMA-7) – 15.2%
Dading (GMA-7) – 14.4%
Dragon Ball Z Kai (GMA-7) – 13%
Hunter X Hunter (GMA-7) – 11.1%
Basta Everyday Happy (GMA-7) – 11%
It's Showtime (ABS-CBN) – 10.5%
PRIMETIME:
Niño (GMA-7) – 28.3%
My Destiny (GMA-7) – 27.1%
24 Oras (GMA-7) – 25.3%
Ang Dalawang Mrs. Real (GMA-7) - 23.8%
Ikaw Lamang (ABS-CBN) – 21.8%
TV Patrol (ABS-CBN) – 20.7%
Hawak-Kamay (ABS-CBN) - 20.2%
I Hear Your Voice (GMA-7) – 18.4%
Sana Bukas Pa Ang Kahapon (ABS-CBN) – 18.1%
My BFF (GMA-7) – 16.4%
September 10, 2014 (Wednesday)
DAYTIME:
Eat Bulaga! (GMA-7) - 19.6%
The Half Sisters (GMA-7) - 17.8%
May Queen (GMA-7) - 14.8%
Dragon Ball Z Kai (GMA-7) / The Ryzza Mae Show (GMA-7) - 14.3%
Dading (GMA-7) - 14.2%
Power House (GMA-7) - 13.1%
Hunter X Hunter (GMA-7) – 12.9%
It's Showtime (ABS-CBN) - 11.2%
Bleach (GMA-7) - 11.1%
Return of the Wife (GMA-7) - 10.9%
PRIMETIME:
Niño (GMA-7) - 27.9%
My Destiny (GMA-7) - 25.1%
24 Oras (GMA-7) - 24.1%
Ang Dalawang Mrs. Real (GMA-7) - 23.6%
Ikaw Lamang (ABS-CBN) - 20.8%
I Hear Your Voice (GMA-7) - 19.7%
TV Patrol (ABS-CBN) / Hawak-Kamay (ABS-CBN) - 19.4%
Sana Bukas Pa Ang Kahapon (ABS-CBN) - 17.4%
Secret Love (GMA-7) - 15.9%
My BFF (GMA-7) - 15.5%
September 11, 2014 (Thursday)
DAYTIME:
Eat Bulaga! (GMA-7) - 18.8%
The Half Sisters (GMA-7) - 16.2%
The Ryzza Mae Show (GMA-7) - 14.8%
Dading (GMA-7) - 13.6%
May Queen (GMA-7) - 13%
Hunter X Hunter (GMA-7) – 11.8%
Dragon Ball Z Kai (GMA-7) - 11.6%
Be Careful With My Heart (ABS-CBN) - 10.8%
Reporter's Notebook (GMA-7) - 10.6%
Return of the Wife (GMA-7) - 10.6%
PRIMETIME:
Niño (GMA-7) - 28.1%
My Destiny (GMA-7) - 25.3%
24 Oras (GMA-7) - 22.6%
Ang Dalawang Mrs. Real (GMA-7) - 22.2%
Ikaw Lamang (ABS-CBN) - 20.7%
Hawak-Kamay (ABS-CBN) - 19.3%
TV Patrol (ABS-CBN) - 19.2%
I Hear Your Voice (GMA-7) - 19.1%
Sana Bukas Pa Ang Kahapon (ABS-CBN) - 16.7%
Secret Love (GMA-7) - 16.4%
Source: AGB Nielsen Philippines