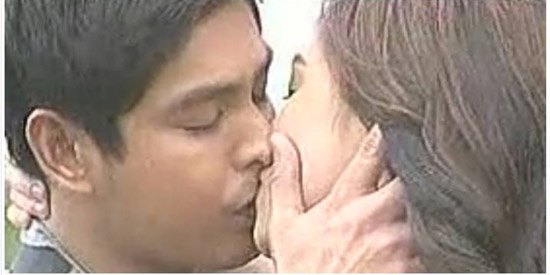 ---
ABS-CBN is beginning to regain its lost dominance in Mega Manila. This is according to the latest ratings data from AGB Nielsen Philippines from Mega Manila households from October 20 to 23, 2014.
After months of losing the ratings bout against rival GMA-7, the Kapamilya network has performed better during this given period.
This good turnout is a result of the recent changes on primetime programming for both networks.
Take the case of ABS-CBN's Ikaw Lamang. It spent months losing to GMA-7's My Destiny, which ended last October 17.
GMA-7 then chose to pit Hiram na Alaala against Ikaw Lamang, which was on its finale week.
Ikaw Lamang emerged as the winner, as viewers chose to watch the explosive last scenes of the multi-generation love story instead of the conundrum Kris Bernal is facing in Hiram, of whether Dennis Trillo's character is her lost lover Otep.

Book Two of Ikaw Lamang was topbilled by Coco Martin, Kim Chiu, and KC Concepcion. The Kapamilya drama series even topped the ratings chart on October 21 and 23.
Other ABS-CBN primetime shows then followed suit. Pure Love got better ratings than Seasons of Love on October 20. TV Patrol beat 24 Oras on October 23.
Two Wives also outperformed Ilustrado, GMA-7's retelling of the story of Jose Rizal. The Alden Richards-starrer may get high scores from critics, but the ratings aren't on its side. It seems like Two Wives's story of infidelity is more interesting for late night viewers.

It is interesting to note that the pilot episode of Ilustrado tied with the local remake of the Koreanovela Two Wives. Both shows were able to get a rating of 17.4%, allowing them to land in the No. 7 slot among most-watched primetime shows. In the following days, Two Wives (starring Jason Abalos, Erich Gonzales and Kaye Abad) widened its lead from its rival program. By Thursday, October 23, Two Wives was in the No. 6 slot while Ilustrado landed in the No. 9 slot.
ADVERTISEMENT - CONTINUE READING BELOW
The good news for GMA-7 is that it still triumphs on the daytime. Afternoon drama The Half Sisters is still the most-watched show on weekday daytime, followed by Eat Bulaga! and Yagit.
Primetime also isn't a fully lost cause, since other Kapuso shows regularly outperform the competition. For instance, GMA-7's new period Korean series Empress Ki gets more viewers than the romantic series Angel Eyes.
An interesting development also happened in GMA-7's daytime performance. Eat Bulaga! has now become the second most-watched show on daytime after the drama series The Half Sisters continues to get ratings of more than 20% daily. The Half Sisters is a family drama that stars Barbie Forteza and Thea Tolentino.
Here is the comparative rating performance of GMA-7, ABS-CBN and TV5 programs from October 20-23, 2014 derived from AGB Nielsen Philippines from Mega Manila households:
-
October 20, 2014 (Monday)
Morning:
Power House Replay (GMA-7) .5%; Matanglawin Replay (ABS-CBN) .4%
Unang Hirit! (GMA-7) 3.7%; Umagang Kay Ganda (ABS-CBN) 2.8%; Aksyon sa Umaga (TV5) 1.2%; Mickey Mouse Clubhouse (TV5) 2.9%
Doraemon (GMA-7) 6.1%; Ghost Fighter (GMA-7) 7.7%; Shaman King (GMA-7) 8.1%; Bleach (GMA-7) 8.7%; Kris TV (ABS-CBN) 4.8%; Handy Manny (TV5) 3.5%; Lloyd in Space (TV5) 3%; The Replacements (TV5) 3.5%
Hunter X Hunter (GMA-7) 9.2%; Dragon Ball Z Kai (GMA-7) 9.6%; Spongebob Squarepants (ABS-CBN) 5.6%; Johnny Bravo (TV5) 3.2%; Oggy and the Cockroaches (TV5) 3.6%
Return of the Wife (GMA-7) 7.5%; Princess Sarah (ABS-CBN) 6.4%; Marcelino Pan Y Vino (ABS-CBN) 6.5%; Ben 10 Ultimate Alien (TV5) 4.4%
Basta Everyday Happy (GMA-7) 7.1%; Komiks: Da Adventures of Pedro Penduko (ABS-CBN) 8.4%; Face the People (TV5) 4.7%
Don't Lose the Money (GMA-7) 8.8%; The Singing Bee (ABS-CBN) 10.3%; Let's Ask Pilipinas (TV5) 2.5%
ADVERTISEMENT - CONTINUE READING BELOW
The Ryzza Mae Show (GMA-7) 13.2%; Be Careful With My Heart (ABS-CBN) 11.4%; Aksyon sa Tanghali (TV5) 3.3%
Afternoon:
Eat Bulaga! (GMA-7) 20.2%; The Half Sisters (GMA-7) 21.4%; It's Showtime (ABS-CBN) 14%; T3 Enforced (TV5) 2.5%; Movie Max 5: Super Storm (TV5) 3.3%
Yagit (GMA-7) 14.1%; Ang Lihim ni Annasandra (GMA-7) 11.5%; Kapamilya Blockbusters: Tarot (ABS-CBN) 9.7%; Marvel Avengers Assemble (TV5) 3.2%; X-Men (TV5) 2.8%
Alisto! (GMA-7) 12.2%; Bistado (ABS-CBN) 7.1%; NCAA 90 Finals: AU vs SBC (TV5) 2.6%
May Queen (GMA-7) 13.4%; Full House (GMA-7) 14.5%; Bet On Your Baby (ABS-CBN) 8.6%
Evening:
Seasons of Love Presents: First Dance First Love (GMA-7) 16.7%; Pure Love (ABS-CBN) 16.9%
24 Oras (GMA-7) 23.7%; TV Patrol (ABS-CBN) 20%; Aksyon (TV5) 4%
Strawberry Lane (GMA-7) 21.8%; Hawak-Kamay (ABS-CBN) 18.6%; Movie Max 5: X-Men (TV5) 6.6%
Hiram na Alaala (GMA-7) 19.3%; Ikaw Lamang (ABS-CBN) 21%; The Amazing Race Philippines (TV5) 3.7%
Ilustrado (GMA-7) 17.4%; Two Wives (ABS-CBN) 17.4%; Wattpad Presents: DyepNi (TV5) 2.3%
Bet ng Bayan (GMA-7) 14.4%; Aquino & Abunda Tonight (ABS-CBN) 12.4%; Aksyon Tonite (TV5) 2.1%
Empress Ki (GMA-7) 12.6%; Angel Eyes (ABS-CBN) 8.3%; Demolition Job (TV5) 2.2%
Saksi (GMA-7) 8.5%; Bandila (ABS-CBN) 4.2%; T3 Enforced Replay (TV5) 1.4%; Face the People Replay (TV5) 1.4%
Front Row (GMA-7) 4.5%; Mukha (ABS-CBN) 2.5%
The Medyo Late Night Show (GMA-7) 2.2%; O Shopping (ABS-CBN) .7%; Shop Japan (TV5) .6%
----
October 21, 2014 (Tuesday)
Morning:
I-Witness Replay (GMA-7) .6%; Red Alert Replay (ABS-CBN) .4%
Unang Hirit! (GMA-7) 4.3%; Umagang Kay Ganda (ABS-CBN) 2.5%; Aksyon sa Umaga (TV5) 1%; Mickey Mouse Clubhouse (TV5) 3.2%
Doraemon (GMA-7) 5.5%; Ghost Fighter (GMA-7) 6.7%; Shaman King (GMA-7) 8%; Bleach (GMA-7) 7.6%; Kris TV (ABS-CBN) 4.5%; Handy Manny (TV5) 4.5%; Lloyd in Space (TV5) 5%; The Replacements (TV5) 5.4%
Hunter X Hunter (GMA-7) 10.1%; Spongebob Squarepants (ABS-CBN) 6%; Johnny Bravo (TV5) 3.6%
Dragon Ball Z Kai (GMA-7) 10.9%; Princess Sarah (ABS-CBN) 6.4%; Oggy and the Cockroaches (TV5) 4.1%
Return of the Wife (GMA-7) 8.3%; Marcelino Pan Y Vino (ABS-CBN) 7.2%; Ben 10 Ultimate Alien (TV5) 3.9%
ADVERTISEMENT - CONTINUE READING BELOW
Basta Everyday Happy (GMA-7) 8.1%; Komiks: Da Adventures of Pedro Penduko (ABS-CBN) 8.2%; Face the People (TV5) 3.3%
Don't Lose the Money (GMA-7) 10.1%; The Singing Bee (ABS-CBN) 11.8%; Let's Ask Pilipinas (TV5) 2.4%
The Ryzza Mae Show (GMA-7) 14.8%; Be Careful With My Heart (ABS-CBN) 13.7%
Afternoon:
Eat Bulaga (GMA-7) 19.8%; It's Showtime (ABS-CBN) 16.1%; Aksyon sa Tanghali (TV5) 2.6%; T3 Enforced (TV5) 1.7%; Movie Max 5: Impact (TV5) 2.5%
The Half Sisters (GMA-7) 21.9%; Yagit (GMA-7) 16.6%; Ang Lihim ni Annasandra (GMA-7) 12.4%; Kapamilya Blockbusters: Abduction (ABS-CBN) 9.7%; Marvel Avengers Asemble (TV5) 2%; X-Men (TV5) 2.1%
Tunay na Buhay (GMA-7) 10.6%; Mutya ng Masa (ABS-CBN) 5.9%; PBA 2015 Philippine Cup Game 1: Global Port vs NLEX Road Warriors (TV5) 4.1%
May Queen (GMA-7) 12.6%; Full House (GMA-7) 15.4%; Bet On Your Baby (ABS-CBN) 8.1%
Evening:
Seasons of Love Presents: First Dance First Love (GMA-7) 15.6%; Pure Love (ABS-CBN) 14.5%
24 Oras (GMA-7) 22%; TV Patrol (ABS-CBN) 19.9%; Aksyon (TV5) 5.1%; PBA 2015 Philippine Cup Game 1: Rain or Shine vs San Miguel Beermen (TV5) 7.9%
Strawberry Lane (GMA-7) 21.8%; Hawak-Kamay (ABS-CBN) 19.1%
Hiram na Alaala (GMA-7) 19.3%; Ikaw Lamang (ABS-CBN) 22%
Ilustrado (GMA-7) 16.7%; Two Wives (ABS-CBN) 18.5%; The Amazing Race Philippines (TV5) 5.4%
Bet ng Bayan (GMA-7) 14.3%; Aquino & Abunda Tonight (ABS-CBN) 12.9%; Wattpad Presents: DyepNi (TV5) 3.5%
Empress Ki (GMA-7) 12.8%; Angel Eyes (ABS-CBN) 9.3%; Aksyon Tonite (TV5) 1.8%
Saksi (GMA-7) 7.3%; Bandila (ABS-CBN) 5.3%; Numero (TV5) 1.3%; T3 Enforced Replay (TV5) 1.1%
The Blue Planet (GMA-7) 4.5%; Banana Nite (ABS-CBN) 3.1%; Face the People Replay (TV5) .9%
The Medyo Late Night Show (GMA-7) 2.9%; O Shopping (ABS-CBN) .7%; Shop Japan (TV5) .3%
---
October 22, 2014 (Wednesday)
Morning:
Tunay na Buhay Replay (GMA-7) 1.1%; My Puhunan Replay (ABS-CBN) .2%
Unang Hirit! (GMA-7) 3.6%; Umagang Kay Ganda (ABS-CBN) 3.1%; Aksyon sa Umaga (TV5) 1.5%; Mickey Mouse Clubhouse (TV5) 3.8%
Doraemon (GMA-7) 6%; Ghost Fighter (GMA-7) 6.8%; Shaman King (GMA-7) 7.8%; Bleach (GMA-7) 7.9%; Kris TV (ABS-CBN) 4.5%; Handy Manny (TV5) 5.1%; Lloyd in Space (TV5) 5.4%; The Replacements (TV5) 5.7%
ADVERTISEMENT - CONTINUE READING BELOW
Hunter X Hunter (GMA-7) 8.1%; Spongebob Squarepants (ABS-CBN) 5.7%; Johnny Bravo (TV5) 3.8%
Dragon Ball Z Kai (GMA-7) 9.1%; Princess Sarah (ABS-CBN) 6.6%; Oggy and the Cockroaches (TV5) 4.3%
Return of the Wife (GMA-7) 7.1%; Marcelino Pan Y Vino (ABS-CBN) 7.8%; Ben 10 Ultimate Alien (TV5) 4.2%
Basta Everyday Happy (GMA-7) 6.8%; Komiks: Da Adventures of Pedro Penduko (ABS-CBN) 8.4%; Face the People (TV5) 4%
Don't Lose the Money (GMA-7) 9.2%; Del Monte Kitchenomics (GMA-7) 10.9%; The Singing Bee (ABS-CBN) 10.3%; Let's Ask Pilipinas (TV5) 2.2%
The Ryzza Mae Show (GMA-7) 12.7%; Be Careful With My Heart (ABS-CBN) 13.7%
Afternoon:
Eat Bulaga (GMA-7) 18.2%; It's Showtime (ABS-CBN) 16.2%; Aksyon sa Tanghali (TV5) 2.4%; T3 Enforced (TV5) 2.1%; NCAA Season 90 Finals: AU Chiefs vs SBC Red Lions (TV5) 1.7%
The Half Sisters (GMA-7) 21%; Yagit (GMA-7) 17.5%; Ang Lihim ni Annasandra (GMA-7) 14.8%; Kapamilya Blockbusters: Gagamboy (ABS-CBN) 10.1%
Power House (GMA-7) 12.7%; My Puhunan (ABS-CBN) 5.2%; PBA 2015 Philippine Cup Game 1: Barako Bull Energy Cola vs Meralco Bolts (TV5) 4.3%
May Queen (GMA-7) 12.5%; Full House (GMA-7) 14.2%; Bet On Your Baby (ABS-CBN) 8.1%
Evening:
Seasons of Love Presents: First Dance First Love (GMA-7) 15.2%; Pure Love (ABS-CBN) 14.9%
24 Oras (GMA-7) 20.8%; TV Patrol (ABS-CBN) 20.1%; Aksyon (TV5) 6.1%
Strawberry Lane (GMA-7) 20.3%; Hawak-Kamay (ABS-CBN) 19.9%; PBA 2015 Philippine Cup Game 1: Alaska Aces vs Purefoods Star Hotshots (TV5) 7.4%
Hiram na Alaala (GMA-7) 18.4%; Ikaw Lamang (ABS-CBN) 20.5%
Ilustrado (GMA-7) 14.7%; Two Wives (ABS-CBN) 15.5%; The Amazing Race Philippines (TV5) 4.8%
Bet ng Bayan (GMA-7) 12.6%; Aquino & Abunda Tonight (ABS-CBN) 12%
Empress Ki (GMA-7) 12.7%; Angel Eyes (ABS-CBN) 9.5%; Wattpad Presents: DyepNi (TV5) 3%; Aksyon Tonite (TV5) 1.9%
Saksi (GMA-7) 8.7%; Bandila (ABS-CBN) 5.2%; History with Lourd (TV5) 1.5%
Planet Earth (GMA-7) 5%; Banana Nite (ABS-CBN) 3.3%; T3 Enforced Replay (TV5) 1.5%
The Medyo Late Night Show (GMA-7) 2.3%; O Shopping (ABS-CBN) .8%; Shop Japan (TV5) .6%
ADVERTISEMENT - CONTINUE READING BELOW
---
October 23, 2014 (Thursday)
Morning:
Born To Be Wild Replay (GMA-7) .7%; Tapatan Ni Tunying Replay (ABS-CBN) .3%
Unang Hirit! (GMA-7) 3.6%; Umagang Kay Ganda (ABS-CBN) 3.4%; Aksyon sa Umaga (TV5) 1%; Mickey Mouse Clubhouse (TV5) 4.2%
Doraemon (GMA-7) 6.9%; Ghost Fighter (GMA-7) 7.6%; Shaman King (GMA-7) 8.6%; Bleach (GMA-7) 8.9%; Kris TV (ABS-CBN) 5.1%; Handy Manny (TV5) 5.4%; Lloyd in Space (TV5) 6.3%; The Replacements (TV5) 6.2%
Hunter X Hunter (GMA-7) 11.1%; Spongebob Squarepants (ABS-CBN) 6.3%; Johnny Bravo (TV5) 4.4%
Dragon Ball Z Kai (GMA-7) 11.8%; Princess Sarah (ABS-CBN) 6.1%; Oggy and the Cockroaches (TV5) 4.6%
Return of the Wife (GMA-7) 9.5%; Marcelino Pan Y Vino (ABS-CBN) 7.4%; Ben 10 Ultimate Alien (TV5) 4.1%
Basta Everyday Happy (GMA-7) 8.5%; Komiks: Da Adventures of Pedro Penduko (ABS-CBN) 8.3%; Face The People (TV5) 3.5%
Don't Lose the Money (GMA-7) 9.9%; The Singing Bee (ABS-CBN) 10.5%; Let's Ask Pilipinas (TV5) 2.7%
The Ryzza Mae Show (GMA-7) 13.9%; Be Careful With My Heart (ABS-CBN) 13.8%; Aksyon sa Tanghali (TV5) 3%
Afternoon:
Eat Bulaga! (GMA-7) 18.9%; It's Showtime (ABS-CBN) 17.3%; T3 Enforced (TV5) 2.3%; Movie Max 5: Lost City Raiders (TV5) 3.1%
The Half Sisters (GMA-7) 21.1%; Yagit (GMA-7) 15.3%; Ang Lihim ni Annasandra (GMA-7) 12.9%; Kapamilya Blockbusters: The Waterboy (ABS-CBN) 10.1%; Marvel Avengers Assemble (TV5) 2.3%; X-Men (TV5) 2.4%
Reporter's Notebook (GMA-7) 12.1%; Tapatan Ni Tunying (ABS-CBN) 5.3%; Movie Max 5: Frost Giant (TV5) 3.1%
May Queen (GMA-7) 12.1%; Full House (GMA-7) 14.1%; Bet On Your Baby (ABS-CBN) 7.6%
Evening:
Seasons of Love Presents: First Dance First Love (GMA-7) 15.3%; Pure Love (ABS-CBN) 14.7%; Aksyon (TV5) 5.6%
24 Oras (GMA-7) 20.9%; TV Patrol (ABS-CBN) 21.1%; Movie Max 5: X2 (TV5) 7.6%
Strawberry Lane (GMA-7) 20.9%; Hawak-Kamay (ABS-CBN) 21.2%
Hiram na Alaala (GMA-7) 17.8%; Ikaw Lamang (ABS-CBN) 23.4%; The Amazing Race Philippines (TV5) 4%
Ilustrado (GMA-7) 14.3%; Bet ng Bayan (GMA-7) 13.7%; Two Wives (ABS-CBN) 17.6%; Wattpad Presents: DyepNi (TV5) 2.6%; Aksyon Tonite (TV5) 1.8%
ADVERTISEMENT - CONTINUE READING BELOW
Empress Ki (GMA-7) 12.9%; Aquino & Abunda Tonight (ABS-CBN) 12.6%; Angel Eyes (ABS-CBN) 9.3%; Unang Tikim (TV5) 1.3%
Saksi (GMA-7) 8.3%; Bandila (ABS-CBN) 5.1%; T3 Enforced Replay (TV5) 1.2%; Face the People Replay (TV5) 1%
Planet Earth (GMA-7) 5.8%; Banana Nite (ABS-CBN) 2.8%
The Medyo Late Night Show (GMA-7) 2.6%; O Shopping (ABS-CBN) .8%; Shop Japan (TV5) .3%
--
TOP TEN PROGRAMS:
October 20, 2014 (Monday)
DAYTIME:
The Half Sisters (GMA-7) – 21.4%
Eat Bulaga! (GMA-7) – 20.2%
Full House (GMA-7) – 14.5%
Yagit (GMA-7) – 14.1%
It's Showtime (ABS-CBN) – 14%
May Queen (GMA-7) - 13.4%
The Ryzza Mae Show (GMA-7) – 13.2%
Alisto! (GMA-7) – 12.2%
Ang Lihim ni Annasandra (GMA-7) – 11.5%
Be Careful With My Heart (ABS-CBN) – 11.4%
PRIMETIME:
1. 24 Oras (GMA-7) – 23.7%
2. Strawberry Lane (GMA-7) – 21.8%
3. Ikaw Lamang (ABS-CBN) – 21%
TV Patrol (ABS-CBN) – 20%
Hiram na Alaala (GMA-7) – 19.3%
6. Hawak-Kamay (ABS-CBN) – 18.6%
Ilustrado (GMA-7) / Two Wives (ABS-CBN) – 17.4%
Pure Love (ABS-CBN) – 16.9%
9. Seasons of Love (GMA-7) – 16.7%
10. Bet ng Bayan (GMA-7) – 14.4%
October 21, 2014 (Tuesday)
DAYTIME:
The Half Sisters (GMA-7) – 21.9%
Eat Bulaga! (GMA-7) – 19.8%
Yagit (GMA-7) - 16.6%
It's Showtime (ABS-CBN) - 16.1%
Full House (GMA-7) – 15.6%
The Ryzza Mae Show (GMA-7) – 14.8%
Be Careful With My Heart (ABS-CBN) – 13.7%
May Queen (GMA-7) - 12.6%
Ang Lihim ni Annasandra (GMA-7) - 12.4%
The Singing Bee (ABS-CBN) – 11.8%
PRIMETIME:
1. 24 Oras (GMA-7) / Ikaw Lamang (ABS-CBN) – 22%
2. Strawberry Lane (GMA-7) – 21.8%
3. TV Patrol (ABS-CBN) - 19.9%
4. Hiram na Alaala (GMA-7) – 19.3%
5. Hawak-Kamay (ABS-CBN) – 19.1%
6. Two Wives (ABS-CBN) - 18.5%
7. Ilustrado (GMA-7) - 16.7%
8. Seasons of Love (GMA-7) - 15.6%
9. Pure Love (ABS-CBN) – 14.5%
10. Bet ng Bayan (GMA-7) – 14.3%
October 22, 2014 (Wednesday)
DAYTIME:
The Half Sisters (GMA-7) – 21%
Eat Bulaga! (GMA-7) – 18.2%
Yagit (GMA-7) - 17.5%
It's Showtime (ABS-CBN) – 16.2%
Ang Lihim ni Annasandra (GMA-7) - 14.8%
Full House (GMA-7) – 14.2%
Be Careful With My Heart (ABS-CBN) – 13.7%
The Ryzza Mae Show (GMA-7) / Power House (GMA-7) - 12.7%
May Queen (GMA-7) – 12.5%
Del Monte Kitchenomics (GMA-7) – 10.9%
PRIMETIME:
1. 24 Oras (GMA-7) – 20.8%
2. Ikaw Lamang (ABS-CBN) – 20.5%
3. Strawberry Lane (GMA-7) – 20.3%
TV Patrol (ABS-CBN) – 20.1%
Hawak-Kamay (ABS-CBN) – 19.9%
6. Hiram na Alaala (GMA-7) – 18.4%
Two Wives (ABS-CBN) - 15.5%
8. Seasons of Love (GMA-7) – 15.2%
9. Pure Love (ABS-CBN) – 14.9%
10. Ilustrado (GMA-7) – 14.9%
October 23, 2014 (Thursday)
DAYTIME:
The Half Sisters (GMA-7) – 21.1%
Eat Bulaga! (GMA-7) – 18.9%
It's Showtime (ABS-CBN) – 17.3%
Yagit (GMA-7) - 15.3%
Full House (GMA-7) – 14.1%
The Ryzza Mae Show (GMA-7) – 13.9%
Be Careful With My Heart (ABS-CBN) – 13.8%
Ang Lihim ni Annasandra (GMA-7) - 12.9%
Reporter's Notebook (GMA-7) / May Queen (GMA-7) – 12.1%
Dragon Ball Z Kai (GMA-7) – 11.8%
PRIMETIME:
Ikaw Lamang (ABS-CBN) – 23.4%
Hawak-Kamay (ABS-CBN) – 21.2%
TV Patrol (ABS-CBN) – 21.1%
24 Oras (GMA-7) / Strawberry Lane (GMA-7) – 20.9%
Hiram na Alaala (GMA-7) – 17.8%
6. Two Wives (ABS-CBN) - 17.6%
7. Seasons of Love (GMA-7) – 15.3%
Pure Love (ABS-CBN) – 14.7%
Ilustrado (GMA-7) – 14.3%
Bet ng Bayan (GMA-7) - 13.7%
Source: AGB Nielsen Philippines