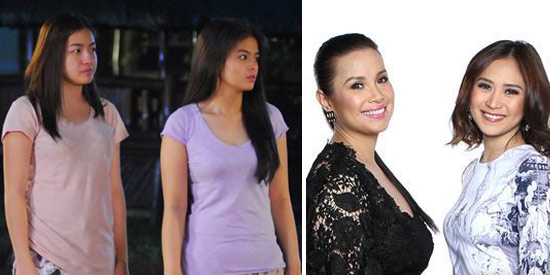 ---
ABS-CBN and GMA-7 seem to have an even fight for ratings dominance. This is according to the latest ratings data from AGB Nielsen Philippines from Mega Manila households from November 3 to 9, 2014.
GMA-7 has the most-watched shows on weekdays, and ABS-CBN shows top the ratings charts on the weekends.

The top three weekday daytime programs are all from the Kapuso Network: The Half Sisters, Eat Bulaga and Yagit.
Strawberry Lane is still the most-watched show on weekdays. The Kapuso primetime show got the most viewers from Monday to Friday.
Bea Binene, Jhoana Marie Tan and Kim Rodriguez topbill Strawberry Lane as a group of girls who used to live in a reform school for delinquents.
ABS-CBN, on the other hand, conquers weekends with The Voice of the Philippines. Now on the second season, the singing competition features Lea Salonga, Bamboo Manalac, Sarah Geronimo and apl.de.ap as coaches. It emerged as the No. 1 most-watched primetime show on Saturday with its rating of 24.2% and on Sunday with its rating of 23.8%.
The romantic reality show I Do revealed its winner last November 8, Saturday. Jimmy and Kring were named as winners of the reality series hosted by Judy Ann Santos. It was able to get a rating of 13.2%, allowing it to land in the No. 10 slot.
GMA-7 started re-airing its hit Korean series Coffee Prince on November 3, Monday, against ABS-CBN's Pure Love.
Coffee Prince performed better than Pure Love on its debut episode, but Pure Love got higher ratings by November 7, Friday.
ADVERTISEMENT - CONTINUE READING BELOW
Here is the comparative rating performance of GMA-7, ABS-CBN and TV5 programs from November 3 to 9, 2014 derived from AGB Nielsen Philippines from Mega Manila households:
------
November 3, 2014 (Monday)
Morning:
Power House Replay (GMA-7) 1.1%; Matanglawin Replay (ABS-CBN) .5%; Shop Japan (TV5) .3%
Unang Hirit! (GMA-7) 4.6%; Umagang Kay Ganda (ABS-CBN) 3.1%; Aksyon sa Umaga (TV5) 1.1%; Mickey Mouse Clubhouse (TV5) 2.5%
Doraemon (GMA-7) 6.4%; Ghost Fighter (GMA-7) 7.1%; Shaman King (GMA-7) 7.7%; Bleach (GMA-7) 8.1%; Kris TV (ABS-CBN) 4.4%; Handy Manny (TV5) 3.4%; Lloyd in Space (TV5) 3.2%; The Replacements (TV5) 3.3%
Hunter X Hunter (GMA-7) 9.4%; Spongebob Squarepants (ABS-CBN) 4.8%; Johnny Bravo (TV5) 2.7%
Dragon Ball Z Kai (GMA-7) 10%;Princess Sarah (ABS-CBN) 5.5%;Oggy and the Cockroaches (TV5) 2.7%
Return of the Wife (GMA-7) 7.7%; Marcelino Pan Y Vino (ABS-CBN) 6.1%; Ben 10 Ultimate Alien (TV5) 3%
Basta Everyday Happy (GMA-7) 6.2%; Komiks: Da Adventures of Pedro Penduko (ABS-CBN) 6.9%; Face the People (TV5) 2.8%
Don't Lose the Money (GMA-7) 7.9%; The Singing Bee (ABS-CBN) 10.3%; Let's Ask Pilipinas (TV5) 2%
The Ryzza Mae Show (GMA-7) 11.5%; Be Careful With My Heart (ABS-CBN) 12.1%; Aksyon sa Tanghali (TV5) 2.8%
Afternoon:
Eat Bulaga! (GMA-7) 18.7%; It's Showtime (ABS-CBN) 10.8%; T3 Enforced (TV5) 2.3%; Movie Max 5: Curse of the Golden Flower (TV5) 2.9%
The Half Sisters (GMA-7) 18.9%;Yagit (GMA-7) 13.2%; Ang Lihim ni Annasandra (GMA-7) 11.5%; Kapamilya Blockbusters: The Cold Light of Day (ABS-CBN) 9.4%; Marvel Avengers Assemble (TV5) 2.1%; X-Men (TV5) 1.8%
Alisto! (GMA-7) 9.8%; Bistado (ABS-CBN) 5.4%; Movie Max 5: Miami Vice (TV5) 2.5%
May Queen (GMA-7) 12.4%; Bet On Your Baby (ABS-CBN) 7.2%
Evening:
Coffee Prince (GMA-7) 15.3%; Pure Love (ABS-CBN) 14.5%
24 Oras (GMA-7) 21.6%; TV Patrol (ABS-CBN) 18.2%; Aksyon (TV5) 3.9%
Strawberry Lane (GMA-7) 23.7%; Hawak-Kamay (ABS-CBN) 19.1%; Movie Max 5: Fright Night (TV5) 5.5%
Hiram na Alaala (GMA-7) 19.7%; Forevermore (ABS-CBN) 22%; The Amazing Race Philippines (TV5) 3.8%
ADVERTISEMENT - CONTINUE READING BELOW
Ilustrado (GMA-7) 13.6%; Two Wives (ABS-CBN) 19.2%; Wattpad Presents: Fake Fiance (TV5) 2.9%
Bet ng Bayan (GMA-7) 12.8%;Aquino & Abunda Tonight (ABS-CBN) 13.9%; Aksyon Tonite (TV5) 1.7%
Empress Ki (GMA-7) 13.3%;Angel Eyes (ABS-CBN) 9.6%; Reaksyon (TV5) .8%; Demolition Job (TV5) 1.1%
Saksi (GMA-7) 8%; Bandila (ABS-CBN) 4.7%; T3 Enforced Replay (TV5) .8%; Face the People Replay (TV5) .9%
Front Row (GMA-7) 4.8%; Mukha (ABS-CBN) 3.1%; Shop Japan (TV5) .5%
The Tim Yap Show (GMA-7) 2.6%; The Medyo Late Night Show (GMA-7) 1.7%; O Shopping (ABS-CBN) .7%
----
November 4, 2014 (Tuesday)
Morning:
I-Witness Replay (GMA-7) 1%; Red Alert Replay (ABS-CBN) .4%; Shop Japan (TV5) .1%
Unang Hirit! (GMA-7) 4.9%; Umagang Kay Ganda (ABS-CBN) 3.4%; Aksyon sa Umaga (TV5) 1.1%; Mickey Mouse Clubhouse (TV5) 2.3%
Doraemon (GMA-7) 6%; Ghost Fighter (GMA-7) 6%; Shaman King (GMA-7) 7.2%; Bleach (GMA-7) 7.9%; Kris TV (ABS-CBN) 5.1%; Handy Manny (TV5) 3.2%; Lloyd in Space (TV5) 3.1%; The Replacements (TV5) 3%
Hunter X Hunter (GMA-7) 9.4%; Spongebob Squarepants (ABS-CBN) 5.3%; Johnny Bravo (TV5) 2.5%; Oggy and the Cockroaches (TV5) 2.5%
Dragon Ball Z Kai (GMA-7) 10.4%; Princess Sarah (ABS-CBN) 6.4%; Ben 10 Ultimate Alien (TV5) 2.6%
Return of the Wife (GMA-7) 9.6%; Marcelino Pan Y Vino (ABS-CBN) 6.7%
Basta Everyday Happy (GMA-7) 9.2%; Komiks: Da Adventures of Pedro Penduko (ABS-CBN) 7.9%; Face the People (TV5) 2.6%
Don't Lose the Money (GMA-7) 9.9%; The Singing Bee (ABS-CBN) 11.4%; Let's Ask Pilipinas (TV5) 1.8%
The Ryzza Mae Show (GMA-7) 13.4%; Be Careful With My Heart (ABS-CBN) 11.6%; Aksyon sa Tanghali (TV5) 1.9%
Afternoon:
Eat Bulaga (GMA-7) 19.4%; It's Showtime (ABS-CBN) 10.1%; T3 Enforced (TV5) 2.2%; Movie Max 5: XXX State of the Union (TV5) 3.4%
The Half Sisters (GMA-7) 20.2%; Yagit (GMA-7) 15.2%; Ang Lihim ni Annasandra (GMA-7) 11.8%; Kapamilya Blockbusters: This Guy's In Love With You Mare (ABS-CBN) 10.4%; Marvel Avengers Asemble (TV5) 2.1%; X-Men (TV5) 1.8%
Tunay na Buhay (GMA-7) 10.5%; Mutya ng Masa (ABS-CBN) 5.4%; PBA 2015 Philippine Cup Game 1: Global Port vs Kia Sorento (TV5) 3%
ADVERTISEMENT - CONTINUE READING BELOW
May Queen (GMA-7) 11.7%; Bet On Your Baby (ABS-CBN) 7%
Evening:
Coffee Prince (GMA-7) 14.9%; Pure Love (ABS-CBN) 14.1%
24 Oras (GMA-7) 21.6%; TV Patrol (ABS-CBN) 17.6%; Aksyon (TV5) 4.4%
Strawberry Lane (GMA-7) 22.4%; Hawak-Kamay (ABS-CBN) 17.8%; PBA 2015 Philippine Cup Game 2: Ginebra San Miguel vs Blackwater Elite (TV5) 7.4%
Hiram na Alaala (GMA-7) 19%; Forevermore (ABS-CBN) 20.9%; The Amazing Race Philippines (TV5) 4.2%
Ilustrado (GMA-7) 13.3%; Two Wives (ABS-CBN) 19.7%; Wattpad Presents: Fake Fiance (TV5) 3.5%
Bet ng Bayan (GMA-7) 13.5%; Aquino & Abunda Tonight (ABS-CBN) 14.8%; Aksyon Tonite (TV5) 2.3%
Empress Ki (GMA-7) 12.2%; Angel Eyes (ABS-CBN) 10.7%; Reaksyon (TV5) 1.4%
Saksi (GMA-7) 7.9%; Bandila (ABS-CBN) 5.3%; Numero (TV5) 1.3%; T3 Enforced Replay (TV5) 1.1%
The Blue Planet (GMA-7) 5.5%; Banana Nite (ABS-CBN) 3.3%; Shop Japan (TV5) .3%
The Tim Yap Show (GMA-7) 3.1%; The Medyo Late Night Show (GMA-7) 1.7%; O Shopping (ABS-CBN) 1%
---
November 5, 2014 (Wednesday)
Morning:
Tunay na Buhay Replay (GMA-7) 1.2%; My Puhunan Replay (ABS-CBN) .6%
Unang Hirit! (GMA-7) 4.7%; Umagang Kay Ganda (ABS-CBN) 2.9%; Aksyon sa Umaga (TV5) 1.1%; Mickey Mouse Clubhouse (TV5) 1.9%
Doraemon (GMA-7) 5.6%; Ghost Fighter (GMA-7) 5.4%; Shaman King (GMA-7) 6.6%; Bleach (GMA-7) 6.8%; Kris TV (ABS-CBN) 4.1%; Handy Manny (TV5) 2.3%; Lloyd in Space (TV5) 2.5%; The Replacements (TV5) 2.4%
Hunter X Hunter (GMA-7) 8.5%; Spongebob Squarepants (ABS-CBN) 5.1%; Johnny Bravo (TV5) 1.7%
Dragon Ball Z Kai (GMA-7) 10%; Princess Sarah (ABS-CBN) 5.6%; Oggy and the Cockroaches (TV5) 1.9%
Return of the Wife (GMA-7) 9.1%; Marcelino Pan Y Vino (ABS-CBN) 6.8%; Ben 10 Ultimate Alien (TV5) 2.7%
Basta Everyday Happy (GMA-7) 6.8%; Komiks: Da Adventures of Pedro Penduko (ABS-CBN) 7.9%; Face the People (TV5) 3%
Don't Lose the Money (GMA-7) 7.1%; Del Monte Kitchenomics (GMA-7) 9%; The Singing Bee (ABS-CBN) 10.5%; Let's Ask Pilipinas (TV5) 1.4%
The Ryzza Mae Show (GMA-7) 12%; Be Careful With My Heart (ABS-CBN) 12.3%
Afternoon:
Eat Bulaga (GMA-7) 19.6%; It's Showtime (ABS-CBN) 9.1%; Aksyon sa Tanghali (TV5) 1.7%; T3 Enforced (TV5) 2%; Movie Max 5: Universal Soldier (TV5) 2.8%
ADVERTISEMENT - CONTINUE READING BELOW
The Half Sisters (GMA-7) 19.3%; Yagit (GMA-7) 15%; Ang Lihim ni Annasandra (GMA-7) 13.2%; Kapamilya Blockbusters: Ang Huling Henya (ABS-CBN) 5.5%; Marvel Avengers Asemble (TV5) 2%; X-Men (TV5) 1.6%
Power House (GMA-7) 11.9%; My Puhunan (ABS-CBN) 3.9%; PBA 2015 Philippine Cup Game 1: Meralco Bolts vs NLEX Road Warriors (TV5) 2.6%
May Queen (GMA-7) 12.3%; Bet On Your Baby (ABS-CBN) 7%
Evening:
Coffee Prince (GMA-7) 14.5%; Pure Love (ABS-CBN) 14.6%
24 Oras (GMA-7) 20.5%; TV Patrol (ABS-CBN) 18.9%; Aksyon (TV5) 4.2%
Strawberry Lane (GMA-7) 21.9%; Hawak-Kamay (ABS-CBN) 18.5%; PBA 2015 Philippine Cup Game 2: Alaska Aces vs San Miguel Beermen (TV5) 7.7%
Hiram na Alaala (GMA-7) 17.8%; Forevermore (ABS-CBN) 20.2%; The Amazing Race Philippines (TV5) 4.3%
Ilustrado (GMA-7) 14.6%; Two Wives (ABS-CBN) 18.6%; Wattpad Presents: Fake Fiance (TV5) 2.8%
Bet ng Bayan (GMA-7) 14.3%; Aquino & Abunda Tonight (ABS-CBN) 12.5%
Empress Ki (GMA-7) 13.9%; Angel Eyes (ABS-CBN) 8.9%;Aksyon Tonite (TV5) 2.1%
Saksi (GMA-7) 8.6%; Bandila (ABS-CBN) 4.8%; Reaksyon (TV5) 1.5%; History with Lourd (TV5) 1.4%; T3 Enforced Replay (TV5) 1.5%
Planet Earth (GMA-7) 5.7%; Banana Nite (ABS-CBN) 2.8%; Shop Japan (TV5) .2%
The Tim Yap Show (GMA-7) 3.6%; The Medyo Late Night Show (GMA-7) 2%; O Shopping (ABS-CBN) .7%
---
November 6, 2014 (Thursday)
Morning:
Born To Be Wild Replay (GMA-7) 1%; Tapatan Ni Tunying Replay (ABS-CBN) .6%; Shop Japan (TV5) 0%
Unang Hirit! (GMA-7) 4.6%; Umagang Kay Ganda (ABS-CBN) 3.6%; Aksyon sa Umaga (TV5) 1%; Mickey Mouse Clubhouse (TV5) 3%
Doraemon (GMA-7) 5.6%; Ghost Fighter (GMA-7) 5.2%; Shaman King (GMA-7) 5.9%; Bleach (GMA-7) 6.1%; Kris TV (ABS-CBN) 5.1%; Handy Manny (TV5) 3.2%; Lloyd in Space (TV5) 2.8%; The Replacements (TV5) 3.1%
Hunter X Hunter (GMA-7) 7.9%; Spongebob Squarepants (ABS-CBN) 5%; Johnny Bravo (TV5) 2%
Dragon Ball Z Kai (GMA-7) 9%; Princess Sarah (ABS-CBN) 5.8%; Oggy and the Cockroaches (TV5) 1.9%
Return of the Wife (GMA-7) 8.9%; Marcelino Pan Y Vino (ABS-CBN) 6.5%; Ben 10 Ultimate Alien (TV5) 2.4%
Basta Everyday Happy (GMA-7) 7.2%; Komiks: Da Adventures of Pedro Penduko (ABS-CBN) 7.5%; Face The People (TV5) 3.2%
ADVERTISEMENT - CONTINUE READING BELOW
Don't Lose the Money (GMA-7) 7.4%; The Singing Bee (ABS-CBN) 10.5%
The Ryzza Mae Show (GMA-7) 11.4%; Be Careful With My Heart (ABS-CBN) 12.1%; Let's Ask Pilipinas (TV5) 1.6%
Afternoon:
Eat Bulaga! (GMA-7) 18.5%; It's Showtime (ABS-CBN) 10.2%; Aksyon sa Tanghali (TV5) 1.6%; T3 Enforced (TV5) 1.7%; Movie Max 5: Midnight Run (TV5) 2.3%
The Half Sisters (GMA-7) 19.2%; Yagit (GMA-7) 14.8%; Ang Lihim ni Annasandra (GMA-7) 11.2%; Kapamilya Blockbusters: Transporter 3 (ABS-CBN) 9.3%; Marvel Avengers Assemble (TV5) 1.3%; X-Men (TV5) 1.5%
Reporter's Notebook (GMA-7) 10%; Tapatan Ni Tunying (ABS-CBN) 5%; Movie Max 5: Hollywood Homicide (TV5) 2.5%
May Queen (GMA-7) 12.1%; Bet On Your Baby (ABS-CBN) 7.6%
Evening:
Coffee Prince (GMA-7) 15.2%; Pure Love (ABS-CBN) 15.2%; Aksyon (TV5) 3.4%
24 Oras (GMA-7) 21.3%; TV Patrol (ABS-CBN) 18.5%; Studio 5 Original Movies: Halik sa Dilim (TV5) 4.5%
Strawberry Lane (GMA-7) 22.8%; Hawak-Kamay (ABS-CBN) 17.9%
Hiram na Alaala (GMA-7) 17.5%; Forevermore (ABS-CBN) 20.1%; The Amazing Race Philippines (TV5) 4%
Ilustrado (GMA-7) 13.5%; Two Wives (ABS-CBN) 18.6%; Wattpad Presents: Fake Fiance (TV5) 2.7%
Bet ng Bayan (GMA-7) 13%; Aquino & Abunda Tonight (ABS-CBN) 12%; Aksyon Tonite (TV5) 1.4%
Empress Ki (GMA-7) 12.7%;Angel Eyes (ABS-CBN) 7.9%
Saksi (GMA-7) 7.4%; Bandila (ABS-CBN) 4.7%; Reaksyon (TV5) .9%; Unang Tikim (TV5) 1%; T3 Enforced Replay (TV5) .7%
Planet Earth (GMA-7) 4.6%; Banana Nite (ABS-CBN) 3.2%; Shop Japan (TV5) .1%
The Tim Yap Show (GMA-7) 2.3%; The Medyo Late Night Show (GMA-7) 1.8%; O Shopping (ABS-CBN) .9%;
--
November 7, 2014 (Friday)
Morning:
Alisto! Replay (GMA-7) 1%; Red Alert Replay (ABS-CBN) .5%; Shop Japan (TV5) .2%
Unang Hirit! (GMA-7) 4.5%; Umagang Kay Ganda (ABS-CBN) 2.9%; Aksyon sa Umaga (TV5) 1%; Mickey Mouse Clubhouse (TV5) 2.3%
Doraemon (GMA-7) 6.2%; Ghost Fighter (GMA-7) 7.3%; Shaman King (GMA-7) 7.7%; Bleach (GMA-7) 8.1%; Kris TV (ABS-CBN) 4.8%; Handy Manny (TV5) 2.9%; Lloyd in Space (TV5) 2.7%; The Replacements (TV5) 2.6%
Hunter X Hunter (GMA-7) 9.5%; Spongebob Squarepants (ABS-CBN) 4.9%; Johnny Bravo (TV5) 2%
Dragon Ball Z Kai (GMA-7) 10.7%; Princess Sarah (ABS-CBN) 5.8%; Oggy and the Cockroaches (TV5) 1.8%
ADVERTISEMENT - CONTINUE READING BELOW
Return of the Wife (GMA-7) 8.4%; Marcelino Pan Y Vino (ABS-CBN) 6.1%; Ben 10 Ultimate Alien (TV5) 2.8%
Basta Everyday Happy (GMA-7) 7.4%; Komiks: Da Adventures of Pedro Penduko (ABS-CBN) 6.5%; Face The People (TV5) 3%
Don't Lose the Money (GMA-7) 8%; The Singing Bee (ABS-CBN) 10.3%
The Ryzza Mae Show (GMA-7) 12.6%; Be Careful With My Heart (ABS-CBN) 10.9%; Let's Ask Pilipinas (TV5) 1.7%
Afternoon:
Eat Bulaga! (GMA-7) 18.8%; It's Showtime (ABS-CBN) 10.5%; Aksyon sa Tanghali (TV5) 2.3%; T3 Enforced (TV5) 2.1%; Movie Max 5: Hollow Man II (TV5) 3.1%
The Half Sisters (GMA-7) 20.3%; Yagit (GMA-7) 15.4%; Ang Lihim ni Annasandra (GMA-7) 12%; Kapamilya Blockbusters: Da Best in Da West 2 (ABS-CBN) 9.2%; Marvel Avengers Assemble (TV5) 1.8%; X-Men (TV5) 2%
Love Hotline (GMA-7) 10.8%; Red Alert (ABS-CBN) 4.3%; PBA 2015 Philippine Cup Game 1: Barako Bull vs Rain or Shine (TV5) 2.8%
May Queen (GMA-7) 11.1%; Bet On Your Baby (ABS-CBN) 7.4%
Evening:
Coffee Prince (GMA-7) 15.3%; Pure Love (ABS-CBN) 15.5%; Aksyon (TV5) 4.1%
24 Oras (GMA-7) 22.2%; TV Patrol (ABS-CBN) 18.8%; PBA 2015 Philippines Cup Game 2: Kia Sorento vs Talk n Text (TV5) 5.7%
Strawberry Lane (GMA-7) 22.6%; Hawak-Kamay (ABS-CBN) 17.9%
Hiram na Alaala (GMA-7) 20.1%; Forevermore (ABS-CBN) 21.8%; The Amazing Race Philippines (TV5) 3.9%
Ilustrado (GMA-7) 14.3%; Two Wives (ABS-CBN) 19.8%; Wattpad Presents: Fake Fiance (TV5) 3.2%
Bet ng Bayan (GMA-7) 14.7%; Aquino & Abunda Tonight (ABS-CBN) 13.9%; Aksyon Tonite (TV5) 2.2%
Bubble Gang (GMA-7) 14.4%; Angel Eyes (ABS-CBN) 9%; Bandila (ABS-CBN) 4.9%; Reaksyon (TV5) .9%; Astig (TV5) .6%; T3 Enforced Replay (TV5) .4%
Saksi (GMA-7) 7.6%; Banana Nite (ABS-CBN) 3.4%; Shop Japan (TV5) .2%
The Tim Yap Show (GMA-7) 4.3%; The Medyo Late Night Show (GMA-7) 2.9%; O Shopping (ABS-CBN) .8%
--
November 8, 2014 (Saturday)
Morning:
PJM Forum (GMA-7) .2%; Adyenda (GMA-7) .7%; Kapwa Ko Mahal Ko (GMA-7) 1.5%; Sa Kabukiran (ABS-CBN) .4%; Shop Japan (TV5) .2%; Family Matters (TV5) .3%
Pinoy MD (GMA-7) 3%; Salamat Dok (ABS-CBN) 1.7%; Stitch! (TV5) 1.2%
ADVERTISEMENT - CONTINUE READING BELOW
Puppy in My Pocket (GMA-7) 4.5%; Swak na Swak (ABS-CBN) 2.1%; Gravity Falls (TV5) 2.5%
Kamen Rider Ooo (GMA-7) 6.1%; Honey Watch Out! (ABS-CBN) 1.5%; The Emperor's New School (TV5) 2.8%
Larva (GMA-7) 9%; Math Tinik (ABS-CBN) 1.6%; Dave the Barbarian (TV5) 2.2%
Angry Birds Toons (GMA-7) 10%; The Adventures of Jimmy Neutron ABS-CBN) 3.4%; Regular Show (TV5) 2.7%
Monsuno (GMA-7) 6.6%; Spongebob Squarepants (ABS-CBN) 6.4%; Regular Show (TV5) 4%; The Powerpuff Girls (TV5) 4.3%
Tropang Potchi (GMA-7) 4.5%; Super Book (ABS-CBN) 8%; Ben 10 (TV5) 5.2%
Sarap Diva (GMA-7) 5.8%; Maynila 15 (GMA-7) 8.6%; Del Monte Kitchenomics (GMA-7) 9.9%; NBA 2014-2015: Brooklyn Nets vs New York Knicks (TV5) 4.4%; Ben 10 Omniverse (TV5) 5.8%; Ben 10 Omniverse (TV5) 6.4%;Movie Max 5: Honey I Blew Up The Kid (TV5) 6.9%
Afternoon:
Eat Bulaga! (GMA-7) 18%; It's Showtime (ABS-CBN) 9.6%; Movie Max 5: RV (TV5) 5.1%
True Horror Stories (GMA-7) 11.3%; Wish Ko Lang! (GMA-7) 8.6%; Ipaglaban Mo (ABS-CBN) 9.7%; Movie Max 5: Independence Day-saster (TV5) 4%
Startalk (GMA-7) 8.7%; Failon Ngayon (ABS-CBN) 6.6%
Imbestigador (GMA-7) 15.1%; SOCO (ABS-CBN) 9.8%; Kuwentong Gilas (TV5) 2.1%; PBA 2015 Philippine Cup: NLEX vs San Miguel Beermen (TV5) 5.6%
24 Oras Weekend (GMA-7) 16%; TV Patrol Weekend (ABS-CBN) 12.2%
Evening:
Pepito Manaloto: Ang Tunay na Kuwento (GMA-7) 22.7%; Mga Kwento ni Marc Logan (ABS-CBN) 13.6%
Marian (GMA-7) 22.2%; Magpakailanman (GMA-7) 21.3%; Home Sweetie Home (ABS-CBN) 14.4%; MMK: Ang Tahanan Mo (ABS-CBN) 21.7%; Talentadong Pinoy 2014 (TV5) 4.6%; Tropa Mo Ko Nice Di Ba?! (TV5) 4.2%
Celebrity Bluff (GMA-7) 20.7%; The Voice (ABS-CBN) 24.2%; The Amazing Race Philippines (TV5) 2.8%
Pagbangon (GMA-7) 13.3%; I Do (ABS-CBN) 13.2%; Trenderas Mga Tindera Today (TV5) 1.8%; Kaya. (TV5) 1.3%; History with Lourd (TV5) .7%
Walang Tulugan (GMA-7) 4.3%; Banana Split Extra Scoop (ABS-CBN) 6%; The Bottom Line (ABS-CBN) 2.5%; Sports Unlimited (ABS-CBN) 1.2%; O Shopping (ABS-CBN) 1.3%; Bigtime (TV5) .4%; Shop Japan (TV5) .2%
--
November 9, 2014 (Sunday)
Daytime:
In Touch with Dr. Charles Stanley (GMA-7) .1%; Jesus The Healer (GMA-7) .5%; Shop Japan (TV5) .2%
ADVERTISEMENT - CONTINUE READING BELOW
Family TV Mass (GMA-7) 2%; The Healing Eucharist (ABS-CBN) 3.3%; Misa Nazareno (TV5) 1.6%
Grimm's Fairy Tales (GMA-7) 5.3%; Swak na Swak (ABS-CBN) 2.8%; Power to Unite with Elvira (TV5) .8%
Kamen Rider Ooo (GMA-7) 6.3%; Tom & Jerry Kids Show (GMA-7) 7.1%; Salamat Dok (ABS-CBN) 3.2%; Stitch! (TV5) 1.8%; Gravity Falls (TV5) 3.5%
Monsuno (GMA-7) 5.3%; Voltron Force (ABS-CBN) 3.4%; The Emperor's New School (TV5) 4.5%; Dave the Barbarian (TV5) 3.8%
Aha! (GMA-7) 6.1%; Max Steel (ABS-CBN) 4.5%; The Powerpuff Girls (TV5) 4.1%
Born To Be Wild (GMA-7) 7.3%; Super Book (ABS-CBN) 5.7%;Ben 10 (TV5) 4.6%
iBilib (GMA-7) 6.4%; Matanglawin (ABS-CBN) 7.3%; Ben 10 Omniverse (TV5) 4.3%
Bonakid Pre-School Ready Set Laban (GMA-7) 5.8%; Superhero Sunday: Jimmy Neutron Boy Genius (GMA-7) 9%; Kapamilya Blockbusters: Toy Story 2 (ABS-CBN) 9.7%; Movie Max 5: Stuart Little 3: Call of the Wild (TV5) 3.7%
Afternoon:
Kapuso Movie Festival: Eragon (GMA-7) 12.2%; Del Monte Kitchenomics (GMA-7) 8.9%; Sunday All Stars (GMA-7) 9.5%; ASAP 19 (ABS-CBN) 9.7%; Movie Max 5: Terminator 3 (TV5) 5.7%
GMA Blockbusters: Get Smart (GMA-7) 11.5%; Luv U (ABS-CBN) 7.1%; The Buzz (ABS-CBN) 8.5%; PBA 2015 Philippine Cup Game 1: Blackwater Elite vs Global Port (TV5) 3.3%
24 Oras Weekend (GMA-7) 11.7%; TV Patrol Weekend (ABS-CBN) 11.7%
Evening:
Vampire Ang Daddy Ko (GMA-7) 16.7%; Goin' Bulilit (ABS-CBN) 12.1%; PBA 2015 Philippine Cup Game 2: Barangay Ginebra vs Purefoods (TV5) 9.5%
Ismol Family (GMA-7) 18.9%; Wansapanataym (ABS-CBN) 15%; Who Wants to be a Millionaire (TV5) 6.5%
Kapuso Mo, Jessica Soho (GMA-7) 23%; Rated K: Handa Na Ba Kayo? (ABS-CBN) 17.5%; The Voice of the Philippines (ABS-CBN) 23.8%; Quiet Please! Bawal Ang Maingay (TV5) 3.6%; The Amazing Race Philippines (TV5) 2.2%
Bet ng Bayan (GMA-7) 10.9%; Gandang Gabi Vice (ABS-CBN) 20.5%; Wow Mali Lakas ng Tama (TV5) 4.8%
Sunday Night Box Office: Shaolin (GMA-7) 8.9%; Sunday's Best: Prince of Persia The Sands of Time (ABS-CBN) 6.9%; Wattpad Presents: Fake Fiance (TV5) 1.7%; Shop Japan (TV5) .2%
ADVERTISEMENT - CONTINUE READING BELOW
Diyos at Bayan (GMA-7) 1.1%; O Shopping (ABS-CBN) 1.1%
------
TOP TEN PROGRAMS:
November 3, 2014 (Monday)
DAYTIME:
The Half Sisters (GMA-7) – 18.9%
Eat Bulaga! (GMA-7) – 18.7%
Yagit (GMA-7) – 13.2%
May Queen (GMA-7) - 12.4%
Be Careful With My Heart (ABS-CBN) – 12.1%
The Ryzza Mae Show (GMA-7) / Ang Lihim ni Annasandra (GMA-7) – 11.5%
It's Showtime (ABS-CBN) – 10.8%
The Singing Bee (ABS-CBN) – 10.3%
Dragon Ball Z Kai (GMA-7) - 10%
Alisto! (GMA-7) – 9.8%
PRIMETIME:
1. Strawberry Lane (GMA-7) – 23.7%
2. Forevermore (ABS-CBN) – 22%
3. 24 Oras (GMA-7) – 21.6%
Hiram na Alaala (GMA-7) – 19.7%
Two Wives (ABS-CBN) – 19.2%
6. Hawak-Kamay (ABS-CBN) – 19.1%
TV Patrol (ABS-CBN) – 18.2%
Coffee Prince(GMA-7) – 15.3%
Pure Love (ABS-CBN) – 14.5%
Aquino & Abunda Tonight (ABS-CBN) – 13.9%
November 4, 2014 (Tuesday)
DAYTIME:
The Half Sisters (GMA-7) – 20.2%
Eat Bulaga! (GMA-7) – 19.4%
Yagit (GMA-7) - 15.2%
The Ryzza Mae Show (GMA-7) – 13.4%
Ang Lihim ni Annasandra (GMA-7) - 11.8%
May Queen (GMA-7) - 11.7%
Be Careful With My Heart (ABS-CBN) – 11.6%
8. The Singing Bee (ABS-CBN) – 11.4%
Tunay na Buhay(GMA-7) – 10.5%
Kapamilya Blockbusters (ABS-CBN) - 10.4%
PRIMETIME:
1. Strawberry Lane (GMA-7) – 22.4%
2. 24 Oras (GMA-7) - 21.6%
3. Forevermore(ABS-CBN) – 20.9%
4. Two Wives (ABS-CBN) - 19.7%
5. Hiram na Alaala (GMA-7) – 19%
6. Hawak-Kamay (ABS-CBN) – 17.8%
7. TV Patrol (ABS-CBN) - 17.6%
8. Coffee Prince(GMA-7) – 14.9%
9. Aquino & Abunda Tonight (ABS-CBN) – 14.8%
10. Pure Love (ABS-CBN) – 14.1%
November 5, 2014 (Wednesday)
DAYTIME:
Eat Bulaga! (GMA-7) – 19.6%
The Half Sisters (GMA-7) – 19.3%
Yagit (GMA-7) - 15%
Ang Lihim ni Annasandra (GMA-7) - 13.2%
May Queen (GMA-7) / Be Careful With My Heart (ABS-CBN) – 12.3%
The Ryzza Mae Show (GMA-7) – 13%
Power House (GMA-7)- 11.9%
The Singing Bee (ABS-CBN) – 10%
Dragon Ball Z Kai (GMA-7) - 10%
Return of the Wife (GMA-7) / It's Showtime (ABS-CBN) – 9.1%
PRIMETIME:
1. Strawberry Lane (GMA-7) – 21.9%
2. 24 Oras (GMA-7) – 20.5%
3. Forevermore(ABS-CBN) – 20.2%
TV Patrol (ABS-CBN) – 18.9%
Two Wives (ABS-CBN) - 18.6%
Hawak-Kamay (ABS-CBN) – 18.5%
7. Hiram na Alaala (GMA-7) – 17.8%
8. Ilustrado (GMA-7) / Pure Love (ABS-CBN) – 14.6%
9. Coffee Prince (GMA-7) – 14.5%
10. Bet ng Bayan(GMA-7) – 14.3%
November 6, 2014 (Thursday)
DAYTIME:
The Half Sisters (GMA-7) – 19.2%
Eat Bulaga! (GMA-7) – 18.5%
Yagit (GMA-7) - 14.8%
May Queen (GMA-7) / Be Careful With My Heart (ABS-CBN) – 12.1%
The Ryzza Mae Show (GMA-7) – 11.4%
Ang Lihim ni Annasandra (GMA-7) - 11.2%
The Singing Bee (ABS-CBN) – 10.5%
It's Showtime (ABS-CBN) – 10.2%
Reporter's Notebook (GMA-7)– 10%
Kapamilya Blockbusters (ABS-CBN) - 9.3%
PRIMETIME:
Strawberry Lane (GMA-7) – 22.8%
24 Oras (GMA-7) - 21.3%
Forevermore(ABS-CBN) – 20.1%
4. Two Wives (ABS-CBN) - 18.6%
TV Patrol (ABS-CBN) – 18.5%
Hawak-Kamay (ABS-CBN) – 17.9%
Hiram na Alaala (GMA-7) – 17.5%
Coffee Prince(GMA-7) / Pure Love (ABS-CBN) – 15.2%
Ilustrado (GMA-7) – 13.5%
Bet ng Bayan (GMA-7) – 13%
November 7, 2014 (Friday)
DAYTIME:
The Half Sisters (GMA-7) – 20.3%
Eat Bulaga! (GMA-7) – 18.8%
Yagit (GMA-7) - 15.4%
The Ryzza Mae Show (GMA-7) - 12.6%
Ang Lihim ni Annasandra (GMA-7) - 12%
May Queen (GMA-7) - 11.1%
Be Careful With My Heart (ABS-CBN) – 10.9%
Ang Lihim ni Annasandra (GMA-7) - 10.8%
Dragon Ball Z Kai (GMA-7) – 10.7%
It's Showtime (ABS-CBN) – 10.5%
PRIMETIME:
Strawberry Lane (GMA-7) – 22.6%
24 Oras (GMA-7) - 22.2%
Forevermore (ABS-CBN) - 21.8%
Hiram na Alaala (GMA-7) - 20.1%
Two Wives (ABS-CBN) - 19.8%
TV Patrol (ABS-CBN) – 18.8%
Hawak-Kamay (ABS-CBN) – 17.9%
Pure Love (ABS-CBN) – 15.5%
Coffee Prince(GMA-7) - 15.3%
Bet ng Bayan (GMA-7) – 14.7%
November 8, 2014 (Saturday)
DAYTIME:
Eat Bulaga! (GMA-7) – 18%
24 Oras Weekend (GMA-7) – 16%
Imbestigador (GMA-7) – 15.1%
TV Patrol Weekend (ABS-CBN) – 12.2%
True Horror Stories (GMA-7) - 11.3%
Angry Birds Toons (GMA-7) - 10%
Del Monte Kitchenomics (GMA-7) - 9.9%
SOCO (ABS-CBN) – 9.8%
Ipaglaban Mo (ABS-CBN) – 9.7%
It's Showtime (ABS-CBN) – 9.6%
PRIMETIME:
The Voice of the Philippines (ABS-CBN) – 24.2%
Pepito Manaloto: Ang Tunay na Kuwento (GMA-7) – 22.7%
Marian (GMA-7) - 22.2%
MMK: Ang Tahanan Mo (ABS-CBN) – 21.7%
Magpakailanman (GMA-7) – 21.3%
Celebrity Bluff (GMA-7) – 20.7%
Home Sweetie Home (ABS-CBN) – 14.4%
Mga Kwento ni Marc Logan (ABS-CBN) – 13.6%
Pagbangon (GMA-7) – 20.7%
I Do (ABS-CBN) – 13.2%
November 9, 2014 (Sunday)
DAYTIME:
Kapuso Movie Festival (GMA-7) – 12.2%
24 Oras Weekend (GMA-7) / TV Patrol Weekend (ABS-CBN) - 11.7%
GMA Blockbusters (GMA-7)– 11.5%
Kapamilya Blockbusters (ABS-CBN) / ASAP (ABS-CBN) – 9.7%
Sunday All Stars (GMA-7) – 9.5%
Superhero Sunday (GMA-7) - 9%
Del Monte Kitchenomics (GMA-7) - 8.9%
The Buzz (ABS-CBN) - 8.5%
Born to be Wild (GMA-7) / Matanglawin(ABS-CBN) – 7.3%
Tom & Jerry Kids Show (GMA-7) / Luv U(ABS-CBN)– 7.1%
PRIMETIME:
The Voice of the Philippines (ABS-CBN) – 23.8%
Kapuso Mo, Jessica Soho (GMA-7) - 23%
Gandang Gabi Vice (ABS-CBN) – 20.5%
Ismol Family (GMA-7) – 18.9%
Rated K: Handa Na Ba Kayo? (ABS-CBN) – 17.5%
Vampire Ang Daddy Ko (GMA-7) – 16.7%
Wansapanataym (ABS-CBN) – 15%
Goin' Bulilit (ABS-CBN) – 12.1%
Bet ng Bayan (GMA-7) - 10.9%
PBA 2015 Philippine Cup Game 2: Barangay Ginebra vs Purefoods(TV5) - 9.5%


Source: AGB Nielsen Philippines