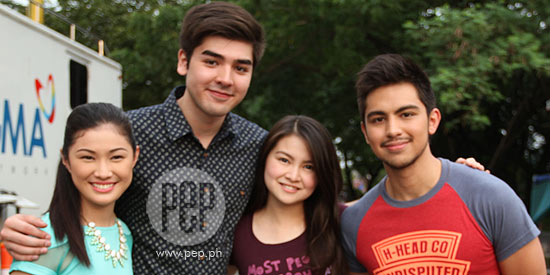 ---
ABS-CBN continues to fight GMA-7 for TV domination. This is according to the latest ratings data from AGB Nielsen Philippines from Mega Manila households from December 8 to 14, 2014.
GMA-7's shows placed first on the top ten list of most-watched shows daily, but ABS-CBN's primetime programs are dominating over-all.
GMA-7's The Half Sisters is still the top-rater on weekday primetime, because it is still getting enviable primetime-worthy ratings. The afternoon drama series stars Barbie Forteza and Thea Tolentino as feuding siblings.
The Kapuso primetime newscast 24 Oras is the leader on weekday primetime. It placed first from December 8-11 (Monday to Thursday).
On December 12, Friday, the winner was ABS-CBN's Dream Dad, a light-hearted family drama that stars Zanjoe Marudo and child actress Jana Agoncillo.
Other Kapamilya primetime shows Forevermore and Two Wives also perform better than their counterparts, Strawberry Lane and Hiram na Alaala.
But there are still Kapuso primetime shows are outperforming Kapamilya shows: Coffee Prince, Bet ng Bayan and Empress Ki are getting better ratings than Bagito, Aquino & Abunda Tonight and the new Korean drama Faith.
GMA-7 is also the weekend winner with its shows Eat Bulaga!, 24 Oras Weekend, Magpakailanman and Kapuso Mo, Jessica Soho.
Magpakailanman's December 13 episode featured Sunshine Dizon as a Filipina mother who faced the tsunami tragedy in Japan. It received 25% against Maalaala Mo Kaya's 17.2%.
Here is the comparative rating performance of GMA-7, ABS-CBN and TV5 programs from December 8 to 14, 2014 derived from AGB Nielsen Philippines from Mega Manila households:
-----
December 8, 2014 (Monday)
ADVERTISEMENT - CONTINUE READING BELOW
Morning:
Power House Replay (GMA-7) 1.7%; Matanglawin Replay (ABS-CBN) 1.3%
Unang Hirit! (GMA-7) 11.6%; Umagang Kay Ganda (ABS-CBN) 6.4%; Aksyon sa Umaga (TV5) 1.2%; Mickey Mouse Clubhouse (TV5) 2.5%
Doraemon (GMA-7) 12.7%; Ghost Fighter (GMA-7) 11.9%; GMA Christmas Cartoon Festival Presents (GMA-7) 11.3%; Shaman King (GMA-7) 9.9%; Kris TV (ABS-CBN) 7.1%; Handy Manny (TV5) 3.9%; Lloyd in Space (TV5) 4.6%; The Replacements (TV5) 4.8%
Bleach (GMA-7) 9.6%; Spongebob Squarepants (ABS-CBN) 8.5%; Johnny Bravo (TV5) 3.6%
One Piece (GMA-7) 10.4%;Princess Sarah (ABS-CBN) 9.6%; Ben 10 Ultimate Alien (TV5) 3.1%
Hunter X Hunter (GMA-7) 11.4%; Adventures of Tom Sawyer (ABS-CBN) 9.3%
Basta Everyday Happy (GMA-7) 7.5%; Komiks: Da Adventures of Pedro Penduko (ABS-CBN) 10.7%; Infinity Nado (TV5) 3%
Don't Lose the Money (GMA-7) 10.3%; The Singing Bee (ABS-CBN) 12.8%; Movie Max 5: The Even Stevens Movie (TV5) 4.3%
The Ryzza Mae Show (GMA-7) 16.8%; Give Love on Christmas: The Gift Giver (ABS-CBN) 12.3%
Afternoon:
Eat Bulaga! (GMA-7) 23.5%; It's Showtime (ABS-CBN) 14.3%; Aksyon sa Tanghali (TV5) 3.4%; T3 Enforced (TV5) 4.1%; Movie Max 5: Cerberus (TV5) 4.5%
The Half Sisters (GMA-7) 24.9%;Yagit (GMA-7) 20.1%; Ang Lihim ni Annasandra (GMA-7) 16.5%; Kapamilya Blockbusters: Killers (ABS-CBN) 11.8%; Marvel Hulk and the Agents of Smash (TV5) 3%; X-Men (TV5) 2.9%
Alisto! (GMA-7) 16.1%; Bistado (ABS-CBN) 9.2%; Movie Max 5: Fire Serpent (TV5) 4.9%
May Queen (GMA-7) 16.5%; Bet On Your Baby (ABS-CBN) 11.2%
Evening:
Coffee Prince (GMA-7) 20.3%; Bagito (ABS-CBN) 17%; Aksyon (TV5) 5.1%
24 Oras (GMA-7) 31.7%; TV Patrol (ABS-CBN) 23.8%; Movie Max 5: Funny People (TV5) 3.9%
More Than Words (GMA-7) 22.5%; Dream Dad (ABS-CBN) 24%
Strawberry Lane (GMA-7) 21.2%; Forevermore (ABS-CBN) 22.8%; Wattpad Presents: Just For a While (TV5) 2.4%
Hiram na Alaala (GMA-7) 16.8%; Two Wives (ABS-CBN) 19.6%; Confessions of a Torpe (TV5) 1.5%
Bet ng Bayan (GMA-7) 15.8%;Aquino & Abunda Tonight (ABS-CBN) 12.2%; Aksyon Tonite (TV5) 2.1%
Empress Ki (GMA-7) 15.8%; Faith (ABS-CBN) 7.2%; Reaksyon (TV5) 1.6%; Demolition Job (TV5) 1.7%
ADVERTISEMENT - CONTINUE READING BELOW
Saksi (GMA-7) 10.5%; Bandila (ABS-CBN) 4.4%; T3 Enforced Replay (TV5) .8%
Front Row (GMA-7) 6%; Mukha (ABS-CBN) 2.6%; Shop Japan (TV5) .2%
The Tim Yap Show (GMA-7) 2.8%; O Shopping (ABS-CBN) .8%
----
December 9, 2014 (Tuesday)
Morning:
I-Witness Replay (GMA-7) 1.8%; Red Alert Replay (ABS-CBN) 1.6%
Unang Hirit! (GMA-7) 9.9%; Umagang Kay Ganda (ABS-CBN) 6.4%; Aksyon sa Umaga (TV5) 1.3%; Mickey Mouse Clubhouse (TV5) 2.9%
Doraemon (GMA-7) 11.9%; Ghost Fighter (GMA-7) 11.9%; GMA Christmas Cartoon Festival Presents (GMA-7) 13.5%; Shaman King (GMA-7) 12.9%; Kris TV (ABS-CBN) 8.6%; Handy Manny (TV5) 5%; Lloyd in Space (TV5) 6.1%; The Replacements (TV5) 6.9%
Bleach (GMA-7) 12.8%;Spongebob Squarepants (ABS-CBN) 9.5%; Johnny Bravo (TV5) 5.3%
One Piece (GMA-7) 12.6%;Princess Sarah (ABS-CBN) 11.8%; Ben 10 Ultimate Alien (TV5) 4.2%
Hunter X Hunter (GMA-7) 13.4%; Adventures of Tom Sawyer (ABS-CBN) 10.8%
Basta Everyday Happy (GMA-7) 9.5%; Komiks: Da Adventures of Pedro Penduko (ABS-CBN) 11.4%; Infinity Nado (TV5) 3.8%
Don't Lose the Money (GMA-7) 11.7%; The Singing Bee (ABS-CBN) 14.1%; Movie Max 5: The Proud Family Movie (TV5) 5%
The Ryzza Mae Show (GMA-7) 17.5%; Give Love on Christmas: The Gift Giver (ABS-CBN) 12.7%
Afternoon:
Eat Bulaga (GMA-7) 23.7%; It's Showtime (ABS-CBN) 13.4%; Aksyon sa Tanghali (TV5) 2.8%; T3 Enforced (TV5) 2.1%; Movie Max 5: Welcome Home Roscoe Jenkins (TV5) 3.3%
The Half Sisters (GMA-7) 24.5%; Yagit (GMA-7) 19%; Ang Lihim ni Annasandra (GMA-7) 16.6%; Kapamilya Blockbusters: Who's That Girl (ABS-CBN) 12.5%; Marvel Hulk and the Agents of Smash (TV5) 2.9%; X-Men (TV5) 2.5%
Tunay na Buhay (GMA-7) 17.3%; Mutya ng Masa (ABS-CBN) 7.9%; PBA 2015 Philippine Cup Game 1: Blackwater Elite vs San Miguel Beermen (TV5) 3.3%
May Queen (GMA-7) 18.7%; Bet On Your Baby (ABS-CBN) 11.9%
Evening:
Coffee Prince (GMA-7) 20.8%; Bagito (ABS-CBN) 17.3%
24 Oras (GMA-7) 27%; TV Patrol (ABS-CBN) 20.6%; Aksyon (TV5) 5%; PBA 2015 Philippine Cup Game 2: Global Port vs Meralco (TV5) 6%
More Than Words (GMA-7) 21.9%; Dream Dad (ABS-CBN) 22.1%
ADVERTISEMENT - CONTINUE READING BELOW
Strawberry Lane (GMA-7) 20.5%; Forevermore (ABS-CBN) 20.5%; Wattpad Presents: Just for a While (TV5) 2%
Hiram na Alaala (GMA-7) 16.9%; Two Wives (ABS-CBN) 18.7%; Confessions of a Torpe (TV5) 1.4%
Bet ng Bayan (GMA-7) 15.4%; Aquino & Abunda Tonight (ABS-CBN) 13.1%; Aksyon Tonite (TV5) 1.5%
Empress Ki (GMA-7) 14.7%; Faith (ABS-CBN) 9.3%; Reaksyon (TV5) 1.5%
Saksi (GMA-7) 9.4%; Bandila (ABS-CBN) 5.4%; Numero (TV5) 1.2%; T3 Enforced Replay (TV5) .7%
The Blue Planet (GMA-7) 5.1%; Banana Nite (ABS-CBN) 3%; Shop Japan (TV5) .1%
The Tim Yap Show (GMA-7) 1.8%;O Shopping (ABS-CBN) .8%
---
December 10, 2014 (Wednesday)
Morning:
Tunay na Buhay Replay (GMA-7) 1.6%; My Puhunan Replay (ABS-CBN) .5%
Unang Hirit! (GMA-7) 6.9%; Umagang Kay Ganda (ABS-CBN) 4.1%; Aksyon sa Umaga (TV5) 1.1%; Mickey Mouse Clubhouse (TV5) 2.7%
Doraemon (GMA-7) 7.5%; Ghost Fighter (GMA-7) 6.5%; GMA Christmas Cartoon Festival Presents (GMA-7) 7.2%; Shaman King (GMA-7) 7.1%; Kris TV (ABS-CBN) 5.5%; Handy Manny (TV5) 3%; Lloyd in Space (TV5) 3.4%; The Replacements (TV5) 3.6%
Bleach (GMA-7) 7.8%;Spongebob Squarepants (ABS-CBN) 6.2%; Johnny Bravo (TV5) 2.7%
One Piece (GMA-7) 8.1%;Princess Sarah (ABS-CBN) 8%; Ben 10 Ultimate Alien (TV5) 2%
Hunter X Hunter (GMA-7) 9%; Adventures of Tom Sawyer (ABS-CBN) 8.2%
Basta Everyday Happy (GMA-7) 7%; Komiks: Da Adventures of Pedro Penduko (ABS-CBN) 8.5%; Infinity Nado (TV5) 2%
Don't Lose the Money (GMA-7) 8.4%; The Singing Bee (ABS-CBN) 9.7%; Movie Max 5: The Suite Life Movie (TV5) 2.7%
The Ryzza Mae Show (GMA-7) 13.2%; Give Love on Christmas: The Gift Giver (ABS-CBN) 10%
Afternoon:
Eat Bulaga (GMA-7) 19.6%; It's Showtime (ABS-CBN) 10.1%; Aksyon sa Tanghali (TV5) 2.6%; T3 Enforced (TV5) 1.6%; Movie Max 5: Dance Flick (TV5) 2.4%
The Half Sisters (GMA-7) 22.1%; Yagit (GMA-7) 17.9%; Ang Lihim ni Annasandra (GMA-7) 14.4%; Kapamilya Blockbusters: The Three Musketeers (ABS-CBN) 6.1%; Marvel Hulk and the Agents of Smash (TV5) 1.7%; X-Men (TV5) 1.5%
Power House (GMA-7) 11.7%; My Puhunan (ABS-CBN) 4.1%; PBA 2015 Philippine Cup Game 1: Barako Bull vs Purefoods Star Hotshots (TV5) 3.2%
ADVERTISEMENT - CONTINUE READING BELOW
May Queen (GMA-7) 13.8%; Bet On Your Baby (ABS-CBN) 7.3%
Evening:
Coffee Prince (GMA-7) 16.7%; Bagito (ABS-CBN) 13.7%; Aksyon (TV5) 3.1%
24 Oras (GMA-7) 23.4%; TV Patrol (ABS-CBN) 19.2%; Movie Max 5: Tropic Thunder (TV5) 5.6%
More Than Words (GMA-7) 21.6%; Dream Dad (ABS-CBN) 21.6%
Strawberry Lane (GMA-7) 21.8%; Forevermore (ABS-CBN) 23%; Wattpad Presents: Just for a While (TV5) 1.8%
Hiram na Alaala (GMA-7) 17.5%; Two Wives (ABS-CBN) 20.8%; Confessions of a Torpe (TV5) 1.8%
Bet ng Bayan (GMA-7) 16.1%; Aquino & Abunda Tonight (ABS-CBN) 14.9%; Aksyon Tonite (TV5) 1.3%
Empress Ki (GMA-7) 16.2%; Faith (ABS-CBN) 10.2%; Reaksyon (TV5) .9%
Saksi (GMA-7) 10.5%; Bandila (ABS-CBN) 5.3%;History with Lourd (TV5) 1.1%; T3 Enforced Replay (TV5) 1%
Frozen Planet (GMA-7) 6.5%; Banana Nite (ABS-CBN) 3.4%; Shop Japan (TV5) .3%
The Tim Yap Show (GMA-7) 2.7%; O Shopping (ABS-CBN) .9%
---
December 11, 2014 (Thursday)
Morning:
Born To Be Wild Replay (GMA-7) .9%; Tapatan Ni Tunying Replay (ABS-CBN) .9%
Unang Hirit! (GMA-7) 5%; Umagang Kay Ganda (ABS-CBN) 3.7%; Aksyon sa Umaga (TV5) .7%; Mickey Mouse Clubhouse (TV5) 1.8%
Doraemon (GMA-7) 6.1%; Ghost Fighter (GMA-7) 5.9%; GMA Christmas Cartoon Festival Presents (GMA-7) 7.2%; Shaman King (GMA-7) 8.5%; Kris TV (ABS-CBN) 5.2%; Handy Manny (TV5) 2.7%; Lloyd in Space (TV5) 3%; The Replacements (TV5) 2.4%
Bleach (GMA-7) 7.9%;Spongebob Squarepants (ABS-CBN) 6.3%; Johnny Bravo (TV5) 1.6%
One Piece (GMA-7) 8%;Princess Sarah (ABS-CBN) 7.3%; Ben 10 Ultimate Alien (TV5) 1.2%
Hunter X Hunter (GMA-7) 8.5%; Adventures of Tom Sawyer (ABS-CBN) 8.2%
Basta Everyday Happy (GMA-7) 6.2%; Komiks: Da Adventures of Pedro Penduko (ABS-CBN) 8.7%; Infinity Nado (TV5) 1.4%
Don't Lose the Money (GMA-7) 8.7%; The Singing Bee (ABS-CBN) 10.8%; Movie Max 5: Open Season (TV5) 2%
The Ryzza Mae Show (GMA-7) 12.9%; Give Love on Christmas: The Gift Giver (ABS-CBN) 10.9%
Afternoon:
Eat Bulaga! (GMA-7) 20.3%; It's Showtime (ABS-CBN) 9.1%; Aksyon sa Tanghali (TV5) 1.9%; T3 Enforced (TV5) 2.1%; Movie Max 5: Meet the Parents (TV5) 2.3%
ADVERTISEMENT - CONTINUE READING BELOW
The Half Sisters (GMA-7) 23.3%; Yagit (GMA-7) 17.6%; Ang Lihim ni Annasandra (GMA-7) 14.1%; Kapamilya Blockbusters: Bandidas (ABS-CBN) 7.1%; Marvel Hulk and the Agents of Smash (TV5) 1.4%; X-Men (TV5) 1.6%
Reporter's Notebook (GMA-7) 11.9%; Tapatan Ni Tunying (ABS-CBN) 4%; PBA 2015 Philippine Cup Game 1: Alaska vs NLEX (TV5) 3.1%
May Queen (GMA-7) 14.4%; Bet On Your Baby (ABS-CBN) 6.5%
Evening:
Coffee Prince (GMA-7) 17.7%; Bagito (ABS-CBN) 12.6%; Aksyon (TV5) 4%
24 Oras (GMA-7) 23.3%; TV Patrol (ABS-CBN) 17.7%; PBA 2015 Philippine Cup Game 2: Meralco vs Purefoods Star Hotshots (TV5) 7.2%
More Than Words (GMA-7) 21.1%; Dream Dad (ABS-CBN) 21.3%
Strawberry Lane (GMA-7) 21.6%; Forevermore (ABS-CBN) 22%; Wattpad Presents: Just for a While (TV5) 1.8%
Hiram na Alaala (GMA-7) 17.9%; Two Wives (ABS-CBN) 20.5%; Confessions of a Torpe (TV5) .9%
Bet ng Bayan (GMA-7) 15.4%; Aquino & Abunda Tonight (ABS-CBN) 14.2%; Aksyon Tonite (TV5) 1.1%
Empress Ki (GMA-7) 15.4%; Faith (ABS-CBN) 9.1%; Reaksyon (TV5) .6%; Unang Tikim (TV5) .7%
Saksi (GMA-7) 8.5%; Bandila (ABS-CBN) 4.9%; T3 Enforced Replay (TV5) .6%
Frozen Planet (GMA-7) 5.1%; Banana Nite (ABS-CBN) 3%; Shop Japan (TV5) .2%
The Tim Yap Show (GMA-7) 2.2%; O Shopping (ABS-CBN) .8%
--
December 12, 2014 (Friday)
Morning:
Alisto! Replay (GMA-7) 1.1%; Mga Kwento ni Marc Logan Replay (ABS-CBN) .8%
Unang Hirit! (GMA-7) 5%; Umagang Kay Ganda (ABS-CBN) 3.2%; Aksyon sa Umaga (TV5) .8%; Mickey Mouse Clubhouse (TV5) 2.7%
Doraemon (GMA-7) 7.2%; Ghost Fighter (GMA-7) 7.3%; GMA Christmas Cartoon Festival Presents (GMA-7) 7.9%; Shaman King (GMA-7) 8.4%; Kris TV (ABS-CBN) 4.8%; Handy Manny (TV5) 3.1%; Lloyd in Space (TV5) 4%; The Replacements (TV5) 3.9%
Bleach (GMA-7) 8.2%;Spongebob Squarepants (ABS-CBN) 6.8%; Johnny Bravo (TV5) 2.3%
One Piece (GMA-7) 7.9%;Princess Sarah (ABS-CBN) 8.6%; Ben 10 Ultimate Alien (TV5) 2%
Hunter X Hunter (GMA-7) 8.9%; Adventures of Tom Sawyer (ABS-CBN) 7.1%; Infinity Nado (TV5) 2.3%
Basta Everyday Happy (GMA-7) 6.8%; Komiks: Da Adventures of Pedro Penduko (ABS-CBN) 6.9%
Don't Lose the Money (GMA-7) 9.4%; The Singing Bee (ABS-CBN) 10.8%; Movie Max 5: Open Season 2(TV5) 2.8%
ADVERTISEMENT - CONTINUE READING BELOW
The Ryzza Mae Show (GMA-7) 14.1%; Give Love on Christmas: The Gift Giver (ABS-CBN) 12.1%
Afternoon:
Eat Bulaga! (GMA-7) 19.2%; It's Showtime (ABS-CBN) 10%; Aksyon sa Tanghali(TV5) 2.2%; T3 Enforced (TV5) 2.4%; Movie Max 5:Meet the Fockers (TV5) 2.4%
The Half Sisters (GMA-7) 20.7%; Yagit (GMA-7) 15.5%; Ang Lihim ni Annasandra (GMA-7) 12.6%;Kapamilya Blockbusters: Eclipse (ABS-CBN) 6.2%; Marvel Hulk and the Agents of Smash (TV5) 1.8%; X-Men (TV5) 1.7%; PBA 2015 Philippine Cup Game 1: Barako Bull vs Talk n Text(TV5) 2.5%
Love Hotline (GMA-7) 9.8%; Red Alert (ABS-CBN) 4.2%
May Queen (GMA-7) 12.1%; Bet On Your Baby (ABS-CBN) 6.8%
Evening:
Coffee Prince (GMA-7) 16.4%; Bagito (ABS-CBN) 12.5%; Aksyon (TV5) 4.6%
24 Oras (GMA-7) 20.3%; TV Patrol (ABS-CBN) 16.9%
More Than Words (GMA-7) 19.4%; Dream Dad (ABS-CBN) 21.1%; PBA 2015 Philippines Cup Game 2: Brgy Ginebra vs Global Port (TV5) 7.5%
Strawberry Lane (GMA-7) 21%; Forevermore (ABS-CBN) 21%; Wattpad Presents (TV5) 1.7%
Hiram na Alaala (GMA-7) 18.1%; Two Wives (ABS-CBN) 18.4%; Confessions of a Torpe (TV5) 1.2%;
Bet ng Bayan (GMA-7) 16.1%; Aquino & Abunda Tonight (ABS-CBN) 13.9%; Aksyon Tonite (TV5) 1.1%
Bubble Gang (GMA-7) 14.2%; Faith (ABS-CBN) 9.6%; Bandila (ABS-CBN) 5.1%; Reaksyon (TV5) 1%; Astig (TV5) .7%
Saksi (GMA-7) 7.1%; Banana Nite (ABS-CBN) 3.5%; Shop Japan (TV5) .3%
The Tim Yap Show (GMA-7) 3.8%; O Shopping (ABS-CBN) 1.4%
--
December 13, 2014 (Saturday)
Morning:
PJM Forum (GMA-7) .3%; Adyenda (GMA-7) .9%; Kapwa Ko Mahal Ko (GMA-7) 1.9%; Sa Kabukiran (ABS-CBN) .7%; Shop Japan (TV5) .1%; Family Matters (TV5) .2%
Pinoy MD (GMA-7) 3.3%; Salamat Dok (ABS-CBN) 1.5%; Stitch! (TV5) 1.2%
Puppy in My Pocket (GMA-7) 4.2%; Swak na Swak (ABS-CBN) 2.5%; Gravity Falls (TV5) 3%
Kamen Rider Ooo (GMA-7) 5.6%; Honey Watch Out! (ABS-CBN) 1%; The Emperor's New School (TV5) 3.3%
Tom & Jerry Kids Show (GMA-7) 6.3%; Math Tinik (ABS-CBN) 1.6%; The Legend of Tarzan (TV5) 4%
Angry Birds Toons (GMA-7) 6.9%; The Adventures of Jimmy Neutron ABS-CBN) 2.4%; Combo Ninos (TV5) 3.8%
ADVERTISEMENT - CONTINUE READING BELOW
Monsuno (GMA-7) 6.8%; Spongebob Squarepants (ABS-CBN) 4.9%
Tropang Potchi (GMA-7) 6.9%; Super Book (ABS-CBN) 6.6%; The Powerpuff Girls (TV5) 3.7%; Ben 10 Omniverse (TV5) 6.3%
Sarap Diva (GMA-7) 8.1%; Maynila 15 (GMA-7) 11.7%; Del Monte Kitchenomics (GMA-7) 12.9%; NBA 2014-2015: LA Clippers vs Washington Wizards (TV5) 3.3%; Ben 10 Omniverse (TV5) 6.3%; Movie Max:Sinbad of the Seven Seas (TV5) 4%
Afternoon:
Eat Bulaga! (GMA-7) 19.4%; GMA Tales of Horror (GMA-7) 11.1%; It's Showtime (ABS-CBN) 10.8%; Movie Max 5: Sinbad (TV5) 5.3%
Wish Ko Lang! (GMA-7) 11.3%; Ipaglaban Mo (ABS-CBN) 9.4%; Movie Max 5: Gone in Sixty Seconds (TV5) 4.2%; Movie Max 5: Charlie's Angels (TV5) 7%
Startalk (GMA-7) 10.9%; Failon Ngayon (ABS-CBN) 6.5%; Kuwentong Gilas (TV5) 2.4%
Imbestigador (GMA-7) 14.7%; SOCO (ABS-CBN)8.1%; Movie Max 5: Charlie's Angels: Full Throttle (TV5) 5.6%
24 Oras Weekend (GMA-7) 15.1%; TV Patrol Weekend (ABS-CBN) 9.7%
Evening:
Pepito Manaloto: Ang Tunay na Kuwento (GMA-7) 20.9%; Mga Kwento ni Marc Logan (ABS-CBN) 12.9%; Home Sweetie Home (ABS-CBN) 12.7%
Magpakailanman (GMA-7) 25%; MMK: Ang Tahanan Mo (ABS-CBN) 17.2%; Talentadong Pinoy 2014 (TV5) 5.6%
Himig ng Pasko (GMA-7) 20.3%; The Voice of the Philippines (ABS-CBN) 21.9%; Tropa Mo Ko Nice Di Ba?! (TV5) 3.3%
Celebrity Bluff (GMA-7) 20.3%; Kapamilya Magkapiling Tayo (ABS-CBN) 12.2%; Trenderas Mga Tindera Today (TV5) 2%; Kaya. (TV5) .9%
I-Witness (GMA-7) 11.4%; Walang Tulugan (GMA-7) 3.9%; Bigtime (ABS-CBN) .4%
The Bottom Line (ABS-CBN) 2.7%; Sports Unlimited (ABS-CBN) 1.5%; O Shopping (ABS-CBN) 1.1%; Shop Japan (TV5) .2%
--
December 14, 2014 (Sunday)
Daytime:
In Touch with Dr. Charles Stanley (GMA-7) .3%; Jesus The Healer (GMA-7) .9%; Shop Japan (TV5) .3%
Family TV Mass (GMA-7) 2.7%; The Healing Eucharist (ABS-CBN) 3.2%; Misa Nazareno (TV5) .7%
Grimm's Fairy Tales (GMA-7) 5%; Swak na Swak (ABS-CBN) 2.8%; Power to Unite with Elvira (TV5) .2%
Kamen Rider Ooo (GMA-7) 6.1%; Salamat Dok (ABS-CBN) 3.2%; Stitch! (TV5) 2.1%; Gravity Falls (TV5) 3.6%
Monsuno (GMA-7) 6.8%; My Giant Friend (ABS-CBN) 2.3%; The Emperor's New School (TV5) 3.7%
ADVERTISEMENT - CONTINUE READING BELOW
Aha! (GMA-7) 6.4%; Max Steel (ABS-CBN) 3.6%; Superbook (ABS-CBN) 3.6%; The Legend of Tarzan (TV5) 3.8%;The Powerpuff Girls (TV5) 4.4%
Born To Be Wild (GMA-7) 7.7%;iBilib (GMA-7) 7.9%;Matanglawin (GMA-7) 5.4%;Dexter's Laboratory (TV5) 4.3%
Superhero Sunday: Pokemon Mewtwo Saga (GMA-7) 7.9%; Kapamilya Blockbusters: Eseng ng Tondo (ABS-CBN) 9.4%; Ben 10 Omniverse (TV5) 3.6%; Movie Max 5: Beethoven's 2nd(TV5) 4.9%
Afternoon:
Kapuso Movie Festival: Beethoven's Christmas Adventure (GMA-7) 12.6%; Del Monte Kitchenomics (GMA-7) 10.2%; Sunday All Stars (ABS-CBN) 9.9%; ASAP 19 (ABS-CBN) 9.9%; Movie Max 5: To Wong Foo (TV5) 2.6%
GMA Blockbusters: Home Alone (GMA-7) 12.5%; Luv U (ABS-CBN) 6.1%; The Buzz (ABS-CBN) 6..1%; Movie Max 5: Drillbit Taylor (TV5) 3.3%
24 Oras Weekend (GMA-7) 15.3%; TV Patrol Weekend (ABS-CBN) 8.7%; PBA 2015 Philippine Cup Game 1: Alaska vs Meralco(TV5) 6.7%
Evening:
Vampire Ang Daddy Ko (GMA-7) 18.2%; Goin' Bulilit (ABS-CBN) 10%
Ismol Family (GMA-7) 21.5%; Wansapanataym (ABS-CBN) 10.7%; Who Wants to be a Millionaire (TV5) 6.9%
Kapuso Mo, Jessica Soho (GMA-7) 23.2%; Rated K: Handa Na Ba Kayo? (ABS-CBN) 15.6%; The Voice of the Philippines (ABS-CBN) 23%; Who Wants to be a Millionaire (TV5) 6.9%; Quiet Please! Bawal Ang Maingay (TV5) 3.6%
Bet ng Bayan (GMA-7) 13.8%; Sunday Night Box Office: Francis the Pope from the New World (GMA-7)6.7%; Kapamilya Magkapiling Tayo (ABS-CBN) 12.8%; Wow Mali Lakas ng Tama! (TV5) 3.9%; Wattpad Presents(TV5) 1.6%
Diyos at Bayan (GMA-7) 1.7%; O Shopping (ABS-CBN) 1.3%; Shop Japan (TV5) .6%
--
TOP TEN PROGRAMS:
December 8, 2014 (Monday)
DAYTIME:
The Half Sisters (GMA-7) – 24.9%
Eat Bulaga! (GMA-7) – 23.5%
Yagit (GMA-7) – 20.1%
The Ryzza Mae Show (GMA-7) - 16.8%
Ang Lihim ni Annasandra (GMA-7) – 16.5%
It's Showtime (ABS-CBN) – 14.3%
The Singing Bee (ABS-CBN) – 12.8%
Doraemon(GMA-7) - 12.7%
Give Love on Christmas: The Gift Giver(ABS-CBN)- 12.3%
GMA Christmas Cartoon Festival Presents (GMA-7)- 11.3%
PRIMETIME:
1. 24 Oras (GMA-7) - 31.7%
2. Dream Dad (ABS-CBN) – 24%
3. TV Patrol (ABS-CBN) – 23.8%
4. Forevermore (ABS-CBN) – 22.8%
5. More Than Words(GMA-7) – 22.5%
6. Strawberry Lane (GMA-7) – 21.2%
7. Coffee Prince(GMA-7) – 20.3%
Two Wives (ABS-CBN) – 19.6%
Bagito (ABS-CBN) – 17%
Hiram na Alaala (GMA-7) - 16.8%
December 9, 2014 (Tuesday)
DAYTIME:
The Half Sisters (GMA-7) – 24.5%
Eat Bulaga! (GMA-7) – 23.7%
Yagit (GMA-7) - 19%
May Queen (GMA-7) - 18.7%
The Ryzza Mae Show (GMA-7) – 17.5%
Tunay na Buhay(GMA-7) – 17.3%
Ang Lihim ni Annasandra (GMA-7) - 16.6%
The Singing Bee (ABS-CBN) – 14.1%
GMA Christmas Cartoon Festival Presents (GMA-7) - 13.5%
Hunter X Hunter(GMA-7) / It's Showtime (ABS-CBN) – 13.4%
PRIMETIME:
1. 24 Oras (GMA-7) - 27%
2. Dream Dad (ABS-CBN) – 22.1%
3. More Than Words(GMA-7) – 21.9%
4. Coffee Prince(GMA-7) – 20.8%
5. TV Patrol (ABS-CBN) - 20.6%
6. Strawberry Lane (GMA-7) / Forevermore(ABS-CBN) – 20.5%
7. Two Wives (ABS-CBN) – 18.7%
8. Bagito (ABS-CBN) – 17.3%
9. Hiram na Alaala (GMA-7) – 16.9%
10. Bet ng Bayan(GMA-7) - 15.4%
December 10, 2014 (Wednesday)
DAYTIME:
The Half Sisters (GMA-7) – 22.1%
Eat Bulaga! (GMA-7) – 19.6%
Yagit (GMA-7) - 17.9%
Ang Lihim ni Annasandra (GMA-7) - 14.4%
May Queen (GMA-7) - 13.8%
The Ryzza Mae Show (GMA-7) – 13.2%
Power House (GMA-7)- 11.7%
It's Showtime (ABS-CBN) - 10.1%
Give Love on Christmas: The Gift Giver(ABS-CBN)- 10%
Hunter X Hunter(GMA-7) - 9%
PRIMETIME:
1. 24 Oras (GMA-7) – 23.4%
2. Forevermore(ABS-CBN) – 23%
3. Strawberry Lane (GMA-7) – 21.8%
4. More Than Words(GMA-7) / Dream Dad (ABS-CBN) – 21.6%
5. Two Wives (ABS-CBN) - 20.8%
TV Patrol (ABS-CBN) – 19.2%
7. Hiram na Alaala (GMA-7) – 17.5%
8. Coffee Prince(GMA-7) – 16.7%
9. Empress Ki(GMA-7) – 16.2%
10. Bet ng Bayan(GMA-7) - 16.1%
December 11, 2014 (Thursday)
DAYTIME:
The Half Sisters (GMA-7) – 23.3%
Eat Bulaga! (GMA-7) – 20.3%
Yagit (GMA-7) - 17.6%
May Queen (GMA-7) - 14.4%
Ang Lihim ni Annasandra (GMA-7) - 14.1%
The Ryzza Mae Show (GMA-7) - 12.9%
Reporter's Notebook (GMA-7)– 11.9%
Give Love on Christmas: The Gift Giver(ABS-CBN)- 10.9%
The Singing Bee (ABS-CBN) – 10.8%
It's Showtime (ABS-CBN)– 9.1%
PRIMETIME:
24 Oras (GMA-7) - 23.3%
Forevermore(ABS-CBN) – 22%
Strawberry Lane (GMA-7) – 21.6%
Dream Dad (ABS-CBN)- 21.3%
More Than Words(GMA-7) – 21.1%
6. Two Wives (ABS-CBN) - 20.5%
Hiram na Alaala (GMA-7) – 17.9%
Coffee Prince(GMA-7)/ TV Patrol (ABS-CBN) – 17.7%
Bet ng Bayan(GMA-7) / Empress Ki(GMA-7) – 15.4%
Aquino & Abunda Tonight (ABS-CBN) – 14.2%
December 12, 2014 (Friday)
DAYTIME:
The Half Sisters (GMA-7) – 20.7%
Eat Bulaga! (GMA-7) – 19.2%
Yagit (GMA-7) - 15.5%
The Ryzza Mae Show (GMA-7) - 14.1%
Ang Lihim ni Annasandra (GMA-7) - 12.6%
May Queen (GMA-7) / Give Love on Christmas: The Gift Giver(ABS-CBN)- 12.1%
The Singing Bee (ABS-CBN) – 10.8%
It's Showtime (ABS-CBN) - 10%
Love Hotline (GMA-7) - 9.8%
Don't Lose the Money(GMA-7) - 9.4%
PRIMETIME:
Dream Dad (ABS-CBN) - 21.1%
Strawberry Lane (GMA-7) / Forevermore (ABS-CBN) - 21%
24 Oras (GMA-7) - 20.3%
More Than Words(GMA-7) – 19.4%
Two Wives (ABS-CBN) - 18.4%
Hiram na Alaala (GMA-7) - 18.1%
TV Patrol (ABS-CBN) – 16.9%
Coffee Prince(GMA-7) – 16.4%
Bet ng Bayan (GMA-7) – 16.1%
Bubble Gang (GMA-7) – 14.2%
December 13, 2014 (Saturday)
DAYTIME:
Eat Bulaga! (GMA-7) – 19.4%
24 Oras Weekend (GMA-7) – 15.1%
Imbestigador (GMA-7) – 14.7%
Del Monte Kitchenomics (GMA-7) - 12.9%
Maynila (GMA-7) - 11.7%
Wish Ko Lang! (GMA-7) - 11.3%
GMA Tales of Horror (GMA-7) - 11.1%
Startalk (GMA-7) / It's Showtime (ABS-CBN) - 10.9%
TV Patrol Weekend (ABS-CBN) – 9.7%
Ipaglaban Mo (ABS-CBN) - 9.4%
PRIMETIME:
Magpakailanman (GMA-7) – 25%
The Voice of the Philippines(ABS-CBN) – 21.9%
Pepito Manaloto: Ang Tunay na Kuwento (GMA-7) – 20.9%
Himig ng Pasko(GMA-7) / Celebrity Bluff (GMA-7) – 20.3%
MMK: Ang Tahanan Mo (ABS-CBN) – 17.2%
Mga Kwento ni Marc Logan(ABS-CBN) – 12.9%
Home Sweetie Home (ABS-CBN) – 12.7%
Kapamilya Magkapiling Tayo (ABS-CBN) - 12.2%
I-Witness (GMA-7) - 11.4%
Talentadong Pinoy(TV5) – 5.6%
December 14, 2014 (Sunday)
DAYTIME:
24 Oras Weekend (GMA-7) - 15.3%
Kapuso Movie Festival (GMA-7) - 12.6%
GMA Blockbusters (GMA-7) - 12.5%
Del Monte Kitchenomics (GMA-7) - 10.2%
Sunday All Stars (GMA-7) - 10%
ASAP(ABS-CBN) - 9.9%
Kapamilya Blockbusters(ABS-CBN) -9.4%
TV Patrol Weekend (ABS-CBN) -8.7%
iBilib (GMA-7) / Superhero Sunday (GMA-7) - 7.9%
Born to be Wild (GMA-7) - 7.7%
PRIMETIME:
1. Kapuso Mo, Jessica Soho (GMA-7) - 23.2%
2. The Voice Philippines(ABS-CBN) – 23%
3. Ismol Family (GMA-7) - 21.5%
Vampire Ang Daddy Ko (GMA-7) – 18.2%
Rated K: Handa Na Ba Kayo? (ABS-CBN) – 15.6%
Bet ng Bayan (GMA-7) - 13.8%
7. Kapamilya Magkapiling Tayo (ABS-CBN) - 12.8%
Wansapanataym (ABS-CBN) – 10.7%
Goin' Bulilit (ABS-CBN) – 10%
10. Who Wants to be a Millionaire (TV5) – 6.9%
Source: AGB Nielsen Philippines