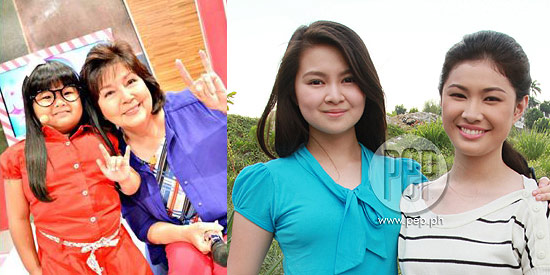 ---
GMA-7 continues to be the ratings winner despite new shows from its rival channels. This is according to the latest ratings data from AGB Nielsen Philippines from Mega Manila households from January 17 to 23, 2015.
Both ABS-CBN and TV5 added new shows in their lineup, but GMA-7's current programs still won their timeslots.
ABS-CBN added three new shows on weekday daytime: Oh My G!, Flordeliza and Nasaan Ka Nang Kailangan Kita.
Oh My G!airs before It's Showtime, as a replacement to the romance-drama anthology Give Love on Christmas. Oh My G! stars Janella Salvador as a young girl who loses her parents.
Its first episode on January 19 earned 10.8%, lower than The Ryzza Mae Show's 11.6%. The new Kapamilya show also lost to Ryzza Mae Dizon's talk show on January 20 to 23.
Both Flordeliza and Nasaan Ka Nang Kailangan Kita airs on weekday afternoons, as a replacement to Kapamilya Blockbusters.
Flordeliza is a family drama that stars Marvin Agustin, Jolina Magdangal, Desiree del Valle and child stars Ashley Sarmiento and Rhed Bustamante. It lost to GMA-7's The Half Sisters, posting only a dismal 6.5% against the Kapuso drama's 19.4%.
Nasaan Ka Nang Kailangan Kitais an afternoon drama about trust and lost love. It stars Vina Morales, Denise Laurel, Christian Vasquez, Jane Oineza and Jerome Ponce.
Its first episode only scored 5.9% against two shows in GMA-7 that it aired against: Yagit with 14.2% and Ang Lihim ni Annasandra with 11.1%.
TV5 also premiered new shows on daytime. On weekday mornings, it has Healing Galing sa TV5, Happy Wife Happy Life and Solved na Solved.
Healing Galing sa TV5 is a show about natural medicine. Its first episode scored 1.6% against the 17.1% earned by Ang People's Pope sa Pilipinas, GMA-7's coverage of the Pope visit.
Happy Wife Happy Lifeis a reality show that features the lives of several basketball wives. Its first episode scored 1.9%, against Fairy Tail's 12.1%.
ADVERTISEMENT - CONTINUE READING BELOW
Solved na Solved is a show that doles out legal advice. Its first episode had 1.8% against Slam Dunk's 11%.
TV5 also started airing the Filipino-dubbed Teen Wolf on weekday primetime. Teen Wolf is a show from the US that tells the story of high school student that becomes a werewolf.
GMA-7 is still the king of primetime with its shows 24 Oras and Empress Ki.
24 Oras is GMA-7 primetime newscast. Empress Ki is a Korean period drama that airs before Saksi. It has the highest rating on January 21, Wednesday, with 19%.
(Empress Ki also topped primetime ratings on January 22 with 21.1%. The day's winner, however, was The Half Sisters with 21.5%.)
The most-watched show on daytime was still The Half Sisters, an afternoon drama that stars Barbie Forteza and Thea Tolentino. Other Kapuso shows like Eat Bulaga! and Yagit follow The Half Sisters.
GMA-7 also dominated the weekend with the telecast of the wedding between its prime stars Dingdong Dantes and Marian Rivera. Dingdong and Marian: The Wedding Ceremony scored26.2%, the highest for the whole weekend.
Here is the comparative rating performance of GMA-7, ABS-CBN and TV5 programs from January 17-23, 2015 derived from AGB Nielsen Philippines from Mega Manila households:
---
January 17, 2015 (Saturday)
Morning:
PJM Forum (GMA-7) .4%; Adyenda (GMA-7) 1.3%; Kapwa Ko Mahal Ko (GMA-7) 2%; Sa Kabukiran (ABS-CBN) .9%; Shop Japan (TV5) .4%; Family Matters (TV5) .6%
Pinoy MD (GMA-7) 4.2%; Puppy in My Pocket (GMA-7) 4.4%;Kamen Rider Ooo (GMA-7) 5.6%; Tom & Jerry Kids Show (GMA-7) 7.6%; Angry Birds Toons (GMA-7) 8%; Ang People's Pope sa Pilipinas (GMA-7) 17%; Thank You sa Malasakit (ABS-CBN) 8.7%; Stitch! (TV5) .8%; Kim Possible (TV5) 2%; Hashtag Dear Pope Francis (TV5) 2%; Little Einsteins (TV5) 1.9%; The Powerpuff Girls (TV5) 2.5%;Hashtag Dear Pope Francis (TV5) 2.1%; Movie Max:Real Steel (TV5) 4.5%
Afternoon:
Eat Bulaga! (GMA-7) 16.1%; It's Showtime (ABS-CBN) 10.2%; Aksyon Alert (TV5) 5.9%
GMA Tales of Horror (GMA-7) 10.5%;Wish Ko Lang! (GMA-7) 10.4%; News Patrol (ABS-CBN) 11.7%; Hashtag Dear Pope Francis (TV5) 5.8%
ADVERTISEMENT - CONTINUE READING BELOW
Startalk 19 (GMA-7) 9.1%; Imbestigador (GMA-7) 12%; 24 Oras Weekend (GMA-7) 15.5%; Thank You sa Malasakit (ABS-CBN) 8.9%; Pastol sa Panahon ng Pagbabago (TV5) 2.2%; Movie Max 5: Kindergarten Cop (TV5) 4.7%; Hashtag Dear Pope Francis (TV5) 2.1%
Evening:
Pepito Manaloto: Ang Tunay na Kuwento (GMA-7) 21.1%; Mga Kwento ni Marc Logan (ABS-CBN) 13.5%; Home Sweetie Home (ABS-CBN) 12.2%; Hashtag Dear Pope Francis (TV5) 4.9%; Tropa Mo Ko Nice Di Ba?! (TV5) 4.1%
Magpakailanman (GMA-7) 25.8%; MMK: Ang Tahanan Mo (ABS-CBN) 17.1%; Hashtag Dear Pope Francis (TV5) 3.6%; Iskul Bukol Eskwelang-Kwela 'To (TV5) 3.6%
Dingdong and Marian: The Wedding Ceremony (GMA-7) 26.2%; The Voice of the Philippines (ABS-CBN) 16.9%; Everybody Hapi (TV5) 3.9%; Kaya. (TV5) .9%
Celebrity Bluff (GMA-7) 18.5%; Banana Split Extra Scoop (TV5) 8.8%;History with Lourd (TV5) .7%
I-Witness (GMA-7) 9.8%; The Bottom Line (ABS-CBN) 3.9%; Bigtime (TV5) .3%
Walang Tulugan (GMA-7) 3.5%; Sports Unlimited (ABS-CBN) 1.8%; O Shopping (ABS-CBN) .4%; Shop Japan (TV5) 0%
--
January 18, 2015 (Sunday)
Daytime:
In Touch with Dr. Charles Stanley (GMA-7) .3%; Jesus The Healer (GMA-7) .9%; Shop Japan (TV5) .3%
Kapuso Sine Klasika: Ang Hiwaga ng Ibong Adarna (GMA-7) 3.5%; The Healing Eucharist (ABS-CBN) 4.3%; Family Matters (TV5) .3%
Tom & Jerry Kids Show (GMA-7) 4.5%; Monsuno (GMA-7) 5.3%; Swak na Swak (ABS-CBN) 5.1%; Hashtag Dear Pope Francis (TV5) 2.6%
Aha! (GMA-7) 7.4%; Born To Be Wild (GMA-7) 9.4%;Ang People's Pope sa Pilipinas (GMA-7) 18.5%; Thank You sa Malasakit (ABS-CBN) 9.2%
Afternoon:
Kapuso Movie Festival: Beethoven's 4th (GMA-7) 20.1%; ASAP 20 (ABS-CBN) 8.4%; Pastol sa Panahon ng Pagbabago (TV5) 3%
Ang People's Pope sa Pilipinas (GMA-7) 22.1%; 24 Oras Weekend (GMA-7) 23.9%; Thank You sa Malasakit (ABS-CBN) 12%; Hashtag Dear Pope Francis (TV5) 2.7%
Evening:
Vampire Ang Daddy Ko (GMA-7) 23.6%; Goin' Bulilit (ABS-CBN) 12.6%; Kaya. (TV5) 4.7%
Ismol Family (GMA-7) 25.5%; Wansapanataym (ABS-CBN) 13.4%; PBA 2015 Philippine Cup Finals Game 6 Alaska vs San Miguel Beermen (TV5) 10.2%
Kapuso Mo, Jessica Soho (GMA-7) 20.4%; Rated K: Handa Na Ba Kayo? (ABS-CBN) 15.4%; The Voice of the Philippines (ABS-CBN) 17%; Wow Mali Lakas ng Tama (TV5) 4.5%
MP Featuring Sport Science (GMA-7) 8.2%; Gandang Gabi Vice (ABS-CBN) 15.5%; Wattpad Presents (TV5) 1.9%
Mentalisn't (GMA-7) 6.6%; Sunday's Best: Ako at Santo Papa (ABS-CBN) 4.2%
ADVERTISEMENT - CONTINUE READING BELOW
Diyos at Bayan (GMA-7) 1.3%; O Shopping (ABS-CBN) .9%; Shop Japan (TV5) .4%
---
January 19, 2015 (Monday)
Morning:
Power House Replay (GMA-7) .8%; Matanglawin Replay (ABS-CBN) .5%
Unang Hirit! (GMA-7) 7.3%; Umagang Kay Ganda (ABS-CBN) 4.7%; Aksyon sa Umaga (TV5) 1.2%; Sofia the First (TV5) 1.7%; Sofia the First (TV5) 2.7%; Henry the Huggle Monster (TV5) 3.7%; Aksyon sa Umaga (TV5) 3.2%
Ang People's Pope sa Pilipinas (GMA-7) 17.1%; Thank You sa Malasakit (ABS-CBN) 10%; Hashtag Dear Pope Francis (TV5) 2.7%; Healing Galing sa TV5 (TV5) 1.6%
Fairy Tail (GMA-7) 12.1%; Hunter X Hunter (GMA-7) 11.2%; Komiks: Da Adventures of Pedro Penduko (ABS-CBN) 6.7%; Happy Wife Happy Life (TV5) 1.9%
Slam Dunk (GMA-7) 11%; The Singing Bee (ABS-CBN) 8.7%; Solved na Solved (TV5) 1.8%
The Ryzza Mae Show (GMA-7) 11.6%; Oh My G! (ABS-CBN) 10.8%; Aksyon sa Tanghali (TV5) 2.4%
Afternoon:
Eat Bulaga! (GMA-7) 16.6%; It's Showtime (ABS-CBN) 10.6%; T3 Enforced (TV5) 2.6%; Movie Max 5: The Wizard (TV5) 4.3%
The Half Sisters (GMA-7) 19.4%; Flordeliza (ABS-CBN) 6.5%; Movie Max 5: Ogre (TV5) 4.9%
Yagit (GMA-7) 14.2%; Ang Lihim ni Annasandra (GMA-7) 11.1%; Nasaan Ka Nang Kailangan Kita (ABS-CBN) 5.9%
Alisto! (GMA-7) 8.5%; Bistado (ABS-CBN) 4.2%; Movie Max 5: Sudden Death (TV5) 5.2%
My Name is Kim Sam Soon (GMA-7) 8.8%; Bet On Your Baby (ABS-CBN) 4.6%
Evening:
Prime Minister and I (GMA-7) 14.7%;Bagito (ABS-CBN) 8.3%; Aksyon (TV5) 4.6%
24 Oras (GMA-7) 23.2%; TV Patrol (ABS-CBN) 16.4%; Movie Max 5: Last Man Standing (TV5) 6.5%
More Than Words (GMA-7) 20.6%; Dream Dad (ABS-CBN) 20.3%
Once Upon a Kiss (GMA-7) 20.2%; Forevermore (ABS-CBN) 20.2%; Wattpad Presents (TV5) 3.7%; Teen Wolf (TV5) 4.7%
Second Chances (GMA-7) 17.1%; Two Wives (ABS-CBN) 17.2%; Aksyon Tonite (TV5) 1.4%
Empress Ki (GMA-7) 19.3%;Aquino & Abunda Tonight (ABS-CBN) 11.2%; Faith (ABS-CBN) 6.9%; T3 Enforced Replay (TV5) 1.2%
Saksi (GMA-7) 11%; Bandila (ABS-CBN) 4.5%; Demolition Job (TV5) .8%; Shop Japan (TV5) .1%
Front Row (GMA-7) 5.5%; The Tim Yap Show (GMA-7) 2.4%; Mukha (ABS-CBN) 2.6%; O Shopping (ABS-CBN) .9%
----
January 20, 2015 (Tuesday)
Morning:
I-Witness Replay (GMA-7) 1.5%; Red Alert Replay (ABS-CBN) .3%
Unang Hirit! (GMA-7) 5.2%; Umagang Kay Ganda (ABS-CBN) 3.3%; Aksyon sa Umaga (TV5) .7%; Sofia the First (TV5) .9%; Sofia the First (TV5) 2.1%
Dragon Ball (GMA-7) 5%; Pokemon (GMA-7) 6.3%; One Piece (GMA-7) 7.9%;Kris TV (ABS-CBN) 4.7%; Henry the Huggle Monster (TV5) 3.3%; Phineas and Ferb (TV5) 3.6%; Hi-5 (TV5) 2.9%
ADVERTISEMENT - CONTINUE READING BELOW
Detective Conan (GMA-7) 8.6%; Spongebob Squarepants (ABS-CBN) 5.1%; Infinity Nado (TV5) 1.3%
Bleach (GMA-7) 8.9%; A Dog of Flanders (ABS-CBN) 4.8%; Rockman Exe Axess (TV5) 1.8%
Ghost Fighter (GMA-7) 9.6%; Adventures of Tom Sawyer (ABS-CBN) 5%
Fairytail (GMA-7) 10.1%; Komiks: Da Adventures of Pedro Penduko (ABS-CBN) 5%; Healing Galing sa TV5 (TV5) .8%
Hunter X Hunter (GMA-7) 11.4%; Slam Dunk (GMA-7) 9.9%; The Singing Bee (ABS-CBN) 7%; Happy Wife Happy Life (TV5) 1%
The Ryzza Mae Show (GMA-7) 11.4%; Oh My G! (ABS-CBN) 9.5%; Solved na Solved (TV5) 1%
Afternoon:
Eat Bulaga! (GMA-7) 17.8%; It's Showtime (ABS-CBN) 8.7%; Aksyon sa Tanghali (TV5) 1.3%; T3 Enforced (TV5) 2.2%; Movie Max 5: King Ralph (TV5) 3.4%
The Half Sisters (GMA-7) 19.9%; Flordeliza (ABS-CBN) 5.8%;Movie Max 5: Dinocroc vs Supergator (TV5) 4.3%
Yagit (GMA-7) 15%; Ang Lihim ni Annasandra (GMA-7) 12.1%; Nasaan Ka Nang Kailangan Kita (ABS-CBN) 5.4%
Tunay na Buhay (GMA-7) 10.1%; Mutya ng Masa (ABS-CBN) 4.4%; Movie Max 5: Death Warrant (TV5) 5.7%
My Name is Kim Sam Soon (GMA-7) 11.3%; Bet On Your Baby (ABS-CBN) 5.8%
Evening:
Prime Minister and I (GMA-7) 16.6%; Bagito (ABS-CBN) 9.8%; Aksyon (TV5) 4.3%
24 Oras (GMA-7) 21.9%; TV Patrol (ABS-CBN) 17.2%; Movie Max 5: Men in Black 3 (TV5) 7.9%
More Than Words (GMA-7) 20.2%; Dream Dad (ABS-CBN) 20.1%
Once Upon a Kiss (GMA-7) 20%; Forevermore (ABS-CBN) 20.5%; Wattpad Presents (TV5) 3.9%
Second Chances (GMA-7) 17%; Two Wives (ABS-CBN) 16.9%; Teen Wolf (TV5) 5.4%
Empress Ki (GMA-7) 19%;Aquino & Abunda Tonight (ABS-CBN) 10.3%; Faith (ABS-CBN) 7.8%;Aksyon Tonite (TV5) 2.3%; Reaksyon (TV5) 1.1%
Saksi (GMA-7) 9.4%;Bandila (ABS-CBN) 4.3%; T3 Enforced Replay (TV5) .4%; Numero (TV5) .2%; Shop Japan (TV5) .2%
The Blue Planet (GMA-7) 5.8%; Banana Nite (ABS-CBN) 2.3%; Shop Japan (TV5) .1%
The Tim Yap Show (GMA-7) 3.1%; O Shopping (ABS-CBN) .9%
---
January 21, 2015 (Wednesday)
Morning:
Tunay na Buhay Replay (GMA-7) 1.2%; My Puhunan Replay (ABS-CBN) .5%
Unang Hirit! (GMA-7) 4.3%; Umagang Kay Ganda (ABS-CBN) 2.4%; Aksyon sa Umaga (TV5) .5%; Sofia the First (TV5) 1.4%; Sofia the First (TV5) 2.1%
Dragon Ball (GMA-7) 4.6%; Pokemon (GMA-7) 6.7%; One Piece (GMA-7) 7.6%;Kris TV (ABS-CBN) 4.3%; Henry the Huggle Monster (TV5) 1.9%; Phineas and Ferb (TV5) 2.2%; Hi-5 (TV5) 1.7%
Detective Conan (GMA-7) 8.5%; Bleach (GMA-7) 8.6%;Spongebob Squarepants (ABS-CBN) 4%; Infinity Nado (TV5) .9%
Ghost Fighter (GMA-7) 9.9%; A Dog of Flanders (ABS-CBN) 4.6%; Adventures of Tom Sawyer (ABS-CBN) 5.3%; Rockman Exe Axess (TV5) 1.2%
ADVERTISEMENT - CONTINUE READING BELOW
Fairytail (GMA-7) 10.9%; Komiks: Da Adventures of Pedro Penduko (ABS-CBN) 5.4%; Healing Galing sa TV5 (TV5) .6%
Hunter X Hunter (GMA-7) 10%; Slam Dunk (GMA-7) 9.9%; The Singing Bee (ABS-CBN) 8.5%; Happy Wife Happy Life (TV5) 1.2%
The Ryzza Mae Show (GMA-7) 11.2%; Oh My G! (ABS-CBN) 9.8%; Solved na Solved (TV5) 1.5%
Afternoon:
Eat Bulaga! (GMA-7) 15.9%; It's Showtime (ABS-CBN) 9.6%; Aksyon sa Tanghali (TV5) 1.8%; T3 Enforced (TV5) 2.6%; Movie Max 5: Into the Blue 2 (TV5) 4.8%
The Half Sisters (GMA-7) 18.8%; Flordeliza (ABS-CBN) 4.9%; Movie Max 5: Triassic Attack (TV5) 6.1%
Yagit (GMA-7) 12.8%; Ang Lihim ni Annasandra (GMA-7) 11.3%; Nasaan Ka Nang Kailangan Kita (ABS-CBN) 4.5%
Power House (GMA-7) 9.2%; My Puhunan (ABS-CBN) 4.2%; Movie Max 5: Cyborg (TV5) 4.8%
My Name is Kim Sam Soon (GMA-7) 11.2%; Bet On Your Baby (ABS-CBN) 5.4%
Evening:
Prime Minister and I (GMA-7) 17.3%; Bagito (ABS-CBN) 8.6%; Aksyon (TV5) 5.6%
24 Oras (GMA-7) 18.9%; TV Patrol (ABS-CBN) 13.5%; PBA 2015 Philippine Cup Finals: Finals Game 4 Alaska vs San Miguel Beermen (TV5) 15.7%
More Than Words (GMA-7) 18.6%; Dream Dad (ABS-CBN) 15.7%
Once Upon a Kiss (GMA-7) 17.1%; Forevermore (ABS-CBN) 15.8%
Second Chances (GMA-7) 15%; Two Wives (ABS-CBN) 13.7%
Empress Ki (GMA-7) 19%;Aquino & Abunda Tonight (ABS-CBN) 11.5%; Faith (ABS-CBN) 7.1%; Wattpad Presents (TV5) 3.3%; Teen Wolf (TV5) 3.4%
Saksi (GMA-7) 11%; Frozen Planet (GMA-7) 6%; Bandila (ABS-CBN) 3.5%; Aksyon Tonite (TV5) 1%; Reaksyon (TV5) .5%; History with Lourd (TV5) .5%; Shop Japan (TV5) .1%
The Tim Yap Show (GMA-7) 3.4%; Banana Nite (ABS-CBN) 2%; O Shopping (ABS-CBN) .8%
---
January 22, 2015 (Thursday)
Morning:
Born to be Wild Replay (GMA-7) 1.1%; TNT Replay (ABS-CBN) .5%
Unang Hirit! (GMA-7) 4.4%; Umagang Kay Ganda (ABS-CBN) 2.8%; Aksyon sa Umaga (TV5) .7%; Sofia the First (TV5) 1.6%; Sofia the First (TV5) 2.5%
Dragon Ball (GMA-7) 4.5%; Pokemon (GMA-7) 6.7%; One Piece (GMA-7) 7.8%;Kris TV (ABS-CBN) 4.5%; Henry the Huggle Monster (TV5) 2.3%; Phineas and Ferb (TV5) 2.6%; Hi-5 (TV5) 1.9%
Detective Conan (GMA-7) 9.7%; Spongebob Squarepants (ABS-CBN) 4.3%; Infinity Nado (TV5) 1.2%
Bleach (GMA-7) 8.9%; A Dog of Flanders (ABS-CBN) 4.9%; Rockman Exe Axess (TV5) 1.4%
Ghost Fighter (GMA-7) 10.4%; Adventures of Tom Sawyer (ABS-CBN) 5.5%
Fairytail (GMA-7) 11%; Komiks: Da Adventures of Pedro Penduko (ABS-CBN) 5.6%; Healing Galing sa TV5 (TV5) .7%
Hunter X Hunter (GMA-7) 11.3%; Slam Dunk (GMA-7) 10.4%; The Singing Bee (ABS-CBN) 6.9%; Happy Wife Happy Life (TV5) 1.5%
ADVERTISEMENT - CONTINUE READING BELOW
The Ryzza Mae Show (GMA-7) 11.7%; Oh My G! (ABS-CBN) 8.7%; Solved na Solved (TV5) 1.5%
Afternoon:
Eat Bulaga! (GMA-7) 17.9%; It's Showtime (ABS-CBN) 9.2%; Aksyon sa Tanghali (TV5) 2.5%; T3 Enforced (TV5) 2.4%; Movie Max 5: Spacehunter (TV5) 4.1%
The Half Sisters (GMA-7) 21.5%; Flordeliza (ABS-CBN) 5.8%; Movie Max 5: Carriers (TV5) 6.1%
Yagit (GMA-7) 15.4%; Ang Lihim ni Annasandra (GMA-7) 12.1%; Nasaan Ka Nang Kailangan Kita (ABS-CBN) 4.5%
Reporter's Notebook (GMA-7) 9.7%; Tapatan ni Tunying (ABS-CBN) 3.1%; Movie Max 5: D-War (TV5) 6.4%;
My Name is Kim Sam Soon (GMA-7) 10.7%; Bet On Your Baby (ABS-CBN) 4.5%
Evening:
Prime Minister and I (GMA-7) 15.4%; Bagito (ABS-CBN) 8.7%; Aksyon (TV5) 4.8%
24 Oras (GMA-7) 20.1%; TV Patrol (ABS-CBN) 15.9%; Movie Max 5: Striking Distance (TV5) 6.4%
More Than Words (GMA-7) 19.9%; Dream Dad (ABS-CBN) 19.3%
Once Upon a Kiss (GMA-7) 20.5%; Forevermore (ABS-CBN) 20.4%; Wattpad Presents (TV5) 3.4%
Second Chances (GMA-7) 17.3%; Two Wives (ABS-CBN) 17.4%; Teen Wolf (TV5) 5%
Empress Ki (GMA-7) 21.1%;Aquino & Abunda Tonight (ABS-CBN) 10.6%; Faith (ABS-CBN) 7.9%;Aksyon Tonite (TV5) 1.4%; Reaksyon (TV5) .6%
Saksi (GMA-7) 10%; Frozen Planet (GMA-7) 5.2%; Bandila (ABS-CBN) 3.9%; T3 Enforced Replay (TV5) .9%; Unang Tikim (TV5) .6%
The Tim Yap Show (GMA-7) 2%; Banana Nite (ABS-CBN) 2.2%; O Shopping (ABS-CBN) .7%; Shop Japan (TV5) .2%
--
January 23, 2015 (Friday)
Morning:
Alisto! Replay (GMA-7) 1.1%; Mga Kwento ni Marc Logan Replay (ABS-CBN) .4%
Unang Hirit! (GMA-7) 4.5%; Umagang Kay Ganda (ABS-CBN) 2.8%; Aksyon sa Umaga (TV5) .8%; Sofia the First (TV5) 1.2%; Sofia the First (TV5) 2.5%
Dragon Ball (GMA-7) 5.2%; Pokemon (GMA-7) 6%; One Piece (GMA-7) 6.4%;Kris TV (ABS-CBN) 5.2%; Henry the Huggle Monster (TV5) 2.3%; Phineas and Ferb (TV5) 2.7%; Hi-5 (TV5) 2.5%
Detective Conan (GMA-7) 8.3%; Spongebob Squarepants (ABS-CBN) 4%; Infinity Nado (TV5) 1.7%
Bleach (GMA-7) 7.9%; A Dog of Flanders (ABS-CBN) 3.5%; Rockman Exe Axess (TV5) 1.7%
Ghost Fighter (GMA-7) 8.7%; Adventures of Tom Sawyer (ABS-CBN) 3.7%
Fairytail (GMA-7) 9.9%; Komiks: Da Adventures of Pedro Penduko (ABS-CBN) 4.3%; Healing Galing sa TV5 (TV5) .9%
Hunter X Hunter (GMA-7) 11.2%; Slam Dunk (GMA-7) 10.7%; The Singing Bee (ABS-CBN) 8%; Happy Wife Happy Life (TV5) 1.2%
The Ryzza Mae Show (GMA-7) 11.9%; Oh My G! (ABS-CBN) 9.5%; Solved na Solved (TV5) 1.2%
Afternoon:
Eat Bulaga! (GMA-7) 18%; It's Showtime (ABS-CBN) 9.7%; Aksyon sa Tanghali (TV5) 2.1%; T3 Enforced (TV5) 1.9%; Movie Max 5: Aladdin and the Death Lamp (TV5) 4.5%
ADVERTISEMENT - CONTINUE READING BELOW
The Half Sisters (GMA-7) 21.6%; Flordeliza (ABS-CBN) 5.9%; Movie Max 5: Webs (TV5) 5.3%
Yagit (GMA-7) 16.3%; Ang Lihim ni Annasandra (GMA-7) 13.9%; Nasaan Ka Nang Kailangan Kita (ABS-CBN) 5.7%
Love Hotline (GMA-7) 11.4%; Red Alert (ABS-CBN) 3.7%; Movie Max 5: No Way Back (TV5) 4.8%
Evening:
Prime Minister and I (GMA-7) 17.1%; Bagito (ABS-CBN) 9.5%; Aksyon (TV5) 3.6%
24 Oras (GMA-7) 20.4%; TV Patrol (ABS-CBN) 15.4%; Movie Max 5: National Treasure (TV5) 7.1%
More Than Words (GMA-7) 18.6%; Dream Dad (ABS-CBN) 18.7%
Once Upon a Kiss (GMA-7) 18.9%; Forevermore (ABS-CBN) 19.5%; Wattpad Presents (TV5) 4.4%
Second Chances (GMA-7) 16.3%; Two Wives (ABS-CBN) 17.1%; Teen Wolf (TV5) 5.8%
Bubble Gang (GMA-7) 16.9%; Aquino & Abunda Tonight (ABS-CBN) 12.2%; Faith (ABS-CBN) 8.4%;Aksyon Tonite (TV5) 1.8%; Reaksyon (TV5) .8%
Saksi (GMA-7) 8.2%; Bandila (ABS-CBN) 4.5%; T3 Enforced Replay (TV5) .7%; Astig (TV5) 1%
The Tim Yap Show (GMA-7) 3.7%; Banana Nite (ABS-CBN) 3.5%; O Shopping (ABS-CBN) 1.2%; Shop Japan (TV5) .5%
--
TOP TEN PROGRAMS:
January 17, 2015 (Saturday)
DAYTIME:
Ang People's Pope sa Pilipinas (GMA-7) - 17%
Eat Bulaga! (GMA-7) – 16.1%
24 Oras Weekend (GMA-7) – 15.5%
Imbestigador (GMA-7) – 12%
News Patrol (ABS-CBN) - 11.7%
GMA Tales of Horror (GMA-7) - 10.5%
Wish Ko Lang! (GMA-7) - 10.4%
It's Showtime (ABS-CBN) - 10.2%
Startalk (GMA-7) - 9.1%
Thank You sa Malasakit(ABS-CBN) – 8.9%
PRIMETIME:
Dingdong and Marian: The Wedding Ceremony (GMA-7) -26.2%
Magpakailanman (GMA-7) – 25.8%
Pepito Manaloto: Ang Tunay na Kuwento (GMA-7) – 21.1%
Celebrity Bluff (GMA-7) – 18.5%
MMK: Ang Tahanan Mo (ABS-CBN) – 17.1%
The Voice of the Philippines(ABS-CBN) – 16.9%
Home Sweetie Home (ABS-CBN) – 13.7%
Mga Kwento ni Marc Logan(ABS-CBN) – 13.5%
I-Witness (GMA-7) - 9.8%
Banana Split Extra Scoop(ABS-CBN) – 8.8%
January 18, 2015 (Sunday)
DAYTIME:
24 Oras Weekend (GMA-7) - 23.9%
Ang People's Pope sa Pilipinas - Afternoon(GMA-7) - 22.1%
Kapuso Movie Festival (GMA-7) - 20.1%
Ang People's Pope sa Pilipinas - Morning(GMA-7) - 18.5%
Thank You sa Malasakit - Afternoon(ABS-CBN) – 12%
Born to be Wild (GMA-7)- 9.4%
Thank You sa Malasakit - Morning(ABS-CBN) – 9.2%
ASAP(ABS-CBN) – 8.4%
Aha! (GMA-7)- 7.4%
Monsuno (GMA-7) - 5.3%
PRIMETIME:
1. Ismol Family (GMA-7) - 25.5%
Vampire Ang Daddy Ko (GMA-7) – 23.6%
3. Kapuso Mo, Jessica Soho (GMA-7) - 20.4%
4. The Voice Philippines(ABS-CBN) – 17%
Gandang Gabi Vice (ABS-CBN) – 15.5%
Rated K: Handa Na Ba Kayo? (ABS-CBN) – 15.4%
Wansapanataym (ABS-CBN) – 13.4%
Goin' Bulilit (ABS-CBN) – 12.6%
PBA 2015 Philippine Cup Finals Game 6 Alaska vs San Miguel Beermen (TV5) - 10.2%
MP Featuring Sport Science (GMA-7) - 8.2%
January 19, 2015 (Monday)
DAYTIME:
The Half Sisters (GMA-7) – 19.4%
Ang People's Pope sa Pilipinas - Morning(GMA-7) - 17.1%
Eat Bulaga! (GMA-7) – 16.6%
Yagit (GMA-7) – 14.2%
Fairy Tail(GMA-7) - 12.1%
The Ryzza Mae Show (GMA-7) - 11.6%
Hunter X Hunter(GMA-7) - 11.2%
Ang Lihim ni Annasandra (GMA-7) – 11.1%
Slam Dunk(GMA-7) - 11%
Oh My G!(ABS-CBN) - 10.8%
PRIMETIME:
1. 24 Oras (GMA-7) - 23.2%
2. More Than Words(GMA-7) – 20.6%
3. Dream Dad (ABS-CBN) - 20.3%
4. Once Upon a Kiss(GMA-7) / Forevermore (ABS-CBN)– 20.2%
Empress Ki (ABS-CBN) – 19.3%
Two Wives (ABS-CBN) – 17.2%
7. Second Chances(GMA-7) - 17.1%
8. TV Patrol (ABS-CBN) – 16.4%
Prime Minister and I(GMA-7) - 14.7%
Aquino & Abunda Tonight (ABS-CBN) - 11.2%
January 20, 2015 (Tuesday)
DAYTIME:
The Half Sisters (GMA-7) – 19.9%
Eat Bulaga! (GMA-7) – 17.8%
Yagit (GMA-7) - 15%
Ang Lihim ni Annasandra (GMA-7) - 12.1%
Hunter X Hunter(GMA-7) / The Ryzza Mae Show (GMA-7) - 11.4%
My Name is Kim Sam Soon(GMA-7) - 11.3%
Fairy Tail(GMA-7) / Tunay na Buhay(GMA-7) – 10.1%
Slam Dunk(GMA-7) - 9.9%
Ghost Fighter(GMA-7) - 9.6%
Oh My G!(ABS-CBN) - 9.5%
PRIMETIME:
1. 24 Oras (GMA-7) - 21.9%
2. Forevermore(ABS-CBN) – 20.5%
3. More Than Words(GMA-7) – 20.2%
4. Dream Dad (ABS-CBN) – 20.1%
5. Once Upon a Kiss(GMA-7) - 20%
6. Empress Ki(GMA-7) – 19%
7. TV Patrol (ABS-CBN) - 17.2%
8. Second Chances(GMA-7) – 17%
9. Two Wives (ABS-CBN) – 16.9%
10. Prime Minister and I(GMA-7) – 16.6%
January 21, 2015 (Wednesday)
DAYTIME:
The Half Sisters (GMA-7) – 18.8%
Eat Bulaga! (GMA-7) – 15.9%
Yagit (GMA-7) - 12.8%
Ang Lihim ni Annasandra (GMA-7) - 11.3%
My Name is Kim Sam Soon(GMA-7) - 11.2%
Fairy Tail(GMA-7) - 10.9%
Hunter X Hunter(GMA-7) - 10%
Ghost Fighter(GMA-7) / Slam Dunk(GMA-7) - 9.9%
Oh My G!(ABS-CBN) - 9.8%
It's Showtime(ABS-CBN) - 9.6%
PRIMETIME:
1. Empress Ki(GMA-7) – 19%
2. 24 Oras (GMA-7) – 18.9%
3. More Than Words(GMA-7) - 18.6%
4. Prime Minister and I(GMA-7) - 17.3%
5. Once Upon a Kiss(GMA-7) - 17.1%
6. Forevermore (ABS-CBN) – 15.8%
7. Dream Dad (ABS-CBN) / PBA 2015 Philippine Cup Finals: Finals Game 4 Alaska vs San Miguel Beermen (TV5) - 15.7%
8. Second Chances(GMA-7) – 15%
9. Two Wives (ABS-CBN) – 13.7%
10. TV Patrol (ABS-CBN) – 13.5%
January 22, 2015 (Thursday)
DAYTIME:
The Half Sisters (GMA-7) – 21.5%
Eat Bulaga! (GMA-7) – 17.9%
Yagit (GMA-7) - 15.4%
Ang Lihim ni Annasandra (GMA-7) - 12.1%
The Ryzza Mae Show (GMA-7) - 11.7%
Hunter X Hunter(GMA-7) - 11.3%
Fairy Tail(GMA-7) - 11%
My Name is Kim Sam Soon(GMA-7) - 10.7%
Ghost Fighter(GMA-7) / Slam Dunk(GMA-7) - 10.4%
Detective Conan(GMA-7) / Reporter's Notebook(GMA-7) - 9.7%
PRIMETIME:
Empress Ki(GMA-7) – 21.1%
Once Upon a Kiss(GMA-7) - 20.5%
Forevermore(ABS-CBN) – 20.4%
24 Oras (GMA-7) - 20.1%
More Than Words(GMA-7) – 19.9%
Dream Dad (ABS-CBN) - 19.3%
Two Wives (ABS-CBN) - 17.4%
Second Chances(GMA-7) – 17.3%
TV Patrol (ABS-CBN) – 15.9%
Prime Minister and I(GMA-7) - 15.4%
January 23, 2014 (Friday)
DAYTIME:
The Half Sisters (GMA-7) – 21.6%
Eat Bulaga! (GMA-7) – 18%
Yagit (GMA-7) - 16.3%
Ang Lihim ni Annasandra (GMA-7) - 13.9%
The Ryzza Mae Show (GMA-7) - 11.9%
Love Hotline (GMA-7)/ My Name is Kim Sam Soon(GMA-7) - 11.4%
Hunter X Hunter(GMA-7) - 11.2%
Slam Dunk(GMA-7) - 10.7%
Fairy Tail(GMA-7) - 9.9%
It's Showtime (ABS-CBN) – 9.7%
PRIMETIME:
24 Oras (GMA-7) - 20.4%
Forevermore(ABS-CBN) – 19.5%
Once Upon a Kiss(GMA-7) - 18.9%
Dream Dad (ABS-CBN) - 18.7%
More Than Words(GMA-7) – 18.6%
Prime Minister and I(GMA-7) / Two Wives (ABS-CBN) - 17.1%
Bubble Gang(GMA-7) – 16.9%
Second Chances(GMA-7) – 16.3%
TV Patrol (ABS-CBN) – 15.4%
Aquino & Abunda Tonight (ABS-CBN) - 12.2%
Source: AGB Nielsen Philippines