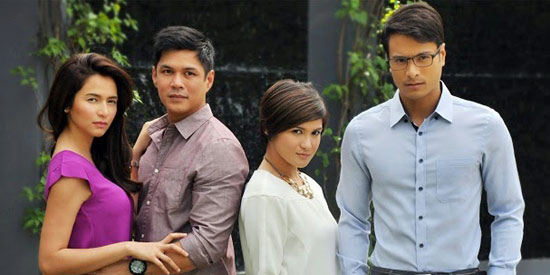 ---
GMA-7 is the new primetime leader. This is according to the latest ratings data from AGB Nielsen Philippines from Mega Manila households from January 10 to 16, 2015.
GMA-7's new shows on primetime now rule their timeslots. This is after weeks of losing to ABS-CBN's top-rating primetime offerings Dream Dad and Forevermore.
Dream Dad previously defeated More Than Words; Forevermore beat Strawberry Lane.
But Strawberry Lane ended on January 2 and it was replaced by Once Upon a Kiss on January 5. Once Upon a Kiss is topbilled by the hip loveteam of Miguel Tanfelix and Bianca Umali.
Miguel and Bianca's previous show Niño was a top-rater. In fact, its September 12 finale was the third-most watched finale in 2014.

(To view list of top-rating finale episodes of 2014, CLICK HERE)

Viewer interest for what the young loveteam has to offer has boosted the ratings of Once Upon a Kiss, along with the other shows in GMA-7's primetime line-up.
The January 12 premiere of Second Chances, the replacement to Hiram na Alaala, also helped GMA-7's primetime performance. Second Chances stars Jennylyn Mercado, currently very popular for her jolly turn in the hit MMFF film English Only Please, for which she won a Best Actress award.
Second Chances won against ABS-CBN's Two Wives on its first episode, earning 18.6% against its rival's 16.7% score.
The most-watched show on daytime was still The Half Sisters, an afternoon drama that stars Barbie Forteza and Thea Tolentino.
Other Kapuso shows like Eat Bulaga! and Yagit follow The Half Sisters.
ADVERTISEMENT - CONTINUE READING BELOW
GMA-7 also dominated the weekends with its shows Magpakailanman, Kapuso Mo, Jessica Soho and Kapuso Movie Festival.
The highest rating during the weekend was received by Magpakailanman on January 10. The episode starred Ruru Madrid as a responsible older brother to two mentally-retarded younger brothers.
Here is the comparative rating performance of GMA-7, ABS-CBN and TV5 programs from January 10-16, 2015 derived from AGB Nielsen Philippines from Mega Manila households:
---
January 10, 2015 (Saturday)
Morning:
PJM Forum (GMA-7) .5%; Adyenda (GMA-7) 1%; Kapwa Ko Mahal Ko (GMA-7) 1.8%; Sa Kabukiran (ABS-CBN) .8%; Shop Japan (TV5) .1%; Family Matters (TV5) .5%
Pinoy MD (GMA-7) 3.2%; Salamat Dok (ABS-CBN) 1.9%; Stitch! (TV5) .7%
Puppy in My Pocket (GMA-7) 3.8%; Swak na Swak (ABS-CBN) 2.1%; Gravity Falls (TV5) 2%
Kamen Rider Ooo (GMA-7) 5.3%; Honey Watch Out! (ABS-CBN) 1.2%; The Emperor's New School (TV5) 3.3%
Tom & Jerry Kids Show (GMA-7) 6.1%; Angry Birds Toons (GMA-7) 6.7%; Math Tinik (ABS-CBN) 1.4%; The Legend of Tarzan (TV5) 3.1%
Monsuno (GMA-7) 5.3%; The Adventures of Jimmy Neutron ABS-CBN) 3%; Combo Ninos (TV5) 3%
Spongebob Squarepants (ABS-CBN) 4.8%; The Powerpuff Girls (TV5) 3.4%
Tropang Potchi (GMA-7) 4.5%; Super Book (ABS-CBN) 5.6%; Ben 10 (TV5) 3.4%
Sarap Diva (GMA-7) 5.4%; Maynila 15 (GMA-7) 8.8%; NBA 2014-2015: Chicago vs Washington (TV5) 3.7%; Ben 10 Omniverse (TV5) 5%; Ben 10 Omniverse (TV5) 4.6%; Movie Max: Don't Look Under the Bed (TV5) 5.5%
Afternoon:
Eat Bulaga! (GMA-7) 16.8%; GMA Tales of Horror (GMA-7) 9.3%; It's Showtime (ABS-CBN) 10.1%; Movie Max 5: Leatherheads (TV5) 3.1%
Wish Ko Lang! (GMA-7) 9%; Ipaglaban Mo (ABS-CBN) 7.5%; Movie Max 5: Backdraft (TV5) 3.1%
Startalk 19 (GMA-7) 8.9%; Failon Ngayon (ABS-CBN) 5.9%
Imbestigador (GMA-7) 10.6%; SOCO (ABS-CBN) 5.5%; Movie Max 5: Midnight Run (TV5) 3.1%
24 Oras Weekend (GMA-7) 12.6%; TV Patrol Weekend (ABS-CBN) 7.2%
Evening:
Pepito Manaloto: Ang Tunay na Kuwento (GMA-7) 18.7%; Mga Kwento ni Marc Logan (ABS-CBN) 11.2%; Home Sweetie Home (ABS-CBN) 12.2%; Tropa Mo Ko Nice Di Ba?! (TV5) 4.3%
ADVERTISEMENT - CONTINUE READING BELOW
Magpakailanman (GMA-7) 26.2%; MMK: Ang Tahanan Mo (ABS-CBN) 14.3%; Iskul Bukol Eskwelang-Kwela 'To (TV5) 3.3%
Kapuso Movie Night: The Dark Knight Rises (GMA-7) 21.4%; The Voice of the Philippines (ABS-CBN) 19.7%; Everybody Hapi (TV5) 2.4%
Celebrity Bluff (GMA-7) 16.8%; I-Witness (GMA-7) 10.1%; The Bottom Line (ABS-CBN) 3.7%; History with Lourd (TV5) 1.1%; Bigtime (TV5) .5%
Walang Tulugan (GMA-7) 4%; Sports Unlimited (ABS-CBN) 2.3%; O Shopping (ABS-CBN) 1%; Shop Japan (TV5) 0%
--
January 11, 2015 (Sunday)
Daytime:
In Touch with Dr. Charles Stanley (GMA-7) .1%; Jesus The Healer (GMA-7) .5%; Shop Japan (TV5) .3%
Kapuso Sine Klasika: Billy the Kid (GMA-7) 1.9%; The Healing Eucharist (ABS-CBN) 2.9%; Misa Nazareno (TV5) 1.6%
Grimm's Fairy Tales (GMA-7) 5.2%; Swak na Swak (ABS-CBN) 2.5%; Power to Unite with Elvira (TV5) .8%
Kamen Rider Ooo (GMA-7) 6.1%; Tom & Jerry Kids Show (GMA-7) 7.6%; Salamat Dok (ABS-CBN) 3.2%; Stitch! (TV5) 1.9%; Gravity Falls (TV5) 2.5%
Monsuno (GMA-7) 6.6%; My Giant Friend (ABS-CBN) 2.6%; The Emperor's New School (TV5) 2.5%
Aha! (GMA-7) 6.5%; Max Steel (ABS-CBN) 3.3%; Superbook (ABS-CBN) 3.3%; The Legend of Tarzan (TV5) 2.9%; The Powerpuff Girls (TV5) 3.4%
Born To Be Wild (GMA-7) 8.6%; iBilib (GMA-7) 8.9%; Matanglawin (GMA-7) 4%; Ben 10 (TV5) 3.7%; Ben 10 Omniverse (TV5) 3.4%
Superhero Sunday: Pokemon Raikou (GMA-7) 10.6%; Kapamilya Blockbusters: Francis the People's Pope (ABS-CBN) 4.6%; Movie Max 5: K-9 (TV5) 4.7%
Afternoon:
Kapuso Movie Festival: Alvin and the Chipmunks (GMA-7) 16.3%; Sunday All Stars (ABS-CBN) 10.7%; ASAP 20 (ABS-CBN) 8%; Movie Max 5: Supershark (TV5) 5%
GMA Blockbusters: Dolphin's Tale (GMA-7) 9.3%; Luv U (ABS-CBN) 6.5%; The Buzz (ABS-CBN) 6.2%; Movie Max 5: A Perfect Getaway (TV5) 5.9%
24 Oras Weekend (GMA-7) 8.6%; TV Patrol Weekend (ABS-CBN) 8.6%; PBA 2015 Philippine Cup Semis: Finals Game 3 Alaska vs San Miguel Beermen (TV5) 9.4%
Evening:
Vampire Ang Daddy Ko (GMA-7) 13.5%; Goin' Bulilit (ABS-CBN) 9.5%
Ismol Family (GMA-7) 17.3%; Wansapanataym (ABS-CBN) 12.5%
Kapuso Mo, Jessica Soho (GMA-7) 24.8%; Rated K: Handa Na Ba Kayo? (ABS-CBN) 15.3%; Who Wants to be a Millionaire (TV5) 5.9%;
ADVERTISEMENT - CONTINUE READING BELOW
Sunday Night Box Office: Wrath of the Titans (GMA-7) 17%; The Voice of the Philippines (ABS-CBN) 19.6%; Gandang Gabi Vice (ABS-CBN) 18.6%; Wow Mali Lakas ng Tama! (TV5) 4.1%; Pastol sa Panahon ng Pagbabago (TV5) 1.3%
Mentalisn't (GMA-7) 10%; Sunday's Best: Francisco the Pope for Everyone (ABS-CBN) 4.1%; Wattpad Presents: Poser Maxinejiji (TV5) .6%
Diyos at Bayan (GMA-7) 1.8%; O Shopping (ABS-CBN) .4%; Shop Japan (TV5) .2%
---
January 12, 2015 (Monday)
Morning:
Power House Replay (GMA-7) 1.1%; Matanglawin Replay (ABS-CBN) .4%
Unang Hirit! (GMA-7) 5.1%; Umagang Kay Ganda (ABS-CBN) 2.9%; Aksyon sa Umaga (TV5) 1%; Sofia the First (TV5) 1.9%
Doraemon (GMA-7) 4.8%; Pokemon (GMA-7) 5.3%; One Piece (GMA-7) 6.3%; Kris TV (ABS-CBN) 3.8%; Henry the Huggle Monster (TV5) 2.1%; Phineas and Ferb (TV5) 2.6%; The Replacements (TV5) 2.7%
Detective Conan (GMA-7) 7.5%; Spongebob Squarepants (ABS-CBN) 3.6%; Johnny Bravo (TV5) 2%
Bleach (GMA-7) 7.7%; A Dog of Flanders (ABS-CBN) 3.9%; Infinity Nado (TV5) 1.5%
Ghost Fighter (GMA-7) 8.6%; Adventures of Tom Sawyer (ABS-CBN) 4.7%
Fairytail (GMA-7) 9.3%; Komiks: Da Adventures of Pedro Penduko (ABS-CBN) 4.8%; Movie Max 5: Agent Cody Banks (TV5) 3.3%
Hunter X Hunter (GMA-7) 9.6%; Slam Dunk (GMA-7) 7.7%; The Singing Bee (ABS-CBN) 7.4%
The Ryzza Mae Show (GMA-7) 10%; Give Love on Christmas (ABS-CBN) 9.2%
Afternoon:
Eat Bulaga! (GMA-7) 16.7%; It's Showtime (ABS-CBN) 9%; Aksyon sa Tanghali (TV5) 3.4%; T3 Enforced (TV5) 3.2%; Movie Max 5: Race to Witch Mountain (TV5) 4.4%
The Half Sisters (GMA-7) 20.1%; Yagit (GMA-7) 15.9%; Ang Lihim ni Annasandra (GMA-7) 12.1%; Kapamilya Blockbusters: The Sorcerer and the White Snake (ABS-CBN) 8%; Movie Max 5: Snowmageddon (TV5) 3%
Alisto! (GMA-7) 9%; Bistado (ABS-CBN) 4.5%; Movie Max 5: Final Fantasy the Spirits Within (TV5) 2%
My Name is Kim Sam Soon (GMA-7) 9.6%; Bet On Your Baby (ABS-CBN) 6.3%
Evening:
Prime Minister and I (GMA-7) 15.4%; Bagito (ABS-CBN) 10.2%; Aksyon (TV5) 3.2%
24 Oras (GMA-7) 22.4%; TV Patrol (ABS-CBN) 17.6%; Movie Max 5: Alexandre Dumas the Count of Monte Cristo (TV5) 4.7%
ADVERTISEMENT - CONTINUE READING BELOW
More Than Words (GMA-7) 21.2%; Dream Dad (ABS-CBN) 19.9%
Once Upon a Kiss (GMA-7) 22.6%; Forevermore (ABS-CBN) 19.6%; Wattpad Presents (TV5) 2.1%
Second Chances (GMA-7) 18.6%; Two Wives (ABS-CBN) 16.7%; Aquino & Abunda Tonight (ABS-CBN) 11.3%; Confessions of a Torpe (TV5) 1.5%; Aksyon Tonite (TV5) 1.3%
Empress Ki (GMA-7) 17.2%; Faith (ABS-CBN) 7.7%; Reaksyon (TV5) .7%; Demolition Job (TV5) .7%
Saksi (GMA-7) 9.8%; Bandila (ABS-CBN) 3.8%; T3 Enforced Replay (TV5) .4%
Front Row (GMA-7) 6.1%; Mukha (ABS-CBN) 2%; Shop Japan (TV5) .1%
The Tim Yap Show (GMA-7) 2.8%; O Shopping (ABS-CBN) .6%
----
January 13, 2015 (Tuesday)
Morning:
I-Witness Replay (GMA-7) 1.1%; Red Alert Replay (ABS-CBN) .5%
Unang Hirit! (GMA-7) 4.8%; Umagang Kay Ganda (ABS-CBN) 3%; Aksyon sa Umaga (TV5) .8%; Sofia the First (TV5) 2%
Doraemon (GMA-7) 5.9%; Pokemon (GMA-7) 6.6%; One Piece (GMA-7) 7.7%; Kris TV (ABS-CBN) 5.3%; Henry the Huggle Monster (TV5) 2.5%; Phineas and Ferb (TV5) 2.6%; The Replacements (TV5) 2.3%
Detective Conan (GMA-7) 8.8%; Spongebob Squarepants (ABS-CBN) 4.1%; Johnny Bravo (TV5) 1.4%
Bleach (GMA-7) 8.8%; A Dog of Flanders (ABS-CBN) 4.3%; Infinity Nado (TV5) 1.5%
Ghost Fighter (GMA-7) 9.1%; Adventures of Tom Sawyer (ABS-CBN) 4.8%
Fairytail (GMA-7) 9.1%; Komiks: Da Adventures of Pedro Penduko (ABS-CBN) 4.5%; Movie Max 5: Agent Cody Banks 2 (TV5) 3%
Hunter X Hunter (GMA-7) 8.6%; Slam Dunk (GMA-7) 7.9%; The Singing Bee (ABS-CBN) 7.7%
The Ryzza Mae Show (GMA-7) 10.8%; Give Love on Christmas (ABS-CBN) 9.2%
Afternoon:
Eat Bulaga! (GMA-7) 17.5%; It's Showtime (ABS-CBN) 9.3%; Aksyon sa Tanghali (TV5) 2.1%; T3 Enforced (TV5) 1.9%; Movie Max 5: Kung Fu Hustle (TV5) 3.9%
The Half Sisters (GMA-7) 22.2%; Yagit (GMA-7) 16.1%; Ang Lihim ni Annasandra (GMA-7) 12.7%; Kapamilya Blockbusters: P're Hanggang Sa Huli (ABS-CBN) 6.1%; Movie Max 5: Solar Attack (TV5) 3.7%
Tunay na Buhay (GMA-7) 9.4%; Mutya ng Masa (ABS-CBN) 3.1%; Movie Max 5: Sand Sharks (TV5) 5.1%
My Name is Kim Sam Soon (GMA-7) 10.8%; Bet On Your Baby (ABS-CBN) 5.2%
Evening:
ADVERTISEMENT - CONTINUE READING BELOW
Prime Minister and I (GMA-7) 15.7%; Bagito (ABS-CBN) 10.8%; Aksyon (TV5) 4.1%
24 Oras (GMA-7) 22.6%; TV Patrol (ABS-CBN) 17.2%; Movie Max 5: The 13th Warrior (TV5) 6.3%
More Than Words (GMA-7) 22.2%; Dream Dad (ABS-CBN) 19.2%
Once Upon a Kiss (GMA-7) 21.6%; Forevermore (ABS-CBN) 18.7%; Wattpad Presents (TV5) 2.4%
Second Chances (GMA-7) 18.4%; Two Wives (ABS-CBN) 16.4%; Confessions of a Torpe (TV5) 1.3%; Aksyon Tonite (TV5) .9%
Empress Ki (GMA-7) 17.7%; Aquino & Abunda Tonight (ABS-CBN) 11%; Faith (ABS-CBN) 6.5%; Reaksyon (TV5) .8%; Numero (TV5) .5%
Saksi (GMA-7) 9.8%; The Blue Planet (GMA-7) 5.5%; Bandila (ABS-CBN) 3.5%; T3 Enforced Replay (TV5) .6%; Shop Japan (TV5) .2%
The Tim Yap Show (GMA-7) 2.3%; Banana Nite (ABS-CBN) 2.4%; O Shopping (ABS-CBN) .9%
---
January 14, 2015 (Wednesday)
Morning:
Tunay na Buhay Replay (GMA-7) 1.1%; My Puhunan Replay (ABS-CBN) .6%
Unang Hirit! (GMA-7) 5%; Umagang Kay Ganda (ABS-CBN) 3.1%; Aksyon sa Umaga (TV5) .8%; Sofia the First (TV5) 2.2%
Doraemon (GMA-7) 5.4%; Pokemon (GMA-7) 6.7%; One Piece (GMA-7) 7.5%; Kris TV (ABS-CBN) 4.4%; Henry the Huggle Monster (TV5) 2.3%; Phineas and Ferb (TV5) 2.2%; The Replacements (TV5) 1.9%
Detective Conan (GMA-7) 7.7%; Spongebob Squarepants (ABS-CBN) 4.1%; Johnny Bravo (TV5) 1.8%
Bleach (GMA-7) 8.6%; A Dog of Flanders (ABS-CBN) 4%; Infinity Nado (TV5) 1.5%
Ghost Fighter (GMA-7) 9.6%; Fairytail (GMA-7) 9.9%; Adventures of Tom Sawyer (ABS-CBN) 3.9%; Komiks: Da Adventures of Pedro Penduko (ABS-CBN) 3.9%; Movie Max 5: Stuart Little (TV5) 3.7%; Aksyon Alert (TV5) 2.2%
Hunter X Hunter (GMA-7) 10.4%; Slam Dunk (GMA-7) 8.1%; The Singing Bee (ABS-CBN) 7.2%
The Ryzza Mae Show (GMA-7) 10.3%; Give Love on Christmas (ABS-CBN) 8.9%
Afternoon:
Eat Bulaga! (GMA-7) 18.2%; It's Showtime (ABS-CBN) 9%; Aksyon sa Tanghali (TV5) 2.5%; T3 Enforced (TV5) 2.6%; Movie Max 5: The Big Hit (TV5) 4.6%
The Half Sisters (GMA-7) 22%; Yagit (GMA-7) 16.5%; Ang Lihim ni Annasandra (GMA-7) 13.5%; Kapamilya Blockbusters: Red (ABS-CBN) 7%; Movie Max 5: Descent (TV5) 3.7%
Power House (GMA-7) 11.5%; My Puhunan (ABS-CBN) 5%; Movie Max 5: Ice Quake (TV5) 4.1%
ADVERTISEMENT - CONTINUE READING BELOW
My Name is Kim Sam Soon (GMA-7) 12.3%; Bet On Your Baby (ABS-CBN) 6.1%
Evening:
Prime Minister and I (GMA-7) 18.2%; Bagito (ABS-CBN) 10.6%; Aksyon (TV5) 4.2%
24 Oras (GMA-7) 21.5%; TV Patrol (ABS-CBN) 16.6%; PBA 2015 Philippine Cup Finals: Finals Game 4 Alaska vs San Miguel Beermen (TV5) 8.9%
More Than Words (GMA-7) 20.6%; Dream Dad (ABS-CBN) 19.3%
Once Upon a Kiss (GMA-7) 20.2%; Forevermore (ABS-CBN) 17.8%
Second Chances (GMA-7) 18.3%; Two Wives (ABS-CBN) 16.8%; Wattpad Presents (TV5) 2%
Empress Ki (GMA-7) 19.1%; Aquino & Abunda Tonight (ABS-CBN) 11.8%; Faith (ABS-CBN) 7%; Confessions of a Torpe (TV5) 1.6%; Aksyon Tonite (TV5) 1.1%; Reaksyon (TV5) .6%;
Saksi (GMA-7) 11.3%; Bandila (ABS-CBN) 4.1%; History with Lourd (TV5) .5%; Shop Japan (TV5) .1%
Frozen Planet (GMA-7) 6%; Banana Nite (ABS-CBN) 2.9%
The Tim Yap Show (GMA-7) 2.8%; O Shopping (ABS-CBN) .9%
---
January 15, 2015 (Thursday)
Morning:
Born to be Wild Replay (GMA-7) 1.3%; TNT Replay (ABS-CBN) .2%
Unang Hirit! (GMA-7) 4.8%; Umagang Kay Ganda (ABS-CBN) 2.7%; Aksyon sa Umaga (TV5) 1%; Sofia the First (TV5) 1.9%
Doraemon (GMA-7) 6.5%; Pokemon (GMA-7) 6.9%; One Piece (GMA-7) 7.8%; Detective Conan (GMA-7) 8.3%; Kris TV (ABS-CBN) 5.8%; Henry the Huggle Monster (TV5) 2.8%; Phineas and Ferb (TV5) 3.5%; The Replacements (TV5) 3.7%
Bleach (GMA-7) 7.8%; Spongebob Squarepants (ABS-CBN) 5.3%; Johnny Bravo (TV5) 2.8%
Ghost Fighter (GMA-7) 10.6%; Adventures of Tom Sawyer (ABS-CBN) 5.6%; Infinity Nado (TV5) 2.2%
Fairytail (GMA-7) 11.6%; Komiks: Da Adventures of Pedro Penduko (ABS-CBN) 4.8%; Movie Max 5: Stuart Little 3 (TV5) 3.3%
Hunter X Hunter (GMA-7) 11.6%; Slam Dunk (GMA-7) 10%; The Singing Bee (ABS-CBN) 7.5%
The Ryzza Mae Show (GMA-7) 11.5%; Give Love on Christmas (ABS-CBN) 9.1%; Aksyon Alert (TV5) 3.8%
Afternoon:
Eat Bulaga! (GMA-7) 17.4%; It's Showtime (ABS-CBN) 10.4%; Aksyon sa Tanghali (TV5) 2.9%; T3 Enforced (TV5) 2.3%; Movie Max 5: The Losers (TV5) 4.5%
The Half Sisters (GMA-7) 22.7%; Yagit (GMA-7) 16.1%; News Patrol (ABS-CBN) 9.3%; Aksyon Alert (TV5) 5.2%
Ang People's Pope sa Pilipinas (GMA-7) 18.2%; Thank You sa Malasakit (ABS-CBN) 7.2%; Movie Max 5: Earthstorm (TV5) 3.5%; Hashtag Dear Pope Francis (TV5) 2.2%
ADVERTISEMENT - CONTINUE READING BELOW
Evening:
24 Oras (GMA-7) 28.6%; TV Patrol (ABS-CBN) 19.2%; Aksyon (TV5) 2.1%
More Than Words (GMA-7) 22.4%; Dream Dad (ABS-CBN) 19.6%; Movie Max 5: The Recruit (TV5) 4.6%
Once Upon a Kiss (GMA-7) 21.2%; Forevermore (ABS-CBN) 19.1%; Wattpad Presents (TV5) 1.9%; Confessions of a Torpe (TV5) 1.5%
Second Chances (GMA-7) 17.5%; Two Wives (ABS-CBN) 16.7%; Aquino & Abunda Tonight (ABS-CBN) 12.1%; Aksyon Tonite (TV5) 1.3%
Empress Ki (GMA-7) 17.9%; Faith (ABS-CBN) 7.6%; Reaksyon (TV5) 1%; Unang Tikim (TV5) .5%
Saksi (GMA-7) 10.2%; Bandila (ABS-CBN) 4.1%; T3 Enforced Replay (TV5) .4%
Frozen Planet (GMA-7) 5.1%; Banana Nite (ABS-CBN) 1.9%; Shop Japan (TV5) .2%
The Tim Yap Show (GMA-7) 2.9%; O Shopping (ABS-CBN) .8%
--
January 16, 2015 (Friday)
Morning:
Reporter's Notebook Replay (GMA-7) .6%; Mga Kwento ni Marc Logan Replay (ABS-CBN) .5%
Unang Hirit! (GMA-7) 4.9%; Umagang Kay Ganda (ABS-CBN) 2.9%; Aksyon sa Umaga (TV5) 1.8%
Doraemon (GMA-7) 6.8%; Pokemon (GMA-7) 7.2%; One Piece (GMA-7) 8%; Detective Conan (GMA-7) 10%; Kris TV (ABS-CBN) 5%
Ang People's Pope sa Pilipinas (GMA-7) 17.8%; Thank You sa Malasakit Pope Francis (ABS-CBN) 8%; Give Love on Christmas (ABS-CBN) 7.6%; Hashtag Dear Pope Francis (TV5) 3%
Afternoon:
Eat Bulaga! (GMA-7) 18.3%; The Half Sisters (GMA-7) 21.3%; Thank You sa Malasakit Pope Francis (ABS-CBN) 8.6%; It's Showtime (ABS-CBN) 8.7%; News Patrol (ABS-CBN) 7.3%; Movie Max 5: Fierce Creatures (TV5) 2.9%; Movie Max 5: The Riverbank (TV5) 2.3%
Yagit (GMA-7) 16.2%; Ang People's Pope sa Pilipinas (GMA-7) 15.2%; Thank You sa Malasakit Pope Francis (ABS-CBN) 8.1%; Hashtag Dear Pope Francis (TV5) 3%
Evening:
24 Oras (GMA-7) 23.5%; TV Patrol (ABS-CBN) 16.3%; Aksyon (TV5) 4.7%; PBA 2015 Philippine Cup Finals: Game 5 Alaska vs San Miguel Beermen (TV5) 10.1%
More Than Words (GMA-7) 19.8%; Dream Dad (ABS-CBN) 17.7%
Once Upon a Kiss (GMA-7) 16.8%; Forevermore (ABS-CBN) 15.7%
Second Chances (GMA-7) 13.7%; Two Wives (ABS-CBN) 14.7%; Wattpad Presents (TV5) 2.2%;
Bubble Gang (GMA-7) 13.4%; Aquino & Abunda Tonight (ABS-CBN) 10.8%; Faith (ABS-CBN) 7.4%; Confessions of a Torpe (TV5) 1.3%; Aksyon Tonite (TV5) 1%
ADVERTISEMENT - CONTINUE READING BELOW
Saksi (GMA-7) 6.8%; Bandila (ABS-CBN) 4.6%
The Tim Yap Show (GMA-7) 3%; Banana Nite (ABS-CBN) 2.8%; O Shopping (ABS-CBN) 1.2%; Shop Japan (TV5) .7%
--
TOP TEN PROGRAMS:
January 10, 2015 (Saturday)
DAYTIME:
Eat Bulaga! (GMA-7) – 16.8%
24 Oras Weekend (GMA-7) – 12.6%
Imbestigador (GMA-7) – 10.6%
It's Showtime (ABS-CBN) - 10.1%
GMA Tales of Horror (GMA-7) - 9.3%
Wish Ko Lang! (GMA-7) - 9%
Startalk (GMA-7) - 8.9%
Maynila (GMA-7) - 8.8%
Ipaglaban Mo (ABS-CBN) – 7.5%
TV Patrol Weekend (ABS-CBN) – 7.2%
PRIMETIME:
Magpakailanman (GMA-7) – 26.2%
Kapuso Movie Night: The Dark Knight Rises (GMA-7) - 21.4%
The Voice of the Philippines(ABS-CBN) – 19.7%
Pepito Manaloto: Ang Tunay na Kuwento (GMA-7) – 18.7%
Celebrity Bluff (GMA-7) – 16.8%
MMK: Ang Tahanan Mo (ABS-CBN) – 14.3%
Home Sweetie Home (ABS-CBN) – 12.2%
Mga Kwento ni Marc Logan(ABS-CBN) – 11.2%
Banana Split Extra Scoop (ABS-CBN) – 10.6%
I-Witness (GMA-7) - 10.1%
January 11, 2015 (Sunday)
DAYTIME:
Kapuso Movie Festival (GMA-7) - 16.3%
Sunday All Stars (GMA-7) - 10.7%
Superhero Sunday (GMA-7) - 10.6%
GMA Blockbusters (GMA-7) - 9.3%
iBilib (GMA-7) - 8.9%
Born to be Wild (GMA-7) / 24 Oras Weekend (GMA-7) / TV Patrol Weekend (ABS-CBN) - 8.6%
ASAP (ABS-CBN) - 8%
Tom & Jerry Kids Show (GMA-7) - 7.6%
Monsuno (GMA-7) - 6.6%
Aha! (GMA-7) / Luv U (ABS-CBN) - 6.5%
PRIMETIME:
Kapuso Mo, Jessica Soho (GMA-7) - 24.8%
The Voice Philippines(ABS-CBN) – 19.6%
Gandang Gabi Vice (ABS-CBN) – 18.6%
Ismol Family (GMA-7) - 17.3%
Sunday Night Box Office (GMA-7) 17%
Rated K: Handa Na Ba Kayo? (ABS-CBN) – 15.3%
Vampire Ang Daddy Ko (GMA-7) – 13.5%
Wansapanataym (ABS-CBN) – 12.5%
Mentalisn't (GMA-7) - 10%
Goin' Bulilit (ABS-CBN) – 9.5%
January 12, 2015 (Monday)
DAYTIME:
The Half Sisters (GMA-7) – 20.1%
Eat Bulaga! (GMA-7) – 16.7%
Yagit (GMA-7) – 15.9%
Ang Lihim ni Annasandra (GMA-7) – 12.1%
The Ryzza Mae Show (GMA-7) - 10%
Hunter X Hunter (GMA-7) / My Name is Kim Sam Soon(GMA-7) - 9.6%
Fairy Tail (GMA-7) - 9.3%
Give Love on Christmas (ABS-CBN) 9.2%
Alisto! (GMA-7) / It's Showtime (ABS-CBN) - 9%
Ghost Fighter (GMA-7) - 8.6%
PRIMETIME:
Once Upon a Kiss (GMA-7) – 22.6%
24 Oras (GMA-7) - 22.4%
More Than Words (GMA-7) – 21.2%
Dream Dad (ABS-CBN) - 19.9%
Forevermore (ABS-CBN) – 19.6%
Second Chances (GMA-7) - 18.6%
TV Patrol (ABS-CBN) – 17.6%
Empress Ki (ABS-CBN) – 17.2%
Two Wives (ABS-CBN) – 16.7%
Prime Minister and I (GMA-7) - 15.4%
January 13, 2015 (Tuesday)
DAYTIME:
The Half Sisters (GMA-7) – 22.2%
Eat Bulaga! (GMA-7) – 17.5%
Yagit (GMA-7) - 16.1%
Ang Lihim ni Annasandra (GMA-7) - 12.7%
The Ryzza Mae Show (GMA-7) / My Name is Kim Sam Soon (GMA-7) - 10.8%
Tunay na Buhay(GMA-7) – 9.4%
It's Showtime (ABS-CBN) - 9.3%
Give Love on Christmas (ABS-CBN) 9.2%
Fairy Tail (GMA-7) / Ghost Fighter(GMA-7) - 9.1%
Detective Conan (GMA-7) / Bleach(GMA-7) - 8.8%
PRIMETIME:
24 Oras (GMA-7) - 22.6%
More Than Words (GMA-7) – 22.2%
Once Upon a Kiss (GMA-7) - 21.6%
Dream Dad (ABS-CBN) – 19.2%
Forevermore(ABS-CBN) – 18.7%
Second Chances (GMA-7) – 18.4%
Empress Ki(GMA-7) – 17.7%
TV Patrol (ABS-CBN) - 17.2%
Two Wives (ABS-CBN) – 16.4%
Prime Minister and I(GMA-7) – 15.7%
January 14, 2015 (Wednesday)
DAYTIME:
The Half Sisters (GMA-7) – 22%
Eat Bulaga! (GMA-7) – 18.2%
Yagit (GMA-7) - 16.5%
Ang Lihim ni Annasandra (GMA-7) - 13.5%
My Name is Kim Sam Soon (GMA-7) - 12.3%
Power House (GMA-7) - 11.5%
Hunter X Hunter (GMA-7) - 10.4%
The Ryzza Mae Show (GMA-7) – 10.3%
Fairy Tail (GMA-7) - 9.9%
Ghost Fighter (GMA-7) - 9.6%
PRIMETIME:
24 Oras (GMA-7) – 21.5%
More Than Words (GMA-7) - 20.6%
Once Upon a Kiss (GMA-7) - 20.2%
Dream Dad (ABS-CBN) – 19.3%
Empress Ki (GMA-7) – 19.1%
Second Chances (GMA-7) – 18.3%
Prime Minister and I (GMA-7) - 18.2%
Forevermore (ABS-CBN) – 17.8%
Two Wives (ABS-CBN) – 16.8%
TV Patrol (ABS-CBN) – 16.6%
January 15, 2015 (Thursday)
DAYTIME:
The Half Sisters (GMA-7) – 22.7%
Ang People's Pope sa Pilipinas (GMA-7) - 18.2%
Eat Bulaga! (GMA-7) – 17.4%
Yagit (GMA-7) - 16.1%
Hunter X Hunter (GMA-7) / Fairy Tail (GMA-7) - 11.6%
The Ryzza Mae Show (GMA-7) - 11.5%
Ghost Fighter(GMA-7) - 10.6%
It's Showtime (ABS-CBN) - 10.4%
Slam Dunk(GMA-7) - 10%
News Patrol (ABS-CBN) - 9.3%
PRIMETIME:
24 Oras (GMA-7) - 28.6%
More Than Words (GMA-7) – 22.4%
Once Upon a Kiss (GMA-7) - 21.2%
Dream Dad (ABS-CBN) - 19.6%
TV Patrol (ABS-CBN) – 19.2%
Forevermore(ABS-CBN) – 19.1%
Empress Ki (GMA-7) – 17.9%
Second Chances (GMA-7) – 17.5%
Two Wives (ABS-CBN) - 16.7%
Aquino & Abunda Tonight (ABS-CBN) - 12.1%
January 16, 2014 (Friday)
DAYTIME:
The Half Sisters (GMA-7) – 21.3%
Eat Bulaga! (GMA-7) – 18.3%
Ang People's Pope sa Pilipinas - Morning (GMA-7) - 17.8%
Yagit (GMA-7) - 16.2%
Ang People's Pope sa Pilipinas - Afternoon (GMA-7) - 15.2%
Detective Conan (GMA-7) - 10%
It's Showtime (ABS-CBN) – 8.7%
Thank You sa Malasakit - Morning 2 (ABS-CBN) – 8.6%
Thank You sa Malasakit - Afternoon (ABS-CBN) – 8.1%
One Piece (GMA-7) / Thank You sa Malasakit - Morning (ABS-CBN) – 8%
PRIMETIME:
24 Oras (GMA-7) - 23.5%
More Than Words (GMA-7) – 19.8%
Dream Dad (ABS-CBN) - 17.7%
Once Upon a Kiss (GMA-7) - 16.8%
TV Patrol (ABS-CBN) – 16.3%
Forevermore (ABS-CBN) – 15.7%
Two Wives (ABS-CBN) - 14.7%
Second Chances (GMA-7) – 13.7%
Bubble Gang (GMA-7) – 13.4%
Aquino & Abunda Tonight (ABS-CBN) - 10.8%
Source: AGB Nielsen Philippines