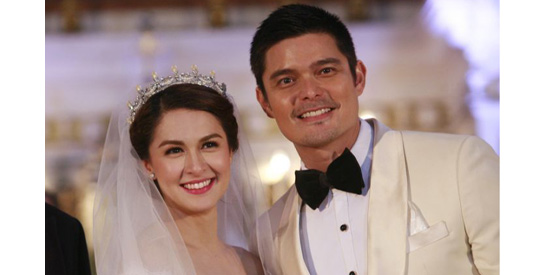 ---
ABS-CBN's primetime programs are fighting to regain supremacy against its GMA-7 rivals. This is according to the latest ratings data from AGB Nielsen Philippines from Mega Manila households between January 24 to 28, 2015.
In the previous week, GMA-7's primetime dramas got better ratings than their Kapamilya counterparts. But these Kapamilya dramas are now the winners of their timeslots.
Dream Dad defeated GMA-7's More Than Words on all three weekdays during the given period. In fact, Channel 2's light-hearted family drama was the second most-watched show on January 27 and 28. (It tied with Empress Ki on the 27th).
Forevermore outperformed Once Upon a Kiss on January 26 and 27. It was also the most-watched primetime program on January 26.
Two Wives got a higher TV rating than Second Chances on January 26.
GMA-7 still gets the top spots, however, with its primetime newscast 24 Oras and Korean period drama Empress Ki.
The most-watched show on daytime was still The Half Sisters, an afternoon drama that stars Barbie Forteza and Thea Tolentino. GMA-7 dominated the weekday top ten list most of the time, except on January 26 when ABS-CBN's coverage of The 63rd Miss Universe landed on third place.
GMA-7 also topped weekend ratings. The most-watched show on Saturday, January 24, was Dingdong and Marian: The Wedding Celebration, and Sunday's winner was Kapuso Mo, Jessica Soho.
It seems the clamor for Pope Francis has not waned as the GMA-7 TV special, Blessed by the Pope, got a TV rating of 11.3%. This allowed the show to land in the No. 8 spot.
ADVERTISEMENT - CONTINUE READING BELOW
Here is the comparative rating performance of GMA-7, ABS-CBN and TV5 programs from January 24-28, 2015 derived from AGB Nielsen Philippines from Mega Manila households:
------
January 24, 2015 (Saturday)
Morning:
PJM Forum (GMA-7) .3%; Adyenda (GMA-7) .7%; Kapwa Ko Mahal Ko (GMA-7) 1.6%; Sa Kabukiran (ABS-CBN) .6%; Shop Japan (TV5) .1%; Family Matters (TV5) .3%
Pinoy MD (GMA-7) 2.7%; Salamat Dok (ABS-CBN) .8%; Stitch (TV5) 1%
Puppy in My Pocket (GMA-7) 4.4%; Swak na Swak (ABS-CBN) 1.9%; Kim Possible (TV5) 2.3%
Kamen Rider Ooo (GMA-7) 5.9%; Angel Wings (ABS-CBN) 1.6%; Little Einsteins (TV5) 2.9%
Tom & Jerry Kids Show (GMA-7) 6.7%; Math Tinik (ABS-CBN) .9%; The Powerpuff Girls (TV5) 2.8%
Angry Birds Toons (GMA-7) 7.3%; The Adventures of Jimmy Neutron (ABS-CBN) 1.6%; Ben 10 Omniverse (TV5) 2.5%
Monsuno (GMA-7) 6.4%; Spongebob Squarepants (ABS-CBN) 3.9%
Tropang Potchi (GMA-7) 5.1%; Superbook (ABS-CBN) 4.8%; Magical Do Re Mi (TV5) 3.5%; Sword Art Online (TV5) 3.7%
Sarap Diva (GMA-7) 7.1%; Maynila (GMA-7) 9.6%; NBA 2014-2015 Season: Atlanta vs Oklahoma City (ABS-CBN) 3.5%; Fushigi Yuugi (TV5) 3.7%; Street Fighter II (TV5) 3.7%; Movie Max 5: Life is Ruff (TV5) 5.7%
Afternoon:
Eat Bulaga! (GMA-7) 17.7%; GMA Tales of Horror (GMA-7) 10.6%; It's Showtime (ABS-CBN) 13.8%; Movie Max 5: K-9 P.I. (TV5) 4.5%
Wish Ko Lang! (GMA-7) 10.3%; Startalk 19 (GMA-7) 8.6%; Ipaglaban Mo (ABS-CBN) 7.9%; Movie Max 5: Rapid Fire (TV5) 5.5%
Imbestigador (GMA-7) 11.4%; Failon Ngayon (ABS-CBN) 4.2%; Movie Max 5: Hellboy (TV5) 4.5%
24 Oras Weekend (GMA-7) 12.8%; SOCO (ABS-CBN) 7.5%
Evening:
Pepito Manaloto: Ang Tunay na Kuwento (GMA-7) 21.3%; TV Patrol Weekend (ABS-CBN) 10.3%; Mga Kwento ni Marc Logan (ABS-CBN) 11.3%; Tropa Mo Ko Unli Spoof (TV5) 4.1%
Magpakailanman (GMA-7) 23.6%; Home Sweetie Home (ABS-CBN) 12.9%; MMK: Ang Tahanan Mo (ABS-CBN) 17.7%; 2 1/2 Daddies (TV5) 5.2%
Dingdong and Marian: The Wedding Celebration (GMA-7) 24.2%; Celebrity Bluff (GMA-7) 17.4%; The Voice of the Philippines (ABS-CBN) 15.3%; Everybody Hapi (TV5) 4.3%; Call Me Papa Jack (TV5) 1.8%
ADVERTISEMENT - CONTINUE READING BELOW
I-Witness (GMA-7) 9.5%; Banana Split Extra Scoop (TV5) 6.6%; Kaya. (TV5) 1%
Walang Tulugan (GMA-7) 3%; The Bottom Line (ABS-CBN) 2.4%; Sports Unlimited (ABS-CBN) 1%; O Shopping (ABS-CBN) .7%; Shop Japan (TV5) .2%
--
January 25, 2015 (Sunday)
Daytime:
In Touch with Dr. Charles Stanley (GMA-7) 0%; Jesus The Healer (GMA-7) .4%; Shop Japan (TV5) .1%
Kapuso Sine Klasika: Barbi for President (GMA-7) 2.3%; The Healing Eucharist (ABS-CBN) 2.4%; Misa Nazareno (TV5) .8%
Grimm's Fairy Tales (GMA-7) 4.9%; Swak na Swak (ABS-CBN) 1.5%; Power to Unite (TV5) .4%
Kamen Rider Ooo (GMA-7) 6.2%; Tom & Jerry Kids Show (GMA-7) 7.6%; Salamat Dok (ABS-CBN) 1.4%; Kim Possible (TV5) 1.3%; Little Einsteins (TV5) 2.2%
Monsuno (GMA-7) 5.8%; My Giant Friend (ABS-CBN) 1.9%; The Powerpuff Girls (TV5) 3.4%
Aha! (GMA-7) 7.2%;Max Steel (TV5) 2.3%; Superbook (ABS-CBN) 2.8%; Ben 10 Omniverse (TV5) 2.3%; Sword Art Online (TV5) 2.4%
Born To Be Wild (GMA-7) 9.3%; iBilib (ABS-CBN) 9%; Matanglawin (ABS-CBN) 4.3%; Fushigi Yuugi (TV5) 2.1%; Street Fighter II (TV5) 2.7%
Superhero Sunday: The Files of Young Kindaichi (GMA-7) 13.5%; Oh My G! (ABS-CBN) 5.9%; Movie Max 5: Cop & 1/2 (TV5) 3.8%
Afternoon:
Kapuso Movie Festival: Dennis The Menace (GMA-7) 17.7%; Sunday All Stars (GMA-7) 10.5%; ASAP 20 (ABS-CBN) 8%; Movie Max 5: Piranha (TV5) 5.3%
GMA Blockbusters: Miss Congeniality (GMA-7) 10.8%; Luv U (ABS-CBN) 6%; The Buzz (ABS-CBN) 5.2%; Movie Max 5: The Eagle (TV5) 4.6%
24 Oras Weekend (GMA-7) 9.5%; TV Patrol Weekend (ABS-CBN) 5.7%; Movie Max 5: You Don't Mess With The Zohan (TV5) 6.5%
Evening:
Vampire Ang Daddy Ko (GMA-7) 14.4%; Goin' Bulilit (ABS-CBN) 8.9%
Ismol Family (GMA-7) 20.8%; Wansapanataym (ABS-CBN) 11.7%; Move It (TV5) 3.7%
Kapuso Mo, Jessica Soho (GMA-7) 24.9%; Rated K: Handa Na Ba Kayo? (ABS-CBN) 14.1%; The Voice of the Philippines (ABS-CBN) 18%; Mac & Chiz (TV5) 4.7%; Wow Mali Lakas ng Tama (TV5) 3.9%
Blessed by the Pope (GMA-7) 11.3%; Gandang Gabi Vice (ABS-CBN) 15%; Wattpad Presents (TV5) 2%
ADVERTISEMENT - CONTINUE READING BELOW
Top 20 Funniest (GMA-7) 7.4%; Sunday's Best: Ang Mabuting Pastol (ABS-CBN) 3.9%
Diyos at Bayan (GMA-7) 1.9%; O Shopping (ABS-CBN) .7%; Shop Japan (TV5) .2%
---
January 26, 2015 (Monday)
Morning:
Power House Replay (GMA-7) .8%; Matanglawin Replay (ABS-CBN) .6%
Unang Hirit! (GMA-7) 4.5%; Umagang Kay Ganda (ABS-CBN) 3.1%; Aksyon sa Umaga (TV5) .7%; Sofia the First (TV5) 1%; Sofia the First (TV5) 1.9%; Henry the Huggle Monster (TV5) 2%
Dragon Ball (GMA-7) 4.9%; Pokemon (GMA-7) 6%; Jackie Chan Adventures (GMA-7) 7.6%; Kris TV (ABS-CBN) 3.8%; Phineas and Ferb (TV5) 1.7%; Hi-5 (TV5) 1.6%
Detective Conan (GMA-7) 8.3%; Spongebob Squarepants (ABS-CBN) 3.5%; A Dog of Flanders (ABS-CBN) 3%; Infinity Nado (TV5) 1.3%
One Piece (GMA-7) 8.7%; Cedie (ABS-CBN) 3.8%; Rockman Exe Excess (TV5) 2.1%
Bleach (GMA-7) 8.1%; Fairy Tail (GMA-7) 10%; Slam Dunk (GMA-7) 10.1%; Knock-Out (GMA-7) 9.7%; The Ryzza Mae Show (GMA-7) 10.4%; The 63rd Miss Universe (ABS-CBN) 15.5%; Healing Galing sa TV5 (TV5) 1.2%; Happy Wife Happy Life (TV5) 1.5%; Solved na Solved (TV5) 1.3%; Aksyon sa Tanghali (TV5) 1.8%
Afternoon:
Eat Bulaga! (GMA-7) 17.5%; It's Showtime (ABS-CBN) 10.5%; T3 Enforced (TV5) 2.5%; Movie Max 5: The Ruins (TV5) 3.1%
The Half Sisters (GMA-7) 20.4%; Flordeliza (ABS-CBN) 6.2%; Movie Max 5: Ice Twisters (TV5) 2.7%
Yagit (GMA-7) 14.4%; Nasaan Ka Nang Kailangan Kita (ABS-CBN) 6.2%
Ang Lihim ni Annasandra (GMA-7) 12.5%; Fated to Love You (ABS-CBN) 5.5%
Alisto! (GMA-7) 10.3%; Bistado (ABS-CBN) 4.2%; Movie Max 5: Behind Enemy Lines (TV5) 4.7%
My Name is Kim Sam Soon (GMA-7) 12%; Bet On Your Baby (ABS-CBN) 5.3%
Evening:
Prime Minister and I (GMA-7) 15.7%; Bagito (ABS-CBN) 9.3%; Aksyon (TV5) 3.7%
24 Oras (GMA-7) 19.8%; TV Patrol (ABS-CBN) 17.4%; Movie Max 5: The Patriot (TV5) 6.4%
More Than Words (GMA-7) 18.6%; Dream Dad (ABS-CBN) 20%
Once Upon a Kiss (GMA-7) 18.4%; Forevermore (ABS-CBN) 20.1%; Wattpad Presents (TV5) 3.3%
Second Chances (GMA-7) 15.7%; Two Wives (ABS-CBN) 18.3%; Teen Wolf (TV5) 4%
Empress Ki (GMA-7) 19.9%; Aquino & Abunda Tonight (ABS-CBN) 12.3%; Faith (ABS-CBN) 8.4%; Aksyon Tonite (TV5) 1.6%
ADVERTISEMENT - CONTINUE READING BELOW
Saksi (GMA-7) 10.4%; Bandila (ABS-CBN) 5.1%; T3 Enforced Replay (TV5) .6%; Demolition Job (TV5) .5%
Front Row (GMA-7) 5.4%; Mukha (ABS-CBN) 3.1%; O Shopping (ABS-CBN) .8%; Shop Japan (TV5) 0%
----
January 27, 2015 (Tuesday)
Morning:
I-Witness Replay (GMA-7) 1%; Red Alert Replay (ABS-CBN) .6%
Unang Hirit! (GMA-7) 4.2%; Umagang Kay Ganda (ABS-CBN) 3%; Aksyon sa Umaga (TV5) .7%; Sofia the First (TV5) 1.1%; Sofia the First (TV5) 2.6%
Dragon Ball (GMA-7) 4.9%; Pokemon (GMA-7) 6.2%; Jackie Chan Adventures (GMA-7) 7%; Kris TV (ABS-CBN) 5.2%; Henry the Huggle Monster (TV5) 2.5%; Phineas and Ferb (TV5) 2.2%; Hi-5 (TV5) 1.6%
Detective Conan (GMA-7) 7.8%; Spongebob Squarepants (ABS-CBN) 3.9%; Infinity Nado (TV5) 1.5%
One Piece (GMA-7) 9.3%; A Dog of Flanders (ABS-CBN) 3.7%; Rockman Exe Axess (TV5) 1.5%
Bleach (GMA-7) 9.7%; Cedie (ABS-CBN) 4%; Healing Galing sa TV5 (TV5) 1.1%
Fairytail (GMA-7) 10.4%; Komiks: Da Adventures of Pedro Penduko (ABS-CBN) 4.2%
Slam Dunk (GMA-7) 10.1%; Knock Out (GMA-7) 10.7%; The Singing Bee (ABS-CBN) 8.3%; Happy Wife Happy Life (TV5) 1.3%
The Ryzza Mae Show (GMA-7) 11.7%; Oh My G! (ABS-CBN) 9.9%; Solved na Solved (TV5) 1.7%
Afternoon:
Eat Bulaga! (GMA-7) 17.8%; It's Showtime (ABS-CBN) 8.9%; Aksyon sa Tanghali (TV5) 1.5%; T3 Enforced (TV5) 2.4%; Movie Max 5: Altered (TV5) 3.9%
The Half Sisters (GMA-7) 19.8%; Flordeliza (ABS-CBN) 5.9%; Movie Max 5: Doomsday Prophecy (TV5) 4.6%
Yagit (GMA-7) 14.6%; Nasaan Ka Nang Kailangan Kita (ABS-CBN) 5.4%
Ang Lihim ni Annasandra (GMA-7) 12.4%; Fated to Love You (ABS-CBN) 4.3%; PBA 2015 Commissioner's Cup: Global Port vs Kia Carnival (TV5) 3.6%
Tunay na Buhay (GMA-7) 10.8%; Mutya ng Masa (ABS-CBN) 3.1%
My Name is Kim Sam Soon (GMA-7) 11.9%; Bet On Your Baby (ABS-CBN) 5.5%
Evening:
Prime Minister and I (GMA-7) 16.3%; Bagito (ABS-CBN) 9.2%; Aksyon (TV5) 4.8%
24 Oras (GMA-7) 20.8%; TV Patrol (ABS-CBN) 15.7%; PBA 2015 Commissioner's Cup: Brgy Ginebra vs Meralco (TV5) 8.9%
More Than Words (GMA-7) 18.2%; Dream Dad (ABS-CBN) 19.6%
ADVERTISEMENT - CONTINUE READING BELOW
Once Upon a Kiss (GMA-7) 18.1%; Forevermore (ABS-CBN) 18.8%
Second Chances (GMA-7) 17.9%; Two Wives (ABS-CBN) 16.7%; Wattpad Presents (TV5) 3.4%; Teen Wolf (TV5) 4.4%
Empress Ki (GMA-7) 19.6%; Aquino & Abunda Tonight (ABS-CBN) 10.4%; Faith (ABS-CBN) 7%; Aksyon Tonite (TV5) 1%; Reaksyon (TV5) .9%
Saksi (GMA-7) 11.2%; Bandila (ABS-CBN) 4.1%; T3 Enforced Replay (TV5) .9%; Numero (TV5) .4%; Shop Japan (TV5) .1%
The Blue Planet (GMA-7) 6.3%; Banana Nite (ABS-CBN) 2.4%; O Shopping (ABS-CBN) .9%
---
January 28, 2015 (Wednesday)
Morning:
Tunay na Buhay Replay (GMA-7) 1.2%; My Puhunan Replay (ABS-CBN) .6%
Unang Hirit! (GMA-7) 4.2%; Umagang Kay Ganda (ABS-CBN) 2.5%; Aksyon sa Umaga (TV5) .7%; Sofia the First (TV5) 1.1%; Sofia the First (TV5) 2.1%
Dragon Ball (GMA-7) 4.9%; Pokemon (GMA-7) 5.7%; Jackie Chan Adventures (GMA-7) 7.2%; Kris TV (ABS-CBN) 4.8%; Henry the Huggle Monster (TV5) 2%; Phineas and Ferb (TV5) 2%; Hi-5 (TV5) 1.7%
Detective Conan (GMA-7) 9%; Spongebob Squarepants (ABS-CBN) 3.6%; Infinity Nado (TV5) 1.1%
One Piece (GMA-7) 9.1%; A Dog of Flanders (ABS-CBN) 3.4%; Rockman Exe Axess (TV5) 1.6%
Bleach (GMA-7) 10%; Cedie (GMA-7) 3.9%
Fairytail (GMA-7) 11.9%; Komiks: Da Adventures of Pedro Penduko (ABS-CBN) 4.2%; Healing Galing sa TV5 (TV5) .8%
Slam Dunk (GMA-7) 11.6%; Knock Out (GMA-7) 10.8%; The Singing Bee (ABS-CBN) 8.1%; Happy Wife Happy Life (TV5) 1.4%
The Ryzza Mae Show (GMA-7) 11.2%; Oh My G! (ABS-CBN) 10.7%; Solved na Solved (TV5) 1.7%
Afternoon:
Eat Bulaga! (GMA-7) 17.6%; It's Showtime (ABS-CBN) 8.9%; Aksyon sa Tanghali (TV5) 2.5%; T3 Enforced (TV5) 3%; Movie Max 5: The League of Gentlemen's Apocalypse (TV5) 2.7%
The Half Sisters (GMA-7) 19.6%; Flordeliza (ABS-CBN) 5.6%; Movie Max 5: Dark Storm (TV5) 3.3%
Yagit (GMA-7) 15.4%; Nasaan Ka Nang Kailangan Kita (ABS-CBN) 5.4%
Ang Lihim ni Annasandra (GMA-7) 12.9%; Fated to Love You (ABS-CBN) 4.4%
Power House (GMA-7) 12.4%; My Puhunan (ABS-CBN) 3.9%; PBA 2015 Commissioner's Cup: Barako Bull vs Blackwater Elite (TV5) 1.9%
My Name is Kim Sam Soon (GMA-7) 12.2%; Bet On Your Baby (ABS-CBN) 5.3%
ADVERTISEMENT - CONTINUE READING BELOW
Evening:
Prime Minister and I (GMA-7) 17.1%; Bagito (ABS-CBN) 8.5%; Aksyon (TV5) 4.1%
24 Oras (GMA-7) 21.2%; TV Patrol (ABS-CBN) 16.1%; PBA 2015 Commissioner's Cup: Rain or Shne vs Talk N Text (TV5) 6.7%
More Than Words (GMA-7) 19.1%; Dream Dad (ABS-CBN) 19.7%
Once Upon a Kiss (GMA-7) 19.6%; Forevermore (ABS-CBN) 19.4% Wattpad Presents (TV5) 3.3%
Second Chances (GMA-7) 17.4%; Two Wives (ABS-CBN) 16%; Teen Wolf (TV5) 4.2%
Empress Ki (GMA-7) 20.3%; Aquino & Abunda Tonight (ABS-CBN) 9.9%; Faith (ABS-CBN) 6.8%; Aksyon Tonite (TV5) 1.5%; Reaksyon (TV5) 1.3%
Saksi (GMA-7) 10.1%; Bandila (ABS-CBN) 3.3%; History with Lourd (TV5) .7%; Shop Japan (TV5) .1%
Frozen Planet (GMA-7) 5.7%; Banana Nite (ABS-CBN) 2%; O Shopping (ABS-CBN) .8%
---
TOP TEN PROGRAMS:
January 24, 2015 (Saturday)
DAYTIME:
Eat Bulaga! (GMA-7) – 17.7%
It's Showtime (ABS-CBN) - 13.8%
24 Oras Weekend (GMA-7) – 12.8%
Imbestigador (GMA-7) – 11.4%
GMA Tales of Horror (GMA-7) - 10.6%
Wish Ko Lang! (GMA-7) / TV Patrol Weekend (ABS-CBN) - 10.3%
Maynila (GMA-7) - 9.6%
Startalk (GMA-7) - 8.6%
Ipaglaban Mo (ABS-CBN) – 7.9%
SOCO (ABS-CBN) – 7.5%
PRIMETIME:
Dingdong and Marian: The Wedding Celebration (GMA-7) - 24.2%
Magpakailanman (GMA-7) – 23.6%
Pepito Manaloto: Ang Tunay na Kuwento (GMA-7) – 21.3%
MMK: Ang Tahanan Mo (ABS-CBN) – 17.7%
Celebrity Bluff (GMA-7) – 17.4%
The Voice of the Philippines(ABS-CBN) – 15.3%
Home Sweetie Home (ABS-CBN) – 12.9%
Mga Kwento ni Marc Logan(ABS-CBN) – 11.3%
I-Witness (GMA-7) - 9.5%
Banana Split Extra Scoop (ABS-CBN) – 6.6%
January 25, 2015 (Sunday)
DAYTIME:
Kapuso Movie Festival (GMA-7) - 17.7%
Superhero Sunday (GMA-7) - 13.5%
GMA Blockbusters (GMA-7) - 10.8%
Sunday All Stars (GMA-7) - 10.5%
24 Oras Weekend (GMA-7) - 9.5%
Born to be Wild (GMA-7) - 9.3%
iBilib (GMA-7) - 9%
ASAP (ABS-CBN) – 8%
Tom & Jerry Kids Show(GMA-7) - 7.6%
Aha! (GMA-7) - 7.2%
PRIMETIME:
Kapuso Mo, Jessica Soho (GMA-7) - 24.9%
Ismol Family (GMA-7) - 20.8%
The Voice Philippines (ABS-CBN) – 18%
Gandang Gabi Vice (ABS-CBN) – 15%
Vampire Ang Daddy Ko (GMA-7) – 14.4%
Rated K: Handa Na Ba Kayo? (ABS-CBN) – 14.1%
Wansapanataym (ABS-CBN) – 11.7%
Blessed by the Pope (GMA-7) – 11.3%
Goin' Bulilit (ABS-CBN) – 8.9
Top 20 Funniest Videos (GMA-7) - 7.4%
January 26, 2015 (Monday)
DAYTIME:
The Half Sisters (GMA-7) – 20.4%
Eat Bulaga! (GMA-7) – 17.5%
The 63rd Miss Universe (ABS-CBN) - 15.5%
Yagit (GMA-7) – 14.4%
Ang Lihim ni Annasandra (GMA-7) – 12.5%
My Name is Kim Sam Soon (GMA-7) – 12%
It's Showtime (ABS-CBN) - 10.5%
The Ryzza Mae Show (GMA-7) - 10.4%
Alisto! (GMA-7) - 10.3%
Slam Dunk(GMA-7) - 10.1%
PRIMETIME:
Forevermore (ABS-CBN) – 20.1%
Dream Dad (ABS-CBN) - 20%
Empress Ki (ABS-CBN) – 19.9%
24 Oras (GMA-7) - 19.8%
More Than Words (GMA-7) – 18.6%
Once Upon a Kiss (GMA-7) - 18.4%
Two Wives (ABS-CBN) – 18.3%
TV Patrol (ABS-CBN) – 17.4%
Prime Minister and I(GMA-7) / Second Chances (GMA-7) - 15.7%
Aquino & Abunda Tonight (ABS-CBN) - 12.3%
January 27, 2015 (Tuesday)
DAYTIME:
The Half Sisters (GMA-7) – 19.8%
Eat Bulaga! (GMA-7) – 17.8%
Yagit (GMA-7) - 14.6%
Ang Lihim ni Annasandra (GMA-7) - 12.4%
My Name is Kim Sam Soon (GMA-7) - 11.9%
The Ryzza Mae Show (GMA-7) - 11.7%
Tunay na Buhay (GMA-7) – 10.8%
Knock Out (GMA-7) - 10.7%
Fairy Tail (GMA-7) - 10.4%
Slam Dunk (GMA-7) - 10.1%
PRIMETIME:
24 Oras (GMA-7) - 20.8%
Empress Ki(GMA-7) / Dream Dad (ABS-CBN) – 19.6%
Forevermore(ABS-CBN) – 18.8%
More Than Words (GMA-7) – 18.2%
Once Upon a Kiss (GMA-7) - 18.1%
Second Chances (GMA-7) – 17.9%
Two Wives (ABS-CBN) – 16.7%
Prime Minister and I (GMA-7) – 16.3%
TV Patrol (ABS-CBN) - 15.7%
Saksi (GMA-7) – 11.2%
January 28, 2015 (Wednesday)
DAYTIME:
The Half Sisters (GMA-7) – 19.6%
Eat Bulaga! (GMA-7) – 17.6%
Yagit (GMA-7) - 15.4%
Ang Lihim ni Annasandra (GMA-7) - 12.9%
Power House (GMA-7) - 12.4%
My Name is Kim Sam Soon (GMA-7) - 12.2%
Fairy Tail (GMA-7) - 11.9%
Slam Dunk(GMA-7) - 11.6%
The Ryzza Mae Show(GMA-7) - 11.2%
Knock Out(GMA-7) - 10.8%
PRIMETIME:
24 Oras (GMA-7) – 21.2%
Empress Ki (GMA-7) – 20.3%
Dream Dad (ABS-CBN) - 19.7%
Once Upon a Kiss (GMA-7) - 19.6%
Forevermore (ABS-CBN) – 19.4%
More Than Words (GMA-7) - 19.1%
Second Chances (GMA-7) – 17.4%
Prime Minister and I (GMA-7) - 17.1%
TV Patrol (ABS-CBN) – 16.1%
Two Wives (ABS-CBN) – 16%
Source: AGB Nielsen Philippines