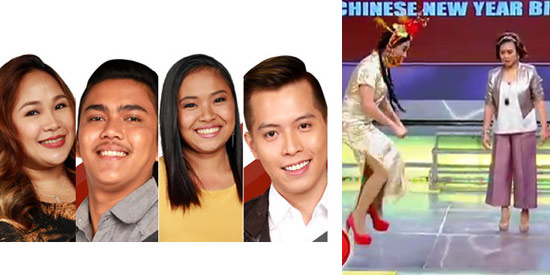 ---
GMA-7 is the overall ratings winner in Mega Manila. This is according to TV ratings from AGB Nielsen for Mega Manila households from February 16 to 22, 2015.
ABS-CBN's shows may be leading in primetime, but more GMA-7 programs get better ratings during the day.
ABS-CBN's Forevermore is still the primetime leader, topping the list three times out of five. Dream Dad, another ABS-CBN primetime drama, took the lead on Friday, while GMA-7's Korean series Empress Ki won on Wednesday.
But GMA-7 still took daytime with The Half Sisters, which continues to get primetime-worthy ratings day after day.
Other Kapuso shows on daytime, like Eat Bulaga! and Yagit, also defeat their rivals on the Kapamilya station.
GMA-7's new Asianovela about time travel, Future's Choice, is also performing well. It outranked ABS-CBN's Bagito on its pilot week.
Future's Choice, which replaced Prime Minister and I, got a TV rating of 12.6% on its pilot episode, slightly higher than Bagito's 11.4%.
ADVERTISEMENT - CONTINUE READING BELOW
GMA-7 also topped weekend ratings with Magpakailanman, Kapuso Movie Festival and Kapuso Mo, Jessica Soho.
The February 21 Magpakailanman episode was a love story that starred Kristoffer Martin and Joyce Ching. It scored 25.6% against the 13.4% earned by Maalaala Mo Kaya (MMK).

It is interesting to note that in Mega Manila, more viewers tuned in to GMA-7's Celebrity Bluff over the semi-finals of The Voice of the Philippines Season 2 last February 21.

Eugene Domingo's game show, Celebrity Bluff, aired from 8:58 PM to 9:51 PM and got a TV rating of 20.1%. Meanwhile, The Voice PH Season 2 got a TV rating of 17.5% when the Top Eight performed in a bid to enter the final round of the competition. The Kapamilya singing competition aired from 8:46 PM to 10:33 PM.
Here is the comparative rating performance of GMA-7, ABS-CBN and TV5 programs from February 16 to 22, derived by AGB Nielsen Philippines from Mega Manila households:
-----
February 16, 2015 (Monday)
ADVERTISEMENT - CONTINUE READING BELOW
Morning:
Power House Replay (GMA-7) .9%; Mission Possible Replay (ABS-CBN) .4%
Unang Hirit! (GMA-7) 4.5%; Umagang Kay Ganda (ABS-CBN) 3%; Aksyon sa Umaga (TV5) .5%; Sofia the First (TV5) .9%; Sofia the First (TV5) 1.8%
Dragon Ball (GMA-7) 5.6%; Pokemon (GMA-7) 6.8%; Detective Conan (GMA-7) 7.3%; One Piece (GMA-7) 7%; Kris TV (ABS-CBN) 5%; Henry the Huggle Monster (TV5) 2.2%; Phineas and Ferb (TV5) 1.7%; Hi-5 (TV5) 1.8%
Fairy Tail (GMA-7) 7.1%; Spongebob Squarepants (ABS-CBN) 3.5%; Rockman Exe Excess (TV5) 1.4%
Slam Dunk (GMA-7) 8.3%; Remi (ABS-CBN) 3.4%; Cedie (ABS-CBN) 4.3%; Rockman Exe Excess (TV5) 1.3%
Knock Out (GMA-7) 10.3%; Corazon Indomable (GMA-7) 8.1%; Women in the Sun (GMA-7) 8.1%; Kapamilya Blockbusters: Four Sisters and a Wedding (ABS-CBN) 9.1%; Healing Galing sa TV5 (TV5) 1.3%; Happy Wife Happy Life (TV5) 1.1%; Solved na Solved (TV5) 1.3%;
The Ryzza Mae Show (GMA-7) 11.9%; Oh My G! (GMA-7) 10.7%; Aksyon sa Tanghali (TV5) 1.9%
Afternoon:
Eat Bulaga! (GMA-7) 18.2%; It's Showtime (ABS-CBN) 10.4%; T3 Enforced (TV5) 2.6%; Movie Max 5: Ultimate Avengers (TV5) 2.6%
The Half Sisters (GMA-7) 19%; Flordeliza (ABS-CBN) 6.9%; Movie Max 5: Metal Shifters (TV5) 3.5%
Yagit (GMA-7) 15.5%; Nasaan Ka Nang Kailangan Kita (ABS-CBN) 7.1%
ADVERTISEMENT - CONTINUE READING BELOW
Kailan Ba Tama Ang Mali? (GMA-7) 10.6%; Fated to Love You (ABS-CBN) 6.3%
Alisto! (GMA-7) 10%; Maniwala Ka Kaya Mo Mission Possible (ABS-CBN) 4.8%; Movie Max 5: Termination Point (TV5) 3.6%
My Name is Kim Sam Soon (GMA-7) 9.7%; Kapamilya Deal or No Deal (ABS-CBN) 7.6%
Evening:
Future's Choice (GMA-7) 12.6%; Bagito (ABS-CBN) 11.4%; Aksyon (TV5) 3.8%
24 Oras (GMA-7) 20.9%; TV Patrol (ABS-CBN) 17.2%; Movie Max 5: Wanted (TV5) 7.5%
More Than Words (GMA-7) 20.1%; Dream Dad (ABS-CBN) 20.5%
Once Upon a Kiss (GMA-7) 19.4%; Forevermore (ABS-CBN) 22%; Wattpad Presents (TV5) 4.2%
Second Chances (GMA-7) 17.7%; Two Wives (ABS-CBN) 17.1%; Marvel Agents of SHIELD (TV5) 3.7%
Empress Ki (GMA-7) 21.3%; Aquino & Abunda Tonight (ABS-CBN) 11.5%; Unforgettable Love (ABS-CBN) 9%; Extreme Series (TV5) 2.1%; Aksyon Tonite (TV5) 1.4%
Saksi (GMA-7) 11.8%; Bandila (ABS-CBN) 5.5%; Reaksyon (TV5) .8%; Demolition Job (TV5) .8%; The 700 Club Asia (GMA News TV) .3%
Front Row (GMA-7) 6.5%; Mukha (ABS-CBN) 2.4%; O Shopping (ABS-CBN) 1%; Shop Japan (TV5) .4%
----
February 17, 2015 (Tuesday)
Morning:
I-Witness Replay (GMA-7) .9%; 3-in-1 Replay Replay (ABS-CBN) .6%
Unang Hirit! (GMA-7) 4.4%; Umagang Kay Ganda (ABS-CBN) 2.8%; Aksyon sa Umaga (TV5) .7%; Sofia the First (TV5) 1.3%; Sofia the First (TV5) 2.3%
ADVERTISEMENT - CONTINUE READING BELOW
Dragon Ball (GMA-7) 4.4%; Pokemon (GMA-7) 4.8%; Detective Conan (GMA-7) 6.9%; Kris TV (ABS-CBN) 5.5%; Henry the Huggle Monster (TV5) 2.5%; Phineas and Ferb (TV5) 2.3%; Hi-5 (TV5) 1.5%
One Piece (GMA-7) 8.1%; Spongebob Squarepants (ABS-CBN) 4.2%; Rockman Exe Excess (TV5) 1.3%
Fairy Tail (GMA-7) 8.8%; Remi (ABS-CBN) 4.4%
Slam Dunk (GMA-7) 10.2%; Cedie (ABS-CBN) 5.2%; Rockman Exe Excess (TV5) 1.5%
Knock Out (GMA-7) 10.1%; Corazon Indomable (GMA-7) 8.2%; Women in the Sun (GMA-7) 9.1%; Kapamilya Blockbusters: Pak! Pak! My Dr. Kwak! (ABS-CBN) 10.1%; Healing Galing sa TV5 (TV5) 2%; Happy Wife Happy Life (TV5) 1.7%
The Ryzza Mae Show (GMA-7) 11.9%; Oh My G! (ABS-CBN) 10.5%; Solved na Solved (TV5) 1.7%
Afternoon:
Eat Bulaga! (GMA-7) 17.5%; It's Showtime (ABS-CBN) 10.8%; Aksyon sa Tanghali (TV5) 2%; T3 Enforced (TV5) 2%; Movie Max 5: Ultimate Avengers II (TV5) 2%
The Half Sisters (GMA-7) 18.9%; Flordeliza (ABS-CBN) 7.3%; Movie Max 5: Seeds of Destruction (TV5) 3.6%
Yagit (GMA-7) 16.2%; Nasaan Ka Nang Kailangan Kita (ABS-CBN) 7%
Kailan Ba Tama Ang Mali? (GMA-7) 11.3%; Fated to Love You (ABS-CBN) 7.2%; PBA 2015 Commissioner's Cup: Blackwater Elite vs NLEX (TV5) 2%
Tunay na Buhay (GMA-7) 11.8%; 3-in-1 (ABS-CBN) 5.9%
ADVERTISEMENT - CONTINUE READING BELOW
My Name is Kim Sam Soon (GMA-7) 12%; Kapamilya Deal or No Deal (ABS-CBN) 8.1%
Evening:
Future's Choice (GMA-7) 13.7%; Bagito (ABS-CBN) 11.1%; Aksyon (TV5) 4%
24 Oras (GMA-7) 19.7%; TV Patrol (ABS-CBN) 16.5%; PBA 2015 Commissioner's Cup: Alaska vs San Miguel Beermen (TV5) 8.3%
More Than Words (GMA-7) 19.7%; Dream Dad (ABS-CBN) 20.2%
Once Upon a Kiss (GMA-7) 18.6%; Forevermore (ABS-CBN) 21.4%
Second Chances (GMA-7) 17%; Two Wives (ABS-CBN) 17.8%; Wattpad Presents (TV5) 4.2%; Marvel Agents of SHIELD (TV5) 2.9%
Empress Ki (GMA-7) 20.4%; Aquino & Abunda Tonight (ABS-CBN) 11.7%; Unforgettable Love (ABS-CBN) 8.8%; Extreme Series (TV5) 1.4%
Saksi (GMA-7) 11.3%; Stan Lee's Superhumans (GMA-7) 6.5%; Bandila (ABS-CBN) 4.7%; Aksyon Tonite (TV5) .7%; Reaksyon (TV5) .7%; Numero (TV5) .5%
The Tim Yap Show (GMA-7) 2.7%; Banana Nite (ABS-CBN) 3.1%; O Shopping (ABS-CBN) 1.1%; Shop Japan (TV5) .2%
---
February 18, 2015 (Wednesday)
Morning:
Tunay na Buhay Replay (GMA-7) 1.1%; RealiTV Replay (ABS-CBN) .6%
Unang Hirit! (GMA-7) 4.1%; Umagang Kay Ganda (ABS-CBN) 2.5%; Aksyon sa Umaga (TV5) .7%; Sofia the First (TV5) 1.5%; Sofia the First (TV5) 2.3%
Dragon Ball (GMA-7) 5%; Pokemon (GMA-7) 5.9%; Detective Conan (GMA-7) 7.6%; Kris TV (ABS-CBN) 4.4%; Henry the Huggle Monster (TV5) 2.1%; Phineas and Ferb (TV5) 1.7%; Hi-5 (TV5) 1.7%
ADVERTISEMENT - CONTINUE READING BELOW
One Piece (GMA-7) 8.6%; Fairy Tail (GMA-7) 8.5%; Spongebob Squarepants (ABS-CBN) 3.9%; Rockman Exe Excess (TV5) 1.4%
Slam Dunk (GMA-7) 9.1%; Remi (ABS-CBN) 4.8%; Cedie (ABS-CBN) 5.7%; Rockman Exe Excess (TV5) 1.3%
Knock Out (GMA-7) 10.1%; Corazon Indomable (GMA-7) 8.8%; Women in the Sun (GMA-7) 9.3%; Kapamilya Blockbusters: Bromance (ABS-CBN) 9.2%; Healing Galing sa TV5 (TV5) 1%; Happy Wife Happy Life (TV5) 1.3%
The Ryzza Mae Show (GMA-7) 12.3%; Oh My G! (ABS-CBN) 10.4%; Solved na Solved (TV5) 1.6%; Aksyon sa Tanghali (TV5) 2.7%
Afternoon:
Eat Bulaga! (GMA-7) 18%; It's Showtime (ABS-CBN) 9.5%; T3 Enforced (TV5) 3%; Movie Max 5: The Invincible Iron Man (TV5) 2.7%
The Half Sisters (GMA-7) 18.5%; Flordeliza (ABS-CBN) 6.4%; Movie Max 5: Stonehenge Apocalypse (TV5) 2.9%
Yagit (GMA-7) 16.4%; Nasaan Ka Nang Kailangan Kita (ABS-CBN) 5.9%
Kailan Ba Tama Ang Mali? (GMA-7) 11.7%; Fated to Love You (ABS-CBN) 5.5%; RealiTV (ABS-CBN) 4.7%; PBA 2015 Commissioner's Cup: Barako Bull vs Global Port (TV5) 3.1%
Power House (GMA-7) 11.1%; My Name is Kim Sam Soon (GMA-7) 11.4%; Kapamilya Deal or No Deal (ABS-CBN) 6.4%
Evening:
Future's Choice (GMA-7) 11.9%; Bagito (ABS-CBN) 8.8%
24 Oras (GMA-7) 17.9%; TV Patrol (ABS-CBN) 14.9%; Aksyon (TV5) 4.1%
ADVERTISEMENT - CONTINUE READING BELOW
More Than Words (GMA-7) 18.4%; Dream Dad (ABS-CBN) 18.8%; PBA 2015 Commissioner's Cup: Kia Carnival vs Purefoods Star Hotshots (TV5) 8.8%
Once Upon a Kiss (GMA-7) 17.1%; Forevermore (ABS-CBN) 21%; Wattpad Presents (TV5) 3.5%
Second Chances (GMA-7) 19.9%; Two Wives (ABS-CBN) 17.2%; Marvel Agents of SHIELD (TV5) 3.6%
Empress Ki (GMA-7) 22.1%; Aquino & Abunda Tonight (ABS-CBN) 12.4%; Unforgettable Love (ABS-CBN) 9.2%; Extreme Series Kaya Mo Ba 'To (TV5) 2.2%; Aksyon Tonite (TV5) 1.4%
Saksi (GMA-7) 11.4%; Earth Flight (GMA-7) 7.2%; Bandila (ABS-CBN) 5.1%; Reaksyon (TV5) .7%; LBC Ronda Pilipinas (TV5) .6%; Tagaligtas: The SAF Documentary (TV5) .3%
The Tim Yap Show (GMA-7) 2.7%; Banana Nite (ABS-CBN) 3.1%; O Shopping (ABS-CBN) 1.2%; Shop Japan (TV5) .2%
---
February 19, 2015 (Thursday)
Morning:
Born to be Wild Replay (GMA-7) .5%; Sports U Replay (ABS-CBN) .2%
Unang Hirit! (GMA-7) 2.9%; Umagang Kay Ganda (ABS-CBN) 2.1%; Aksyon sa Umaga (TV5) .4%; Sofia the First (TV5) 2.1%; Sofia the First (TV5) 4.4%
Dragon Ball (GMA-7) 5.5%; Pokemon (GMA-7) 7.8%; Detective Conan (GMA-7) 9.3%; One Piece (GMA-7) 10.6%; Kris TV (ABS-CBN) 5.7%; Henry the Huggle Monster (TV5) 4.4%; Phineas and Ferb (TV5) 3.9%; Hi-5 (TV5) 2.8%
Fairy Tail (GMA-7) 10.9%; Spongebob Squarepants (ABS-CBN) 6.1%; Remi (ABS-CBN) 5.6%; Rockman Exe Excess (TV5) 1.9%
ADVERTISEMENT - CONTINUE READING BELOW
Slam Dunk (GMA-7) 12.7%; Cedie (ABS-CBN) 6.3%; Rockman Exe Excess (TV5) 2.2%
Knock Out (GMA-7) 12.8%; Corazon Indomable (GMA-7) 9.6%; Women in the Sun (GMA-7) 9.6%; Kapamilya Blockbusters: Sisterakas (ABS-CBN) 13.2%; Healing Galing sa TV5 (TV5) 1.2%; Happy Wife Happy Life (TV5) .9%
The Ryzza Mae Show (GMA-7) 12.8%; Oh My G! (ABS-CBN) 12.2%; Solved na Solved (TV5) 1.1%; Aksyon sa Tanghali (TV5) 2.2%
Afternoon:
Eat Bulaga! (GMA-7) 19.7%; It's Showtime (ABS-CBN) 12.3%; T3 Enforced (TV5) 3.1%; Movie Max 5: Doctor Strange (TV5) 3%
The Half Sisters (GMA-7) 19%; Flordeliza (ABS-CBN) 8.2%; Movie Max 5: Super Storm (TV5) 3.8%
Yagit (GMA-7) 17%; Nasaan Ka Nang Kailangan Kita (ABS-CBN) 8%
Kailan Ba Tama Ang Mali? (GMA-7) 12.3%; Fated to Love You (ABS-CBN) 6.9%
Reporter's Notebook (GMA-7) 9.5%; Sports U Ikaw Ang Panalo (ABS-CBN) 5.7%; Movie Max 5: Icarus (TV5) 4.4%
My Name is Kim Sam Soon (GMA-7) 9.8%; Kapamilya Deal or No Deal (ABS-CBN) 8.3%
Evening:
Future's Choice (GMA-7) 12.9%; Bagito (ABS-CBN) 10.7%; Aksyon (TV5) 4.6%
24 Oras (GMA-7) 20.4%; TV Patrol (ABS-CBN) 15.6%; Movie Max 5: The Quick and the Dead (TV5) 7.7%
More Than Words (GMA-7) 18.5%; Dream Dad (ABS-CBN) 21.1%
ADVERTISEMENT - CONTINUE READING BELOW
Once Upon a Kiss (GMA-7) 18.3%; Forevermore (ABS-CBN) 22.3%; Wattpad Presents (TV5) 3.8%
Second Chances (GMA-7) 18.2%; Two Wives (ABS-CBN) 20.5%; Marvel Agents of SHIELD (TV5) 3.7%
Empress Ki (GMA-7) 21.6%; Aquino & Abunda Tonight (ABS-CBN) 12.6%; Unforgettable Love (ABS-CBN) 9.6%; Extreme Series Kaya Mo Ba To (TV5) 1.9%; Aksyon Tonite (TV5) 1.2%
Saksi (GMA-7) 12.2%; Earth Flight (GMA-7) 7.3%; Bandila (ABS-CBN) 4.7%; Reaksyon (TV5) .6%; Tagaligtas SAF Documentary (TV5) .4%
The Tim Yap Show (GMA-7) 3.2%; Banana Nite (ABS-CBN) 2.8%; O Shopping (ABS-CBN) 1.2%; Shop Japan (TV5) .2%
----
February 20, 2015 (Friday)
Morning:
Alisto! Replay (GMA-7) 1.2%; TNT Replay (ABS-CBN) .8%
Unang Hirit! (GMA-7) 4%; Umagang Kay Ganda (ABS-CBN) 3%; Aksyon sa Umaga (TV5) .8%; Sofia the First (TV5) 1%; Sofia the First (TV5) 2%
Dragon Ball (GMA-7) 5.8%; Pokemon (GMA-7) 6.3%; Detective Conan (GMA-7) 7.1%; One Piece (GMA-7) 8.4%; Kris TV (ABS-CBN) 5.2%; Henry the Huggle Monster (TV5) 1.6%; Phineas and Ferb (TV5) 1.8%; Hi-5 (TV5) 1.3%
Fairytail (GMA-7) 9.2%; Spongebob Squarepants (ABS-CBN) 4.3%; Rockman Exe Axess (TV5) .9%
Slam Dunk (GMA-7) 10.1%; Remi (GMA-7) 4.3%; Cedie (ABS-CBN) 5.1%; Rockman Exe Axess (TV5) 1.2%
Knock Out (GMA-7) 10.8%; Corazon Indomable (GMA-7) 9.8%; Women in the Sun (GMA-7) 10.6%; Kapamilya Blockbusters: Amorosa (ABS-CBN) 9%; Healing Galing sa TV5 (TV5) .9%; Happy Wife Happy Life (TV5) 1%
ADVERTISEMENT - CONTINUE READING BELOW
The Ryzza Mae Show (GMA-7) 12.6%; Oh My G! (ABS-CBN) 10.5%; Solved na Solved (TV5) .9%
Afternoon:
Eat Bulaga! (GMA-7) 18.5%; It's Showtime (ABS-CBN) 10.6%; Aksyon sa Tanghali (TV5) 2.1%; T3 Enforced (TV5) 2.6%; Movie Max 5: Next Avengers: Heroes of Tomorrow (TV5) 2.6%
The Half Sisters (GMA-7) 20.3%; Flordeliza (ABS-CBN) 7.1%; Movie Max 5: Storm Cell (TV5) 2.6%
Yagit (GMA-7) 17.7%; Nasaan Ka Nang Kailangan Kita (ABS-CBN) 7.7%
Kailan Ba Tama Ang Mali? (GMA-7) 12.5%; Fated to Love You (ABS-CBN) 7.5%; PBA 2015 Commisioner's Cup: NLEX vs Talk n Text (TV5) 2.8%
Love Hotline (GMA-7) 10.6%; TNT (ABS-CBN) 6.1%
My Name is Kim Sam Soon (GMA-7) 10.4%; Kapamilya Deal or No Deal (ABS-CBN) 9.5%
Evening:
Future's Choice (GMA-7) 13%; Bagito (ABS-CBN) 11.2%
24 Oras (GMA-7) 21%; TV Patrol (ABS-CBN) 17.1%; Aksyon (TV5) 4.6%; PBA 2015 Commissioner's Cup: Alaska vs Rain or Shine (TV5) 7.9%
More Than Words (GMA-7) 19.2%; Dream Dad (ABS-CBN) 22.2%
Once Upon a Kiss (GMA-7) 17.9%; Forevermore (ABS-CBN) 22.1%; Wattpad Presents (TV5) 3.8%
Second Chances (GMA-7) 17.6%; Two Wives (ABS-CBN) 18.3%; Marvel Agents of SHIELD (TV5) 4.1%
Bubble Gang (GMA-7) 15.5%; Aquino & Abunda Tonight (ABS-CBN) 13.4%; Unforgettable Love (ABS-CBN) 9.7%; Extreme Series Kaya Mo Ba To (TV5) 2.1%; Aksyon Tonite (TV5) 1.4%
ADVERTISEMENT - CONTINUE READING BELOW
Saksi (GMA-7) 8%; Bandila (ABS-CBN) 4.9%; Reaksyon (TV5) .5%; Tagaligtas (TV5) .5%
The Tim Yap Show (GMA-7) 3.7%; Banana Nite (ABS-CBN) 3.3%; O Shopping (ABS-CBN) 1.6%; Shop Japan (TV5) .1%
--
February 21, 2015 (Saturday)
Morning:
PJM Forum (GMA-7) .3%; Adyenda (GMA-7) .9%; Shop Japan (TV5) .1%
Kapwa Ko Mahal Ko (GMA-7) 1.7%; Sa Kabukiran (ABS-CBN) .9%; Family Matters (TV5) .3%
Pinoy MD (GMA-7) 3.1%; Salamat Dok (ABS-CBN) 1.5%; Kakaibang Lunas (TV5) .8%
Puppy in My Pocket (GMA-7) 4%; Swak na Swak (ABS-CBN) 2.6%; Kim Possible (TV5) 1.8%
Kamen Rider Ooo (GMA-7) 6%; Angel Wings (ABS-CBN) 2.3%; Little Einsteins (TV5) 2%
Tom & Jerry Kids Show (GMA-7) 7.8%; Math Tinik (ABS-CBN) 2.2%; The Powerpuff Girls (TV5) 2.2%
Angry Birds Toons (GMA-7) 8.6%; The Adventures of Jimmy Neutron (ABS-CBN) 2.6%; Ben 10 Omniverse (TV5) 1.8%
Monsuno (GMA-7) 7.8%; Spongebob Squarepants (ABS-CBN) 4.6%
Magic Kaito (GMA-7) 8.2%; Superbook (ABS-CBN) 6.4%; Magical Do Re Mi (TV5) 2.4%; Sword Art Online (TV5) 3.4%
Sarap Diva (GMA-7) 6.5%; Maynila (GMA-7) 10.7%; Del Monte Kitchenomics (GMA-7) 12%; NBA 2014-2015 Season: Atlanta Hawks vs Toronto Raptors (ABS-CBN) 3.1%; Fushigi Yuugi (TV5) 3.7%; Street Fighter II (TV5) 3.2%; Movie Max 5: Dadnapped (TV5) 4.6%
Afternoon:
ADVERTISEMENT - CONTINUE READING BELOW
Eat Bulaga! (GMA-7) 18.9%; It's Showtime (ABS-CBN) 10.1%; Movie Max 5: The Naked Gun 2 1/2 (TV5) 3.8%
GMA Tales of Horror (GMA-7) 11.3%; Wish Ko Lang! (GMA-7) 11.5%; Ipaglaban Mo (ABS-CBN) 8.2%; Movie Max 5: Gold Diggers (TV5) 4.4%
Startalk 19 (GMA-7) 10.5%; Failon Ngayon (ABS-CBN) 5.3%; YH Tube (TV5) 2.8%
Imbestigador (GMA-7) 11.8%; SOCO (ABS-CBN) 7.3%; PBA 2015 Commisioner's Cup: Meralco vs San Miguel Beermen (TV5) 4.9%
24 Oras Weekend (GMA-7) 12.2%; TV Patrol Weekend (ABS-CBN) 6.8%
Evening:
Pepito Manaloto: Ang Tunay na Kuwento (GMA-7) 18.1%; Mga Kwento ni Marc Logan (ABS-CBN) 8.2%; Home Sweetie Home (ABS-CBN) 10.3%
Magpakailanman (GMA-7) 25.6%; MMK: Ang Tahanan Mo (ABS-CBN) 13.4%; Tropa Mo Ko Unli Spoof (TV5) 4.1%; 2 1/2 Daddies (TV5) 3.7%
Celebrity Bluff (GMA-7) 20.1%; I-Witness (GMA-7) 14.7%; The Voice of the Philippines (ABS-CBN) 17.5%; Everybody Hapi (TV5) 3.9%; Call Me Papa Jack (TV5) 1.8%
Kapuso Movie Night: Happy Ghost II (GMA-7) 12.8%; Banana Split Extra Scoop (TV5) 7.8%; The Bottom Line (ABS-CBN) 2.4%; Kaya. (TV5) .8%; Shop Japan (TV5) .3%
Walang Tulugan (GMA-7) 3.1%; O Shopping (ABS-CBN) .8%
--
February 22, 2015 (Sunday)
Daytime:
In Touch with Dr. Charles Stanley (GMA-7) .3%; Jesus The Healer (GMA-7) .6%; Shop Japan (TV5) .2%
ADVERTISEMENT - CONTINUE READING BELOW
Kapuso Sine Klasika: Ano Ba Yan (GMA-7) 2.8%; The Healing Eucharist (ABS-CBN) 3.4%; Misa Nazareno (TV5) .8%
Grimm's Fairy Tales (GMA-7) 6.8%; Swak na Swak (ABS-CBN) 2.8%; Power to Unite with Elvira (TV5) .6%
Kamen Rider Ooo (GMA-7) 7.9%; Tom & Jerry Kids Show (GMA-7) 8.4%; Salamat Dok (ABS-CBN) 2.3%; Kim Possible (TV5) 1.4%; Little Einsteins (TV5) 1.7%
Monsuno (GMA-7) 6.7%; My Giant Friend (ABS-CBN) 2.6%; The Powerpuff Girls (TV5) 2.4%
Aha! (GMA-7) 8.3%; Superbook (ABS-CBN) 4.1%; Ben 10 Omniverse (TV5) 2.7%
Born To Be Wild (GMA-7) 10.4%; Matanglawin (ABS-CBN) 5.2%; Sword Art Online (TV5) 2.3%; Fushigi Yuugi (TV5) 2.4%
iBilib (ABS-CBN) 8.8%; Superhero Sunday: Stan Lee's Mighty 7 (GMA-7) 10.2%; Kapamilya Blockbusters: The Hunger Games (ABS-CBN) 9.1%; Movie Max 5: Transformers: Revenge of the Fallen (TV5) 6.9%
Afternoon:
Kapuso Movie Festival: Despicable Me (GMA-7) 18.4%; Del Monte Kitchenomics (GMA-7) 15.6%; Sunday All Stars (GMA-7) 11.5%; ASAP 20 (ABS-CBN) 11.3%; Movie Max 5: Terminator 3 (TV5) 3.9%; Sports 360 (TV5) 1.2%
GMA Blockbusters: Look Who's Talking (GMA-7) 9.9%; Luv U (ABS-CBN) 7.3%; The Buzz (ABS-CBN) 6.9%; PBA 2015 Commissioner's Cup: Blackwater Elite vs Global Port (TV5) 3.1%
24 Oras Weekend (GMA-7) 7.9%; TV Patrol Weekend (ABS-CBN) 7.1%; PBA 2015 Commissioner's Cup: Bgy Ginebra vs Purefoods Star Hotshots (TV5) 10.1%
ADVERTISEMENT - CONTINUE READING BELOW
Evening:
Vampire Ang Daddy Ko (GMA-7) 11.3%; Goin' Bulilit (ABS-CBN) 9.9%
Ismol Family (GMA-7) 17.5%; Wansapanataym (ABS-CBN) 12.6%; Move It (TV5) 3.8%
Kapuso Mo, Jessica Soho (GMA-7) 25.6%; Rated K: Handa Na Ba Kayo? (ABS-CBN) 16%; The Voice of the Philippines (ABS-CBN) 17.8%; Mac & Chiz (TV5) 2.6%; Wow Mali Lakas ng Tama (TV5) 2.7%
Sunday Night Box Office: Oo Na! Ako na Mag-Isa... (GMA-7) 14.2%; Gandang Gabi Vice (ABS-CBN) 15.5%; Wattpad Presents (TV5) 1.6%
Top 20 Funniest (GMA-7) 7%; Sunday's Best: Fusion (ABS-CBN) 4%; LBC Ronda Pilipinas (TV5) 1%
Diyos at Bayan (GMA-7) 1.8%; O Shopping (ABS-CBN) 1.1%; Shop Japan (TV5) .3%
------
TOP TEN PROGRAMS:
February 16, 2015 (Monday)
DAYTIME:
The Half Sisters (GMA-7) – 19%
Eat Bulaga! (GMA-7) – 18.2%
Yagit (GMA-7) – 15.5%
The Ryzza Mae Show (GMA-7) - 11.9%
Oh My G! (ABS-CBN) - 10.7%
Kailan Ba Tama Ang Mali?(GMA-7) – 10.6%
It's Showtime (ABS-CBN) - 10.4%
Knock Out(GMA-7) - 10.3%
Alisto!(GMA-7) - 10%
My Name is Kim Sam Soon (GMA-7) - 9.7%
PRIMETIME:
Forevermore (ABS-CBN) – 22%
Empress Ki (ABS-CBN) – 21.3%
Dream Dad (ABS-CBN) - 20.5%
24 Oras (GMA-7) - 20.9%
More Than Words (GMA-7) – 20.1%
Once Upon a Kiss (GMA-7) - 19.4%
Second Chances (GMA-7) - 17.7%
TV Patrol (ABS-CBN) – 17.2%
Two Wives (ABS-CBN) – 17.1%
Future's Choice (GMA-7) - 12.6%
February 17, 2015 (Tuesday)
DAYTIME:
The Half Sisters (GMA-7) – 18.9%
Eat Bulaga! (GMA-7) – 17.5%
Yagit (GMA-7) - 16.2%
My Name is Kim Sam Soon (GMA-7) - 12%
The Ryzza Mae Show (GMA-7) - 11.9%
Tunay na Buhay(GMA-7) – 11.8%
Kailan Ba Tama Ang Mali?(GMA-7) – 11.3%
It's Showtime (ABS-CBN) – 10.8%
Oh My G! (ABS-CBN) - 10.5%
Slam Dunk(GMA-7) - 10.2%
PRIMETIME:
Forevermore(ABS-CBN) – 21.4%
Empress Ki(GMA-7) - 20.4%
Dream Dad (ABS-CBN) – 20.2%
24 Oras (GMA-7) / More Than Words (GMA-7) – 19.7%
Once Upon a Kiss (GMA-7) - 18.6%
Two Wives (ABS-CBN) – 17.8%
Second Chances (GMA-7) – 17%
TV Patrol (ABS-CBN) - 16.5%
Future's Choice(GMA-7) - 13.7%
Aquino & Abunda Tonight (ABS-CBN) - 11.7%
February 18, 2015 (Wednesday)
DAYTIME:
The Half Sisters (GMA-7) – 18.5%
Eat Bulaga! (GMA-7) – 18%
Yagit (GMA-7) - 16.4%
The Ryzza Mae Show(GMA-7) - 12.3%
Kailan Ba Tama Ang Mali?(GMA-7) – 11.7%
My Name is Kim Sam Soon (GMA-7) - 11.4%
Power House (GMA-7) - 11.1%
Oh My G! (ABS-CBN) - 10.4%
Knock Out(GMA-7) - 10.1%
It's Showtime (ABS-CBN) – 9.5%
PRIMETIME:
Empress Ki(GMA-7) - 22.1%
Forevermore (ABS-CBN) – 21%
Second Chances (GMA-7) - 19.9%
TV Patrol (ABS-CBN) – 18.8%
More Than Words (GMA-7) - 18.4%
24 Oras (GMA-7) – 17.9%
Two Wives (ABS-CBN) – 17.2%
Once Upon a Kiss (GMA-7) - 17.1%
Aquino & Abunda Tonight (ABS-CBN) - 12.4%
Future's Choice (GMA-7) - 11.9%
February 19, 2015 (Thursday)
DAYTIME:
Eat Bulaga! (GMA-7) – 19.7%
The Half Sisters (GMA-7) – 19%
Yagit (GMA-7) - 17%
Kapamilya Blockbusters (ABS-CBN) – 13.2%
Knock Out(GMA-7) / The Ryzza Mae Show (GMA-7) - 12.8%
Slam Dunk(GMA-7) - 12.7%
Kailan Ba Tama Ang Mali?(GMA-7) / It's Showtime (ABS-CBN) – 12.3%
Oh My G! (ABS-CBN) – 12.2%
Fairy Tail (GMA-7) - 10.9%
One Piece(GMA-7) - 10.6%
PRIMETIME:
Forevermore (ABS-CBN) – 22.3%
Empress Ki (GMA-7) - 21.6%
Dream Dad (ABS-CBN) – 21.1%
Two Wives (ABS-CBN) – 20.5%
24 Oras (GMA-7) - 20.4%
More Than Words (GMA-7) - 18.5%
Once Upon a Kiss (GMA-7) - 18.3%
Second Chances (GMA-7) – 18.2%
TV Patrol (ABS-CBN) - 15.6%
Future's Choice (GMA-7) - 12.9%
February 20, 2015 (Friday)
DAYTIME:
The Half Sisters (GMA-7) – 20.3%
Eat Bulaga! (GMA-7) – 18.5%
Yagit (GMA-7) - 17.7%
The Ryzza Mae Show(GMA-7) - 12.6%
Kailan Ba Tama Ang Mali?(GMA-7) – 12.5%
Knock Out(GMA-7) - 10.8%
Women in the Sun(GMA-7) / Love Hotline(GMA-7) / It's Showtime (ABS-CBN) – 10.6%
Oh My G! (ABS-CBN) – 10.5%
My Name is Kim Sam Soon (GMA-7) - 10.4%
Slam Dunk(GMA-7) - 10.1%
PRIMETIME:
Dream Dad (ABS-CBN) - 22.2%
Forevermore (ABS-CBN) – 22.1%
24 Oras (GMA-7) - 21%
More Than Words (GMA-7) - 19.2%
Two Wives (ABS-CBN) – 18.3%
Once Upon a Kiss (GMA-7) - 17.9%
Second Chances (GMA-7) – 17.6%
TV Patrol (ABS-CBN) – 17.1%
Bubble Gang (GMA-7) – 15.5%
Aquino & Abunda Tonight (ABS-CBN) – 13.4%
February 21, 2015 (Saturday)
DAYTIME:
Eat Bulaga! (GMA-7) – 18.9%
24 Oras Weekend (GMA-7) – 12.2%
Del Monte Kitchenomics (GMA-7) – 12%
Imbestigador (GMA-7) – 11.8%
Wish Ko Lang! (GMA-7) - 11.5%
GMA Tales of Horror (GMA-7) - 11.3%
Maynila (GMA-7) - 10.7%
Startalk (GMA-7) - 10.5%
It's Showtime (ABS-CBN) - 10.1%
Angry Birds Toons (GMA-7) - 8.6%
PRIMETIME:
Magpakailanman (GMA-7) – 25.6%
Celebrity Bluff (GMA-7) – 20.1%
Pepito Manaloto: Ang Tunay na Kuwento (GMA-7) – 18.1%
The Voice of the Philippines(ABS-CBN) – 17.5%
I-Witness (GMA-7) - 14.7%
MMK: Ang Tahanan Mo (ABS-CBN) – 13.4%
Kapuso Movie Night (GMA-7) - 12.8%
Home Sweetie Home (ABS-CBN) – 10.3%
Banana Split Extra Scoop (ABS-CBN) – 7.8%
Tropa Mo Ko Unli Spoof (TV5) - 4.1%
February 22, 2015 (Sunday)
DAYTIME:
Kapuso Movie Festival (GMA-7) - 18.4%
Del Monte Kitchenomics (GMA-7) – 15.6%
Sunday All Stars (GMA-7) - 11.5%
ASAP (ABS-CBN) – 11.3%
Born to be Wild (GMA-7) - 10.4%
Superhero Sunday (GMA-7) - 10.2%
GMA Blockbusters (GMA-7) - 9.9%
iBilib (GMA-7) - 8.8%
Tom & Jerry Kids Show (GMA-7) - 8.4%
Aha! (GMA-7) - 8.3%
PRIMETIME:
Kapuso Mo, Jessica Soho (GMA-7) - 25.6%
The Voice of the Philippines Season 2 (ABS-CBN) – 17.8%
Ismol Family (GMA-7) - 17.5%
Rated K: Handa Na Ba Kayo? (ABS-CBN) – 16%
Gandang Gabi Vice (ABS-CBN) – 15.5%
Sunday Night Box Office (GMA-7) – 14.2%
Wansapanataym (ABS-CBN) – 12.6%
Vampire Ang Daddy Ko (GMA-7) – 11.3%
PBA 2015 Commissioner's Cup: Bgy Ginebra vs Purefoods Star Hotshots (TV5) - 10.1%
Goin' Bulilit (ABS-CBN) – 9.9%
Source: AGB Nielsen Philippines