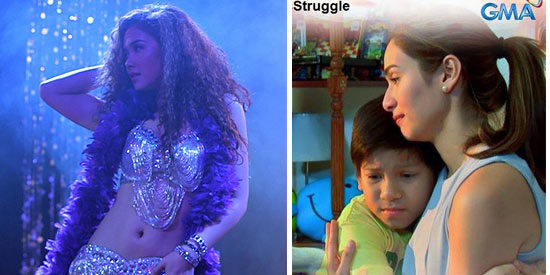 ---
GMA-7's performance in the primetime block is getting stronger. This is according to the latest ratings data gathered by AGB Nielsen Philippines from Mega Manila households from March 16 to 19, 2015.
GMA-7's new primetime programs have been defeating its hit rivals in ABS-CBN.
Pari 'Koy premiered on March 9 as the Kapuso Network's replacement to More Than Words. It premiered well, its first week defeating ABS-CBN's top-rating Dream Dad.
The Dingdong Dantes-starrer increased its ratings on its second week, and it even landed on the No. 1 slot on March 16 with TV rating of 24.2%.
It remains to be seen if Pari 'Koy will continue to rise up in the ratings, since the Zanjoe Marudo-starrer Dream Dad is still putting up a good fight. In fact, it defeated Pari 'Koy on March 17, ending up No. 1 on the list.
GMA-7 also got good ratings on the re-airing of My Love from the Star, the funny Korean drama that charmed viewers last year. Last March 16, this Koreanovela got a pilot episode TV rating of 15.6%, defeating the 11.6% scored by the pilot episode of ABS-CBN's Inday Bote.
Inday Bote is the Kapamilya Network's replacement to Bagito on the early primetime slot. It is a fantasy series that stars Alex Gonzaga, Matteo Guidicelli, Kean Cipriano and Alonzo Muhlach.
Despite GMA-7's strong performance, ABS-CBN held its own with the romance drama Forevermore, which placed first on March 18 and 19.
Its other new show, Bridges of Love, also performed well in the ratings game. Its pilot episode (18.2%) may have lost to Second Chances (19.7%), but its next three episodes won its timeslot.

On March 16, the Jennylyn Mercado-starrer Second Chances was the 6th most-watched primetime program while Bridges of Love and Empress Ki tied in 7th place.
Bridges of Love is the Kapamilya Network's replacement to Two Wives. Bridges is a drama revolving around two brothers, Gael (Jericho Rosales) and Carlos (Paulo Avelino) who are both smitten with a bar dancer named Mia (Maja Salvador).
ADVERTISEMENT - CONTINUE READING BELOW
Weekday daytime also continued to be GMA-7's territory. Its afternoon drama series The Half Sisters is still the most-watched daytime program during the given period.
Here is the comparative rating performance of GMA-7, ABS-CBN and TV5 programs from March 16 to 19, derived from AGB Nielsen Philippines from Mega Manila households:
March 16, 2015 (Monday)
Morning:
Power House Replay (GMA-7) 1.3%; Maniwala Ka Kaya Mo Replay (ABS-CBN) .8%; Shop Japan (TV5) 0%
Unang Hirit! (GMA-7) 4.3%; Umagang Kay Ganda (ABS-CBN) 3%; Aksyon sa Umaga (TV5) .5%; Sofia the First (TV5) 1.2%; Sofia the First (TV5) 2%
One Piece (GMA-7) 5.4%; Pokemon (GMA-7) 6.3%; Dragon Ball (GMA-7) 8.5%; Detective Conan (GMA-7) 9.1%; Kris TV (ABS-CBN) 5.1%; Henry the Huggle Monster (TV5) 2.3%; Phineas and Ferb (TV5) 2.3%; Hi-5 (TV5) 1.6%
Fairy Tail (GMA-7) 9.4%; Spongebob Squarepants (ABS-CBN) 5.1%; Remi (ABS-CBN) 4.8%; Rockman Exe Excess (TV5) 1.2%; Rockman Exe Excess (TV5) 1.4%
Slam Dunk (GMA-7) 11.2%; Cedie (ABS-CBN) 5.7%
Knock Out (GMA-7) 12.9%; Corazon Indomable (GMA-7) 11.8%; Women in the Sun (GMA-7) 12.1%; Kapamilya Blockbusters: Praybeyt Benjamin (ABS-CBN) 10.9%; Happy Wife Happy Life (TV5) 1.1%; Healing Galing sa TV5 (TV5) 1.6%; Solved na Solved (TV5) 1.5%
The Ryzza Mae Show (GMA-7) 12.6%; Oh My G! (GMA-7) 11.6%; Aksyon sa Tanghali (TV5) 2.3%
Afternoon:
Eat Bulaga! (GMA-7) 19%; It's Showtime (ABS-CBN) 11.5%; T3 Enforced (TV5) 2.4%; Movie Max 5: Crystal Skulls (TV5) 3.5%
The Half Sisters (GMA-7) 21%; Flordeliza (ABS-CBN) 7.7%; Movie Max 5: Global Effect (TV5) 4%
Yagit (GMA-7) 16.5%; Nasaan Ka Nang Kailangan Kita (ABS-CBN) 7.8%
Kailan Ba Tama Ang Mali? (GMA-7) 11%; Fated to Love You (ABS-CBN) 6.6%
Alisto! (GMA-7) 8.9%; Maniwala Ka Kaya Mo (ABS-CBN) 5.1%; Movie Max 5: Unbreakable (TV5) 4.2%
Fall in Love With Me (GMA-7) 10%; Kapamilya Deal or No Deal (ABS-CBN) 7.6%
Evening:
My Love from the Star (GMA-7) 15.6%; Inday Bote (ABS-CBN) 11.6%; Aksyon (TV5) 3.5%
24 Oras (GMA-7) 22.5%; TV Patrol (ABS-CBN) 17.7%; Movie Max 5: Conan the Destroyer (TV5) 1.3%
Pari 'Koy (GMA-7) 24.2%; Dream Dad (ABS-CBN) 22.3%
Once Upon a Kiss (GMA-7) 23.1%; Forevermore (ABS-CBN) 23.9%; Wattpad Presents (TV5) 1.2%
Second Chances (GMA-7) 19.7%; Bridges of Love (ABS-CBN) 18.2%; The Vampire Diaries (TV5) 1.9%
Empress Ki (GMA-7) 18.2%; Aquino & Abunda Tonight (ABS-CBN) 11.9%; Unforgettable Love (ABS-CBN) 9.2%; Extreme Series (TV5) 1%; Aksyon Tonite (TV5) 1%
ADVERTISEMENT - CONTINUE READING BELOW
Saksi (GMA-7) 8.8%; Front Row (GMA-7) 5.1%; Bandila (ABS-CBN) 4.8%; Reaksyon (TV5) .4%; Demolition Job (TV5) .5%
The Tim Yap Show (GMA-7) 2.4%; Mukha (ABS-CBN) 2.7%; O Shopping (ABS-CBN) .5%; Shop Japan (TV5) .1%
----
March 17, 2015 (Tuesday)
Morning:
I-Witness Replay (GMA-7) .4%; 3-in-1 Replay (ABS-CBN) .4%; Shop Japan (TV5) .1%
Unang Hirit! (GMA-7) 3.8%; Umagang Kay Ganda (ABS-CBN) 2.9%; Aksyon sa Umaga (TV5) .7%; Sofia the First (TV5) 1.6%; Sofia the First (TV5) 2.3%
One Piece (GMA-7) 5.5%; Pokemon (GMA-7) 7.3%; Dragon Ball (GMA-7) 9.2%; Detective Conan (GMA-7) 10.2%; Kris TV (ABS-CBN) 4.5%; Henry the Huggle Monster (TV5) 2.4%; Phineas and Ferb (TV5) 2.7%; Hi-5 (TV5) 1.9%
Fairy Tail (GMA-7) 9.6%; Spongebob Squarepants (ABS-CBN) 4.8%; Rockman Exe Excess (TV5) 1.5%
Slam Dunk (GMA-7) 10.6%; Remi (ABS-CBN) 5.4%; Cedie (ABS-CBN) 6%; Rockman Exe Excess (TV5) 1.2%
Knock Out (GMA-7) 12%; Corazon Indomable (GMA-7) 12.2%; Women in the Sun (GMA-7) 13%; Kapamilya Blockbusters: My Amnesia Girl (ABS-CBN) 9.8%; Happy Wife Happy Life (TV5) 1.2%; Healing Galing sa TV5 (TV5) 1.5%
The Ryzza Mae Show (GMA-7) 14.4%; Oh My G! (ABS-CBN) 11.1%; Solved na Solved (TV5) 1.9%
Afternoon:
Eat Bulaga! (GMA-7) 19%; It's Showtime (ABS-CBN) 11.7%; Aksyon sa Tanghali (TV5) 2.4%; T3 Enforced (TV5) 2.4%; Movie Max 5 (TV5) 3.1%
The Half Sisters (GMA-7) 20.6%; Flordeliza (ABS-CBN) 8.5%; Aksyon Alert (TV5) 3.7%
Yagit (GMA-7) 16.8%; Nasaan Ka Nang Kailangan Kita (ABS-CBN) 8.2%; Movie Max 5: Crash Landing (TV5) 4.1%
Kailan Ba Tama Ang Mali? (GMA-7) 12.2%; Fated to Love You (ABS-CBN) 7.2%; PBA 2015 Commissioner's Cup: Barako Bull vs Purefoods Star Hotshots (TV5) 3.3%
Tunay na Buhay (GMA-7) 11.9%; 3-in-1 (ABS-CBN) 5.1%
Fall in Love With Me (GMA-7) 11.4%; Kapamilya Deal or No Deal (ABS-CBN) 7.9%
Evening:
My Love from the Star (GMA-7) 15.4%; Inday Bote (ABS-CBN) 11.1%; Aksyon (TV5) 4.1%
24 Oras (GMA-7) 19.4%; TV Patrol (ABS-CBN) 15.4%; PBA 2015 Commissioner's Cup: Alaska vs Meralco (TV5) 7.9%
Pari 'Koy (GMA-7) 21.2%; Dream Dad (ABS-CBN) 21.7%
Once Upon a Kiss (GMA-7) 20.5%; Forevermore (ABS-CBN) 21.2%
Second Chances (GMA-7) 17.2%; Bridges of Love (ABS-CBN) 17.9%; Wattpad Presents (TV5) 3.1%
Empress Ki (GMA-7) 19%; Aquino & Abunda Tonight (ABS-CBN) 12.9%; Unforgettable Love (ABS-CBN) 9.5%; The Vampire Diaries (TV5) 2.4%
Saksi (GMA-7) 10.6%; Stan Lee's Superhumans (GMA-7) 7.3%; Bandila (ABS-CBN) 4.4%; Extreme Series (TV5) 1.5%; Aksyon Tonite (TV5) .6%
The Tim Yap Show (GMA-7) 3.1%; Banana Nite (ABS-CBN) 2.8%; O Shopping (ABS-CBN) .8%; Reaksyon (TV5) .4%; Shop Japan (TV5) .2%
ADVERTISEMENT - CONTINUE READING BELOW
---
March 18, 2015 (Wednesday)
Morning:
Tunay na Buhay Replay (GMA-7) 1.1%; RealiTV Replay (ABS-CBN) .5%; Shop Japan (TV5) .2%
Unang Hirit! (GMA-7) 3.9%; Umagang Kay Ganda (ABS-CBN) 2.9%; Aksyon sa Umaga (TV5) .9%; Sofia the First (TV5) 1.4%; Sofia the First (TV5) 3%
One Piece (GMA-7) 5.3%; Pokemon (GMA-7) 6.6%; Dragon Ball (GMA-7) 8.3%; Detective Conan (GMA-7) 9.3%; Kris TV (ABS-CBN) 4.3%; Henry the Huggle Monster (TV5) 3.1%; Phineas and Ferb (TV5) 2.9%; Hi-5 (TV5) 2.2%
Fairy Tail (GMA-7) 9.2%; Spongebob Squarepants (ABS-CBN) 4.9%; Rockman Exe Excess (TV5) 1.2%
Slam Dunk (GMA-7) 10.7%; Remi (ABS-CBN) 5.3%; Cedie (ABS-CBN) 5.4%; Rockman Exe Excess (TV5) 1%
Knock Out (GMA-7) 11.2%; Corazon Indomable (GMA-7) 10.9%; Women in the Sun (GMA-7) 12.7%; Kapamilya Blockbusters: Kimmy Dora and Kiyemeng Prequel (ABS-CBN) 9.7%; Happy Wife Happy Life (TV5) .9%; Healing Galing sa TV5 (TV5) 1.5%; Solved na Solved (TV5) 1.3%
The Ryzza Mae Show (GMA-7) 13.1%; Oh My G! (ABS-CBN) 11.8%; Aksyon sa Tanghali (TV5) 2.5%
Afternoon:
Eat Bulaga! (GMA-7) 17.9%; It's Showtime (ABS-CBN) 10.9%; T3 Enforced (TV5) 3.2%; Movie Max 5: Firequake (TV5) 3%
The Half Sisters (GMA-7) 21.1%; Flordeliza (ABS-CBN) 8.7%; Movie Max 5: Supercollider (TV5) 2.5%
Yagit (GMA-7) 17.5%; Nasaan Ka Nang Kailangan Kita (ABS-CBN) 8.3%
Kailan Ba Tama Ang Mali? (GMA-7) 11.5%; Fated to Love You (ABS-CBN) 7.9%; PBA 2015 Commissioner's Cup: Kia Carnival vs NLEX (TV5) 2.7%
Power House (GMA-7) 11.5%; RealiTV (ABS-CBN) 5.6%
Fall in Love With Me (GMA-7) 10.8%; Kapamilya Deal or No Deal (ABS-CBN) 7.8%
Evening:
My Love from the Star (GMA-7) 14.9%; Inday Bote (ABS-CBN) 10.5%; Aksyon (TV5) 3.9%
24 Oras (GMA-7) 19.6%; TV Patrol (ABS-CBN) 15.8%; PBA 2015 Commissioner's Cup: San Miguel Beerman vs Talk n Text (TV5) 6.5%
Pari 'Koy (GMA-7) 21.3%; Dream Dad (ABS-CBN) 21%
Once Upon a Kiss (GMA-7) 21.1%; Forevermore (ABS-CBN) 22.7%; Wattpad Presents (TV5) 3.1%
Second Chances (GMA-7) 18.1%; Bridges of Love (ABS-CBN) 19.2%; The Vampire Diaries (TV5) 2.4%
Empress Ki (GMA-7) 20.2%; Aquino & Abunda Tonight (ABS-CBN) 12%; Unforgettable Love (ABS-CBN) 8%; Extreme Series (TV5) 1.8%
Saksi (GMA-7) 10.5%; Human Planet (GMA-7) 6.6%; Bandila (ABS-CBN) 4%; Aksyon Tonite (TV5) .9%; Reaksyon (TV5) .7%; History with Lourd (TV5) .7%
The Tim Yap Show (GMA-7) 2.1%; Banana Nite (ABS-CBN) 2.8%; O Shopping (ABS-CBN) .9%; Shop Japan (TV5) .3%
---
March 19, 2015 (Thursday)
Morning:
Born to be Wild Replay (GMA-7) .6%; Sports U Replay (ABS-CBN) .5%; Shop Japan (TV5) .2%
ADVERTISEMENT - CONTINUE READING BELOW
Unang Hirit! (GMA-7) 3.5%; Umagang Kay Ganda (ABS-CBN) 2.9%; Aksyon sa Umaga (TV5) 1%; Sofia the First (TV5) 1.8%; Sofia the First (TV5) 2.5%
One Piece (GMA-7) 6.2%; Pokemon (GMA-7) 8.1%; Dragon Ball (GMA-7) 9.3%; Detective Conan (GMA-7) 9.1%; Kris TV (ABS-CBN) 4.3%; Henry the Huggle Monster (TV5) 2.8%; Phineas and Ferb (TV5) 2.6%; Hi-5 (TV5) 1.6%
Fairy Tail (GMA-7) 9.1%; Spongebob Squarepants (ABS-CBN) 4.1%; Rockman Exe Excess (TV5) .9%
Slam Dunk (GMA-7) 9.7%; Remi (ABS-CBN) 4.6%; Cedie (ABS-CBN) 5.5%; Rockman Exe Excess (TV5) 1.3%
Knock Out (GMA-7) 12%; Corazon Indomable (GMA-7) 10.8%; Women in the Sun (GMA-7) 11.7%; Kapamilya Blockbusters: Ang Tanging Ina Mo Last Na 'To! (ABS-CBN) 10.2%; Happy Wife Happy Life (TV5) 1.3%; Healing Galing sa TV5 (TV5) 1.9%; Solved na Solved (TV5) 1.6%
The Ryzza Mae Show (GMA-7) 12.5%; Oh My G! (ABS-CBN) 12.4%; Aksyon sa Tanghali (TV5) 2.4%
Afternoon:
Eat Bulaga! (GMA-7) 17.9%; It's Showtime (ABS-CBN) 11.5%; T3 Enforced (TV5) 2.3%; Movie Max 5: Lightning Strikes (TV5) 2.9%
The Half Sisters (GMA-7) 20%; Flordeliza (ABS-CBN) 9.2%; Movie Max 5: Super Tanker (TV5) 3.7%
Yagit (GMA-7) 16.3%; Nasaan Ka Nang Kailangan Kita (ABS-CBN) 9%
Kailan Ba Tama Ang Mali? (GMA-7) 11.6%; Fated to Love You (ABS-CBN) 8.1%
Reporter's Notebook (GMA-7) 8.1%; Sports U Ikaw Ang Panalo (ABS-CBN) 5.6%; Movie Max 5: Jennifer Eight (TV5) 3.5%
Fall in Love With Me (GMA-7) 9%; Kapamilya Deal or No Deal (ABS-CBN) 8.3%
Evening:
My Love from the Star (GMA-7) 14.2%; Inday Bote (ABS-CBN) 11%; Aksyon (TV5) 3.2%
24 Oras (GMA-7) 20.4%; TV Patrol (ABS-CBN) 16.8%; Movie Max 5: The One (TV5) 6.4%
Pari 'Koy (GMA-7) 20.4%; Dream Dad (ABS-CBN) 21.3%
Once Upon a Kiss (GMA-7) 21.6%; Forevermore (ABS-CBN) 22.3%; Wattpad Presents (TV5) 2.6%
Second Chances (GMA-7) 20.9%; Bridges of Love (ABS-CBN) 19%; The Vampire Diaries (TV5) 2.7%
Empress Ki (GMA-7) 20.5%; Aquino & Abunda Tonight (ABS-CBN) 11.9%; Unforgettable Love (ABS-CBN) 9.2%; Extreme Series Kaya Mo Ba To (TV5) 1.8%; Aksyon Tonite (TV5) .9%
Saksi (GMA-7) 10%; Bandila (ABS-CBN) 4.8%; Reaksyon (TV5) .8%; Unang Tikim (TV5) .5%
Human Planet (GMA-7) 6.4%; Banana Nite (ABS-CBN) 3.1%; Shop Japan (TV5) .1%
The Tim Yap Show (GMA-7) 3.7%; O Shopping (ABS-CBN) .9%
------
TOP TEN PROGRAMS:
March 16, 2015 (Monday)
DAYTIME:
The Half Sisters (GMA-7) – 21%
Eat Bulaga! (GMA-7) – 19%
Yagit (GMA-7) – 16.5%
Knock Out(GMA-7) - 12.9%
The Ryzza Mae Show (GMA-7) - 12.6%
Women in the Sun(GMA-7) – 12.1%
Corazon Indomable(GMA-7) - 11.8%
Oh My G! (ABS-CBN) - 11.6%
It's Showtime (ABS-CBN) - 11.5%
Slam Dunk (GMA-7) - 11.2%
PRIMETIME:
Pari 'Koy (GMA-7) – 24.2%
Forevermore (ABS-CBN) – 23.9%
Once Upon a Kiss (GMA-7) - 23.1%
24 Oras (GMA-7) - 22.5%
Dream Dad (ABS-CBN) – 22.3%
Second Chances (GMA-7) - 19.7%
Empress Ki (GMA-7) - 18.9% / Bridges of Love (ABS-CBN) – 18.2%
TV Patrol (ABS-CBN) – 17.7%
My Love from the Star(GMA-7) - 15.6%
Aquino & Abunda Tonight (ABS-CBN) – 11.9%
March 17, 2015 (Tuesday)
DAYTIME:
The Half Sisters (GMA-7) – 20.6%
Eat Bulaga! (GMA-7) – 19%
Yagit (GMA-7) - 16.8%
The Ryzza Mae Show (GMA-7) - 14.4%
Women in the Sun(GMA-7) – 13%
Corazon Indomable(GMA-7) / Kailan Ba Tama Ang Mali?(GMA-7) – 12.2%
Knock Out(GMA-7) - 12%
Tunay na Buhay(GMA-7) - 12%
It's Showtime (ABS-CBN) - 11.7%
Fall in Love With Me(GMA-7) - 11.4%
PRIMETIME:
Dream Dad (ABS-CBN) – 21.7%
Pari 'Koy (GMA-7) / Forevermore(ABS-CBN) – 21.2%
Once Upon a Kiss (GMA-7) - 20.5%
24 Oras (GMA-7) - 19.4%
Empress Ki(GMA-7) - 19%
Bridges of Love (ABS-CBN) - 17.9%
Second Chances (GMA-7) – 17.2%
My Love from the Star(GMA-7) / TV Patrol (ABS-CBN) - 15.4%
Aquino & Abunda Tonight (ABS-CBN) – 12.9%
Inday Bote (ABS-CBN) – 11.1%
March 18, 2015 (Wednesday)
DAYTIME:
The Half Sisters (GMA-7) – 21.1%
Eat Bulaga! (GMA-7) – 17.9%
Yagit (GMA-7) - 17.5%
The Ryzza Mae Show(GMA-7) - 13.1%
Women in the Sun(GMA-7) – 12.7%
Oh My G! (ABS-CBN) - 11.8%
Kailan Ba Tama Ang Mali?(GMA-7) / Power House(GMA-7) - 12.8%
Knock Out(GMA-7) - 11.2%
Corazon Indomable(GMA-7) / It's Showtime (ABS-CBN) - 10.9%
Fall in Love With Me (GMA-7) - 10.8%
PRIMETIME:
Forevermore (ABS-CBN) – 22.7%
Pari 'Koy(GMA-7) – 21.3%
Once Upon a Kiss (GMA-7) - 21.1%
Dream Dad (ABS-CBN) - 21%
Empress Ki (GMA-7) - 20.2%
24 Oras (GMA-7) - 19.6%
Bridges of Love (ABS-CBN) - 19.2%
Second Chances (GMA-7) - 18.1%
TV Patrol (ABS-CBN) – 15.8%
My Love from the Star(GMA-7) - 14.9%
March 19, 2015 (Thursday)
DAYTIME:
The Half Sisters (GMA-7) – 20%
Eat Bulaga! (GMA-7) – 17.9%
Yagit (GMA-7) - 16.3%
The Ryzza Mae Show (GMA-7) - 12.5%
Oh My G! (ABS-CBN) - 12.4%
Knock Out(GMA-7) - 12%
Women in the Sun(GMA-7) - 11.7%
Kailan Ba Tama Ang Mali?(GMA-7) - 11.6%
It's Showtime (ABS-CBN) – 11.5%
Corazon Indomable(GMA-7) - 10.8%
PRIMETIME:
ADVERTISEMENT - CONTINUE READING BELOW
Forevermore (ABS-CBN) – 22.3%
Once Upon a Kiss (GMA-7) - 21.6%
Dream Dad (ABS-CBN) – 21.3%
Second Chances (GMA-7) – 20.9%
Empress Ki (GMA-7) - 20.5%
24 Oras (GMA-7) / Pari 'Koy(GMA-7) – 20.4%
Bridges of Love (ABS-CBN) - 19%
TV Patrol (ABS-CBN) - 16.9%
My Love from the Star(GMA-7) - 14.2%
Aquino & Abunda Tonight (ABS-CBN) – 11.9
Source: AGB Nielsen Philippines