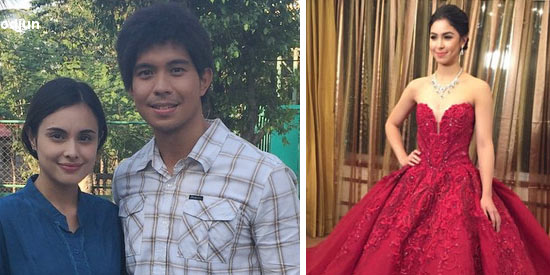 ---
GMA-7 still leads on weekends. This is according to the latest ratings data from AGB Nielsen Philippines from Mega Manila households between March 27 to 29, 2015.
The Kapuso Network's shows were the top-raters during the given weekend.
The most-watched show on March 28, Saturday, was Magpakailanman, with 26.1%. The episode featured the love story between a Mangyan and American woman, played by Rodjun Cruz and Max Collins.
It defeated Maalaala Mo Kaya, which got a TV rating of 17.7%. The MMK episode featured Ara Mina and Sofia Andres as mother and daughter.
Second place is a tie between GMA-7's Celebrity Bluff and ABS-CBN's Your Face Sounds Familiar. The two shows that air against each other on Saturday nights both got a TV rating of 22.4%.
Most-watched on March 29, Sunday, was Kapuso Mo, Jessica Soho. The news magazine program was titled Balikbayan Summer Special, because it showed celebrities going back to their hometowns to show viewers the tourist spots there.

It is interesting to note that on Sunday, Your Face Sounds Familiar, received a higher TV rating (23.1%) compared to Vice Ganda's show Gandang Gabi Vice that got 20.8%. Your Face Sounds Familiar features ABS-CBN stars who undergo transformations in order to impersonate local and international music icons.
ADVERTISEMENT - CONTINUE READING BELOW
Another notable program on that Sunday is ABS-CBN's airing of Julia Barretto's debut. The episode registered a TV rating of 11.8% against GMA-7's Top 20 Funniest, a comedy video clip show, that scored 12.3%.
Here is the comparative rating performance of GMA-7, ABS-CBN and TV5 programs from March 27 to 29, 2015 derived from AGB Nielsen Philippines from Mega Manila households:
March 27, 2015 (Friday)
Morning:
Alisto! Replay (GMA-7) .5%; TNT Replay (ABS-CBN) .2%; Shop Japan (TV5) 0%
Unang Hirit! (GMA-7) 2.8%; Umagang Kay Ganda (ABS-CBN) 2%; Aksyon sa Umaga (TV5) .8%; Higglytown Heroes (TV5) 2%; Sofia the First (TV5) 3.3%
One Piece (GMA-7) 7.1%; Pokemon (GMA-7) 8.6%; Dragon Ball (GMA-7) 10.8%; Detective Conan (GMA-7) 12.2%; Kris TV (ABS-CBN) 4.4%; Doc Mcstuffins (TV5) 4%; Teacher's Pet (TV5) 4.1%; Hi-5 (TV5) 3%
Fairytail (GMA-7) 13.1%; Spongebob Squarepants (ABS-CBN) 5.9%; Transformers Animated (TV5) 1.9%
Slam Dunk (GMA-7) 13.3%; Remi (GMA-7) 7.1%; Cedie (ABS-CBN) 7.9%; Rockman Exe Axess (TV5) 1.9%
Knock Out (GMA-7) 13.9%; Corazon Indomable (GMA-7) 11.3%; Women in the Sun (GMA-7) 12.3%; Kapamilya Blockbusters: The Healing (ABS-CBN) 11.7%; Happy Wife Happy Life (TV5) .6%; Healing Galing sa TV5 (TV5) 1.2%; Solved na Solved (TV5) 1.2%
ADVERTISEMENT - CONTINUE READING BELOW
The Ryzza Mae Show (GMA-7) 13.8%; Oh My G! (ABS-CBN) 14.2%; Aksyon sa Tanghali (TV5) 2.1%
Afternoon:
Eat Bulaga! (GMA-7) 18.2%; It's Showtime (ABS-CBN) 11.1%; T3 Enforced (TV5) 2.7%; Movie Max 5: Monsterwolf (TV5) 4.1%
The Half Sisters (GMA-7) 21.5%; Flordeliza (ABS-CBN) 8.9%; Movie Max 5: Mercury Rising (TV5) 4.6%
Yagit (GMA-7) 18.1%; Nasaan Ka Nang Kailangan Kita (ABS-CBN) 8.2%
Kailan Ba Tama Ang Mali? (GMA-7) 12.4%; Fated to Love You (ABS-CBN) 7.4%; TNT (ABS-CBN) 5%; PBA 2015 Commissioner's Cup: Meralco vs NLEX (TV5) 3.4%
Love Hotline (GMA-7) 10.4%; Fall in Love With Me (GMA-7) 9%; Kapamilya Deal or No Deal (ABS-CBN) 8.4%
Evening:
My Love from the Star(GMA-7) 12.3%; Inday Bote (ABS-CBN) 11%
24 Oras (GMA-7) 17.8%; TV Patrol (ABS-CBN) 15.1%; Aksyon (TV5) 4.7%; PBA 2015 Commissioner's Cup: Alaska vs Purefoods Star Hotshots (TV5) 7.8%
Pari 'Koy (GMA-7) 19.5%; Dream Dad (ABS-CBN) 20.9%
Once Upon a Kiss (GMA-7) 21.5%; Forevermore (ABS-CBN) 23.1%; Wattpad Presents (TV5) 2.4%
Second Chances (GMA-7) 20.8%; Bridges of Love (ABS-CBN) 17.9%; The Vampire Diaries (TV5) 3.1%
Bubble Gang (GMA-7) 19%; Aquino & Abunda Tonight (ABS-CBN) 11.9%; Unforgettable Love (ABS-CBN) 8.4%; Extreme Series Kaya Mo Ba To (TV5) 1.6%; Aksyon Tonite (TV5) .6%
ADVERTISEMENT - CONTINUE READING BELOW
Saksi (GMA-7) 9.3%; Bandila (ABS-CBN) 4.1%; Reaksyon (TV5) .4%; Astig (TV5) .4%
The Tim Yap Show (GMA-7) 3.9%; Banana Nite (ABS-CBN) 2.9%; O Shopping (ABS-CBN) 1%; Shop Japan (TV5) 0%
--
March 28, 2015 (Saturday)
Morning:
PJM Forum (GMA-7) .2%; Adyenda (GMA-7) .6%; Shop Japan (TV5) .1%
Kapwa Ko Mahal Ko (GMA-7) 1.5%; Sa Kabukiran (ABS-CBN) .3%; Family Matters (TV5) .2%
Pinoy MD (GMA-7) 3.3%; Salamat Dok (ABS-CBN) 1.6%; Kakaibang Lunas (TV5) .9%
The Smurfs (GMA-7) 5.2%; Swak na Swak (ABS-CBN) 2.3%; Kim Possible (TV5) 1.5%
Kamen Rider Ooo (GMA-7) 7.9%; Angel Wings (ABS-CBN) 1.9%; Little Einsteins (TV5) 2.8%
Tom & Jerry Kids Show (GMA-7) 8.8%; Math Tinik (ABS-CBN) 1.8%; The Powerpuff Girls (TV5) 3%
Angry Birds Toons (GMA-7) 9.1%; Kung Fu Panda Legends (ABS-CBN) 2.6%
Crossfight B-Daman (GMA-7) 7.4%; Spongebob Squarepants (ABS-CBN) 5.4%; Ben 10 Omniverse (TV5) 2.3%
Magic Kaito (GMA-7) 8.6%; Superbook (ABS-CBN) 6.2%; Magical Do Re Mi (TV5) 2.2%; Sword Art Online (TV5) 3.3%
Sarap Diva (GMA-7) 8.1%; Maynila (GMA-7) 11.7%; Del Monte Kitchenomics (GMA-7) 14.9%; NBA 2014-2015 Season: Golden State Warriors vs Memphis Grizzlies (ABS-CBN) 4.7%; Fushigi Yuugi (TV5) 4%; Street Fighter II (TV5) 3.9%; Movie Max 5: A Knight in Camelot (TV5) 5.9%
ADVERTISEMENT - CONTINUE READING BELOW
Afternoon:
Eat Bulaga! (GMA-7) 18.9%; It's Showtime (ABS-CBN) 9.8%; Movie Max 5: An American Tail (TV5) 4.4%
GMA Tales of Horror: Dokurogeki (GMA-7) 11.9%; Wish Ko Lang! (GMA-7) 11.4%; Ipaglaban Mo (ABS-CBN) 9%; PBA 2015 Commissioner's Cup Quarterfinals: Barako Bull vs Talk N Text (TV5) 2.6%
Startalk 19 (GMA-7) 8.7%; Failon Ngayon (ABS-CBN) 6.7%
Imbestigador (GMA-7) 11%; SOCO (ABS-CBN) 7.1%; PBA 2015 Commissioner's Cup: Brgy Ginebra vs Rain or Shine (TV5) 6.9%
24 Oras Weekend (GMA-7) 10.3%; TV Patrol Weekend (ABS-CBN) 6.9%
Evening:
Sabado Badoo (GMA-7) 10.4%; Mga Kwento ni Marc Logan (ABS-CBN) 9.7%
Pepito Manaloto: Ang Tunay na Kuwento (GMA-7) 18.7%; Home Sweetie Home (ABS-CBN) 12.3%; Tropa Mo Ko Unli Spoof (TV5) 3.3%
Magpakailanman (GMA-7) 26.1%; MMK: Ang Tahanan Mo (ABS-CBN) 17.7%; 2 1/2 Daddies (TV5) 2.7%
Celebrity Bluff (GMA-7) 22.4%;Your Face Sounds Familiar (ABS-CBN) 22.4%; Everybody Hapi (TV5) 2.3%
i-Witness (GMA-7) 15.6%; Kapuso Movie Night: Daylight (GMA-7) 12.8%; Banana Split Extra Scoop (TV5) 10.5%; The Bottom Line (ABS-CBN) 2.8%; Rising Stars on Stage Auditions (TV5) 1.1%; Yaman ng Bayan (TV5) .5%
Walang Tulugan (GMA-7) 2.9%; O Shopping (ABS-CBN) .9%; Shop Japan (TV5) .3%
--
March 29, 2015 (Sunday)
ADVERTISEMENT - CONTINUE READING BELOW
Daytime:
In Touch with Dr. Charles Stanley (GMA-7) .2%; Jesus The Healer (GMA-7) .5%; Shop Japan (TV5) .1%
Kapuso Sine Klasika: Manolo En Michelle Hapi Together (GMA-7) 2.3%; The Healing Eucharist (ABS-CBN) 3.4%; Misa Nazareno (TV5) 1.1%
Grimm's Fairy Tales (GMA-7) 6.4%; Swak na Swak (ABS-CBN) 2%; Power to Unite with Elvira (TV5) .6%
Kamen Rider Ooo (GMA-7) 8.4%; Tom & Jerry Kids Show (GMA-7) 9.3%; Salamat Dok (ABS-CBN) 2.3%; Kim Possible (TV5) 1.5%; Little Einsteins (TV5) 2.5%
Monsuno (GMA-7) 8.1%; Super Book (ABS-CBN) 3.7%; The Powerpuff Girls (TV5) 3.4%
Aha! (GMA-7) 9.1%; Matanglawin (ABS-CBN) 5.6%; Ben 10 Omniverse (TV5) 2.7%
Born To Be Wild (GMA-7) 11.9%; iBilib (ABS-CBN) 12.8%; Superhero Sunday: Batman Mask of the Phantasm (GMA-7) 12.5%; Pinoy Pride 30 D-Day (ABS-CBN) 11.1%; Sword Art Online (TV5) 3.2%; Fushigi Yuugi (TV5) 2.9%; Street Fighter II (TV5) 2.4%; Movie Max 5: National Treasure (TV5) 3.4%
Afternoon:
Kapuso Movie Festival: Charlie and the Chocolate Factory (GMA-7) 19.2%; Del Monte Kitchenomics (GMA-7) 16.1%; Sunday All Stars (GMA-7) 13.6%; ASAP 20 (ABS-CBN) 10.1%; Movie Max 5: The Mighty Ducks (TV5) 2.7%; Sports 360 (TV5) 1.8%
GMA Blockbusters: The Other Side (GMA-7) 12.5%; Luv U (ABS-CBN) 7.1%; The Buzz (ABS-CBN) 7.2%; PBA 2015 Commissioner's Cup Quarterfinals: Alaska vs Purefoods Star Hotshots (TV5) 5.7%
ADVERTISEMENT - CONTINUE READING BELOW
24 Oras Weekend (GMA-7) 10.3%; TV Patrol Weekend (ABS-CBN) 7.7%;PBA 2015 Commissioner's Cup Quarterfinals: Meralco vs NLEX (TV5) 6.9%
Evening:
Vampire Ang Daddy Ko (GMA-7) 12.7%; Goin' Bulilit (ABS-CBN) 8.2%
Ismol Family (GMA-7) 17.8%; Wansapanataym (ABS-CBN) 12.7%
Kapuso Mo, Jessica Soho (GMA-7) 27.5%; Rated K: Handa Na Ba Kayo? (ABS-CBN) 16.8%; Your Face Sounds Familiar (ABS-CBN) 23.1%; Mac & Chiz (TV5) 2.9%; Move It (TV5) 1.5%; Wow Mali Lakas ng Tama (TV5) 2.4%
Sunday Night Box Office: Flying Swords of Dragon Gate (GMA-7) 19.6%; Gandang Gabi Vice (ABS-CBN) 20.8%; Call Me Papa Jack (TV5) .8%
Top 20 Funniest (GMA-7) 12.3%; Sunday's Best: Just Julia Beautiful @ 18 (ABS-CBN) 11.8%; Demolition Job (TV5) .8%; History with Lourd (TV5) .7%
Diyos at Bayan (GMA-7) 2.3%; O Shopping (ABS-CBN) 1.7%; Shop Japan (TV5) .1%
----
TOP TEN PROGRAMS:
March 27, 2015 (Friday)
DAYTIME:
The Half Sisters (GMA-7) – 21.5%
Eat Bulaga! (GMA-7) – 18.2%
Yagit (GMA-7) - 18.1%
Oh My G! (ABS-CBN) - 14.2%
Knock Out(GMA-7) - 13.9%
The Ryzza Mae Show(GMA-7) - 13.8%
Slam Dunk(GMA-7) - 13.3%
Fairy Tail(GMA-7) - 13.1%
Kailan Ba Tama Ang Mali?(GMA-7) – 12.4%
Women in the Sun(GMA-7) - 10.3%
PRIMETIME:
1. Forevermore (ABS-CBN) – 23.1%
2. Once Upon a Kiss (GMA-7) - 21.5%
3. Dream Dad (ABS-CBN) - 20.9%
4. Dream Dad (ABS-CBN) - 20.8%
5. Pari 'Koy(GMA-7) – 19.5%
6. Bubble Gang (GMA-7) – 19%
7. Bridges of Love (ABS-CBN) – 17.9%
8. 24 Oras(GMA-7) – 17.8%
9. TV Patrol (ABS-CBN) – 15.1%
10. My Love from the Star(GMA-7) – 12.3%
March 28, 2015 (Saturday)
DAYTIME:
Eat Bulaga! (GMA-7) – 18.9%
Del Monte Kitchenomics (GMA-7) – 14.9%
GMA Tales of Horror (GMA-7) - 11.9%
Maynila (GMA-7) - 11.7%
Wish Ko Lang!(GMA-7) - 11.4%
Imbestigador (GMA-7) – 11%
24 Oras Weekend (GMA-7) – 10.3%
It's Showtime (ABS-CBN) - 9.8%
Angry Birds Toons (GMA-7) - 9.1%
Ipaglaban Mo (ABS-CBN) - 9%
PRIMETIME:
Magpakailanman (GMA-7) – 26.1%
Celebrity Bluff (GMA-7) / Your Face Sounds Familiar (ABS-CBN) – 22.4%
Pepito Manaloto: Ang Tunay na Kuwento (GMA-7) – 18.7%
MMK: Ang Tahanan Mo (ABS-CBN) – 17.7%
i-Witness (GMA-7) – 15.6%
Kapuso Movie Night (GMA-7) - 12.8%
Home Sweetie Home (ABS-CBN) – 12.3%
Banana Split Extra Scoop (ABS-CBN) – 10.5%
Sabado Badoo (GMA-7) - 10.4%
Mga Kwento ni Marc Logan(ABS-CBN) – 9.7%
March 29, 2015 (Sunday)
DAYTIME:
Kapuso Movie Festival (GMA-7) - 19.2%
Del Monte Kitchenomics (GMA-7) – 16.1%
Sunday All Stars (GMA-7) - 13.6%
iBilib (GMA-7) - 12.8%
Superhero Sunday (GMA-7) / GMA Blockbusters (GMA-7) - 12.5%
Born to be Wild (GMA-7) - 11.9%
Pinoy Pride 30 D-Day (ABS-CBN) - 11.1%
24 Oras Weekend(GMA-7) – 10.3%
ASAP 20 (ABS-CBN) – 10.1%
Tom & Jerry Kids Show (GMA-7) - 9.3%
PRIMETIME:
1. Kapuso Mo, Jessica Soho (GMA-7) - 27.5%
2. Your Face Sounds Familiar (ABS-CBN) – 23.1%
Gandang Gabi Vice (ABS-CBN) – 20.8%
4. Sunday Night Box Office(GMA-7) - 19.6%
5. Ismol Family (GMA-7) - 17.8%
6. Rated K(ABS-CBN) – 16.8%
Vampire Ang Daddy Ko (GMA-7) / Wansapanataym (ABS-CBN) – 12.7%
Top 20 Funniest(GMA-7) - 12.3%
Sunday's Best: Just Julia Beautiful @ 18 (ABS-CBN) - 11.8%
Goin' Bulilit (ABS-CBN) – 8.2%
Source: AGB Nielsen Philippines