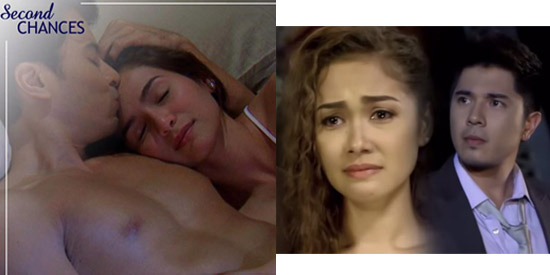 ---
GMA-7 is now on top of both the weekday daytime and primetime charts. This is according to the latest ratings data from AGB Nielsen Philippines from Mega Manila households from April 6 to 9, 2015.
For many weeks, ABS-CBN's hit primetime soap operas Dream Dad and Forevermore have constantly topped the weekday primetime charts.
But during the given period, GMA-7's Empress Ki ended on number one.
Empress Ki is a Korean period drama that the Kapuso network airs on weekday nights before Saksi. Empress Ki, which started airing on October 20 as the replacement to I Hear Your Voice, has always been a ratings winner on its timeslot, defeating a series of ABS-CBN's own Korean dramas: Angel Eyes, Faith and Unforgettable Love.
As its April 14, 2015 finale is upcoming, its ratings continue to increase, making it the most-watched show on primetime.

In the primetime block, GMA-7's Second Chances continues to beat ABS-CBN's drama series Bridges of Love.

The Kapuso teleserye starring Jennylyn Mercado, Rafael Rosell and Camille Prats is getting higher ratings compared to its counterpart show Bridges of Love that features Maja Salvador, Paulo Avelino and Jericho Rosales.

In fact, Second Chances consistently held the No. 2 most-watched spot among primetime shows except on April 8 when it dropped to the No. 5 slot.
GMA-7 is also the daytime leader with The Half Sisters, its long-running afternoon drama that stars Barbie Forteza and Thea Tolentino.
Other Kapuso daytime shows also win in their timeslots, like Eat Bulaga, Yagit and The Ryzza Mae Show.
ADVERTISEMENT - CONTINUE READING BELOW

Even its new Korean drama Two Mothers, which airs on mornings, is performing well. Its April 6 debut episode got 10.4% against the 9.8% scored by Kapamilya Blockbusters.
Here is the comparative rating performance of GMA-7, ABS-CBN and TV5 programs from April 6 to 9, derived from AGB Nielsen Philippines from Mega Manila households:
--
April 6, 2015 (Monday)
Morning:
Power House Replay (GMA-7) 1.2%; Mission Possible Replay (ABS-CBN) .3%; Shop Japan (TV5) .1%
Unang Hirit! (GMA-7) 3%; Umagang Kay Ganda (ABS-CBN) 2.1%; Aksyon sa Umaga (TV5) .6%; Higglytown Heroes (TV5) 1.8%; Higglytown Heroes (TV5) 3.1%
One Piece (GMA-7) 7%; Martin Mystery (GMA-7) 9.7%; Time Quest (GMA-7) 11.6%; Dragon Ball (GMA-7) 13%; Kris TV (ABS-CBN) 3.9%; Doc Mcstuffins (TV5) 3.8%; Teacher's Pet (TV5) 3.2%; Hi-5 (TV5) 2.3%
Fairy Tail (GMA-7) 14.3%; Spongebob Squarepants (ABS-CBN) 5.3%; Haikyu (ABS-CBN) 4.8%; Transformers Animated (TV5) 2%; Rockman Exe Excess (TV5) 2.1%
Slam Dunk (GMA-7) 15%; Naruto Shippuuden (ABS-CBN) 4.3%
Knock Out (GMA-7) 15.7%; Two Mothers (GMA-7) 10.4%; Corazon Indomable (GMA-7) 11%; Kapamilya Blockbusters: Adele and The Rise of the Mummy (ABS-CBN) 9.8%; Happy Wife Happy Life (TV5) .9%; Healing Galing sa TV5 (TV5) 1.2%; Showbiz Konek na Konek (TV5) 1.3%
The Ryzza Mae Show (GMA-7) 14.7%; Oh My G! (GMA-7) 12.6%; Aksyon sa Tanghali (TV5) 1.9%
Afternoon:
Eat Bulaga! (GMA-7) 18.4%; It's Showtime (ABS-CBN) 10.9%; Movie Max 5: Meet the Parents (TV5) 3.1%
The Half Sisters (GMA-7) 19.8%; Flordeliza (ABS-CBN) 8.5%; Movie Max 5: Shutter Island (TV5) 3.5%
Yagit (GMA-7) 17.1%; Nasaan Ka Nang Kailangan Kita (ABS-CBN) 8.8%
Kailan Ba Tama Ang Mali? (GMA-7) 14%; Fated to Love You (ABS-CBN) 7.5%; Hi-5 (TV5) 1.9%
Alisto! (GMA-7) 10.5%; Mission Possible (ABS-CBN) 6.4%; Philippine Super Liga All-Filipino: Petron Blaze vs Shopinas.com (TV5) 1.6%
Fall in Love With Me (GMA-7) 8.5%; Kapamilya Deal or No Deal (ABS-CBN) 10.6%
Evening:
My Love from the Star(GMA-7) 13.4%; Inday Bote (ABS-CBN) 12.1%; Aksyon (TV5) 3.3%
ADVERTISEMENT - CONTINUE READING BELOW
24 Oras (GMA-7) 20.1%; TV Patrol (ABS-CBN) 15.1%; PBA 2015 Commisioner's Cup Semis: Purefoods Star Hotshots vs Talk n Text (TV5) 8.3%
Pari 'Koy (GMA-7) 18.8%; Dream Dad (ABS-CBN) 20.2%
Once Upon a Kiss (GMA-7) 19.1%; Forevermore (ABS-CBN) 21.2%
Second Chances (GMA-7) 21.2%; Bridges of Love (ABS-CBN) 16.9%; Wattpad Presents (TV5) 3.3%; The Vampire Diaries (TV5) 2.5%
Empress Ki (GMA-7) 21.6%; Aquino & Abunda Tonight (ABS-CBN) 11%; Unforgettable Love (ABS-CBN) 8.6%; Extreme Series (TV5) .9%; Aksyon Tonite (TV5) .7%
Saksi (GMA-7) 12.5%; Front Row (GMA-7) 6.1%; Bandila (ABS-CBN) 4.9%; Reaksyon (TV5) .4%
The Tim Yap Show (GMA-7) 3.2%; Mukha (ABS-CBN) 2.7%; O Shopping (ABS-CBN) 1.1%; Shop Japan (TV5) .2%
----
April 7, 2015 (Tuesday)
Morning:
I-Witness Replay (GMA-7) .6%; 3-in-1 Replay (ABS-CBN) .2%; Shop Japan (TV5) 0%
Unang Hirit! (GMA-7) 3.3%; Umagang Kay Ganda (ABS-CBN) 1.9%; Aksyon sa Umaga (TV5) .4%; Higglytown Heroes (TV5) 1.5%; Higglytown Heroes (TV5) 2.3%
One Piece (GMA-7) 7.1%; Martin Mystery (GMA-7) 8.8%; Time Quest (GMA-7) 9.8%; Dragon Ball (GMA-7) 12%; Kris TV (ABS-CBN) 4.3%; Doc Mcstuffins (TV5) 2.9%; Teacher's Pet (TV5) 3.5%; Hi-5 (TV5) 2.4%
Fairy Tail (GMA-7) 13.6%; Spongebob Squarepants (ABS-CBN) 6.1%; Transformers Animated (TV5) 1.6%
Slam Dunk (GMA-7) 15%; Haikyu!! (ABS-CBN) 5.3%; Naruto Shippuuden (ABS-CBN) 5.5%; Rockman Exe Excess (TV5) 2%
Knock Out (GMA-7) 14.6%; Two Mothers (GMA-7) 10.4%; Corazon Indomable (GMA-7) 11.7%; Kapamilya Blockbusters: Super Babies: Baby Geniuses 2 (ABS-CBN) 10.7%; Happy Wife Happy Life (TV5) 1.1%; Solved na Solved (TV5) 1.4%; Showbiz Konek na Konek (TV5) 1.2%
The Ryzza Mae Show (GMA-7) 13.4%; Oh My G! (ABS-CBN) 14.7%; Aksyon sa Tanghali (TV5) 1.7%
Afternoon:
Eat Bulaga!(GMA-7) 18.6%; It's Showtime (ABS-CBN) 10.8%; Movie Max 5: Meet the Fockers (TV5) 3.2%; Movie Max 5: Hollow Man (TV5) 5.3%
The Half Sisters (GMA-7) 22.2%; Flordeliza (ABS-CBN) 7.3%
Yagit (GMA-7) 18.2%; Nasaan Ka Nang Kailangan Kita (ABS-CBN) 8.4%
Kailan Ba Tama Ang Mali? (GMA-7) 14.7%; Fated to Love You (ABS-CBN) 9%; 3-in-1 (ABS-CBN) 5.9%; Movie Max 5: Real Steel (TV5) 5.2%
ADVERTISEMENT - CONTINUE READING BELOW
Tunay na Buhay (GMA-7) 8.1%; Fall in Love With Me (GMA-7) 6.6%; Kapamilya Deal or No Deal (ABS-CBN) 7.6%
Evening:
My Love from the Star (GMA-7) 11.3%; Inday Bote (ABS-CBN) 9.1%; Aksyon (TV5) 3.2%
24 Oras (GMA-7) 17.9%; TV Patrol (ABS-CBN) 15.3%; PBA 2015 Commissioner's Cup Semis: Meralco vs Rain or Shine (TV5) 7.6%
Pari 'Koy (GMA-7) 20.5%; Dream Dad (ABS-CBN) 20.7%
Once Upon a Kiss (GMA-7) 20.6%; Forevermore (ABS-CBN) 21.1%
Second Chances (GMA-7) 21.1%; Bridges of Love (ABS-CBN) 17.4%; Wattpad Presents (TV5) 3.4%; The Vampire Diaries (TV5) 2.7%
Empress Ki (GMA-7) 22%; Aquino & Abunda Tonight (ABS-CBN) 10.6%; Unforgettable Love (ABS-CBN) 7.6%; Extreme Series (TV5) 1.3%; Aksyon Tonite (TV5) 1.1%
Saksi (GMA-7) 11.7%; Stan Lee's Superhumans (GMA-7) 7.6%; Bandila (ABS-CBN) 3.9%; Reaksyon (TV5) .8%; Numero (TV5) .8%
The Tim Yap Show (GMA-7) 2.6%; Banana Nite (ABS-CBN) 2.3%; O Shopping (ABS-CBN) .6%; Shop Japan (TV5) .3%
---
April 8, 2015 (Wednesday)
Morning:
Tunay na Buhay Replay (GMA-7) .4%; RealiTV Replay (ABS-CBN) .2%; Shop Japan (TV5) 0%
Unang Hirit! (GMA-7) 2.3%; Umagang Kay Ganda (ABS-CBN) 1.8%; Aksyon sa Umaga (TV5) .5%; Higglytown Heroes (TV5) .8%; Higglytown Heroes (TV5) 1.9%
One Piece (GMA-7) 6.9%; Martin Mystery (GMA-7) 9.8%; Time Quest (GMA-7) 12.2%; Kris TV (ABS-CBN) 3.5%; Doc Mcstuffins (TV5) 2.8%; Teacher's Pet (TV5) 2.4%; Hi-5 (TV5) 1.7%
Dragon Ball (GMA-7) 12.8%; Fairy Tail (GMA-7) 14.7%; Spongebob Squarepants (ABS-CBN) 4.2%; Transformers Animated (TV5) 1.6%
Slam Dunk (GMA-7) 14.7%; Haikyuu!! (ABS-CBN) 5%; Naruto Shippuuden (ABS-CBN) 5.5%; Rockman Exe Excess (TV5) 1.8%
Knock Out (GMA-7) 13.9%; Two Mothers (GMA-7) 11.4%; Corazon Indomable (GMA-7) 13.6%; Kapamilya Blockbusters: Finding Nemo (ABS-CBN) 11.2%; Happy Wife Happy Life (TV5) .6%; Solved na Solved (TV5) .8%; Showbiz Konek na Konek (TV5) .7%
The Ryzza Mae Show (GMA-7) 16.5%; Oh My G! (ABS-CBN) 14.2%; Aksyon sa Tanghali (TV5) 1.3%
Afternoon:
Eat Bulaga!(GMA-7) 21.3%; It's Showtime (ABS-CBN) 11%; Movie Max 5: Liar Liar (TV5) 3.2%
The Half Sisters (GMA-7) 21.4%; Flordeliza (ABS-CBN) 8%; Movie Max 5: Backdraft (TV5) 2.9%
ADVERTISEMENT - CONTINUE READING BELOW
Yagit (GMA-7) 16.7%; Nasaan Ka Nang Kailangan Kita (ABS-CBN) 8%; Hi-5 (TV5) 1.3%
Kailan Ba Tama Ang Mali? (GMA-7) 14.1%; Fated to Love You (ABS-CBN) 7.6%
Power House (GMA-7) 11.5%; RealiTV (ABS-CBN) 6.3%; Movie Max 5: The Patriot (TV5) 3%
Fall in Love With Me (GMA-7) 7.2%; Kapamilya Deal or No Deal (ABS-CBN) 8.2%
Evening:
My Love from the Star(GMA-7) 10.5%; Inday Bote (ABS-CBN) 9.6%; Aksyon (TV5) 2.9%
24 Oras (GMA-7) 18.4%; TV Patrol (ABS-CBN) 15.6%; Movie Max 5: X-Men (TV5) 6.1%
Pari 'Koy (GMA-7) 19.3%; Dream Dad (ABS-CBN) 20.1%
Once Upon a Kiss (GMA-7) 20.6%; Forevermore (ABS-CBN) 20.8%; Wattpad Presents (TV5) 3.3%
Second Chances (GMA-7) 19.5%; Bridges of Love (ABS-CBN) 16.2%; The Vampire Diaries (TV5) 3.3%
Empress Ki (GMA-7) 21.6%; Aquino & Abunda Tonight (ABS-CBN) 10.6%; Unforgettable Love (ABS-CBN) 8.3%; Extreme Series (TV5) 1.8%; Aksyon Tonite (TV5) 1.1%
Saksi (GMA-7) 10.7%; Bandila (ABS-CBN) 4.9%; Reaksyon (TV5) .4%
Human Planet(GMA-7) 6.8%; History with Lourd (TV5) .3%
The Tim Yap Show (GMA-7) 2.7%; Banana Nite (ABS-CBN) 3.2%; O Shopping (ABS-CBN) .9%; Shop Japan (TV5) .1%
---
April 9, 2015 (Thursday)
Morning:
Born to be Wild Replay (GMA-7) .3%; SportsU Replay (ABS-CBN) .3%; Shop Japan (TV5) 0%
Unang Hirit! (GMA-7) 2.7%; Umagang Kay Ganda (ABS-CBN) 1.7%; Aksyon sa Umaga (TV5) .5%; Higglytown Heroes (TV5) .9%; Higglytown Heroes (TV5) 2.8%
One Piece (GMA-7) 6.7%; Martin Mystery (GMA-7) 8.8%; Time Quest (GMA-7) 11.4%; Dragon Ball (GMA-7) 12.5%; Kris TV (ABS-CBN) 3.5%; Doc Mcstuffins (TV5) 3.3%; Teacher's Pet (TV5) 2.6%; Hi-5 (TV5) 2.4%
Fairy Tail (GMA-7) 13.8%; Spongebob Squarepants (ABS-CBN) 5.5%; Transformers Animated (TV5) 2.6%
Slam Dunk (GMA-7) 14.2%; Haikyuu!! (ABS-CBN) 5.6%; Naruto Shippuuden (ABS-CBN) 5.5%; Rockman Exe Excess (TV5) 2%
Knock Out (GMA-7) 14.5%; Two Mothers (GMA-7) 10.3%; Corazon Indomable (GMA-7) 12.6%; Kapamilya Blockbusters: Over Her Dead Body (ABS-CBN) 9.5%; Happy Wife Happy Life (TV5) .8%; Solved na Solved (TV5) 1.1%; Showbiz Konek na Konek (TV5) 1.4%
The Ryzza Mae Show (GMA-7) 14.3%; Oh My G! (ABS-CBN) 13.6%; Aksyon sa Tanghali (TV5) 1.1%
ADVERTISEMENT - CONTINUE READING BELOW
Afternoon:
Eat Bulaga!(GMA-7) 19.8%; It's Showtime (ABS-CBN) 10.6%; Movie Max 5: A Thousand Words (TV5) 4.3%
The Half Sisters (GMA-7) 21.4%; Flordeliza (ABS-CBN) 8.2%; Movie Max 5: The Count of Monte Cristo (TV5) 3.6%
Yagit (GMA-7) 17.1%; Nasaan Ka Nang Kailangan Kita (ABS-CBN) 7.7%; Hi-5 (TV5) 1.6%
Kailan Ba Tama Ang Mali? (GMA-7) 13.4%; Fated to Love You (ABS-CBN) 7.2%; Philippine Super Liga All-Filipino: Foton vs Mane N Tail (TV5) 1.7%
Reporter's Notebook (GMA-7) 9.8%; Sports U (ABS-CBN) 5.6%
Fall in Love With Me (GMA-7) 8.2%; Kapamilya Deal or No Deal (ABS-CBN) 9.3%
Evening:
My Love from the Star(GMA-7) 12.3%; Inday Bote (ABS-CBN) 11%; Aksyon (TV5) 3.1%
24 Oras (GMA-7) 17.7%; TV Patrol (ABS-CBN) 14.9%; PBA 2015 Commissioner's Cup Semis: Purefoods Star Hotshots vs Talk N Text (TV5) 10.7%
Pari 'Koy (GMA-7) 18.2%; Dream Dad (ABS-CBN) 19.5%
Once Upon a Kiss (GMA-7) 18.5%; Forevermore (ABS-CBN) 17.8%
Second Chances (GMA-7) 20%; Bridges of Love (ABS-CBN) 16.2%; Wattpad Presents (TV5) 4.1%; Supernatural (TV5) 3.1%
Empress Ki (GMA-7) 22.3%; Aquino & Abunda Tonight (ABS-CBN) 10.2%; Unforgettable Love (ABS-CBN) 8%; Extreme Series (TV5) 1.1%
Saksi (GMA-7) 11.8%; Bandila (ABS-CBN) 4.8%; Aksyon Tonite (TV5) .4%; Reaksyon (TV5) .2%
Human Planet(GMA-7) 7.4%; Banana Nite (ABS-CBN) 2.9%; Shop Japan (TV5) .3%
The Tim Yap Show (GMA-7) 2.5%; O Shopping (ABS-CBN) 1.2%
-----
TOP TEN PROGRAMS:
April 6, 2015 (Monday)
DAYTIME:
The Half Sisters (GMA-7) – 19.8%
Eat Bulaga!(GMA-7) – 18.4%
Yagit (GMA-7) - 17.1%
Knock Out(GMA-7) - 15.7%
Slam Dunk(GMA-7) - 15%
The Ryzza Mae Show(GMA-7) - 14.7%
Fairy Tail(GMA-7) - 14.3%
Kailan Ba Tama Ang Mali?(GMA-7) - 14%
Dragon Ball(GMA-7) - 13%
Oh My G! (ABS-CBN) - 12.6%
PRIMETIME:
Empress Ki (GMA-7) - 21.6%
Second Chances (GMA-7) / Forevermore (ABS-CBN) – 21.2%
Dream Dad (ABS-CBN) - 20.2%
24 Oras (GMA-7) - 20.1%
Once Upon a Kiss (GMA-7) - 19.1%
Pari 'Koy(GMA-7) – 18.8%
Bridges of Love (ABS-CBN) – 16.9%
TV Patrol (ABS-CBN) – 15.1%
My Love from the Star(GMA-7) – 13.4%
Saksi(GMA-7) – 12.5%
April 7, 2015 (Tuesday)
DAYTIME:
The Half Sisters (GMA-7) – 22.2%
Eat Bulaga!(GMA-7) – 18.6%
Yagit (GMA-7) - 18.2%
Slam Dunk(GMA-7) - 15%
Kailan Ba Tama Ang Mali?(GMA-7) / Oh My G! (ABS-CBN) - 14.7%
Knock Out(GMA-7) - 14.6%
Fairy Tail(GMA-7) - 13.6%
The Ryzza Mae Show (GMA-7) - 13.4%
Dragon Ball (GMA-7) – 12%
Corazon Indomable(GMA-7) - 11.7%
PRIMETIME:
Empress Ki(GMA-7) - 22%
Second Chances (GMA-7) / Forevermore(ABS-CBN) – 21.1%
Dream Dad (ABS-CBN) – 20.7%
Once Upon a Kiss (GMA-7) - 20.6%
Pari 'Koy(GMA-7) - 20.5%
24 Oras (GMA-7) - 17.9%
Bridges of Love (ABS-CBN) - 17.4%
TV Patrol (ABS-CBN) - 15.3%
Saksi (GMA-7) - 11.7%
My Love from the Star(GMA-7) - 11.3%
April 8, 2015 (Wednesday)
DAYTIME:
The Half Sisters (GMA-7) – 21.4%
Eat Bulaga!(GMA-7) - 21.3%
Yagit (GMA-7) - 16.7%
The Ryzza Mae Show(GMA-7) - 16.5%
Fairy Tail(GMA-7) / Slam Dunk(GMA-7) - 14.7%
Oh My G! (ABS-CBN) - 14.2%
Kailan Ba Tama Ang Mali?(GMA-7) - 14.2%
Knock Out(GMA-7) - 13.9%
Corazon Indomable(GMA-7) - 13.6%
Dragon Ball (GMA-7) – 12.8%
PRIMETIME:
Empress Ki(GMA-7) - 21.6%
Forevermore (ABS-CBN) – 20.8%
Once Upon a Kiss (GMA-7) - 20.6%
Dream Dad (ABS-CBN) - 20.1%
Second Chances (GMA-7) - 19.5%
Pari 'Koy(GMA-7) – 19.3%
24 Oras (GMA-7) - 18.4%
Bridges of Love (ABS-CBN) - 16.2%
TV Patrol (ABS-CBN) – 15.6%
Saksi(GMA-7) - 10.7%
April 9, 2015 (Thursday)
DAYTIME:
The Half Sisters (GMA-7) – 21.4%
Eat Bulaga! (GMA-7) - 19.8%
Yagit (GMA-7) - 17.1%
Knock Out(GMA-7) - 14.5%
The Ryzza Mae Show(GMA-7) - 14.3%
Slam Dunk(GMA-7) - 14.2%
Fairy Tail(GMA-7) - 13.8%
Oh My G! (ABS-CBN) - 13.6%
Kailan Ba Tama Ang Mali?(GMA-7) - 13.4%
Corazon Indomable(GMA-7) - 12.6%
PRIMETIME:
Empress Ki(GMA-7) - 22.3%
Second Chances (GMA-7) - 20%
Dream Dad (ABS-CBN) - 19.5%
Once Upon a Kiss (GMA-7) - 18.5%
Pari 'Koy (GMA-7) – 18.2%
Forevermore (ABS-CBN) – 17.8%
24 Oras (GMA-7) - 17.7%
Bridges of Love (ABS-CBN) - 16.2%
TV Patrol (ABS-CBN) – 14.9%
My Love from the Star(GMA-7) - 12.3%
Source: AGB Nielsen Philippines