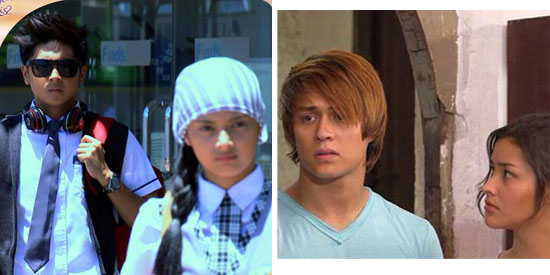 ---
GMA-7 is performing better in the primetime block. This is according to the latest ratings data from AGB Nielsen Philippines from Mega Manila households between April 13 to 16, 2015.
The Kapuso Network topped the top ten list on primetime on three out of the four days in the given period.

The Dingdong Dantes-starrer, Pari 'Koy, continues to get higher TV ratings on primetime. In fact, it reached the No. 1 slot on April 15 with its TV rating of 21.2%. It shared the top slot that day with Once Upon a Kiss starring Miguel Tanfelix and Bianca Umali.

From Monday to Wednesday, Pari 'Koy was able to defeat its rival show, Dream Dad. Starring Zanjoe Marudo and child star Jana Agoncillo, Dream Dad aired its finale episodes during this period. On Thursday, ABS-CBN's Dream Dad had a slightly much higher TV rating of 20.9% over Pari 'Koy's 20.3%.

Once Upon a Kiss, featuring the Biguel loveteam, has improved its TV ratings compared to previous top-rater Forevermore starring Enrique Gil and Liza Soberano. From April 13 to April 15, Once Upon a Kiss was able to lead in its timeslot and even emerged as the No. 2 most-watched primetime show on Monday and Tuesday.

Its lead over Forevermore ended on Thursday when the ABS-CBN show got a TV rating of 21.9% over Once Upon a Kiss' 20.9%.
The surprise winner is Empress Ki, because it earned top ratings even if it is aired on late primetime. The Korean drama was the most-watched show on April 6 and 7, when its last two episodes were aired.
It even had an impressive finale. It scored 25.2%, the highest finale rating so far in 2015.
Empress Ki was such a hit that it pulled up the ratings of fellow Kapuso primetime shows, like Pari Koy, Once Upon a Kiss and Second Chances, which ended in the top five on Monday and Tuesday.
ADVERTISEMENT - CONTINUE READING BELOW
But those shows' ratings started sliding after Empress Ki left the air. Pari 'Koy and Once Upon a Kiss may have placed first on April 8, but ABS-CBN's hit romantic series Forevermore took the top spot once again on April 9.
Empress Ki's replacement is King of Ambition, a revenge-drama that stars Kwon Sang-Woo. Its April 8 debut only scored 16.2%, and it remains to be seen if it can replicate Empress Ki's impressive performance.
King of Ambition is already off to a good start, though, since it already defeated its competing ABS-CBN shows Aquino & Abunda Tonight and Unforgettable Love.
GMA-7 also continued to dominate daytime with The Half Sisters and Eat Bulaga!
Here is the comparative rating performance of GMA-7, ABS-CBN and TV5 programs from April 13 to 16, 2015 derived from AGB Nielsen Philippines from Mega Manila households:
-----
April 13, 2015 (Monday)
Morning:
Power House Replay (GMA-7) .3%; Mission Possible Replay (ABS-CBN) .6%; Shop Japan (TV5) 0%
Unang Hirit! (GMA-7) 2.8%; Umagang Kay Ganda (ABS-CBN) 1.9%; Aksyon sa Umaga (TV5) .5%; Higglytown Heroes (TV5) 1.4%; Higglytown Heroes (TV5) 2.3%
Time Quest (GMA-7) 6.4%; Martin Mystery (GMA-7) 9.9%; Dragon Ball (GMA-7) 10.5%; Magi the Labyrinth of Magic (GMA-7) 11.8%; Kris TV (ABS-CBN) 4.2%; Doc Mcstuffins (TV5) 2.7%; Teacher's Pet (TV5) 2.3%; Hi-5 (TV5) 2%
Fairy Tail (GMA-7) 13.1%; Naruto Shippuuden (ABS-CBN) 4.5%; Transformers Animated (TV5) 2%
Slam Dunk (GMA-7) 13.4%; Wansapanasummer (ABS-CBN) 5.7%; Rockman Exe Excess (TV5) 1.8%
Knock Out (GMA-7) 13.6%; Two Mothers (GMA-7) 10.4%; Corazon Indomable (GMA-7) 12.3%; Summer Kapamilya Blockbusters: Underdog (ABS-CBN) 11.3%; Happy Wife Happy Life (TV5) .9%; Healing Galing sa TV5 (TV5) 1.4%; Showbiz Konek na Konek (TV5) 1.5%
The Ryzza Mae Show (GMA-7) 14.5%; Oh My G! (GMA-7) 14.1%; Aksyon sa Tanghali (TV5) 1.9%
Afternoon:
Eat Bulaga! (GMA-7) 19.3%; It's Showtime (ABS-CBN) 10.9%; Movie Max 5: Enter the Dragon (TV5) 3.4%
The Half Sisters (GMA-7) 20.5%; Flordeliza (ABS-CBN) 8.7%; Movie Max 5: Tremors 4 (TV5) 4.4%
Yagit (GMA-7) 16.9%; Nasaan Ka Nang Kailangan Kita (ABS-CBN) 8.4%
Kailan Ba Tama Ang Mali? (GMA-7) 14.1%; Fated to Love You (ABS-CBN) 7.7%; Hi-5 (TV5) 2%
Alisto! (GMA-7) 11.6%; Mission Possible (ABS-CBN) 5.8%; Philippine Super Liga All-Filipino (TV5) 1.1%
ADVERTISEMENT - CONTINUE READING BELOW
Fall in Love With Me (GMA-7) 9.5%; Kapamilya Deal or No Deal (ABS-CBN) 8%
Evening:
My Love from the Star (GMA-7) 13.6%; Inday Bote (ABS-CBN) 10.5%; Aksyon (TV5) 2.6%
24 Oras (GMA-7) 21.7%; TV Patrol (ABS-CBN) 15.1%; Movie Max 5: Iron Man 2 (TV5) 6.9%
Pari 'Koy (GMA-7) 22.2%; Dream Dad (ABS-CBN) 20.6%
Once Upon a Kiss (GMA-7) 23%; Forevermore (ABS-CBN) 20.5%; Wattpad Presents (TV5) 4%
Second Chances (GMA-7) 22%; Bridges of Love (ABS-CBN) 15.6%; Supernatural (TV5) 3.3%
Empress Ki (GMA-7) 23.9%; Aquino & Abunda Tonight (ABS-CBN) 9.7%; Unforgettable Love (ABS-CBN) 7.5%; Extreme Series (TV5) 1.6%; Aksyon Tonite (TV5) 1%
Saksi (GMA-7) 12.3%; Front Row (GMA-7) 6.2%; Bandila (ABS-CBN) 3.9%; Reaksyon (TV5) .8%
The Tim Yap Show (GMA-7) 2.8%; Mukha (ABS-CBN) 2.6%; O Shopping (ABS-CBN) 1.3%; Shop Japan (TV5) .4%
----
April 14, 2015 (Tuesday)
Morning:
I-Witness Replay (GMA-7) .6%; 3-in-1 Replay (ABS-CBN) .3%; Shop Japan (TV5) .1%
Unang Hirit! (GMA-7) 3.1%; Umagang Kay Ganda (ABS-CBN) 1.9%; Aksyon sa Umaga (TV5) .4%; Higglytown Heroes (TV5) .7%; Higglytown Heroes (TV5) 1.7%
Time Quest (GMA-7) 7.6%; Martin Mystery (GMA-7) 10.1%; Dragon Ball (GMA-7) 11.6%; Magi the Labyrinth of Magic (GMA-7) 11.7%; Kris TV (ABS-CBN) 3.3%; Doc Mcstuffins (TV5) 1.8%; Teacher's Pet (TV5) 2.3%; Hi-5 (TV5) 1.9%
Fairy Tail (GMA-7) 14.5%; Naruto Shippuuden (ABS-CBN) 3.4%; Transformers Animated (TV5) 1.5%
Slam Dunk (GMA-7) 15%; Wansapanasummer (ABS-CBN) 5%; Rockman Exe Excess (TV5) 1.4%
Knock Out (GMA-7) 15.1%; Two Mothers (GMA-7) 12.1%; Corazon Indomable (GMA-7) 12.3%; Summer Kapamilya Blockbusters: Stick It (ABS-CBN) 10.3%; Happy Wife Happy Life (TV5) .9%; Solved na Solved (TV5) 1.1%; Showbiz Konek na Konek (TV5) .9%
The Ryzza Mae Show (GMA-7) 14.2%; Oh My G! (ABS-CBN) 12.8%; Aksyon sa Tanghali (TV5) 1.7%
Afternoon:
Eat Bulaga!(GMA-7) 18.5%; It's Showtime (ABS-CBN) 11.2%; Movie Max 5: Royal Tramp (TV5) 4%; Movie Max 5: Epicenter (TV5) 4.2%
The Half Sisters (GMA-7) 20.8%; Flordeliza (ABS-CBN) 9%
Yagit (GMA-7) 17.3%; Nasaan Ka Nang Kailangan Kita (ABS-CBN) 8%; Hi-5 (TV5) 1.3%
Kailan Ba Tama Ang Mali? (GMA-7) 13.8%; Fated to Love You (ABS-CBN) 6.9%; Movie Max 5: Ghost Storm (TV5) 3%
Tunay na Buhay (GMA-7) 11.2%; 3-in-1 (ABS-CBN) 5.8%
Fall in Love With Me (GMA-7) 9.2%; Kapamilya Deal or No Deal (ABS-CBN) 7.3%
Evening:
My Love from the Star (GMA-7) 13.1%; Inday Bote (ABS-CBN) 10%; Aksyon (TV5) 3.2%
24 Oras (GMA-7) 21.6%; TV Patrol (ABS-CBN) 14.7%; Movie Max 5: War of the Worlds (TV5) 6.6%
ADVERTISEMENT - CONTINUE READING BELOW
Pari 'Koy (GMA-7) 21.7%; Dream Dad (ABS-CBN) 20.9%
Once Upon a Kiss (GMA-7) 23.1%; Forevermore (ABS-CBN) 21.7%; Wattpad Presents (TV5) 3.6%
Second Chances (GMA-7) 21.4%; Bridges of Love (ABS-CBN) 15.6%; Supernatural (TV5) 3.8%
Empress Ki (GMA-7) 25.2%; Aquino & Abunda Tonight (ABS-CBN) 9.5%; Unforgettable Love (ABS-CBN) 7%; Extreme Series (TV5) 2%; Aksyon Tonite (TV5) .9%
Saksi (GMA-7) 13.6%; Stan Lee's Superhumans (GMA-7) 7%; Bandila (ABS-CBN) 4.8%; Reaksyon (TV5) .6%; Numero (TV5) .4%
The Tim Yap Show (GMA-7) 2.2%; Banana Nite (ABS-CBN) 3.1%; O Shopping (ABS-CBN) .8%; Shop Japan (TV5) .1%
---
April 15, 2015 (Wednesday)
Morning:
Tunay na Buhay Replay (GMA-7) .4%; RealiTV Replay (ABS-CBN) .1%; Shop Japan (TV5) .1%
Unang Hirit! (GMA-7) 3%; Umagang Kay Ganda (ABS-CBN) 1.9%; Aksyon sa Umaga (TV5) .6%; Higglytown Heroes (TV5) 1.3%; Higglytown Heroes (TV5) 2.3%
Time Quest (GMA-7) 8%; Martin Mystery (GMA-7) 10.2%; Dragon Ball (GMA-7) 10.6%; Magi the Labyrinth of Magic (GMA-7) 12.5%; Kris TV (ABS-CBN) 4.6%; Doc Mcstuffins (TV5) 3%; Teacher's Pet (TV5) 2.3%; Hi-5 (TV5) 2.5%
Fairy Tail (GMA-7) 15.4%; Naruto Shippuuden (ABS-CBN) 3.5%; Transformers Animated (TV5) 1.9%
Slam Dunk (GMA-7) 15.9%; Wansapanasummer (ABS-CBN) 4.5%; Rockman Exe Excess (TV5) 2.1%
Knock Out (GMA-7) 16.2%; Two Mothers (GMA-7) 11.1%; Corazon Indomable (GMA-7) 13.5%; Summer Kapamilya Blockbusters: Cars 2 (ABS-CBN) 9.5%; Happy Wife Happy Life (TV5) 1%; Solved na Solved (TV5) 1.2%; Showbiz Konek na Konek (TV5) 1%
The Ryzza Mae Show (GMA-7) 15.4%; Oh My G! (ABS-CBN) 12%; Aksyon sa Tanghali (TV5) 1.9%
Afternoon:
Eat Bulaga!(GMA-7) 20%; It's Showtime (ABS-CBN) 10.8%; Movie Max 5: Royal Tramp II (TV5) 3.8%
The Half Sisters (GMA-7) 22.3%; Flordeliza (ABS-CBN) 9%; Movie Max 5: Earth's Final Hours (TV5) 3.5%
Yagit (GMA-7) 17.6%; Nasaan Ka Nang Kailangan Kita (ABS-CBN) 8.4%; Hi-5 (TV5) 1.2%
Kailan Ba Tama Ang Mali? (GMA-7) 14.7%; Fated to Love You (ABS-CBN) 7.6%; RealiTV (ABS-CBN) 6.3%; PSL All-Filipino: Phillips Gold vs Shopinas.com (TV5) 1.2%
Power House (GMA-7) 12.7%; Fall in Love With Me (GMA-7) 10.6%; Kapamilya Deal or No Deal (ABS-CBN) 9.1%
Evening:
My Love from the Star (GMA-7) 13.7%; Inday Bote (ABS-CBN) 10.1%; Aksyon (TV5) 3.6%
24 Oras (GMA-7) 19.8%; TV Patrol (ABS-CBN) 14.7%; PBA 2015 Commissioner's Cup Finals: Rain or Shine vs Talk n Text (TV5) 8.8%
Pari 'Koy (GMA-7) 21.2%; Dream Dad (ABS-CBN) 20.5%
Once Upon a Kiss (GMA-7) 21.2%; Forevermore (ABS-CBN) 19.8%
ADVERTISEMENT - CONTINUE READING BELOW
Second Chances (GMA-7) 20.5%; Bridges of Love (ABS-CBN) 16.9%; Wattpad Presents (TV5) 3.9%; Supernatural (TV5) 4%
King of Ambition (GMA-7) 16.2%; Aquino & Abunda Tonight (ABS-CBN) 11.4%; Unforgettable Love (ABS-CBN) 8.4%; Extreme Series (TV5) 1.9%
Saksi (GMA-7) 9.5%; Human Planet (GMA-7) 5.9%; Bandila (ABS-CBN) 4%; Aksyon Tonite (TV5) .9%; Reaksyon (TV5) .4%
The Tim Yap Show (GMA-7) 2.9%; Banana Nite (ABS-CBN) 3.1%; O Shopping (ABS-CBN) .9%; Shop Japan (TV5) .3%
---
April 16, 2015 (Thursday)
Morning:
Born to be Wild Replay (GMA-7) .3%; SportsU Replay (ABS-CBN) .2%; Shop Japan (TV5) .1%
Unang Hirit! (GMA-7) 2.6%; Umagang Kay Ganda (ABS-CBN) 1.9%; Aksyon sa Umaga (TV5) .5%; Higglytown Heroes (TV5) .7%; Higglytown Heroes (TV5) 1.7%
Time Quest (GMA-7) 7.3%; Martin Mystery (GMA-7) 9.6%; Dragon Ball (GMA-7) 11.8%; Magi the Labyrinth of Magic (GMA-7) 13%; Kris TV (ABS-CBN) 3.9%; Doc Mcstuffins (TV5) 2.4%; Teacher's Pet (TV5) 2.6%; Hi-5 (TV5) 2.5%
Fairy Tail (GMA-7) 14.8%; Naruto Shippuuden (ABS-CBN) 3.8%; Transformers Animated (TV5) 2.1%
Slam Dunk (GMA-7) 15.9%; Wansapanasummer (ABS-CBN) 5%; Rockman Exe Excess (TV5) 1.5%
Knock Out (GMA-7) 15.5%; Two Mothers (GMA-7) 12.1%; Corazon Indomable (GMA-7) 13.9%; Summer Kapamilya Blockbusters: Sweet Home Alabama (ABS-CBN) 8.9%; Happy Wife Happy Life (TV5) .6%; Solved na Solved (TV5) .7%; Showbiz Konek na Konek (TV5) 1.3%
The Ryzza Mae Show (GMA-7) 15%; Oh My G! (ABS-CBN) 12.6%; Aksyon sa Tanghali (TV5) 1.9%
Afternoon:
Eat Bulaga!(GMA-7) 20%; It's Showtime (ABS-CBN) 11.3%; Movie Max 5: Dragon Fist (TV5) 4.5%
The Half Sisters (GMA-7) 22.5%; Flordeliza (ABS-CBN) 7.7%; Movie Max 5: Cast Away (TV5) 3.4%
Yagit (GMA-7) 20.7%; Nasaan Ka Nang Kailangan Kita (ABS-CBN) 7.8%; Hi-5 (TV5) 1%
Kailan Ba Tama Ang Mali? (GMA-7) 14.3%; Fated to Love You (ABS-CBN) 6.7%
Reporter's Notebook (GMA-7) 11%; Sports U (ABS-CBN) 4.2%; PSL Philippine Super Liga All-Filipino: Foton vs Petron Blaze (TV5) 1.3%
Fall in Love With Me (GMA-7) 9.4%; Kapamilya Deal or No Deal (ABS-CBN) 8.1%
Evening:
My Love from the Star (GMA-7) 13.8%; Inday Bote (ABS-CBN) 10.5%; Rookie Watch (TV5) 1.2%; Aksyon (TV5) 2.6%
24 Oras (GMA-7) 21.7%; TV Patrol (ABS-CBN) 15.4%; Movie Max 5: Transformers (TV5) 7.1%
Pari 'Koy (GMA-7) 20.3%; Dream Dad (ABS-CBN) 20.9%
Once Upon a Kiss (GMA-7) 20.9%; Forevermore (ABS-CBN) 21.9%; Wattpad Presents (TV5) 2.7%
Second Chances (GMA-7) 18.5%; Bridges of Love (ABS-CBN) 16.1%; Supernatural (TV5) 4.1%
King of Ambition (GMA-7) 13.6%; Aquino & Abunda Tonight (ABS-CBN) 11.6%; Unforgettable Love (ABS-CBN) 9.3%; Extreme Series (TV5) 2%; Aksyon Tonite (TV5) 1.3%
ADVERTISEMENT - CONTINUE READING BELOW
Saksi (GMA-7) 10.2%; Human Planet (GMA-7) 6.7%; Bandila (ABS-CBN) 4.1%; Reaksyon (TV5) .8%; Unang Tikim (TV5) .4%
The Tim Yap Show (GMA-7) 2.5%; Banana Nite (ABS-CBN) 2.8%; O Shopping (ABS-CBN) 1.1%; Shop Japan (TV5) .3%
-----
TOP TEN PROGRAMS:
April 13, 2015 (Monday)
DAYTIME:
The Half Sisters (GMA-7) – 20.5%
Eat Bulaga! (GMA-7) – 19.3%
Yagit (GMA-7) - 16.9%
The Ryzza Mae Show(GMA-7) - 14.5%
Kailan Ba Tama Ang Mali?(GMA-7) / Oh My G! (ABS-CBN) - 14.1%
Knock Out (GMA-7) - 13.6%
Slam Dunk (GMA-7) - 13.4%
Fairy Tail (GMA-7) - 13.1%
Corazon Indomable (GMA-7) - 12.3%
Magi the Labyrinth of Magic (GMA-7) - 11.8%
PRIMETIME:
Empress Ki (GMA-7) - 23.9%
Once Upon a Kiss (GMA-7) - 23%
Pari 'Koy (GMA-7) – 22.2%
Second Chances (GMA-7) - 22%
24 Oras (GMA-7) - 21.7%
Dream Dad (ABS-CBN) - 20.6%
Forevermore (ABS-CBN) – 20.5%
Bridges of Love (ABS-CBN) – 15.6%
TV Patrol (ABS-CBN) – 15.1%
My Love from the Star (GMA-7) – 13.6%
April 14, 2015 (Tuesday)
DAYTIME:
The Half Sisters (GMA-7) – 20.8%
Eat Bulaga!(GMA-7) – 18.5%
Yagit (GMA-7) - 17.3%
Knock Out (GMA-7) - 15.1%
Fairy Tail (GMA-7) - 14.5%
Slam Dunk(GMA-7) - 15%
The Ryzza Mae Show (GMA-7) - 14.2%
Kailan Ba Tama Ang Mali?(GMA-7) - 13.8%
Oh My G! (ABS-CBN) - 12.8%
Corazon Indomable(GMA-7) - 12.3%
PRIMETIME:
Empress Ki(GMA-7) - 25.2%
Once Upon a Kiss (GMA-7) - 23.1%
Pari 'Koy(GMA-7) / Forevermore (ABS-CBN) – 21.7%
24 Oras (GMA-7) - 21.6%
Second Chances (GMA-7) - 21.4%
Dream Dad (ABS-CBN) – 20.9%
Bridges of Love (ABS-CBN) - 15.6%
TV Patrol (ABS-CBN) - 14.7%
Saksi (GMA-7) - 13.6%
My Love from the Star (GMA-7) - 13.1%
April 15, 2015 (Wednesday)
DAYTIME:
The Half Sisters (GMA-7) – 22.3%
Eat Bulaga!(GMA-7) - 20%
Yagit (GMA-7) - 17.6%
Knock Out(GMA-7) - 16.2%
Slam Dunk(GMA-7) - 15.9%
Fairy Tail(GMA-7) / The Ryzza Mae Show(GMA-7) - 15.4%
Kailan Ba Tama Ang Mali? (GMA-7) - 14.7%
Corazon Indomable(GMA-7) - 13.5%
Powerhouse(GMA-7) - 12.7%
Magi the Labyrinth of Magic (GMA-7) - 12.5%
PRIMETIME:
Pari 'Koy(GMA-7) / Once Upon a Kiss (GMA-7) - 21.2%
Second Chances (GMA-7) - 20.5%
24 Oras (GMA-7) / Forevermore (ABS-CBN) – 19.8%
Bridges of Love (ABS-CBN) - 16.9%
King of Ambition(GMA-7) - 16.2%
TV Patrol (ABS-CBN) – 14.7%
My Love from the Star(GMA-7) - 13.7%
Aquino & Abunda Tonight (ABS-CBN) – 11.4%
Inday Bote (ABS-CBN) – 10.1%
Saksi(GMA-7) - 9.5%
April 16, 2015 (Thursday)
DAYTIME:
The Half Sisters (GMA-7) – 22.5%
Yagit (GMA-7) - 20.7%
Eat Bulaga!(GMA-7) - 20%
Slam Dunk(GMA-7) - 15.9%
Knock Out(GMA-7) - 15.5%
The Ryzza Mae Show(GMA-7) - 15%
Fairy Tail(GMA-7) - 14.8%
Kailan Ba Tama Ang Mali? (GMA-7) - 14.3%
Corazon Indomable(GMA-7) - 13.9%
Magi the Labyrinth of Magic (GMA-7) - 13%
PRIMETIME:
Forevermore (ABS-CBN) – 21.9%
24 Oras (GMA-7) - 21.7%
Once Upon a Kiss (GMA-7) / Dream Dad (ABS-CBN) - 20.9%
Pari 'Koy(GMA-7) - 20.3%
Second Chances (GMA-7) - 18.5%
Bridges of Love (ABS-CBN) - 16.1%
TV Patrol (ABS-CBN) – 15.4%
My Love from the Star(GMA-7) - 13.8%
King of Ambition(GMA-7) - 13.6%
Inday Bote (ABS-CBN) – 10.5%
Source: AGB Nielsen Philippines