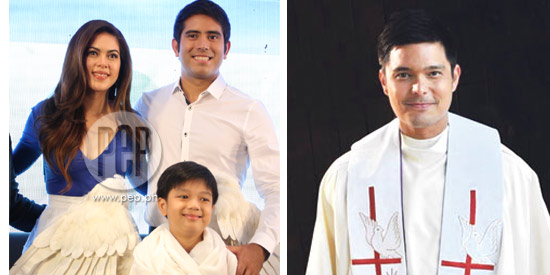 ---
A primetime show about an angel was able to defeat a teleserye revolving around a priest. This is according to the latest ratings data gathered by AGB Nielsen Philippines from Mega Manila households from April 17 to 20, 2015.
The Kapuso Network is finally taking back weekday primetime, after months of ABS-CBN's dominance through its hit shows Dream Dad and Forevermore.
Previously, Dream Dad and Forevermore took turns in placing first on the top 10 list of highest-rating shows on weekday primetime. But the performance of the two Kapamilya shows waned when GMA-7 premiered Pari 'Koy, topbilled by Dingdong Dantes who is cast as a parish priest.
Dream Dad is a lighthearted family drama that starred Zanjoe Marudo and child actress Jana Agoncillo. It may have defeated Pari 'Koy on its April 17 finale (20.8% vs 19.4%), but the latter show got the upper hand on April 13-15 (Monday to Wednesday).
Dream Dad (ABS-CBN)

According to data from AGB Nielsen Philippines from Mega Manila households

Rating at pilot (November 24, 2014)

21.9%

Rating at finale (April 17, 2015)

20.8%

Total number of episodes

103

Show average

20.299%

Highest rating

24.9% (November 27, 2014)

Lowest rating

13% (December 31, 2014)

Nathaniel, Dream Dad's replacement, had a narrow lead over its rival program. Its pilot episode on April 20 may have outperformed Pari 'Koy, but only by 0.2%. Nathaniel registered a TV rating of 19.3% over Pari 'Koy's 19.1%.
ADVERTISEMENT - CONTINUE READING BELOW
Nathaniel is a values-oriented teleserye that features a young angel played by child actor Marco Masa. It stars Gerald Anderson, Shaina Magdayao and newly transferred Kapamilya actress Isabelle Daza.

Forevermore is similarly slipping. In fact, its rival Once Upon a Kiss ranked as No. 1 on April 17, getting 21.1% against the Enrique Gil-Liza Soberano romantic drama's 20%.
GMA-7 is also triumphant on the weekends, with its shows Eat Bulaga!, Magpakailanman, Kapuso Movie Festival and Kapuso Mo, Jessica Soho.
The April 18 Magpakailanman episode featured the story of a SAF commando, as portrayed by Rocco Nacino. It scored 24.3% against Maalaala Mo Kaya's 16.3%.
Here is the comparative rating performance of GMA-7, ABS-CBN and TV5 programs from April 17 to 20, 2015 derived by AGB Nielsen Philippines from Mega Manila households:
April 17, 2015 (Friday)
Morning:
Alisto! Replay (GMA-7) .7%; TNT Replay (ABS-CBN) .5%; Shop Japan (TV5) .1%
Unang Hirit! (GMA-7) 2.7%; Umagang Kay Ganda (ABS-CBN) 2.4%; Aksyon sa Umaga (TV5) .4%; Higglytown Heroes (TV5) 1.1%; Higglytown Heroes (TV5) 2.3%
ADVERTISEMENT - CONTINUE READING BELOW
Time Quest (GMA-7) 6.2%; Martin Mystery (GMA-7) 9.3%; Dragon Ball (GMA-7) 11.1%; Magi the Labyrinth of Magic (GMA-7) 13.6%; Kris TV (ABS-CBN) 3.6%; Doc Mcstuffins (TV5) 3.2%; Teacher's Pet (TV5) 3%; Hi-5 (TV5) 2.1%
Fairytail (GMA-7) 15.5%; Naruto Shippuuden (ABS-CBN) 4.5%; Transformers Animated (TV5) 1.5%
Slam Dunk (GMA-7) 16.3%; Wansapanasummer (GMA-7) 5.3%; Rockman Exe Axess (TV5) 2%
Knock Out (GMA-7) 14.6%; Two Mothers (GMA-7) 10.7%; Corazon Indomable (GMA-7) 11.5%; Summer Kapamilya Blockbusters: Superhero Movie (ABS-CBN) 11.7%; Happy Wife Happy Life (TV5) .8%; Healing Galing sa TV5 (TV5) .8%; Showbiz Konek na Konek (TV5) .7%
The Ryzza Mae Show (GMA-7) 13.5%; Oh My G! (ABS-CBN) 13.1%; Aksyon sa Tanghali (TV5) 1.3%
Afternoon:
Eat Bulaga! (GMA-7) 18.5%; It's Showtime (ABS-CBN) 12.1%; Movie Max 5: The Crow (TV5) 3.6%
The Half Sisters (GMA-7) 20.8%; Flordeliza (ABS-CBN) 9.4%; Movie Max 5: She's Out of My League (TV5) 3.2%
Yagit (GMA-7) 18.7%; Nasaan Ka Nang Kailangan Kita (ABS-CBN) 8.8%; Hi-5 (TV5) 1.3%
Kailan Ba Tama Ang Mali? (GMA-7) 13.2%; Fated to Love You (ABS-CBN) 7.8%; Movie Max 5: The Bounty Hunter (TV5) 3%
Love Hotline (GMA-7) 9.7%; Fall in Love With Me (GMA-7) 8.8%; Kapamilya Deal or No Deal (ABS-CBN) 8.4%
ADVERTISEMENT - CONTINUE READING BELOW
Evening:
My Love from the Star (GMA-7) 11.7%; Inday Bote (ABS-CBN) 10.6%; Aksyon (TV5) 3.5%
24 Oras (GMA-7) 19.1%; TV Patrol (ABS-CBN) 14.3%; PBA 2015 Commissioner's Cup Finals: Rain or Shine vs Talk N Text (TV5) 7.6%
Pari 'Koy (GMA-7) 19.4%; Dream Dad (ABS-CBN) 20.8%
Once Upon a Kiss (GMA-7) 21.1%; Forevermore (ABS-CBN) 20%; Wattpad Presents (TV5) 3.5%
Second Chances (GMA-7) 19.3%; Bridges of Love (ABS-CBN) 15.9%; Supernatural (TV5) 3.5%
Bubble Gang (GMA-7) 16%; Aquino & Abunda Tonight (ABS-CBN) 11.3%; Unforgettable Love (ABS-CBN) 9.6%; Extreme Series Kaya Mo Ba To (TV5) 1.8%; Aksyon Tonite (TV5) .9%
Saksi (GMA-7) 8%; Bandila (ABS-CBN) 4.5%; Reaksyon (TV5) .6%
The Tim Yap Show (GMA-7) 3.5%; Banana Nite (ABS-CBN) 3.1%; O Shopping (ABS-CBN) 1%; Shop Japan (TV5) .3%
--
April 18, 2015 (Saturday)
Morning:
PJM Forum (GMA-7) .2%; Adyenda (GMA-7) .6%; Shop Japan (TV5) .1%
Kapwa Ko Mahal Ko (GMA-7) 1.2%; Sa Kabukiran (ABS-CBN) .6%; Family Matters (TV5) .1%
Pinoy MD (GMA-7) 2.9%; Salamat Dok (ABS-CBN) 1.6%; Kakaibang Lunas (TV5) .4%
The Smurfs (GMA-7) 5.4%; Swak na Swak (ABS-CBN) 2.8%; Kim Possible (TV5) 1%
Kamen Rider Ooo (GMA-7) 7.7%; Angel Wings (ABS-CBN) 1.5%; Little Einsteins (TV5) 1.9%
Tom & Jerry Kids Show (GMA-7) 9.8%; Math Tinik (ABS-CBN) 2%; The Powerpuff Girls (TV5) 1.8%
ADVERTISEMENT - CONTINUE READING BELOW
Angry Birds Toons (GMA-7) 10.2%; Kung Fu Panda Legends (ABS-CBN) 2.5%
Crossfight B-Daman (GMA-7) 9.5%; Spongebob Squarepants (ABS-CBN) 5%; Ben 10 Omniverse (TV5) 1.9%
Dragon Ball Fight! (GMA-7) 11%; Superbook (ABS-CBN) 6.3%; Magical Do Re Mi (TV5) 2%; Sword Art Online (TV5) 3.2%
Sarap Diva (GMA-7) 8.9%; Maynila (GMA-7) 10.4%; Del Monte Kitchenomics (GMA-7) 11.9%; Summer Kapamilya Blockbusters: Tekken (ABS-CBN) 11.5%; Fushigi Yuugi (TV5) 2.6%; Street Fighter II (TV5) 2.3%; Movie Max 5: A Bug's Life (TV5) 4.1%
Afternoon:
Eat Bulaga! (GMA-7) 18.6%; It's Showtime (ABS-CBN) 11.2%; Movie Max 5: Lethal Weapon 4 (TV5) 4.4%; YH Tube (TV5) 2.7%
Karelasyon (GMA-7) 17.3%; Wish Ko Lang! (GMA-7) 15.1%; Ipaglaban Mo (ABS-CBN) 8.6%; Philippine Super Liga All-Filipino: Foton vs Philips (TV5) 1.4%
Startalk 19 (GMA-7) 11.8%; Failon Ngayon (ABS-CBN) 6.3%; T3 Alliance (TV5) 1.4%
Imbestigador (GMA-7) 11.4%; SOCO (ABS-CBN) 7.5%; Movie Max 5: Vampires: Los Muertos (TV5) 2.8%
24 Oras Weekend (GMA-7) 11.2%; TV Patrol Weekend (ABS-CBN) 6.9%
Evening:
Sabado Badoo (GMA-7) 12.3%; Mga Kwento ni Marc Logan (ABS-CBN) 8.5%
Pepito Manaloto: Ang Tunay na Kuwento (GMA-7) 19.5%; Home Sweetie Home (ABS-CBN) 11%; Tropa Mo Ko Unli Spoof (TV5) 3.4%
Magpakailanman (GMA-7) 24.3%; MMK: Ang Tahanan Mo (ABS-CBN) 16.3%; 2 1/2 Daddies (TV5) 2.6%
ADVERTISEMENT - CONTINUE READING BELOW
Celebrity Bluff (GMA-7) 19.5%; Your Face Sounds Familiar (ABS-CBN) 21.4%; Everybody Hapi (TV5) 2.4%
i-Witness (GMA-7) 16.6%; Banana Split Extra Scoop (TV5) 10.9%; Rising Stars on Stage Auditions (TV5) 1.1%
Kapuso Movie Night: The Hive (GMA-7) 14.2%; The Bottom Line (ABS-CBN) 4.4%; Kaya. (TV5) .5%
Walang Tulugan (GMA-7) 3%; O Shopping (ABS-CBN) .8%; Shop Japan (TV5) .2%
--
April 19, 2015 (Sunday)
Daytime:
In Touch with Dr. Charles Stanley (GMA-7) .3%; Jesus The Healer (GMA-7) .4%; Shop Japan (TV5) .1%
Kapuso Sine Klasika: All In Wonderland (GMA-7) 3%; The Healing Eucharist (ABS-CBN) 2.7%; Misa Nazareno (TV5) .9%
Grimm's Fairy Tales (GMA-7) 6.1%; Swak na Swak (ABS-CBN) 2.4%; Power to Unite with Elvira (TV5) .3%
Kamen Rider Ooo (GMA-7) 7%; Tom & Jerry Kids Show (GMA-7) 7.8%; Salamat Dok (ABS-CBN) 2.6%; Kim Possible (TV5) 1.2%; Little Einsteins (TV5) 1.3%
Dragon Ball Fight! (GMA-7) 10.4%; Kuroko's Basketball (ABS-CBN) 2.9%; The Powerpuff Girls (TV5) 1.7%
Aha! (GMA-7) 9.2%; Haikyu!! (ABS-CBN) 4.4%; Ben 10 Omniverse (TV5) 3.1%
Born To Be Wild (GMA-7) 10.8%; Super Book (ABS-CBN) 5.3%; Sword Art Online (TV5) 2.6%
iBilib (ABS-CBN) 11.1%; Matanglawin (ABS-CBN) 7.4%; Fushigi Yuugi (TV5) 1.8%
Kapuso Movie Festival: Flushed Away (GMA-7) 14.1%; Kapamilya Kiddie Blockbusters: The Incredibles (ABS-CBN) 8.2%; Street Fighter II (TV5) 1.3%
ADVERTISEMENT - CONTINUE READING BELOW
Afternoon:
Del Monte Kitchenomics (GMA-7) 16.9%; Kapuso Movie Festival: Garfield (GMA-7) 17.6%; ASAP 20 (ABS-CBN) 8.9%; Movie Max 5: Open Season 3 (TV5) 1.6%; Sports 5 Presents (TV5) 2.5%
Sunday All Stars (GMA-7) 11.2%; GMA Tales of Horror: Juhou 2405 (GMA-7) 5.5%; Kapamilya Mega Blockbusters: My Little Bossings (ABS-CBN) 10.9%; Sports 360 (TV5) 1.4%; Movie Max 5: The Animal (TV5) 1.6%
Insta Dad (GMA-7) 6.7%; Luv U (ABS-CBN) 7.1%; PBA 2015 Commissioner's Cup Finals: Game 2 Rain or Shine vs Talk N Text (TV5) 6.7%
24 Oras Weekend (GMA-7) 7.8%; TV Patrol Weekend (ABS-CBN) 7.7%
Evening:
Vampire Ang Daddy Ko (GMA-7) 11.7%; Goin' Bulilit (ABS-CBN) 9.2%
Ismol Family (GMA-7) 17.1%; Wansapanataym (ABS-CBN) 12.2%; Mac & Chiz (TV5) 2.1%
Kapuso Mo, Jessica Soho (GMA-7) 26.8%; Rated K: Handa Na Ba Kayo? (ABS-CBN) 16.9%; Your Face Sounds Familiar (ABS-CBN) 22%; Move It (TV5) 1.1%; Wow Mali Lakas ng Tama (TV5) 1.7%
Asia's Next Top Model 3 (GMA-7) 12.7%; Gandang Gabi Vice (ABS-CBN) 19.9%; Call Me Papa Jack (TV5) .9%
Sunday Night Box Office: Skyline (GMA-7) 12.4%; Sunday's Best: Arise Gary V 3.0 (ABS-CBN) 5.2%; Demolition Job (TV5) 1%; History with Lourd (TV5) .5%
Diyos at Bayan (GMA-7) 2.8%; O Shopping (ABS-CBN) 1.1%; Shop Japan (TV5) .3%
ADVERTISEMENT - CONTINUE READING BELOW
--
April 20, 2015 (Monday)
Morning:
Power House Replay (GMA-7) .8%; Mission Possible Replay (ABS-CBN) .5%; Shop Japan (TV5) 0%
Unang Hirit! (GMA-7) 3.2%; Umagang Kay Ganda (ABS-CBN) 2.2%; Aksyon sa Umaga (TV5) .5%; Higglytown Heroes (TV5) 1.4%; Higglytown Heroes (TV5) 2.1%
Time Quest (GMA-7) 7.2%; Martin Mystery (GMA-7) 9.8%; Dragon Ball (GMA-7) 11.6%; Magi the Labyrinth of Magic (GMA-7) 13.4%; Kris TV (ABS-CBN) 3.8%; Doc Mcstuffins (TV5) 2.3%; Teacher's Pet (TV5) 2.5%; Hi-5 (TV5) 2%
Fairy Tail (GMA-7) 15.3%; Naruto Shippuuden (ABS-CBN) 3.8%; Movie Max 5: The Borrowers (TV5) 2%
Slam Dunk (GMA-7) 14.3%; Wansapanasummer (ABS-CBN) 5%
Knock Out (GMA-7) 14.4%; Two Mothers (GMA-7) 11.1%; Corazon Indomable (GMA-7) 12.9%; Summer Kapamilya Blockbusters: The Shaggy Dog (ABS-CBN) 11%; Happy Wife Happy Life (TV5) 1%; Showbiz Konek na Konek (TV5) 1%
The Ryzza Mae Show (GMA-7) 13.7%; Oh My G! (GMA-7) 12.2%; Aksyon sa Tanghali (TV5) 2.1%
Afternoon:
Eat Bulaga! (GMA-7) 18.7%; It's Showtime (ABS-CBN) 12.5%; Movie Max 5: Dark Breed (TV5) 3.8%; Street Fighter II (TV5) 2.8%
The Half Sisters (GMA-7) 19.8%; Flordeliza (ABS-CBN) 9.6%; Rockman Exe Beast (TV5) 1.9%
Yagit (GMA-7) 18.7%; Nasaan Ka Nang Kailangan Kita (ABS-CBN) 9.3%; Hi-5 (TV5) 1.1%
ADVERTISEMENT - CONTINUE READING BELOW
Kailan Ba Tama Ang Mali? (GMA-7) 13.8%; Fated to Love You (ABS-CBN) 8.1%; PSL Philippine Super Liga All-Filipino: Cignal HD vs Foton (TV5) 1.3%
Alisto! (GMA-7) 10.9%; Mission Possible (ABS-CBN) 5.9%
Fall in Love With Me (GMA-7) 9.2%; Kapamilya Deal or No Deal (ABS-CBN) 9.2%
Evening:
My Love from the Star (GMA-7) 12.1%; Inday Bote (ABS-CBN) 10.2%; Rookie Watch (TV5) 1.2%; Aksyon (TV5) 3%
24 Oras (GMA-7) 19.8%; TV Patrol (ABS-CBN) 15.1%; Movie Max 5: The Avengers (TV5) 8.3%
Pari 'Koy (GMA-7) 19.1%; Nathaniel (ABS-CBN) 19.3%
Once Upon a Kiss (GMA-7) 20.3%; Forevermore (ABS-CBN) 20.4%; Wattpad Presents (TV5) 4.7%
Second Chances (GMA-7) 18.9%; Bridges of Love (ABS-CBN) 16.9%; Supernatural (TV5) 4.8%
King of Ambition (GMA-7) 14.6%; Aquino & Abunda Tonight (ABS-CBN) 13.3%; Unforgettable Love (ABS-CBN) 11.5%; Extreme Series (TV5) 3.1%; Aksyon Tonite (TV5) 1.5%
Saksi (GMA-7) 9.3%; Front Row (GMA-7) 6.4%; Bandila (ABS-CBN) 4.6%; Reaksyon (TV5) .6%; Demolition Job (TV5) .4%
The Tim Yap Show (GMA-7) 3.7%; Mukha (ABS-CBN) 2.1%; O Shopping (ABS-CBN) .7%; Shop Japan (TV5) .1%
--
TOP TEN PROGRAMS:
April 17, 2015 (Friday)
DAYTIME:
The Half Sisters (GMA-7) – 20.8%
Yagit (GMA-7) - 18.7%
Eat Bulaga! (GMA-7) – 18.5%
Slam Dunk(GMA-7) - 16.3%
Fairy Tail(GMA-7) - 15.5%
Knock Out(GMA-7) - 14.6%
Magi The Labyrinth of Magic(GMA-7) - 13.6%
The Ryzza Mae Show(GMA-7) - 13.5%
Kailan Ba Tama Ang Mali?(GMA-7) – 13.2%
Oh My G! (ABS-CBN) - 13.1%
PRIMETIME:
Once Upon a Kiss (GMA-7) - 21.1%
Dream Dad (ABS-CBN) - 20.8%
Forevermore (ABS-CBN) – 20%
Pari 'Koy(GMA-7) – 19.4%
Second Chances (GMA-7) - 19.3%
24 Oras(GMA-7) – 19.1%
Bubble Gang (GMA-7) – 16%
Bridges of Love (ABS-CBN) – 15.9%
TV Patrol (ABS-CBN) – 14.3%
My Love from the Star(GMA-7) – 11.7%
April 18, 2015 (Saturday)
DAYTIME:
Eat Bulaga! (GMA-7) – 18.6%
Karelasyon (GMA-7) – 17.3%
Wish Ko Lang!(GMA-7) - 15.1%
Del Monte Kitchenomics (GMA-7) – 11.9%
Startalk(GMA-7) - 11.8%
Summer Kapamilya Blockbusters: Tekken (ABS-CBN) - 11.5%
Imbestigador (GMA-7) – 11.4%
24 Oras Weekend (GMA-7) / It's Showtime (ABS-CBN) - 11.2%
Dragon Ball Fight! (GMA-7) - 11%
Maynila (GMA-7) - 10.4%
PRIMETIME:
Magpakailanman (GMA-7) – 24.3%
Your Face Sounds Familiar (ABS-CBN) – 21.4%
Pepito Manaloto: Ang Tunay na Kuwento (GMA-7) / Celebrity Bluff (GMA-7) - 19.5%
i-Witness (GMA-7) – 16.6%
MMK: Ang Tahanan Mo (ABS-CBN) – 16.3%
Kapuso Movie Night (GMA-7) - 14.2%
Sabado Badoo (GMA-7) - 12.3%
Home Sweetie Home (ABS-CBN) – 11%
Banana Split Extra Scoop (ABS-CBN) – 10.9%
Mga Kwento ni Marc Logan (ABS-CBN) - 8.5%
April 19, 2015 (Sunday)
DAYTIME:
Kapuso Movie Festival: Garfield (GMA-7) - 17.6%
Del Monte Kitchenomics (GMA-7) – 16.9%
Kapuso Movie Festival: Flushed Away (GMA-7) - 14.1%
Sunday All Stars (GMA-7) - 11.2%
iBilib (GMA-7) - 11.1%
Kapamilya Mega Blockbusters: My Little Bossings (ABS-CBN) - 10.9%
Born to be Wild (GMA-7) - 10.8%
Dragon Ball Fight! (GMA-7) - 10.4%
Aha! (GMA-7) - 9.2%
ASAP (ABS-CBN) - 8.9%
PRIMETIME:
Kapuso Mo, Jessica Soho (GMA-7) - 26.8%
Your Face Sounds Familiar (ABS-CBN) – 22%
Gandang Gabi Vice (ABS-CBN) – 19.9%
Ismol Family (GMA-7) - 17.1%
Rated K(ABS-CBN) – 16.9%
Asia's Next Top Model 3(GMA-7) - 12.7%
Sunday Night Box Office(GMA-7) - 12.4%
Wansapanataym (ABS-CBN) – 12.2%
Vampire Ang Daddy Ko (GMA-7) - 11.7%
Goin' Bulilit (ABS-CBN) – 9.2%


April 20, 2015 (Monday)

DAYTIME:

1. The Half Sisters (GMA-7) – 19.8%
2. Eat Bulaga! (GMA-7) / Yagit (GMA-7) - 18.7%
3. Fairy Tail (GMA-7) - 15.3%
4. Knock Out (GMA-7) - 14.4%
5. Slam Dunk (GMA-7) - 14.3%
6. Kailan Ba Tama Ang Mali? (GMA-7) – 13.8%
7. The Ryzza Mae Show (GMA-7) - 13.7%
8. Magi The Labyrinth of Magic (GMA-7) - 13.4%
9. Corazon Indomable (GMA-7) - 12.9%
10. It's Showtime (ABS-CBN) - 12.5%

PRIMETIME:

1. Forevermore (ABS-CBN) – 20.4%
2. Once Upon a Kiss (GMA-7) - 20.3%
3. 24 Oras (GMA-7) – 19.8%
4. Nathaniel (ABS-CBN) - 19.3%
5. Pari 'Koy (GMA-7) – 19.1%
6. Second Chances (GMA-7) - 18.9%
7. Bridges of Love (ABS-CBN) – 16.9%
8. TV Patrol (ABS-CBN) – 15.1%
9. King of Ambition (GMA-7) - 14.6%
10. Aquino & Abunda Tonight (ABS-CBN) - 13.3%
Source: AGB Nielsen Philippines