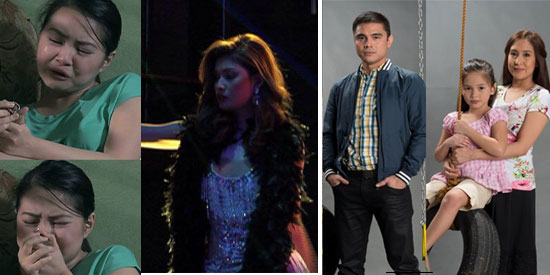 ---

GMA-7 is still on its way to lead on primetime. This is according to the latest ratings data from AGB Nielsen Philippines from Mega Manila households from April 21 to 23, 2015.
The Kapuso Network's primetime shows are getting higher TV ratings than its Kapamilya counterparts.
GMA-7's Pari 'Koy now defeats ABS-CBN's Nathaniel, the religious-themed drama that the Kapamilya station debuted on April 20.
Pari 'Koy, which stars Dingdong Dantes as a priest, was initially beaten by the Gerald Anderson-Shaina Magdayao starrer that revolves around an angel portrayed by child actor Marco Masa.

[Read: AGB Nielsen Mega Manila Household Ratings (April 17-20, 2015): Nathaniel pilot barely defeats Pari 'Koy; Dream Dad gets lukewarm finale]

However, during this given period, Pari 'Koy got higher TV ratings than Nathaniel on these three days: April 21, April 22 and April 23.
Other GMA-7 shows are also doing well. In fact, 24 Oras and Once Upon a Kiss were able to place first on the top ten list on primetime.
The Kapuso Network also did well on daytime, with Yagit and The Half Sisters leading the list.

The afternoon block continues to be dominated by GMA-7 shows as ABS-CBN programs still register single-digit ratings.

GMA-7's The Half Sisters consistently registers double-digit TV ratings while Flordeliza, starring Jolina Magdangal and Marvin Agustin, got TV ratings below 10% during this period.

The Kapuso Network's reimagining of Yagit also gets double-digit TV ratings while Nasaan Ka Nang Kailangan Kita (starring Jane Oineza and Vina Morales, among others) also posts single digit TV ratings.
ADVERTISEMENT - CONTINUE READING BELOW

Kailan Ba Tama Ang Mali? (starring Geoff Eigenmann, Max Collins, Dion Ignacio, and Empress Schuck) is pitted against the Koreanovela Fated to Love You airing on ABS-CBN. The Kapuso original teleserye is also registering double-digit TV ratings while the Korean drama does not reach double-digit figures as well.
Here is the comparative rating performance of GMA-7, ABS-CBN and TV5 programs from April 21 to 23,2015 derived by AGB Nielsen Philippines from Mega Manila households:
----
April 21, 2015 (Tuesday)
Morning:
I-Witness Replay (GMA-7) .9%; 3-in-1 Replay (ABS-CBN) .2%; Shop Japan (TV5) 0%
Unang Hirit! (GMA-7) 3.3%; Umagang Kay Ganda (ABS-CBN) 2%; Aksyon sa Umaga (TV5) .4%; Higglytown Heroes (TV5) 1%; Higglytown Heroes (TV5) 2.2%
Time Quest (GMA-7) 6.8%; Martin Mystery (GMA-7) 10.3%; Dragon Ball (GMA-7) 11.9%; Magi the Labyrinth of Magic (GMA-7) 14.1%; Kris TV (ABS-CBN) 4.7%; Doc Mcstuffins (TV5) 3.6%; Teacher's Pet (TV5) 3.1%; Hi-5 (TV5) 2.2%
Fairy Tail (GMA-7) 16.3%; Naruto Shippuuden (ABS-CBN) 3.9%; Movie Max 5: The Wizard (TV5) 2.3%
Slam Dunk (GMA-7) 17.7%; Wansapanasummer (ABS-CBN) 4.2%
Knock Out (GMA-7) 16.2%; Two Mothers (GMA-7) 11.2%; Corazon Indomable (GMA-7) 12%; Summer Kapamilya Blockbusters: Mirror Mirror (ABS-CBN) 9.9%; Happy Wife Happy Life (TV5) 1.1%; Showbiz Konek na Konek (TV5) 1.1%
The Ryzza Mae Show (GMA-7) 13.3%; Oh My G! (ABS-CBN) 12.1%; Aksyon sa Tanghali (TV5) 1.9%
Afternoon:
Eat Bulaga!(GMA-7) 18.5%; It's Showtime (ABS-CBN) 11.8%; Movie Max 5: Tasmanian Devil (TV5) 3.5%; Street Fighter II (TV5) 1.9%
The Half Sisters (GMA-7) 19%; Flordeliza (ABS-CBN) 7.7%
Yagit (GMA-7) 19.4%; Nasaan Ka Nang Kailangan Kita (ABS-CBN) 8.3%; Transformers Animated (TV5) 1.7%
Kailan Ba Tama Ang Mali? (GMA-7) 14.6%; Fated to Love You (ABS-CBN) 7.5%; 3-in-1 (ABS-CBN) 6%; Hi-5 (TV5) 1.7%; Movie Max 5: The Tuxedo (TV5) 4.4%
Tunay na Buhay (GMA-7) 13.1%; Fall in Love With Me (GMA-7) 10.8%; Kapamilya Deal or No Deal (ABS-CBN) 9.9%
ADVERTISEMENT - CONTINUE READING BELOW
Evening:
My Love from the Star (GMA-7) 14.2%; Inday Bote (ABS-CBN) 11.8%; Aksyon (TV5) 3.9%
24 Oras (GMA-7) 22.2%; TV Patrol (ABS-CBN) 15.5%; Movie Max 5: Bad Boys II (TV5) 7.4%
Pari 'Koy(GMA-7) 21.3%; Nathaniel (ABS-CBN) 20.4%
Once Upon a Kiss (GMA-7) 21.6%; Forevermore (ABS-CBN) 22%; Wattpad Presents (TV5) 3.4%
Second Chances (GMA-7) 19.4%; Bridges of Love (ABS-CBN) 16.6%; Supernatural (TV5) 4.3%
King of Ambition (GMA-7) 14.6%; Aquino & Abunda Tonight (ABS-CBN) 12.4%; Unforgettable Love (ABS-CBN) 10.5%; Extreme Series (TV5) 2.9%; Aksyon Tonite (TV5) 1.3%
Saksi (GMA-7) 8.6%; Stan Lee's Superhumans (GMA-7) 6.5%; Bandila (ABS-CBN) 5%; Reaksyon (TV5) .4%; Numero (TV5) .2%
The Tim Yap Show (GMA-7) 3.5%; Banana Nite (ABS-CBN) 2.3%; O Shopping (ABS-CBN) .8%; Shop Japan (TV5) .1%
---
April 22, 2015 (Wednesday)
Morning:
Tunay na Buhay Replay (GMA-7) .8%; RealiTV Replay (ABS-CBN) .3%; Shop Japan (TV5) 0%
Unang Hirit! (GMA-7) 3.3%; Umagang Kay Ganda (ABS-CBN) 2.3%; Aksyon sa Umaga (TV5) .3%; Higglytown Heroes (TV5) 1%; Higglytown Heroes (TV5) 2%
Time Quest (GMA-7) 6.9%; Martin Mystery (GMA-7) 9.8%; Dragon Ball (GMA-7) 12.1%; Magi the Labyrinth of Magic (GMA-7) 12.4%; Kris TV (ABS-CBN) 4%; Doc Mcstuffins (TV5) 2.2%; Teacher's Pet (TV5) 2.1%; Hi-5 (TV5) 1.9%
Fairy Tail (GMA-7) 13.5%; Naruto Shippuuden (ABS-CBN) 3.7%; Movie Max 5: Big Fat Liar (TV5) 2.2%
Slam Dunk (GMA-7) 15.5%; Wansapanasummer (ABS-CBN) 4.4%
Knock Out (GMA-7) 14.4%; Two Mothers (GMA-7) 11.6%; Corazon Indomable (GMA-7) 12%; Summer Kapamilya Blockbusters: Mighty Joe Young (ABS-CBN) 10.1%; Happy Wife Happy Life (TV5) 1.1%; Showbiz Konek na Konek (TV5) 1%
The Ryzza Mae Show (GMA-7) 14.1%; Oh My G! (ABS-CBN) 11.4%; Aksyon sa Tanghali (TV5) 1.8%
Afternoon:
Eat Bulaga!(GMA-7) 20%; It's Showtime (ABS-CBN) 11%; Movie Max 5: Silent Venom (TV5) 3.8%; Street Fighter II (TV5) 2.1%
The Half Sisters (GMA-7) 20.5%; Flordeliza (ABS-CBN) 9.7%; Rockman Exe Beast (TV5) 1.6%; Kenichi the Mightiest Discipline (TV5) 1.5%
Yagit (GMA-7) 18.8%; Nasaan Ka Nang Kailangan Kita (ABS-CBN) 8.7%; Transformers Animated (TV5) 1.7%
Kailan Ba Tama Ang Mali? (GMA-7) 12.3%; Fated to Love You (ABS-CBN) 6.8%; RealiTV (ABS-CBN) 6.2%; Hi-5 (TV5) 1.2%; Movie Max 5 (TV5) Shanghai Noon (TV5) 3.3%
ADVERTISEMENT - CONTINUE READING BELOW
Power House (GMA-7) 8.7%; Fall in Love With Me (GMA-7) 9%; Kapamilya Deal or No Deal (ABS-CBN) 7.3%
Evening:
My Love from the Star(GMA-7) 12.8%; Inday Bote (ABS-CBN) 9.6%; Aksyon (TV5) 3.3%
24 Oras (GMA-7) 20.3%; TV Patrol (ABS-CBN) 14.9%; PBA 2015 Commissioner's Cup Finals: Game 4 Rain or Shine vs Talk n Text (TV5) 8.9%
Pari 'Koy(GMA-7) 20.1%; Nathaniel (ABS-CBN) 19.5%
Once Upon a Kiss (GMA-7) 20.1%; Forevermore (ABS-CBN) 19.4%
Second Chances (GMA-7) 18.9%; Bridges of Love (ABS-CBN) 16.2%; Wattpad Presents (TV5) 3.4%
King of Ambition (GMA-7) 16.1%; Aquino & Abunda Tonight (ABS-CBN) 12.4%; Unforgettable Love (ABS-CBN) 9.9%; Supernatural (TV5) 3.3%
Saksi (GMA-7) 9%; Human Planet (GMA-7) 6.6%; Bandila (ABS-CBN) 5%; Extreme Series (TV5) 1.7%; Aksyon Tonite (TV5) .7%
The Tim Yap Show (GMA-7) 2.4%; Banana Nite (ABS-CBN) 3.7%; O Shopping (ABS-CBN) 1.5%; Reaksyon (TV5) .5%; Shop Japan (TV5) .3%
---
April 23, 2015 (Thursday)
Morning:
Born to be Wild Replay (GMA-7) .5%; SportsU Replay (ABS-CBN) .7%; Shop Japan (TV5) .1%
Unang Hirit! (GMA-7) 3%; Umagang Kay Ganda (ABS-CBN) 2.3%; Aksyon sa Umaga (TV5) .5%; Higglytown Heroes (TV5) .8%; Higglytown Heroes (TV5) 1.6%
Time Quest (GMA-7) 6.7%; Martin Mystery (GMA-7) 10%; Dragon Ball (GMA-7) 12.4%; Magi the Labyrinth of Magic (GMA-7) 12.6%; Kris TV (ABS-CBN) 4.2%; Doc Mcstuffins (TV5) 2.7%; Teacher's Pet (TV5) 2.8%; Hi-5 (TV5) 2.6%
Fairy Tail (GMA-7) 13.5%; Naruto Shippuuden (ABS-CBN) 3.4%; Movie Max 5: Gold Diggers (TV5) 2.2%
Slam Dunk (GMA-7) 14.9%; Wansapanasummer (ABS-CBN) 5.2%
Knock Out (GMA-7) 14.3%; Two Mothers (GMA-7) 12.2%; Corazon Indomable (GMA-7) 13.8%; Summer Kapamilya Blockbusters: White Fang 2 (ABS-CBN) 9.8%; Happy Wife Happy Life (TV5) 1.2%; Showbiz Konek na Konek (TV5) .6%
The Ryzza Mae Show (GMA-7) 13.5%; Oh My G! (ABS-CBN) 12.9%; Aksyon sa Tanghali (TV5) 1.1%
Afternoon:
Eat Bulaga!(GMA-7) 18.3%; It's Showtime (ABS-CBN) 11.4%; Movie Max 5: Sand Sharks (TV5) 4.3%
The Half Sisters (GMA-7) 21.9%; Flordeliza (ABS-CBN) 9.6%; Street Fighter II (TV5) 2.8%; Rockman Exe Beast (TV5) 2.1%
ADVERTISEMENT - CONTINUE READING BELOW
Yagit (GMA-7) 21.3%; Nasaan Ka Nang Kailangan Kita (ABS-CBN) 9.4%; Kenichi the Mightiest (TV5) 2.3%
Kailan Ba Tama Ang Mali? (GMA-7) 15.6%; Fated to Love You (ABS-CBN) 7.7%; Hi-5 (TV5) 1.2%
Reporter's Notebook (GMA-7) 10.1%; Sports U (ABS-CBN) 5.2%; PSL Philippine Super Liga All-Filipino: Cignal HD vs Mane N Tail (TV5) .8%
Fall in Love With Me (GMA-7) 14.2%; Kapamilya Deal or No Deal (ABS-CBN) 9.3%
Evening:
My Love from the Star(GMA-7) 14.2%; Inday Bote (ABS-CBN) 9.8%; Rookie Watch (TV5) 1.1%; Aksyon (TV5) 2.7%
24 Oras (GMA-7) 21.5%; TV Patrol (ABS-CBN) 15.4%; Movie Max 5: In the Line of Fire (TV5) 14.7%
Pari 'Koy(GMA-7) 22%; Nathaniel (ABS-CBN) 19.8%
Once Upon a Kiss (GMA-7) 23.1%; Forevermore (ABS-CBN) 21.1%; Wattpad Presents (TV5) 3%
Second Chances (GMA-7) 21.3%; Bridges of Love (ABS-CBN) 17.9%; Supernatural (TV5) 4%
King of Ambition (GMA-7) 15.7%; Aquino & Abunda Tonight (ABS-CBN) 12.6%; Unforgettable Love (ABS-CBN) 10.4%; Extreme Series (TV5) 2.1%; Aksyon Tonite (TV5) 1%
Saksi (GMA-7) 8.8%; Human Planet (GMA-7) 6.7%; Bandila (ABS-CBN) 4.9%; Reaksyon (TV5) .6%; Unang Tikim (TV5) .5%
The Tim Yap Show (GMA-7) 2.2%; Banana Nite (ABS-CBN) 3%; O Shopping (ABS-CBN) .8%; Shop Japan (TV5) .2%
--
TOP TEN PROGRAMS:
April 21, 2015 (Tuesday)
DAYTIME:
Yagit (GMA-7) - 19.4%
The Half Sisters (GMA-7) – 19%
Eat Bulaga!(GMA-7) – 18.5%
Slam Dunk(GMA-7) - 17.7%
Fairy Tail(GMA-7) - 16.3%
Knock Out(GMA-7) - 16.2%
Kailan Ba Tama Ang Mali?(GMA-7) - 14.6%
Magi the Labyrinth of Magic(GMA-7) - 14.1%
The Ryzza Mae Show (GMA-7) - 13.3%
Tunay na Buhay(GMA-7) - 13.1%
PRIMETIME:
24 Oras (GMA-7) - 22.2%
Forevermore(ABS-CBN) – 22%
Once Upon a Kiss (GMA-7) - 21.6%
Pari 'Koy(GMA-7) - 21.3%
Nathaniel (ABS-CBN) – 20.4%
Second Chances (GMA-7) - 19.4%
Bridges of Love (ABS-CBN) - 16.6%
TV Patrol (ABS-CBN) - 15.5%
King of Ambition(GMA-7) - 14.6%
My Love from the Star(GMA-7) - 14.2%
April 22, 2015 (Wednesday)
DAYTIME:
The Half Sisters (GMA-7) – 20.5%
Eat Bulaga!(GMA-7) - 20%
Yagit (GMA-7) - 18.8%
Slam Dunk(GMA-7) - 15.5%
Knock Out(GMA-7) - 14.4%
The Ryzza Mae Show(GMA-7) - 14.1%
Fairy Tail(GMA-7) - 13.5%
Magi the Labyrinth of Magic (GMA-7) - 12.4%
Kailan Ba Tama Ang Mali? (GMA-7) - 12.3%
Dragon Ball(GMA-7) - 12.1%
PRIMETIME:
24 Oras (GMA-7) - 20.3%
Pari 'Koy(GMA-7) / Once Upon a Kiss (GMA-7) - 20.1%
Nathaniel (ABS-CBN) – 19.5%
Forevermore (ABS-CBN) – 19.4%
Second Chances (GMA-7) - 18.9%
Bridges of Love (ABS-CBN) - 16.2%
King of Ambition(GMA-7) - 16.1%
TV Patrol (ABS-CBN) – 14.9%
My Love from the Star(GMA-7) - 12.8%
Aquino & Abunda Tonight (ABS-CBN) – 12.4%
April 23, 2015 (Thursday)
DAYTIME:
The Half Sisters (GMA-7) – 21.9%
Yagit (GMA-7) - 21.3%
Eat Bulaga!(GMA-7) - 18.3%
Kailan Ba Tama Ang Mali? (GMA-7) - 15.6%
Slam Dunk(GMA-7) - 14.9%
Knock Out(GMA-7) - 14.3%
Corazon Indomable(GMA-7) - 13.8%
Fairy Tail(GMA-7) / The Ryzza Mae Show(GMA-7) - 13.5%
Oh My G! (ABS-CBN) – 12.9%
Magi the Labyrinth of Magic (GMA-7) - 12.6%
PRIMETIME:
Once Upon a Kiss (GMA-7) - 23.1%
Pari 'Koy(GMA-7) - 22%
24 Oras (GMA-7) - 21.5%
Second Chances (GMA-7) - 21.3%
Forevermore (ABS-CBN) – 21.1%
Nathaniel (ABS-CBN) – 19.8%
Bridges of Love (ABS-CBN) - 17.9%
King of Ambition(GMA-7) - 15.7%
TV Patrol (ABS-CBN) – 15.4%
My Love from the Star(GMA-7) – 14.2%
Source: AGB Nielsen Philippines