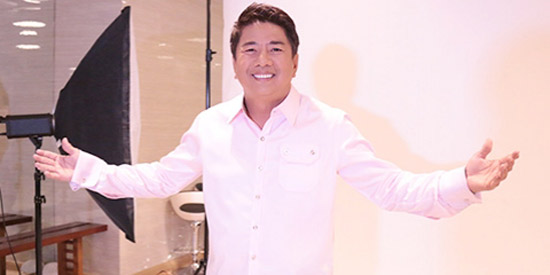 ---
�
Willie Revillame's television return is successful. This is according to the latest ratings data derived by AGB Nielsen Philippines from Mega Manila households from May 7-10, 2015.
The controversial TV host debuted Wowowin on May 10, and it registered a TV rating of 22.1%. The new Kapuso variety show was the highest-rated program on the given period's weekend schedule.
Wowowin, which aired for an hour starting at 3:30 pm, defeated the TV premiere of the hit KathNiel movie She's Dating the Gangster, which got a TV rating of 11.7%. SDTG, which starred Kathryn Bernardo and Daniel Padilla, premiered in July 2014.
Two Kapuso shows aired finale episodes on May 8: Kailan Ba Tama Ang Mali? and Second Chances.
Kailan Ba Tama Ang Mali? was an afternoon drama that starred Max Collins, Empress Schuck and Geoff Eigenmann. Its final episode got a TV rating of 15.5% against Let's Get Married on ABS-CBN, which got 6.3%.
Second Chances was a primetime drama that starred Jennylyn Mercado, Camille Prats, Rafael Rossell and Raymart Santiago. Its final episode got 18% versus Bridges of Love's 15.2%.
ADVERTISEMENT - CONTINUE READING BELOW
All is not lost for ABS-CBN, however, because Your Face Sounds Familiar topped the primetime ratings on May 9, Saturday, with 22.4%.

It is interesting to note that Asia's Next Top Model Season 3 was able to enter the Top 10 most-watched programs last Sunday, May 10. The reality modeling competition hosted by Georgina Wilson was able to land on the No. 8 slot that day.
Here is the comparative rating performance of GMA-7, ABS-CBN and TV5 programs from April May 7-10, 2015 derived from AGB Nielsen Philippines from Mega Manila households:
----
�
May 7, 2015 (Thursday)
�
Morning:
�
Born to be Wild Replay (GMA-7) .6%; SportsU Replay (ABS-CBN) .2%; Shop Japan (TV5) 0%
�
Unang Hirit! (GMA-7) 3.1%; Umagang Kay Ganda (ABS-CBN) 2%; Aksyon sa Umaga (TV5) .7%; Higglytown Heroes (TV5) 1.3%; Higglytown Heroes (TV5) 2.6%
�
Time Quest (GMA-7) 6.5%; Martin Mystery (GMA-7) 8.7%; Magi the Labyrinth of Magic (GMA-7) 10.8%; Kris TV (ABS-CBN) 3.8%; Doc Mcstuffins (TV5) 2.5%; Phineas and Ferb (TV5) 3.1%; Hi-5 (TV5) 2.8%
�
Fairy Tail (GMA-7) 11.7%; Naruto Shippuuden (ABS-CBN) 3.1%; Movie Max 5: Hotel for Dogs (TV5) 4.3%
ADVERTISEMENT - CONTINUE READING BELOW
�
Slam Dunk (GMA-7) 11.8%; Knock Out (GMA-7) 10.7%; Two Mothers (GMA-7) 9.5%; Corazon Indomable (GMA-7) 11.6%; Summer Kapamilya Blockbusters: Sister Act (ABS-CBN) 8.5%; Happy Wife Happy Life (TV5) 1.4%; Showbiz Konek na Konek (TV5) 1%
�
The Ryzza Mae Show (GMA-7) 12.1%; Oh My G! (ABS-CBN) 12.9%; Aksyon sa Tanghali (TV5) 1.9%
�
Afternoon:
�
Eat Bulaga!(GMA-7) 17.5%; It's Showtime (ABS-CBN) 11.5%; Movie Max 5: Project Viper (TV5) 4.1%; Kenichi the Mightiest� Disciple (TV5) 2.6%
�
The Half Sisters (GMA-7) 21%; Flordeliza (ABS-CBN) 10%; Transformers Animated (TV5) 2.4%
�
Yagit (GMA-7) 18.3%; Nasaan Ka Nang Kailangan Kita (ABS-CBN) 9.1%; X-Men (TV5) 2%
�
Kailan Ba Tama Ang Mali? (GMA-7) 14.5%; Let's Get Married (ABS-CBN) 7.6%; Sports U (ABS-CBN) 6.1%; Hi-5 (TV5) 1.9%
�
Reporter's Notebook (GMA-7) 9.9%; The Mermaid (GMA-7) 9%; Kapamilya Deal or No Deal (ABS-CBN) 8.1%; Asian Women's Volleyball Quarter Finals: Philippines vs China (TV5) 5.6%
�
Evening:
�
My Love from the Star (GMA-7) 11.4%; Inday Bote (ABS-CBN) 10.1%
�
24 Oras (GMA-7) 19.8%; TV Patrol (ABS-CBN) 16.2%; Aksyon (TV5) 4.2%
�
Pari 'Koy (GMA-7) 18.7%; Nathaniel (ABS-CBN) 20.2%; Movie Max 5: The Tourist (TV5) 7.6%
�
Let the Love Begin (GMA-7) 18%; Forevermore (ABS-CBN) 19.9%; Wattpad Presents: Marry You (TV5) 4%
ADVERTISEMENT - CONTINUE READING BELOW
�
Second Chances (GMA-7) 19.2%; Bridges of Love (ABS-CBN) 15.1%; Supernatural (TV5) 4.6%
�
King of Ambition (GMA-7) 16.3%; Aquino & Abunda Tonight (ABS-CBN) 10.2%; My Lovely Girl (ABS-CBN) 7.3%; Aksyon Tonite (TV5) 1.8%
�
Saksi (GMA-7) 10.1%; Human Planet (GMA-7) 6.9%; Bandila (ABS-CBN) 4.3%; Banana Nite (ABS-CBN) 2.2%; Reaksyon (TV5) .8%; Unang Tikim (TV5) .1%; Shop Japan (TV5) 0%
�
The Tim Yap Show (GMA-7) 3.3%; O Shopping (ABS-CBN) .8%
�
�
�
�
May 8, 2015 (Friday)
�
Morning:
�
Alisto! Replay (GMA-7) .7%; TNT Replay (ABS-CBN) .2%; Shop Japan (TV5) .1%
�
Unang Hirit! (GMA-7) 2.3%; Umagang Kay Ganda (ABS-CBN) 2.1%; Aksyon sa Umaga (TV5) .6%; Higglytown Heroes (TV5) 1.1%; Higglytown Heroes (TV5) 2%
�
Time Quest �(GMA-7) 5.8%; Martin Mystery (GMA-7) 8.4%; Magi the Labyrinth of Magic (GMA-7) 9.9%; Kris TV (ABS-CBN) 4%; Doc Mcstuffins (TV5) 3.1%; Phineas and Ferb (TV5) 3.8%; Hi-5 (TV5) 2.5%
�
Fairytail (GMA-7) 12%; Naruto Shippuuden (ABS-CBN) 4%; Movie Max 5: K-9 (TV5) 3%
�
Slam Dunk (GMA-7) 12.5%; Knock Out (GMA-7) 11.7%; Two Mothers (GMA-7) 10.3%; Corazon Indomable (GMA-7) 12.6%; Summer Kapamilya Blockbusters: Stop! Or My Mom Will Shoot (ABS-CBN) 8.9%; Happy Wife Happy Life (TV5) 1.3%; Showbiz Konek na Konek (TV5) 1.6%
�
The Ryzza Mae Show (GMA-7) 12.7%; Oh My G! (ABS-CBN) 11.2%; Aksyon sa Tanghali (TV5) 3%
ADVERTISEMENT - CONTINUE READING BELOW
�
Afternoon:
�
Eat Bulaga! (GMA-7) 18.7%; It's Showtime (ABS-CBN) 11%; Movie Max 5: On Hostile Ground (TV5) 4.3%; Kenichi the Mightiest Disciple (TV5) 3.2%; Transformers Animated (TV5) 1.8%
�
The Half Sisters (GMA-7) 21%; Flordeliza (ABS-CBN) 9.4%; Marvel Avengers Assemble (TV5) 1.7%
�
Yagit (GMA-7) 19.1%; Nasaan Ka Nang Kailangan Kita (ABS-CBN) 8.6%; X-Men (TV5) 2.3%
�
Kailan Ba Tama Ang Mali? (GMA-7) 15.5%; Let's Get Married (ABS-CBN) 6.3%; TNT (ABS-CBN) 4.5%; Hi-5 (TV5) 1%; PBA 2015 Governor's Cup: Blackwater Elite vs Global Port (TV5) 2.3%
�
Love Hotline (GMA-7) 10.8%; The Mermaid (GMA-7) 10.4%; Kapamilya Deal or No Deal (ABS-CBN) 8.7%
�
Evening:
�
My Love from the Star (GMA-7) 13.2%; Inday Bote (ABS-CBN) 11.7%; Aksyon (TV5) 3.5%
�
24 Oras (GMA-7) 19.7%; TV Patrol (ABS-CBN) 15.7%; PBA 2015 Governor's Cup: Alaska vs Brgy Ginebra (TV5) 8.2%
�
Pari 'Koy (GMA-7) 19.4%; Nathaniel (ABS-CBN) 18.6%
�
Let the Love Begin (GMA-7) 19.1%; Forevermore (ABS-CBN) 20.4%; Wattpad Presents (TV5) 3.7%
�
Second Chances (GMA-7) 18%; Bridges of Love (ABS-CBN) 15.2%; Supernatural (TV5) 5.2%
�
Bubble Gang (GMA-7) 16.2%; Aquino & Abunda Tonight (ABS-CBN) 10%; My Lovely Girl (ABS-CBN) 7.7%; Aksyon Tonite (TV5) 2%
�
Saksi (GMA-7) 8.9%; Bandila (ABS-CBN) 4.8%; Reaksyon (TV5) 1.1%; Astig (TV5) .7%
ADVERTISEMENT - CONTINUE READING BELOW
�
The Tim Yap Show (GMA-7) 4.3%; Banana Nite (ABS-CBN) 3.6%; O Shopping (ABS-CBN) 1.2%; Shop Japan (TV5) .3%
�
�
�
�
May 9, 2015 (Saturday)
�
Morning:
�
PJM Forum (GMA-7) .6%; Adyenda (GMA-7) 1.1%; Shop Japan (TV5) .3%
�
Kapwa Ko Mahal Ko (GMA-7) 2.2%; Sa Kabukiran (ABS-CBN) .5%; Family Matters (TV5) .4%
�
Pinoy MD (GMA-7) 3.8%; Salamat Dok (ABS-CBN) 1.6%; Kakaibang Lunas (TV5) .6%
�
The Smurfs (GMA-7) 5.3%; Swak na Swak (ABS-CBN) 2.4%; Marvel Avengers Assemble (TV5) 1%
�
Kamen Rider Ooo (GMA-7) 7.4%; Angel Wings (ABS-CBN) 1.8%; X-Men (TV5) 1.7%
�
Pac-Man and the Ghostly Adventures (GMA-7) 8.4%; Math Tinik (ABS-CBN) 1.9%; Johnny Bravo (TV5) 1.7%
�
Angry Birds Toons (GMA-7) 8.9%; Kung Fu Panda Legends (ABS-CBN) 2.3%; Ben 10 (TV5) 1.5%
�
Crossfight B-Daman (GMA-7) 8.2%; Spongebob Squarepants (ABS-CBN) 4.8%
�
Dragon Ball Fight! (GMA-7) 8.8%; Superbook (ABS-CBN) 6.2%; Magical Do Re Mi (TV5) 1.9%
�
Sarap Diva (GMA-7) 7%; Maynila (GMA-7) 10.7%; 2015 NBA Eastern Conference Playoffs: Chicago vs Cleveland (ABS-CBN) 6.7%; Sword Art Online (TV5) 3.7%; Fushigi Yuugi (TV5) 3.6%; Fushigi Yuugi Mysterious Play (TV5) 2.9%; Movie Max 5: Den Brother (TV5) 4.3%
�
Afternoon:
�
Eat Bulaga! (GMA-7) 17.6%; It's Showtime (ABS-CBN) 11.3%; Movie Max 5: Repo Men (TV5) 3.6%; YH Tube (TV5) 2.3%
ADVERTISEMENT - CONTINUE READING BELOW
�
Karelasyon (GMA-7) 14.1%; Wish Ko Lang! (GMA-7) 12.4%; Ipaglaban Mo (ABS-CBN) 10.1%; Rebisco 1st Asian Women's VBall Championship U23 2015: Japan vs South Korea (TV5) 2.6%
�
Startalk 19 (GMA-7) 10.1%; Failon Ngayon (ABS-CBN) 6.2%; 1st Asian Women's VBall U23 Highlights (TV5) 2.6%
�
Imbestigador (GMA-7) 12.2%; SOCO (ABS-CBN) 8.1%; T3 Alliance (TV5) 2.3%; Rookie Watch (TV5) 1.3%
�
24 Oras Weekend (GMA-7) 12.1%; TV Patrol Weekend (ABS-CBN) 7.3%; Mga Kwento ni Marc Logan (ABS-CBN) 9.1%; PBA 2015 Governor's Cup:� NLEX vs Purefoods Star Hotshots (TV5) 5.8%
�
Evening:
�
Sabado Badoo (GMA-7) 13.8%; Pepito Manaloto: Ang Tunay na Kuwento (GMA-7) 18.9%; Home Sweetie Home (ABS-CBN) 10.7%
�
Magpakailanman (GMA-7) 21.4%; MMK: Ang Tahanan Mo (ABS-CBN) 16.8%; Tropa Mo Ko Unli Spoof (TV5) 4.3%; 2 1/2 Daddies (TV5) 2.3%
�
Celebrity Bluff (GMA-7) 20%; Your Face Sounds Familiar (ABS-CBN) 22.4%; Extreme Series (TV5) 1.5%
�
i-Witness (GMA-7) 13%; Banana Split Extra Scoop (ABS-CBN) 12.2%; Rising Stars (TV5) .9%
�
Kapuso Movie Night: The Unborn (GMA-7) 9.2%; The Bottom Line (ABS-CBN) 4.3%; Kaya. (TV5) .9%
�
Walang Tulugan (GMA-7) 3.1%; O Shopping (ABS-CBN) 1.5%; Shop Japan (TV5) .2%
�
�
�
�
May 10, 2015 (Sunday)
�
Daytime:
�
In Touch with Dr. Charles Stanley (GMA-7) .2%; Jesus The Healer (GMA-7) .7%; Shop Japan (TV5) .3%
ADVERTISEMENT - CONTINUE READING BELOW
�
Kapuso Sine Klasika: Beloy Montemayor Jr (GMA-7) 3.5%; The Healing Eucharist (ABS-CBN) 3.3%; Misa Nazareno (TV5) .8%
�
Grimm's Fairy Tales (GMA-7) 7.1%; Swak na Swak (ABS-CBN) 2.5%; Power to Unite with Elvira (TV5) .3%
�
Kamen Rider Ooo (GMA-7) 7.4%; Pac-Man and the Ghostly Adventures (GMA-7) 8.3%; Salamat Dok (ABS-CBN) 2.9%; Marvel Avengers Assemble (TV5) .9%; X-Men (TV5) 1.3%
�
Dragon Ball Fight! (GMA-7) 8.3%; Kuroko's Basketball (ABS-CBN) 2.9%; Johnny Bravo (TV5) 1.6%
�
Aha! (GMA-7) 7.7%; Haikyu!! (ABS-CBN) 3.7%; Ben 10 (TV5) 3.1%
�
Born To Be Wild (GMA-7) 7.7%; Super Book (ABS-CBN) 4.2%; Sword Art Online (TV5) 3.6%
�
iBilib (ABS-CBN) 7.3%; Matanglawin (ABS-CBN) 6.1%; Fushigi Yuugi (TV5) 2.6%
�
Kapuso Movie Festival: Shrek 2 (GMA-7) 12.6%; Kapamilya Kiddie Blockbusters: Alice in Wonderland (ABS-CBN) 8.4%; Fushigi Yuugi Mysterious Replay (TV5) 2.3%; Movie Max 5: Lara Croft Tomb Raider (TV5) 3.7%
�
Afternoon:
�
Kapuso Movie Festival: Journey to the Center of the Earth (GMA-7) 16.9%; Sunday All Stars (GMA-7) 12.8%; ASAP 20 (ABS-CBN) 9.5%; Movie Max 5: Lara Croft Tomb Raider: The Cradle of Life (TV5) 4.6% Sports 360 (TV5) 1.4%
�
Wowowin (GMA-7) 22.1%; Kapamilya Mega Blockbusters: She's the Dating the Gangster (ABS-CBN) 11.7%; PBA 2015 Governor's Cup Game 1: Barako Bull vs Blackwater Elite (TV5) 2.1%
ADVERTISEMENT - CONTINUE READING BELOW
�
Insta Dad (GMA-7) 9%; Luv U (ABS-CBN) 8.7%; PBA 2015 Governor's Cup Game 2: Brgy Ginebra vs Talk N Text (TV5) 8.2%
�
24 Oras Weekend (GMA-7) 7.8%; TV Patrol Weekend (ABS-CBN) 7.3%
�
Evening:
�
Vampire Ang Daddy Ko (GMA-7) 11.4%; Goin' Bulilit (ABS-CBN) 8.5%
�
Ismol Family (GMA-7) 19.5%; Wansapanataym (ABS-CBN) 11.2%
�
Kapuso Mo, Jessica Soho (GMA-7) 22.3%; Rated K: Handa Na Ba Kayo? (ABS-CBN) 15.9%; Your Face Sounds Familiar (ABS-CBN) 23.1%; Who Wants to be a Millionaire (TV5) 4.7%; Mac & Chiz (TV5) 1.7%; Wow Mali Lakas ng Tama (TV5) 2.1%
�
Asia's Next Top Model 3 (GMA-7) 10.4%; Gandang Gabi Vice (ABS-CBN) 20.7%; The Medyo Late Night Show (TV5) .9%; The Medyo Late Night Show (TV5) .7%
�
Sunday Night Box Office: Warrior (GMA-7) 9.2%; Sunday's Best: La Nightingale (ABS-CBN) 5.6%; PBA 2015 Governor's Cup: Meralco vs San Miguel Beermen (TV5) 1%
�
Diyos at Bayan (GMA-7) 1.3%; O Shopping (ABS-CBN) 1.4%; Shop Japan (TV5) .4%
�
�
�
�
TOP TEN PROGRAMS:
�
May 7, 2015 (Thursday)
�
DAYTIME:
�
The Half Sisters (GMA-7) – 21%
Yagit (GMA-7) - 18.3%
Eat Bulaga! (GMA-7) – 17.5%
Kailan Ba Tama Ang Mali?(GMA-7) – 14.5%
Oh My G! (ABS-CBN) - 12.9%
The Ryzza Mae Show(GMA-7) - 12.1%
Slam Dunk(GMA-7) - 11.8%
Fairy Tail(GMA-7) - 11.7%
Corazon Indomable(GMA-7) - 11.6%
It's Showtime (ABS-CBN) - 11.5%
�
PRIMETIME:
�
Nathaniel (ABS-CBN) - 20.2%
Forevermore (ABS-CBN) – 19.9%
24 Oras(GMA-7) – 19.8%
Second Chances (GMA-7) - 19.2%
Pari 'Koy(GMA-7) – 18.7%
Let the Love Begin (GMA-7) - 18%
King of Ambition (GMA-7) - 16.3%
TV Patrol (ABS-CBN) – 16.2%
Bridges of Love (ABS-CBN) – 15.1%
My Love from the Star(GMA-7) – 11.4%
�
May 8, 2015 (Friday)
�
DAYTIME:
�
The Half Sisters (GMA-7) – 21%
Yagit (GMA-7) - 19.1%
Eat Bulaga! (GMA-7) – 18.7%
Kailan Ba Tama Ang Mali?(GMA-7) – 15.5%
The Ryzza Mae Show(GMA-7) - 12.7%
Corazon Indomable(GMA-7) - 12.6%
Slam Dunk(GMA-7) - 12.5%
Fairy Tail(GMA-7) - 12%
Knock Out(GMA-7) - 11.7%
Oh My G! (ABS-CBN) - 11.2%
�
PRIMETIME:
�
Forevermore (ABS-CBN) – 20.4%
24 Oras(GMA-7) – 19.7%
Pari 'Koy(GMA-7) – 19.4%
Let the Love Begin (GMA-7) - 19.1%
Nathaniel (ABS-CBN) - 18.6%
Second Chances (GMA-7) - 18%
Bubble Gang (GMA-7) – 16.2%
TV Patrol (ABS-CBN) – 15.7%
Bridges of Love (ABS-CBN) – 15.2%
My Love from the Star(GMA-7) – 13.2%
�
May 9, 2015 (Saturday)
�
DAYTIME:
�
Eat Bulaga! (GMA-7) – 17.6%
Karelasyon (GMA-7) – 14.1%
Wish Ko Lang!(GMA-7) - 12.4%
Imbestigador (GMA-7) – 12.2%
24 Oras Weekend (GMA-7) - 12.1%
It's Showtime (ABS-CBN) - 11.3%
Maynila (GMA-7) - 10.7%
Startalk(GMA-7) / Ipaglaban Mo (ABS-CBN) - 10.1%
Mga Kwento ni Marc Logan (ABS-CBN) - 9.1%
Angry Birds Toons (GMA-7) – 8.9%
�
PRIMETIME:
�
Your Face Sounds Familiar (ABS-CBN) – 22.4%
Magpakailanman (GMA-7) – 21.4%
Celebrity Bluff (GMA-7) - 20%
Pepito Manaloto: Ang Tunay na Kuwento (GMA-7) �- 18.9%
MMK: Ang Tahanan Mo (ABS-CBN) – 16.8%
Sabado Badoo (GMA-7) - 13.8%
i-Witness (GMA-7) – 13%
Banana Split Extra Scoop (ABS-CBN) - 12.2%
Home Sweetie Home (ABS-CBN) – 10.7%
Kapuso Movie Night (GMA-7) - 9.2%
�
May 10, 2015 (Sunday)
�
DAYTIME:
�
Wowowin (GMA-7) - 22.1%
Kapuso Movie Festival: Journey in the Center of the Earth (GMA-7) 16.9%
Sunday All Stars (GMA-7) – 12.8%
Kapuso Movie Festival: Shrek 2 (GMA-7) 12.6%
Kapamilya Mega Blockbusters: She's Dating the Gangster (ABS-CBN) - 11.7%
ASAP (ABS-CBN) - 9.5%
Insta Dad (GMA-7) - 9%
Luv U (ABS-CBN) - 8.7%
Kapamilya Kiddie Blockbusters: Alice in Wonderland (ABS-CBN) - 8.4%
Dragon Ball Fight (GMA-7) - 8.3%
�
PRIMETIME:
�
Kapuso Mo, Jessica Soho (GMA-7) - 23.3%
Your Face Sounds Familiar (ABS-CBN) – 23.1%
Gandang Gabi Vice (ABS-CBN) – 20.7%
Ismol Family (GMA-7) - 19.5%
Rated K(ABS-CBN) – 15.9%
Vampire Ang Daddy Ko (GMA-7) - 11.4%
Wansapanataym (ABS-CBN) - 11.2%
Asia's Next Top Model 3(GMA-7) - 10.4%
Sunday Night Box Office: Warrior(GMA-7) - 9.2%
Goin' Bulilit (ABS-CBN) – 9.2%



Source: AGB Nielsen Philippines