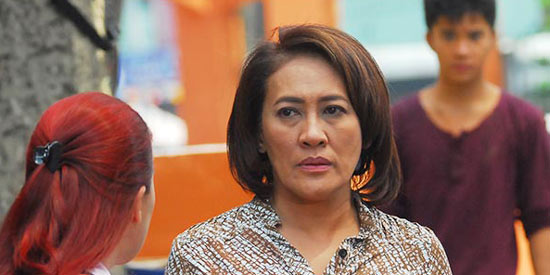 ---
Here are the significant events in the ratings game on May 15-17, 2015 according to the latest data gathered by AGB Nielsen Philippines from Mega Manila households.

GMA-7's new afternoon teleserye Healing Hearts continues to rate higher compared to its counterparts from ABS-CBN and TV5.

This soap opera is about a young girl (played by Joyce Ching) who is separated from her mother (played by Mickey Ferriols) who was imprisoned due to a crime of passion. Kristoffer Martin falls in love with Joyce's character despite the conflicts between their families.

Healing Hearts' pilot episode was able to get almost double the ratings of its counterpart programs from ABS-CBN. Last May 11, it got a TV rating of 12.7% while it overlapped with two Kapamilya shows: Let's Get Married (which got 7.5%) and Maniwala Ka Kaya Mo Mission Possible (which got 5.6%).

During the May 15 episode, Healing Hearts continued its winning streak by getting a TV rating of 12.1%. Its rival ABS-CBN shows Let's Get Married registered 7.3% while another Kapamilya show TNT got a rating of 5.5%. TV5's airing of PBA 2015 Governor's Cup: Barako Bull vs Talk n Text got a TV rating of 2.4%.

During the weekend, Wowowin continues to dominate the daytime block. In fact, Willie Revillame's newest variety show got 15.9% and placed No. 1 in the top 10 most-watched daytime shows for that day.
ADVERTISEMENT - CONTINUE READING BELOW
Wowowin also defeated the TV premiere of the hit film Diary ng Panget, which scored 11.5% on ABS-CBN. Diary ng Panget launched James Reid and Nadine Lustre as the popular Jadine loveteam.
Ai-Ai delas Alas starred in her first Magpakailanman episode on May 16, in a story about a woman who took care of her deceased husband's illegitimate child. Ai-Ai's son, Sancho Vito delas Alas, also made his debut on GMA-7's drama anthology show. The episode registered a TV rating of 22.1% against Maalaala Mo Kaya's 14.9%.

MMK's episode featured the return of the Melissa Ricks and Matt Evans tandem.
The top-rating primetime program on May 16 was not Magpakailanman, however, but the Kapamilya Network's impersonation-themed contest Your Face Sounds Familiar, with 23.7%.
The reality competition gets rising ratings week after week. It premiered on March 14, 2015 with 18.9%, only getting fourth place in the Top 10.
The last notable event is that ABS-CBN's Bridges of Love defeated The Rich Man's Daughter for the first time on March 15, Friday. GMA-7's The Rich Man's Daughter debuted on May 11 and its first four episodes were able to defeat the Kapamilya Network's primetime drama.
ADVERTISEMENT - CONTINUE READING BELOW
Here is the comparative rating performance of GMA-7, ABS-CBN and TV5 programs from May 15-17, 2015 derived from AGB Nielsen Philippines from Mega Manila households:
�
--
�
May 15, 2015 (Friday)
Morning:
�
Alisto! Replay (GMA-7) .8%; TNT Replay (ABS-CBN) .2%; Shop Japan (TV5) 0%
�
Unang Hirit! (GMA-7) 2.9%; Umagang Kay Ganda (ABS-CBN) 2.3%; Aksyon sa Umaga (TV5) .4%; Higglytown Heroes (TV5) 1.3%; Higglytown Heroes (TV5) 2.5%
�
Time Quest �(GMA-7) 7%; Martin Mystery (GMA-7) 8.7%; Magi the Labyrinth of Magic (GMA-7) 8.8%; Kris TV (ABS-CBN) 3.7%; Doc Mcstuffins (TV5) 2.9%; Phineas and Ferb (TV5) 2.7%; Hi-5 (TV5) 1.7%
�
Fairytail (GMA-7) 10%; Naruto Shippuuden (ABS-CBN) 3.8%; Movie Max 5: Being John Malkovich (TV5) 1.6%
�
Slam Dunk (GMA-7) 9.8%; Knock Out (GMA-7) 10%; Two Mothers (GMA-7) 9.3%; Corazon Indomable (GMA-7) 12.3%; Summer Kapamilya Blockbusters: The Cold Light of Day (ABS-CBN) 8.1%; Happy Wife Happy Life (TV5) 1.3%; Showbiz Konek na Konek (TV5) 1.3%
�
The Ryzza Mae Show (GMA-7) 13.4%; Oh My G! (ABS-CBN) 11.4%; Aksyon sa Tanghali (TV5) 1.7%
Afternoon:
�
Eat Bulaga! (GMA-7) 17.3%; It's Showtime (ABS-CBN) 12.2%; Movie Max 5: Within the Rock (TV5) 3.4%; Kenichi the Mightiest Disciple (TV5) 3.5%
ADVERTISEMENT - CONTINUE READING BELOW
�
The Half Sisters (GMA-7) 19.7%; Flordeliza (ABS-CBN) 9.5%; Transformers Animated (TV5) 2.5%; Marvel Avengers Assemble (TV5) 2.7%
�
Yagit (GMA-7) 18.1%; Nasaan Ka Nang Kailangan Kita (ABS-CBN) 9.1%; X-Men (TV5) 1.8%; Hi-5 (TV5) .9%
�
Healing Hearts (GMA-7) 12.1%; Let's Get Married (ABS-CBN) 7.3%; TNT (ABS-CBN) 5.5%; PBA 2015 Governor's Cup: Barako Bull vs Talk n Text (TV5) 2.4%
�
Love Hotline (GMA-7) 9%; The Mermaid (GMA-7) 7.9%; Kapamilya Deal or No Deal (ABS-CBN) 7.9%
�
Evening:
�
My Love from the Star (GMA-7) 10.9%; Inday Bote (ABS-CBN) 8.8%; Aksyon (TV5) 3.1%
�
24 Oras (GMA-7) 17.8%; TV Patrol (ABS-CBN) 14.7%; PBA 2015 Governor's Cup: Alaska vs Rain or Shine (TV5) 5.4%
�
Pari 'Koy (GMA-7) 19.6%; Nathaniel (ABS-CBN) 18.7%
�
Let the Love Begin (GMA-7) 17.7%; Forevermore (ABS-CBN) 19.7%; Wattpad Presents (TV5) 3.2%
�
The Rich Man's Daughter (GMA-7) 15.8%; Bridges of Love (ABS-CBN) 16.4%; Teen Wolf (TV5) 4.2%
�
Bubble Gang (GMA-7) 14.3%; Aquino & Abunda Tonight (ABS-CBN) 10.4%; My Lovely Girl (ABS-CBN) 7.5%; Aksyon Tonite (TV5) 2.5%
�
Saksi (GMA-7) 7.3%; Bandila (ABS-CBN) 4.5%; Banana Nite (ABS-CBN) 2.9%; Reaksyon (TV5) 1%; The Medyo Late Night Show (TV5) .5%
�
The Tim Yap Show (GMA-7) 3%; O Shopping (ABS-CBN) 1%; Shop Japan (TV5) .2%
ADVERTISEMENT - CONTINUE READING BELOW
�
�
May 16, 2015 (Saturday)
�
Morning:
�
PJM Forum (GMA-7) .2%; Adyenda (GMA-7) .7%; Shop Japan (TV5) .1%
�
Kapwa Ko Mahal Ko (GMA-7) 1.4%; Sa Kabukiran (ABS-CBN) .7%; Family Matters (TV5) .2%
�
Pinoy MD (GMA-7) 3%; Salamat Dok (ABS-CBN) 1.6%; Kakaibang Lunas (TV5) .5%
�
The Smurfs (GMA-7) 4.6%; Swak na Swak (ABS-CBN) 2.2%; Marvel Avengers Assemble (TV5) 1.2%
�
Kamen Rider Ooo (GMA-7) 7.7%; Angel Wings (ABS-CBN) 1.6%; Math Tinik (ABS-CBN) 1.4%; X-Men (TV5) 1.7%
�
Pac-Man and the Ghostly Adventures (GMA-7) 9%; Kung Fu Panda Legends (ABS-CBN) 1.6%; Johnny Bravo (TV5) 1.7%
�
Angry Birds Toons (GMA-7) 9.3%; Spongebob Squarepants (ABS-CBN) 4.1%; Ben 10 (TV5) 2.3%
�
Crossfight B-Daman (GMA-7) 6.9%; Superbook (ABS-CBN) 5.4%; Magical Do Re Mi (TV5) 2.8%
�
Dragon Ball Fight! (GMA-7) 9.2%; Sarap Diva (GMA-7) 8.4%; Maynila (GMA-7) 10.8%; 2015 NBA Eastern Conference Playoffs: Atlanta Hawks vs Washington Wizards (ABS-CBN) 5.4%; Sword Art Online (TV5) 2.1%; Fushigi Yuugi (TV5) 3.5%; Fushigi Yuugi Mysterious Play (TV5) 3.7%; Movie Max 5: Brave (TV5) 7.7%
�
Afternoon:
�
Eat Bulaga! (GMA-7) 18.4%; It's Showtime (ABS-CBN) 10.5%; Movie Max 5: Sudden Death (TV5) 5%; YH Tube (TV5) 2.3%
�
Karelasyon (GMA-7) 13.6%; Ipaglaban Mo (ABS-CBN) 8.8%; Movie Max 5: Wargames in the Dead Code (TV5) 3.5%
ADVERTISEMENT - CONTINUE READING BELOW
�
Wish Ko Lang! (GMA-7) 11%; Failon Ngayon (ABS-CBN) 6.1%; T3 Alliance (TV5) 2.8%
�
Startalk 19 (GMA-7) 7.8%; SOCO (ABS-CBN) 7.7%
�
Imbestigador (GMA-7) 10.3%; TV Patrol Weekend (ABS-CBN) 5.5%; PBA 2015 Governor's Cup:� NLEX vs Brgy Ginebra vs Blackwater Elite (TV5) 5.4%
�
24 Oras Weekend (GMA-7) 12.7%; Mga Kwento ni Marc Logan (ABS-CBN) 6.8%
�
Evening:
�
Sabado Badoo (GMA-7) 13.5%; Pepito Manaloto: Ang Tunay na Kuwento (GMA-7) 19.8%; Home Sweetie Home (ABS-CBN) 9.6%
�
Magpakailanman (GMA-7) 22.1%; MMK: Ang Tahanan Mo (ABS-CBN) 14.9%; Tropa Mo Ko Unli Spoof (TV5) 3.3%
�
Celebrity Bluff (GMA-7) 19.7%; Your Face Sounds Familiar (ABS-CBN) 23.7%; 2 1/2 Daddies (TV5) 2.3%; Extreme Series (TV5) 1.7%
�
i-Witness (GMA-7) 14.9%; Banana Split Extra Scoop (ABS-CBN) 12.8%; Rising Stars (TV5) 1.2%
�
Kapuso Movie Night: Sharknado 2 (GMA-7) 12.8%; The Bottom Line (ABS-CBN) 3%; Kaya. (TV5) .6%
�
Walang Tulugan (GMA-7) 2.7%; O Shopping (ABS-CBN) .9%; Shop Japan (TV5) .3%
�
�
May 17, 2015 (Sunday)
�
Daytime:
�
In Touch with Dr. Charles Stanley (GMA-7) .2%; Jesus The Healer (GMA-7) .4%; Shop Japan (TV5) .3%
�
Kapuso Sine Klasika: Ano Ba Yan (GMA-7) 2.7%; The Healing Eucharist (ABS-CBN) 3.2%; Misa Nazareno (TV5) .7%
�
Grimm's Fairy Tales (GMA-7) 6.1%; Swak na Swak (ABS-CBN) 1.9%; Power to Unite with Elvira (TV5) .3%
ADVERTISEMENT - CONTINUE READING BELOW
�
Kamen Rider Ooo (GMA-7) 7.4%; Pac-Man and the Ghostly Adventures (GMA-7) 8.7%; Salamat Dok (ABS-CBN) 2.1%; Marvel Avengers Assemble (TV5) .6%; X-Men (TV5) 1%
�
Dragon Ball Fight! (GMA-7) 9%; Kuroko's Basketball (ABS-CBN) 2.2%; Johnny Bravo (TV5) 1.4%
�
Aha! (GMA-7) 8.3%; Haikyu!! (ABS-CBN) 3.5%; Ben 10 (TV5) 2.5%
�
Born To Be Wild (GMA-7) 9%; Super Book (ABS-CBN) 3.2%; Sword Art Online (TV5) 2.4%
�
iBilib (ABS-CBN) 8.4%; Matanglawin (ABS-CBN) 5.7%; Fushigi Yuugi (TV5) 2.3%
�
Kapuso Movie Festival: Happy Feet Two (GMA-7) 12.7%; Kapamilya Kiddie Blockbusters: Girl vs Monster (ABS-CBN) 7.1%; Fushigi Yuugi Mysterious Replay (TV5) 2%; Movie Max 5: Spaceballs (TV5) 1.7%
�
Afternoon:
�
Kapuso Movie Festival: Johnny English Reborn (GMA-7) 15.3%; Sunday All Stars (GMA-7) 12.4%; ASAP 20 (ABS-CBN) 9.8%; Movie Max 5: Resident Evil Retribution (TV5) 3.9% Sports 360 (TV5) 1.7%
�
Wowowin (GMA-7) 15.9%; Kapamilya Mega Blockbusters: Diary ng Panget (ABS-CBN) 11.5%; PBA 2015 Governor's Cup Game 1: Global Port vs San Miguel Beermen (TV5) 2.3%
�
Insta Dad (GMA-7) 6.2%; Luv U (ABS-CBN) 8.1%; PBA 2015 Governor's Cup Game 2: Meralco vs Purefoods Star Hotshots (TV5) 6.1%
�
24 Oras Weekend (GMA-7) 6.8%; TV Patrol Weekend (ABS-CBN) 5.8%
�
Evening:
�
Vampire Ang Daddy Ko (GMA-7) 8.8%; Goin' Bulilit (ABS-CBN) 8.7%
ADVERTISEMENT - CONTINUE READING BELOW
�
Ismol Family (GMA-7) 14.8%; Wansapanataym (ABS-CBN) 11.2%
�
Kapuso Mo, Jessica Soho (GMA-7) 23.6%; Rated K: Handa Na Ba Kayo? (ABS-CBN) 15.6%; Your Face Sounds Familiar (ABS-CBN) 23.4%; Who Wants to be a Millionaire (TV5) 3.8%; Mac & Chiz (TV5) 1.5%; Wow Mali Lakas ng Tama (TV5) 1.9%
�
Asia's Next Top Model 3 (GMA-7) 9.2%; Gandang Gabi Vice (ABS-CBN) 20.1%; Wattpad Presents (TV5) 1.6%
�
Sunday Night Box Office: Contraband (GMA-7) 9.6%; Sunday's Best: Tron (ABS-CBN) 5.8%
�
Diyos at Bayan (GMA-7) 1.9%; O Shopping (ABS-CBN) 1.1%; Shop Japan (TV5) .4%
�
�
TOP TEN PROGRAMS:
�
May 15, 2015 (Friday)
�
DAYTIME:
�
The Half Sisters (GMA-7) – 19.7%
Yagit (GMA-7) - 18.1%
Eat Bulaga! (GMA-7) – 17.3%
The Ryzza Mae Show(GMA-7) - 13.4%
Corazon Indomable(GMA-7) - 12.3%
It's Showtime (ABS-CBN) - 12.2%
Healing Hearts(GMA-7) – 12.1%
Oh My G! (ABS-CBN) - 11.4%
Fairy Tail(GMA-7) / Knock Out(GMA-7) - 10%
Slam Dunk(GMA-7) - 9.8%
�
PRIMETIME:
�
Forevermore (ABS-CBN) – 19.7%
Pari 'Koy(GMA-7) – 19.6%
Nathaniel (ABS-CBN) - 18.7%
24 Oras(GMA-7) – 17.8%
Let the Love Begin (GMA-7) - 17.7%
Bridges of Love (ABS-CBN) – 16.4%
The Rich Man's Daughter (GMA-7) - 15.8%
TV Patrol (ABS-CBN) – 14.7%
Bubble Gang (GMA-7) - 14.3%
My Love from the Star(GMA-7) – 10.9%
�
May 16, 2015 (Saturday)
�
DAYTIME:
�
Eat Bulaga! (GMA-7) – 18.4%
Karelasyon (GMA-7) – 13.6%
24 Oras Weekend (GMA-7) - 11.7%
Wish Ko Lang!(GMA-7) - 11%
Maynila (GMA-7) - 10.8%
It's Showtime (ABS-CBN) - 10.5%
Imbestigador (GMA-7) – 10.3%
Angry Birds Toons (GMA-7) – 9.3%
Dragon Ball Fight (GMA-7) – 9.2%
Pac-Man and the Ghostly Adventures(GMA-7) - 9%
�
PRIMETIME:
�
Your Face Sounds Familiar (ABS-CBN) – 23.7%
Magpakailanman (GMA-7) – 22.1%
Pepito Manaloto: Ang Tunay na Kuwento (GMA-7) �- 19.8%
Celebrity Bluff (GMA-7) - 19.7%
i-Witness (GMA-7) / MMK: Ang Tahanan Mo (ABS-CBN) – 14.9%
Sabado Badoo (GMA-7) - 13.5%
Kapuso Movie Night (GMA-7) / Banana Split Extra Scoop (ABS-CBN) - 12.8%
Home Sweetie Home (ABS-CBN) – 9.6%
PBA 2015 Governor's Cup:� NLEX vs Brgy Ginebra vs Blackwater Elite (TV5) - 5.4%
Tropa Mo Ko Unli Spoof (TV5) - 9.2%
�
May 17, 2015 (Sunday)
�
DAYTIME:
�
Wowowin (GMA-7) - 15.9%
Kapuso Movie Festival: Johnny English Reborn (GMA-7) - 15.3%
Kapuso Movie Festival: Happy Feet Two (GMA-7) - 12.7%
Sunday All Stars (GMA-7) – 12.4%
Kapamilya Mega Blockbusters: Diary ng Panget (ABS-CBN) - 11.5%
ASAP (ABS-CBN) - 9.8%
Dragon Ball Fight (GMA-7) / Born to be Wild (GMA-7) - 9%
Pac-Man and the Ghostly Adventures(GMA-7) - 8.7%
iBilib(GMA-7) - 8.4%
Aha!(GMA-7) - 8.3%
�
PRIMETIME:
�
Kapuso Mo, Jessica Soho (GMA-7) - 23.6%
Your Face Sounds Familiar (ABS-CBN) – 23.4%
Gandang Gabi Vice (ABS-CBN) – 20.1%
Rated K(ABS-CBN) – 15.6%
Ismol Family (GMA-7) - 14.8%
Wansapanataym (ABS-CBN) - 11.2%
Sunday Night Box Office(GMA-7) - 9.6%
Asia's Next Top Model 3(GMA-7) - 9.2%
Vampire Ang Daddy Ko (GMA-7) - 8.8%
Goin' Bulilit (ABS-CBN) – 8.7%
Source: AGB Nielsen Philippines