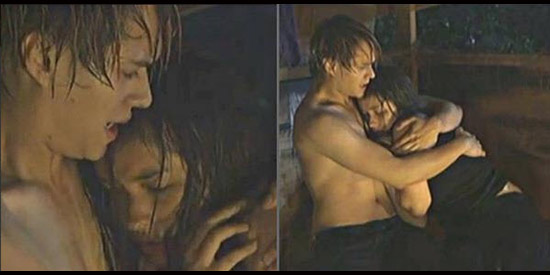 ---
Here are the significant events in the ratings game on May 18-21, 2015 according to the latest data gathered by AGB Nielsen Philippines from Mega Manila households.
ABS-CBN's Forevermore is now on its finale week, and it has topped the ratings charts for the top primetime programming on weekdays. The hit romance drama starring Enrique Gil and Liza Soberano placed No. 1 among all the shows on primetime. It was able to defeat GMA-7's Let the Love Begin on its timeslot. It remains to be seen if its final episode tonight, May 22, can get high enough ratings to become the most-watched finale for the year.
Primetime programming is more evenly matched, however, despite Forevermore's triumph. Kapuso show Pari 'Koy and The Rich Man's Daughter either won against or lost to their counterparts Nathaniel and Bridges of Love during the given period.
GMA-7 shows that always defeated ABS-CBN's primetime offerings were My Love from the Star, 24 Oras and King of Ambition.
The leading show on weekday daytime was still The Half Sisters, GMA-7's hit afternoon drama that stars Barbie Forteza and Thea Tolentino.
Here is the comparative rating performance of GMA-7, ABS-CBN and TV5 programs from May 18-21, 2015 derived from AGB Nielsen Philippines from Mega Manila households:
May 18, 2015 (Monday)
Morning:
Power House Replay (GMA-7) .4%; O Shopping (ABS-CBN) .1%; Shop Japan (TV5) .1%
Unang Hirit! (GMA-7) 3.3%; Umagang Kay Ganda (ABS-CBN) 2.1%; Aksyon sa Umaga (TV5) .6%; Higglytown Heroes (TV5) .8%; Higglytown Heroes (TV5) 1.8%
Time Quest (GMA-7) 6.1%; Martin Mystery (GMA-7) 8.6%; Magi the Labyrinth of Magic (GMA-7) 10.4%; Kris TV (ABS-CBN) 3.5%; Doc Mcstuffins (TV5) 2.3%; Phineas and Ferb (TV5) 2.7%; Hi-5 (TV5) 2.6%
Slam Dunk (GMA-7) 10.5%; Naruto Shippuuden (ABS-CBN) 4.1%; Movie Max 5: Baseketball (TV5) 2.2%
Secret Garden (GMA-7) 8.1%; Two Mothers (GMA-7) 9.3%; Corazon Indomable (GMA-7) 11%; Kapamilya Blockbusters: Casino Royale (ABS-CBN) 9.8%; Happy Wife Happy Life (TV5) 1.5%; Showbiz Konek na Konek (TV5) 1.1%
The Ryzza Mae Show (GMA-7) 12.6%; Oh My G! (ABS-CBN) 11.5%; Aksyon sa Tanghali (TV5) 2.5%
ADVERTISEMENT - CONTINUE READING BELOW
Afternoon:
Eat Bulaga!(GMA-7) 18.6%; It's Showtime (ABS-CBN) 10.8%; Movie Max 5: Caved In (TV5) 4.3%; Kenichi the Mightiest DiscipIe (TV5) 3.2%; Transformers Animated (TV5) 2.7%
The Half Sisters (GMA-7) 19.9%; Flordeliza (ABS-CBN) 9.1%; Marvel Avengers Assemble (TV5) 2.6%
Yagit (GMA-7) 17.1%; Nasaan Ka Nang Kailangan Kita (ABS-CBN) 8.4%; Let's Get Married (ABS-CBN) 7.3%; X-Men (TV5) 2.7%; Hi-5 (TV5) 1.3%
Healing Hearts (GMA-7) 13.3%; Mission Impossible (ABS-CBN) 5.8%; PBA 2015 Governer's Cup: Kia Carnival vs NLEX (TV5) 2.9%
Alisto! (GMA-7) 10.5%; The Mermaid (GMA-7) 8.6%; Kapamilya Deal or No Deal (ABS-CBN) 7.4%
Evening:
My Love from the Star (GMA-7) 12%; Inday Bote (ABS-CBN) 8.7%
24 Oras (GMA-7) 18.1%; TV Patrol (ABS-CBN) 15%; Aksyon (TV5) 3.6%
Pari 'Koy (GMA-7) 19.9%; Nathaniel (ABS-CBN) 20.8%; PBA 2015 Governer's Cup: Alaska vs Talk n Text (TV5) 6.2%
Let the Love Begin (GMA-7) 19.5%; Forevermore (ABS-CBN) 22.2%
The Rich Man's Daughter (GMA-7) 17.4%; Bridges of Love (ABS-CBN) 16.2%; Wattpad Presents (TV5) 4.4%
King of Ambition (GMA-7) 16.6%; Aquino & Abunda Tonight (ABS-CBN) 9.8%; My Lovely Girl (ABS-CBN) 7.3%; Baker King (TV5) 3.8%; Teen Wolf (TV5) 3.4%
Saksi (GMA-7) 9.4%; Bandila (ABS-CBN) 4.7%; Aksyon Tonite (TV5) 1.2%
Front Row (GMA-7) 5.4%; Mukha (ABS-CBN) 3.7%; O Shopping (ABS-CBN) 1.7%; Reaksyon (TV5) .7%; The Medyo Late Night Show (TV5) .6%; Shop Japan (TV5) .3%
--
May 19, 2015 (Tuesday)
Morning:
I-Witness Replay (GMA-7) .2%; O Shopping (ABS-CBN) .2%; Shop Japan (TV5) .2%
Unang Hirit! (GMA-7) 2.7%; Umagang Kay Ganda (ABS-CBN) 1.8%; Aksyon sa Umaga (TV5) .6%; Higglytown Heroes (TV5) 1.4%; Higglytown Heroes (TV5) 3%
Time Quest (GMA-7) 5.5%; Martin Mystery (GMA-7) 7.4%; Magi the Labyrinth of Magic (GMA-7) 8.6%; Kris TV (ABS-CBN) 4.2%; Doc Mcstuffins (TV5) 2.9%; Phineas and Ferb (TV5) 3.1%; Hi-5 (TV5) 2.8%
Slam Dunk (GMA-7) 9.3%; Naruto Shippuuden (ABS-CBN) 5.2%; Movie Max 5: Bowfinger (TV5) 1.9%
Secret Garden (GMA-7) 9.4%; Two Mothers (GMA-7) 10.3%; Corazon Indomable (GMA-7) 11.7%; Summer Kapamilya Blockbusters: James Bond (ABS-CBN) 9.4%; Happy Wife Happy Life (TV5) 1.2%; Showbiz Konek na Konek (TV5) 1.3%
The Ryzza Mae Show (GMA-7) 14.4%; Oh My G! (ABS-CBN) 11.2%; Aksyon sa Tanghali (TV5) 2.1%
Afternoon:
Eat Bulaga! (GMA-7) 18%; It's Showtime (ABS-CBN) 10.6%; Movie Max 5: Dark Storm (TV5) 2.8%; Kenichi the Mightiest Disciple (TV5) 2.8%
The Half Sisters (GMA-7) 19.9%; Flordeliza (ABS-CBN) 8.5%; Transformers Animated (TV5) 2.1%; Marvel Avengers Assemble (TV5) 2%
ADVERTISEMENT - CONTINUE READING BELOW
Yagit (GMA-7) 18.7%; Nasaan Ka Nang Kailangan Kita (ABS-CBN) 8.3%; X-Men (TV5) 1.5%
Healing Hearts (GMA-7) 12.6%; Let's Get Married (ABS-CBN) 6.4%; 3-in-1 (ABS-CBN) 4.9%; Hi-5 (TV5) 1%; Movie Max 5: Inspector Gadget (TV5) 2.6%
Tunay na Buhay (ABS-CBN) 9.4%; The Mermaid (GMA-7) 8.3%; Kapamilya Deal or No Deal (ABS-CBN) 6.5%
Evening:
My Love from the Star (GMA-7) 11.1%; Inday Bote (ABS-CBN) 8.2%; Aksyon (TV5) 3.6%
24 Oras (GMA-7) 17.5%; TV Patrol (ABS-CBN) 14.1%; Movie Max 5: Star Wars Episode III (TV5) 5.3%
Pari 'Koy (GMA-7) 20%; Nathaniel (ABS-CBN) 18.1%
Let the Love Begin (GMA-7) 19.6%; Forevermore (ABS-CBN) 22.2%; Wattpad Presents (TV5) 3.6%
The Rich Man's Daughter (GMA-7) 18.3%; Bridges of Love (ABS-CBN) 15.8%
King of Ambition (GMA-7) 16.4%; Aquino & Abunda Tonight (ABS-CBN) 10%; My Lovely Girl (ABS-CBN) 7%; Teen Wolf (TV5) 4.4%; Aksyon Tonite (TV5) 1.8%
Saksi (GMA-7) 9%; Bandila (ABS-CBN) 4.2%; Reaksyon (TV5) 1.1%; The Medyo Late Night Show (TV5) .9%
Stan Lee's Superhumans (GMA-7) 5.8%; Banana Nite (ABS-CBN) 3.2%; O Shopping (ABS-CBN) .9%; Shop Japan (TV5) .5%
--
May 20, 2015 (Wednesday)
Morning:
Tunay na Buhay Replay (GMA-7) .6%; O Shopping (ABS-CBN) .1%; Shop Japan (TV5) .1%
Unang Hirit! (GMA-7) 2.8%; Umagang Kay Ganda (ABS-CBN) 2%; Aksyon sa Umaga (TV5) .6%; Higglytown Heroes (TV5) 1.5%; Higglytown Heroes (TV5) 2.4%
Time Quest (GMA-7) 5.9%; Martin Mystery (GMA-7) 8%; Magi the Labyrinth of Magic (GMA-7) 9.7%; Kris TV (ABS-CBN) 4.5%; Doc Mcstuffins (TV5) 2.7%; Phineas and Ferb (TV5) 3%; Hi-5 (TV5) 3%
Slam Dunk (GMA-7) 10.5%; Naruto Shippuuden (ABS-CBN) 4.3%; Movie Max 5: Baby Mama (TV5) 2%
Knock Out (GMA-7) 10.2%; Secret Garden (TV5) 9.5%; Two Mothers (GMA-7) 9.8%; Corazon Indomable (GMA-7) 12.2%; Summer Kapamilya Blockbusters: Golden Eye (ABS-CBN) 9.6%; Happy Wife Happy Life (TV5).9%; Showbiz Konek na Konek (TV5) .8%
The Ryzza Mae Show (GMA-7) 14%; Oh My G! (ABS-CBN) 11.1%; Aksyon sa Tanghali (TV5) 2.5%
Afternoon:
Eat Bulaga!(GMA-7) 18.1%; It's Showtime (ABS-CBN) 12%; Movie Max 5: Super Storm (TV5) 3.1%; Kenichi the Mightiest Discipline (TV5) 2.2%; Transformers Animated (TV5) 2.4%
The Half Sisters (GMA-7) 19.9%; Flordeliza (ABS-CBN) 9.8%; Marvel Avengers Assemble (TV5) 2.5%
Yagit (GMA-7) 18.8%; Nasaan Ka Nang Kailangan Kita (ABS-CBN) 8%; X-Men (TV5) 1.8%; Hi-5 (TV5) .9%
Healing Hearts (GMA-7) 13.4%; Let's Get Married! (ABS-CBN) 6.9%; RealiTV (ABS-CBN) 7.1%; Movie Max 5: The Bounty (TV5) 2.5%
Power House (GMA-7) 9.1%; The Mermaid (GMA-7) 8.7%; Kapamilya Deal or No Deal (ABS-CBN) 7.5%
ADVERTISEMENT - CONTINUE READING BELOW
Evening:
My Love from the Star (GMA-7) 11.6%; Inday Bote (ABS-CBN) 8.1%; Aksyon (TV5) 4.3%
24 Oras (GMA-7) 18.1%; TV Patrol (ABS-CBN) 13.8%; Movie Max 5: Premium Rush (TV5) 7.9%
Pari 'Koy (GMA-7) 19.4%; Nathaniel (ABS-CBN) 19.5%
Let the Love Begin (GMA-7) 18.5%; Forevermore (ABS-CBN) 22.1%; Wattpad Presents (TV5) 3.7%
The Rich Man's Daughter (GMA-7) 16.9%; Bridges of Love (ABS-CBN) 15.5%; Baker King (TV5) 4.4%
King of Ambition (GMA-7) 15.6%; Aquino & Abunda Tonight (ABS-CBN) 9.8%; My Lovely Girl (ABS-CBN) 8%; Teen Wolf (TV5) 4.6%; Aksyon Tonite (TV5) 1.8%
Saksi (GMA-7) 10.2%; Bandila (ABS-CBN) 4.7%; Reaksyon (TV5) .7%; The Medyo Late Night Show (TV5) .5%
Ancient Aliens the Series (GMA-7) 7.4%; Banana Nite (ABS-CBN) 3.2%; O Shopping (ABS-CBN) 1.3%; Shop Japan (TV5) .4%
--
May 21, 2015 (Thursday)
Morning:
Born to be Wild Replay (GMA-7) .5%; Sports U Replay (ABS-CBN) .2%; Shop Japan (TV5) .1%
Unang Hirit! (GMA-7) 3.1%; Umagang Kay Ganda (ABS-CBN) 2.1%; Aksyon sa Umaga (TV5) .6%; Higglytown Heroes (TV5) 1.3%; Higglytown Heroes (TV5) 2.3%
Time Quest (GMA-7) 6.4%; Martin Mystery (GMA-7) 8.8%; Magi the Labyrinth of Magic (GMA-7) 10.4%; Kris TV (ABS-CBN) 3.6%; Doc Mcstuffins (TV5) 3.3%; Phineas and Ferb (TV5) 3.8%; Hi-5 (TV5) 3%
Slam Dunk (GMA-7) 10.6%; Naruto Shippuuden (ABS-CBN) 3.7%; Movie Max 5: Billy Madison (TV5) 4.6%
Knock Out (GMA-7) 11.1%; Secret Garden (GMA-7) 9.1%; Two Mothers (GMA-7) 11.8%; Corazon Indomable (GMA-7) 14.3%; 2015 NBA Eastern Conference Finals: Atlanta vs Cleveland (ABS-CBN) 6.8%; Happy Wife Happy Life (TV5) 2.3%; Showbiz Konek na Konek (TV5) 1.7%
The Ryzza Mae Show (GMA-7) 14.2%; Oh My G! (ABS-CBN) 10.2%; Aksyon sa Tanghali (TV5) 2.6%
Afternoon:
Eat Bulaga!(GMA-7) 18%; It's Showtime (ABS-CBN) 10.4%; Movie Max 5: Termination Point (TV5) 3.3%; Kenichi the Mightiest Discipline (TV5) 2.9%
The Half Sisters (GMA-7) 18.9%; Flordeliza (ABS-CBN) 9.1%; Transformers Animated (TV5) 1.9%; Marvel Avengers Assemble (TV5) 1.7%
Yagit (GMA-7) 18.2%; Nasaan Ka Nang Kailangan Kita (ABS-CBN) 9.3%; X-Men (TV5) 2.3%; Hi-5 (TV5) 1.3%
Healing Hearts (GMA-7) 12.1%; Let's Get Married! (ABS-CBN) 7.1%; Sports U (ABS-CBN) 5.4%; Movie Max 5: John Carter (TV5) 3.4%
Reporter's Notebook (GMA-7) 8.9%; The Mermaid (GMA-7) 7.6%; Kapamilya Deal or No Deal (ABS-CBN) 7.7%
Evening:
My Love from the Star (GMA-7) 11.1%; Inday Bote (ABS-CBN) 9.2%; Aksyon (TV5) 4.1%
24 Oras (GMA-7) 17.5%; TV Patrol (ABS-CBN) 16.2%
Pari 'Koy (GMA-7) 19.5%; Nathaniel (ABS-CBN) 20.8%; Movie Max 5: The Peacemaker (TV5) 7.3%
ADVERTISEMENT - CONTINUE READING BELOW
Let the Love Begin (GMA-7) 18%; Forevermore (ABS-CBN) 23.7%; Wattpad Presents (TV5) 4.1%
The Rich Man's Daughter (GMA-7) 16.3%; Bridges of Love (ABS-CBN) 16.4%; Baker King (TV5) 5.1%; Teen Wolf (TV5) 3.9%
King of Ambition (GMA-7) 15.6%; Aquino & Abunda Tonight (ABS-CBN) 10.3%; My Lovely Girl (ABS-CBN) 7.8%; Aksyon Tonite (TV5) 1.5%
Saksi (GMA-7) 10.9%; Bandila (ABS-CBN) 4.6%; Reaksyon (TV5) .9%; The Medyo Late Night Show (TV5) .7%
Ancient Aliens the Series (GMA-7) 6.7%; Banana Nite (ABS-CBN) 3.2%; Shop Japan (TV5) .3%
O Shopping (ABS-CBN) 1%; PBA Governor's Cup: Global Port vs Rain or Shine (TV5) .5%
--
TOP TEN PROGRAMS:
May 18, 2015 (Monday)
DAYTIME:
The Half Sisters (GMA-7) – 19.9%
Eat Bulaga! (GMA-7) – 18.6%
Yagit (GMA-7) - 17.1%
Healing Hearts(GMA-7) – 13.3%
The Ryzza Mae Show(GMA-7) - 12.6%
Oh My G! (ABS-CBN) - 11.5%
Corazon Indomable(GMA-7) - 11%
It's Showtime(ABS-CBN) – 10.8%
Slam Dunk(GMA-7) / Alisto!(GMA-7) - 10.5%
Magi the Labyrinth of Magic(GMA-7) – 10.4%
PRIMETIME:
Forevermore (ABS-CBN) – 22.2%
Nathaniel (ABS-CBN) - 20.8%
Pari 'Koy(GMA-7) - 19.9%
Let the Love Begin (GMA-7) - 19.5%
24 Oras(GMA-7) – 18.1%
The Rich Man's Daughter (GMA-7) - 17.4%
King of Ambition (GMA-7) - 16.6%
Bridges of Love (ABS-CBN) – 16.2%
TV Patrol (ABS-CBN) – 15%
My Love from the Star(GMA-7) – 12%
May 19, 2015 (Tuesday)
DAYTIME:
The Half Sisters (GMA-7) – 19.9%
Yagit (GMA-7) - 18.7%
Eat Bulaga! (GMA-7) – 18%
The Ryzza Mae Show(GMA-7) - 14.4%
Healing Hearts(GMA-7) – 12.6%
Corazon Indomable(GMA-7) - 11.7%
Oh My G! (ABS-CBN) - 11.2%
It's Showtime(ABS-CBN) – 10.6%
Knock Out(GMA-7) - 10.3%
Secret Garden(GMA-7) / Tunay na Buhay(GMA-7) / Summer Kapamilya Blockbusters (ABS-CBN) - 9.4%
PRIMETIME:
Forevermore (ABS-CBN) – 22.2%
Pari 'Koy(GMA-7) – 20%
Let the Love Begin (GMA-7) - 19.6%
The Rich Man's Daughter (GMA-7) - 18.3%
Nathaniel (ABS-CBN) - 18.1%
24 Oras(GMA-7) – 17.5%
King of Ambition (GMA-7) - 16.4%
Bridges of Love (ABS-CBN) – 15.8%
TV Patrol (ABS-CBN) – 14.1%
My Love from the Star(GMA-7) – 11.1%
May 20, 2015 (Wednesday)
DAYTIME:
The Half Sisters (GMA-7) – 19.9%
Yagit (GMA-7) - 18.8%
Eat Bulaga! (GMA-7) – 18.1%
The Ryzza Mae Show(GMA-7) - 14%
Healing Hearts(GMA-7) – 13.4%
Corazon Indomable(GMA-7) - 12.2%
It's Showtime(ABS-CBN) – 12%
Oh My G! (ABS-CBN) - 11.1%
Slam Dunk(GMA-7) - 10.5%
Knock Out(GMA-7) - 10.2%
PRIMETIME:
Forevermore (ABS-CBN) – 22.1%
Nathaniel (ABS-CBN) - 19.5%
Pari 'Koy(GMA-7) – 19.4%
Let the Love Begin(GMA-7) – 18.5%
24 Oras(GMA-7) – 18.1%
The Rich Man's Daughter (GMA-7) - 16.9%
King of Ambition (GMA-7) - 15.6%
Bridges of Love (ABS-CBN) – 15.5%
TV Patrol (ABS-CBN) – 13.8%
My Love from the Star(GMA-7) – 11.6%
May 21, 2015 (Thursday)
DAYTIME:
The Half Sisters (GMA-7) – 18.9%
Yagit (GMA-7) - 18.2%
Eat Bulaga! (GMA-7) – 18%
Corazon Indomable(GMA-7) - 14.3%
The Ryzza Mae Show(GMA-7) - 14.2%
Healing Hearts(GMA-7) – 12.1%
Two Mothers(GMA-7) – 11.8%
Knock Out(GMA-7) - 11.1%
Slam Dunk(GMA-7) - 10.6%
Magi the Labyrinth of Magic(GMA-7) / It's Showtime(ABS-CBN) – 10.4%
PRIMETIME:
Forevermore (ABS-CBN) – 23.7%
Nathaniel (ABS-CBN) - 20.8%
Pari 'Koy(GMA-7) – 19.5%
Let the Love Begin(GMA-7) – 18%
24 Oras(GMA-7) – 17.5%
Bridges of Love (ABS-CBN) – 16.4%
The Rich Man's Daughter (GMA-7) - 16.3%
TV Patrol (ABS-CBN) – 16.2%
King of Ambition (GMA-7) - 15.6%
My Love from the Star(GMA-7) – 11.1%
Source: AGB Nielsen Philippines