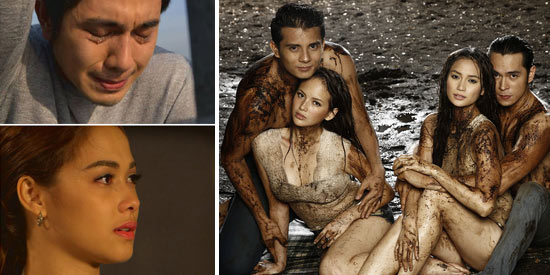 ---
Here are the significant events in the ratings game on May 29-June 1, 2015 according to the latest ratings data from AGB Nielsen Philippines from Mega Manila households.
Inday Bote ended on May 29, after 53 episodes. Starring Alex Gonzaga and Matteo Guidicelli, the finale of the fantasy series got a TV rating of 12.5%, defeating the fifth episode of GMA-7's new primetime series My Mother's Secret, which only got 10.1%.
My Mother's Secret is a heavy drama series that stars Gwen Zamora and Christian Bautista.
Inday Bote (ABS-CBN)

According to data from AGB Nielsen Philippines from Mega Manila households

Rating at pilot (March 16, 2015)

11.6%

Rating at finale (May 29, 2015)

12.5%

Total number of episodes

53

Show average

10.583%

Highest rating

12.8% (May 28, 2015)

Lowest rating

8.1% (May 20, 2015)

The replacement for Inday Bote is Pasion de Amor, a sexy drama that stars Jake Cuenca, Arci Munoz, Ejay Falcon, Ellen Adarna, Joseph Marco and Coleen Garcia.
It started on June 1 with a rating of 11.6%, also higher than My Mother's Secret's TV rating of 9.6%.
ABS-CBN's new series Pangako Sa 'Yo continues to strengthen on primetime. The heavy drama that stars Daniel Padilla and Kathryn Bernardo was the most-watched primetime program on May 29 and June 1.

There is a noticeable change in the primetime block since GMA-7's The Rich Man's Daughter is now being beaten by its ABS-CBN counterpart, Bridges of Love.

During its pilot week, GMA-7's lesbian-themed series was able to get higher ratings than the teleserye about two brothers in love with the same woman.
ADVERTISEMENT - CONTINUE READING BELOW

This time, the trend is reversed since Bridges of Love is now leading in the timeslot, which is also occupied by TV5's Baker King.

Last May 29, Bridges of Love got a TV rating of 17.4%, The Rich Man's Daughter was able to register 15.1% while the Philippine adaptation of Baker King scored 4.5%.

ABS-CBN's show landed on the 6th slot while GMA-7's lesbian-themed series landed on the 7th slot.

Bridges of Love, starring Maja Salvador, Paulo Avelino and Jericho Rosales, once again prevailed on June 1 but only by a slight margin since it got a TV rating of 16.3% while The Rich Man's Daughter registered 16.2%.

During the weekend, GMA-7's Wowowin maintained its strong performance. Its fourth episode last May 31 got 14.3%, beating the 8.6% registered by the movie Maybe This Time on ABS-CBN's Kapamilya Mega Blockbusters.
Maybe This Time is a 2014 movie from Star Cinema that starred Sarah Geronimo and Coco Martin.
ADVERTISEMENT - CONTINUE READING BELOW

Here is the comparative rating performance of GMA-7, ABS-CBN and TV5 programs from May 29-June 1, 2015, derived from AGB Nielsen Philippines from Mega Manila households:
------
May 29, 2015 (Friday)
Morning:
Alisto! Replay (GMA-7) .1%; O Shopping (ABS-CBN) .2%; Shop Japan (TV5) 0%
Unang Hirit! (GMA-7) 3.1%; Umagang Kay Ganda (ABS-CBN) 2.4%; Aksyon sa Umaga (TV5) .6%; Higglytown Heroes (TV5) 1.5%; Higglytown Heroes (TV5) 2.9%
Time Quest (GMA-7) 6.6%; Martin Mystery (GMA-7) 10.4%; Magi the Labyrinth of Magic (GMA-7) 12.4%; Kris TV (ABS-CBN) 4.1%; Doc Mcstuffins (TV5) 3.1%; Phineas and Ferb (TV5) 3.2%; Hi-5 (TV5) 2.3%
Slam Dunk (GMA-7) 13.4%; Naruto Shippuuden (ABS-CBN) 4.8%; Movie Max 5: Life (TV5) 2.5%
Knock Out (GMA-7) 12.8%; Secret Garden (GMA-7) 11.5%; Two Mothers (GMA-7) 11.1%; Corazon Indomable (GMA-7) 12.8%; Summer Kapamilya Blockbusters: Tomorrow Never Dies (ABS-CBN) 9%; Happy Wife Happy Life (TV5) 1.3%; Showbiz Konek na Konek (TV5) 1.8%
The Ryzza Mae Show (GMA-7) 15.2%; Oh My G! (ABS-CBN) 11.3%; Aksyon sa Tanghali (TV5) 2.3%
Afternoon:
Eat Bulaga! (GMA-7) 18.2%; It's Showtime (ABS-CBN) 11.3%; Movie Max 5: Stonehenge Apocalypse (TV5) 2.7%; Kenichi the Mightiest Disciple (TV5) 3.1%
The Half Sisters (GMA-7) 20.5%; Flordeliza (ABS-CBN) 9.7%; Transformers Animated (TV5) 2.5%; Marvel Avengers Assemble (TV5) 2.5%
ADVERTISEMENT - CONTINUE READING BELOW
Yagit (GMA-7) 18.6%; Nasaan Ka Nang Kailangan Kita (ABS-CBN) 8.1%; X-Men (TV5) 2%; Hi-5 (TV5) 1.5%
Healing Hearts (GMA-7) 12.7%; Let's Get Married (ABS-CBN) 7.4%; PBA 2015 Governor's Cup: Blackwater Elite vs Meralco (TV5) 2.3%
Love Hotline (GMA-7) 9.9%; The Mermaid (GMA-7) 9.3%; Kapamilya Deal or No Deal (ABS-CBN) 9.4%
Evening:
My Mother's Secret (GMA-7) 10.1%;Inday Bote (ABS-CBN) 12.5%; Aksyon (TV5) 4.1%
24 Oras (GMA-7) 17.7%; TV Patrol (ABS-CBN) 14.7%; PBA 2015 Governor's Cup: Global Port vs Talk N Text (TV5) 6.5%
Pari 'Koy (GMA-7) 19.5%; Nathaniel (ABS-CBN) 18.9%
Let the Love Begin (GMA-7) 17.8%; Pangako Sa 'Yo (ABS-CBN) 19.7%; Wattpad Presents (TV5) 2.8%
The Rich Man's Daughter (GMA-7) 15.1%; Bridges of Love (ABS-CBN) 17.4%; Baker King (TV5) 4.5%
Bubble Gang (GMA-7) 14.8%; Aquino & Abunda Tonight (ABS-CBN) 11.6%; My Lovely Girl (ABS-CBN) 8%; Supernatural (TV5) 4.8%; Aksyon Tonite (TV5) 1.8%
Saksi (GMA-7) 8.3%; Bandila (ABS-CBN) 3.9%; Reaksyon (TV5) .7%; The Medyo Late Night Show (TV5) .5%
Banana Nite (ABS-CBN) 3.5%; O Shopping (ABS-CBN) 1.5%; Shop Japan (TV5) .4%
--
May 30, 2015 (Saturday)
Morning:
PJM Forum (GMA-7) .3%; Adyenda (GMA-7) .6%; O Shopping (ABS-CBN) .3%; Shop Japan (TV5) .1%
ADVERTISEMENT - CONTINUE READING BELOW
Kapwa Ko Mahal Ko (GMA-7) 1%; Sa Kabukiran (ABS-CBN) .6%; Family Matters (TV5) .4%
Pinoy MD (GMA-7) 3.7%; Salamat Dok (ABS-CBN) 1.2%; Kakaibang Lunas (TV5) .6%
The Smurfs (GMA-7) 5.9%; Swak na Swak (ABS-CBN) 1.8%; Marvel Avengers Assemble (TV5) 1%
Kamen Rider Ooo (GMA-7) 8.7%; Angel Wings (ABS-CBN) 1.5%; X-Men (TV5) 1.4%
Pac-Man and the Ghostly Adventures (GMA-7) 11.1%; Math Tinik (ABS-CBN) 1.4%; Johnny Bravo (TV5) 1.4%
Angry Birds Toons (GMA-7) 11.4%; Kung Fu Panda Legends (ABS-CBN) 2.4%; Ben 10 (TV5) 2.1%
Crossfight B-Daman (GMA-7) 9%; Spongebob Squarepants (ABS-CBN) 5.1%; Magical Do Re Mi (TV5) 2.8%
Dragon Ball Fight! (GMA-7) 10.7%; Superbook (ABS-CBN) 6.6%; Sword Art Online II (TV5) 2.4%
Sarap Diva (GMA-7) 7.9%; Maynila (GMA-7) 8.6%; Kapamilya Kiddie Blockbusters: National Treasure Book of Secrets (ABS-CBN) 11.8%; Fushigi Yuugi (TV5) 3.1%; Fushigi Yuugi Ova (TV5) 2.8%; Movie Max 5: Wreck-It-Ralph (TV5) 5%
Afternoon:
Eat Bulaga! (GMA-7) 18%; It's Showtime (ABS-CBN) 12.4%; Movie Max 5: Cradle 2 the Grave (TV5) 5.1%; YH Tube (TV5) 1.9%
Karelasyon (GMA-7) 15.6%; Ipaglaban Mo (ABS-CBN) 9.8%; Movie Max 5: Blast (TV5) 3.6%
Wish Ko Lang! (GMA-7) 12.8%; Startalk 19 (GMA-7) 10.1%; Failon Ngayon (ABS-CBN) 7%; T3 Alliance (TV5) 2.4%
Imbestigador (GMA-7) 12.5%; SOCO (ABS-CBN) 8.9%; PBA 2015 Governor's Cup: Kia Carnival vs Purefoods Star Hotshots (TV5) 4.8%
ADVERTISEMENT - CONTINUE READING BELOW
24 Oras Weekend (GMA-7) 14%; TV Patrol Weekend (ABS-CBN) 7.9%; Mga Kwento ni Marc Logan (ABS-CBN) 8.6%
Evening:
Sabado Badoo (GMA-7) 14.4%; Pepito Manaloto: Ang Tunay na Kuwento (GMA-7) 20.3%; Home Sweetie Home (ABS-CBN) 9.3%
Magpakailanman (GMA-7) 21.1%; MMK: Ang Tahanan Mo (ABS-CBN) 16.6%; Tropa Mo Ko Unli Spoof (TV5) 3.3%
Celebrity Bluff (GMA-7) 18.1%; Your Face Sounds Familiar (ABS-CBN) 21.6%; 2 1/2 Daddies (TV5) 3.5%; Extreme Series (TV5) 1.8%
i-Witness (GMA-7) 14.9%; Banana Split Extra Scoop (ABS-CBN) 11.7%; History with Lourd (TV5) 1.7%; History with Lourd (TV5) 1.3%
Kapuso Movie Night: Wyvern (GMA-7) 12.5%; The Bottom Line (ABS-CBN) 4.1%; Kaya. (TV5) .8%
Walang Tulugan (GMA-7) 4%; O Shopping (ABS-CBN) 1.3%; Shop Japan (TV5) .3%
May 31, 2015 (Sunday)
Daytime:
In Touch with Dr. Charles Stanley (GMA-7) .5%; Jesus The Healer (GMA-7) .8%; O Shopping (ABS-CBN) .7%; Shop Japan (TV5) .3%
Kapuso Sine Klasika: Anting-Anting (GMA-7) 3.8%; The Healing Eucharist (ABS-CBN) 3%; Misa Nazareno (TV5) .8%
Grimm's Fairy Tales (GMA-7) 7.4%; Swak na Swak (ABS-CBN) 2.4%; Power to Unite with Elvira (TV5) .2%
Kamen Rider Ooo (GMA-7) 9.1%; Pac-Man and the Ghostly Adventures (GMA-7) 10.1%; Salamat Dok (ABS-CBN) 3.3%; Marvel Avengers Assemble (TV5) .9%; X-Men (TV5) 1.4%
ADVERTISEMENT - CONTINUE READING BELOW
Dragon Ball Fight! (GMA-7) 10.6%; Kuroko's Basketball (ABS-CBN) 3.1%; Johnny Bravo (TV5) 2.5%
Aha! (GMA-7) 10.1%; Haikyu!! (ABS-CBN) 3.4%; Ben 10 (TV5) 2.9%
Born To Be Wild (GMA-7) 9.9%; Super Book (ABS-CBN) 4.4%; Sword Art Online (TV5) 2.1%
iBilib (ABS-CBN) 10.6%; Matanglawin (ABS-CBN) 5.9%; Fushigi Yuugi (TV5) 1.7%
Kapuso Movie Festival: Barbie the Princess & the Popstar (GMA-7) 14.5%; Kapamilya Kiddie Blockbusters: The Mighty Ducks (ABS-CBN) 6.2%; Fushigi Yuugi Ova (TV5) 2%; Movie Max 5: Jeff Who Lives at Home (TV5) 2.2%
Afternoon:
Kapuso Movie Festival: Snow White and the Huntsman (GMA-7) 19.6%; Sunday All Stars (GMA-7) 12.1%; ASAP 20 (ABS-CBN) 7.9%; Movie Max 5: Crouching Tiger Hidden Dragon (TV5) 2.9%
Wowowin (GMA-7) 14.3%; Kapamilya Mega Blockbusters: Maybe This Time (ABS-CBN) 8.6%; PBA 2015 Governor's Cup Game 1: Barako Bull vs Rain or Shine(TV5) 2.6%
Insta Dad (GMA-7) 8.9%; Luv U (ABS-CBN) 6.5%; PBA 2015 Governor's Cup Game 2: Brgy Ginebra vs San Miguel Beermen (TV5) 7.3%
24 Oras Weekend (GMA-7) 10.9%; TV Patrol Weekend (ABS-CBN) 7.9%
Evening:
Vampire Ang Daddy Ko (GMA-7) 13.4%; Goin' Bulilit (ABS-CBN) 9%
Ismol Family (GMA-7) 18.7%; Wansapanataym (ABS-CBN) 11.3%; Who Wants to be a Millionaire (TV5) 4.5%
ADVERTISEMENT - CONTINUE READING BELOW
Kapuso Mo, Jessica Soho (GMA-7) 23.4%; Rated K: Handa Na Ba Kayo? (ABS-CBN) 15.9%; Your Face Sounds Familiar (ABS-CBN) 22.8%; Mac & Chiz (TV5) 2.4%; Wow Mali Lakas ng Tama (TV5) 2.5%
Asia's Next Top Model 3 (GMA-7) 10.9%; Gandang Gabi Vice (ABS-CBN) 20.5%; Sports 360 (TV5) .9%
Sunday Night Box Office: Ai Am Who I Am (GMA-7) 5.8%; Sunday's Best: Miss Philippines Earth 2015 (ABS-CBN) 4.9%; Cine Filipino Film Festival Showcase (TV5) .4%
Diyos at Bayan (GMA-7) 1%; O Shopping (ABS-CBN) 1.2%; Shop Japan (TV5) 0%
June 1, 2015 (Monday)
Morning:
Power House Replay (GMA-7) .9%; O Shopping (ABS-CBN) .3%; Shop Japan (TV5) .2%
Unang Hirit! (GMA-7) 5.1%; Umagang Kay Ganda (ABS-CBN) 3%; Aksyon sa Umaga (TV5) 1.1%; Higglytown Heroes (TV5) 1.1%; Higglytown Heroes (TV5) 1.6%
Time Quest (GMA-7) 6.5%; Martin Mystery (GMA-7) 7.8%; Magi the Labyrinth of Magic (GMA-7) 8.4%; Kris TV (ABS-CBN) 4.3%; Doc Mcstuffins (TV5) 1.8%; Phineas and Ferb (TV5) 2%; Hi-5 (TV5) 1.5%
Slam Dunk (GMA-7) 9.2%; Naruto Shippuuden (ABS-CBN) 4.3%; Movie Max 5: Agent Cody Banks 2 (TV5) 2%
Secret Garden (GMA-7) 9.6%; Two Mothers (GMA-7) 10.5%; Corazon Indomable (GMA-7) 11.7%; Summer Kapamilya Blockbusters: Quantum of Solace (ABS-CBN) 8.1%; Happy Wife Happy Life (TV5) 1.4%; Showbiz Konek na Konek (TV5) 1.3%
ADVERTISEMENT - CONTINUE READING BELOW
The Ryzza Mae Show (GMA-7) 12.2%; Oh My G! (ABS-CBN) 10.6%; Aksyon sa Tanghali (TV5) 2.5%
Afternoon:
Eat Bulaga!(GMA-7) 17.5%; It's Showtime (ABS-CBN) 10.7%; Movie Max 5: Sink Hole (TV5) 3.2%; Kenichi the Mightiest DiscipIe (TV5) 2.4%; Transformers Animated (TV5) 1.8%
The Half Sisters (GMA-7) 19.1%; Flordeliza (ABS-CBN) 8.7%; Marvel Avengers Assemble (TV5) 1.8%
Yagit (GMA-7) 16.8%; Nasaan Ka Nang Kailangan Kita (ABS-CBN) 7.8%; X-Men (TV5) 1.4%; Hi-5 (TV5) .8%
Healing Hearts (GMA-7) 12.6%; Let's Get Married (ABS-CBN) 6.7%; Mission Impossible (ABS-CBN) 4.9%; Movie Max 5: Ed TV (TV5) 1.8%
Alisto! (GMA-7) 10.5%; The Mermaid (GMA-7) 8.1%; Kapamilya Deal or No Deal (ABS-CBN) 7.6%
Evening:
My Mother's Secret (GMA-7) 9.6%; Pasion de Amor (ABS-CBN) 11.6%
24 Oras (GMA-7) 18.4%; TV Patrol (ABS-CBN) 15.9%; Aksyon (TV5) 3.3%
Pari 'Koy (GMA-7) 19.8%; Nathaniel (ABS-CBN) 20.3%; Movie Max 5: Star Wars Episode VI (TV5) 5%
Let the Love Begin (GMA-7) 18.6%; Pangako Sa 'Yo (ABS-CBN) 20.6%; Wattpad Presents (TV5) 4%
The Rich Man's Daughter (GMA-7) 16.2%;Bridges of Love (ABS-CBN) 16.3%; Baker King (TV5) 4.3%
King of Ambition (GMA-7) 15.8%; Aquino & Abunda Tonight (ABS-CBN) 11%; My Lovely Girl (ABS-CBN) 7.3%; Supernatural (TV5) 3.8%
ADVERTISEMENT - CONTINUE READING BELOW
Saksi (GMA-7) 8.3%; Bandila (ABS-CBN) 5.1%; Aksyon Tonite (TV5) 1.6%;
Front Row (GMA-7) 5%; Mukha (ABS-CBN) 2.7%; Reaksyon (TV5) .2%; The Medyo Late Night Show (TV5) .3%
O Shopping (ABS-CBN) 1.1%; Shop Japan (TV5) .1%
TOP TEN PROGRAMS:
May 29, 2015 (Friday)
DAYTIME:
The Half Sisters (GMA-7) – 20.5%
Yagit (GMA-7) - 18.6%
Eat Bulaga! (GMA-7) – 18.2%
The Ryzza Mae Show(GMA-7) - 15.2%
Slam Dunk(GMA-7) - 13.4%
Knock Out(GMA-7) / Corazon Indomable(GMA-7) - 12.8%
Healing Hearts(GMA-7) – 12.7%
Magi the Labyrinth of Magic (GMA-7) - 12.4%
Oh My G! (ABS-CBN) / It's Showtime (ABS-CBN) - 11.7%
Secret Garden(GMA-7) - 11.5%
PRIMETIME:
Pangako Sa 'Yo(ABS-CBN) – 19.7%
Pari 'Koy(GMA-7) – 19.5%
Nathaniel (ABS-CBN) - 18.9%
Let the Love Begin (GMA-7) - 17.8%
24 Oras(GMA-7) – 17.7%
Bridges of Love (ABS-CBN) – 17.4%
The Rich Man's Daughter (GMA-7) - 15.1%
Bubble Gang (GMA-7) - 14.8%
TV Patrol (ABS-CBN) – 14.7%
Inday Bote (ABS-CBN) – 12.5%
May 30, 2015 (Saturday)
DAYTIME:
Eat Bulaga! (GMA-7) – 18%
Karelasyon (GMA-7) – 15.6%
24 Oras Weekend (GMA-7) - 14%
Wish Ko Lang!(GMA-7) - 12.8%
Imbestigador (GMA-7) – 12.5%
It's Showtime (ABS-CBN) - 12.4%
Kapamilya Kiddie Blockbusters: National Treasure Book of Secrets (ABS-CBN) - 11.8%
Angry Birds Toons (GMA-7) - 11.4%
Pac-Man and the Ghostly Adventures(GMA-7) - 11.1%
Dragon Ball Fight (GMA-7) – 10.7%
PRIMETIME:
Your Face Sounds Familiar (ABS-CBN) – 21.6%
Magpakailanman (GMA-7) – 21.1%
Pepito Manaloto: Ang Tunay na Kuwento (GMA-7) - 20.3%
Celebrity Bluff (GMA-7) - 18.1%
MMK: Ang Tahanan Mo (ABS-CBN) – 16.6%
i-Witness (GMA-7) - 14.9%
Sabado Badoo (GMA-7) - 14.4%
Kapuso Movie Night(GMA-7) - 12.5%
Banana Split Extra Scoop (ABS-CBN) - 11.7%
Home Sweetie Home (ABS-CBN) – 9.3%
May 31, 2015 (Sunday)
DAYTIME:
Kapuso Movie Festival: Snow White and the Huntsman (GMA-7) - 19.6%
Kapuso Movie Festival: Barbie the Princess & the Popstar (GMA-7) - 14.5%
Wowowin (GMA-7) - 14.3%
Sunday All Stars (GMA-7) – 12.1%
24 Oras Weekend (GMA-7) - 10.9%
Dragon Ball Fight (GMA-7) - 10.6%
Pac-Man and the Ghostly Adventures(GMA-7) / Aha!(GMA-7) - 10.1%
Born to be Wild (GMA-7) - 9.9%
Kamen Rider Ooo (GMA-7) - 9.1%
Insta Dad (GMA-7) - 8.9%
PRIMETIME:
Kapuso Mo, Jessica Soho (GMA-7) - 23.4%
Your Face Sounds Familiar (ABS-CBN) – 22.8%
Gandang Gabi Vice (ABS-CBN) – 20.5%
Ismol Family (GMA-7) - 18.7%
Rated K(ABS-CBN) – 15.9%
Vampire Ang Daddy Ko (GMA-7) - 13.4%
Wansapanataym (ABS-CBN) - 11.3%
Asia's Next Top Model 3(GMA-7) - 10.9%
Goin' Bulilit (ABS-CBN) – 9%
Sunday Night Box Office(GMA-7) - 5.8%
June 1, 2015 (Monday)
DAYTIME:
The Half Sisters (GMA-7) - 19.1%
Eat Bulaga! (GMA-7) – 17.5%
Yagit (GMA-7) – 16.8%
Healing Hearts(GMA-7) – 12.6%
The Ryzza Mae Show(GMA-7) - 12.2%
Corazon Indomable(GMA-7) - 11.7%
It's Showtime (ABS-CBN) - 10.7%
Oh My G! (ABS-CBN) - 10.6%
Knock Out(GMA-7) / Two Mothers(GMA-7) / Alisto!(GMA-7) - 10.5%
Secret Garden (GMA-7) - 9.6%
PRIMETIME:
Pangako Sa 'Yo (ABS-CBN) – 20.6%
Nathaniel (ABS-CBN) - 20.3%
Pari 'Koy(GMA-7) – 19.8%
Let the Love Begin (GMA-7) - 18.6%
24 Oras(GMA-7) – 18.4%
Bridges of Love (ABS-CBN) – 16.3%
The Rich Man's Daughter (GMA-7) - 16.2%
TV Patrol (ABS-CBN) – 15.9%
King of Ambition (GMA-7) - 15.8%
Pasion de Amor (ABS-CBN) – 11.6%
Source: AGB Nielsen Philippines