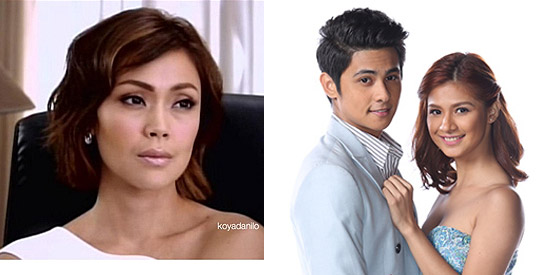 ---
Here are the significant events in the ratings game on July 6-9, 2015 according to the latest data gathered by AGB Nielsen Philippines from Mega Manila households.
Due to the typhoons during the given period, the ratings of all programs increased by about five points because of work and school cancellations.
Unang Hirit, for instance, got double digit ratings even if it airs in the early morning. Most of these high numbers are also due to viewers' desire to gain information about the cancellations.
There has been not much change in the primetime rankings. ABS-CBN's Pangako Sa 'Yo was still the No. 1 most-watched program on primetime, and it defeated GMA-7's Let the Love Begin. The heavy drama starring Daniel Padilla and Kathryn Bernardo even scored its highest rating so far since its debut: 26% on July 9, Thursday.
The particular episode showcased the return of Jodi Sta. Maria, who plays Amor Powers, on the show.
ADVERTISEMENT - CONTINUE READING BELOW
Another successful Kapamilya show on primetime that continued to defeat its rival was Bridges of Love, which beat The Rich Man's Daughter.
The rest of Kapamilya primetime shows are not as solid. Nathaniel lost to Pari 'Koy on July 6, Monday. Pinoy Big Brother 737 got lower ratings than Pinocchio on July 7, Tuesday.
GMA-7 My Mother's Secret has also caught up to Pasion de Amor. Starring Kim Rodriguez and Kiko Estrada, My Mother's Secret airs on GMA-7's early primetime slot. It debuted on May 25 with single-digit ratings, and it always lost to Pasion de Amor, the Kapamilya network's sexy drama.
But its ratings have risen up since then, and it is now getting double-digits. It had even defeated Pasion de Amor for the first time on July 7, Tuesday. My Mother's Secret registered a TV rating of 13.8% compared to Pasion de Amor's 13%.
GMA-7's The Half Sisters was still the top-performing daytime program on weekdays. It defeated ABS-CBN's Flordeliza each day.
ADVERTISEMENT - CONTINUE READING BELOW
Here is the comparative rating performance of GMA-7, ABS-CBN and TV5 programs from July 6-9, 2015 derived by AGB Nielsen Philippines from Mega Manila households:


--
July 6, 2015 (Monday)


Morning:
�
Power House Replay (GMA-7) 2.3%; O Shopping (ABS-CBN) 1%; Shop Japan (TV5) .2%
�
Unang Hirit! (GMA-7) 11.1%; Umagang Kay Ganda (ABS-CBN) 7.4%; Aksyon sa Umaga (TV5) 1%; Higglytown Heroes (TV5) 1.3%; Higglytown Heroes (TV5) 2.5%
�
Martin Mystery (GMA-7) 8.8%; Time Quest (GMA-7) 8.4%; Bleach (GMA-7) 8.3%; Magi the Labyrinth of Magic (GMA-7) 8.5%; Kris TV (ABS-CBN) 7.2%; Doc Mcstuffins (TV5) 2.9%; Phineas and Ferb (TV5) 4%; Hi-5 (TV5) 4.1%
�
Knock Out (GMA-7) 9.5%; Naruto Shippuuden (ABS-CBN) 5.1%; Movie Max 5: Justice League: The New Frontier (TV5) 2.7%
�
Secret Garden (GMA-7) 8.8%; Two Mothers (GMA-7) 11.4%; The King's Doctor (GMA-7) 10.4%; Kapamilya Blockbusters: Chinese Zodiac (ABS-CBN) 13%; Happy Wife Happy Life (TV5) 1.2%; Showbiz Konek na Konek (TV5) 1.6%
�
The Ryzza Mae Show (GMA-7) 13.5%; Oh My G! (ABS-CBN) 13.4%; Aksyon sa Tanghali (TV5) 2.7%



Afternoon:
�
Eat Bulaga!(GMA-7) 21.8%; It's Showtime (ABS-CBN) 14.2%; Movie Max 5: The League of Gentlemen's Apocalypse (TV5) 3.1%; Kenichi the Mightiest DiscipIe (TV5) 2.1%; Transformers Animated (TV5) 2%
ADVERTISEMENT - CONTINUE READING BELOW
�
The Half Sisters (GMA-7) 21.5%; Flordeliza (ABS-CBN) 11.4%; Marvel Avengers Assemble (TV5) 2.4%
�
Yagit (GMA-7) 18.2%; Nasaan Ka Nang Kailangan Kita (ABS-CBN) 10.7%; X-Men (TV5) 3%; Hi-5 (TV5) 2.4%
�
Healing Hearts (GMA-7) 15.7%; Pinoy Big Brother 737 Gold (ABS-CBN) 9.3%; Mission Impossible (ABS-CBN) 7.8%; Movie Max 5: No Way Back (TV5) 4.8%
�
Alisto! (GMA-7) 12.6%; Birth of a Beauty (GMA-7) 10.2%; Kapamilya Deal or No Deal (ABS-CBN) 13.6%
�
Evening:
�
My Mother's Secret (GMA-7) 11.6%; Pasion de Amor (ABS-CBN) 15.8%; Aksyon (TV5) 5.6%
�
24 Oras (GMA-7) 22.3%; TV Patrol (ABS-CBN) 19.4%; PBA 2015 Governors Cup Semis: Rain or Shine vs San Miguel Beermen (TV5) 9%
�
Pari 'Koy(GMA-7) 22.3%; Nathaniel (ABS-CBN) 22%
�
Let the Love Begin (GMA-7) 20.1%; Pangako Sa 'Yo (ABS-CBN) 23%; Wattpad Presents (TV5) 4.4%
�
The Rich Man's Daughter (GMA-7) 14.8%; Bridges of Love (ABS-CBN) 19.7%; Baker King (TV5) 4.4%
�
Pinocchio (GMA-7) 12.6%; Pinoy Big Brother 737 (ABS-CBN) 14.7%; Teen Wolf (TV5) 4.2%
�
Saksi (GMA-7) 7.3%; Aquino & Abunda Tonight (ABS-CBN) 9.3%; Bandila (ABS-CBN) 5.1%; Aksyon Tonite (TV5) 1.5%; Reaksyon (TV5) .8%; The Medyo Late Night Show (TV5) .5%
�
Front Row(GMA-7) 4.8%; Mukha (ABS-CBN) 1.9%; O Shopping (ABS-CBN) .8%; Shop Japan (TV5) .5%
ADVERTISEMENT - CONTINUE READING BELOW
July 7, 2015 (Tuesday)
Morning:
i-Witness Replay (GMA-7) 1.4%; O Shopping (ABS-CBN) .5%; Shop Japan (TV5) .1%
�
Unang Hirit! (GMA-7) 7.7%; Umagang Kay Ganda (ABS-CBN) 4.2%; Aksyon sa Umaga (TV5) .8%; Higglytown Heroes (TV5) 1.9%; Higglytown Heroes (TV5) 2.5%
�
Martin Mystery (GMA-7) 6.5%; Time Quest (GMA-7) 7.4%; Bleach (GMA-7) 7.5%; Kris TV (ABS-CBN) 5.5%; Doc Mcstuffins (TV5) 2.7%; Phineas and Ferb (TV5) 3.4%; Hi-5 (TV5) 3.4%
�
Magi the Kingdom of Magic (GMA-7) 6.4%; Naruto Shippuuden (ABS-CBN) 5.2%; Movie Max 5: Batman Gotham Knight (TV5) 2.4%
�
Secret Garden (GMA-7) 6.9%; Two Mothers (GMA-7) 9.2%; The King's Doctor (GMA-7) 10.2%; Kapamilya Blockbusters: Delta Farce (ABS-CBN) 9.7%; Happy Wife Happy Life (TV5) 1.1%; Showbiz Konek na Konek (TV5) 1.1%
�
The Ryzza Mae Show (GMA-7) 13%; Oh My G! (ABS-CBN) 10.8%; Aksyon sa Tanghali (TV5) 1.9%
�
Afternoon:
�
Eat Bulaga!(GMA-7) 19.6%; It's Showtime (ABS-CBN) 11.9%; Movie Max 5: Supershark (TV5) 3.3%; Kenichi the Mightiest DiscipIe (TV5) 2.6%; Transformers Animated (TV5) 2.3%
�
The Half Sisters (GMA-7) 17.6%; Flordeliza (ABS-CBN) 9.9%; Marvel Avengers Assemble (TV5) 2.2%
�
Yagit (GMA-7) 16.3%; Nasaan Ka Nang Kailangan Kita (ABS-CBN) 9.6%; Pinoy Big Brother 737 Gold (ABS-CBN) 8.1%; X-Men (TV5) 2.1%; Hi-5 (TV5) 2.1%
�
Healing Hearts (GMA-7) 13.3%; My Puhunan (ABS-CBN) 6.8%; Movie Max 5: Rapid Fire (TV5) 4.3%
ADVERTISEMENT - CONTINUE READING BELOW
�
Tunay na Buhay (GMA-7) 12.3%; Birth of a Beauty (GMA-7) 11.7%; Kapamilya Deal or No Deal (ABS-CBN) 9.8%
�
Evening:
�
My Mother's Secret(GMA-7) 13.8%;Pasion de Amor (ABS-CBN) 13%; Aksyon (TV5) 4.8%
�
24 Oras (GMA-7) 21.3%; TV Patrol (ABS-CBN) 18.8%; Movie Max 5: X2 (TV5) 7.2%
�
Pari 'Koy (GMA-7) 21.7%; Nathaniel (ABS-CBN) 22%
�
Let the Love Begin (GMA-7) 18.7%; Pangako Sa 'Yo (ABS-CBN) 24.1%; Wattpad Presents (TV5) 3.4%
�
The Rich Man's Daughter (GMA-7) 15.5%; Bridges of Love (ABS-CBN) 17%; Baker King (TV5) 4%
�
Pinocchio (GMA-7) 12.5%; Pinoy Big Brother 737 (ABS-CBN) 12.3%; Teen Wolf (TV5) 4.3%
�
Saksi (GMA-7) 7.9%; Aquino & Abunda Tonight (ABS-CBN) 7.9%; Bandila (ABS-CBN) 4.4%; Aksyon Tonite (TV5) 2.2%; Reaksyon (TV5) .7%; The Medyo Late Night Show (TV5) .4%
�
Stan Lee's Superhumans(GMA-7) 5.5%; Banana Nite (ABS-CBN) 2.5%; O Shopping (ABS-CBN) .8%; Shop Japan (TV5) .2%
July 8, 2015 (Wednesday)
�
Morning:
�
Tunay na Buhay Replay (GMA-7) 2.5%; O Shopping (ABS-CBN) .4%; Shop Japan (TV5) .1%
�
Unang Hirit! (GMA-7) 10%; Umagang Kay Ganda (ABS-CBN) 6.1%; Aksyon sa Umaga (TV5) 1.2%; Higglytown Heroes (TV5) 2.1%; Higglytown Heroes (TV5) 3.6%
�
Martin Mystery (GMA-7) 7.3%; Time Quest (GMA-7) 7.3%; Bleach (GMA-7) 8%; Kris TV (ABS-CBN) 6.5%; Doc Mcstuffins (TV5) 3.9%; Phineas and Ferb (TV5) 4.7%; Hi-5 (TV5) 4%
ADVERTISEMENT - CONTINUE READING BELOW
�
Magi the Kingdom of Magic (GMA-7) 9.1%; Naruto Shippuuden (ABS-CBN) 6%; Movie Max 5: Batman Under the Red Hood (TV5) 2.9%
�
Knock Out (GMA-7) 9.7%; Secret Garden (GMA-7) 8.9%; Two Mothers (GMA-7) 12%; The King's Doctor (GMA-7) 11.7%; Kapamilya Blockbusters: Beautiful Creatures (ABS-CBN) 11.6%; Happy Wife Happy Life (TV5) 1.8%; Showbiz Konek na Konek (TV5) 1%
�
The Ryzza Mae Show (GMA-7) 13%; Oh My G! (ABS-CBN) 12.3%; Aksyon sa Tanghali (TV5) 2.9%
�
Afternoon:
�
Eat Bulaga!(GMA-7) 21.6%; It's Showtime (ABS-CBN) 13.3%; Movie Max 5: Bone Eater (TV5) 4.7%; Kenichi the Mightiest DiscipIe (TV5) 3.6%; Transformers Animated (TV5) 3%
�
The Half Sisters (GMA-7) 18.8%; Flordeliza (ABS-CBN) 11.9%; Marvel Avengers Assemble (TV5) 3.7%
�
Yagit (GMA-7) 17.2%; Nasaan Ka Nang Kailangan Kita (ABS-CBN) 11.5%; X-Men (TV5) 3%; Hi-5 (TV5) 3%
�
Healing Hearts (GMA-7) 16.3%; Pinoy Big Brother 737 Gold (ABS-CBN) 10.4%; Red Alert (ABS-CBN) 10.8%; Movie Max 5: The Recruit (TV5) 5.6%
�
Power House (GMA-7) 14.8%; Birth of a Beauty (GMA-7) 11.8%; Kapamilya Deal or No Deal (ABS-CBN) 14.4%
�
Evening:
�
My Mother's Secret (GMA-7) 13%; Pasion de Amor (ABS-CBN) 15.8%; Aksyon (TV5) 6.8%
�
24 Oras (GMA-7) 23.3%; TV Patrol (ABS-CBN) 21.7%; PBA 2015 Governors Cup Semis: Rain or Shine vs San Miguel Beermen (TV5) 10%
ADVERTISEMENT - CONTINUE READING BELOW
�
Pari 'Koy (GMA-7) 22.3%; Nathaniel (ABS-CBN) 22.7%
�
Let the Love Begin (GMA-7) 17.6%; Pangako Sa 'Yo (ABS-CBN) 23.8%
�
The Rich Man's Daughter (GMA-7) 14.7%; Bridges of Love (ABS-CBN) 18.9%; Wattpad Presents (TV5) 4.5%; Baker King (TV5) 4.6%
�
Pinocchio (GMA-7) 12.2%; Pinoy Big Brother 737 (ABS-CBN) 14.9%; Teen Wolf (TV5) 4.2%
�
Saksi (GMA-7) 9.2%; Aquino & Abunda Tonight (ABS-CBN) 9.8%; Bandila (ABS-CBN) 5.9%; Aksyon Tonite (TV5) 1.2%
�
Ancient Aliens the Series(GMA-7) 4.9%; Banana Nite (ABS-CBN) 3.5%; O Shopping (ABS-CBN) 1.2%; Reaksyon (TV5) .3%; The Medyo Late Night Show (TV5) .4%; Shop Japan (TV5) .1%
July 9, 2015 (Thursday)
�
Morning:
�
Born to be Wild Replay (GMA-7) 2%; O Shopping (ABS-CBN) .7%; Shop Japan (TV5) 0%
�
Unang Hirit! (GMA-7) 9.3%; Umagang Kay Ganda (ABS-CBN) 4.9%; Aksyon sa Umaga (TV5) .9%; Higglytown Heroes (TV5) 3%; Higglytown Heroes (TV5) 5.2%
�
Martin Mystery (GMA-7) 9%; Time Quest (GMA-7) 10.2%; Bleach (GMA-7) 11.1%; Kris TV (ABS-CBN) 7.5%; Doc Mcstuffins (TV5) 6.4%; Phineas and Ferb (TV5) 6.6%; Hi-5 (TV5) 5.1%
�
Magi the Labyrinth of Magic (GMA-7) 12.5%; Knock Out (GMA-7) 11.1%; Naruto Shippuuden (ABS-CBN) 7.1%; Movie Max 5: Batman: The Dark Knight Returns Part 1 (TV5) 3.7%
�
Secret Garden (GMA-7) 9.3%; Two Mothers (GMA-7) 12.3%; The King's Doctor (GMA-7) 12%; Kapamilya Blockbusters: Swelter (ABS-CBN) 12.3%; Happy Wife Happy Life (TV5) 2.1%; Showbiz Konek na Konek (TV5) 1.3%
ADVERTISEMENT - CONTINUE READING BELOW
�
The Ryzza Mae Show (GMA-7) 15%; Oh My G! (ABS-CBN) 12.2%; Aksyon sa Tanghali (TV5) 3.4%
�
Afternoon:
�
Eat Bulaga!(GMA-7) 22.7%; It's Showtime (ABS-CBN) 13.4%; Movie Max 5: Tornado Warning (TV5) 3.9%; Kenichi the Mightiest DiscipIe (TV5) 3.5%; Transformers Animated (TV5) 3.2%
�
The Half Sisters (GMA-7) 21.5%; Flordeliza (ABS-CBN) 12.6%; Marvel Avengers Assemble (TV5) 4%
�
Yagit (GMA-7) 17.5%; Nasaan Ka Nang Kailangan Kita (ABS-CBN) 13.2%; X-Men (TV5) 3.7%; Hi-5 (TV5) 2.8%
�
Healing Hearts (GMA-7) 15.3%; Pinoy Big Brother 737 Gold (ABS-CBN) 10.7%; Sports U (ABS-CBN) 8.4%; Movie Max 5: Behind Enemy Lines (TV5) 7.3%
�
Reporter's Notebook (GMA-7) 14.1%; Birth of a Beauty (GMA-7) 10.8%; Kapamilya Deal or No Deal (ABS-CBN) 12.8%
�
Evening:
�
My Mother's Secret (GMA-7) 13.3%; Pasion de Amor (ABS-CBN) 15.5%; Aksyon (TV5) 6.2%
�
24 Oras (GMA-7) 23.6%; TV Patrol (ABS-CBN) 21.3%; Movie Max 5: X-Men the Last Stand (TV5) 8.9%
�
Pari 'Koy (GMA-7) 22.1%; Nathaniel (ABS-CBN) 24.1%
�
Let the Love Begin (GMA-7) 18.2%; Pangako Sa 'Yo (ABS-CBN) 26%; Wattpad Presents (TV5) 5%
�
The Rich Man's Daughter (GMA-7) 15.7%; Bridges of Love (ABS-CBN) 18.6%; Baker King (TV5) 5.1%
�
Pinocchio (GMA-7) 13.7%; Pinoy Big Brother 737 (ABS-CBN) 15%; Teen Wolf (TV5) 4.4%
ADVERTISEMENT - CONTINUE READING BELOW
�
Saksi (GMA-7) 9.7%; �Aquino & Abunda Tonight (ABS-CBN) 9.1%; Bandila (ABS-CBN) 4.8%; Aksyon Tonite (TV5) 1.4%; Reaksyon (TV5) .6%
�
Ancient Aliens the Series(GMA-7) 5.5%; Banana Nite (ABS-CBN) 2.9%; O Shopping (ABS-CBN) 1.1%;The Medyo Late Night Show (TV5) .4%; Shop Japan (TV5) .1%
TOP TEN PROGRAMS:
July 6, 2015 (Monday)


DAYTIME:
Eat Bulaga! (GMA-7) – 21.8%
The Half Sisters (GMA-7) - 21.5%
Yagit (GMA-7) – 18.2%
Healing Hearts(GMA-7) – 15.7%
It's Showtime(ABS-CBN) - 14.2%
Kapamilya Deal or No Deal (ABS-CBN) - 13.6%
The Ryzza Mae Show(GMA-7) - 13.5%
Oh My G! (ABS-CBN) - 13.4%
Kapamilya Blockbusters - 13%
Alisto!(GMA-7) - 12.6%
PRIMETIME:
Pangako Sa 'Yo (ABS-CBN) – 23%
24 Oras(GMA-7) / Pari 'Koy(GMA-7) – 22.3%
Nathaniel (ABS-CBN) - 22%
Let the Love Begin (GMA-7) - 20.1%
Bridges of Love (ABS-CBN) – 19.7%
TV Patrol (ABS-CBN) – 19.4%
Pasion De Amor (ABS-CBN) - 15.8%
The Rich Man's Daughter (GMA-7) - 14.8%
Pinoy Big Brother 737 (ABS-CBN) - 14.7%
Pinocchio (GMA-7) - 12.6%
July 7, 2015 (Tuesday)


DAYTIME:
Eat Bulaga! (GMA-7) – 19.6%
The Half Sisters (GMA-7) – 17.6%
Yagit (GMA-7) - 16.3%
Healing Hearts(GMA-7) – 13.3%
The Ryzza Mae Show(GMA-7) - 13%
Tunay na Buhay(GMA-7) - 12.7%
It's Showtime(ABS-CBN) - 11.9%
Birth of a Beauty(GMA-7) - 11.7%
Oh My G! (ABS-CBN) - 10.8%
The King's Doctor(GMA-7) - 10.2%
PRIMETIME:
Pangako Sa 'Yo (ABS-CBN) – 24.1%
Nathaniel (ABS-CBN) - 22%
Pari 'Koy(GMA-7) – 21.7%
24 Oras(GMA-7) - 21.3%
TV Patrol (ABS-CBN) – 18,8%
Let the Love Begin(GMA-7) - 18.7%
Bridges of Love (ABS-CBN) – 17%
The Rich Man's Daughter (GMA-7) - 15.5%
My Mother's Secret (GMA-7) - 13.8%
Pasion De Amor (ABS-CBN) – 13%
July 8, 2015 (Wednesday)


DAYTIME:
Eat Bulaga! (GMA-7) – 21.6%
The Half Sisters (GMA-7) - 18.8%
Yagit (GMA-7) – 17.2%
Healing Hearts(GMA-7) – 16.3%
Power House(GMA-7) - 14.8%
Kapamilya Deal or No Deal (ABS-CBN) - 14.4%
It's Showtime(ABS-CBN) - 13.3%
The Ryzza Mae Show(GMA-7) - 13%
Oh My G! (ABS-CBN) - 12.3%
Two Mothers(GMA-7) - 12%


PRIMETIME:
Pangako Sa 'Yo (ABS-CBN) – 23.8%
24 Oras(GMA-7) – 23.3%
Nathaniel (ABS-CBN) - 22.7%
Pari 'Koy(GMA-7) – 22.3%
TV Patrol (ABS-CBN) – 21.7%
Bridges of Love (ABS-CBN) – 18.9%
Let the Love Begin (GMA-7) - 17.6%
Pasion De Amor (ABS-CBN) – 15.8%
Pinoy Big Brother 737 (ABS-CBN) - 14.9%
The Rich Man's Daughter (GMA-7) - 14.7%
July 9, 2015 (Thursday)
DAYTIME:


Eat Bulaga! (GMA-7) – 22.7%
The Half Sisters (GMA-7) - 21.5%
Yagit (GMA-7) – 17.5%
Healing Hearts(GMA-7) – 15.3%
The Ryzza Mae Show(GMA-7) - 15%
Reporter's Notebook(GMA-7) - 14.1%
It's Showtime(ABS-CBN) - 13.4%
Nasaan Ka Nang Kailangan Kita(ABS-CBN) - 13.2%
Kapamilya Deal or No Deal (ABS-CBN) - 12.8%
Flordeliza (ABS-CBN) - 12.6%
PRIMETIME:
Pangako Sa 'Yo (ABS-CBN) – 26%
Nathaniel (ABS-CBN) - 24.1%
24 Oras(GMA-7) – 23.6%
Pari 'Koy(GMA-7) – 22.1%
TV Patrol (ABS-CBN) – 21.3%
Bridges of Love (ABS-CBN) – 18.6%
Let the Love Begin (GMA-7) - 18.2%
The Rich Man's Daughter (GMA-7) - 15.7%
Pasion De Amor (ABS-CBN) – 15.5%
Pinoy Big Brother 737 (ABS-CBN) - 15%
Source: AGB Nielsen Philippines