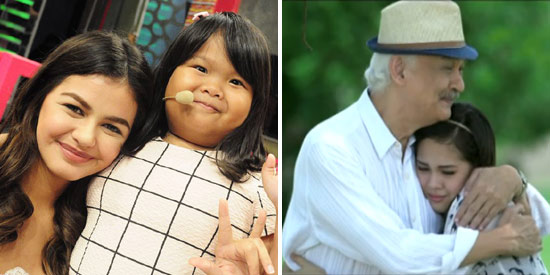 ---
Here are the significant events in the ratings game on July 20-22, 2015 according to the latest data gathered by AGB Nielsen Philippines from Mega Manila households.
The Ryzza Mae Show got higher TV ratings than the finale week of ABS-CBN's Oh My G! The morning talk show hosted by child star Ryzza Mae Dizon got TV ratings as high as 13%, while Oh My G! got single-digit numbers.
Oh My G! is an pre-noontime drama with a young cast, led by Janella Salvador, Marlo Mortel and Manolo Pedrosa. It debuted on January 19, 2015 as the replacement to the hit series Be Careful with My Heart.
Oh My G! ended on July 24, 2015.
GMA-7 also had a TV show that aired its finale week: Yagit, which featureschild stars Chlaui Malayo, Zymic Jaranilla, Judie dela Cruz and Jemuell Ventinilla.
The Kapuso afternoon drama got higher TV ratings than ABS-CBN's Nasaan Ka Nang Kailangan Kita during this given period. Yagit consistently landed on the No. 3 slot while the Jane Oineza-starrer NKNKK registered single-digit ratings.
Eat Bulaga! remained the No. 1 show on weekday daytime. It earned double the ratings of its competitor, ABS-CBN's It's Showtime.
The long-running noontime show, which is celebrating its 36th anniversary this year, got higher viewership with its new segments "I-Search na 'Yan," "Bulaga Pa More" and "That's My Bae."
Meanwhile, ABS-CBN was still the top channel for weekday primetime. Its strong programs are Nathaniel, Pangako Sa 'Yo, Bridges of Love and Pinoy Big Brother 737. All of these shows defeated its rivals in GMA-7 during the given period.
ADVERTISEMENT - CONTINUE READING BELOW
GMA-7, however, had primetime programs that defeated ABS-CBN shows at least once in this given period: My Mother's Secret beat Pasion de Amor on July 21, and 24 Oras consistently got higher ratings than TV Patrol.

Here is the comparative rating performance of GMA-7, ABS-CBN and TV5 programs from July 20-22, 2015 derived from AGB Nielsen Philippines from Mega Manila households:
July 20, 2015 (Monday)
Morning:
�
Power House Replay (GMA-7) .8%; O Shopping (ABS-CBN) .2%; Shop Japan (TV5) 0%
�
Unang Hirit! (GMA-7) 4.5%; Umagang Kay Ganda (ABS-CBN) 3.1%; Aksyon sa Umaga (TV5) .7%; Teacher's Pet (TV5) .9%; Teacher's Pet (TV5) 1.4%
�
One Piece (GMA-7) 4.8%; Fairytail (GMA-7) 5.2%; Bleach (GMA-7) 6%; Magi the Labyrinth of Magic (GMA-7) 7.1%; Kris TV (ABS-CBN) 5.7%; Kim Possible (TV5) 1.8%; Phineas and Ferb (TV5) 1.7%; Hi-5 (TV5) 1.9%
�
Knock Out (GMA-7) 7.7%; Naruto Shippuuden (ABS-CBN) 5.4%; Movie Max 5: Happiness is a Warm Blanker: Charlie Brown (TV5) 2.3%
�
Secret Garden (GMA-7) 6.7%; Two Mothers (GMA-7) 9.4%; The King's Doctor (GMA-7) 10.3%; Kapamilya Blockbusters: My True Friend (ABS-CBN) 8.9%; Happy Wife Happy Life (TV5) 1.1%; Showbiz Konek na Konek (TV5) 1.3%
�
The Ryzza Mae Show (GMA-7) 11.6%; Oh My G! (ABS-CBN) 10.1%; Aksyon sa Tanghali (TV5) 2.2%
Afternoon:
Eat Bulaga!(GMA-7) 21.3%; It's Showtime (ABS-CBN) 10.5%; Movie Max 5: The Thirteenth Floor (TV5) 2.3%; Kenichi the Mightiest DiscipIe (TV5) 1.8%; Transformers Animated (TV5) 2%
�
The Half Sisters (GMA-7) 20.2%; Flordeliza (ABS-CBN) 9.2%; Marvel Avengers Assemble (TV5) 2%
�
Yagit (GMA-7) 16.9%; Nasaan Ka Nang Kailangan Kita (ABS-CBN) 8.8%; X-Men (TV5) 1.8%; Hi-5 (TV5) 1.3%
�
Healing Hearts (GMA-7) 12.8%; Pinoy Big Brother 737 Gold (ABS-CBN) 6.9%; Mission Impossible (ABS-CBN) 6.2%; Movie Max 5: Ogre (TV5) 3.2%
�
Alisto! (GMA-7) 10.8%; Birth of a Beauty (GMA-7) 10.4%; Kapamilya Deal or No Deal (ABS-CBN) 10.9%
�
Evening:
�
My Mother's Secret (GMA-7) 12%; Pasion de Amor (ABS-CBN) 13.6%; Aksyon (TV5) 4.7%
ADVERTISEMENT - CONTINUE READING BELOW
�
24 Oras (GMA-7) 19.7%; TV Patrol (ABS-CBN) 17.5%; Movie Max 5: Spider-Man (TV5) 8.4%
�
Pari 'Koy (GMA-7) 20%; Nathaniel (ABS-CBN) 21.7%
�
Let the Love Begin (GMA-7) 18.6%; Pangako Sa 'Yo (ABS-CBN) 22.1%; Wattpad Presents (TV5) 4.5%
�
The Rich Man's Daughter (GMA-7) 15.6%; Bridges of Love (ABS-CBN) 18.4%; Baker King (TV5) 4.7%
�
Pinocchio (GMA-7) 11.3%; Pinoy Big Brother 737 (ABS-CBN) 13.8%; Teen Wolf (TV5) 4%
�
Saksi (GMA-7) 7.5%; Aquino & Abunda Tonight (ABS-CBN) 7.5%; Bandila (ABS-CBN) 4.1%; Aksyon Tonite (TV5) 1.5%; Reaksyon (TV5) .6%; The Medyo Late Night Show (TV5) .5%
�
Front Row (GMA-7) 4.2%; Mukha (ABS-CBN) 1.8%; O Shopping (ABS-CBN) .7%; Shop Japan (TV5) .2%
July 21, 2015 (Tuesday)
�
Morning:
�
i-Witness Replay (GMA-7) .8%; O Shopping (ABS-CBN) .2%; Shop Japan (TV5) 0%
�
Unang Hirit! (GMA-7) 4.3%; Umagang Kay Ganda (ABS-CBN) 3%; Aksyon sa Umaga (TV5) .6%; Teacher's Pet (TV5) .9%; Teacher's Pet (TV5) 1.3%
�
One Piece (GMA-7) 5%; Fairytail (GMA-7) 6.5%; Bleach (GMA-7) 6.6%; Kris TV (ABS-CBN) 5.2%; Kim Possible (TV5) 1.9%; Phineas and Ferb (TV5) 2.5%; Hi-5 (TV5) 2.1%
�
Magi the Kingdom of Magic (GMA-7) 6.8%; Naruto Shippuuden (ABS-CBN) 3.9%; Movie Max 5: Tom and Jerry and the Wizard of Oz (TV5) 3.2%
�
Secret Garden (GMA-7) 7.4%;Two Mothers (GMA-7) 10.9%; The King's Doctor (GMA-7) 10.8%; Kapamilya Blockbusters: Dylan Dog Dead of Night (ABS-CBN) 8.7%; Happy Wife Happy Life (TV5) 1.4%; Showbiz Konek na Konek (TV5) 1.2%
�
Biyaheng Namnam (GMA-7) 11.6%;The Ryzza Mae Show (GMA-7) 12.6%; Oh My G! (ABS-CBN) 9.4%; Aksyon sa Tanghali (TV5) 1.8%
�
Afternoon:
�
Eat Bulaga!(GMA-7) 21.1%; It's Showtime (ABS-CBN) 9.7%; Movie Max 5: Swamp Shark (TV5) 3.8%; Kenichi the Mightiest DiscipIe (TV5) 2.6%; Transformers Animated (TV5) 1.8%
�
The Half Sisters (GMA-7) 19%; Flordeliza (ABS-CBN) 7.9%; Marvel Avengers Assemble (TV5) 1.6%
�
Yagit (GMA-7) 18.3%; Nasaan Ka Nang Kailangan Kita (ABS-CBN) 7.9%; Pinoy Big Brother 737 Gold (ABS-CBN) 5.1%; X-Men (TV5) 1.8%; Hi-5 (TV5) 1.4%
�
Healing Hearts (GMA-7) 14.5%; My Puhunan (ABS-CBN) 4.5%; Movie Max 5: Poseidon Rex (TV5) 5.1%
ADVERTISEMENT - CONTINUE READING BELOW
�
Tunay na Buhay (GMA-7) 11%; Birth of a Beauty (GMA-7) 9%; Kapamilya Deal or No Deal (ABS-CBN) 9%
�
Evening:
�
My Mother's Secret (GMA-7) 11.2%; Pasion de Amor (ABS-CBN) 11.1%; Aksyon (TV5) 4.3%
�
24 Oras (GMA-7) 18.1%; TV Patrol (ABS-CBN) 17.2%; Movie Max 5: Spider-Man 2 (TV5) 9.2%
�
Pari 'Koy (GMA-7) 18.9%; Nathaniel (ABS-CBN) 21.7%
�
Let the Love Begin (GMA-7) 17.9%; Pangako Sa 'Yo (ABS-CBN) 23.9%; Wattpad Presents (TV5) 4.2%
�
The Rich Man's Daughter (GMA-7) 15.4%; Bridges of Love (ABS-CBN) 19.7%; Baker King (TV5) 4.3%
�
Pinocchio (GMA-7) 11.8%;Pinoy Big Brother 737 (ABS-CBN) 15.7%; Teen Wolf (TV5) 4%
�
Saksi (GMA-7) 7.7%; Aquino & Abunda Tonight (ABS-CBN) 9.7%; Bandila (ABS-CBN) 4.8%; Aksyon Tonite (TV5) 1.6%; Reaksyon (TV5) 1.1%; The Medyo Late Night Show (TV5) .7%
�
Stan Lee's Superhumans (GMA-7) 5.1%; Banana Nite (ABS-CBN) 3.1%; O Shopping (ABS-CBN) 1.6%; Shop Japan (TV5) .3%
July 22, 2015 (Wednesday)
�
Morning:
�
Tunay na Buhay Replay (GMA-7) 1.5%; O Shopping (ABS-CBN) .3%; Shop Japan (TV5) .1%
�
Unang Hirit! (GMA-7) 4.4%; Umagang Kay Ganda (ABS-CBN) 3%; Aksyon sa Umaga (TV5) .9%; Teacher's Pet (TV5) 1%; Teacher's Pet (TV5) 1.6%
�
One Piece (GMA-7) 4.2%; Fairytail (GMA-7) 5.3%; Bleach (GMA-7) 6.4%; Kris TV (ABS-CBN) 5.3%; Kim Possible (TV5) 2.1%; Phineas and Ferb (TV5) 2.5%; Hi-5 (TV5) 2.5%
�
Magi the Kingdom of Magic (GMA-7) 7.5%; Naruto Shippuuden (ABS-CBN) 3.5%; Movie Max 5: Justice League Doom (TV5) 1.4%
�
Knock Out (GMA-7) 9.3%; Secret Garden (GMA-7) 8.3%; Two Mothers (GMA-7) 10.1%; The King's Doctor (GMA-7) 11.4%; Kapamilya Blockbusters: Wu Dang (ABS-CBN) 7.5%; Happy Wife Happy Life (TV5) 1.1%; Showbiz Konek na Konek (TV5) 1%
�
The Ryzza Mae Show (GMA-7) 13%; Oh My G! (ABS-CBN) 8.8%; Aksyon sa Tanghali (TV5) 2%
�
Afternoon:
�
Eat Bulaga!(GMA-7) 22.6%; It's Showtime (ABS-CBN) 10.4%; Movie Max 5: Murder at the Presinto (TV5) 2.2%; Kenichi the Mightiest DiscipIe (TV5) 1.9%; Transformers Animated (TV5) 1.7%
�
The Half Sisters (GMA-7) 21.7%; Flordeliza (ABS-CBN) 9.5%; Marvel Avengers Assemble (TV5) 1.5%
�
Yagit (GMA-7) 19.8%; Nasaan Ka Nang Kailangan Kita (ABS-CBN) 8.9%; X-Men (TV5) 1.6%; Hi-5 (TV5) 1.8%
ADVERTISEMENT - CONTINUE READING BELOW
�
Healing Hearts (GMA-7) 14.8%; Pinoy Big Brother 737 Gold (ABS-CBN) 7.1%; Red Alert (ABS-CBN) 6.3%; Movie Max 5: Webs (TV5) 2.9%
�
Power House (GMA-7) 13%; Birth of a Beauty (GMA-7) 11.7%; Kapamilya Deal or No Deal (ABS-CBN) 10.5%
�
Evening:
�
My Mother's Secret (GMA-7) 12.7%; Pasion de Amor (ABS-CBN) 13.4%; Aksyon (TV5) 4.7%
�
24 Oras (GMA-7) 20.5%; TV Patrol (ABS-CBN) 17.7%; Movie Max 5: Spider-Man 3 (TV5) 9.4%
�
Pari 'Koy (GMA-7) 19.9%; Nathaniel (ABS-CBN) 20.9%
�
Let the Love Begin (GMA-7) 17.3%; Pangako Sa 'Yo (ABS-CBN) 22.3%
�
The Rich Man's Daughter (GMA-7) 15.2%; Bridges of Love (ABS-CBN) 20.2%; Wattpad Presents (TV5) 3.9%; Baker King (TV5) 3.8%
�
Pinocchio (GMA-7) 11.7%; Pinoy Big Brother 737 (ABS-CBN) 14%; Teen Wolf (TV5) 3.9%
�
Saksi (GMA-7) 7.1%; Aquino & Abunda Tonight (ABS-CBN) 8.7%; Bandila (ABS-CBN) 4.9%; Aksyon Tonite (TV5) 2.2%; Reaksyon (TV5) 1.1%
�
Planet Earth (GMA-7) 4.7%; Banana Nite (ABS-CBN) 2.8%; O Shopping (ABS-CBN) 1.1%; The Medyo Late Night Show (TV5) .9%; Shop Japan (TV5) .2%



TOP TEN PROGRAMS:
July 20, 2015 (Monday)
DAYTIME:
Eat Bulaga! (GMA-7) – 21.3%
The Half Sisters (GMA-7) - 20.2%
Yagit (GMA-7) – 16.9%
Healing Hearts(GMA-7) – 12.8%
The Ryzza Mae Show(GMA-7) - 11.6%
Kapamilya Deal or No Deal (ABS-CBN) - 10.9%
Alisto!(GMA-7) - 10.8%
It's Showtime(ABS-CBN) - 10.5%
Birth of a Beauty(GMA-7) - 10.4%
The King's Doctor(GMA-7) - 10.3%
PRIMETIME:
Pangako Sa 'Yo (ABS-CBN) – 22.1%
Nathaniel (ABS-CBN) - 21.7%
Pari 'Koy(GMA-7) – 20%
24 Oras(GMA-7) - 19.7%
Let the Love Begin (GMA-7) - 18.6%
Bridges of Love (ABS-CBN) – 18.4%
TV Patrol (ABS-CBN) – 17.5%
The Rich Man's Daughter (GMA-7) - 15.6%
Pinoy Big Brother 737 (ABS-CBN) - 13.8%
Pasion De Amor (ABS-CBN) - 13.6%
July 21, 2015 (Tuesday)
DAYTIME:
Eat Bulaga! (GMA-7) – 21.1%
The Half Sisters (GMA-7) – 19%
Yagit (GMA-7) - 18.3%
Healing Hearts(GMA-7) – 14.5%
The Ryzza Mae Show(GMA-7) - 12.6%
Biyaheng Namnam (GMA-7) 11.6%
Tunay na Buhay(GMA-7) - 11%
Two Mothers(GMA-7) - 10.9%
The King's Doctor(GMA-7) - 10.8%
It's Showtime(ABS-CBN) - 9.7%
PRIMETIME:
Pangako Sa 'Yo (ABS-CBN) – 23.9%
Nathaniel (ABS-CBN) - 21.7%
Bridges of Love (ABS-CBN) – 19.7%
Pari 'Koy(GMA-7) – 18.9%
24 Oras(GMA-7) - 18.1%
Let the Love Begin (GMA-7) - 17.9%
TV Patrol (ABS-CBN) – 17.2%
Pinoy Big Brother 737 (ABS-CBN) - 15.7%
The Rich Man's Daughter (GMA-7) - 15.4%
Pinocchio (GMA-7) - 11.8%
July 22, 2015 (Wednesday)
DAYTIME:
Eat Bulaga! (GMA-7) – 22.6%
The Half Sisters (GMA-7) - 21.7%
Yagit (GMA-7) – 19.8%
Healing Hearts(GMA-7) – 14.8%
The Ryzza Mae Show(GMA-7) / Power House(GMA-7) - 13%
Birth of a Beauty(GMA-7) - 11.7%
The King's Doctor(GMA-7) - 11.4%
Kapamilya Deal or No Deal (ABS-CBN) - 10.5%
It's Showtime(ABS-CBN) - 10.4%
Two Mothers(GMA-7) - 10.1%
PRIMETIME:
Pangako Sa 'Yo (ABS-CBN) – 22.3%
Nathaniel (ABS-CBN) - 20.9%
24 Oras(GMA-7) – 20.5%
Bridges of Love (ABS-CBN) – 20.2%
Pari 'Koy(GMA-7) – 19.9%
TV Patrol (ABS-CBN) – 17.7%
Let the Love Begin (GMA-7) - 17.3%
The Rich Man's Daughter (GMA-7) - 15.2%
Pinoy Big Brother 737 (ABS-CBN) - 14%
Pasion De Amor (ABS-CBN) - 13.4%
Source: AGB Nielsen Philippines