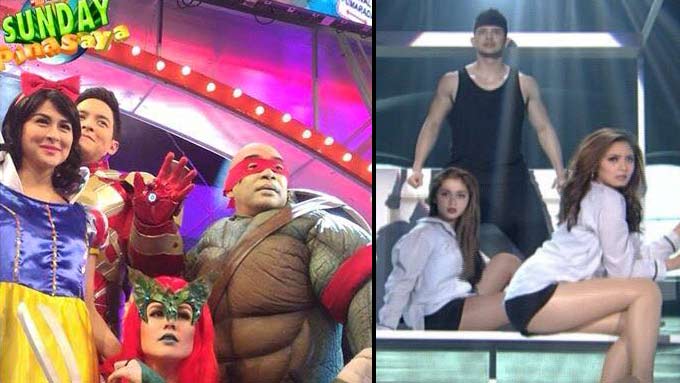 ---


Here are the highlights of the comparative ratings of GMA-7, ABS-CBN, and TV5 programs from November 1-5, 2015, according to AGB Nielsen Philippines survey among Mega Manila households.
GMA-7 continues to be the ratings leader. The Kapuso network had the No. 1 programs on both daytime and primetime slots on all days of the given period.
The winners on Sunday, November 1, are both from GMA-7. The leading program on daytime was Sunday Pinasaya, which scored a TV rating of 20% in Mega Manila.

It defeated the 8.8% registered by ASAP 20. The Kapamilya concert variety program didn't even enter the Top 10.

On Sunday primetime, the No. 1 show was Kapuso Mo, Jessica Soho. The news magazine program featured horror stories as part of its Halloween special, Gabi ng Lagim III. The episode rated 24.9%, more than double Rated K's 12%.
GMA-7 also clinched the top spots during the weekdays of the given period.
Eat Bulaga! still dominated daytime programming. On November 2, it peaked with TV rating of 32.9% in Mega Manila while It's Showtime got 7.5%.

Its lowest TV rating during this period was 29.3% on November 5 but still triple the rating of It's Showtime on the same day, which was 9%.

On this day, Tiya Bebeng (played by Gloria Romero) made her appearance on Kalyeserye. She talked with Alden Richards about his intention for Yaya Dub (played by Maine Mendoza).

(Read: Tiya Bebeng asked Yaya Dub, "In love ka ba? In love ka, 'no?")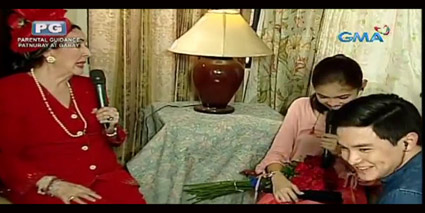 Gloria Romero as Tiya Bebeng
ADVERTISEMENT - CONTINUE READING BELOW
Meanwhile, 24 Oras landed on the No. 1 slot for weekday primetime from November 2 to 4. The news program got a daily margin of 8 points over TV Patrol.
The first placer on November 5 was Marimar. It scored 23.5%, defeating FPJ's Ang Probinsyano's 22.1%. During this time, Solenn Heussaff was introduced as the image and beauty consultant who will help Marimar (played by Megan Young) transform into the sophisticated Bella Aldama.
It is important to note that Marimar lost to FPJ's Ang Probinsyano on other days. One exception was on November 2 when Marimar and FPJ's Ang Probinsyano were tied after getting a TV rating of 23.7%.

During this ratings period, the Kathryn Bernardo-Daniel Padilla starrer Pangako Sa 'Yo was able to consistenly beat Beautiful Strangers topbilled by Lovi Poe and Heart Evangelista.

Meanwhile, the James Reid-Nadine Lustre starrer On The Wings of Love got higher TV ratings than My Faithful Husband. The GMA-7 teleserye of Jennylyn Mercado and Dennis Trillo steadily increased its ratings until November 5 (Thursday) when it registered 17.5% over OTWOL's 16.9%. The Kapuso show had a lead of 0.6 points over its Kapamilya counterpart.

Here are comparative ratings of GMA-7, ABS-CBN and TV5 programs from November 1-5, 2015, according to AGB Nielsen Philippines survey among Mega Manila households.
----
November 1, 2015 (Sunday)
Daytime:
In Touch with Dr. Charles Stanley (GMA-7) .3%; Jesus The Healer (GMA-7) .9%; O Shopping (ABS-CBN) .7%; Shop Japan (TV5) .1%
Kapuso Sine Klasika: Ispiritista (GMA-7) 3.2%; The Healing Eucharist (ABS-CBN) 3.5%; Misa Nazareno (TV5) 1.2%
Grimm's Fairy Tales (GMA-7) 6.8%; Tobot (GMA-7) 8.1%; Swak na Swak (ABS-CBN) 2.1%; Power to Unite with Elvira (TV5) .5%
ADVERTISEMENT - CONTINUE READING BELOW
Doraemon Nobita's Great Battle (GMA-7) 9.8%; Salamat Dok (ABS-CBN) 2%; Healing Galing sa TV5 (TV5) 1.1%
Aha! (GMA-7) 9.5%; Kuroko's Basketball (ABS-CBN) 2.4%; Higglytown Heroes (TV5) 1.9%; Doc McStuffins (TV5) 2.9%
Born To Be Wild (GMA-7) 9.3%; Haikyu!! (TV5) 2.9%; Stitch! (TV5) 3.5%
iBilib (ABS-CBN) 8.8%; Superbook (ABS-CBN) 4.5%; Hi-5 (TV5) 2.9%
Kapuso Movie Festival: Casper (GMA-7) 14.1%; Matanglawin (ABS-CBN) 7.3%; Kapamilya Kiddie Blockbusters: Vamps (ABS-CBN) 8.3%; The Tom & Jerry Show (TV5) 3%; The Tom & Jerry Show (TV5) 3.7%


Afternoon:
�
Del Monte Kitchenomics (GMA-7) 17.7%; Sunday Pinasaya (GMA-7) 20%; ASAP 20 (ABS-CBN) 8.8%; Happy Truck ng Bayan (TV5) 1.4%; Movie Max 5: Lost City Raiders (TV5) 3.2%
�
Wowowin (GMA-7) 15.4%; GMA Blockbusters: Ghost (GMA-7) 12.1%; Kapamilya Mega Blockbusters: Dilim (ABS-CBN) 9.9%; Movie Max 5: Fright Night (TV5) 3.5%
�
Juan Tamad (GMA-7) 10.2%; Luv U (ABS-CBN) 7.7%; Movie Max 5: King Arthur (TV5) 5.2%
�
24 Oras Weekend (GMA-7) 14.5%; TV Patrol Weekend (ABS-CBN) 9.1%
�
Evening:
�
Vampire Ang Daddy Ko (GMA-7) 19.5%; Goin' Bulilit (ABS-CBN) 10.2%
�
Ismol Family (GMA-7) 24.1%; Wansapanataym (ABS-CBN) 11.9%; Who Wants to be a Millionaire (TV5) 4.4%
�
Kapuso Mo, Jessica Soho (GMA-7) 24.9%; Rated K: Handa Na Ba Kayo? (ABS-CBN) 12%; Your Face Sounds Familiar (ABS-CBN) 16%; No Harm No Foul (TV5) 3.1%; Kicksplorer (TV5) 1.2%
�
Sunday Night Box Office: The Hitcher (GMA-7) 11.6%; Pinoy Big Brother 737 (ABS-CBN) 13.3%; Gandang Gabi Vice (ABS-CBN) 12.7%; Sunday's Best: Don't Be Afraid of the Dark (ABS-CBN) 5.9%; Sports 360 (TV5) 1%; Countdown to Rio (TV5) .7%; History with Lourd (TV5) .5%
�
Diyos at Bayan (GMA-7) 1.4%; O Shopping (ABS-CBN) 1.5%; Shop Japan (TV5) .4%
November 2, 2015 (Monday)
�
Morning:
�
Power House Replay (GMA-7) .7%; O Shopping (ABS-CBN) .2%; Shop Japan (TV5) .2%
�
Unang Hirit! (GMA-7) 4.8%; San Miguel Pure Foods Home Foodie (GMA-7) 6.5%; Umagang Kay Ganda (ABS-CBN) 3%; Aksyon sa Umaga (TV5) .8%; Handy Manny (TV5) 1.7%; Handy Manny (TV5) 3.2%
�
Pokemon XY (GMA-7) 7.4%; Toriko (GMA-7) 8.7%; Dragon Ball Z (GMA-7) 10%; Kris TV (ABS-CBN) 4%; Jake and the Neverland Pirates (TV5) 4.5%; Randy Cunningham 9th Grade Ninja (TV5) 5.4%; Hi-5 (TV5) 4.1%
ADVERTISEMENT - CONTINUE READING BELOW
�
Fairytail (GMA-7) 10.7%; Mr. Bean (ABS-CBN) 4.6%; The Looney Tunes Show (TV5) 4.1%
�
Stairway to Heaven (GMA-7) 9%; Someone Like You (GMA-7) 10.2%; The King's Doctor (GMA-7) 11.9%; Dangwa (GMA-7) 13.2%; Kapamilya Blockbusters: Pagpag (ABS-CBN) 9.7%; The Tom & Jerry Show (TV5) 6.1%; Scooby-Doo! Mystery Inc. (TV5) 6.1%; Madam Chairman (TV5) 2.6%; Amachan (TV5) 1.8%; Hallo2 Cafe (TV5) 1.4%
�
The Ryzza Mae Show: Princess in the Palace (GMA-7) 19.5%; Ningning (ABS-CBN) 9.2%; Aksyon sa Tanghali (TV5) 2%
�
Afternoon:
�
Eat Bulaga!(GMA-7) 32.9%; It's Showtime (ABS-CBN) 7.5%; Movie Max 5: The Chaos Factor (TV5) 2.9%; Marvel Hulk and the Agents of Smash (TV5) 1%; X-Men (TV5) 1.8%
�
The Half Sisters (GMA-7) 18.1%; Doble Kara (ABS-CBN) 9.2%; Teen Wolf (TV5) 2.2%
�
Buena Familia (GMA-7) 15.4%; All Of Me (ABS-CBN) 8.3%; Walang Iwanan (ABS-CBN) 6.9%; Supernatural (TV5) 2.8%; Movie Max 5: Leap Year (TV5) 3.9%
�
Destiny Rose (GMA-7) 16.9%; Mission Possible (ABS-CBN) 5.5%
�
Alisto! (GMA-7) 12.3%; Kapamilya Deal or No Deal (ABS-CBN) 8.4%
�
Evening:
�
Starstruck (GMA-7) 13.1%; Pasion de Amor (ABS-CBN) 13%; Aksyon (TV5) 4.7%
�
24 Oras (GMA-7) 24.2%; TV Patrol (ABS-CBN) 16%; Movie Max 5: The Expendables (TV5) 5.8%
�
Marimar (GMA-7) 23.7%; FPJ's Ang Probinsyano (ABS-CBN) 23.7%
�
Beautiful Strangers (GMA-7) 20%; Pangako Sa 'Yo (ABS-CBN) 23.7%; Wattpad Presents (TV5) 2.4%
�
My Faithful Husband (GMA-7) 16.3%; On the Wings of Love (ABS-CBN) 18.7%; My Fair Lady (TV5) 1.6%
�
Legendary Women (GMA-7) 11.4%; Pinoy Big Brother 737 (ABS-CBN) 14.9%; Tonight with Boy Abunda (ABS-CBN) 7.4%; Amachan (TV5) 1.7%; Hallo2 Cafe (TV5) 1%; Aksyon Tonite (TV5) .8%
�
Saksi (GMA-7) 7.4%; Front Row (GMA-7) 4.5%; Bandila (ABS-CBN) 4.7%; Reaksyon (TV5) .7%; The Medyo Late Night Show (TV5) .4%
�
The Tim Yap Show (GMA-7) 2.2%; Mukha (ABS-CBN) 2.8%; O Shopping (ABS-CBN) 1.2%; Shop Japan (TV5) .2%
�
--
November 3, 2015 (Tuesday)
�
Morning:
�
i-Witness Replay (GMA-7) 1.3%; O Shopping (ABS-CBN) .1%; Shop Japan (TV5) .1%
�
Unang Hirit! (GMA-7) 5.4%; Umagang Kay Ganda (ABS-CBN) 3%; Aksyon sa Umaga (TV5) .5%; Handy Manny (TV5) 1.6%; Handy Manny (TV5) 3.2%
ADVERTISEMENT - CONTINUE READING BELOW
�
San Miguel Pure Foods Home Foodie (GMA-7) 5.3%; Pokemon XY (GMA-7) 5.7%; Toriko (GMA-7) 7.8%; Dragon Ball Z (GMA-7) 8.3%; Kris TV (ABS-CBN) 4.3%; Jake and the Neverland Pirates (TV5) 4.1%; Randy Cunningham 9th Grade Ninja (TV5) 3.6%; Hi-5 (TV5) 2.5%
�
Fairytail (GMA-7) 9.8%; Mr. Bean (ABS-CBN) 4.3%; The Looney Tunes Show (TV5) 2.9%
�
Stairway to Heaven (GMA-7) 8.9%; Someone Like You (GMA-7) 11.2%; The King's Doctor (GMA-7) 12.4%; Dangwa (GMA-7) 12.6%; Biyaheng Namnam (GMA-7) 14.3%; Kapamilya Blockbusters: Maybe This Time (ABS-CBN) 9.5%; The Tom & Jerry Show (TV5) 3.6%; Scooby-Doo! Mystery Inc. (TV5) 2.6%; Madam Chairman (TV5) 1.4%; Amachan (TV5) 1.3%; Hallo2 Cafe (TV5) 1.4%
�
The Ryzza Mae Show: Princess in the Palace (GMA-7) 16.4%; Ningning (ABS-CBN) 10.8%; Aksyon sa Tanghali (TV5) 2%
�
Afternoon:
�
Eat Bulaga!(GMA-7) 31.3%; It's Showtime (ABS-CBN) 8.1%; Movie Max 5: Devil Winds (TV5) 2.5%; Marvel Hulk and the Agents of Smash (TV5) 1.3%;� X-Men (TV5) 1.8%
�
The Half Sisters (GMA-7) 18.7%; Doble Kara (ABS-CBN) 10.3%; Teen Wolf (TV5) 2.4%
�
Buena Familia (GMA-7) 15.7%; All Of Me (ABS-CBN) 9.6%; Walang Iwanan (ABS-CBN) 6.8%; Supernatural (TV5) 2.8%; Movie Max 5: It's Complicated (TV5) 2.4%
�
Destiny Rose (GMA-7) 16.8%; My Puhunan (ABS-CBN) 6.2%
�
Tunay na Buhay (GMA-7) 13.5%; Kapamilya Deal or No Deal (ABS-CBN) 9.4%
�
Evening:
�
Starstruck (GMA-7) 13.6%; Pasion de Amor (ABS-CBN) 12.7%; Aksyon (TV5) 5.6%
�
24 Oras (GMA-7) 23.8%; TV Patrol (ABS-CBN) 15%; Movie Max 5: The Expendables 3 (TV5) 7.2%
�
Marimar (GMA-7) 23.5%; FPJ's Ang Probinsyano (ABS-CBN) 23.3%
�
Beautiful Strangers (GMA-7) 21.5%; Pangako Sa 'Yo (ABS-CBN) 22%; Wattpad Presents (TV5) 2.5%
�
My Faithful Husband (GMA-7) 17.5%;On the Wings of Love (ABS-CBN) 18%; My Fair Lady (TV5) 1.7%
�
Legendary Women (GMA-7) 13.3%;Pinoy Big Brother 737 (ABS-CBN) 14.2%; Tonight with Boy Abunda (ABS-CBN) 6.5%; Amachan (TV5) 1.4%; Hallo2 Cafe (TV5) 1.6%; Aksyon Tonite (TV5) 1.2%
�
Saksi (GMA-7) 8.9%; Stan Lee's Superhumans (GMA-7) 4.6%; Bandila (ABS-CBN) 3.9%; Reaksyon (TV5) .6%; The Medyo Late Night Show (TV5) .6%; Shop Japan (TV5) .3%
ADVERTISEMENT - CONTINUE READING BELOW
�
The Tim Yap Show (GMA-7) 1.6%; O Shopping (ABS-CBN) 1.1%
November 4, 2015 (Wednesday)


Morning:
�
Tunay na Buhay Replay (GMA-7) 1%; O Shopping (ABS-CBN) .4%; Shop Japan (TV5) .1%
�
Unang Hirit! (GMA-7) 5.3%; Umagang Kay Ganda (ABS-CBN) 3.1%; Aksyon sa Umaga (TV5) .5%; Handy Manny (TV5) 1.7%; Handy Manny (TV5) 2.9%
�
San Miguel Pure Foods Home Foodie (GMA-7) 6.3%; Pokemon XY (GMA-7) 6.5%; Toriko (GMA-7) 7.5%; Dragon Ball Z (GMA-7) 7.9%; Kris TV (ABS-CBN) 3.7%; Jake and the Neverland Pirates (TV5) 3.5%; Randy Cunningham 9th Grade Ninja (TV5) 3.2%; Hi-5 (TV5) 3.2%
�
Fairytail (GMA-7) 8.8%; Mr. Bean (ABS-CBN) 3.9%; The Looney Tunes Show (TV5) 3.4%
�
Stairway to Heaven (GMA-7) 8.2%; Someone Like You (GMA-7) 10.7%; The King's Doctor (GMA-7) 12.8%; Dangwa (GMA-7) 14.3%; Kapamilya Blockbusters: Bakit Hindi Ka Crush ng Crush Mo (ABS-CBN) 9.5%; The Tom & Jerry Show (TV5) 4.2%; Scooby-Doo! Mystery Inc. (TV5) 2.9%; Madam Chairman (TV5) 1.3%; Amachan (TV5) 1.9%; Hallo2 Cafe (TV5) 1.8%
�
The Ryzza Mae Show: Princess in the Palace (GMA-7) 17.7%; Ningning (ABS-CBN) 9.9%; Aksyon sa Tanghali (TV5) 1.7%
�
Afternoon:
�
Eat Bulaga!(GMA-7) 30.1%; It's Showtime (ABS-CBN) 8.5%; Movie Max 5: Enter the Eagles (TV5) 2.9%; Marvel Hulk and the Agents of Smash (TV5) .9%; X-Men (TV5) 1.1%
�
The Half Sisters (GMA-7) 18.8%; Doble Kara (ABS-CBN) 9.9%; Teen Wolf (TV5) 2.4%
�
Buena Familia (GMA-7) 16.5%; All Of Me (ABS-CBN) 8.7%; Walang Iwanan (ABS-CBN) 6.7%; Supernatural (TV5) 2.7%
�
Destiny Rose (GMA-7) 16.7%; Red Alert (ABS-CBN) 6.5%; Smart Bro PBA 2016 Philippine Cup: Blackwater Elite vs Meralco (TV5) 3.3%
�
Power House (GMA-7) 9.9%; Kapamilya Deal or No Deal (ABS-CBN) 9.4%
�
Evening:
�
Starstruck (GMA-7) 12.9%; Pasion de Amor (ABS-CBN) 13.2%
�
24 Oras (GMA-7) 23.9%; TV Patrol (ABS-CBN) 16.7%; Aksyon (TV5) 4.1%
�
Marimar (GMA-7) 22.6%; FPJ's Ang Probinsyano (ABS-CBN) 23.2%; Smart Bro PBA 2016 Philippine Cup: Rain or Shine vs San Miguel Beermen (TV5) 6.2%
�
Beautiful Strangers (GMA-7) 18.9%; Pangako Sa 'Yo (ABS-CBN) 21.2%
ADVERTISEMENT - CONTINUE READING BELOW
�
My Faithful Husband (GMA-7) 16.8%;On the Wings of Love (ABS-CBN) 16.9%; Wattpad Presents (TV5) 2.2%
�
Legendary Women (GMA-7) 12.8%;Pinoy Big Brother 737 (ABS-CBN) 14%; Tonight with Boy Abunda (ABS-CBN) 8.2%; My Fair Lady (TV5) 1.5%; Amachan (TV5) 1.2%; Hallo2 Cafe (TV5) .9%; Aksyon Tonite (TV5) .9%
�
Saksi (GMA-7) 8.3%; Serial Killer Earth (GMA-7) 5.3%; Bandila (ABS-CBN) 4.4%; Reaksyon (TV5) .4%; The Medyo Late Night Show (TV5) .4%
�
The Tim Yap Show (GMA-7) 2.8%; O Shopping (ABS-CBN) 1.1%; Shop Japan (TV5) .2%
November 5, 2015 (Thursday)
�
Morning:
�
Born to be Wild Replay (GMA-7) 1.5%; O Shopping (ABS-CBN) .1%; Shop Japan (TV5) 0%
�
Unang Hirit! (GMA-7) 5.4%; Umagang Kay Ganda (ABS-CBN) 2.5%; Aksyon sa Umaga (TV5) .9%; Handy Manny (TV5) 1.8%; Handy Manny (TV5) 2.8%
�
San Miguel Pure Foods Home Foodie (GMA-7) 6.7%; Pokemon XY (GMA-7) 6.8%; Toriko (GMA-7) 7.8%; Dragon Ball Z (GMA-7) 8.4%; Kris TV (ABS-CBN) 3.8%; Jake and the Neverland Pirates (TV5) 3.4%; Randy Cunningham 9th Grade Ninja (TV5) 3.7%; Hi-5 (TV5) 3%
�
Fairytail (GMA-7) 10.2%; Mr. Bean (ABS-CBN) 4.2%; The Looney Tunes Show (TV5) 3%
�
Stairway to Heaven (GMA-7) 9.6%; Someone Like You (GMA-7) 11%; The King's Doctor (GMA-7) 13.3%; Dangwa (GMA-7) 13.7%; Biyaheng Namnam (GMA-7) 14.2%; Kapamilya Blockbusters: Call Center Girl (ABS-CBN) 8.4%; The Tom & Jerry Show (TV5) 4.1%; Scooby-Doo! Mystery Inc. (TV5) 3.8%; Madam Chairman (TV5) 2.4%; Amachan (TV5) 2.6%; Hallo2 Cafe (TV5) 2.2%
�
The Ryzza Mae Show: Princess in the Palace (GMA-7) 6.7%; Ningning (ABS-CBN) 9.7%; Aksyon sa Tanghali (TV5) 2.4%
�
Afternoon:
�
Eat Bulaga!(GMA-7) 29.3%; It's Showtime (ABS-CBN) 9%; Movie Max 5: Jade (TV5) 2.3%; Marvel Hulk and the Agents of Smash (TV5) .8%; X-Men (TV5) 1.6%
�
The Half Sisters (GMA-7) 17.6%; Doble Kara (ABS-CBN) 9.9%; All Of Me (ABS-CBN) 9.4%; Teen Wolf (TV5) 2.2%; Supernatural (TV5) 2.6%
�
Buena Familia (GMA-7) 15.7%; Walang Iwanan (ABS-CBN) 7.8%; PSL Grand Prix 2015: Foton vs Philips Gold (TV5) 1.6%
�
Destiny Rose (GMA-7) 16.5%; Sports U (ABS-CBN) 4.3%
ADVERTISEMENT - CONTINUE READING BELOW
�
Reporter's Notebook (GMA-7) 13.2%; Kapamilya Deal or No Deal (ABS-CBN) 8.5%
�
Evening:
�
Starstruck (GMA-7) 14%; Pasion de Amor (ABS-CBN) 13.2%; Aksyon (TV5) 4.3%
�
24 Oras (GMA-7) 22.6%; TV Patrol (ABS-CBN) 16.3%; Movie Max 5: Unleashed (TV5) 6.2%
�
Marimar (GMA-7) 23.5%; FPJ's Ang Probinsyano (ABS-CBN) 22.1%
�
Beautiful Strangers (GMA-7) 20%; Pangako Sa 'Yo (ABS-CBN) 22%; Wattpad Presents (TV5) 3.3%
�
My Faithful Husband (GMA-7) 17.5%; On the Wings of Love (ABS-CBN) 16.9%; My Fair Lady (TV5) 2.2%
�
Legendary Women (GMA-7) 13.1%; Pinoy Big Brother 737 (ABS-CBN) 13.5%; Amachan (TV5) 1.8%; Hallo2 Cafe (TV5) 1.3%; Aksyon Tonite (TV5) .8%
�
Saksi (GMA-7) 9.3%; Big History (GMA-7) 5.2%; Tonight with Boy Abunda (ABS-CBN) 6.5%; Bandila (ABS-CBN) 3.6%; Reaksyon (TV5) .5%;� The Medyo Late Night Show (TV5) .4%
�
The Tim Yap Show (GMA-7) 2.2%; O Shopping (ABS-CBN) .9%; Shop Japan (TV5) .2%
TOP TEN PROGRAMS:


November 1, 2015 (Sunday)


DAYTIME:


Sunday Pinasaya (GMA-7) - 20%
Del Monte Kitchenomics (GMA-7) - 17.7%
Wowowin (GMA-7) - 15.4%
24 Oras Weekend (GMA-7) - 14.5%
Kapuso Movie Festival (GMA-7) - 14.1%
GMA Blockbusters (GMA-7) - 12.1%
Juan Tamad (GMA-7) - 10.2%
Kapamilya Mega Blockbusters (ABS-CBN) - 9.9%
Doraemon Nobita's Great Battle (GMA-7) - 9.8%
Aha! (GMA-7) - 9.5%


PRIMETIME:


Kapuso Mo, Jessica Soho (GMA-7) - 24.9%
Ismol Family (GMA-7) - 24.1%
Vampire Ang Daddy Ko (GMA-7) - 19.5%
Your Face Sounds Familiar (ABS-CBN) – 16%
Pinoy Big Brother 737 (ABS-CBN) - 13.3%
Gandang Gabi Vice (ABS-CBN) - 12.7%
Rated K(ABS-CBN) – 12%
Wansapanataym(ABS-CBN) – 1.9%
SNBO(ABS-CBN) – 11.6%
Goin' Bulilit(ABS-CBN) – 10.2%


November 2, 2015 (Monday)


DAYTIME:


Eat Bulaga! (GMA-7) – 32.9%
The Ryzza Mae Show: Princess in the Palace(GMA-7) - 19.5%
The Half Sisters (GMA-7) – 18.1%
Destiny Rose(GMA-7) - 16.9%
Buena Familia(GMA-7) - 15.4%
Dangwa(GMA-7) - 13.2%
Alisto!(GMA-7) - 12.3%
The King's Doctor(GMA-7) - 11.9%
Fairy Tail(GMA-7) - 10.7%
Someone Like You(GMA-7) - 10.2%


PRIMETIME:


24 Oras(GMA-7) - 24.2%
Marimar (GMA-7) / FPJ's Ang Probinsyano (ABS-CBN) / Pangako Sa 'Yo (ABS-CBN) - 23.7%
Beautiful Strangers (GMA-7) - 20%
On the Wings of Love (ABS-CBN) - 18.7%
My Faithful Husband (GMA-7) - 16.4%
TV Patrol (ABS-CBN) – 16%
Pinoy Big Brother 737 (ABS-CBN) - 14.9%
StarStruck (GMA-7) - 13.1%
Pasion de Amor (ABS-CBN) - 13%
Legendary Women (GMA-7) - 11.4%


November 3, 2015 (Tuesday)


DAYTIME:


Eat Bulaga! (GMA-7) – 31.3%
The Half Sisters (GMA-7) - 18.7%
Destiny Rose(GMA-7) - 16.8%
The Ryzza Mae Show: Princess in the Palace(GMA-7) - 16.4%
Buena Familia(GMA-7) – 15.7%
Biyaheng Namnam(GMA-7) - 14.3%
Tunay na Buhay(GMA-7) - 13.5%
Dangwa(GMA-7) - 12.6%
The King's Doctor(GMA-7) - 12.4%
Someone Like You(GMA-7) - 11.2%


PRIMETIME:


24 Oras(GMA-7) – 23.8%
Marimar(GMA-7) – 23.6%
FPJ's Ang Probinsyano (ABS-CBN) - 23.3%
Pangako Sa 'Yo (ABS-CBN) – 22%
Beautiful Strangers (GMA-7) - 21.5%
On the Wings of Love (ABS-CBN) - 18%
My Faithful Husband (GMA-7) - 17.5%
TV Patrol (ABS-CBN) – 15%
Pinoy Big Brother 737 (ABS-CBN) - 14.2%
StarStruck (GMA-7) - 13.6%



November 4, 2015 (Wednesday)

DAYTIME:


Eat Bulaga! (GMA-7) – 30.1%
The Half Sisters (GMA-7) - 18.8%
The Ryzza Mae Show: Princess in the Palace(GMA-7) - 17.7%
Destiny Rose(GMA-7) - 16.7%
Buena Familia(GMA-7) - 16.5%
Dangwa(GMA-7) - 14.3%
The King's Doctor(GMA-7) - 12.8%
Someone Like You(GMA-7) - 10.7%
Power House(GMA-7) / Ningning (ABS-CBN) / Doble Kara(ABS-CBN) - 9.9%
Kapamilya Blockbusters (ABS-CBN) - 9.5%


PRIMETIME:


24 Oras(GMA-7) - 23.9%
FPJ's Ang Probinsyano (ABS-CBN) - 23.2%
Marimar(GMA-7) - 22.6%
Pangako Sa 'Yo (ABS-CBN) – 21.2%
Beautiful Strangers (GMA-7) - 18.9%
On the Wings of Love (ABS-CBN) - 16.9%
My Faithful Husband (GMA-7) - 16.8%
TV Patrol (ABS-CBN) – 16.7%
Pinoy Big Brother 737 (ABS-CBN) - 14%
Pasion de Amor (ABS-CBN) - 13.2%


November 5, 2015 (Thursday)


DAYTIME:


Eat Bulaga! (GMA-7) – 29.3%
The Half Sisters (GMA-7) – 17.6%
The Ryzza Mae Show: Princess in the Palace(GMA-7) - 16.7%
Destiny Rose(GMA-7) - 16.5%
Buena Familia(GMA-7) – 15.7%
Biyaheng Namnam(GMA-7) - 14.2%
Dangwa(GMA-7) - 13.7%
The King's Doctor(GMA-7) - 13.3%
Reporter's Notebook(GMA-7) - 13.2%
Someone Like You(GMA-7) - 11%


PRIMETIME:


Marimar(GMA-7) – 23.5%
24 Oras(GMA-7) - 22.6%
FPJ's Ang Probinsyano (ABS-CBN) - 22.1%
Pangako Sa 'Yo(ABS-CBN) – 22%
Beautiful Strangers(GMA-7) - 20%
My Faithful Husband(GMA-7) - 17.5%
On the Wings of Love (ABS-CBN) – 16.9%
TV Patrol (ABS-CBN) – 16.3%
Starstruck (GMA-7) - 14%
Pinoy Big Brother 737 (ABS-CBN) - 13.5%


Source: AGB Nielsen Philippines