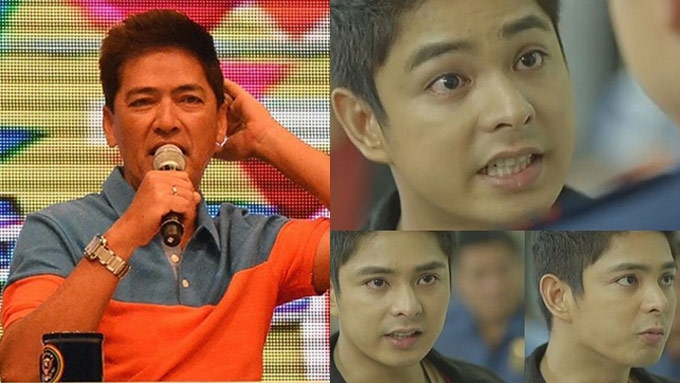 IMAGE @eatbulaga1979 and @fpjangprobinsiyano on Instagram
---
From July 9 to 15, there had been several developments on the TV landscape that kept the viewers busy.
ABS-CBN debuted a new show and aired a finale.
The new show was Pinoy Big Brother Vietnam, also known as PBB Lucky 7. It started with nine celebrity housemates who were taken to the Big Brother house in Vietnam.
PBB's pilot episode on July 11 scored 10.5%, defeating Love Me Heal Me's 8.5%.
The show that aired its finale was We Will Survive, a comedy drama that starred Pokwang and Melai Cantiveros.
Its final episode on July 15 had a 10.4% rating as opposed to the 15.8% of Wowowin, which has been beating the series since it premiered on February 29, 2016.
GMA-7 aired two finales: Hanggang Makita Kang Muli and Poor Senorita.
The first show was an afternoon drama series that starred Bea Binene and Derrick Monasterio. It premiered on March 7, 2016, getting a total of 93 episodes.
The July 15 finale got 18.9%, which is much higher than the 13.1% rating of the Kapamilya heavy drama Doble Kara.
The second was a romantic comedy series on primetime that featured Regine Velasquez. It first aired on March 28, 2016, getting a total of 82 episodes.
Poor Senorita's last episode had a 22% rating (same as Dolce Amore's), losing to the 26.5% rating of FPJ's Ang Probinsyano.
DAYTIME AND PRIMETIME. Based on the data, GMA dominated daytime, consistently securing the top three spots except last July 9, when ABS-CBN's Family Feud overtook GMA's Karelasyon.
Kapuso Network's top performers for that week were Eat Bulaga!, Wowowin, and Hanggang Makita Kang Muli.
Last June 10, GMA's Sunday Pinasaya took the lead in the afternoon.
Meanwhile, FPJ: Ang Probinsiyano had been consistently number one on primetime during weekdays.
But last July 9, primetime belonged to GMA with 24 Oras Weekend, Pepito Manaloto: Ang Tunay na Kuwento, and Magpakailanman owning top three spots.
On July 10, The Voice Kids landed the top spot in the evening.
ADVERTISEMENT - CONTINUE READING BELOW
Here are top ten daytime and primetime shows in Urban Luzon, from July 9 to 15, 2016, according to AGB Nielsen Philippines.
July 9, 2016 (Saturday)
DAYTIME:
Eat Bulaga! (GMA-7) - 24.4%
Imbestigador (GMA-7) - 19%
Family Feud (ABS-CBN) - 16.8%
Karelasyon (GMA-7) - 16%
SOCO (ABS-CBN) / Mga Kwento ni Marc Logan (ABS-CBN) - 15.8%
Imagine You & Me The Journey (GMA-7) - 15.4%
Wish Ko Lang! (GMA-7) - 14.7%
Ipaglaban Mo (ABS-CBN) - 14.4%
Tom and Jerry (GMA-7) - 14%
Pokemon Black & White (GMA-7) - 13.7%
PRIMETIME:
24 Oras Weekend (GMA-7) - 27.2%
Pepito Manaloto: Ang Tunay na Kuwento (GMA-7) - 26%
Magpakailanman (GMA-7) - 24.3%
The Voice Kids (ABS-CBN) - 23.9%
MMK: Ang Tahanan Mo (ABS-CBN) - 19.7%
Home Sweetie Home (ABS-CBN) - 17.1%
TV Patrol Weekend (ABS-CBN) - 16.7%
Lip Sync Battle Philippines (GMA-7) - 15.8%
We Love OPM: The Celebrity Sing-Offs (ABS-CBN) - 10.5%
iWitness (GMA-7) - 10%
July 10, 2016 (Sunday)
DAYTIME:

Sunday Pinasaya (GMA-7) - 19%
Dear Uge (GMA-7) - 15%
Kapuso Movie Festival (GMA-7) - 14.9%
Conan the Beautician (GMA-7) / Pinoy Pride 37 (ABS-CBN) - 14.6%
GMA Blockbusters (GMA-7) - 14.4%
TV Patrol Weekend (ABS-CBN) - 14%
Banana Sundae (ABS-CBN) - 11.2%
Family Feud (ABS-CBN) - 11%
Tobot (GMA-7) - 7%
iBilib (GMA-7) - 5%
PRIMETIME:
The Voice Kids (ABS-CBN) -6%
Wansapanataym (ABS-CBN) - 5%
Ismol Family (GMA-7) / Kapuso Mo, Jessica Soho (GMA-7) - 3%
Hay Bahay (GMA-7) - 20.7%
24 Oras Weekend (GMA-7) - 4%
Rated K (ABS-CBN) - 19%
Goin' Buliit (ABS-CBN) - 9%
We Love OPM: The Celebrity Sing-Offs (ABS-CBN) -6%
SNBO (GMA-7) - 10.1%
Gandang Gabi Vice (ABS-CBN) -8%
July 11, 2016 (Monday)
DAYTIME:
Wowowin (GMA-7) - 18.9%
Eat Bulaga! (GMA-7) - 7%
Hanggang Makita Kang Muli (GMA-7) - 18%
Magkaibang Mundo (GMA-7) - 14.7%
Sa Piling ni Nanay (GMA-7) - 14.4%
Tubig at Langis (ABS-CBN) - 13.3%
Doble Kara (ABS-CBN) - 13%
It's Showtime (ABS-CBN) - 12.7%
Be My Lady (ABS-CBN) - 11.7%
Dragon Ball Z (GMA-7) - 11.2%
PRIMETIME:
FPJ's Ang Probinsyano (ABS-CBN) - 26%
24 Oras (GMA-7) - 24.8%
Poor Senorita (GMA-7) - 20.7%
Dolce Amore (ABS-CBN) - 20%
TV Patrol (ABS-CBN) - 7%
Once Again (GMA-7) - 17.2%
Born for You (ABS-CBN) - 13.7%
Juan Happy Love Story (GMA-7) - 13.5%
Pinoy Big Brother Vietnam (ABS-CBN) - 10.5%
My Super D (ABS-CBN) - 10.2%
July 12, 2016 (Tuesday)
DAYTIME:
Hanggang Makita Kang Muli (GMA-7) - 15%
Eat Bulaga! (GMA-7) - 6%
Wowowin (GMA-7) - 17.8%
Magkaibang Mundo (GMA-7) - 16.9%
Sa Piling ni Nanay (GMA-7) - 14.1%
It's Showtime (ABS-CBN) - 13.2%
Doble Kara (ABS-CBN) / Tubig at Langis (ABS-CBN) - 12.6%
Be My Lady (ABS-CBN) - 12.2%
Dragon Ball Z (GMA-7) - 10.3%
We Will Survive (ABS-CBN) - 10.2%
PRIMETIME:
FPJ's Ang Probinsyano (ABS-CBN) - 26%
24 Oras (GMA-7) - 23.1%
Poor Senorita (GMA-7) - 20.5%
TV Patrol (ABS-CBN) - 20%
Dolce Amore (ABS-CBN) - 8%
Once Again (GMA-7) - 17.4%
Juan Happy Love Story (GMA-7) - 13.8%
Born for You (ABS-CBN) - 13.5%
Pinoy Big Brother Vietnam (ABS-CBN) - 10.5%
My Super D (ABS-CBN) - 10.2%
July 13, 2016 (Wednesday)
DAYTIME:
Eat Bulaga! (GMA-7) - 6%
Hanggang Makita Kang Muli (GMA-7) - 17.8%
Wowowin (GMA-7) - 16.6%
Magkaibang Mundo (GMA-7) - 15.2%
It's Showtime (ABS-CBN) - 18%
Sa Piling ni Nanay (GMA-7) - 13.4%
Be My Lady (ABS-CBN) - 12.2%
Doble Kara (ABS-CBN) - 11.6%
Tubig at Langis (ABS-CBN) - 10.9%
Calle Siete (GMA-7) - 10.6%
PRIMETIME:
FPJ's Ang Probinsyano (ABS-CBN) - 9%
24 Oras (GMA-7) - 22%
Dolce Amore (ABS-CBN) - 21%
Poor Senorita (GMA-7) - 19.8%
TV Patrol (ABS-CBN) - 8%
Once Again (GMA-7) - 17.9%
Born for You (ABS-CBN) - 14.4%
Juan Happy Love Story (GMA-7) - 13.7%
Pinoy Big Brother Vietnam (ABS-CBN) - 9.6%
Love Me Heal Me (GMA-7) - 8.8%
July 14, 2016 (Thursday)
DAYTIME:
Eat Bulaga! (GMA-7) - 19.5%
Hanggang Makita Kang Muli (GMA-7) - 18.8%
Wowowin (GMA-7) - 17.2%
Magkaibang Mundo (GMA-7) - 15.8%
Sa Piling ni Nanay (GMA-7) - 15%
It's Showtime (ABS-CBN) - 13.5%
Be My Lady (ABS-CBN) - 13.2%
Tubig at Langis (ABS-CBN) - 11.7%
Doble Kara (ABS-CBN) - 11.4%
Kapamilya Blockbusters (ABS-CBN) - 11.3%
PRIMETIME:
FPJ's Ang Probinsyano (ABS-CBN) - 25.7%
24 Oras (GMA-7) - 23.1%
Dolce Amore (ABS-CBN) - 21.8%
Poor Senorita (GMA-7) - 20.3%
TV Patrol (ABS-CBN) - 19.8%
Once Again (GMA-7) - 18.4%
Juan Happy Love Story (GMA-7) - 14.9%
Born for You (ABS-CBN) - 13.8%
A1 Ko Sa 'Yo (GMA-7) / Pinoy Big Brother Vietnam (ABS-CBN) - 10.4%
My Super D (ABS-CBN) - 9%
July 15, 2016 (Friday)
DAYTIME:
Eat Bulaga! (GMA-7) - 20.8%
Hanggang Makita Kang Muli (GMA-7) - 18.9%
Magkaibang Mundo (GMA-7) - 16.2%
Wowowin (GMA-7) - 15.8%
It's Showtime (ABS-CBN) - 14.1%
Sa Piling ni Nanay (GMA-7) - 13.2%
Doble Kara (ABS-CBN) - 13.1%
Tubig at Langis (ABS-CBN) - 12.9%
Be My Lady (ABS-CBN) - 12%
Calle Siete (GMA-7) - 11.7%
PRIMETIME:
FPJ's Ang Probinsyano (ABS-CBN) - 26.5%
Poor Senorita (GMA-7) / Dolce Amore (ABS-CBN) - 22%
24 Oras (GMA-7) - 21.4%
Once Again (GMA-7) - 19.9%
TV Patrol (ABS-CBN) - 18.8%
Juan Happy Love Story (GMA-7) - 18%
Born for You (ABS-CBN) - 13.9%
Bubble Gang (GMA-7) - 13.1%
My Super D (ABS-CBN) - 10.7%
Pinoy Big Brother Vietnam (ABS-CBN) - 9.9%
Source: AGB Nielsen Philippines