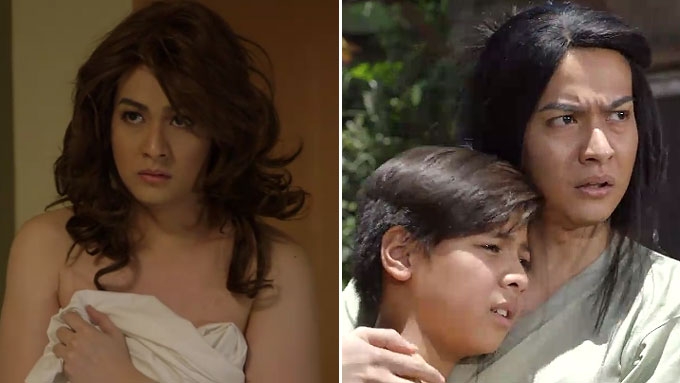 IMAGE Screengrab from MMK
---
Star Circle Quest season one Grand Questor Hero Angeles made a television comeback in Maalaala Mo Kaya's (MMK) episode last Saturday, May 13.
The episode also served as the drama anthology's Mother's Day special.
In MMK, Hero played a transwoman named Pia, who suddenly found herself becoming a mother to a child named Lester.
When Pia was younger, she was known as a boy named Romeo. He was branded by his parents (Cherry Pie Picache and Emilio Garcia) as "malas" because he is gay.
Because of his parents's disapproval towards his sexual preference, Romeo ran away from home and changed his name to Pia and dressed up as a woman.
Now a transwoman, Pia was able to have her own salon and earn money.
Unfortunately, Pia's salon was destroyed by the eruption of Mt. Pinatubo.
To make matters worse, Pia ran out of savings. But she later on found a job by doing laundry.
Pia had no choice but to resort to providing escort service to Americans.
Pia was surprised to see her sister and mother taking care of another baby.
At first, she was not in favor of taking care of the baby while her parents became fond of the baby named Lester.
One night, Pia saw the baby alone and took care of him. She then recalled the times when her parents would not pay attention to her and made her feel unloved.
Eventually, Pia learned to love the baby and treated him like her own. The baby also became an instrument for Pia and her parents to fix their relationship.
Lester (Louise Abuel) grew up calling Pia as "Inay" and Pia financed his school expenses.
However, Pia and Lester's relationship became strained when the latter's classmates started teasing as having a transwoman parent.
Their relationship was also affected when Lester met his grandmother and uncle and started spending time with them more than Pia.
ADVERTISEMENT - CONTINUE READING BELOW
Later on, Lester's biological mother Abby (Miho Nishida) returned to see him.
Pia thought Lester would go with his biological mom. However, Pia was shocked to see Lester preparing breakfast for the both of them. It was his way of showing d his appreciation for his surrogate mother for loving him like her own child.
AGB RATINGS. How did ABS-CBN's Maalaala Mo Kaya episode fare in the ratings game, according to AGB Nielsen?
According to AGB NUTAM (Nationwide Urban TV Audience Measurement) data, the May 13 episode of MMK was able get a rating of 10.4%.
Its rival program on GMA-7, Magpakailanman, was able to get an AGB rating of 8.4%.
Magpakailanman featured actress Lotlot de Leon as an abortionist.
This means that the Kapamilya anthology program rated 2 points higher than its counterpart program.