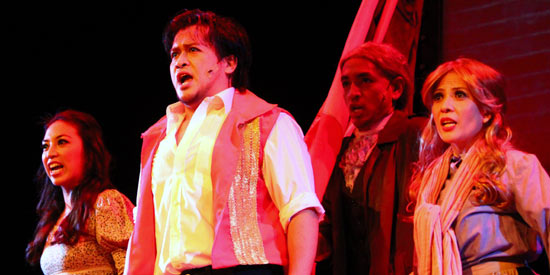 ---
Upstart Productions's Forbidden Broadway will get an extended run this August 2012.


Guest performers will include Michael de Mesa and Nikki Gil.

Co-founded by Filipino stage actor Joel Trinidad, Upstart Productions once again presents this musical revue that features beloved songs from popular Broadway musicals such as Les Miserables, The Phantom of the Opera, Rent, Mamma Mia!, Wicked, and Cats.
Forbidden Broadway was first staged in the Philippines just last May. This hilariouis musical revue is a hit in the United States because it pokes fun at the most popular musicals in history.
When PEP.ph interviewed Joel last April, he believed a local production of Forbidden Broadway will be a hit. He was also surprised it has not been done before, since he's a big fan of this musical revue.
"I'm very surprised that no one had thought to bring it before I did. Because it was already shown in Hong Kong and Singapore. It was so close but nobody thought of it. So lucky me, right?" he told PEP.ph back then.
Now with a restaging, it seems like Joel's prediction was right.
PEP.ph was present in the presscon for Forbidden Broadway's extension last Monday, July 16, at a restaurant in Makati City. Joel was not there, but his business partner Onyl Torres was present to thank the media for their support.
Of the extension, Onyl explained, "Kasi a lot of those who did not make it requested for one… And a lot of schools also who didn't make it last time really want to watch it because they heard about it."
He was also happy that their bare-bones production was a hit, since they cut a lot of corners just to put it up.
"We literally had to borrow so many props just to put up the show!" he exclaimed.
ADVERTISEMENT - CONTINUE READING BELOW
The cast of Forbidden Broadway was also preset to perform a song. They also talked about comedy great Dolphy, who they all admire.
"His style of humor is the same as what we do in Forbidden Broadway," said OJ Mariano on behalf of his fellow cast members Liesl Batucan, Caisa Borromeo, and Lorenz Martinez.
Forbidden Broadway's rerun will be held on August 24 (8 p.m.) and August 25, 2012 (3 p.m. and 8 p.m.) at the Carlos P. Romulo Theater, RCBC Plaza, Sen. Gil Puyat Avenue, Makati City.