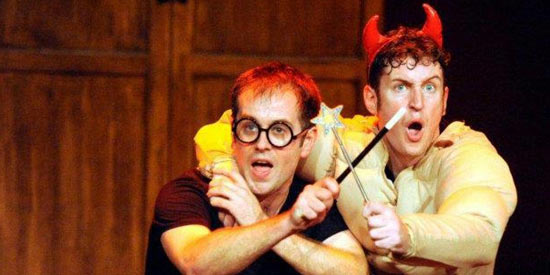 ---
As the magic of Potted Potter continues to cast its spell in New York, the award-winning show will run in Manila from August 28 to September 2, 2012 for a limited season at the Carlos P. Romulo Auditorium, RCBC Plaza, for 10 shows only.


Potted Potter: The Unauthorized Harry Experience takes on the ultimate challenge of condensing all seven Harry Potter books (and a real life game of Quidditch) into 70 hilarious minutes. Playing to sold-out houses all over the world, this show features beloved Harry Potter characters, a special appearance from a fire-breathing dragon, endless costumes, brilliant songs, ridiculous props and a generous helping of Hogwarts magic!


Created by double Olivier Award Best Entertainment nominees Daniel Clarkson and Jefferson Turner, the show is a must-see for Potter addicts and a great introduction to the series for anyone who's ever wondered what all the fuss is about. Even if you don't know the difference between a Horcrux and a Hufflepuff, Potted Potter will make you roar with laughter. This show is perfect for ages six to Dumbledore (who is very old indeed).


This production features two international performers, Jesse Briton and Gary Trainor.


Jesse Briton is an actor, writer, and a director. He has been trained under East 15 Acting School in UK in which he earned a nomination as Best Actor in Spotlight Prize 2012 even just during his training. His experiences in acting include his participation in the stage adaptation of Mr. Benn and the one-man show, Bassonists Against the Cuts. As a writer, he had great success for Bound, a sea-bleached tragedy of maritime decline told with traditional sea shanties, which gathered numerous awards in Edinburgh Fringe and earned him a nomination as the Evening Standard Most Promising Playwright. As a director, he handled Bound and Enduring Song for Bear Trap Theater Company in which he is the company's artistic director.



Joining Jesse is Gary Trainor, an Irish actor whom had trainings at The Italia Conti Academy where he gained a first class BA (Hons) Degree in acting. Part of his acting experience is in the critically acclaimed UK tour of Frankenstein as the lead actor, Shelly. He was also seen in Buddy, The Buddy Holly Story, The Shawshank Redemption, Stones in His Pockets, Into The Woods, and Jago. To top it off, he was recently chosen to take part in The Old Vic New Voices, which is a 24-hour play project.



Recently, The New York Times released a feature of Potted Potter involving the "Hogwarts Alumni" who witnessed the spectacular spoof. These so-called "alumni" are Manhattan middle schoolers who have read all the books and seen the movies for more than their age, absolutely loved the show. One of them pointed out that one doesn't have to know all the books at all to adore this fun show. Apparently, their favourite part was the real life Quidditch game, which is a collaboration of the actors and audience members. In New York, three more weeks of shows were added due to overwhelming demand and almost sold out tickets for its U.S. premiere.


In the Philippines, Potted Potter will be staged at the Carlos P. Romulo Auditorium, RCBC Plaza, Ayala Avenue, Makati City.
ADVERTISEMENT - CONTINUE READING BELOW
TICKETS:

Orchestra PhP 3,068.00
Loge PhP 1,976.00

Balcony PhP 988.00
FAMILY PACKAGES AVAILABLE

(To purchase tickets online, CLICK HERE)