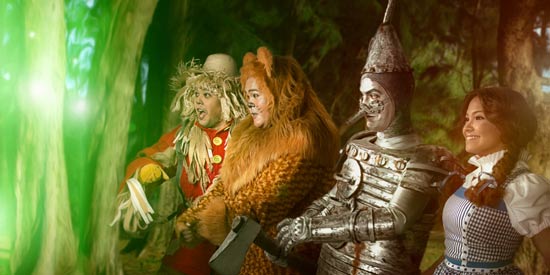 ---
The Wizard of Oz is touching down in Manila as Repertory Philippines brings this classic treasure to Filipino theatergoers.


This play is set to open on August 18, 2012 at Onstage, 2nd floor, Greenbelt 1, Paseo de Roxas cor. Legazpi St., Makati city. The show runs until December 16, 2012.


This adaptation of the all time classic features music by Jeanne Bargy and Jim Eiler and book and lyrics by Jim Eiler. The organizers emphasize that this musical adaptation is NOT based on the MGM film, nor does it include any of the songs from that film.

After a tornado whisks away a young Kansas farm girl Dorothy to the magical land of Oz, she starts her quest to find the mighty Wizard of Oz who has the power to send her back home. Along the way she meets a Scarecrow, a Tin Man and a Cowardly Lion who help her on her journey.


"The Wizard of Oz is a fantasy – it's magical and dreamlike," Joy Virata, artistic director of the Repertory Children's Theater and the director of the production, was quoted as saying in a release. "I wanted to excite that fantasy by using movement that's outside of everyday life. The musical will introduce fresh, yet tasteful, new dance moves into the show. The idea was to keep the music straight, but make the choreography showier, flashier and bigger to the eye. There will be freestyle street dance vibe.


"We've got the Scarecrow doing waving and bugaloo and the Tinman as a popping, breaking and locking robot in some of the dance scenes."


Director Virata is excited about how the musical is evolving in order to bring new energy and ideas to The Wizard of Oz. Virata points out, "What has really lit up the show is the experience of music and dance that highlights the talent in the young cast. That is a perfect match for our Repertory Children's Theater. People will recognize the show and characters they've always loved, but they will feel the energy from a new generation of performers who love Dorothy as much as their grandparents do."


The cast is composed of the following: Cara Barredo and Giannina Ocampo as Dorothy; Liesl Batucan and Kyla Rivera as Glinda the Good Witch; Pinky Marquez and Rem Zamora as the Wicked Witch of the West; James Stacey and Arnel Carrion as the Scarecrow; Hans Eckstein and Nic Campos as the Tin Man; Oliver Usison and Mano Domingo as the Lion; Nathalie Everett and Ayam Barredo Eckstein as Aunt Em; Rem Zamora and Chino Veguillas as Uncle Henry; Bobby Superales, Jim Ferrer, Deo dela Cruz and Clark dela Riva as the acrobats and Monkeys.


The ensemble is composed of Janine Tolentino, Shalee Vicencio, Nicky Trivino, Ina Salonga, Daniella Gana, Gold Soon, Marie Delgado, Karyl Factora, Dingdong Rosales, Josh Ramirez, Jon Mamaid, Fran Jose, Edu Briones, Luis Nieto, Eric Mercado, and Onyl Torres.


So, are you ready to click your heels together and join the Scarecrow, the Tin Man, the Lion, Dorothy and her little dog Toto, as they journey through the magical land, helped and hindered by the Witches of Oz, to meet the Wizard and obtain their heart's desires?


Co-presented by Velvet Channel and the City of Makati, The Wizard of Oz is a perfect treat for the whole family.


The Wizard of Oz shall run from August 18 – December 16, 2012. All performances are at Onstage, 2/F, Greenbelt 1, Paseo de Roxas cor. Legazpi St., Makati City.


The artistic and creative team of The Wizard of Oz is led by Baby Barredo (Rep Artistic Director), Menchu Lauchengco-Yulo (Associate Artistic Director), Joy Virata (Artistic Director – Rep Children's Theater), Nathalie Everett (Choreographer), John Batalla (Lighting Designer), Lex Marcos (Set Designer), and Raven Ong (Costume Designer).


The production staff is composed of Juno Henares (Executive Producer), Gidget Tolentino (Production Manager), Ayam Barredo (Company Manager), Jojo Amboy (Stage Manager), Pol Roxas (Sound Technician), Pablito Salvador (Lighting Technician) and Adul Lasin (Set Execution and Scenic Artist).


The marketing, sales and publicity of the play is led by Toots Tolentino (PR & Publicity) with Rem Zamora and Oliver Usison (PR & Publicity, Marketing), Letty Barredo, Marie Talay and Rose Silva (Marketing & Sales) and Jojit Lorenzo (Photography).


To accommodate all inquiries, Repertory Philippines is now accepting reservations for schools, civic groups and corporate sponsorships.


For details of show, please call Tel. No. 571-6926 or 571-4941 or email info@repertory.ph or log on to www.repertory.ph.


Tickets are also available through Ticketworld at Tel. No. 891-9999. To purchase tickets online, CLICK HERE.



ADVERTISEMENT - CONTINUE READING BELOW