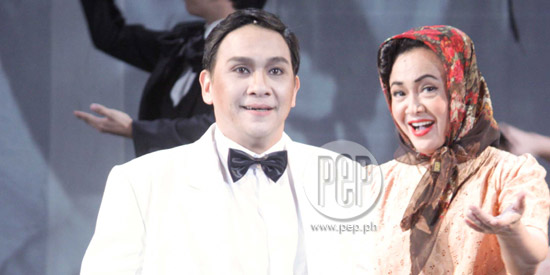 ---
The 4th National Theater Festival is a coming together of all theater production companies from around the country. Their productions will be staged at the Cultural Center of the Philippines from November 7 to 18, 2012. Along with shows, the 4th NTF Conference will be held at the Silangan Hall. Practicing theater artists and academicians will collaborate to create a strategy to improve Philippine theater. The Artists Welfare Project Inc. will help organize the conference.
Participating theater companies include: Mindanao State University Kabpapagariya Ensemble, Barasoain Kalinangan Foundation Inc., Bohol Antequera and Maribojoc Cultural Collectives, Teatro Bol-Anon , Carlos Celdran, Dulaang U.P., Gantimpala Theater Foundation, Integrated Performing Arts Guild, PETA, Sipat Lawin Ensemble, Tanghalang Ateneo, The Xavier Stage of Cagayan de Oro and Trumpets Inc. There will also be special performances by Kanlaon Theater Guild of Colegio San Agustin-Bacolod, SPIT (Silly People's Improv Theater) and ventriloquists Ony Carcamo and Wanlu.
Although there are still difficulties in terms of financing or creating a wider audience, today there's more unity and cooperation among theater productions. Tanghalang Pilipino Artistic Director Nanding Josef pointed out, "Dati di mo kami mapagsama sama. Ang representatives ng Repertory Phil at English companies who are doing these plays. Pero nandito si Audie [Gemora]. We have formed Phil Stage by the way. Sa Metro Manila performing arts groups association. Magkakasama ang Gantimpala, Tanghalang Pilipino, PETA, Trumpets, Repertory Philippines, Actors' Actors ni Bart [Guingona], Ballet Philippines at Ballet Manila. 'Yan ang Phil Stage."
The National Theater Festival has a very prestigious history since Nora Aunor opened the very first fest back in 1992. "May rituals na ginawa para sa tubig, para sa hangin. Pagkatapos sa apoy. Meron kaming nakuhang chanter na imbitahan namin. 94 years old yata si Lola Elena na galing sa Panay mountains nagcha-chant ng Hinilawod [epic from Panay]. Nagchant siya dito kumanta si Ate Guy 'Pagibig sa Tinubuang Lupa.'"
ADVERTISEMENT - CONTINUE READING BELOW
The ceremony was historic also because of an unintended accident. Nanding recalled: "Tumaas ang fountains, tumaas ang kwitis at nasunog ang ibabaw ng CCP dahil sa kwitis na bumagsak sa bubong ng CCP. That was how the opening ceremonies ended literally on fire!"
Repertory Philippines Artistic Director Audie Gemora is involved with the 4th National Theater Fest as a representative of Trumpets. He will be directing Joy Virata for the play Mind's Eye. He is also currently directing Camp Rock for Repertory.
According to Gemora, while foreign productions do help promote theater there's a lot more work that needs to be done, "I just wish more audiences would come and see Filipino productions rather than just foreign. I mean go see that but please go see STAGESHOW, it is a great performance. It was just so sad kokonti lang audience while puno yung main theater [during Phantom of the Opera]."
STAGESHOW, written by the late Mario O'Hara, will be the opening production of the 4th National Theater Fest starring real life couple Nonie and Shamaine Buencamino.
Gemora is encouraged by the growth of Philippine theater especially with the increased success of the VIRGIN LAB fest where they produce one act plays. This according to him is one of the many indications of people's interest. There are also concrete examples of big companies investing literally in theater, "I think Resorts World is thinking of constructing a 3,000-seater so they can bring down the ticket prices."
Bringing ticket prices down will help attract a bigger audience. "If we can bring ticket prices to that level and something like a network could show it to the masa. They will acquire a taste for it. There's nothing like live. Once they acquire that mabubuhay talaga ang theater natin dito. I dream for that. I think the day is very, very near," said Nanding with optimism in his voice.


Here is the schedule of plays that will be part of the 4th National Theater Festival:

PLAYS AT THE TANGHALANG AURELIO TOLENTINO


STAGESHOW
Tanghalang Pilipino
November 8, 2012 at 3:00 and 8:00 PM (Invitational)
Mario O'Hara's raunchy homage to the twilight years of an almost forgotten entertainment form starring real life thespian couple Shamaine Centenera and Nonie Buencamino and a host of celebrities in special cameo appearances. Choreographed by Denisa Reyes and directed by Chris Millado.


DUHA KA ALIMPO SA HABAGAT...BOHOL 1700 (TWO EYES OF THE MONSOON STORM)
Bohol Antequera and Maribojoc Cultural Collectives in cooperation with Teatro Bol-anon
November 9, 2012 at 8:00 PM
November 10, 2012 at 3:00 PM
A musical take on the early history of Bohol with original music by multi-awarded director and composer Lutgardo Labad.


SINTANG DALISAY
Tanghalang Ateneo
November 11, 2012 at 3:00 and 8:00 PM
William Shakespeare's Romeo and Juliet transposed to an imaginary Muslim village pulsates anew with the rhythms of traditional dance, martial arts and the kulintang brass gong. Directed by Ricardo Abad.


KAKARONG (MUSICAL)
Barasoain Kalinangan Ensemble Inc.
November 13, 2012 at 8:00 PM
November 14, 2012 at 3:00 PM
A new sarswela musical depicting the courage of Filipinos during one of the bloodiest episodes of the Revolution.


WILLIAM
Philippine Educational Theater Association (PETA)
November 15, 2012 at 3:00 and 8:00 PM
The bard's famous monologues energetically reincarnated through hiphop, crumping, breakdancing and rap. The award winning production written by Ron Capinding and directed by Maribel Legarda.


MIND'S EYE
Trumpets
November 16, 2012 at 3:00 and 8:00 PM
An eighty-eight year-old drama teacher and an angry sixteen-year-old paralytic embark on an imaginary trip to Italy where they explore new truths and face the pain of their realities.


OROSMAN AT ZAFIRA
Dulaang UP
November 17, 2012 at 8:00 PM
November 18, 2012 at 3:00 PM
The critically acclaimed contemporary reimagining of Francisco Balagtas' classic work directed and choreographed by Dexter M. Santos and with original music by Carol Bello.


PLAYS AT THE TANGHALANG HUSENG BATUTE


DULA TA
Sining Kabpapagariya
November 9, 2012 at 2:00 and 7:00 PM
The Mindanao conflict told from the point of view of the innocents.


UWAHIG
Integrated Performing Arts Guild
November 10, 2012 at 2:00 and 7:00 PM
The Mindanawon Indarapatra epic and the Bukidnon water legend transports the degradation brought about by war and the abuse of environment into mythic realms.


THE RETURN OF THE COMEBACK OF THE NEW AND IMPROVED NEWLY SCENTED HARING +UBU-L
Sipat Lawin Ensemble
November 11,2012 at 7:00 PM
Devised from Alfred Jarry's avant-garde play Ubu Roi (Ubu the King) this interactive, fun and filthy power play is set inside a toilet bowl, Designed by Leeroy New and directed by JK Anicoche.


WALANG KUKURAP
Tanghalang Pilipino
November 13, 2012 at 2:00 and 7:00 PM
The murderous tale of small town politics is based on testimonies from whistle-blowers and anonymous syndicate insiders. Playwright Layeta Bucoy collaborates with the Actor's Company in crafting this political house of horrors. Directed by Tuxqs Rutaquio.


ISA PANG KAWING
The Xavier Stage
November 15, 2012 at 2:00 and 7:00 PM
A play on betrayal of trust and confidence motivated and conditioned by tradition, politics, gender and abuse of power. Written by Steven Patrick Fernandez and directed by Hobart Savior.


SAYAW NG MGA SENYORITA
Gantimpala Theater FoundatioN
November 16, 2012 at 3:00 and 8:00 PM
Adapted from the groundbreaking play "Boys in the Band" by Matt Crowley, this revival once again strikes a tragicomic resonance in the gay scene and patois of current day Manila.


BATA BATUTE
Ony Carcamo and Wanlu
November 17, 2012 at 3:00 and 7:30 PM



at the SILANGAN HALL


NTF CONFERENCE
November 8-10, 2012 from 9:00 AM to 4:00 PM


LIVIN LA VIDA IMELDA
Carlos Celdran
The irrepressible and irreverent Carlos Celdran takes on the life and times of you-know-who. Designed by and conceived by Carlos Celdran.
November 11, 13 and 15, 2012 at 7:00 PM


FREE ADMISSION: HINDI KAMI POBRE, KSP LANG.
(AN IMPROVISED SHOW ON THE STRUGGLES OF MAKING A LIVING THROUGH ART IN CONTEMPORARY PHILIPPINES.)
Silly People's Improv Theater (SPIT)
November 16, 2012 at 7:00 PM


at the MAIN RAMP


BATTALIA ROYALE
Sipat Lawin Ensemble
November 14,2012 at 7:00 PM
Loosely adapted from Koushun Takami's Battle Royale, this interactive, site-specific production is a collaborative effort between international playwrights David Finnigan, Jordan Prosser, Sam Burns-Warr, and Georgie McAulye and the Sipat Lawin Ensmble.


CIRCULO
Kanlaon Theater Guild
November 9,2012 at 7:00 PM


TICKETS:
Performances at the TANGHALANG AURELIO TOLENTINO & SILANGAN HALL
Regular: P800

Performances at the TANGHALANG HUSENG BATUTE
Regular: P500

*Tickets are with 50% discount for Students and 20% discount for Senior Citizens, PWDs, Government Employees & Military Personnels
*Performances at the CCP Main Ramp are FREE


ADVERTISEMENT - CONTINUE READING BELOW