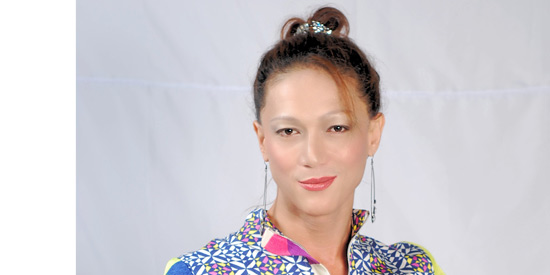 ---


PRESS STATEMENT FROM GANTIMPALA THEATER:


"Love – be it romantic, platonic or erotic – is beautifully defined in Gantimpala Theater's Sayaw ng mga SENIORita, a dramatic – comedy play written by Jose Javier Reyes, under the direction of Jun Pablo. This play will initially be shown during the National Theater Festival, presented by the Cultural Center of the Philippines and the National Commission for Culture and the Arts.


"In this play, Soxie Topacio is cast as Rading de Guzman, antique collector and dealer and birthday celebrant; Joel Lamangan plays Terry Mangubat, the affluent yet penny-pinching businessman; Arnell Ignacio portrays Romeo Cajanding, bikini-open producer and talent manager of male starlets; Manny Castañeda is cast as Dr. Gerry Almario, aesthetic and cosmetic surgeon of the stars and Bb. Gandanghari plays Raquel Villasor, homecoming queen and socialite.


"Sayaw ng SENIORita will take theategoers to 60th surprise birthday party of Rading. As the shindig progresses, it becomes an opportune occasion for the "sisterhood" to examine, to be incensed, loquacious, melancholic, melodramatic of their present situations and optimistic of what lies ahead.


"Defining "love" as their respective characters, Soxie Topacio as Rading says, "Love is always a surprise, you would not know when it is coming. But when it comes, do not be afraid, embrace it fully!"


"Joel Lamangan, as Terry states, "Love, just like money makes the world go round. Love is all is nonsense. Men only love gays because of the money we give them."


"For Romeo (played by Arnell Ignacio) he says, "I believe, ladies and gentlemen that love is like a rosary full of mysteries. All that I have experienced so far are the sorrowful, I wonder when will the joyful or glorious come, thank you very much."


"Manny Castañeda, as Dr. Almario explains, "Love is sacrifice. Loving is a choice. But whoever or whatever you choose, choose the one that makes you complete and more beautiful."


"Gandanghari, the homecoming queen Raquel, admits, "Love knows no gender. Love does not survive with lies. Love begets love and in the end, love is all that matters."


"Also starring are Doreen Bernal, yaya of Rading and Bea Alonzo fanatic and China Cojuangco, as Myrna Almario, the ever-loyal and unsuspecting wife of Doc Gerry.


"The reasons for the rainbow colored days and nights of the SENIORitas are Chase Cervera as Ollie Samson, nurse and loving partner of Rading, Johnron Tañada as Ericson, bikini-open runner up, Christian Paul Meteoro as Troy, the aspiring starlet, Royce Chua as Lance, the hip-hop dancer and Dax Alejandro as Kuya Ed, the condominium security guard.


"Helping director Pablo and playwright Reyes achieve the colorful world of the SENIORitas are Monino Duque (lights designer), Dong Calingacion (technical director), Glenda Alday (stage manager) and Alice Borbe (production manager).


"The performances of will be on November 16, Friday, (3pm/8pm), at the Tanghalang Huseng Batute, Cultural Center of the Philippines, Pasay City.


"Succeeding performances are on November 23, Friday, (7pm), November 24, Saturday (3pm/7pm), December 1, Saturday (7pm), December 2, Sunday (3pm/7pm), and December 7 (7pm), December 8, (3pm/7pm), at the AFP Theater, Camp Aguinaldo Quezon City.


"The National Parks Development Committee (NPDC), Café Ysabel and Everbilena fully support Sayaw ng mga SENIORita.


"For the CCP shows, please call the CCP Box-Office at Tel. No. 832-3704 (direct line) and 832-1125 local 1409.


"For the AFP shows, for tickets, block buying and sponsorships, call Tel. No. 998-5622 or 09399087633."


ADVERTISEMENT - CONTINUE READING BELOW