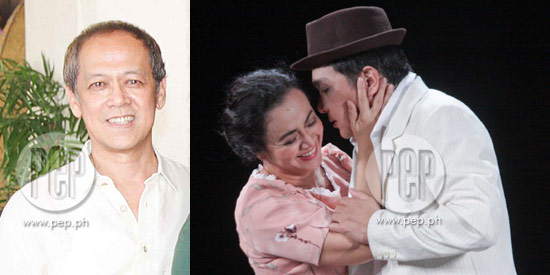 ---
The 4th National Theater Festival opened last Thursday, November 8, at the Cultural Center of the Philippines (CCP) in Manila City.
The ten-day festival aims to bring together the country's regional theater companies to create a strategy to improve Philippine theater. This year, the theme is "Ika-Apat na Tagpo, Ang Bagong Yugto: The New Act."
The public will also be treated to performances from each theatre company, up to the last day, November 18.

(CLICK HERE to read related story)


The festival opened with Tanghalang Pilipino's Stageshow, the last theater production helmed by multi-awarded director Mario O'Hara before he passed away last June 2012.
Before the play started, PEP.ph (Philippine Entertainment Portal) talked to the festival's director, Nanding Josef. The veteran theatre and movie actor enthusiastically talked about the festival and he even explained why it is not an annual event.
He pointed out that it took eight years before the 4th National Theater Festival could happen. The first edition took place in 1992, the second was in 1996, and the third happened in 2004.
"So, between the second and the third, walong taon din. Between the third at saka ngayon, walong taon din," Josef told PEP.ph.
The theater advocate continued, "Bakit kaya ganun? Una, yung sa financial constraints. Pangalawa, something happened, socio-culturally, na hindi nagkaroon ng need o desire para magsama-sama ulit. So, mukhang yun kailangang i-analyze mabuti, dahil mukhang yung leaders na nagsimula ng first and second, yun yata yung either nag-asawa, napagod na, o nag-retire. Yung iba nag-abroad."
ADVERTISEMENT - CONTINUE READING BELOW
This is different from Filipino cinema, which seems to grow year after year, after what seemed to be its death years ago. The indie film festival Cinemalaya, for instance, grows its audience in its every edition.

Why is Filipino theater so different?
"I think it's also because of the times," Josef answered. "Yun kasing video, naging mas accessible, at saka mas matipid yata ang pag-produce compared to putting up theater productions. Hindi pupuwedeng tipirin.
"At kailangan na maraming taong involved, at maraming elements. Malaking gastos tuloy, kaya parang nagkaroon ng labanan o competition, na talong-talo ang theater, kasi sa accessibility niya, ng form ano? E, hindi mo pupuwedeng baguhin yung element ng theater, e. Laging dapat nandun yung collective work. Kailangan merong playwright, may designer, may actor, may musician, at hindi kailangan ng indie films na madali lang, dalawa o tatlo lang artista mo, puwede na yun."
The festival director also admitted that it is easier to get funding to make movies, while it is hard to put up theater productions. Besides, the audience is just not there to support it.
"Institutionally, we're not getting financial support. Maski ang CCP, umunti na ang budget, pati sa outreach," he said.
Josef also decried the large volumes of Filipino spectators who trooped to CCP to watch the foreign stage production The Phantom of the Opera a month ago.
"A huge crowd, Filipino crowd, punong-puno! At nagkakagulo sila para hindi sila ma-late. Kami, there was a time, na naghahanap kami ng audience para sa loob. Nakakalungkot. People are saying, maybe hindi kayo marunong mag-market. We've tried so hard," he said.
ADVERTISEMENT - CONTINUE READING BELOW
NATIONAL FIGURE TO PUSH FOR THE ARTS. The usual criticism targeted at Filipino theater is that it might be too high-brow for the Pinoy audience. Perhaps it could benefit in eschewing tough storylines to something more catered to the masa?
Josef acknowledges this observation, but believes there should be little to no compromises.
"Merong ganung konting compromises, but at the same time, we're quite wary doing that, kasi ang thesis, baka hindi nila maintindihan, hindi nila ma-appreciate. Siguro, may konting compromises to make them come, and to make young children appreciate. Pero unti-unti kailangan mong palalimin, without losing the aesthetics. Kasi ang importante, wag tayo ang mag-coop. Tayo dapat ang mag-e-educate, hindi tayo ang mag-a-adjust sa kanila," he explained.
Instead, Josef belives what is needed is a national figure who will push for the arts. There might be politicians who come from the movie industry, but Josef believes they are not doing enough.
"Walang national leader na nagtsa-champion specifically ng arts and culture, because I don't think they have a full understanding of arts and culture, and the need for it. Kasi sina Lito Lapid at Jinggoy Estrada, showbiz ang kanilang agendas. Even Bong Revilla I think is not aware of what arts and culture programming or advocacy mean," he pointed out.
In the end, what may be needed is to target the youth so the new generation would champion theater and the arts.

"Crucial ang secretary of education. Kasi, kung gusto mo na mag-create ng long-term program, we start with the kids," he said.
ADVERTISEMENT - CONTINUE READING BELOW
With all these hardships, why is Nanding Josef and his colleagues still putting up the National Thater Festival?
"Hindi pupuwedeng patayin, e. Pag pinabayaan mo siyang mamatay...Parang kami. Siguro those who started a national theater movement, might feel guilty, might feel responsible. Kaya kahit kami ay hirap na hirap sa ngayon, there's still some of us in the original batch na nadito pa rin. Hindi kami mayaman, pero sakripisyo in a sense. It's almost like an obligation na we cannot turn our back from," he explained.

The 4th National Theater Fest features productions from theater groups and performers from all over the Philippines. These include the Barasoain Kalinangan Foundation Inc. from the province of Bulacan; Bohol Antequera and Maribojoc Cultural Collectives in cooperation with Teatro Bol-Anon from the province of Bohol; cultural activist Carlos Celdran, Dulaang UP of the University of the Philippines; Gantimpala Theater Foundation; Integrated Performing Arts Guild of Mindanano State University-Iligan Institute of Technology, Mindanao State University Kabpapagariya Ensemble from General Santos City; Philippine Educational Theater Association (PETA); Sipat Lawin Ensemble; Tanghalang Ateneo of Ateneo de Manila University; Tanghalang Pilipino; The Xavier Stage of Cagayan de Oro and Trumpets Inc. There will also be special performances by Kanlaon Theater Guild of Colegio San Agustin-Bacolod, SPIT (Silly People's Improv Theater) and ventriloquists Ony Carcamo and Wanlu.


Here is the schedule of plays that will be part of the 4th National Theater Festival:

PLAYS AT THE TANGHALANG AURELIO TOLENTINO
WILLIAM
Philippine Educational Theater Association (PETA)
November 15, 2012 at 3:00 and 8:00 PM
ADVERTISEMENT - CONTINUE READING BELOW
The bard's famous monologues energetically reincarnated through hiphop, crumping, breakdancing and rap. The award winning production written by Ron Capinding and directed by Maribel Legarda.
MIND'S EYE
Trumpets
November 16, 2012 at 3:00 and 8:00 PM
An 88-year-old drama teacher and an angry 16-year-old paralytic embark on an imaginary trip to Italy where they explore new truths and face the pain of their realities.
OROSMAN AT ZAFIRA
Dulaang UP
November 17, 2012 at 8:00 PM
November 18, 2012 at 3:00 PM
The critically acclaimed contemporary reimagining of Francisco Balagtas' classic work directed and choreographed by Dexter M. Santos and with original music by Carol Bello.
PLAYS AT THE TANGHALANG HUSENG BATUTE
ISA PANG KAWING
The Xavier Stage
November 15, 2012 at 2:00 and 7:00 PM
A play on betrayal of trust and confidence motivated and conditioned by tradition, politics, gender and abuse of power. Written by Steven Patrick Fernandez and directed by Hobart Savior.
SAYAW NG MGA SENYORITA
Gantimpala Theater FoundatioN
November 16, 2012 at 3:00 and 8:00 PM
Adapted from the groundbreaking play Boys in the Band by Matt Crowley, this revival once again strikes a tragicomic resonance in the gay scene and patois of current day Manila.
BATA BATUTE
Ventriloquists Ony Carcamo and Wanlu
November 17, 2012 at 3:00 and 7:30 PM
At the SILANGAN HALL
LIVIN LA VIDA IMELDA
Carlos Celdran
The irrepressible and irreverent Carlos Celdran takes on the life and times of you-know-who. Designed by and conceived by Carlos Celdran.
November 15, 2012 at 7:00 PM
FREE ADMISSION: HINDI KAMI POBRE, KSP LANG.
(AN IMPROVISED SHOW ON THE STRUGGLES OF MAKING A LIVING THROUGH ART IN CONTEMPORARY PHILIPPINES)
ADVERTISEMENT - CONTINUE READING BELOW
Silly People's Improv Theater (SPIT)
November 16, 2012 at 7:00 PM
at the MAIN RAMP
TICKETS:
Performances at the TANGHALANG AURELIO TOLENTINO & SILANGAN HALL
Regular: P800
Performances at the TANGHALANG HUSENG BATUTE
Regular: P500
*Tickets are with 50% discount for Students and 20% discount for Senior Citizens, PWDs, Government Employees & Military Personnels
*Performances at the CCP Main Ramp are FREE