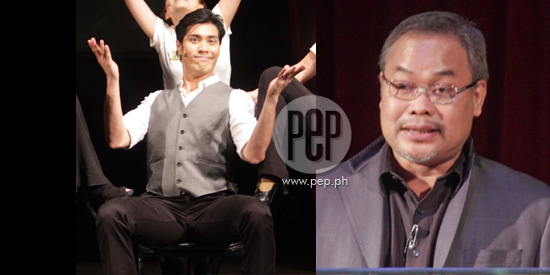 ---
"The one who says that arts and culture are not alive in this country might be in very, very deep sleep with all of these performances, activities, and cultural events lined up."


According to Cultural Center of the Philippines vice president and artistic director Chris Millado, the CCP is offering a multitude of activities for its upcoming 2013 season.
Millado led last Wednesday (November 28) a special media preview of the artistic and cultural offerings for the next year held at the CCP Tanghalang Aurelio Tolentino, which he said was "designed to appeal to the broadest audiences."
For 2013, CCP has rolled out a wide variety of programming, including new musical revivals, classic operas, orchestral concerts, indie films, and world cinema, arts festivals and competitions, visual art shows, educational events, and its digital and multimedia offerings.
Of this, he said, "For next year, while still doing our regular programs, we shall emphasize three areas of development namely, Music Theater, Arts Education and strengthening the CCP's online presence," he said.
For Music Theater, CCP's thrust is a recognition that the Philippines is brimming with musical theater talent, as its musical theater program will be comprised of an opera season and a music theater season that not only offers shows but training for music theater talents.
Five original Filipino musicals by CCP resident theater company, Tanghalang Pilipino, is set to entertain audiences, with Maestro Ryan Cayabyab's Katy to formally open season 2013.
Katy, starring acclaimed thespian Isay Alvarez, is a revival of the musical based on the life of Bodabil Queen Katy de la Cruz. This features original music by Ryan Cayabyab, libretto by Jose Javier Reyes, musical direction by Mel Villena, and direction by Nestor Torre.
ADVERTISEMENT - CONTINUE READING BELOW
Other new musicals include, Ibalong, a musical inspired by Bicol's folk epic of the same name; Stageshow, a reprise of the successful production depicting the vaudeville stars of the yesteryear; San Andres B., the life of Philippine hero Andres Bonifacio; and a musical for children based on the book Unang Baboy Sa Langit.
MET PRODUCTIONS FROM NEW YORK. While embracing new technology for a new, full musical experience, Millado also revealed that CCP is poised to give Filipino opera lovers access to the productions of the famed Metropolitan Opera based in New York City. Patrons will be able to enjoy high definition video and full Dolby sound.


The first Met Opera production to be screened at the CCP in January will be Met's "unforgettable," full production of Verdi's ancient Egyptian drama, Aida, starring soprano Liudmyla Monastyrska.
"It turns out that this is the way performing arts is now being delivered, especially in major centers. It's not only Metropolitan Opera which is doing this, but also other major Opera centers in the world," he said.
Millado further explained, "This is going to be a delayed [feed]. The reason why it's not going to be live is because the time difference between East Coast New York and the Philippines will mean that we'll be watching their opera at eight in the morning. So that might be very difficult to market, even if you are an opera enthusiast. So we opted for a delayed feed, wherein they will fly a hard disc and the delay might be between three to six days. But that will be very current."
ADVERTISEMENT - CONTINUE READING BELOW
MORE MUSICALS.


The stars of Philippine musical theater is also set to come together in Musical Revue II: Leading Men and Women of Philippine Musical Theater, which is a solo-concept concert with songs from Broadway, West End, and original Filipino works.
Meanwhile, talents of the Paris-Manila Conservatoire present Jacques Offenbach's La Vie Parisienne, a light comic operetta portraying aspects of Parisian life. For this show, the Philippine Orchestra will provide live music accompaniment.
Of this, Millado said, "La Vie Parisienne is in cooperation with the Embassy of France, which will be bringing in top opera teachers from Paris to coach upcoming Filipino opera singers. Some of these local opera performers will be sent to France for scholarship."
This year, CCP will also be launching a three-year intensive training in which top professionals from New York will work with Filipino counterparts to upgrade skills in voice, dance, and acting for musical theater performance. This music theater workshop is said to begin in August 2013.
FESTIVALS GALORE.

CCP 2013 season will also mount seven festivals that will take place at various venues. These are Pasinaya Open House Festival, Cinemalaya Independent Film and Competition, Virgin Labfest, Earth Day Festival, Fiesta Folkloriada, Andrea O. Veneracion International Choral Festival and Ballet Festival.
Pasinaya, in February, considered the largest multi-arts festival in the country, goes "Chinoy" as it focuses on Filipino-Chinese arts and culture. It will also offer a sneak preview of the CCP 2013 performance season with more than 300 shows and 3,000 artists participating.
For the annual, popular all-digital indie film festival Cinemalaya in July, Millado assured the audience that 2013 will continue to feature cutting-edge, new works by emerging and established Filipino filmmakers.
ADVERTISEMENT - CONTINUE READING BELOW
In April, the CCP will hold its annual Earth Day celebration, with various civic groups, government agencies, NGOs, and the mass media that share the CCP's vision for health and green Mother Earth.


In June, the annual theater fest, Virgin Labfest, will continue to offer provoking and exciting line-up of works by new and veteran playwrights.
The Ballet Festival titled Fab! will bring together in November various ballet schools and companies to showcase their works and best ballet students. The festival will also pay tribute to choreographer Tony Fabella by featuring his best works.
Come December, Fiesta Folkloriada will bring together folk dance groups from different countries in a showcase of their unique dance traditions.
While presenting another auditory feast, the CCP will also hold The Andrea O. Veneracion International Choral Festival that will feature a choral competition in the categories of vocal ensemble, chamber choir, and folk music.
This is the first edition of the choral festival that celebrates the 50th anniversary of the Philippine Madrigal Singers. The Festival is named in honor of National Artist for Music, Andrea O. Veneracion, founder of the Madrigals, Millado explained.
DIGITAL ARTS EXPERIENCE.

The CCP website, www.culturalcenter.gov.ph, was also re-launched and revamped with more content to strengthen CCP's online presence. The new website enables users to purchase tickets online, easily navigate the site, and get news about the CCP. The website also allows users to explore arts and culture content through the online resource called, MYCCP.
"We have started going online. We started to digitize materials and continue to work in making library acquisitions accessible online. As we speak, we are negotiating with the UP Library system to collaborate on fully automating our library," said CCP's artistic director.
ADVERTISEMENT - CONTINUE READING BELOW
"Right now, you can do everything with what's up there, because what's up there is 'Creative Commons,' where everything is under fair use in terms of intellectual property rights," he added.
In penetrating the social media, Millado remarked, "Our Facebook page has thousands of followers and fans this time; we are also doing Twitter. But we need to be more aggressive about it, since posting and putting things on Twitter and Facebook takes a lot of personal hours. But definitely we are looking at social media as one of our major venues for communicating what we are doing here."
He continued, "We have also gone live stream for some of our activities. Like in the recent National Theater Festival, the three-day conference could actually be accessed live stream. We haven't checked yet about the effectivity of this, how many people watched it, but we are beginning to do that."
LOOKING BACK ON 2002.


According to Millado, 2012 has shared significant milestones for CCP, especially in terms of attendance records.
He said, "We are happy to share that three of our homegrown festivals beat their own attendance records. Pasinaya surpassed its own attendance record with more than 50,000 viewers, compared to the previous year, which was 42,000."
"For the first time in its eight-year history, the Virgin Labfest sold out, one week before it opened. The Cinemalaya also surpassed the previous year's attendance despite the weather. Cineasts trooped to CCP and the four cinemas in Metro Manila, braving the rains and the floods. Cinemalaya 2012 lived up to the slogan of going full force," he continued.
ADVERTISEMENT - CONTINUE READING BELOW
The CCP also played host to the musical The Phantom of the Opera that was extended for two more weeks at the main theater.
Meanwhile, in the visual arts, Millado said that the year auspiciously started with a major retrospective of Roberto Chabet's work. "It was the first time the CCP dedicated all of its gatherings and exhibition spaces to the works a single artist."
"These events have inspired us to program activities that will continue to excite our audiences and inspire more creativity for our artists," he pronounced. "'Art matters in the life of every Filipino'—This is the vision of CCP."
But for Millado, the greater task ahead is to continue preserving and advancing arts and culture in the country and that is to "spread the word about these exciting events at the CCP; buy tickets to the performances, even better buy tickets to Filipino productions; support the arts by subscribing to the seasons of our resident companies; and become a member of the CCP family by joining the various membership programs."
"Be part of this burgeoning family of arts-and-culture supporters who will ensure the future of our gifted artists, the next generation of audiences, and the continuity of our rich tradition and cultural heritage," he added.
For more information about the CCP, visit www.culturalcenter.gov.ph