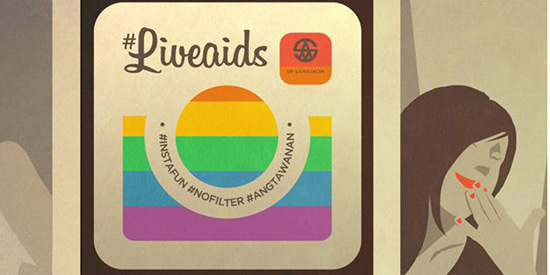 ---

The University of the Philippines' Samahan ng Mag-aaral sa Komunikasyon (UP SAMASKOM) is bringing back its famous musical comedy variety show Live A.I.D.S (Ang Istoryang Dinebelop ng Samaskom) to bring cheers and laughter this holiday season.

Titled Live AIDS 29: #instafun #nofilter #angtawanan, the show is the 29th installment of the school production that launched the careers of comedy stars Giselle Sanchez, Ate Glow, Michelle O' Bombshell, and Tuesday Vargas.

Originally just a batch project of a group of SAMASKOM applicants in the early '80s, Live AIDS has evolved to become a standing room only event watched and anticipated not only by UP students but also by professionals and even celebrities like Ricky Lee, Quark Henares, Bianca Gonzalez, and Vice Ganda.

It is known for an intellectual brand of comedy, veering more towards satire rather than slapstick, as it pokes fun and expresses commentary on the relevant issues in our society through sketches, monologues, and song and dance performances.

This year, Live AIDS embraces the digital era with a social media-inspired theme. Director Herbs Samonte said the show's material will not only feature references on the trending topics in social media, but will also use social media to further engage the audience.

"Live AIDS rested for one year so we really want to make its comeback special. We want more interaction with the audience. That's why in certain segments of the show, the people can participate using facebook and twitter," the two-time Live AIDS director explained.

Samonte added that part of the proceeds of Live AIDS 29 will be donated to survivors of Super Typhoon Yolanda. Previously, UP SAMASKOM donated all ticket sales of Live AIDS 25 to the UP College of Mass Communication, which then used the fund to construct a new classroom.

Catch Live AIDS 29: #instafun #nofilter #angtawanan on December 19 (8pm), December 20 (3pm and 8pm), and December 21 (3pm and 8pm) at the Abelardo Hall of the UP College of Music.

For ticket reservations, just text or call 0915-3394660 for the December 19 and 20 shows and 0918-3266860 for the December 21 show. For updates, follow @UPSAMASKOM on Twitter and Instagram.
ADVERTISEMENT - CONTINUE READING BELOW