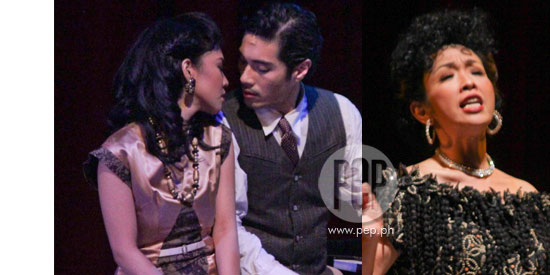 ---

Tatay (Tirso Cruz III): "Aasa ka sa mga sinsilyong pinupukol ng mga manonood? E, ikaw nga'y pinagkait ng Diyos ng na tatanging kagandahan! Pagkatapos kung kumilos ka masahol ka pa sa mga lalakeng kalaro mo sa labas? Sa araw araw na ginawa ka ng Diyos gumugulpi ka ng kalaro? Pagkatapos aasa kang kikita ka ng pera sa palakpak ng tao?"

Batang Katy (Yedda Lambujon): "Di naman na dadaan sa ganda 'yan, e. Ang panggulat ko ay ang aking [screams] boooseees!"


Calling Katy precocious as an 8-year-old girl is an understatement. If she were born these days she'd be diagnosed as a hyperactive kid. Instead she became known as the kid with a powerful voice and moxie, lots of moxie.


Even at a very young age, Katy de la Cruz knew she was destined to perform. Katy the Musical is the portrayal of her colorful, tragic and lyrical life. This period play depicts the days of bodabil, jazz, swing and bebop. Passion for music is what shines through in Katy the Musical and entices theatergoers to look and never forget.


Isay Alvarez shines in the lead role of Katy de la Cruz, a singer who became known as the Philippine Queen of Pinoy Jazz and Bodabil. Even those who caught the original version of the production have given Isay the thumbs up. Cinemalaya Competition head Laurice Guillen said, "The cast did really great, especially Isay. I know Mitch [Valdes] is really a great performer. Pero yung work ni Isay rito may pain, feel na feel ko siya. Mitch is known as full of humor and lightness."


Mitch Valdes was in the title role in the original 1987 production of Katy. Director Nestor U. Torre is back for this version as well. The music by Ryan Cayabyab and librettist Jose Javier Reyes brings out the best in the cast today as it did back then. There's the vocals of Gian Magdangal. Epy Quizon exhibited his dancing skills as he portrayed his real life father Dolphy. Aicelle Santos was dazzling as the young Katy on the cusp of stardom.


Among recent productions Katy the Musical has a strong parallelism with Stageshow written by Mario O'Hara who passed away in 2012. Katy the Musical, however, predates Stageshow by 2 decades or so. Both musicals honor the forgotten stars of the Philippine theater.


Katy the Musical's advantage is Ryan Cayabyab's music. Stageshow has the playful humor of Mario O'Hara. Although Joey Reyes dialogue also delivers laughs, O'Hara's comedic wit is still funnier. It was O'Hara's intention to make tragedy funny where, humor is just alternated from the heavy dramatic scenes in Katy the Musical. Stageshow will once again have a run this August 2013 at the Cultural Center of the Philippines.


Cayabyab's music necessitated powerful vocals that Isay Alvarez (Senior Katy) and Aicelle Santos (Teen Katy) very capably delivered. The most poignant vocal performance and music was the duet of Aicelle and Dulce, who is cast as Olivia the Diva. The song titled "Minsan Ang Minahal Ay Ako" expresses the pain of losing the adulation of an audience by a fading star.


Apart from featuring the life of Katy Dela Cruz, this musical is a very intriguing look at some characters who are based on real life people. Most audiences today remember Mary Walter (CJ Mangahis) in a lot of grandmother roles, with her shock of white hair and raspy voice. She's had countless film roles from horror to dramas and was a lifetime achievement awardee from both the FAMAS and the Urian. Katy the Musical reveals a young sexy starlet version of Mary. For most of us, it's hard to imagine Mary Walter as a sexy Hawaiian dancer in grass skirt while accepting floozy roles.


Katy the Musical turns back the clock to when they were all young. Not a lot of people may be aware that Mary Walter, Mitch Valdes and Katy lyricist Joey Reyes were connected even before the musical. They were part of the 1982 film Oro Plata Mata, which was directed by Peque Gallaga. In 2012, Cinema One screened the digitally remastered version of Oro Plata Mata. Even then, Mary Walter already had her shock of white hair as the aging yaya of a nubile, barely out of her adolescence Cherie Gil.


Incidentally, 1987 Katy lead star Mitch Valdes also figured prominently in Oro Plata Mata as the liberated doctor who came back from America. Before the screening of the restored version, it was revealed by Direk Peque that it was screenwriter Jose Javier Reyes who coined the name of the film.


Aside from Mary Walter, the other friends of Katy Dela Cruz are portrayed byTricia Amper Jimenez as Hannah San and Celine Fabie as Patsy Patochay. Their performances were key as they had a lot of scenes with both male and female leads. Their number with Gian Magdangal was also memorable with the trio of Mary, Patsy and Hanna trying to seduce the dashing Peping with a sexy but playful song and dance number.


Strong credit must be given to musical director Mel Villena and the Asosasyon ng Pilipinong Musikero (AMP). They executed the music composed by Cayabyab with enthusiasm and emotion that the story required.
ADVERTISEMENT - CONTINUE READING BELOW