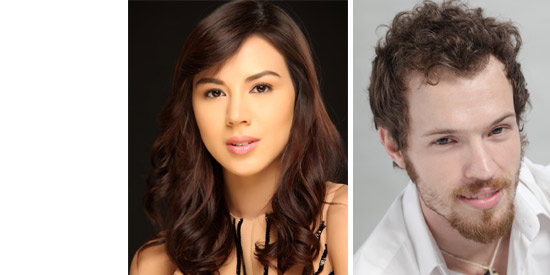 ---

Repertory Philippines aims to deliver plenty of laughs as it presents for the first time in Philippine theater the Tony-award winning play Boeing Boeing.


Boeing Boeing serves as Repertory Philippines' 2013 season opener in a year that is going to showcase a lot of variety from the 45-year old theater institution.


David Bianco is on-point as the multi-tasking-juggling-three-fiancees American architect Bernard living and working in 1960's Paris. Topper Fabregas is cast as Robert, a childhood friend of Bernard who is a very strong anti-thesis of the architect.


Together, the two actors bounce off each other's energy and provide excellent chemistry, thanks to the stark contrast of the characters they portray. Bianco as Bernard is completely believable as a scoundrel with three fiancees, who all share one thing in common: they are all flight stewardesses.


Bernard pulls off this unbelievable con no thanks to Bertha, played by Baby Barredo, Repertory Philippines co-founder and artistic director. Barredo's Bertha is French, she's existentialist, she's a complainer, she's wacky and the wonderful thing about her is that you'll love the way this long-suffering maid of Bernard grips you from her first heavy-footed step on stage and first sarcastic quip against Bernard. And you'll find yourself agreeing with her every move and line, especially when she says, "this is no life for a maid!"


Bernard manages to keep his three fiancees in the dark about each other's existence because he chose them based on their airline timetables. He made sure each one flew a different route, worked with a different airline, and that they would never be in the same place at the same time. Bertha has to keep track of these comings and goings and constant changing menus, as his three fiancees all hail from different countries to boot!


Fabregas's Robert, who one might initially think of as mere support to the more flamboyant Bernard, certainly comes into his own since his character even finds love along the way. He starts out very timid, revealing his naivete and idealism versus Bernard's womanizing ways. The way Fabregas depicts the hesitation, nervousness and Robert's lack of knowledge when it comes to duplicity are very believable.


Thanks to the arrival of faster Boeing planes, the carefully planned schedule of Bernard for his air-borne fiancees falls apart. Robert picks up the pace when the paths of the three fiancees finally start to cross--giving the play the springboard to use doors, doors and even more doors to provide bundles of laughter as Robert and later on Bernard do their best to keep each fiancee from finding out the truth.


The three flight stewardesses slash fiancees are perfectly chosen as well. And the eye candy they provide explains why Bernard couldn't help himself from being engaged to all three of them at the same time.


Fiancee number one is American TWA flight stewardess Gloria who has a hefty appetite, gregarious personality, and a scintillating secret that explains a lot about the play's ending. Played by Jennifer Blair-Bianco, David Bianco's real-life beautiful wife of five years, Gloria is a Southern belle who takes charge and doesn't let Bernard push her around. Gloria is portrayed realistically by Ms. Bianco, and it helps that she is half-American, half-Filipino as well.


Fiancee number two is strong-willed German Lufthansa air hostess Gretchen whose mood swings and hilarious aggresiveness provide many of the play's laugh-out loud moments. Carla Dunaraneau is the perfect pick for Gretchen as she also has some German blood in her. Aside from that, Dunaraneau fully commits to Gretchen's character, being dominant and pliant all in one ultra-lovable yellow ball of fluff and gruff. You can't help but love this one and exclaim "ja!" to whatever she might ask of you.


Fiancee number three, like the other two, can't keep her hands off Bernard. But Gabriella, hailing from Italy, represents Air Italia, and she is lusty and sentimental in one tiny package. Giannina Ocampo plays Gabriella's character and this she does with full-on conviction, going as far as Skype-ing with an Italian girl in order to nail the Italian accent she had to put on.


Boeing Boeing delivers on its promise as a comedy, a farcical one at that. For those who think it's just a sex comedy, they better think again. Yes, there are lots of kissing scenes but these merely serve as support to the tight script and brilliant use of physical theater execution by the actors. You'll surely be laughing out loud because of their antics.


You just have to be ready for a bumpy ride on this flight that is anything but smooth. And you won't be complaining either.


Repertory Philippines' Boeing Boeing is directed by Miguel Faustmann and can be seen at Onstage, Greenbelt 1, Makati City until February 17, 2013.
ADVERTISEMENT - CONTINUE READING BELOW